Overview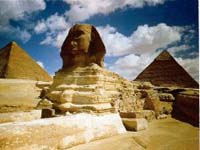 Africa's largest city, with a population of nearly 18 million, Cairo is a chaotic mixture of sights, sounds and smells. It is heaving with life, volatile, polluted and boisterous, with an intensity that both exhausts and invigorates the visitor. It is also distinctive with its ancient monuments in juxtaposition to the modern and cosmopolitan. The congested streets of Islamic Cairo are full of donkey carts, traders and mosques, while camels weave their way haughtily between the crumbling pyramids on the outskirts. Taxis clamour for attention and pedestrians elbow their way past busy coffee houses, where those seeking a brief escape from the hustle and bustle sit sipping at a strong cup of coffee while contemplating the smoke rings of a 'hubbly bubbly' water pipe - in true Egyptian style.
Visitors can also practice the age-old art of bargaining for trinkets, spices and perfume in one of the world's largest bazaars, or pay a visit to the Egyptian Museum of Antiquities, which houses treasures from Tutankhamun's tomb and is one of the country's main attractions.
Situated on the Nile, Egyptians arrogantly refer to Cairo as the 'Mother of all Cities'; many visitors who have experienced its unruliness would perhaps describe it in less endearing terms. But no matter how it goes down there is no doubt that Cairo is as beguiling as it is messy, and its charm lies in the blend of African, Arab and European influences, the timelessness of the old, and the energy of the present.
GettingAround
The most efficient and reliable public transport in Cairo is the Metro, which has the added advantage of being very cheap. The route connects Helwan in the south of the city to Heliopolis in the north with various branches to Shubra, Ataba and Abdin. There is also a subway line between Giza and Shubra. Trains run from 5.30am to midnight, and the first carriage of each is reserved for women only. The streets of Cairo are well supplied with taxis, which may have fare meters but are unlikely to use them. Fares vary and should be negotiated up front and are usually shared. Taxis from hotels tend to cost double that of hailed taxis. The bus and minibus services operating in the city are considered risky for tourists because of overcrowding and the potential for pickpocketing. Buses also require at least a working knowledge of Arabic to navigate. Walking is a fairly good option for taking in the atmosphere of Cairo, but be warned, streets are not marked and maps are not much help, so it is easy to lose direction. Driving in Cairo is not for the faint-hearted as few road rules are adhered to, traffic is heavy at all times, and streets are poorly signposted. Car rental agencies in Egypt require that drivers be 25 years old minimum and an International Driving Permit is needed. If you do want to rent a car it is a good idea to hire a driver at the same time (a service offered by the car rental agencies).
Events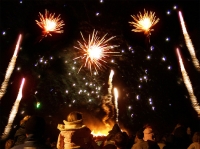 Summer Mouleds
The most prominent religious festivals which tourists experience in Egypt are the 'mouleds', which are incredibly lively processions that take to the streets of Cairo on the birthdays of various holy men. Although the festivals are not officially part of the Muslim faith, mouleds are extremely popular in Egypt, particularly "Mouled El Naby," the celebration of Prophet Mohammed's birth. The occasions are celebrated by exchanging sweets, decorative lights, music, dance, and ritual chanting, as well as street parades and performances. In some conservative Muslim circles the mouleds are considered 'unislamic' but for the most part they are enthusiastically celebrated. The mouleds generally take place in summer, and blend religion with folklore, usually including wild dancing accompanied by music, chanting and fireworks. Citizens were often banned from holding mouleds under the Mubarak regime, which cited safety issues as an excuse to avoid large gatherings of people. Egypt is now trying to revitalise these events and draw tourists back into the festivities as part of the country's attempt to regain its reputation as one of the most popular tourist destinations in the world.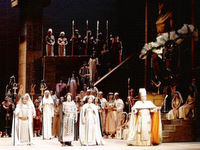 Aida at Giza
Giuseppe Verdi (1813 - 1910) was one of the greatest composers of the nineteenth century and he produced a number of famous operas. Along with classics like Otello and La Traviata, Aida remains one of his best-loved operas. The Cairo Opera House produces annual performances of Verdi's opera in front of the dramatic Pyramids of Giza. Aida is a tragic tale of love featuring an Egyptian captain, the Pharoah's daughter, and an Ethiopian slave girl, Aida. The opera had its world premiere in Cairo on 24 December 1871; it was immediately a great success and has remained a favourite in Cairo and worldwide. The triumphal march is famously lavish and the setting, of course, is spectacular. Any other performance of Aida pales in comparison to that performed under the imposing pyramids and this performance features on the bucket list of numerous opera lovers.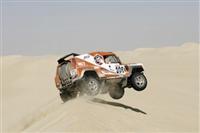 Pharaons Rally
The Pharaons International Cross Country Rally is a thrilling three-week-long endurance race across the Sahara Desert, which attracts competitors from all four corners of the globe. The Pharaohs Rally is a 1,864 mile (3,000km) circuit beginning under the Sphinx in Giza, and crossing the finish line in Cairo. It is a race that is infamous for the challenge of its tricky terrain and the difficulty of navigating and negotiating the desert sand and dunes. Cars, trucks and motorcycles all compete. It is one of the main preparation events for the famous Dakar Rally and attracts some of the most formidable competitors in the world. Prices range from €3700 to participate and it is free to watch. The Pharaons Rally is an important event on Egypt's calendar and is a favorite with many travellers.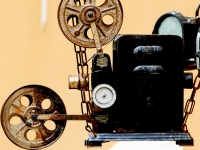 Cairo International Film Festival
With a cinematic tradition dating back as far as the 1930s, Cairo is known as the 'Hollywood of the Middle East'. The Cairo International Film Festival began in 1976 and is accredited by the same prestigious organisation that accredits the Cannes, Berlin, and Venice film festivals. It has been held very successfully every year except 2011 when it was cancelled due to revolutionary upheaval and apparent lack of funds. The festival returns in 2012, hoping to reclaim its reputation as a world-class film festival, particularly as in recent years it has faced increasing competition from other impressive film festivals like the Abu Dhabi, Marrakech and Tel Aviv film festivals which are also now internationally acclaimed. The Cairo International Film Festival is a big event on the Egyptian calendar and usually attracts visitors from all over the world who either come exclusively to experience the festival or who carefully time their holidays to coincide with this fun and famous event.
Attractions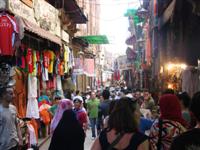 Khan al-Khalili
Buzzing with enthusiastic buying and selling, Khan al-Khalili is one of the largest markets in the world. It is situated within Islamic Cairo, a World Heritage Site that attracts travellers and locals alike. On the northern corner of the bazaar is the Mosque of Sayyidna al-Hussein, one of the holiest Islamic sites in Egypt. The market is the best place to soak up the colour of Cairo and to people-watch and the streets themselves are charming with arches, carvings and mosaics. You will get many amazing photo opportunities wandering the labyrinthine little streets, just be sure not to get lost! Traders have been bargaining in these alleys since the 14th century and it is possible to buy almost anything, from exotic perfume bottles to everyday Arabic clothing. There is, of course, a lot of junk as well but treasures and great bargains can be found. Be prepared to barter as the prices originally stated will always be much too high and the merchants expect you to negotiate. Although some of the traders are delightful others can get pushy. Unfortunately, women travelling alone will almost certainly have to put up with a certain amount of harassment. No matter how many times you visit this vibrant market you will always find something new and enchanting.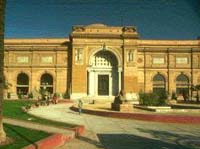 Egyptian Museum of Antiquities
With over 100,000 artefacts in 107 halls, the Egyptian Museum provides days of exploration. Inside are treasures from ancient Egypt, including priceless finery taken from ancient royal tombs, and one of the museum's masterpieces, the statue of Khafre (Chephren). The most popular attraction is the Tutankhamun Gallery where exquisite treasures from the tomb of the iconic Boy King are displayed, including the famous solid gold death mask. Another top attraction is the Royal Mummy Room containing mummies of some of the most powerful Pharaohs in Egypt dating from the 18th to the 20th dynasties (there is an additional cost for this room). The museum also contains collections of artefacts including coins, papyrus scrolls, scarabs and sarcophagi. There is a cafeteria, bank, post office, gift shop and library at the museum and taped audio guides are available in English, French and Arabic. Although a trip to Egypt would feel incomplete without a visit to this incredible museum its location on Tahrir Square means that foreigners must be cautious visiting during periods of unrest; if there are demonstrations on the square it is best to avoid the area.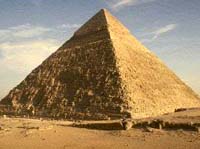 Pyramids of Giza
The pyramids are the earth's oldest tourist attraction and the Great Pyramid of Khufu (also referred to as the Great Pyramid of Cheops) is the only remainder of the seven ancient wonders of the world. Throughout their history, they have fired human imagination, with much speculation as to their origin and purpose, but most evidence supports the theory that they were built by the ancient Egyptian civilisation as tombs or great monuments in which to bury their kings and nobles, a place to start their mystic journey to the afterlife. The oldest and largest pyramid, the Great Pyramid, is thought to have taken 20 years to build and is made of about two million blocks of limestone. No one knows how the two-ton blocks were moved into place, but it was known to be the tallest man-made structure in the world for over 40 centuries. The Great Sphinx, known as the Abu al-Hol (Father of Terror), stands in front of the Great Pyramid and is thought to be older than the pyramids themselves. Tours of the pyramids are conducted by many tour operators in Giza. Access to the interior of the pyramids is restricted, and at least one is closed for renovations at any given period. While climbing the pyramids was once a popular activity, the practise has now been banned. The best time to visit the Pyramids of Giza is early in the morning, before the tour buses descend on them. While unofficial 'tour guides' lurk around the site to demand tips, better-informed guides can be booked in advance from Giza.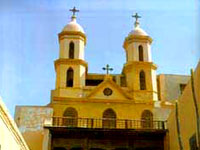 Old Cairo
This small and enclosed area, also known as Coptic Cairo, is the oldest part of the city and was once known as the Roman stronghold of Babylon. Some of the ancient walls still exist. It is the heart of the Coptic Christian community and although only five of the original 20 churches remain they are fascinating to visit, along with the first mosque built in Egypt, and the oldest synagogue; a representation of three of the major religions of the modern world in one special, hopeful area. It is a peaceful place to wander around and a respite from the busy city centre. Churches of interest are the Al-Muallaqa (Hanging Church), the oldest Christian place of worship in the city, and St Sergius where the Holy Family reputedly sheltered during their flight to Egypt. You can take the metro into Coptic Cairo from Tahrir Square. It is useful to have a guide when exploring the area as there is so much history to discover and so much to see but even if you just wander by yourself you will feel the power and age of the place and should be able to find all the major attractions. Unfortunately, even in this generally serene area you may be unlucky enough to meet someone trying to scam you; it helps to be aware.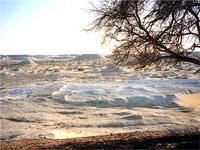 Western Desert Oases
From Cairo it is possible to experience Egypt's finest journey on offer, the Great Desert Circuit. It runs for over 621 miles (1,000km) through spectacular desert landscape and is punctuated by four oases situated in a depression: Bahariya, Farafra, Dakhla and Kharga. The first two have hot springs and palm groves, Farafra being the more traditional and rural of the two. To experience the remoteness of the desert travellers can spend an unforgettable night in the White Desert between oases. Dakhla and Kharga are surrounded by old ruins and villages from the times of the ancient caravan routes to Sudan. The Great Desert Circuit is a fascinating journey and really allows travellers to grasp the enormity of the Egyptian desert and appreciate the history of exploration in the region. The roads are in good condition, with hardly any traffic on them, and the whole circuit can be done in about 16 hours (you can linger as you please). Some of the oasis towns are lovely places to spend a night before setting off on your road trip again.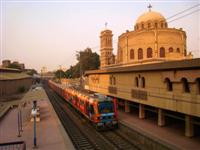 Coptic Church of St. George (Mari Girgis)
The only round , or domed, church left in Cairo, the Greek Church of St. George features a long set of steps that lead up to the church, where visitors will find a relief of St. George and the dragon wrapped around the outer brickwork of the tower. The original church dated back to the 10th century, or earlier, but as this ancient structure burned down the current church was built in 1904. For centuries, the church alternated between Coptic and Greek ownership, but since the 15th century it has remained Greek Orthodox, and the adjoining monastery of St George is now the seat of the Greek patriarch. Despite this, the Moulid of Mari Girgis, a large Coptic festival celebrating St George, is celebrated at the church each April. The St George Church is most famous for its beautiful wedding hall ( Qaat el Irsan), which dates back to the 14th century. St George was a warrior saint imprisoned and martyred near the church, which is built on an ancient Roman tower. Sadly, this wonderful building is often not included in tours of Coptic Cairo but it is well worth the visit and very easy to find. The church and monastery are visible from Mari Girgis Station.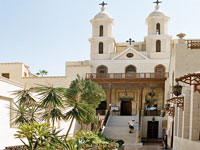 Hanging Church (El Muallaqa, Sitt Mariam, St Mary)
The Hanging Church in Cario derives its name from its location on top of the southern tower gate of the old Babylon fortress, with its nave suspended over a passage. It is the most famous Coptic church in Cairo with the earliest mention of the church being a statement in the biography of the patriarch Joseph, who lived from 831 to 849. It went on to become known to travellers as the 'staircase church' during the 14th and 15th centuries, because of the twenty-nine steps that lead to the entrance. The visual impact of the church's elevated position has been reduced due to the rise of land surface by around 20 feet (6 metres) since the Roman period, not to mention the rise of tall buildings around it, but it is still an impressive and beautiful church. The Roman tower it is built on remains mostly buried below ground. It is calm and peaceful inside and visitors are not pestered here as in many other Cairo attractions. One of the highlights of the church are the intricate carvings and mosaics which decorate the walls, windows and doors.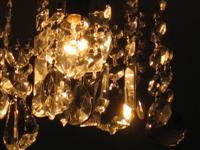 Asfour Crystal Factory
The Egyptians were the first people to develop the art technology to manufacture glass and cut it into beautiful shapes. This ancient civilisation started making crystals 5,000 years ago. Asfour Crystal was established in 1961 and the Asfour Crystal Factory Showroom is the largest crystal factory in Egypt and provides crystals to many countries across the globe. They are the world's single largest employer of skilled crystal workers. Products range from jewellery, 3D laser gifts, figurines and a selection of chandeliers and other light fittings. The jewellery is not of the same standard as Swarovski crystal but some lovely pieces can be picked up at prices up to 60 percent cheaper than what you'll find at retail shops, and there are some beautiful, creative pieces on show. Asfour Crystal is most famous for their crystal chandeliers and there is a vast array to choose from. The hundreds of shining lights and glittering crystals in the showroom make it a magical space, worth seeing even if you don't purchase anything. There is also a small display detailing the manufacturing process, and helpful and knowledgeable sales staff available to help. A tax certificate is given with all purchases.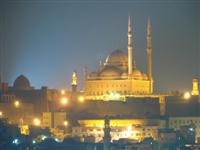 Saladin Citadel (Al-Qalaa)
The massive stone fortress of the Saladin Citadel, set in a beautiful tropical location, was built by Salah ad-Din in the 12th century. Visitors have the freedom to roam the castle, which remains in pristine condition, and which boasts incredible views of Cairo. If you are lucky enough to visit on a clear day you will be able to see all the way to the pyramids. The execution room is particularly interesting but just wandering around this ancient citadel is fascinating. The Mohammed Ali Mosque (also called the Alabaster Mosque) crowns the Citadel and this magnificent place of worship is the highlight of the fortress. It was built between 1824 and 1857 and modelled on the famous Blue Mosque in Istanbul. There are two other mosques within the Citadel: the 13th century Mosque of al-Nasir Muhammad, and the 16th century Mosque of Suleyman Pasha. As always, women visiting the mosques must wear loose clothing and be prepared to cover up (there are scarves available at the entrance for this purpose if you do not bring your own). The Al-Gawhara Palace, National Military Museum and Police Museum can also be found inside the Citadel.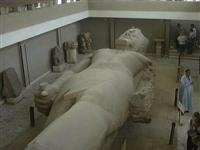 Ramses II Statue
Discovered in 1882 during excavations, the statue of Pharaoh Ramses II was cut into six pieces in the 1950s and moved to Ramses Square in central Cairo where it stood for a further 50 years. In 2006 the statue moved to a new, temporary museum a few miles outside of Cairo, as there were growing concerns that heavy pollution was damaging the 3,200-year-old statue, which weighs 83 ton and stands 36 feet (11 metres) high. The moving of the massive statue was a technological challenge and has been covered in a documentary by National Geographic. Ramses II, who ruled Egypt for more than 60 years during the 19th dynasty of pharaohs, was one of ancient Egypt's most prolific builders and there are a number of statues of him remaining in Egypt. However, none are as impressive as the colossus. All in all, the statue is beautifully preserved although one side is discernibly less perfect as it was exposed to the elements for centuries before its re-discovery in 1882. The expression on his face is serene and quite enthralling. The statue will eventually be exhibited in the Grand Egyptian Museum under construction near Giza and scheduled to open in 2015.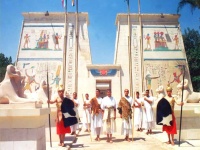 Dr. Ragab's Pharaonic Village
This living museum is a fabulous attraction for the whole family to enjoy. Visitors sail down a network of canals in motorized barges where a cast of actors and actresses work to recreate ancient Egypt. All the characters from pharaohs and fishermen to slaves and potters are represented and even moments in history are recreated. Apart from the faithful reproductions of ancient Egyptian buildings, clothing and lifestyles, there is a complete replica of the tomb of Tutankhamen and a number of museums and interactive exhibits covering different periods of Egypt's history. Exhibits and activities change regularly making it a different experience every time you visit (and children are likely to want to visit more than once!), but favorites include the mummification exhibit and the Cleopatra exhibit. There is a small amusement park, a restaurant, shops and an art centre, as well as boat hiring facilities. The experience is fun and educational and will take a family at least a few hours to fully appreciate so be sure to allow sufficient time.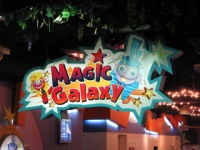 Magic Galaxy
This indoor amusement park spans two floors and features 10 big rides, more than 100 games, and even a Baby Zone section for very young visitors. Kids can enjoy rides such as the Moon Buggy or Falling Star, and family rides like the Comet Coaster and Demolition Derby, they can spend hours ensconced in games and fun activities, or even let off some steam in the Soft Play Room. This is a fantastic attraction for the whole family, and a great way to beat the Egyptian heat for a while, or take a break from historical sightseeing. The focus of the amusement park is on children aged between two and 12 but there is fun to be had for all age groups. Upon entry you will get a Magic Galaxy Card which is prepaid for use of games and rides and can be recharged with fresh funds whenever needed. The cards also accumulate points from certain games and you can pick prizes according to how well you have done. If you happen to go on your birthday you'll get a whole bunch of nifty discounts.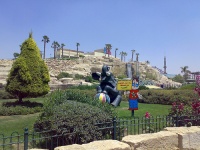 Dream Park
A trip to Dream Park is a must for children of all ages and makes a great day out for the whole family. Featuring rides, shops, fun activities and simulators, the 160 acre Dream Park is also encircled by a train, making access easy. Visitors can enjoy a number of stomach-turning adventure rides, or a selection of mellow family rides, as well as two theatres and one of the largest concert areas in Cairo. 15 restaurants provide refueling stops, and there are five gift shops for souvenirs of your trip. The Dream Park claims to be the largest and most unique amusement park in the Middle East and can host up to 30,000 visitors. It was designed by the same people who designed Universal Studios. For adults there is also plenty of entertainment and fun should be had by the whole family.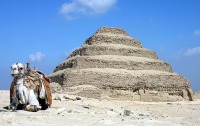 Memphis and Saqqara
Memphis and Saqqara are small towns today, but in ancient Egypt they were great cities and seats of power, an identity still traceable in the ruins and relics in each. Memphis is home to the Temple of Ptah, which includes the Colossus of Ramses II, a 33 foot (10m) statue near the entrance, and a small museum. Memphis was once the capital of Egypt and you can still tell how impressive it once was. Only 1.8 miles (3km) away is the plateau of Saqqara, where visitors will find the vast Saqqara Necropolis, containing many cemeteries, pyramids, mastabas and private tombs, including the Mastaba of Ti, the Pyramid of Teti I, and the Unas Causeway and Pyramid of Unas. One of the most famous structures in Saqqara is the Step Pyramid of Djoser, also known as the Step Tomb due to its rectangular base. Saqqara is also home to the Imhotep Museum. Memphis and Saqqara together make a popular excursion from Cairo. There isn't much in the way of entertainment, dining, or accommodation at these sites, however, so most visitors take a day trip while staying in the capital.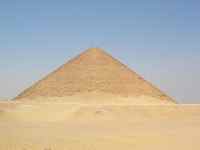 Dahshur
One of the most worthwhile things to see and do in Cairo is visit Dahshur, a royal necropolis in the desert, where the oldest true pyramid, the Red Pyramid, can be found. Some of the burial sites and pyramids date back to the Old Kingdom of the 4th dynasty and the Red Pyramid and the Bent Pyramid were built by Sneferu in about 2600 BC. The Bent Pyramid is so-called because the angle of it's sides is not quite straight, probably the result of an ancient engineering mistake. The Red Pyramid, made out of red limestone, was built after the Bent Pyramid and is thought to have been the first true, straight-sided pyramid in Egypt. The famous Pyramids of Giza were modelled on this design. You can climb into the Red Pyramid and descend down a tunneled ramp into its three interior chambers which is a rare privilege. There are other tombs of interest scattered around the area and you can't walk far without stumbling on some wondrous ancient ruin. Dahshur is about 20 miles (32km) from Cairo and makes for a fascinating excursion from the city. The drive takes under an hour and follows a scenic route which passes through date orchards. Dahshur is far less crowded than most other big tourist attractions and visitors experience none of the hassle from locals and touts that they do at Giza. At this site you can still get the thrill of an explorer discovering something mysterious and ancient. However, the empty nature of this famous archaeological site is partly due to recent sectarian violence in the nearby town of Dahshur (July 2012), so travellers are advised to be alert.
Dining
Arabesque
Cuisine style: Local
This popular tourist haunt may be a bit pricey, yet the Oriental décor is stunning. A bubbling fountain, contemporary art exhibits and tapestries adorning the walls create a wonderful dining environment. The Egyptian-Middle Eastern food focuses mainly on grilled meats so stick to local dishes like bamia(stewed okra). Arabesque is popular for business lunches. Alcohol is served. Open daily for lunch and dinner. Reservations essential.
Address: 6 Qasr el-Nil Street, Cairo
Abu el-Sid
Cuisine style: Mediterranean
This unusual restaurant is a mix of heavy ottoman ornaments in a richly decorated haunt. The food too is a mix and the more unusual sounding dishes are most likely to be the best. Traditional home cooking like molokhiyya stew are favourites although the restaurant blends dishes from several backgrounds with a Lebanese flair. Reservations are advisable.
Address: 48 Giza street.
Sequoia
Cuisine style: Mediterranean
This tent restaurant has become a popular relaxation spot with trendy locals and expats and for good reason. On the high banks of the Nile the restaurant has a commanding spot atop the city. Perfect to relax with flavoured tobaccos and traditional Egyptian and Lebanese mezze food although there are other options for light western dining. More of a lounge during the day, the place becomes a club when the sun sets.
Address: 3 Abou Feda Street
Cortigiano
Cuisine style: Italian
Delicious food and an inviting, cosy atmosphere have made this restaurant one of Cairo's favourite eateries. Soft lighting and tasteful décor create the perfect atmosphere to dine on such dishes as creamy onion soup, veal cordon bleu stuffed with mushrooms and topped with cheese and tomatoes or thick crust pizzas loaded with toppings of your choice. Open daily for lunch and dinner. Reservations essential.
Address: 44 Michel Bakhoum Street
Al-Fanous
Cuisine style: Moroccan
Colourful mosaic and carvings adorn the almost every inch of this Moroccan restaurant where Middle-Eastern pigeon meat, colloquially known as the squab,makes a name for itself in the pie pastilla, a semi-sweet Egyptian dish laced with spices and dusted with cinnamon and sugar. The chicken tagine, a stew made with dates served in a colonial ceramic dish comes highly recommended, though adventurous palates may try the squab, which is fried pigeon. Alcohol is not served. Reservations advisable.
Address: Riyadh Tower, 5 Shara Wissa Wassef
Bua Khao
Cuisine style: Thai
With authentic ingredients flown in from Bangkok and a highly skilled Thai woman at the helm, it's no wonder the food at Bua Khao keeps guests coming back for more. Renowned for serving the best Thai food in Egypt, the massamanand penangcurries are to-die-for and the tom kar gai(chicken and coconut milk soup) is a great way to start things off. Open daily for lunch and dinner. Reservations advisable.
Address: 9 Road 151, Ma'adi
The Revolving Restaurant Grand Hyatt
Cuisine style: International
Towering above the city 41 floors high, diners can enjoy truly panoramic views of the city below as the scenery circles by. Besides taking in the Nile, the city and the pyramids an open kitchen in the centre of the restaurant puts on a show serving up an eclectic range of multi-national menu choices. A slightly formal setting is perfect for romantic evenings and a reprieve from the congestion 41 floors below. Reservations are advised.
Address: Corniche El Nile
The Fish Market
Cuisine style: Seafood
Gone are the days of travelling to Alexandria for good fresh fish. Nowadays, those looking for decent sea fare can book a table at the Fish Market, situated on the upper deck of a boat permanently moored on the west bank of the Nile. With no menu and just a display of some of the freshest fish Cairo has to offer, diners pay by weight and choose their own fish, shrimp, calamari, crabs and shellfish which is beautifully prepared by the kitchen as you like. Couple that with a slew of Middle Eastern salads and deliciously home baked bread and you have a recipe for success! Open daily for lunch and dinner. Reservations advisable.
Address: 26 Shara al-Nil, Giza (on the American Boat)
Kandahar
Cuisine style: Indian
Overlooking Maydan Sphinx and complete with exquisite woodwork detailing, the lavish dining area in Kandahar features authentic Indian furnishings. The food tastes as good as the restaurant looks - amazing! The Baingan Bharta(creamy smoked eggplant baked in a clay oven and perfect for dipping fluffy Naan bread in) is an absolute must and Murgh Tikka(spiced chicken kebabs marinated in yoghurt) is a firm favourite. Service is excellent. Open daily for lunch and dinner. Reservations advisable.
Address: 3 Shara Gameat al-Dowal al-Arabiya, Mohandiseen
Rotisserie Belvedere
Cuisine style: International
Marble lines the floors, alabaster lamps adorn the walls and a piano tinkles in the background inviting diners to twirl across the marble dance floor. Couple that with an amazing panoramic view over the city and an inspired menu and you've got a winner. The mushroom and potato pyramids topped with tomato-mango chutney are delicious, but the classic meat and seafood grills take the cake. Desserts are mind blowing and it is advisable to leave a little room for something sweet. Reservations essential.
Address: Nile Hilton, Maydan Tahrir
Koshary Abou Tarek
Cuisine style: Local
Consistently ranked as one of the most popular restaurants in Cairo, Koshary Abou Tarek serves up a uniquely Egyptian dish, koshary (sometimes spelled koshari), best described as an Egyptian-style chilli, in large portions for prices even the most budget-conscious travellers will love. As ubiquitous in Egypt as curry is in India, Koshary is available at nearly any street vendor in Cairo, but Abou Tarek's koshary is among the best in the city.
Address: 16 Maarouf, Shamplion Street
Airports
Cairo International Airport
Website: www.cairo-airport.com
Location: The airport is situated 14 miles (22km) from Cairo.
Contacts: Tel: +(202) 2265 5000.
Time Zone: Local time is GMT +2.
Departure tax: None.
Transfer between terminals: The two terminals are two miles (3km) apart and are linked by a free shuttle, which departs about every half an hour.
Facilities: Facilities include a restaurant and several cafeterias, banks and ATMs, bureau de change, pharmacies, an Internet café in Terminal 1, five-star lounges for business and first class passengers, smoking rooms (Terminal 1), tourist information desks and travel agencies. Duty-free is also available. Facilities for disabled passengers are good, but those with special needs should contact their airline in advance.
Parking: Parking is available adjacent to Terminal 1, at a rate of EGP 5 per hour.
Transfer to the city: There are taxis outside the main arrivals hall; the journey to central Cairo takes around 45 minutes. An Airport Shuttle bus is a convenient way to get from the airport to downtown Cairo and along the Pyramids Road in Giza. Public buses and air-conditioned coaches also leave regularly from Terminal 1.
Car rental: Car hire companies at the airport include Avis, Budget, Europcar and Hertz. However, driving in Cairo is best avoided, otherwise visitors can hire a driver with their car for a small additional charge.