Overview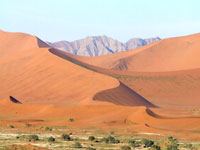 Since Namibia has one of the most uninviting and desolate coastlines in the world, it was neglected by European explorers like the Portuguese, who limited their activities to setting up navigational crosses along the desert shoreline. Today visitors have discovered the vast potential of a country rich in natural resources, with desert landscapes, sunshine, wildlife and a rugged, barren beauty.
It was only later, during the last half of the 19th century, that the race for colonies among the world powers began, and so ensued the German control that became Namibia's colonial reign of terror. The indigenous tribes tried vigorously to retain their independence, and in 1904 a major uprising by the Herero and Nama people resulted in massive genocide retaliation by the colonialists, with an estimated 60 percent of the native population in the south being wiped out. Today the population consists of 11 main ethnic groups, and the towns still reflect the influence of German colonisation evident in the architecture, food and language, particularly in the capital city of Windhoek.
Namibia has a diversity of natural habitats: the rugged coastline and haunting beauty of the Skeleton Coast, the endless stretch of undulating ochre-coloured sand dunes at Sossusvlei, the impressive gorge of the Fish River Canyon winding through the arid landscape of the great plateau, and the vast salt pan of Etosha National Park, one of the world's greatest wildlife viewing venues. These are the attractions that draw travellers to one of Africa's more intriguing destinations, the unspoilt wilderness of Namibia.
With a total population of just over two million, a holiday in Namibia is the opportunity of a lifetime to experience the beauty of a pristine natural environment teeming with wildlife.
Basics
Electricity
Electrical current is 220 volts, 50Hz. Round three-pin plugs are standard.
Language
English is the official language, but many people also speak Afrikaans and German. There are also several indigenous languages spoken, mainly in the rural areas.
Health
Typhoid and Hepatitis A and B vaccinations are reccommended for travel to Namibia. Safety regulations in Namibia require all visitors to have a yellow fever certificate if arriving from an infected area. Travellers should ensure their polio vaccinations are up to date. There is a malaria risk in the northern region during the rainy season (January to April). HIV/AIDS is prevalent and precautions are essential. Cholera outbreaks do occur and visitors should drink or use only boiled or bottled water, and avoid ice in drinks. There has been an increase in the incidence of rabies among dogs in Windhoek. There are good medical facilities in Windhoek, but medical insurance is essential as treatment is expensive. Travellers to Namibia should take medical advice at least four weeks prior to departure.
Tipping
Tips of 10% are expected where a service charge has not been included in the bill. Tour guides, game rangers and trackers rely on tips for their income and should be tipped accordingly.
Safety
The majority of visits to Namibia are safe and trouble-free, but beware of increasing street crime and pick-pockets in Windhoek and other town centres. Theft from vehicles, especially from service stations, is common and valuables should be kept out of sight and the car locked. Avoid using taxis if possible and never take one alone. Care should be taken when travelling in the Caprivi Strip; travel in daylight hours only (livestock wandering onto roads at night cause many accidents), and stay on the main tarred highway as there is a risk of landmines remaining from the Angolan civil war. Namibia is considered at very low risk of terrorism, and there have been no major incidents reported of violence against foreigners. Travellers should carry identification such as photocopies of their passport at all times.
Customs
It is best to check before taking pictures of State House or properties where the President is residing, as well as any buildings guarded by the army or police.
Business
Business in Namibia is conducted somewhat formally, although drinking and socialising are an important part of building good working relationships. Standard business etiquette applies; dress tends to be formal with more lightweight materials worn in the hotter seasons, punctuality is important, shake hands on greeting and leaving and in general be polite and professional. English is the language of business, though German and Afrikaans are widely spoken. Business hours are usually 9am to 5pm Monday to Friday.
Communications
The international access code for Namibia is +264. The outgoing code is 00 followed by the relevant country code (e.g. 0027 for South Africa). City/area codes are in use, e.g. (0)61 for Windhoek. Most towns are covered by a GSM 900/1800 mobile network. Internet access is available from some hotels and Internet cafes are available in Windhoek and Walvis Bay.
Duty Free
Travellers to Namibia over 16 years do not have to pay duty on 400 cigarettes, 50 cigars and 250g of tobacco; 2 litres wine and 1 litre spirits or liquor; 50ml perfume and 250ml of eau de toilette; and gifts to the value of N$50,000.
Currency
The official currency is the Namibian Dollar (NAD) divided into 100 cents. Its value is equal to the South African Rand, which is also accepted as legal currency in Namibia. Major credit cards are accepted. Travellers cheques and foreign currency can be exchanged at any bank or bureau de change, though cash is more expensive to exchange than travellers cheques. ATMs are available in larger towns only.

| | | | | | | | |
| --- | --- | --- | --- | --- | --- | --- | --- |
| NAD 1 = | US$ 0.12 | £ 0.08 | C$ 0.12 | A$ 0.12 | R 1.02 | EUR 0.10 | NZ$ 0.15 |
Note: These currency exchange rates are not updated daily and should be used as a guideline only.
Health
Health Overview
Typhoid and Hepatitis A and B vaccinations are reccommended for travel to Namibia. Safety regulations in Namibia require all visitors to have a yellow fever certificate if arriving from an infected area. Travellers should ensure their polio vaccinations are up to date. There is a malaria risk in the northern region during the rainy season (January to April). HIV/AIDS is prevalent and precautions are essential. Cholera outbreaks do occur and visitors should drink or use only boiled or bottled water, and avoid ice in drinks. There has been an increase in the incidence of rabies among dogs in Windhoek. There are good medical facilities in Windhoek, but medical insurance is essential as treatment is expensive. Travellers to Namibia should take medical advice at least four weeks prior to departure.
Visa
Americans
UK nationals
Canadians
Australians
South Africans
Irish nationals
New Zealanders
Passport/Visa Note
All foreign passengers to Namibia must have confirmed return/onward tickets, and the necessary travel documentation for their next destination. Additionally, visitors should ensure that they have at least two blank pages remaining in their passports, for entry and departure endorsements from the Namibian Immigration Service. Note that a yellow fever vaccination certificate is required to enter Namibia, if arriving within six days of leaving or transiting through an infected area. All travellers must have a passport that is valid for at least six months beyond the period of intended stay in Namibia.
Note: Passport and visa requirements are liable to change at short notice. Travellers are advised to check their entry requirements with their embassy or consulate.
Contacts
Namibia Tourism
Namibian Tourist Office, Windhoek: +264 (0)61 290 6000 or www.namibiatourism.com.na
Foreign Embassies in Namibia








Namibia Embassies








Regions and Cities
Walvis Bay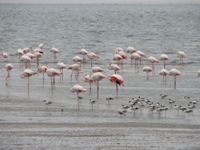 Walvis Bay is often overlooked by tourists travelling to Namibia. However on closer inspection the county's second largest town has a lot to offer. Visitors to Walvis Bay get to step away from the rat-race and enjoy the serene and lonely beauty of the some of the country's most evocative desert scenery. The town is the gateway to a host of endless dunes, freshwater lagoons, birdlife, sea life and silence. The dunes just outside Walvis are both majestic and tragic as they dissipate into the ocean in a timeless battle that will never be concluded. The freshwater lagoons found at the base of some of these dunes provide life to a range of highly specialised and adapted desert wildlife. Visitors to Namibia should not miss the opportunity of visiting this diamond in Namibia's desert crown.
Aside from the awe-inspiring scenery, Walvis Bay offers a range of other activities and sightseeing opportunities for adventurous visitors or those who just want to relax and commune with the wind. This seaside town is Namibia's only working sea port. Walvis Bay is the perfect base from which to explore the surrounding desert regions including the beautiful Sandwich Bay and Cape Fur Seal colony at Cape Cross, and the nearby seaside resort of Swakopmund. Other popular activities include deep-sea fishing excursions, dune-boarding, dolphin watching and scuba diving.
Walvis may be a small dusty town along Namibia's barren and harsh coastline, with hot days, cool nights and mornings shrouded in sea fog but it offers up something magical that few can resist. Even the Hollywood glitterati like Billy Bob Thornton, Angelina Jolie and Brad Pitt have fallen for its charm. Walvis is the perfect place to relax, zone out and commune with your surroundings as you sip a cold beer while watching the colours of the fiery sunsets compete with the flamingos in the lagoon.
The Namib Desert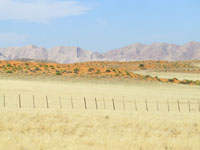 The Namib Desert is the oldest and most arid desert region in the world, having been around for more than 80 million years. In the Nama language, 'Namib' means 'vast', a description perfectly suited to the miles of barren landscape stretching endlessly along Namibia's Atlantic coastline.
The northern Namib is called the Skeleton Coast, an intensely mysterious, inhospitable area of treacherous rocks and sand banks, dry gravel plains and isolated, flat-topped mountains. The bleak wilderness is especially eerie when blanketed in the thick coastal fog that is brought about by the collision of cold sea air with the searing heat of the harsh interior. Sailors washed ashore from shipwrecks over the centuries soon became the skeletons that the coastline was named after, having no chance of survival in the pitiless wastes of the Namib Desert. Its appeal lies in the untouched quality, the colours and changing moods of the vast landscape, and the incredible adaptations to the desert habitat of its flora and fauna.
The southern Namib forms part of the Namib-Naukluft Park, one of Africa's most interesting and diverse nature reserves, including Sandwich Lagoon, an important wetland area for migratory birds, as well as canyons, rivers, and the Naukluft mountain massif, home to many species of animal, particularly the Hartmann's mountain zebra. This section of the Namib Desert is characterised by an endless sea of orange sand dunes, and the famous Sossusvlei dunes, the highest in the world.
Emerging from the desert stretch, and situated along the coast, is the charming little seaside resort of Swakopmund with its distinctly German character and old world charm, making a great base for any holiday in the Namib Desert.
Windhoek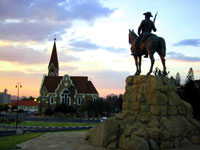 The small, Germanic capital of the country, Windhoek is an attractive city situated in the Central Highlands and surrounded by hills and mountains, occupying the geographical and economic heart of Namibia.
The city centre is characterised by historic German colonial architecture and imposing modern structures. Dominating the skyline is the striking German Lutheran church, Christuskirche, a mixture of Art Nouveau and neo-Gothic design, and the Titenpalast, or 'Ink Palace', the parliament building from where the sparsely populated country is governed. The railway station is a Cape Dutch edifice dating back to 1912 and Independence Avenue is a pleasant tree-lined place with fountains and walkways providing a relaxing ambience among the modern buildings of the central business district. The women of the Herero tribe, cattle herders of the region, are very distinctive with their voluminous Victorian-style dresses and colourful headgear.
The German influence is not only apparent in the architecture and colonial style buildings, but is evident in the food and locally-brewed beer. Polony and sauerkraut are available on the menu among local dishes, including seafood from the west coast and venison or game steaks from the hinterland.
Fish River Canyon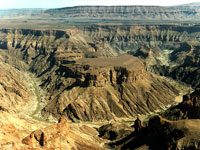 Widely regarded as the second largest canyon in the world after the USA's Grand Canyon, the Fish River Canyon is located in southern Namibia in the eastern Namib Desert. The 100-mile (161km) long canyon was caused by a fracture in the earth's crust and then further carved by the erosion of the Fish River over millions of years. The river can still become a torrent of fast-flowing water after heavy rainfall in summer, but dries up into occasional semi-permanent pools during the winter months. The main attraction of the area is hiking, but hiking the Fish River Canyon can only be undertaken during the winter months, requires a high level of fitness and good health and offers no facilities whatsoever. The five-day trail covers 53 miles (86km) and is the best way to take in the canyon's magnificent immensity, passing beneath the sheer cliffs with their visible rock strata patterns towering 1,640-foot (500m) above the harsh, rock-strewn plain. The canyon comes to an end at Ais-Ais (meaning 'burning water' in Nama) where one of the most famous hot spring resorts in the country is located, and hikers can look forward to a relaxing soak in the therapeutic hot water after completing the trail.
Etosha National Park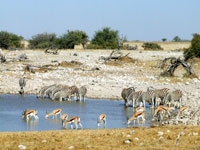 Etosha National Park, 'great white place of dry water', is a vast area of shimmering mirages and saline desert, savannah and scrubby woodlands situated 270 miles (435km) north of Windhoek. Its unique landscape is characterised by an immense flat white saltpan, a shallow depression that is dry for the greater part of the year, but fed by moisture from perennial springs on the fringes. The pan covers about 25 percent of the park.
Once a vast lake, the pan was fed by the Kunene River, which changed its course thousands of years ago, leaving a dry hollow of salt and cracked clay, which only fills up for a short while after heavy rain. The temporary water supply attracts thousands of water birds, including flocks of pink flamingos, during the rainy season, but the best time for viewing animals in Etosha is the cool, dry season, between May and September.
Etosha has three campsites: Okaukuejo, Namutoni and Halali. Visitors are not allowed outside the camp areas at night, however there is a watering hole at each campsite which allow for night game viewing from the safety of the campsite. Okaukuejo Campsite is located 10 miles (17km) from the park's southern entrance. The waterhole has benches and viewpoints and the camp is equipped with overnight accommodation facilities, camping sites, a restaurant and bar, curio shop and a swimming pool. Namutoni Campsite was built on an old German fort. It is located at Etosha's east gate and overlooks the King Nehale watering hole with great game viewing opportunities. The campsite has a small grocery shop, bookshop, craft boutique, jewellery and curio store. Camping and other accommodation options are available. Halali Campsite is between Namutoni and Okaukejo, just south of the main Etosha Pan, at the base of a dolomite hill. The watering hole is lit up at night and an elevated vantage point has been constructed so that visitors can watch nocturnal animals as they come to the pan. Accommodation options and camping facilities are available and there is also a swimming pool at this campsite. In recent years the Namibian Wildlife Resorts authorities have upgraded the accommodation facilities at each of the Etosha's campsites; some of the upgrades were necessary, but some have just been used as a means to increase the accommodation and campsite fees. If you are travelling to Etosha, be sure to book in advance and double check both availability and charges so that you are not surprised by an astronomical bill.
The salinity and rich mineral content of the pan attracts a huge diversity of animal and bird life to the park making it an excellent place for game viewing, with the expanse of the white desert an extraordinary backdrop. Etosha has a network of roads linking its three rest camps - Namutoni, Halali and Okaukuejo - all of which have floodlit waterholes allowing for superb night game viewing. Visitors can expect to see many species of antelope, wildebeest, zebra, lion, giraffe, and Africa's tallest elephants. Several of the animal species are endangered, including the black rhino. There are also opportunities to see leopard and cheetah around the many waterholes scattered throughout the park.