Overview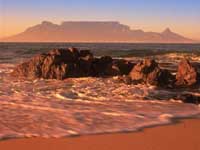 Stretching from sandy beaches and colonies of penguins in the west, to the open plains of wildest Africa at the stunning Kruger National Park, South Africa is one of Africa's most unique and vibrant destinations. With 11 official languages, a wide variety of awe-inspiring landscapes and a diverse mix of culture and tradition, South Africa captivates and inspires hordes of travellers every year.
Depending on your itinerary and the amount of time you have to spend on it, there are numerous types of South Africa holidays to choose from. Why not consider some of the fantastic South Africa tours available – from African safaris spotting the 'big five' (lion, leopard, rhino, buffalo and elephant) to touring the wineries in the Western Cape?
This amazing country harbours an undercurrent of contrasts, where the scars of apartheid remain, where rich meets poor and sleek new architecture juxtaposes buildings of crumbling disrepair. However it's a vibrant country bursting with cultural attractions and one that will leave you with lasting memories of some incredible experiences.
Use this South Africa Travel Guide to highlight your favourite destinations. Most visitors enter South Africa through the largest city Johannesburg or the stunningly beautiful Cape Town. With a bit of patience you can find great deals and cheap flights to South Africa to take you to these exhilarating cities.
For an insight into South Africa's past, head to the Apartheid Museum in Johannesburg or book tickets to a soccer game at the newly built FNB Stadium – better known as Soccer City – and witness in the electric atmosphere in this sports-mad city. Animal lovers should not miss exploring the stunning Kruger National Park, just over 400-kilometres from Johannesburg.
Head south to the province of KwaZulu-Natal and experience authentic Zulu culture, explore the breathtaking Drakensberg mountains and visit the coastal city of Durban to dive, surf, swim and enjoy some fun in the sun.
Modern, vibrant and with the stunning Table Mountain at its centre, Cape Town is one of the world's most iconic cities. With beaches, galleries, nightlife and food that match the hype, this is a city not to be missed. On a clear day take a cable car to the top of Table Mountain and marvel at the spectacular views of the coast and the city. Head out to Robben Island and see Nelson Mandela's former prison cell, or hire a car and take a day trip down to the Cape of Good Hope to see the African penguin colony at Boulders Beach and explore Cape Point.
Travel Chapman's Peak Drive – one of the most picturesque coastal routes in the world. Explore the famous 'Garden Route' along the coast to just beyond Plettenberg Bay in the east and don't miss a tour of the wine region through the beautiful Stellenbosch and Franschhoek. There is so much to see in this amazing country, so start planning your South African adventure today.
Basics
Electricity
Electrical current is 230 volts, 50Hz. Round, three-pin plugs are standard.
Language
South Africa has 11 official languages, including Afrikaans, English, Xhosa, Zulu and Sotho. English is widely spoken.
Health
Health regulations in South Africa require that travellers from areas infected by yellow fever must carry a vaccination certificate; otherwise no vaccination is required. There is a malaria risk in the low-lying areas of the Northern Province and Mpumalanga (including the Kruger National Park), as well as north-eastern KwaZulu-Natal, and precautions are advised when travelling to these areas, especially between October and May. There is a high prevalence of HIV/AIDS. Tap water is safe in urban areas but sterilisation is advisable elsewhere, as there are periodic outbreaks of cholera in the poor communities of rural South Africa, particularly in Northern KwaZulu-Natal, Mpumalanga, and Limpopo provinces. Drug-resistant TB has been reported throughout the country. Food poisoning is rare. Medical facilities in South Africa are good, but medical insurance is strongly advised as private hospitals expect cash upfront and public hospitals are best avoided. Medication is readily available in urban areas, but those travelling in out of major cities for an extended period should bring a basic supply kit for emergency self-treatment.
Tipping
Waitering is a livelihood and a tip of 10% is expected for good service, if a service charge is not included in the bill. Tipping for services rendered is widely anticipated by porters, taxi drivers and petrol attendants. Golf caddies should be tipped accordingly. 'Car guards' operate in the city centres and tourist spots and will offer to look after your parked car; they are usually immigrants from neighbouring countries looking for work and will expect anything from R2 upwards on your return.
Safety
Safety is an issue and visitors to South Africa should be aware of the country's high incidence of crime. Although this tends to be concentrated in pockets throughout the country, for example in the township areas, opportunistic crime is fairly widespread. Travellers should always be aware of these risks and exercise the necessary precautions. Carjackings and smash-and-grab robberies are common in major cities, and doors should be locked when driving and bags and valuables should be kept out of sight, or locked in the boot. One should not walk alone at night in any area. Berea and Hillbrow in Johannesburg are high-risk areas and visitors should be cautious in these areas. There have been recent incidents of robbery involving hikers walking on Table Mountain and Lion's Head in Cape Town, so visitors should avoid hiking alone. Be vigilant when using ATMs and do not display signs of wealth (e.g. mobile phones, money, expensive jewellery) on the streets. Credit card fraud is on the increase and travellers should be vigilant and never allow their card out of their sight. It is worthwhile noting that the South African authorities do give high priority to the protection of tourists. Power outages are common throughout the country; frequent blackouts and rolling power cuts in January 2008 has forced the government to acknowledge that the country has an electricity crisis on its hands.
Customs
South African culture and etiquette in urban areas is very Western. While standards of dress vary, beachwear is not to be worn off the beach, and nude sunbathing is only permissible in a very few designated areas. While in African townships it is frowned on for women to wear pants or shorts and homosexuality is frowned on, whereas it is legal and acceptable in all other areas. Although locals may complain loudly about the country and government, they will take offense if a foreigner is critical. Racism is a sensitive issue, however interracial relationships are widely accepted. South African racial terminology differs from what is acceptable in North America: the terms 'black' and 'white' are appropriate for those of African and Caucasian descent, respectively. 'Coloured' refers not to black Africans, but those of mixed African and European descent and is not considered an offensive term. South Africans are friendly and hospitable, and will often go out of their way to assist tourists who need help.
Business
Business practices in South Africa are influenced by South Africa's range of ethnicities, languages and even geographical areas, but in general follow common patterns. When doing business in South Africa it is important to be culturally sensitive and as understanding of colleagues' historical context as possible. Most South Africans prefer to do business with contacts they've met before, but they are also warm and open to newcomers. Working to build and maintain business relationships is vitally important in the South African business environment. South Africans are renowned for their friendliness which generally supersedes business formality. Most large corporations, as well as the banking and financial sector, still adopt relatively formal business practices, whereas other companies and work environments enjoy more relaxed and personable atmospheres. Clear management hierarchies and respect for senior executives and colleagues are of paramount importance. However, business exchanges and decision-making processes often take on an egalitarian aspect. As with most countries, punctuality is highly regarded. However government officials are said to keep 'African time' as they are notorious for their tardiness when it comes to keeping time. Dress codes tend to be conservative, but not overly formal. Suits are the exception more than the rule, but dressing stylishly will always count in your favour. It is best to dress formally for initial meetings. South Africans value hard work and respect those who succeed. However, they are mindful of other aspects of life such as healthy living, family and nurturing relationships - all of which add up to a well-balanced life. Generally South Africans are regarded as relaxed and informal with regards to introductions and the handling of business cards. Shaking hands is common for both men and women. The giving of gifts is uncommon and unnecessary. The official language of business in South Africa is English, but it is often beneficial to know at least some Xhosa and Afrikaans. Business hours tend to start at 8.30am or 9am and the day comes to a close at 5pm, or later in the major urban centres. Working over weekends tends to be quite rare in South Africa, unless you count watching a sports game with your colleagues as 'work'.
Communications
The international access code for South Africa is +27. The outgoing code is 00 followed by the relevant country code (e.g. 0044 for the United Kingdom). As of 8 January 2007, South Africa has changed to 10-digit dialling (so city codes must be included, e.g. 021 for Cape Town) and international dialling has changed from 09 to 00. GSM mobile phone networks providing 900 and 1800 frequencies serve the country. Mobile service providers offer very cheap 'pay-as-you-go' Sim cards, which are a good option for visitors staying for some time. Internet cafes are widespread. Card and coin operated pay phones are also widespread.
Duty Free
Travellers to South Africa do not have to pay duty on 400 cigarettes, 50 cigars and 250g of tobacco; 2 litres wine and 1 litre spirits; perfume up to 50ml and 250ml eau de toilette; and other goods to the value of R3,000. All other goods brought in from abroad by South African residents must be declared on arrival. These will be subject to import duties. For goods to be re-imported, travellers must complete a DA65 or NEP-form that is issued on departure. Prohibited items include meat and dairy products, all medication except for personal consumption, flick knives, ammunition, explosives and pornography containing minors and bestiality.
Currency
South Africa's currency is the Rand (ZAR), which is divided into 100 cents. Money can be exchanged at banks, bureaux de change and the larger hotels. ATMs are widely available (there is a daily limit for cash withdrawals) and major international credit cards are widely accepted, except in petrol stations where cash is required. Visitors should be vigilant when drawing cash from ATMs, as con artists are known to operate there. Travellers cheques and some foreign currencies are accepted at larger hotels and shops, but commission is charged, otherwise all commercial banks will exchange them.

| | | | | | | | |
| --- | --- | --- | --- | --- | --- | --- | --- |
| R 1 = | US$ 0.12 | £ 0.08 | C$ 0.12 | A$ 0.11 | R 1.00 | EUR 0.09 | NZ$ 0.15 |
Note: These currency exchange rates are not updated daily and should be used as a guideline only.
Health
Health Overview
Health regulations in South Africa require that travellers from areas infected by yellow fever must carry a vaccination certificate; otherwise no vaccination is required. There is a malaria risk in the low-lying areas of the Northern Province and Mpumalanga (including the Kruger National Park), as well as north-eastern KwaZulu-Natal, and precautions are advised when travelling to these areas, especially between October and May. There is a high prevalence of HIV/AIDS. Tap water is safe in urban areas but sterilisation is advisable elsewhere, as there are periodic outbreaks of cholera in the poor communities of rural South Africa, particularly in Northern KwaZulu-Natal, Mpumalanga, and Limpopo provinces. Drug-resistant TB has been reported throughout the country. Food poisoning is rare. Medical facilities in South Africa are good, but medical insurance is strongly advised as private hospitals expect cash upfront and public hospitals are best avoided. Medication is readily available in urban areas, but those travelling in out of major cities for an extended period should bring a basic supply kit for emergency self-treatment.
Visa
Americans
United States nationals need a passport valid for at least 30 days beyond intended travel, but no visa is needed for stays of up to 90 days, with extensions possible.
UK nationals
British nationals need a passport valid for 30 days beyond the date of intended travel, but no visa is needed for stays of up to 90 days if passport is endorsed British Citizen or British Overseas Territories Citizen. Those whose passports state British National (Overseas) may stay up to 30 days without a visa. All others require a visa.
Canadians
Canadian nationals need a passport valid for 30 days beyond the date of intended travel, but no visa is needed for stays of up to 90 days.
Australians
Australian nationals need a passport valid for 30 days beyond the date of intended travel, but no visa is needed for stays of up to 90 days.
South Africans
Irish nationals
Irish nationals require a passport valid for 30 days beyond intended travel, but no visa is needed for stays of up to 90 days.
New Zealanders
New Zealand nationals require a passport valid for 30 days beyond intended travel, but no visa is needed for stays of up to 90 days.
Passport/Visa Note
Passports should be valid for at least 30 days beyond the period of intended stay. An onward or return ticket is required and evidence of sufficient funds. Note that visitors to South Africa must have at least one blank (unstamped) visa page in their passport, each time entry is sought; this page is in addition to the endorsement/amendment pages at the back of the passport. However nationals of countries that require a visa before travelling to South Africa, must have two blank pages in their passport - one for issuing a visa prior to departure and one for stamping at the port of entry when entering South Africa. Immigration officials often apply different rules to those stated by travel agents and official sources. The South African Immigration Authorities do not accept loose leaf temporary travel documents.
Note: Passport and visa requirements are liable to change at short notice. Travellers are advised to check their entry requirements with their embassy or consulate.
Contacts
South Africa Tourism
South African Tourism, Johannesburg: +27 (0)11 895 3000 or www.southafrica.net
Foreign Embassies in South Africa
United States Embassy, Pretoria: +27 (0)12 431 4000.
British High Commission, Pretoria: +27 (0)12 421 7500.
Canadian High Commission, Pretoria: +27 (0)12 422 3000.
Australian High Commission, Pretoria: +27 (0)12 423 6000.

Irish Embassy, Pretoria: +27 (0)12 342 5062.
New Zealand High Commission, Pretoria: +27 (0)12 435 9000.

South Africa Embassies
South African Embassy, Washington, United States: +1 202 232 4400.
South African High Commission, London, United Kingdom: +44 (0)20 7451 7299.
South African High Commission, Ottawa, Canada: +1 613 744 0330.
South African High Commission, Canberra, Australia (also responsible for New Zealand): +61 (0)2 6272 7300.

South African Embassy, Dublin, Ireland: +353 (0)1 661 5553.


Regions and Cities
Cape Winelands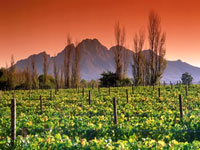 The extensive and verdant beauty of the Winelands region is one of the Cape's most alluring attractions. No visit to Cape Town would be complete without having taken the time to explore at least one of the 13 wine routes in what is the largest wine-producing area in the Western Cape.
Rugged, blue-tinged mountains surround the green valleys dotted with charming, historic towns among vineyards and olive groves, where visitors can admire traditional Cape Dutch architecture, sip world-class wines and soak up the rich cultural and historical heritage. Stellenbosch, Franschhoek and Paarl are the most well known wine-producing valleys in the region, situated within easy reach of each other, while the oldest wine farm in South Africa, Groot Constantia, is located within the Mother City itself, and is part of the tiny Constantia wine route, which was developed by Simon van der Stel in the late 1600s. Other smaller wine routes include Worcester, Tulbagh, Wellington and Somerset West. With a selection of more than 200 cellars to choose from, the Cape Winelands boast some of the finest wines in the world.
In addition to savouring the fruits of the vine, visitors can sample superb culinary fare at some of the finest restaurants in the country, browse the art galleries and local craft shops, visit historic monuments and museums, and partake in an array of activities from walking, horse riding and fly-fishing to golf and paragliding. Food and wine festivals take place throughout the year and are a great introduction to the bewitching charms of the region.
Cape Town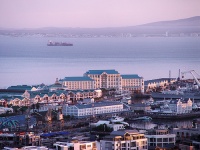 The lure of a holiday in Cape Town lies in its spectacular setting and the beauty of its natural environment, as well as the rich cultural diversity of its people.
It has had a long and turbulent history, and the effects of Apartheid still linger in the minds and hearts of the people. Transformation, however, has led to a feeling of hope in this new 'Rainbow Nation', which can be experienced in the cosmopolitan city centre of Cape Town. Flower sellers, business executives, parking attendants, office workers and shoppers all rub shoulders in a setting of both historical and modern buildings, backed by the city's most famous landmark, Table Mountain. The colourful Malay Quarter, the remains of District Six, St George's Cathedral, Government Avenue and the old Castle are historically significant, while world-class African and international restaurants tempt travellers with their culinary delights. Although an African city, Cape Town has a marked European influence and visitors can experience the excitement of Africa from the comforts of First World surroundings.
Cape Town's unique setting means that it can be enjoyed from various vantage points: Table Mountain, Lion's Head, and Signal Hill provide breathtaking vistas over the city bowl and the Cape peninsula with its beautiful beaches; trips to Robben Island offer a dramatic sweep of scenery across to Table Bay; and harbour tours and old buildings await exploration at the cosmopolitan Waterfront. Many scenic routes meander along magnificent stretches of coastline and inland terrain leading to special places like Cape Point, the meeting place of the cold Benguela and warm Mozambique currents; and Chapman's Peak, which boasts one of the most picturesque drives in the country.
It is a city with four distinct seasons, each working its particular magic on Cape Town and bringing with it a flood of associations - summer and white sandy beaches, autumn's crisp colours, the ferocity of stormy seas in winter, and spring's show of Cape fynbos flowers.
This vast combination of culture, history and scenery leads to an unforgettable experience. This is a special place with much to contribute towards its growing reputation as a favoured travel destination.
Garden Route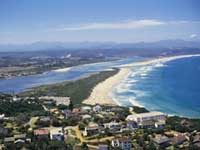 The stretch of southern coastline between the town of Heidelberg and the Tsitsikamma National Park makes up South Africa's well-travelled 'Garden Route', scattered with popular resort towns. The coastal plain is backed by spectacular mountain ranges, offering scenic lakes, indigenous forests, golden beaches and secluded bays.
The main town on the route is George, which is a bustling commercial centre with some good hotels making it a good central point from which to explore the coastal region. From George it is also a short drive inland over the Outeniqua Mountains to Oudtshoorn, site of the world-renowned Cango Caves and home to several ostrich farms that welcome visitors to enjoy their entertaining and educational tours. Other popular holiday towns on the Garden Route include Mossel Bay and Plettenberg Bay.
Attractions along the Garden Route encompass a wide variety from historic sites to scenic vistas, and beaches to nature reserves. There are ample opportunities to interact with nature, and you may spot whales, dolphins, seals, baboons, and nearly 300 species of bird. To make the most of the area one needs to stray from the national N2 highway and explore the towns, villages and resorts en route. A fun way of enjoying the scenery is to ride on the Outeniqua Choo-Choo vintage steam train between George and Knysna. There are also great recreational opportunities to enthrall active holidaymakers, from bungee jumping and water sports, to hiking trails and canopy tours.
Port Elizabeth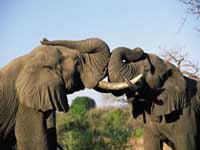 The industrial city of Port Elizabeth is the centre of the Eastern Cape region of South Africa, known in most tourist guides as 'settler country'. The city was founded by shiploads of British settler families who arrived in the Eastern Cape in the early 19th century, hoping to improve their prospects after suffering economic hardship because of the industrial revolution at home. The settlers also intended to strengthen defences against the local Xhosa people, who had been pushed back beyond the Fish River frontier. They came ashore at Algoa Bay, where there was nothing more than the small British Fort Frederick to welcome them.
The city, from its humble beginnings, has grown into a principal port and manufacturing centre. Although it is very much a working town with a large indigent population living in the outlying township areas, Port Elizabeth draws plenty of tourists because of its proximity to the attractions of the east coast and historically interesting interior. The city is justifiably known as 'the friendly city' and Algoa Bay boasts 25 miles (40km) of beautiful sandy beaches lapped by the warm waters of the Indian Ocean. The attractive beachfront is the venue for the annual 'Splash' festival and world boardsailing championships, and features a long promenade and pier full of tourist facilities. Port Elizabeth has a few museums and a small oceanarium, as well as the Nelson Mandela Stadium, which was built for the 2010 World Cup and dominates the cityscape. The nearby Donkin Reserve provides a pleasant day trip as do Seaview Game and Lion Park and the Kragga Kamma Game Park, and slightly further afield visitors can see the 'Big Five' at Shamwari Game Reserve, Amakhala Game Reserve, and Addo Elephant Park.
Durban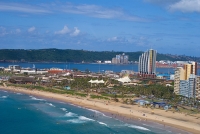 Delightful Durban is the largest city of the vast and varied KwaZulu-Natal province of South Africa. A coastal port with a more than equable sub-tropical climate and wide golden beaches washed by the warm Indian Ocean, Durban is a holidaymaker's paradise and gateway to the dozens of seaside resort towns of the coast to the south and north of the city. The 'Golden Mile' central beach area, flanked by numerous high-rise hotels, stretches for four miles (6km) and is fronted by promenades and entertainment facilities with many things to see and do, such as a skatepark, flea markets and colourful traditionally clad Zulu rickshaw pullers.
Although much of Durban is characterised by British colonial heritage and beautiful Art Deco architecture, the city is actually an exciting mix of cultures. There is a large Indian community, descendants of indentured labourers who came to work on the Natal sugar estates in the 1850s, and who provide the city with an intoxicating oriental flavour enhanced by their shrines, bazaars and tantalising curry restaurants. There are also the Zulu people, whose proud warrior ancestors inhabited the province before the coming of the European colonial powers. The heritage of the amaZulu is very evident in the region north of the Tugela River, known as Zululand, where the legendary King Shaka once ruled supreme and today is where most of KwaZulu-Natal's best game parks are to be found.
Durban is the gateway not only to the coastal beach resorts of the province, but also to the rolling hills and plains of the Natal Midlands and their backdrop: the majestic, jagged peaks of the Drakensberg Mountains, which border the province in the west and cradle the nearby mountain kingdom of Lesotho.
Johannesburg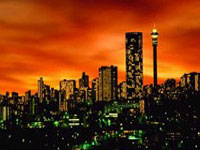 The capital of South Africa's smallest province, Gauteng, Johannesburg is the economic powerhouse of Africa with its ever-growing suburban sprawl creeping outwards from the central city skyscrapers and ring-road motorways.
The more than 10-million inhabitants live fast and have a restless spirit, which they have imparted into the fabric of the city, also known by its African name as Egoli, 'the place of gold'. The development of the city, which is just over a century old, has followed the fortunes of the Witwatersrand (White Water Reef), the rich gold-bearing rock reef that stretches across this area of central South Africa. The initial gold rush started in the 1880s, and barely ten years later Johannesburg had become South Africa's largest town and the site of frenzied development that has been ongoing ever since.
Johannesburg today is a city of contrasts, with glass-paned modern luxury high-rises towering beside a few remaining dilapidated Victorian buildings, and affluent northern suburbs with stunning private homes behind high fences giving way to the squalid streets and tiny shoebox houses of the massive Soweto township in the south. The chasm between rich and poor in the city has given rise to a high crime rate, evidenced by the fortress-like security that pervades the wealthier suburbs.
Most visitors to South Africa, particularly those intent on exploring the game reserves of Mpumalanga, arrive at Johannesburg's busy OR Tambo International Airport, which is the main point of entry for the country. There is little in Johannesburg itself to grab the attention of tourists, but a few days can be filled taking in some entertaining man-made attractions before heading off to the game parks of the northeast or the coastal regions. The most interesting diversion in Johannesburg is undoubtedly a 'Heritage Route' or 'Shebeen Crawl' tour of Soweto, but take care only to venture into the maze of the township with an organised tour or professional guide.
Mpumalanga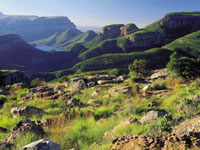 Mpumalanga, meaning 'land of the rising sun', is a province rich in wildlife, African culture, pioneer history and natural beauty. Situated in the east of the country, north of KwaZulu-Natal, it borders Swaziland and Mozambique and encompasses the southern section of the world-renowned Kruger National Park.
Mpumalanga is 'Big Game Country', and the Lowveld is the setting for dozens of private game reserves and luxury lodges that abound in bird and animal life. Nelspruit is the capital and gateway to the province, situated two hundred miles (325km) east of Johannesburg, and is South Africa's fastest growing city with a vibrant Central Business District. Although not much of a tourist attraction in itself, Nelspruit is situated in the heart of a region rich in natural attractions, which makes it a favourite jumping off point for exploring the Lowveld area. The city's train station and airport welcome travellers several times a day, most of whom are en route to the Kruger National Park, whose southern Malelane Gate is about 40 miles (63km) from Nelspruit.
It is not only those interested in safaris that come to Mpumalanga, however. Besides wonderful opportunities for bird watching and game viewing, the area is also scenically beautiful with its mountains, valleys, waterfalls, canyons and panoramic passes. Mpumalanga's lack of development means more space for its natural finery, which is particularly evident along its scenic meander known as the Panorama Route that takes in spectacular sights along the eastern slopes of the escarpment such as the Blyde River Canyon and God's Window, as well as lesser-known vistas like Bourke's Luck Potholes, Wonder View and the Three Rondavels. The little town of Pilgrim's Rest is a popular attraction for those interested in the history of the 1870s gold rush, while streams that once held the promise of gold are now a haven for trout and fly-fishermen, particularly near the town of Dullstroom. The region is also home to the Ndebele people, famous for their beadwork and uniquely painted houses.
Kruger National Park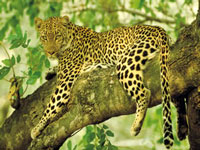 The Kruger National Park is South Africa's oldest, largest and best-known wildlife conservation area, home to a huge variety of wildlife and most famous for its 'Big Five' viewing opportunities. Visitors have an excellent chance of seeing lion, elephant, leopard, buffalo and rhino among the enormous variety of wildlife, including over 140 species of mammals, 500 species of birds, reptiles and amphibians.
The park had its beginnings in 1898, when President Paul Kruger established a protected area for wildlife after hunters came close to wiping out the rich game of the region. The Anglo-Boer War (1899-1902) stopped further progress until the development of the Sabie Game Reserve by the British, which later expanded into today's Kruger Park. The park was opened to visitors in 1927, and at present stretches for 236 miles (350km) from the Crocodile River in the south up to the Limpopo River, and is about 40 miles (65km) wide; roughly the size of Israel.
Situated on South Africa's north eastern border, Kruger is a primary destination for international tourists, and is visited by more than half a million local and international people every year who are attracted by the different safari options as well as the park's excellent range of visitor facilities and choice of accommodation, from luxurious game lodges to cottages and camping. The park is criss-crossed by over a thousand miles of roads and offers excellent opportunities for self-drive safaris as well as guided drives. Bush walks with armed and experienced rangers offer a more thrilling safari option where animals like lion and elephant are tracked through the bush on foot. Visitors may only traverse the park between sunrise and sunset; when darkness descends it is best to be safe in a fenced rest camp. The park has other restrictions that must be adhered to, such as a total ban on pets and firearms, and strict regulations on where visitors may get out of their cars. Visitors should also be aware that Kruger is a malaria zone.
This vast sanctuary is a must-see for every visitor to the country. The south is teeming with wildlife and as a result is the most popular area, while the remote northern region is little visited by game or people, but provides some of the best birding opportunities in southern Africa as well as an abundance of historic iron-age and Bushmen (San) sites. Rivers interrupt the extensive grassy plains towards the centre of the park, and the region provides an excellent setting for predators and birdlife.
Battlefields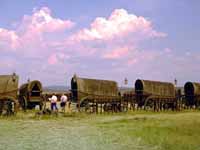 Zululand, ancestral home of the Zulu people and site of many a bloody battle between the British, the Boers and the Zulus during the 19th century, abounds in significant towns, memorials and battle sites that form part of the historic Battlefields Route. This land once encompassed the Zulu kingdom led by legendary Shaka Zulu, and then by his half-brother Dingaan, who clashed with both the English and Afrikaaner settlers in what are today recorded as some of the most important battles in South African history.
Over a period of about 70 years, the plains, rolling hills and river valleys saw numerous brutal, blood-soaked conflicts over land ownership, political independence and the desire for colonial domination. The first major battle, and one of the most terrible, took place in 1838 between the Voortrekkers and the Zulus in what became known as the Battle of Blood River. Then followed the Anglo-Zulu War in 1879 in response to British dissatisfaction regarding the increasing strength of the Zulus, and the battles that took place at Isandlwana Hill and Rorke's Drift are remarkable for their tales of heroism and brutality. In 1880 and again in 1889, anti-British sentiment among the disgruntled Voortrekkers, as well as a desire for Afrikaaner independence, led to the two Anglo-Boer wars that captured the attention of the world and resulted in heavy loss of life among both the Boers and the British. The devastating siege of Ladysmith and the Battle of Spioenkop are among the most famous battles that took place during the second Anglo-Boer War from 1889 to 1902.
The Battlefields Route covers 14 historical towns, including Ladysmith and Dundee, numerous national monuments and informative museums, and over 50 battlefields in the surrounding countryside, which are best explored as a self-drive adventure or as part of a tour. Every town on the route has a story to tell or an event to commemorate and tourism offices throughout the region provide maps and guides to assist visitors in making the most of the history, culture, scenery and wildlife.
Kimberley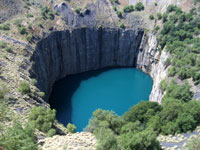 Capital of the Northern Cape Province, Kimberley is best known for its Big Hole, a legacy from the diamond rush in the area in 1871. Kimberley began as a town named New Rush, which formed around the hill where a 83.50 carat (16.7g) diamond was found; as miners arrived in their thousands the hill gradually disappeared and became known as the Kimberley Mine or 'Big Hole', the largest hand-dug excavation in the world. The Big Hole reached a depth of 787ft (240m) and yielded three tons (2,722kg) of diamonds until its closure in 1914.
The growing metropolis became the first city in the southern hemisphere to install electric street lighting and was home to the country's first stock exchange and flying school. Kimberley's prosperity has continued into the 21st century and the thriving city is rich in history. Most of the city's opulent lifestyle and characteristic Victorian architecture can be seen in the historical suburb of Belgravia, and it also offers visitors many museums as well as one of South Africa's most important art galleries. Kimberley's biggest attraction is still the Big Hole, however, and visitors can visit the informative museum, which recounts the tale of the diamond rush and offers an insight into the lives of those who lived and worked in the area.
East London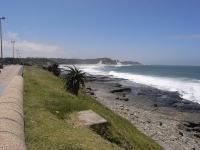 Gateway to the Wild Coast, East London is a small, friendly city on the Indian Ocean where activities like surfing, fishing and golf take precedence. The city centre branches out into business parks, malls and suburbs set in subtropical vegetation, which are dissected by a myriad of rivers such as the Buffalo and Nahoon, whose wide banks meander lazily into the ocean, offering locals excellent fishing, rowing and cruising opportunities.
Formerly a British fort, the city can easily be explored on foot. There are many attractions such as the East London Museum that houses the prehistoric coelacanth and the city hall that should not be missed. It is best for visitors to have a car so that they can access various attractions dotted on the outskirts such as Steve Biko's grave, the aquarium, the harbour which is the only river port in the southern hemisphere, and the superb seafood restaurants that line the beachfront.
It takes only 20 minutes from the bustle of this small city to one of the tranquil and isolated holiday villages on the coast where rolling hills of indigenous vegetation are met by long expanses of untouched beaches. Here visitors can go horse riding on the shore, visit the Gonubie Nature Reserve that has over 150 different bird species or stay at the Inkwenkwezi Private Game Reserve where the remarkable Big Five can be seen.
Bloemfontein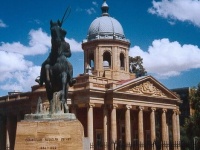 Known as the 'City of Roses', Bloemfontein is a small interior city that forms the economic and cultural centre of the Free State and is the judicial capital of South Africa. With wide streets, beautifully kept gardens and dated state buildings, Bloemfontein is a modern city that has an old charm about it.
Surrounded by rural farmland for many miles in every direction, the metropolis is the central transport hub for the rest of the country and is visited mainly as a stopover to other destinations. While visiting, take a stroll down the historical, tree lined President Brand street, which has been declared a national conservation area and admire the architecture of the sandstone government buildings. One of the major centres of activity in Bloemfontein is the man-made Loch Logan Waterfront, which offers a range of shops, restaurants, bars and clubs and is the place to be after dark.
The Oliewenhuis Art Gallery is also a worthy sojourn as it houses magnificent work by both traditional and contemporary South African artists. The monthly art market in Kings Park, the annual Rose Festival in October and the Agricultural show in March all pull crowds from around South Africa and visiting tourists.
There are a number of reserves in the area, including Caledon, Franklin, Soetdoring Dam, and others. Bloemfontein also has several good golf courses, and a zoo that the kids will enjoy while Dad is on the links. Be sure to have visit the beautiful Free State National Botanical Gardens; and have a look at the Free State Stadium, the largest structure in town, that hosted five games for the 2010 World Cup.
Richards Bay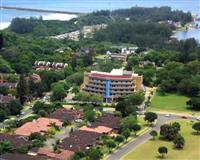 Richards Bay is one of South Africa's biggest ports, boasting the largest export coal terminal in the world that loads 66 million tons every year, and is situated on the 12 square mile (30 sq km) lagoon of the Mhlatuze River. It began as a makeshift harbour that was set up during the Anglo-Boer War of 1879 and is named after its founder, Sir Frederick Richards. The specialised ships that call are a must-see for maritime buffs. The town is a bustling business centre featuring every modern facility and offers plenty of recreational facilities for visitors.
Besides the rapid industrial expansion, Richards Bay's tourism industry is thriving and it is fast becoming a popular north coast holiday destination, with spectacular scenery on offer and pristine golden beaches gently lapped by the warm waters of the Indian Ocean. It is a popular kite-surfing destination, as the area has good consistent winds blowing from the north-east, and highly ranked kite-surfers are regular visitors to this town. Tourists can enjoy plenty of other adventurous activities such as fishing, yachting and kayaking. Humpback dolphins and whales are frequent visitors to the waters around Richards Bay and can be viewed from a specially erected viewing point at Alkantstrand Beach.
While the town itself is notoriously sleepy, Richards Bay offers tourists entrance to the once forgotten corner of Africa that is Zululand, a place of exquisite beauty and diversity. A multitude of game reserves are within an hour or two's drive of Richards Bay. Hluhluwe Umfolozi Park is a must-see for nature lovers, featuring the 'big five' (elephants, lions, leopards, buffalo and rhinos) as well as cheetahs, wild dogs and nyala. Lake Mzingazi, the primary water supply of Richards Bay, is a popular tourist attraction offering visitors the chance to view Nile crocodiles and hippos as well as over 350 species of birds, making it a bird watcher's paradise. Richards Bay's surrounds have vast expanses of untouched and unspoilt indigenous vegetation as well as natural lakes and marshes, making it one of the most picturesque tourist destinations in the country.
Transkei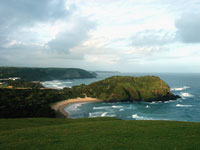 The Transkei (meaning 'across the Kei') is a region situated roughly between East London and Durban in the Eastern Cape, bordered by the Great Kei River in the south and the Umtamvuna River near Port Edward in the north.
Characterised by green rolling hills scattered with round thatched huts, and a stunning coastline, the ruggedly beautiful Transkei region has become increasingly attractive to tourists seeking an unspoilt experience of South Africa, a far cry from the many westernised luxuries that can be found throughout most of the country. The Wild Coast is perhaps the most visited part, with stretches of golden beach sprinkled with shells, overlooked by traditional Xhosa villages set amid the green hills, and punctuated by rough potholed roads.
Coffee Bay and Port St John's are the two main tourist towns and have become a haven for independent travellers and backpackers. Hole-in-the-Wall close to Coffee Bay is a popular attraction, a geographical marvel where the sea has pounded a tunnel through a huge rock in the sea.
Historically, the Transkei was one of the homelands created by the Apartheid government to be set aside for black, Xhosa-speaking South Africans until it became an independent state in 1976 with Umtata (Mthatha) as the capital. Today the only reason to visit Umtata is to see the Nelson Mandela Museum that showcases his life in photos and displays. Just to the north the little town of Qunu lays its claim to fame as the birthplace of Mandela.
Pretoria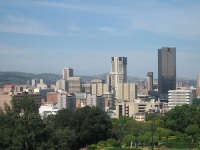 Pretoria is affectionately known as the Jacaranda City due to its profusion of purple-coloured trees that blossom in spring. It is located 56 miles (90km) from Johannesburg, although this drive can take up to two hours in the infamous traffic between the two cities. Pretoria is South Africa's administrative capital and one of the country's more attractive cities, its relatively green and picturesque urban centre forming a stark contrast to its much more chaotic neighbour of Johannesburg. Pretoria was founded in 1955 and named after Andries Pretorius, the boer leader at the Battle of Blood River where the Voortrekkers defeated the Zulus under King Dingaan. But since 1994, the city's Jacaranda tree-lined streets are better known as the administrative capital of South Africa, and as home to the iconic Union Buildings where Nelson Mandela was sworn in as the country's first democratically elected president. Pretoria may not be one of South Africa's most popular tourist destinations, but it makes a fantastic base for a multitude of sightseeing opportunities. Offering some unique attractions such as the historic Voortrekker Monument, the South African National Zoological Gardens, one of the world's first-class zoos, and the nearby town of Cullinan where the discovery of the world's largest diamond took place, Pretoria offers visitors a unique glimpse into a city brimming with history and simultaneously embracing its cultural changes.
Drakensberg Mountains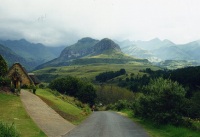 The jagged peaks of the Drakensberg (Dragon Mountains) tower over the eastern border of Kwa-Zulu Natal with Lesotho, providing a paradise for outdoor enthusiasts. The mountains abound with hiking trails, climbing routes, 4x4 trails, pony treks and adventure pursuits, all accessible from numerous resorts in the lower reaches.
Though home to a few luxury resorts and small towns, the region is largely untamed, and criss-crossed by lengths of rugged dirt roads. The only road that breaches the mountain range and crosses the border to Lesotho is the hair-raising Sani Pass, which is topped by the highest pub in Africa.
The mountain range is a popular getaway for Johannesburg and Durban residents, offering plenty of opportunities for hiking, rock climbing, golf, horseback riding, fishing, and even hot air ballooning. If relaxation is what you're after however, you can simply enjoy the stunning views provided by the peaks and valleys and their waterfalls, caves, streams, and rock pools. Several locations, including Giant's Castle, feature ancient rock paintings left by the San people on cave walls.
Whether you venture north to the highest peaks of Mont-Aux-Sources, Cathedral Peak, and the Amphitheatre; or amuse yourself in the foothills to the south, a vacation in the Drakensberg Mountains offer fun and relaxation for everyone.
Mossel Bay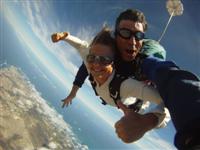 Mossel Bay is the largest city on the Garden Route and is situated roughly half way between Cape Town and Port Elizabeth. It is renowned as the Adventure Capital of the Garden Route and enjoys an ideal climate with an average of 320 days of sunshine per year and a moderate winter.
Mossel Bay was discovered by Bartholomew Dias who in 1488 became the first European to land in South Africa. He was rounding the southernmost point of Africa, Cape Agulhas, when a strong wind blew him off course, into the protected bay of St Blaize, now called Mossel Bay. Here he found fresh water and set up a stop-over point for trade ships that were sailing to the East. Many explorers and traders placed important letters in an old shoe under a huge Milkwood tree which is now more than 500 years old. Today letters are still posted from the Old Post Office Tree.
Adventure junkies come to Mossel Bay here for a range of activities in the immediate vicinity: shark cage diving, for close up encounters with Great White sharks; sand boarding the longest sand dune in South Africa; feed, ride and picnic with elephants; safari and game drives with the Big 5; explore a predator park where you can view white lion, and the only black panther and tigers in SA; tandem skydiving over the spectacular Garden Route coastline where whales and dolphins are often spotted from the air; dolphin and whale watching boat trips; scuba diving; abseiling; helicopter flights and so much more.
Other more sedate attractions include the largest shell museum in South Africa; an indigenous botanical garden with a braille trail fragranced for the sight impaired; a life-sized replica of Bartholomew Dias' caravel styled ship; St Blaize Lighthouse and cave; several world-class golf courses; hiking trails; horse riding; deep sea fishing and sailing.
Mossel Bay is also well known for its wide selection of restaurants and excellent seafood. Many different types of accommodation is offered from backpackers to five star hotels. And there are eight sandy white beaches to relax on and enjoy the sunshine. So whether you want to play or relax Mossel Bay is an ideal destination and the perfect base for exploring the magical Garden Route.
Oudtshoorn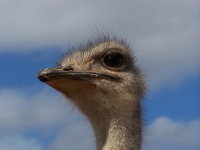 Situated in the heart of the Little Karoo (locally referred to as the Klein Karoo), Oudtshoorn is a lovely town that makes a popular stop on any holiday in the Western Cape of South Africa, especially along the scenic drive between Cape Town and Port Elizabeth.
Surrounded by the majestic Swartberg Mountain range, the landscape around Oudtshoorn is a patchwork of farms and forests that receives more than 300 days of sunshine each year. The area is part of the Cape Floral World Heritage Site, and the stunning displays of fynbos and other local flowers make for great vacation photos.
Oudtshoorn's main claim to fame is as the 'ostrich capital of the world', and several farms in the area offer tours, shows, and other family-friendly activities for visitors. The presence of so many unique birds is also apparent in the many ostrich feathers and eggs available in tourist shops, and the abundance of ostrich on the menus of local restaurants which are complemented by excellent local wines.
The other most popular attraction in Oudtshoorn is exploring the famous Cango Caves, South Africa's largest show cave system. Towering stalagmites with names like the 'bridal couple' and the 'hanging shawl' are visible in the 3,200 feet (1km) of the caves that are open to visitors.
A number of nature reserves are located nearby, and while they may lack the excitement of the 'big five' predators, those looking for a wilder experience can explore other animal farms in the area offering up-close-and-personal experiences with cheetahs, meerkats, and even crocodiles. Great hiking and mountain biking trails, golf courses, horseback riding stables and 4x4 routes provide plenty of activities for busy holidaymakers in Oudtshoorn, and there are plenty of cosy guesthouses and B& Bs to retire to after a busy day in the sunshine.
West Coast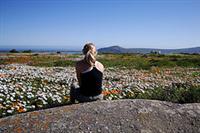 South Africa's sunny West Coast offers a wealth of exciting sights, excursions and activities to visitors - and is the ideal place to explore if you're planning on renting a car in South Africa. The area of the West Coast encompasses a wide range of geographical regions, and its relatively compact size means that they can all be explored in a single holiday.
The spectacular Atlantic coastline offers excellent water sport opportunities at Blaauwberg and Langebaan, and tranquil seaside towns like Paternoster, Saldanha Bay and Yzerfontein, famous for their Mediterranean atmosphere and fresh fish and seafood. The Swartland, the wheat- and wine-producing region of the West Coast, is home to the charming town of Darling; while further inland, the Cederberg is a nature-lovers paradise, a world-famous ecotourism destination replete with national parks and camping sites, rock-climbing adventures and hiking trails.
The West Coast is also home to the region known as Namaqualand, where every year in spring (August to September) the landscape is over-run by gorgeous wildflowers. The 'Namaqualand Daisies', as they are commonly known, were featured in BBC's Planet Earth series and are a deservedly world-famous tourist attraction, drawing visitors from all over the globe to gawk at the incredible fields of colour.
The West Coast is full of some of South Africa's best sight and activities, and is a great destination for those with a limited amount of time in South Africa, but who still wish to experience a good selection of what the country has to offer. Fly into Cape Town, rent a car, and head out on the R27 for an adventure of a lifetime.