Overview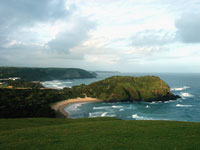 The Transkei (meaning 'across the Kei') is a region situated roughly between East London and Durban in the Eastern Cape, bordered by the Great Kei River in the south and the Umtamvuna River near Port Edward in the north.
Characterised by green rolling hills scattered with round thatched huts, and a stunning coastline, the ruggedly beautiful Transkei region has become increasingly attractive to tourists seeking an unspoilt experience of South Africa, a far cry from the many westernised luxuries that can be found throughout most of the country. The Wild Coast is perhaps the most visited part, with stretches of golden beach sprinkled with shells, overlooked by traditional Xhosa villages set amid the green hills, and punctuated by rough potholed roads.
Coffee Bay and Port St John's are the two main tourist towns and have become a haven for independent travellers and backpackers. Hole-in-the-Wall close to Coffee Bay is a popular attraction, a geographical marvel where the sea has pounded a tunnel through a huge rock in the sea.
Historically, the Transkei was one of the homelands created by the Apartheid government to be set aside for black, Xhosa-speaking South Africans until it became an independent state in 1976 with Umtata (Mthatha) as the capital. Today the only reason to visit Umtata is to see the Nelson Mandela Museum that showcases his life in photos and displays. Just to the north the little town of Qunu lays its claim to fame as the birthplace of Mandela.
GettingAround
Events
Attractions
Dining
Airports