Overview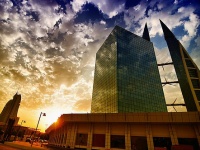 Sophisticated, modern and cosmopolitan Bahrain, a kingdom of 33 islands in the Arabian Gulf, is welcoming an increasing number of international tourists who come to experience the country's fascinating blend of eastern and western cultures. Manama, on the main island, boasts excellent hotels, restaurants, shopping malls, an intriguing souq (bazaar) and all the other facilities visitors need for a great holiday. In addition, there are decent beaches, perenially hot and sunny weather, English is spoken and understood everywhere, and the kingdom has the remnants of more than 5,000 years of civilisation to be explored. Its future as a popular holiday destination for westerners seems assured.
Back in the mists of time Bahrain was attached to the Arabian Peninsula. Nature separated it from the mainland, but man has now rejoined it with a 16-mile (25km) long causeway linking it to Saudi Arabia. During construction of the causeway and a new road network, the islands' archaeological significance came to light with the discovery of thousands of burial mounds dating from the third millennium BC, part of the well-ordered ancient city of Dilmun that existed where a forest of skyscrapers now reaches for the sky.
Throughout its history Bahrain has been prosperous, first on the strength of its good position for trade and fishing, and the abundance and quality of the pearls found in its waters, and more latterly because of its oil resources (Bahrain was the first country in the Gulf to exploit its 'liquid gold').
Though the government is stable than in years past, Bahrain is still growing as a popular tourist destination in the Middle East. A visit to Bahrain, whether on business or pleasure, is an interesting, relaxing and rewarding experience.
Basics
Time
Local time in Bahrain is GMT +3.
Electricity
Electrical current in Bahrain is 230 volts, 50Hz except in Awali where it is 110 volts AC, 60Hz. Bahrain uses UK style 3-pin power outlets.
Language
Arabic is the official language in Bahrain, although English is widely understood and is used by most businesses.
Health
No vaccinations are required for visitors to Bahrain, but a hepatitis A vaccination is recommended. Medical facilities are good in the main cities, but health insurance is recommended because visitors must pay for treatment. There are many well-stocked pharmacies in the country. Water is deemed clean and safe by the authorities, but visitors usually prefer to drink bottled water, which is widely available.
Tipping
Most restaurants and hotels in Bahrain add a service charge of 10-15% to their bills. However, you may leave a tip at your discretion. Taxi drivers expect a 10% tip and porters will be happy with about 100 fils per item of baggage.
Safety
* February 2011 has seen mass pro-democracy protests in the capital Manama; given the volatility of the politcal situation here and in neighbouring states, we advise against all non-essential travel to Bahrain at this time. Although the crime rate in Bahrain is relatively low, visitors should be fully aware that along with other states in the Gulf region, the country is rated as high risk for indiscriminate terrorist attacks by Al Qaeda on Western interests. Visitors are advised to be vigilant at all times particularly in public places.
Customs
Although it is a liberal state, Bahrain is an Islamic country and many locals find scanty clothing and immoderate public behaviour offensive. Visitors should dress and act respectfully. Religious and social sensitivities should be observed and respected, especially during religious festivals. Foreigners are not expected to fast during the holy month of Ramadan, but it is considered extremely inconsiderate to eat, drink or smoke in public during this time. Homosexuality is illegal.
Business
Bahrain is generally more liberal than its Arab neighbours, but businesswomen should nevertheless ensure that they wear conservative clothing and men are expected to wear smart suits and ties. Bahrainis prefer to do business with those whom they have a personal relationship with so a letter of introduction from someone they know is appreciated. English is used as the language of business, but expect prolonged small talk and personal enquiries before sitting down to do business, as building a trustworthy relationship is important; never rush a deal, and high-pressure sales tactics are frowned upon. Impatience has no place, so plenty of time should be allowed for decision-making. For meetings, punctuality is important and business cards are routinely handed out to everyone, using both hands and preferably with the Arabic translation on the back of the card face up. It is important to study a received card for a while before putting it away. Formal titles should be used, however you may address people by their first name (ei: Mr Adam). Business hours are Sunday to Thursday 7am to 2pm. Most businesses take a break in the afternoon between 1pm and 3pm, but are open later in the evening. During the holy month of Ramadan working hours are reduced.
Communications
The international direct dialling code for Bahrain is +973, and the outgoing code 00 followed by the relevant country code (eg. 0044 for the United Kingdom). There are no city or area codes. Public phone booths are easily located, some accepting freely available phone cards and some coins. The country is covered by a GSM 900 and 1800 mobile phone network. There are several Internet service providers and Internet is available at most of the larger hotels in Manama.
Duty Free
Travellers to Bahrain over 18 years do not have to pay duty on 200 cigarettes, 50 cigars and 250g tobacco (in open packets); perfume up to 237ml; 1 litre alcoholic liquor and 6 cans of beer for non-Muslim passengers only; and gifts to the value of BD 250. Arms and ammunition, methylated spirits, drugs and jewellery require an Import Permit.
Currency
The official currency is the Bahraini Dinar (BHD), divided into 1,000 fils. Notes come in denominations of 20, 10, 5 and 1 dinars and 500 fils. The Bahraini Dinar is linked to the US Dollar at a rate of US$1=BD 0.375. Money can be exchanged at the airport, bureaux de change (which usually offer the best rates), commercial banks in Manama or at moneychangers operating in the souq. ATMs are available in the larger towns. Credit cards and travellers cheques are widely accepted at hotels and the larger retail stores, but smaller shops generally prefer cash. It is easiest to carry travellers cheques in US dollars to avoid additional charges. Most offices, businesses and government departments are closed on Fridays, as it is a weekly holiday. Banks are usually open 7.30am to 12pm and 3.30pm to 5.30pm, Saturday to Wednesday, and 7.30am to 11am Thursdays.

| | | | | | | | |
| --- | --- | --- | --- | --- | --- | --- | --- |
| BHD 1 = | US$ 2.64 | £ 1.72 | C$ 2.69 | A$ 2.56 | R 22.29 | EUR 2.08 | NZ$ 3.32 |
Note: These currency exchange rates are not updated daily and should be used as a guideline only.
Health
Health Overview
No vaccinations are required for visitors to Bahrain, but a hepatitis A vaccination is recommended. Medical facilities are good in the main cities, but health insurance is recommended because visitors must pay for treatment. There are many well-stocked pharmacies in the country. Water is deemed clean and safe by the authorities, but visitors usually prefer to drink bottled water, which is widely available.
Visa
Americans
UK nationals
Canadians
Australians
South Africans
Irish nationals
New Zealanders
Passport/Visa Note
All persons who wish to enter Bahrain need a visa, except citizens of the Gulf Cooperation Council (Kuwait, Oman, Qatar, Saudi Arabia, United Arab Emirates). Visas are relatively easy to obtain on arrival if holding sufficient funds. A passport valid for at least six months, and tickets or documentation for return or onward travel are also required. 14 day business or tourist visas incur a fee of BD 5 on arrival. eVisas must be used within 30 days of approval and are valid for a single entry. Visas are extendable.
Note: Passport and visa requirements are liable to change at short notice. Travellers are advised to check their entry requirements with their embassy or consulate.
Contacts
Bahrain Tourism
Bahrain Tourist Office, Manama: +973 715 713 or www.bahraintourism.com
Foreign Embassies in Bahrain








Bahrain Embassies








Regions and Cities
Manama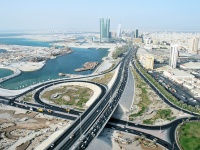 First mentioned in Islamic chronicles in the year 1345, historical Manama is now the capital and largest city of Bahrain, at the north-eastern tip of the Persian Gulf island state. There is a strong colonial influence in the area, with Portuguese occupation in 1521 followed by Persian dominance in 1602. This lovely city is a great base from which to enjoy the stunning beaches, buildings and sites in the area. The economy of Manama was traditionally based on pearling, fishing, boat building and trade, displays of which can now be seen in local museums. In 1932 the discovery of petroleum boosted the city's economy, which has recently diversified into tourism and retail. Declared a free port in 1958, the facilities of the Mînâ Salmân port, in the al-Qulayah Inlet, have also aided economic growth and provided more access to tourists. Open-minded and tolerant of other cultures, Manama is visited by a large number of foreigners each year. These visitors can enjoy a vast array of attractions, from souks (markets) and shopping malls to forts and pearl museums, as well as the friendly nature of the locals. There is also an active nightlife with many popular restaurants, bars and clubs to choose from, making this a splendid vacation destination.