Overview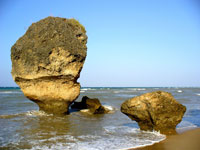 Charming, beautiful and full of smiles, East Timor may not be top of everyone's dream destination list, but it is certainly off the beaten track, offering visitors a taste of something completely different. With beautiful beaches, exotic forests and exciting mountain trekking, the coral reefs and colonial towns are drawing an increasing number of adventurous travellers each year.
Colonised by Portugal in the 16th century, East Timor declared independence in 1975, only to be invaded and occupied by Indonesia nine days later and burdened by tragedy; it has been a bumpy ride on East Timor's road to independence. The tourism infrastructure is not highly developed but it seems things in this troubled land are slowly on the mend, and visitors are now able to enjoy a spot of snorkelling, diving, hiking and exploration round the exotic countryside.
One of East Timor's more famous landmarks is the Cristo Rei, a 100-foot (30 metre) high statue of Jesus, believed to be the second tallest statue of its kind in the world, rivalled only by Rio de Janeiro's Cristo Redentor. Beyond the capital of Dili lies a mysterious and intensely beautiful land where empty beaches lead into dense tropical forest and mountains reach down to the water's edge.
Visitors to this exotic country should arm themselves with mosquito prophylaxis and plenty of mosquito repellent, as malaria is a problem in certain areas.
The best time to visit East Timor and experience its warm, clear seas dotted with tropical fish, manta rays, turtles and sharks is just after the wet season, from late April to July when the weather is warm and the shore diving is at its exquisite best.
Basics
Currency
Note: These currency exchange rates are not updated daily and should be used as a guideline only.
Health
Health Overview

Visa
Americans
UK nationals
Canadians
Australians
South Africans
Irish nationals
New Zealanders
Passport/Visa Note
All visitors to East Timor require a passport valid for six months beyond the date of entry, and a visa. Tourist visas may be obtained on-arrival, provided that visitors can show proof of the following: (i) a return or onward ticket, and the required travel documentation for the next destination; (ii) accommodation arrangements in East Timor; and (iii) sufficient means of support while in East Timor (USD 100, plus USD 50 per day of stay). Single-entry tourist visas, valid for 30 days, cost USD 30 (only payable in US dollars), and require an unused passport page for a visa sticker. Multiple-entry visas, or visas valid for more than 30 days and less than 90 days, are available, but require a Visa Application Authorisation issued by the Immigration Department, which must be used within 12 months of issue. These visas also cost USD 30, and also require an unused passport page for a visa sticker. Note that money-changing facilities at Dili International Airport are extremely limited. Visitors in possession of a 30-day tourist visa can extend their stay to a cumulative total of 90 days, by submitting their application to the Immigration Department. The costs involved are USD 35 (for up to 30 extra days), and USD 75 (for between 30 and 60 extra days).
Note: Passport and visa requirements are liable to change at short notice. Travellers are advised to check their entry requirements with their embassy or consulate.
Contacts
East Timor Tourism

Foreign Embassies in East Timor








East Timor Embassies








Regions and Cities