Overview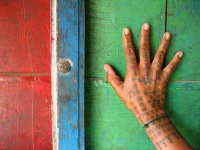 India was once considered the jewel in the crown of the British Empire and many overseas travellers are now recognising it as a treasure too. An India Travel Guide will help you choose from a variety of India holidays, so you can discover for yourself the history and colour of this dazzling country populated by more than 1.2 billion people.
Start your trip in the enormous, bustling capital New Delhi. Traditional festivals, food and music are complemented by an energetic nightlife and an increasingly tourist-friendly population and services. Sample some local street fare or dine in at the local restaurants; try ordering a thali, a platter filled with a variety of curries, rice and sweets.
About three hours' drive from Delhi is Agra, home of the magnificent Taj Mahal. The sheer size of this grand tomb constructed by a grieving Mughal emperor for his wife will take your breath away, so you'd better believe the hype! Choose one of many India tours and include a visit to the glorious 'pink city' of Jaipur to complete your Golden Triangle holiday.
Mumbai is unmissable. A leafy, cultured city, it will surprise you with its sophistication. Start with a rickshaw ride or take an iconic black-and-yellow taxi to the famed Gateway of India. Situated on the harbour, this monumental archway was completed in 1924 to commemorate King George and Queen Mary's 1911 visit. While you're in town catch a ferry to the Elephanta Caves, one of India's most popular attractions, which are filled with exquisite sculptures of Hindu gods and goddesses.
A short train ride from Mumbai is the collegiate city of Pune, which is home to Osho International Meditation Resort. Here you can meditate, do yoga and rejuvenate your soul within the calm surrounds of this lush 28-acre tropical oasis. The holy city of Varanasi is on the banks of the Ganges, and is a once-in-a-lifetime destination. Here, on the steps of the ghats, behold ancient and solemn rituals of life and death.
For a change of pace head to Goa. Formerly a Portuguese colony, its palm-fringed beaches, kilometres of golden sands and tropical climate make it an unbeatable destination in all seasons.
There is an enormous range of accommodation options available in India, from backpacker to the famous Taj Mahal Palace in Mumbai, which is replete with luxury rooms and personal butlers. So get ready to feed your soul and rejuvenate your senses and check out flights to India now.
Basics
Time
Local time is GMT +5:30.
Electricity
240 volts, 50Hz. A variety of power outlets are used in India, but most plugs have two or three round pins.
Language
Although English is generally used for official and business purposes, Hindi is the official language and is spoken by about 40 percent of the population. Urdu is the language common with the Muslim demographic. India has a total of 22 official languages
Health
There are a many health risks associated with travel to India and although no vaccinations are required for entry into India, travellers should take medical advice on vaccinations at least three weeks before departure. Outbreaks of dengue fever and chikungunya virus occur, both being transmitted by mosquitoes. Malaria outbreaks are common in areas above 6,562 feet (2,000m), particularly in the north-east of the country. Outbreaks of cholera occur frequently. Travellers from an infected area should hold a yellow fever certificate. Food poisoning is a risk in India: all water and ice should be regarded as contaminated, and visitors should drink only bottled water and ensure that the seal on the bottle is intact. Meat and fish should be regarded as suspect in all but the best restaurants, and should always be well cooked and served hot. Salads and unpeeled fruit should be avoided. Health facilities are adequate in the larger cities, but limited in rural areas. Travellers should have medical insurance, and bringing a standard first-aid kit complete with a course of general antibiotics is advisable. Diarrhea is common amoung travellers to India and is best treated with re-hydration salts; however, if symptoms persist for more than two days visiting a private hospital is recommended. Bird flu has been a problem in the past and travellers should take the necessary precautions when eating poultry and egg dishes. Rabies is also a hazard, and should you get bitten by a dog, cat or rat it is best to consult a medical practitioner immediately. Travellers to the Himalayan Mountains should be aware of the risks of altitude sickness.
Tipping
In India, taxi drivers do not expect to be tipped; however, tipping is expected in other services (porters, guides, hotel staff and waiters in small establishments). In tourist restaurants or hotels a 10 percent service charge is often added to bills. 'Baksheesh' is common in India: more a bribe than a tip, it is given before rather than after service.
Safety
Travellers in India must be aware of, but not paranoid about, the threat of terrorism. Recent attacks in Mumbai, Delhi, Ahmedabad, Agra and Bangalore occurred in popular tourist haunts like hotels, railway stations, markets and temples. There is the threat that public places frequented by Western tourists in the metropolitan centres (Delhi, Kolkata, Chennai, Mumbai) may be targeted in future. Tourist areas such as Goa are also at risk. Travellers visiting large religious events are advised that these ceremonies, which attract hundreds of thousands of people, can result in life-threatening stampedes. Generally speaking it is best to avoid big crowds, but this is very difficult to do in India. Due to the threat of terrorism security has increased at major airports, which means that travellers can expect delays. On a more everyday level, there is a risk of minor property left, such as pick-pocketing - but incidents of violent crime in India are astonishingly low. Travellers using India's vast railway network are advised to lock their baggage, and to keep it as close to them as possible. There are also always stories about India involving scam-artists - so be on your guard, and if someone offers you a 'business opportunity' that seems too be good to be true, remember that it probably is.
Customs
India is a tolerant society, but visitors should educate themselves about its religious and social customs so as not to cause offence: for example, smoking in public was banned in 2008. When visiting temples visitors will probably be required to remove their footwear and cover their heads. Generally, women should dress more conservatively than (perhaps) they are used to doing at home, both to respect local sensibilities and to avoid unwanted attention. Topless bathing is illegal. Indians do not like to disappoint, and often instead of saying 'no', will come up with something that sounds positive, even if incorrect. Social order and status are very important in Indian culture - remain respectful and obliging with elders. Avoid using your left hand, particularly when eating.
Business
Business in India is conducted formally, with punctuality an important aspect. Suits and ties are appropriate, and women in particular should dress modestly. If it is very hot, jackets are usually not required and short-sleeve shirts are deemed appropriate. It is customary to engage in small talk before getting down to business, and topics can range from anything from cricket to politics. Business cards are usually exchanged on initial introduction, using the right hand only. Handshakes are fairly common, though one should wait to see if greeted with a hand, or a 'namaste' - a traditional Indian greeting of a small bow accompanied by hands clasped as if in prayer. Visitors should return the greeting. It is common for women to participate in business meetings, and hold high positions in companies, and foreign businesswomen are readily accepted. Business hours are usually from 9.30 to 5.30pm (weekdays) with a lunch break from 1pm to 2pm, and Saturdays from 9.30am to 1pm.
Communications
The international access code for India is +91. The outgoing code is 00 followed by the relevant country code (e.g. 0044 for the United Kingdom). City/area codes are in use, e.g. (0)11 for Delhi. International calls can be quite expensive and there are often high surcharges on calls made from hotels; it is cheaper to use a calling card. Alternatively, there are telephone agencies in most towns which are identifiable by the letters STD for long distance internal calls and ISD for the international service. The local mobile phone operators use GSM networks and have roaming agreements with most international operators. Internet cafes are available in the main cities and resorts.
Duty Free
Travellers to India over 17 years do not have to pay duty on 200 cigarettes or 50 cigars or 250g tobacco; one bottle of alcohol; medicine in reasonable amounts; 59ml of perfume and 250ml eau de toilette; and goods for personal use. Prohibited items include livestock, bird and pig meat products.
Currency
The currency is the Indian Rupee (INR), which is divided into 100 paise (singular paisa). Major currencies can be changed at banks, and authorised bureaux de changes. It is impossible to obtain rupees outside India, but no matter what time you arrive in India there will be an exchange office open at the airport. It is illegal to exchange money through the black market and it is advisable to refuse torn notes, as no one will accept them apart from the National Bank. It is best to change money into small denominations. Travellers cheques and major credit cards are widely accepted, particularly in tourist orientated establishments. ATMs are not generally available.

| | | | | | | | |
| --- | --- | --- | --- | --- | --- | --- | --- |
| INR 1 = | US$ 0.02 | £ 0.01 | C$ 0.02 | A$ 0.02 | R 0.16 | EUR 0.01 | NZ$ 0.02 |
Note: These currency exchange rates are not updated daily and should be used as a guideline only.
Health
Health Overview
There are a many health risks associated with travel to India and although no vaccinations are required for entry into India, travellers should take medical advice on vaccinations at least three weeks before departure. Outbreaks of dengue fever and chikungunya virus occur, both being transmitted by mosquitoes. Malaria outbreaks are common in areas above 6,562 feet (2,000m), particularly in the north-east of the country. Outbreaks of cholera occur frequently. Travellers from an infected area should hold a yellow fever certificate. Food poisoning is a risk in India: all water and ice should be regarded as contaminated, and visitors should drink only bottled water and ensure that the seal on the bottle is intact. Meat and fish should be regarded as suspect in all but the best restaurants, and should always be well cooked and served hot. Salads and unpeeled fruit should be avoided. Health facilities are adequate in the larger cities, but limited in rural areas. Travellers should have medical insurance, and bringing a standard first-aid kit complete with a course of general antibiotics is advisable. Diarrhea is common amoung travellers to India and is best treated with re-hydration salts; however, if symptoms persist for more than two days visiting a private hospital is recommended. Bird flu has been a problem in the past and travellers should take the necessary precautions when eating poultry and egg dishes. Rabies is also a hazard, and should you get bitten by a dog, cat or rat it is best to consult a medical practitioner immediately. Travellers to the Himalayan Mountains should be aware of the risks of altitude sickness.
Visa
Americans
US citizens must have a passport that is valid upon arrival, and a visa, to enter India.
UK nationals
British citizens must have a passport that is valid upon arrival, and a visa, to enter India.
Canadians
Canadian citizens must have a passport that is valid upon arrival, and a visa, to enter India.
Australians
Australian citizens must have a passport that is valid upon arrival, and a visa, to enter India.
South Africans
South African citizens must have a passport that is valid upon arrival, and a visa, to enter India.
Irish nationals
Irish citizens must have a passport that is valid upon arrival, and a visa, to enter India.
New Zealanders
New Zealand citizens must have a passport that is valid upon arrival, and a visa, to enter India.
Passport/Visa Note
Individual tourists requiring visas for India should preferably apply for a tourist visa and not for an ordinary visa, to avoid problems on departure. Visa extensions are possible, by applying for them through the Ministry of Foreign Affairs. Holders of multiple-entry Tourist Visas (visa type code "T"), with a validity ranging from above three months and up to 10 years, are required to leave a gap of at least two months between visits. This will be noted as a stamp in their passport upon their departure from India (this rule does not apply to those visiting neighbouring countries, such as Nepal). Those wishing to re-enter before two months have expired must contact an Indian mission abroad to obtain permission, which, if granted, will be in the form of a letter. Within 14 days of re-entry, the visitor is required to register with the Foreigner's Regional Registration Office (FRRO). Any waiver of this restriction will be endorsed on the visa page in the visitor's passport. Note that a yellow fever vaccination certificate is required, if arriving in India within six days of leaving or transiting through heavily infected areas. Also note that the following areas of India are restricted, and require that visitors obtain a permit BEFORE entering them: (Protected Areas) parts of the state of Manipur, parts of the state of Mizoram, parts of the state of Arunachal Pradesh, the whole state of Nagaland, the whole State of Sikkim, parts of the state of Uttaranchal, parts of the state of Jammu and Kashmir, parts of the state of Rajasthan, parts of the state of Himachal Pradesh; (Restricted Areas) the whole of the union territory of Andaman & Nicobar Islands, part of the state of Sikkim. If surface travel is involved, and nationals travel via restricted areas, they require a "pass" issued by either the Foreigners Regional Registration Office (located in each major Indian city), or the Superintendent of Police (located in each Indian district), or the diplomatic representation of India in Bhutan or Nepal. NOTE: It is highly recommended that your passport has at least six months validity remaining after your intended date of departure from your travel destination. Immigration officials often apply different rules to those stated by travel agents and official sources.
Note: Passport and visa requirements are liable to change at short notice. Travellers are advised to check their entry requirements with their embassy or consulate.
Contacts
India Tourism
Indian Tourist Office, New Delhi: +91 (0)11 2332 0005 or www.incredibleindia.org
Foreign Embassies in India
United States Embassy, New Delhi: +91 (0)11 2419 8000.
British High Commission, New Delhi: +91 (0)11 2419 2100.
Canadian High Commission, New Delhi: +91 (0)11 4178 2000.
Australian High Commission, New Delhi: +91 (0)11 4139 9900.
South African High Commission, New Delhi: +91 (0)11 2614 9411.
Irish Embassy, New Delhi: +91 (0)11 2462 6733.
New Zealand High Commission, New Delhi: +91 (0)11 2688 3170.

India Embassies
Indian Embassy, Washington DC, United States: +1 202 939 7000.
Indian High Commission, London, United Kingdom: +44 (0)20 7836 8484.
Indian High Commission, Ottawa, Canada: +1 613 744 3751/52/53
Indian High Commission, Canberra, Australia: + 61 (0)2 6273 3999.
Indian High Commission, Pretoria, South Africa: +27 (0)12 342 5392.
Indian Embassy, Dublin, Ireland: +353 (0)1 496 6792.
Indian High Commission, Wellington, New Zealand: +64 (0)4 473 6390/1.

Regions and Cities
Delhi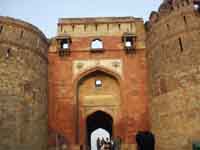 Moving through a sweltering bazaar, with each vendor crying out louder than the next, and clamouring through a sweaty crowd, a beggar tugs at your shirt as the sticky stench of the city pierces your nostrils. Navigate your way across the road through a perennial traffic jam of blasting horns and angry shouts, and suddenly you'll find yourself stepping through the trees into a deserted courtyard, flanked by gurgling ponds below the huge glittering dome of an ornately patterned mosque. This is Delhi, city of contrasts, where an elephant can overtake an overheated Italian sports car on the streets, where colonial mansions stand next to squatter slums, and where cows are revered, but musicians are labelled 'untouchable'. The city's pace is chaotic, yet strangely relaxed, making it ideal for exploring. You're certain to be confronted with some strange and exotic sights. With a long and troubled history, Delhi is full of fascinating temples, museums, mosques and forts, each with a distinctive architectural style. In Old Delhi, visitors will find a charming selection of colourful bazaars and narrow winding alleys. In comparison, New Delhi - the city created to reflect the might of the British Empire - consists of tree-lined avenues, spacious parks and sombre-looking government buildings. While Delhi itself could take a lifetime to explore, it's also ideal as a base for visiting the Taj Mahal in Agra, and it provides the best links for travelling to the hill stations of the North.
Agra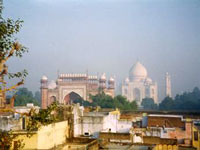 The last Lodi Sultan moved his capital to Agra in 1504, and although he was defeated in 1526 by Babur, the founder of the Mogul empire, it remained India's premier city for almost two centuries. The city's greatest days were during the reign of Babur's grandson, Akbar the Great (1556-1605) who built Agra Fort, and although Shah Jahan created a new capital in Delhi, his heart remained in Agra. In 1631 he chose Agra as the spot to construct what is undisputedly the world's greatest monument to love - the Taj Mahal.
For many, Agra represents the best and worst of India. The city is a daunting sensory experience for even the most hardened traveller: the streets are foul, the air polluted and, particularly in the alleyways around the Taj Mahal, you will come across the most persistent touts and rip-off merchants in the East. Despite all this, Agra's magnificent sights make the adventure more than worthwhile.
Agra, along with Delhi and Jaipur, forms the 'Golden Triangle' - India's most popular tourist route. Situated just 125 miles (200km) south of Delhi, it makes an easy day-trip by train. However, it is worth spending at least a night in the city just to truly appreciate the wondrous Taj Mahal and its many moods: to stand in awe and watch it change from rose-pink in the morning, to brilliant-white at noon, to eggshell-blue at dusk.
Udaipur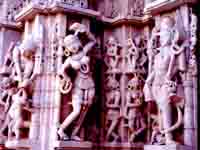 Udaipur was once the capital of the powerful state of Mewar, and still takes great pride in being the only one of the seven major Rajput states to have upheld its Hindu allegiance in the face of Muslim invasions. The Mewar household is the longest-lasting of all the ruling powers in Rajasthan, and possibly the oldest surviving dynasty in the world. The current ruler is the seventy-sixth in an unbroken line of Mewar rulers dating back to 568 AD.
Undoubtedly the most romantic city in Rajasthan, and perhaps the whole of India, Udaipur is situated 200 miles (320km) southwest of Jaipur. The city is centred around Lake Pichola and has inevitably been dubbed the 'Venice of the East'. Two island palaces, Jagniwas and Jagmandir, sit on the lake - the former is now the luxurious Lake Palace Hotel. The majestic City Palace towers over the lake and is bedecked by balconies, turrets and cupolas.
Despite the many attractions in and around the city, the real joy of Udaipur lies in soaking up its atmosphere - taking in the view from a rooftop restaurant, wandering around the relatively hassle-free inner-city, enjoying a drink on the edge of the lake, or taking a boat to Jagmandir Palace past the ghats (riverside landings), where washerwomen congregate and a real 'slice of Indian life' unfurls before your eyes.
Jaipur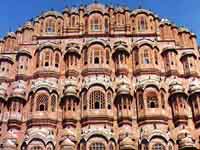 Situated 190 miles (300km) southwest of Delhi, Jaipur is an essential stop on any tour of Rajasthan. The old, walled section of the city is known as the Pink City: it was painted red (a lucky colour in Hindu culture) to welcome England's Prince Alfred in 1853, and the fading old buildings still retain traces of this hue. Jaipur is one of India's newer cities, founded in 1727, and was the creation of Jai Singh II, the Maharaja of the Kuchwaha Rajputs, who decided when Mogul power was on the decline to move from his outmoded hillside fortress at Amber to establish a new capital on the plains further south.
The Pink City was built in only eight years. Much of it was designed by Jai himself, including the City Palace and the Jantar Mantar, a fascinating astronomical observatory with massive instruments used to predict the monsoon and to identify the movements of the stars. Most impressive is a 27 metre-high sundial that is accurate to within two minutes. All seven gates into the old city remain, one of which leads into Johari Bazaar - the famously frenetic jewellers' market, boasting the best selection of precious stones in India.
Jaipur is now a thriving commercial city, home to about two million people. Although some visitors are put off by the over-zealous traders and the insane traffic, most are enthralled and enchanted by this welcoming, exciting city. There is no better place in India to shop than in Rajasthan's capital - you'll find everything in its shop-lined streets, from jewellery to silks to perfumes and stationery. Just be prepared to bargain hard for a good deal.
Varanasi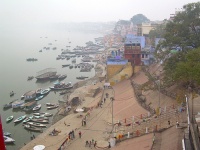 One of the ancient seats of learning in India, Varanasi is situated between Delhi and Kolkata, at a bend in the sacred Ganges River. Home to some of the most ancient and revered monasteries in the world, Varanasi remains the place where scholars come to learn the ancient knowledge of the Vedas and hold court on the nature of God.
For over 2,000 years it has been the religious capital of India, more revered and sacred than all the other places of pilgrimage put together. Hindus believe that to die in Varanasi is to be forgiven every sin, to receive instant enlightenment and to immediately be admitted to heaven, no matter who or what you are. As a result, the elderly flock here to end their days, and cremation is big business on the ghats beside the Ganges.
There are over 100 bathing and burning ghats (literally 'steps') at Varanasi, but the most sacred is the Manikarnika Ghat, which is the most auspicious place that a Hindu can be cremated. Outcasts, known as chandal, carry the bodies through the alleyways of the old city to the sacred Ganges on a bamboo stretcher swathed in cloth. At the top of the Ghat visitors will see large piles of firewood, with each log weighed on giant scales to calculate the price of the cremation. Tourists who wish to watch the cremations are tolerated, but should dress conservatively and leave their cameras behind. Tourists should also be aware that, although witnessing a ceremonial cremation is considered a 'must-do' activity in India, it can be quite a harrowing and emotional experience, and one that shouldn't be undertaken lightly.
The Dasaswamedh Ghat (the 'ghat of ten sacrificed horses') is said to be the spot where Lord Brahma made a sacrifice to pave the way for the return of Shiva - and is one of the best ghats from which to take in the riverside activity. Crowds of people congregate here not only for a ritual bath, but also to do yoga, get a massage, offer blessings, buy flowers, play cricket or work on their karma by giving money to beggars. It is also a good place to arrange a dawn boat trip, to watch the beauty of Varanasi manifest as the sun rises over the city. Dotted around the ghats are numerous temples - the highlight being the Golden Temple, with its stunning, resplendent towers.
Apart from its religious significance, Varanasi is also the hub of many traditional industries and is world-famous for its silks - in particular, its silk brocades. The town does a roaring trade with pilgrims and tourists alike - although, regrettably, this has resulted in Varanasi developing a bit of a reputation for pick-pocketing. One of the oldest continuously-inhabited cities in the entire world, there is a real sense of culture about Varanasi. The city is home to many poets, musicians, novelists and philosophers - and you are strongly encouraged to spend some time in the city's tea-houses and local restaurants, where you are guaranteed to be embroiled in some of the most interesting conversations of your life.
Mumbai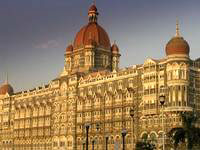 Situated on a peninsula halfway up the west coast of India, Mumbai (formerly Bombay) is India's economic powerhouse, and home to more millionaires than any other city on the Indian subcontinent. As well as being the country's financial capital, Mumbai is also an important port, handling a third of all international trade; and a base for many of India's largest companies. However, among all this wealth and the Bollywood lifestyle are cases of extreme poverty - with almost half of the 21 million-strong population living in slums.
The Portuguese established this old Hindu city as a colony in 1509. In 1661, it passed to England as part of the dowry of Catherine of Braganza when she married Charles II, and became a vital trading base for the East India Company and later the Crown. The centre of Imperial Bombay, the city contains a breathtaking array of High Victorian buildings and is reminiscent of a prosperous 19th-century English industrial city. The fascinating range of architectural styles reflects the British passion for the Gothic and demonstrates the wealth, panache and confidence of British Bombay. Prosperity has always been considered more important than religious homogeneity in Mumbai, and this is reflected in the range of places of worship throughout the city - churches and cathedrals sit alongside countless mosques, and Hindu and Buddhist temples.
Like many Indian cities, the streets of Mumbai are congested with cattle, carts and motor vehicles, and the air is thick with smog and the sound of horns. But despite this, the city has much to offer, and those en route to Goa should take time to discover Mumbai's colourful and fascinating history, as well as its vibrant, energetic and friendly people.
Goa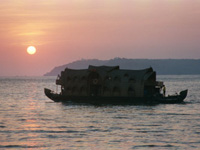 This small state, halfway down India's west coast, was a Portuguese colony until 1961. This goes some way to explaining the alternative atmosphere here. Cut off from British India by a wall of mountains and vast alluvial plains, for many years, Goa relied on trade with a declining Portuguese Empire. However, what was lost in terms of British trade, was more than made up for in terms of Portuguese attitude - to this day, Goa retains a distinctly laid-back and relaxed feel.
Goa was discovered by travellers in the late 1960s; many were relieved to have found somewhere away from the mainstream, where holidaying meant simply hanging out, doing some recreational drugs and partying on the beach (particularly during full moon). The state quickly grew a reputation for its hedonism and liberal attitude - not to mention its hot sun, that sets in splendour every evening over the Arabian Sea. In recent years, though it still hosts epic trance music festivals (such as Sunburn), the authorities of Goa have tried to discourage hippies and budget backpackers from swamping the area, angling rather for clientele with fatter wallets - with the nett result that Goa is slowly losing its reputation as India's 'party central'.
Now with a quick rail link to Mumbai and charter flights from the UK, thousands of tourists flock here each winter to relax and enjoy the famous Goan cuisine - which largely consists of fish and seafood, prepared in exotic Indian spices. Many hotels and resorts have popped up over the last few years to cater for this ever-popular destination, but with more than 25 miles (40km) of beautiful sandy beaches, there is still plenty of tranquillity to be found.
Kerala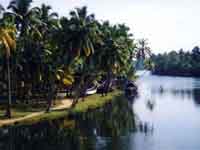 Tucked away in the south-west corner of India, Kerala is a narrow strip of land between the Arabian Sea and the Western Ghat mountains. The name means 'land of coconuts', and palms still shade almost the entire state from the blazing sun. The tropical landscape crossed by dozens of rivers and countless waterways, and visitors can spend idle days riding small ferries through the backwater lagoons, observing village life close-up in this, India's most populous state.
Kerala has some of India's best coastal resorts: among the finest is the much-photographed Kovalam, which many argue has the best beach in the country. Here visitors can take in Kerala's rich cultural and artistic life, and enjoy arguably the best vegetarian cuisine on the planet.
When the rest of India gets too hot to handle, Kerala is often soothing and rejuvenating. Whether you stick to the lowlands or head for the hills, you will pass through scenery dotted with churches and temples; spice, tea, coffee and rubber plantations; and natural forests with wildlife reserves filled with elephants.
Compared to the rest of India, Kerala is short on monumental sights to see - its real drawcard is its natural beauty. The countryside undulates westward from the mountains, offering vistas of rich green valleys. Rivers glide across the plains towards the sea, creating attractions like the Athirampally Falls, before ending in a linked chain of lagoons where the silence of the still waters is broken only by boats and canoes, seagulls and cranes.
Kolkata
Kolkata (formerly Calcutta) is a city of contrasts and contradictions, and one which has a lasting impact on its visitors. It is India's third-largest city, and home to some of its holiest temples and finest colonial structures.
As the 'Cultural Capital of India', Kolkata has the biggest concentration of artists, writers and publishers in the country. And although it is the centre of Bengali culture, Kolkata is also a diverse city, with a polyglot mixture of languages spoken amongst its 14 million inhabitants.
Kolkata was home to two Nobel Laureates - Mother Teresa, whose humble home can still be visited, and writer Rabindranath Tagore. The city also accommodates sports fans, with Eden Gardens, the city's temple to cricket and the second-largest cricket stadium in the world; and Saltlake Stadium, one of the world's largest football venues, with an unbelievable capacity of 120,000.
From 1772 to 1912 Kolkata was the capital of the British Raj - a legacy evident in its superb colonial architecture (highlighted by the enormous Victoria Memorial), and well-planned infrastructure. The latter half of the 20th century, however, saw Kolkata enter a period of decline, with rampant poverty and economic stagnation. It was only in the 1980s, under India's first democratically-elected Marxist administration, that the city turned the corner.
Today, visitors making the journey to this eastern corner of the country will find a city that has rediscovered its pride and cultural identity, offering a Bengali welcome warm enough to seduce even the most jaded traveller.
Bangalore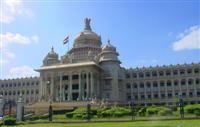 Until 1831, Bangalore slumbered in the shadow of its neighbouring city Mysore. When the British took control over the local kingdom they moved the capital to Bangalore, upgrading its infrastructure in the process with fine colonial buildings, roads, rail connections and wonderful parks and gardens. Bangalore, now officially known as Bengaluru, is today the state capital of Karnataka; it is still called the 'Garden City' due to its leafy avenues and quiet suburbs. Bangalore was the first city in India to become electrified, and has ever since retained the cachet of being India's most technologically modern and progressive city. It is also quite literally one of the country's coolest cities, with an average temperature far lower than the scorching plains of the surrounding region. Among other advantages Bangalore enjoys, are noticeably cleaner streets and a generally calmer and less frenetic atmosphere than other Indian cities. Bangalore is also well-known as the centre of India's IT and telecommunications industries, and thus attracts professionals from all over India and abroad. The influx of westerners and knowledge-workers, coupled with the rise in affluence, have made this India's most modern and secular city - often its residents have relaxed and refreshingly liberal attitudes that many find appealing, but others find scandalous.
Bangalore is perhaps best described as the face of modern India, a fast-developing and charming city with a lot of potential.
Amritsar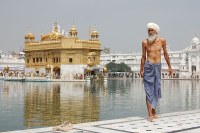 Tucked away in the extreme north of India is the small city of Amritsar. Despite being home to more than a million people, Amritsar is not known for fabulous restaurants or nightlife - people travelling to Amritsar are searching for a more spiritual experience.
Amritsar is the spiritual and cultural heart of the Sikh religion, which has roughly 30 million followers worldwide. This faith is reflected in the day-to-day life of the city: for example, nearly all the restaurants in Amritsar are vegetarian.
The city's name means 'pool of nectar', which pays tribute to Amritsar's most famous attraction, The Golden Temple. This magnificent structure is a pilgrimage site for Sikhs, but welcomes visitors of all faiths. The dormitories nearby offer free food and accommodation to all who enter. Aside from the Golden Temple, there are other attractions in Amritsar worth visiting, including the Jallianwala Bagh Gardens, the Mata Hindu Cave Temple, and the museum at the Summer Palace of Maharaja Ranjit Singh.
Amritsar's location makes it a great base to explore the north of India. A popular and fun excursion is to see the ceremonial inter-army march-off at the daily closing of the India-Pakistan border. Travellers armed with visas can explore further into the Pakistani city of Lahore.
Darjeeling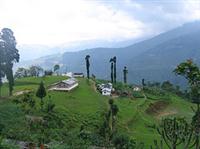 The tourist jewel of West Bengal, and the most famous of India's Colonial-era 'hill stations', Darjeeling has been extending a cool, alpine welcome to sun-stroked visitors since the mid-19th century. A town full of Victorian architecture, built into the foothills of the Himalayas, Darjeeling is not only picturesque, but offers a wealth of interesting sights and activities to travellers.
A mandatory thing to do in Darjeeling is take a ride on the Himalayan Railway (more commonly referred to as the 'Toy Train'), a narrow, winding journey through gorgeous mountain scenery. A UNESCO World Heritage Site, the narrow-gauge Darjeeling Himalayan Railway was opened in 1881 to establish a rail connection between the hill station of Darjeeling and Siliguri. These days, the 'Toy Train' is one of India's greatest tourist attractions, and an absolute must-do for visitors to West Bengal. Visitors are advised to take a day-trip from Darjeeling to Ghum (India's highest railway station), as not only are the views exhilarating, but the trip is taken in a British-built B Class steam locomotive. If at all possible, book a backwards-facing seat, so you can stare out at the plumes of steam trailing the diminutive steam-engine as it climbs through the Himalayan foothills.
Trekkers will rejoice at the amount of top-quality hiking trails for them to explore (the best of which are located in nearby Singalila National Park), while culture-vultures will adore the cultural diversity of the area, with its significant Tibetan community. There are beautiful Buddhist monasteries and sanctums to explore, and - of course - fields and fields of the famous Darjeeling tea to enjoy. An absolutely wonderful place to cool off and recuperate after some hard travelling on the plains, tourists are urged to make Darjeeling a part of their Indian adventure.
Pushkar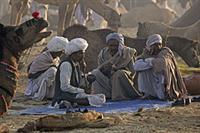 One of the holiest Hindu sites in India, Pushkar is also extremely popular with tourists in Rajasthan, who go there to soak up the spiritual atmosphere, shop at the bustling market, explore the beautiful temples, and sample the heady bhang lassis (bhang is a liquid derivative of cannabis, and is legal in Pushkar). According to Hindu myth, after vanquishing the demon Vajra Nabha, the creator-god Brahman dropped a lotus flower on the ground, which later grew into Pushkar Lake. The centre of the city's activity, Pushkar Lake is fringed by ghats, and sees a steady stream of devotees go down and make an offering by the water's edge every day. You are strongly advised to find accommodation in Pushkar with a lake-view - at sunset, the scene is picture-perfect. Pushkar also boasts one of the only temples dedicated to Brahman in the whole of India, a number of excellent walking trails leading to temples in the surrounding hills, and is a popular starting-point for one of Rajasthan's chief tourist attractions, the camel safari.
If you are visiting Pushkar and looking for an excursion, the beautiful, relaxed town of Bundi is a great option. With cattle-choked, cobble-stone streets, delicately-carved baoris (step-wells), a high proportion of haveli-style houses, and numerous graceful temples, Bundi also has an added aesthetic attraction - the fact that most of its buildings are painted a soothing, cooling blue. The effect is magical, and has contributed to Bundi being termed 'one of the most photogenic towns' in all of India. Notable tourist attractions in Bundi include the 14th-century Taragarh (or 'Star') Fort and the heavily-frescoed Bundi Palace, both built on nearby hilltops. Hike up at sunset, sit on a ruined rampart, and watch the blue city begin to gleam in the gathering twilight.
Chennai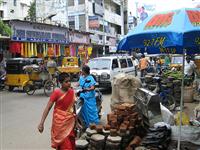 Chennai (formerly known as Madras) is the capital of the friendly state of Tamil Nadu, and makes for a great gateway to India's celebrated south. Founded in 1639 by the British (acting under the auspices of the Dutch East India trading company), this city on the Coromandel Coast is now the fourth-largest in India, home to nearly 7.5 million people.
If truth be told, modern-day Chennai is a dusty, chaotic and unattractive city - and is primarily used as a transit-point for travellers looking to access the close-lying areas of Pondicherry and Kerala. Accommodation options in Chennai are limited, shopping is not really worth the considerable stress of negotiating its roads and downtown areas, and there is not a great amount to see and do in the city itself. Still, for travellers looking to access India's southern regions, and especially those who want to travel through the famously friendly and temple-strewn state of Tamil Nadu, Chennai is a useful entry-point to India.
For those tourists who find themselves with a couple of days to kill in Chennai, there are a limited amount of sights that capture the imagination. The Basilica of the National Shrine of St.Thomas is a bright white, neo-Gothic, spired building - and is purportedly built over the tomb of St Thomas the Apostle. The Big Mosque (also called the Wallajah Mosque) is a beautiful structure, with extremely pleasing lines and - despite its size - possessing a remarkable symmetry. Completing Chennai's list of top religious sights is the The Parthasarathy Temple, an 8th-century temple dedicated to Lord Krishna.
Chennai also has a long coastline, full of sandy beaches with great ocean views. However, unfortunately for tourists, swimming is absolutely not allowed at any of these beaches due to dangerously strong undercurrents.
One of the most wonderful places to visit in the region is Puducherry (formerly Pondicherry), a gracious seaside town on India's east coast. Known as the 'French Riviera of the East', Puducherry certainly displays its strong French heritage: the old quarter of the city retains its original design, with a grid of quaint, tree-lined rues and boulevards flanked by stately villas, bakeries and fine restaurants. Indeed, as there is not that much to actually do in Puducherry - apart from relaxing on the pretty beach, and enjoying the promenade - you are strongly encouraged to embark on a bit of a 'restaurant tour' of the city.
Ladakh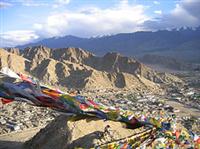 Situated in India's northernmost state of Jammu and Kashmir, Ladakh is a mountainous region of extreme natural beauty. Ringed by rugged mountains, Ladakh is inaccessible by road between November and May - although hair-raising flights, that weave between icy mountain peaks, still operate during this time between Delhi and Leh. Known as 'little Tibet', Ladakh's primary draw-card - that is, over and above its outstanding scenery - is its strong Buddhist culture, which (due to its isolation) has remained largely unaffected by the ravages of colonialism and modernity. Popular tourist destinations in Ladakh include Leh and Kargil, a town known for its ancient Buddhist statues and bright apricot orchards. Although Jammu and Kashmir has a reputation for being a 'dangerous' state, Ladakh is in fact a very peaceful place - a veritable 'Shangri-La', having seen virtually no violence since India gained her independence in 1947. For experienced, well-conditioned hikers, Ladakh is the perfect place from which to plan a trek into neighbouring Tibet.
An extremely popular tourist destination, Leh was the historical capital of the Kingdom of Ladakh, and remains, to this day, the perfect base from which to explore the region. In many ways a prototypical tourist town - chock-full of backpacker accommodation, roof-top restaurants, internet cafes and curio stalls - Leh's remarkable setting, in the heart of the Indus Valley, safeguards its thoroughly unique character. At almost 11,500 feet (3,500m) above sea-level, visitors might be forgiven for thinking that the cobalt hue of the sky above Leh is actually an effect of altitude sickness; while in the town itself, modern buildings give way dramatically to traditional mud-brick and timber structures. A must-see tourist attraction in Leh is the ruined Royal Palace: constructed in the 17th century at the foot of the Himalayas, the views it commands of the Indus Valley and its surrounding peaks are simply out-of-this-world.
Kochi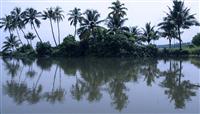 The port city of Kochi (formerly known as Cochin) is located on a cluster of islands and narrow peninsulas about halfway up the Goan coastline, in the north of the state of Kerala. A favourite destination for European tourists on package-deal tours of the country, Kochi offers a serene and relaxed change of scenery, and a very gentle introduction to a holiday in India.
The majority of tourists to Kochi stay in the Ernakulam district, but the old sections of Mattancherry and Fort Cochin are the main areas of interest. All linked by a series of ferries and bridges, these districts are an unlikely blend of late-medieval Portuguese, Dutch and English architecture - a living record of the area's colonial history.
Near Kochi's waterfront, you'll find a host of extremely old and interesting religious buildings. The St Francis Church is India's oldest European church, and held Vasco da Gama's mortal remains for a while before they were transported to Lisbon. The imposing 16th-century Santa Cruz Basilica, a testament to the Portuguese occupation of the area, might feel a little out-of-place but is still full of grandeur and is eminently photogenic. Meanwhile, the oldest synagogue in the entire Commonwealth can be found in Kochi's 'Jew Town' area: the Paradesi Synagogue, a beautiful white building with dark blue accents, founded in 1568. Set amidst these fascinating sights are spice markets, fish markets, and a village green that could have been transported straight from rural England.
Boasting a good amount of cultural sights and interesting things to do, as well as some top-class restaurants specialising in international cuisine, the main allure of Kochi remains its serene atmosphere and languid pace of life. It is very easy to wile away time in Kochi by simply meandering around the waterfront area, watching fishermen unhurriedly fixing their nets by the water's edge, and perusing the fine selection of goods presided over by (mostly) Nepalese traders.
Kochi is also an ideal place from which to organise cruises of Kerala's backwaters, which is one of the most popular tourist activities in the whole of India.