Overview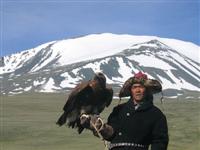 Mongolia is an unlikely tourist destination but one that proves irresistible to lovers of wide-open spaces, untamed wilderness and raw natural beauty. Outside of the capital Ulaanbaatar, where over half the population lives, visitors encounter a land blissfully unaffected by the modern world. It is a journey back in time where nomadic lifestyles are perfectly in tune with the natural rhythms of the landscape, and the people are renowned for their warmth and hospitality.
Mongolia is three times the size of France and twice the size of Texas, yet with under three million people, it is the most sparsely populated country on earth. The main economic activity is livestock tending, although the country's considerable mineral wealth is beginning to be exploited.
Key attractions are the Gobi Desert with its astounding Khongor sand dunes; the varied sights of Gorkhi-Terelj National Park; vast and pristine Khövsgöl Lake near Moron; and Karakorum, former capital of the Mongol Empire and home to Mongolia's most important monastery. Throughout it all there is the amazing scenery, ranging from desert steppes to snow-clad mountains, that is earning this country a reputation as an ideal destination for adventurers embarking on camel trekking, 4X4 excursions, rock climbing and desert safaris.
Ulaanbaatar itself is more a functional centre with few must-see attractions to speak of. One worthwhile site, however, is the National Museum of History (with an entire floor dedicated to Genghis Khan, founder of the Mongol Empire). Under his grandson Kublai Khan, Mongolia became the world's first superpower, spanning from modern-day Korea to Poland and encompassing 22 percent of the globe at its peak.
Democracy only came to Mongolia in 1990, after being under the yoke of Soviet Russia for most of the 20th century. The most destructive consequence of that regime was the systematic eradication of the native Buddhist faith. Over 7,000 monasteries were destroyed, with only four surviving. Over 20,000 monks were killed. Today, Buddhism is once again flourishing and people are rejoining the traditions that have sustained them for centuries.
Basics
Language
Khalka Mongol predominately, with some Turkic and Russian
Safety
Travellers to Mongolia should not be unduly concerned about their personal safety. As in every city, exercise caution in Ulaanbaatar, especially at night, as theft has been known to occur. Watch out for pickpockets at the airport. Be careful when using public transport, or when driving yourself around Mongolia - road conditions can be poor, and visibility (especially at night) is often less than ideal.
Customs
The most important aspect of Mongolian social etiquette is the ideal of hospitality. Mongolians are famously welcoming of foreigners, although they expect - in return - that visitors show respect for Mongolian culture, by being enthusiastic and compliant guests. Travellers who enjoy 'roughing it' will probably find more success in Mongolia if they maintain their personal appearance - dirty clothes, long hair, and unkempt beards are generally frowned upon. Vodka-drinking is an inveterate feature of Mongolian culture, and being able to 'hold your liquor' is probably your shortest route to social acceptance. Finally, although there are some harsh standards of conduct, and high expectations placed on Mongolian women, these do not apply to foreigners.
Duty Free
Travellers to Mongolia may bring with them up to 200 cigarettes/50 cigars/250g of tobacco, one litre of vodka, two litres of wine, three litres of beer, and personal goods valued up to US$1,000. Pornographic materials and narcotics are prohibited.
Currency
Note: These currency exchange rates are not updated daily and should be used as a guideline only.
Health
Health Overview

Visa
Americans
UK nationals
Canadians
Australians
South Africans
Irish nationals
New Zealanders
Passport/Visa Note
Foreign passengers to Mongolia who do not qualify for visa exemption AND who are holding confirmation of a pre-arranged visa, can obtain a single-entry visa on arrival at Chinggis Khaan International Airport (ULN), provided that (i) their passport is valid for at least one year beyond the date of their arrival in Mongolia; (ii) they are in possession of two passport photos; (iii) they are arriving from a country without diplomatic representation of Mongolia; and (iv) a sponsor in Mongolia submits a request on their behalf to the Mongolian Immigration Authority. The fee for visas issued on arrival is MNT 95000 and USD 3. NOTE: It is highly recommended that your passport has at least six months validity remaining after your intended date of departure from your travel destination. Immigration officials often apply different rules to those stated by travel agents and official sources.
Note: Passport and visa requirements are liable to change at short notice. Travellers are advised to check their entry requirements with their embassy or consulate.
Contacts
Mongolia Tourism

Foreign Embassies in Mongolia








Mongolia Embassies








Regions and Cities