Overview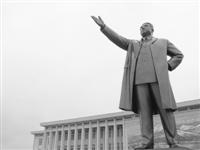 North Korea is the world's most bizarre tourist destination and for that reason uniquely worth visiting for the curious tourist looking to experience a regime founded on a cult of personality and delusional fear of outsiders.
It is ironic that the country's full title is the Democratic Peoples Republic of Korea (DPKR) because this is easily the least democratic place on earth. It is the purest example of a totalitarian regime in that the state controls virtually every aspect of life. In turn, that state is controlled by one man alone, the diminutive, reclusive and exceptionally odd Kim Jung Ill. He commands an army that numbers over 6 million, and his nation is the most militaristic on earth with over 25 percent of GDP spent annually on the armed forces.
Tourism is tightly controlled but visas are rarely refused. Only about 1,500 western tourists visit each year, and all must enter as part of an organised tour. Each group is assigned tour guides that will accompany your every pre-ordained movement. On the plus side your chance of getting mugged is zero.
Visitors should never insult or disrespect the regime or Kim Jung Il, no matter how appealing the prospect. You and especially your guide will get into serious trouble as it is safe to assume that you are being monitored throughout your visit. In fact, in North Korea it is impossible to be paranoid - here, you areactually being watched all the time!
Tourists will enter on an Air Koryo flight, the national airline which has the dubious distinction of earning the only one-star rating by Skytrax, the lowest rating available. The EU has outright banned Air Koryo from flying there.
The capital city is Pyongyang, notable for its strangely absent people and empty roads. The main sites are enormous memorials and statues commemorating the DPRK's founder leader Kim Il Sung. It's a strange and unsettling city to visit, because lurking behind the concrete facades that your guide will shepherd you past, are the average citizens who live without power, regular food and any vestige of human rights. The city skyline is dominated by the enormous and permanently unfinished Ryugyong hotel, further testament to the crazed and impractical imagination of the regime's leader.
Basics
Customs
Visitors to North Korea should be prepared for an utterly unique travel experience, fraught with absurdity, and with little or no personal freedom. It is impossible to be a tourist in North Korea without signing up for an 'official' (government-run) tour package - this includes two escorts (one male, one female) to pick you up from your hotel, shepherd you from attraction to attraction, and return you to your hotel at the end of the day. Note that it is virtually impossible for tourists to have a spontaneous encounter with locals - the tour packages are minutely orchestrated, so watch what you say at all times, and NEVER criticise the government. Part of the package will almost certainly be a visit to the monument of Kim Il Sung, where you will be expected to bow solemnly and lay flowers on his grave. If you are unprepared to do this, stay at home. North Korea also has draconian laws regarding what foreigners are allowed to bring into the country, and the penalties for breaching these regulations can be extremely harsh, so make sure to receive an updated list of contraband items from your travel agent before packing your bags. In terms of 'regular' social etiquette, bowing is the normal form of greeting (the deeper the bow, the more respect being shown), and you will be expected to remove your shoes when entering certain buildings or places of historical interest.
Duty Free
Travellers to North Korea may import a reasonable amount of tobacco and liquor without paying customs duty. Prohibited items include binoculars, guns and ammunition, explosives, drugs, seeds, and books or literature in Korean. Gifts, cameras, watches, tape recorders and precious metals must be declared on arrival.
Currency
Note: These currency exchange rates are not updated daily and should be used as a guideline only.
Health
Health Overview

Visa
Americans
UK nationals
Canadians
Australians
South Africans
Irish nationals
New Zealanders
Passport/Visa Note
Passport and/or passport replacing document must be valid on arrival. Visitors must hold tickets and documents required for their next destination and sufficient funds to cover their stay. It is highly recommended that passports have at least six months validity remaining after your intended date of departure from your travel destination. Immigration officials often apply different rules to those stated by travel agents and official sources.
Note: Passport and visa requirements are liable to change at short notice. Travellers are advised to check their entry requirements with their embassy or consulate.
Contacts
North Korea Tourism

Foreign Embassies in North Korea








North Korea Embassies








Regions and Cities