Overview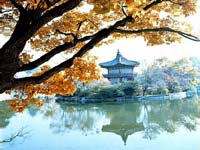 An intriguing land of ancient ruins, romantic legends, natural wonders, breathtaking landscapes and teeming modern cities, the Republic of Korea can trace its history back half a million years.
Tourists are discovering with delight the hidden treasures of the southern half of the mountainous Korean peninsula, which pokes southwards from the eastern end of the Asian continent. South Korea has been separated from North Korea by a demilitarised zone since 1953, and has flourished to become a stable and mature democracy, home to 50-million people who are spread across its nine provinces, concentrated in seven mega-cities. Previously dubbed 'the hermit kingdom', South Korea is now flaunting its bright plumage like a proud peacock.
Largest of the metropoles, and the area most frequented by visitors, is the capital, Seoul, the world's tenth largest city, where ancient shrines nestle beneath soaring skyscrapers. This seething city, ringed by mountains, offers hundreds of attractions and experiences, vibrant nightlife and unforgettable dining.
The least populated area of the country is Gangwon-do Province on the eastern side of the Peninsula, where remote forested mountains and valleys are studded with small towns. This area, which played host to the Asian Winter Games in 1999, is fast becoming one of the worlds most sought after skiing destinations. The rest of the year visitors are drawn to the province's magnificent beaches and scenic hiking trails.
Another area rich in tourist attractions is the south-eastern region, with its wealth of archaeological treasures. Gyeongju, ancient capital of the Silla Kingdom, is an open-air museum boasting tombs, temples, pagodas and ruins dating from as early as 57 BC. The Bomun Lake Resort with its luxury hotels is a fine base from which to explore the area. New resort complexes are currently under construction to open up this fascinating area even more to tourism.
Those seeking a romantic getaway should head for South Korea's resort island, Jejudo, known as 'little Hawaii' because of its subtropical vegetation, volcanic landscape, sandy beaches and sparkling waterfalls. The island is dominated by the towering Mount Halla volcano, but visitors need not fear a natural disaster - the volcano was last active in 1007!
Basics
Time
Local time is GMT +9.
Electricity
Electrical current is 110 or 220 volts, 60Hz. Most hotels operate on 220 volts.
Language
The official language is Korean.
Health
There are no required vaccinations for entry to Korea and standards of medical care are high. Payment for treatment is usually expected in advance. Medical insurance with provision for repatriation is also recommended. Hepatitis A and typhoid inoculations are recommended, and there is a small risk of malaria is some areas. Outbreaks of bird flu have been confirmed throughout the country, but no human infections have been reported. The risk to travellers is low, but as a precaution visitors should ensure that all poultry and egg dishes are well cooked, and contact with live birds is avoided. Tap water is chlorinated but may cause stomach upsets, therefore it is preferable to drink bottled water. Food should be well cooked and milk boiled.
Tipping
Tipping is not customary in Korea. Sometimes, expensive restaurants and luxury hotels may add a service charge of 10%. Taxi drivers are usually tipped if they assist with baggage.
Safety
Most visits to South Korea are trouble-free. The crime rate against foreigners is low, but it is still advisable to use sensible precautions particularly in safeguarding passports, money and credit cards in crowded areas. There has been an increased number of rapes reported in the nightlife areas of Seoul, as well as in private homes and travellers should be cautious, particularly at night, travelling only in legitimate taxis or public transport. The political situation is generally stable but since the Korean peninsula was divided by a demilitarised zone in 1953, tensions have risen and fallen on occasion. It is wise to be informed about current conditions. You should carry some form of identification at all times and ensure your next-of-kin details have been entered into the back of your passport.
Customs
English is not widely spoken or understood, so if you plan to use taxis or other local services it is wise to have instructions written down in Korean. It is advisable to carry some form of identification at all times. Social harmony is crucial, and public anger or criticism that causes an individual to 'lose face' or dignity is a serious breach of etiquette. Koreans will go out of their way to maintain a comfortable situation.
Business
The increase in trade with Western countries has meant that Koreans do not expect visitors to understand all the nuances of their culture, however they are appreciated. Koreans dress conservatively and formally and it is important to do the same. Koreans like to do business with people whom they know and often introductions via a third known party are necessary. Greetings often consist of a bow, followed by a handshake. Introductions are very important and ascertain the hierarchy, often according to age, which is to be observed and respected. Often the most important person will be introduced first. Greeting in Korean, 'an-yong-ha-say-yo' (hello), and 'kam-sa-ham-ni-da' (thank you), is a good way to earn respect. Business card etiquette is vital; they should be given and received with both hands, with the details translated from English into Korean or Chinese on the alternate side, and must be treated with the utmost respect. Each one is to be read carefully and the name acknowledged. It is important, when issuing cards, not to stack them or keep them in one's wallet or purse. Koreans are referred to by their surnames or family names first and then their given names second and it is best to ask in advance how to address the person. The giving of gifts is appreciated and often reciprocated. Business hours are generally 9am to 6pm Monday to Friday.
Communications
The international dialling code for South Korea is +82, and the outgoing code is 001 or 002 followed by the relevant country code (e.g. 00144 for the UK). The outgoing code when using some mobile phones is 00700. City or area codes are in use, e.g. (0)2 for Seoul. Telecommunications are well developed and call boxes accepting both cash and cards are prevalent. Internet cafes are widely available. Although mobile telephones are widely used by locals, there is no GSM network and foreign phones will not usually work in the country, even when on international roaming. Local mobile phones may be rented.
Duty Free
Travellers (over the age of 19) arriving in South Korea may bring in the following items free of customs duty: 200 cigarettes or 50 cigars or 250g tobacco products; 57g perfume; 1 litre of alcohol (only those over 20 years old); and gifts valued at not more than 400,000 won. Products from communist countries are prohibited, as are fruit, seeds and any published or recorded material deemed to be subversive or obscene.
Currency
South Korea's monetary unit is the won (KRW). Currency can be exchanged at most banks and at casinos, and travellers cheques cashed at authorised banks and hotels. Most merchants in the cities accept Visa, MasterCard and American Express credit cards, but Koreans traditionally prefer cash. ATMs at banks are usually accessible only during banking hours, and instructions on the machines are generally only in Korean. Public ATMs at convenience stores and subway stations are generally available 24 hours. US Dollars are an accepted form of foreign currency and can be used as US Dollars in the areas around the American Military bases in South Korea.

| | | | | | | | |
| --- | --- | --- | --- | --- | --- | --- | --- |
| KRW 1 = | US$ 0.09 | £ 0.06 | C$ 0.09 | A$ 0.08 | R 0.73 | EUR 0.07 | NZ$ 0.11 |
Note: These currency exchange rates are not updated daily and should be used as a guideline only.
Health
Health Overview
There are no required vaccinations for entry to Korea and standards of medical care are high. Payment for treatment is usually expected in advance. Medical insurance with provision for repatriation is also recommended. Hepatitis A and typhoid inoculations are recommended, and there is a small risk of malaria is some areas. Outbreaks of bird flu have been confirmed throughout the country, but no human infections have been reported. The risk to travellers is low, but as a precaution visitors should ensure that all poultry and egg dishes are well cooked, and contact with live birds is avoided. Tap water is chlorinated but may cause stomach upsets, therefore it is preferable to drink bottled water. Food should be well cooked and milk boiled.
Visa
Americans
UK nationals
Canadians
Australians
South Africans
Irish nationals
New Zealanders
Passport/Visa Note
All visitors require a valid passport, a return or onward ticket, sufficient funds, all documents for the next destination and a contact address in South Korea. Those requiring a visa should obtain one from a Korean Embassy or Consulate before entering the country. Visas are not required if passenger holds an APEC Business Travel Card, provided the back of the card states validity for travel to South Korea. It is highly recommended that passports have at least six months validity remaining after your intended date of departure from your travel destination. Immigration officials often apply different rules to those stated by travel agents and official sources.
Note: Passport and visa requirements are liable to change at short notice. Travellers are advised to check their entry requirements with their embassy or consulate.
Contacts
South Korea Tourism
Korea National Tourism Organisation, Seoul: +82 (0)2 729 9600 or www.knto.or.kr
Foreign Embassies in South Korea








South Korea Embassies








Regions and Cities
Seoul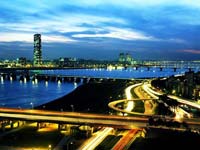 Encircled by mountains, containing a population of 10-million, and with more than a million registered motor vehicles inching through its congested streets, one would imagine the metropolis of Seoul, capital of South Korea, to be a polluted nightmare. The city fathers, however, have made a concerted effort in recent years to clean and green this thriving, prosperous city, also ensuring that the mushrooming of gleaming skyscrapers has not meant the neglect or destruction of centuries-old palaces and shrines. The result is a bustling, but organised, city filled with fascination, where old and new co-exist happily.
A great deal of the credit for the well-ordered urban planning of Seoul can be given to the ancient Joseon Dynasty, which used great foresight when crafting the city into a capital way back in the 14th century.
The old Joseon Dynasty city with its central main palace is now the traditional downtown heart of Seoul where many of the most popular sights, hotels and markets are to be found. One of the most popular areas for visitors to explore is Insa-dong, filled with antique shops, art galleries, traditional teahouses, restaurants and bookshops.
Across the Han River the modern city is dominated by Korea's World Trade Centre, and the Coex Mall, a shopper's delight. Even the island, Yeouido, in the middle of the Han River is densely packed with high-rise buildings; this is also the base for the Korean National Assembly, and the world's biggest Presbyterian church.
Interspersed through the urban landscape are several lush, green parks, the most central being Namsan Park, encompassing the mountain of the same name just to the south of downtown Seoul. Namsan Park is also home to the iconic Seoul Tower, which offers spectacular 360 degree views of the city and surrounding countryside.
Nightlife in Seoul is lively and legendary with something to suit all tastes, from a 'booze-cruise' through the raunchy red light district of Itaewon, or a sedate sit-down at a traditional teahouse. Eating out, too, is a feast for the senses in Seoul, with an enormous international variety to choose from, whether it is succulent steak, perfect pizza, multi-course gourmet, tasty tandoori or even perhaps classic Korean.
Gyeongju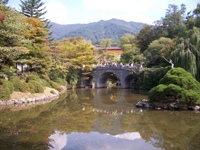 Gyeongju was the original capital of ancient Korea. The town is built around old palaces, temples and burial mounds. Gyeongju is one of the most important historical areas in South Korea and has been declared a UNESCO World Heritage district. As such a walk around the quaint town of Gyeongju is often compared to walking through an open-air museum.For visitors interested in the rich and fascinating history of Korea, spending a few days in Gyeongju is one of the most popular things to do in South Korea.
The best time to visit Gyeongju is during spring or autumn. In spring many of the cherry trees planted throughout the town are in bloom which makes for an exceptionally scenic tour of the area. There are also extensive flower fields on the outskirts of Gyeongju which are particularly spectacular during spring. Autumn is the perfect time to enjoy the forested areas as the foliage changes colour.
Gyeongju National Museum is the ideal start to any tour of Gyeongju. Visitors to the museum can find out more about the town and the historical sights scattered throughout the area. From there visitors should head to any one of Gyeongju's many attractions in the centre of town such as spectacular Cheonmachong Tombs and burial mounds in Tumuli Park. At first the ancient tombs appear to be perfectly rounded hillocks scattered throughout the park, it is only on closer inspection that visitors see that they are in fact tombs rather than hills. The ancient Cheomseongdae Observatory is the oldest astronomical observatory in Asia. Further afield you will find Bulguksa Temple, Toham Mountain, the ancient Seokguram Grotto and Yangdong Village. Bulguksa is one of South Korea's most spectacular temples and definitely worth a visit. Tohamsan or Toham Mountain is home to both Bulguksa and Seokguram Grotto. The Grotto contains arguably some of the finest Buddhist sculptures in the world. Both Seokguram and Bulguksa are UNESCO sites. The tranquil Anapji pond is the perfect place to end a day spent exploring the treasures of Gyeongju.
Getting to Gyeongju i is relatively easy as the city is an hour away from the city of Daegu on the KTX express train route. Buses to Seoul and Busan depart from Gyeongju fairly regularly throughout the day. Getting around Gyeongju is a breeze. Visitors can hire a moped, bicycle or make use of the sightseeing busses which make regular trips between all of Gyeongju's principal attractions.
Busan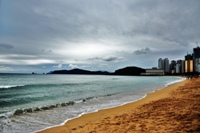 Home to some of South Korea's most popular beaches, hot spring resorts and numerous other historical attractions, Busan is an integral part of any trip to South Korea. Busan, formerly known as Pusan, is the largest port and the second largest city in South Korea and is a quick three hour KTX (bullet train) trip south of Seoul. Busan often goes unnoticed as visitors flock to get a taste of the bright lights and big city feel of Seoul, but Busanites and many other Koreans will tell you that Busan is one of South Korea's friendliest and most relaxed cities.
From beaches to mountains and temples Busan has many attractions on offer. Some of the city's principal attractions include the beautiful Haeundae and Gwangalli Beaches. The Busan Aquarium also features as a fun attraction in Busan. Visitors interested in temples and historical sights can visit the Beomeosa and Yonggungsa temples as well as the Geumjeong Fortress. The markets in Busan are also an attraction in and of themselves. They offer wonderful photographic opportunities and can sometimes be a real eye-opener, particularly Jagalchi Fish Market. Visitors to the city during summer should try and include trip to one of the local baseball games on their Busan itineraries. The local team, the Lotte Giants, is based at Sajik stadium and a baseball game in Korea is a cultural experience in and of itself. Baseball games are held every weekend during summer. Busan also has great shopping, eating and sightseeing opportunities. Visitors to the city will find that this seaside city has a lot of heart and may even prove to be the highlight of a trip to South Korea.