Overview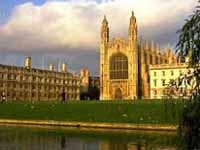 England holidays provide a multitude of activities and sights for the entire family. From London's bustling sprawl to The Lake District's breathtaking natural beauty, the traditional estates of rural England to Liverpool's fascinating Beatles Museum, England packs a punch with visitors despite its postage-stamp size.
England's cultural hub London is bursting with music, art, theatre and over a thousand years of absorbing history. Its countless pubs and music venues offer musical performances to suit all tastes – from rock'n'roll's rising stars to stripped back acoustic shows. London attractions include The Tate Modern, the Saatchi Gallery and British Museum, which offer the best in world-class contemporary art. A trip to London wouldn't be complete without clapping eyes on Big Ben, Westminster Abbey and Buckingham Palace. London is also a shopping mecca, with High Street fashions on the cutting edge of world trends and plenty of vintage treats up sale in Portobello Road's famous markets.
Take the time to venture outside London to enjoy England tours in the nation's rolling green countryside. The Lake District has long been a celebrated icon of English beauty and has been a designated national park since 1951. Made famous by the poems of William Wordsworth and Samuel Coldridge, The Lake District has been immortalised for its picturesque views, walking trails and lush countryside.
Many of England's oldest homes and country estates still exist and are open to the public, evoking the lucid imagery of Jane Austen's Pride and Prejudice. Original Georgian architecture surrounds the stunning spa town of Bath in semi-rural Somerset. Established on the sight of natural spa waters, the town of Bath grew as a fashionable escape for wealthy 18th Century aristocrats and was renowned for its restorative properties. Today it is a UNESCO World Heritage Site and one of England's most popular tourist destinations. Other noteworthy estates include Hampton Court Palace in Richmond, Windsor Palace (one of the official residences of the Queen) and Chatsworth House in Derbyshire, which features as 'Pemberley' in the BBC adaption of Pride and Prejudice.
In contrast, Liverpool's Beatles museum is a living monument to the Fab Four. An atmospheric journey into the lives and times of England's most enduring band, the museum puts their hometown firmly into the spotlight. Best of all, it evens features a yellow submarine! So what are you waiting for? Book a cheap flight to London and experience England's history and culture today.
Attractions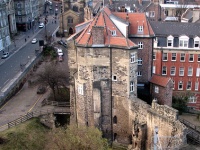 Castle Keep and New Castle
Originally known as Monkchester, Newcastle only got its present name when Robert Curthose, son of the infamous William the Conqueror, built his 'New Castle' on the site of the Roman fort Pons Aeliu in 1080. Used as a point of defence, the Castle was originally built of wood and timber, but was later rebuilt in stone. Today, visitors can explore the remains of the Castle, as well as the Castle Keep built later on the same site by Henry II.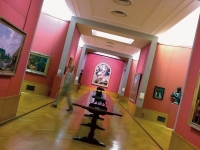 Barber Institute of Fine Arts
Praised by The Observer as 'one of the finest small art galleries in Europe', the vivid red walls of the enchanting Barber Institute of Fine Arts are adorned with some of the most celebrated art from the 13th to 20th centuries. Browsing the robust artworks, visitors are treated to the timeless talents of the old masters and modern pioneers such as Monet, Manet, Gauguin, Van Gogh and Degas. Offering a fascinating collection of paintings, drawings, prints and sculptures, history enthusiasts can also venture into a bygone age at the coin gallery, which hosts one of Europe's finest collections of Byzantine coins. The Barber Institute's Gallery Shop is a worthy stopover for some souvenirs and gallery-related literature.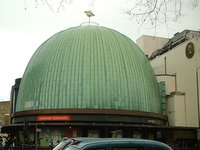 Madame Tussauds
Madame Tussauds is the most famous wax museum gallery in the world, with more than 400 life-sized models of stars, famous politicians, royals, comic book characters and sportsmen, as well as exhibits presenting the most infamous criminals the world has known. Inside the Museum, the 'Spirit of London' ride will take you through the city's history, introducing you to those figures that have shaped the London of today, while the 'A-list Party' section will introduce you to the Museum's collection of celebrities, and the 'Scream' exhibition will terrify and delight visitors in equal measure. A must-see tourist sight in London, visitors are advised to book their tickets online in advance, as the queues for tickets outside Madame Tussauds can be very long.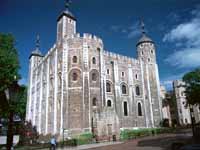 Tower of London
The Tower of London is perhaps as famous for its traditions as its imposing structure, located on the Thames River. It is guarded by a special band of Yeoman Warders, known as Beefeaters, and dotted with several large, black birds - the ravens. Legend has it that if the ravens ever leave the Tower, a great tragedy will befall England, and to this day the birds are protected by royal decree. The Tower's history dates back to the 11th century, and each new monarch has played a role in its growth and development. It also houses Britain's famous crown jewels, a spectacular display of some of the world's finest gems and workmanship. The Tower is next to Tower Bridge, another famous London landmark.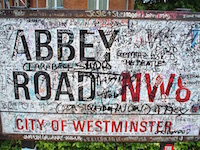 Abbey Road Studios
The Beatles' 1969 album Abbey Road was recorded at this unassuming studio in St John's Wood, London. While many other famous bands, including Pink Floyd, the Red Hot Chili Peppers, U2, Kate Bush, Radiohead, Oasis and Sting, all recorded tracks there, it is Beatles fans who make the pilgrimage to take their pictures walking across the famous zebra crossing on Abbey Road. The studio building is a Grade II listed building, and is not open to the public.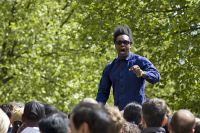 Speaker's Corner at Hyde Park
Located right in the middle of London, Hyde Park is a huge patch of green and blue tranquillity in the midst of the bustling city. Covering 350 acres, it features restaurants, fountains, monuments and flower gardens, and offers a range of activities including ice skating, swimming, boating, tennis, cycling and horse riding. There are also playgrounds for children and spaces for team sports. One of Hyde Park's most famous attractions is Speaker's Corner, when people of all opinions come to share them freely. While Speaker's Corner attracts its fair share of crackpots, there are usually lively debates, and famous personalities like Karl Marx, Vladimir Lenin and George Orwell were participants in their day.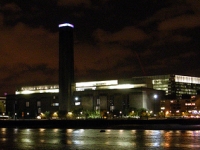 Tate Modern
Housed in the former Bankside Power Station, which has been transformed by Swiss Architects Herzog & de Meuron into a spectacular new modern building, the Tate Modern is Britain's greatest museum of of modern art. It showcases an exhaustive collection, featuring works from 1900 to the present day, including works by Dalí, Picasso, Matisse, Rothko and Warhol, as well as temporary exhibitions by contemporary artists. There is also an exceptional roof café, which affords spectacular views over London, and an impressive gift shop. A must-see attraction for visitors to London, you will be sorely remiss to pass up a visit to the Tate Modern.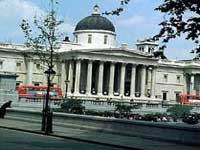 National Gallery
The National Gallery has an imposing and regal façade stretching across the northern side of Trafalgar Square, and houses over 2,300 paintings from every major European school of painting from the 13th to the 19th centuries. It was opened in 1938 at its present location, which was chosen for its situation between London's wealthier West End and poorer East End, as a 'gallery for all'. These days, admission to the National Gallery is still free, and its cultural programme has swelled to include weekly classical music concerts, an on-site cinema, and a variety of excellent themed gallery tours. There are also restaurants and coffee bars to choose from in the National Gallery, in case you need to refuel while perusing the magnificent art on display.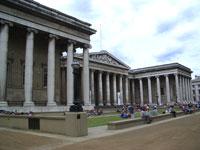 British Museum
The British Museum is widely regarded as the world's greatest museum of human history and culture. Containing more than 13 million articles from all corners of the globe, the British Museum boasts an overwhelming collection of fascinating artefacts. Most prized amongst its collection are its famous antiquities, which include the Parthenon Frieze (or Elgin Marbles), the Rosetta Stone and the Roman Portland Vase, which dates from the 1st century AD. In the year 2000, the Great Court was reopened with an incredible glass roof covering two acres, and stairwells leading down to the Reading Room, which has been completely restored. Visitors to London should not miss out on the British Museum, which is one of the world's great cultural troves. Budget at least half a day to get a sense of the wealth of history housed within the Museum.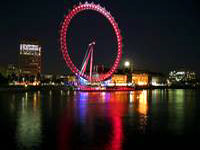 London Eye
At 443ft (135m) tall, and weighing more than 250 double-decker buses, the London Eye is a truly spectacular feature of London's skyline. Offering incredible views of most of London's major attractions, and an opportunity to put the city's geography into perspective, it is a must-see attraction for first-time visitors to England's capital city. Originally desgined by architects David Marks and Julia Barfield as an entry for a Millennium Landmark competition, the project took six years and the expertise of hundreds of people from five European countries to turn it into a reality. Often featured in big-budget movies, and regularly touted as one of the best things to see and experience in London, make sure you include a ride on the London Eye in your UK holiday itinerary. Wheelchair-bound visitors will be delighted to know that both the London Eye and all its on-site facilities are fully accessible.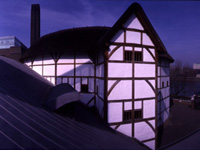 Shakespeare's Globe Theatre
Situated on the bank of the Thames, just 656ft (200m) from the site of Shakespeare's original Globe Theatre, this fantastic recreation will transport visitors back to the time of the very first productions of Hamlet, Romeo and Juliet and Twelfth Night. The reconstruction took a total of 10 years to complete at a cost of over £40 million, and now houses a professional theatre company responsible for regular productions of the Bard's famous plays. Adjacent to the theatre is the Globe Exhibition, presenting graphic information about the reconstruction of the theatre, and bringing to the fore the life and works of Shakespeare with interactive displays and live demonstrations. Visits to the exhibition include a tour of the theatre.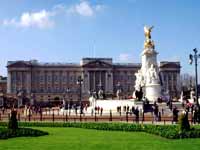 Buckingham Palace and the Queen's Gallery
No visit to London would be complete without experiencing the pomp and ceremony of the Changing of the Guard at Buckingham Palace, but now visitors can actually get a peek inside during the annual summer opening of the State Rooms, and see some of the Queen's private art collection at the newly-opened Queen's Gallery. Originally the town house of the Dukes of Buckingham, Buckingham Palace has served as the official London home of Britain's monarchs since 1837. Look to see whether the Royal Standard (not the Union Flag) is flying, which indicates that the Queen is in residence.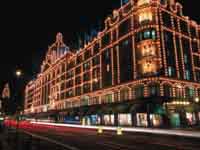 Harrods
Harrods, which proprietor Mohamed Al Fayed calls his 'Palace in Knightsbridge', promises one of the most extravagant and luxurious shopping experiences in the world. With 22 restaurants, and a wide range of departments and services across its seven floors, it is easy to see why this is the shopping choice of London's social elite. With its prominent position on Brompton Road, Harrods is hard to miss - especially at night, when the entire façade is illuminated by a grand total of 11,500 light bulbs. The UK's biggest store by a long, long way, Harrods certainly makes good on its motto Omnia Omnibus Ubique - All Things for All People, Everywhere.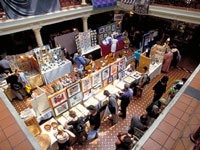 Camden Market
Camden Market is one of the most exciting shopping experiences London has to offer. Even if you're just browsing, Camden Market is still definitely worth a visit for its huge variety of food, antiques, bric-a-brac and clothing stalls, bars, nightspots and crowds of people ranging from the beautiful to the bizarre. Although the punk scene in London has gone underground, it still seems to flourish here, and you're sure to bump into some interesting characters. Just be sure to ask permission before photographing anyone. Boat rides are also available on the canal which passes through Camden Lock - a fun way to spend some time between browsing the stalls.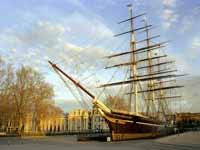 Greenwich
Greenwich is the home of the Greenwich (or Prime) Meridian, which splits the globe into East and West, and is responsible for setting the world clock on zero degrees longitude. Apart from this curious distinction (which has earned Greenwich UNESCO World Heritage Site status), Greenwich has a host of other attractions, including the Greenwich Market with its variety of arts, crafts, food and bric-a-brac, Sir Christopher Wren's Royal Observatory, and the National Maritime Museum. Greenwich Park is beautifully landscaped and is an ideal location for a picnic lunch. The famous tea-clipper, the Cutty Sark, was damaged by a fire in May 2007 and has been closed to the public since then; however, extensive restoration of the beautiful 19th-century ship has been undertaken, and it should be open again to visitors from June 2012.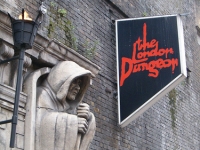 London Dungeons
Take a trip through London's dark and gruesome history, meet Jack the Ripper and see what became of his victims, or see the chaos and destruction caused by the great fire of London. The London Dungeon brings history's most notorious killers and evildoers back to life in an experience definitely not for the faint-hearted. Beware: some of the exhibitions have a nasty way of coming alive and jumping out at the unsuspecting visitor!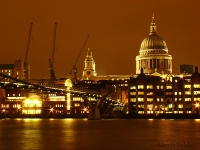 St Paul's Cathedral
The great dome of St Paul's Cathedral has been a distinctive landmark on the London skyline for centuries. Built in 1673 by Sir Christopher Wren, after the previous St Paul's was burnt to the ground during the Great Fire of London, it is the greatest of several cathedrals dedicated to St Paul that have occupied the site for more than 1,400 years. The crypt at St Paul's is one of the largest in Europe, and it houses more than 200 tombs, including those of Admiral Nelson, the Duke of Wellington and Wren himself. The Cathedral has hosted many significant ceremonies in London's history, including the funeral of Sir Winston Churchill and the marriage of Prince Charles and Lady Diana.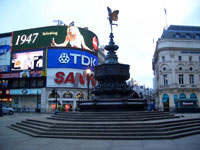 Piccadilly Circus
Surrounded by neon advertising and fast-food restaurants, Piccadilly Circus is London's answer to New York's Times Square and, at the junction of Piccadilly, Regent Street and Shaftesbury Avenue, it is the gateway to the West End. With its highly accessible tube station, Piccadilly Circus is a good starting point for those wanting to enjoy London's finest shopping district, being near to Jermyn Street, Saville Row, Regent Street and Bond Street. London's Theatreland is centred on nearby Shaftsbury Avenue, and Soho and China Town are also within easy walking distance.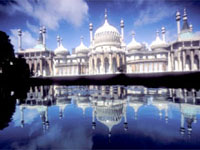 Brighton
Brighton is unquestionably England's most spectacular seaside resort town. Made popular in the 18th century, when the Prince Regent (later King George IV) chose it as the site for his holiday palace (the bizarre and fantastic onion-shaped Brighton Pavilion), it is still famous for its frivolous entertainment venues and enviable nightlife. An eclectic combination of Regency and Victorian architecture gives Brighton a unique air, with winding village lanes crammed with antique and jewellery shops, and its flamboyant East Pier stretching out over the sea sparkling with thousands of lights from its funfair and amusement arcades.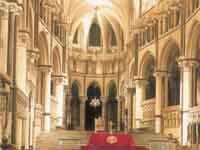 Canterbury
The historical cathedral city of Canterbury, with its narrow streets and walkways, is best explored on foot. It is the home of Christianity in England, and has been the ultimate destination for pilgrimages in England for centuries, as described in Chaucer's Canterbury Tales. The famous Canterbury Cathedral is one of the most impressive and evocative in England. It was here of course that Thomas à Becket was martyred in 1170. Visitors can explore the ruins of the original abbey of St Augustine, who brought Christianity to England more than 1,400 years ago, or visit the Canterbury Tales Pageant and meet some of Chaucer's famous characters. For an insight into the cities of medieval England climb the original West Gate Tower, which is still intact, and provides breathtaking views across the city.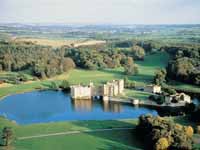 Leeds Castle
Set above a lake in a picturesque valley near the town of Maidstone in Kent, with imposing battlements and a 500-hectare Tudor garden, Leeds Castle proudly describes itself as 'the loveliest castle in the world'. Once a residence of British Queens and a playground for King Henry VIII, it has been open to the public for 25 years, revealing the majesty of a bygone age. With so much to explore, Leeds Castle requires a full day for visitors to tour the castle, get lost in the garden maze, and dine in one of the excellent restaurants or quaint tea rooms. A highly recommended day-trip for visitors to the UK.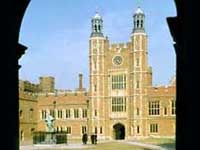 Windsor
The charming town of Windsor sits on the River Thames, 20 miles (32km) west of London, and is dominated by the magnificent Windsor Castle, the world's largest and oldest occupied castle. The castle was built by William the Conqueror almost a thousand years ago, and has been lived in by English monarchs ever since. Although Buckingham Palace is the Queen's best-known residence, Windsor is her favourite, and is where the Royal Family spend their weekends. Highlights in the castle include the wonderful State Apartments and the Waterloo Chamber, built to commemorate the British victory over Napoleon at Waterloo. St George's Chapel is one of the finest examples of Perpendicular Gothic architecture in the world, and contains the tombs of numerous English sovereigns including King Henry VIII, Jane Seymour, Charles I and King George V. Many of the Castle's rooms contain priceless works of art, including pieces by Rubens, Holbein, Van Dyke, Rembrandt and Lawrence, as well as fine tapestries and porcelain, sculpture and armour. The 500-acre (200-hectare) Home Park sits at the back of the castle and includes the site of Frogmore, where Queen Victoria and Prince Albert were laid to rest. Beyond is the vast expanse of Windsor Great Park, a popular place for walkers. Over the river from Windsor is Eton College, the world-famous school founded by Henry VI in 1440.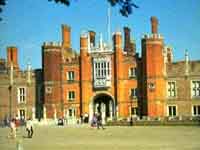 Hampton Court Palace
Situated on the banks of the River Thames, 14 miles (23km) southwest of London, Hampton Court is perhaps the most spectacular royal palace in England, and makes a wonderful day-trip destination from the capital. The palace was built by Cardinal Wolsey in the early 1500s, but later it became King Henry VIII's principal residence and remained the centre of royal and political life in England until 1737. Visitors can see King Henry VIII's Great Hall; King William III's State Apartments, designed by Wren and completed in 1700; and the unmissable Tudor Kitchens, which remain largely unchanged since the 16th century and were no doubt once used to cater for raucous banquets. There is also a fun and exciting 'Ghost Family Trail' tour through the palace that will delight younger visitors. However, Hampton Court is still probably most famous for its grounds and their outstanding hedge maze - called 'the most famous Maze in the history of the world, and immeasurably the one most visited' by Ernest Law - which has entertained children since it was planted in 1705.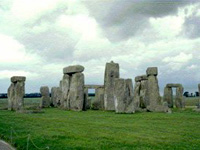 Stonehenge
No other site in England presents the viewer with such grandeur and mystery, nor sparks the imagination so much as this iconic circle of stones in Wiltshire, southwest England. Writers, adventurers, historians and conquerors have all tried to answer the question, 'Who built Stonehenge?' - resulting in tales and fables of Druids, Merlin and King Arthur, ancient giants roaming the countryside, and a highly evolved prehistoric race of men. Yet the question of who, or indeed what, managed to drag several 20-ton stones more than 240 miles (386km) from North Wales across steep hills to be aligned with mathematical and astronomical precision 5,000 years ago remains unanswered. A must-see tourist sight in the United Kingdom, budget a full day to see Stonehenge properly.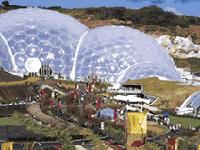 The Eden Project
The Eden Project's aim is to examine the ways in which human beings interact with their environment, with a special focus on the plant world, in order to develop new ways of sustainable development by spearheading new conservation methods. Owned by a charity called the Eden Trust, the Project consists of several specially-created conservatories, the largest in the world, built into a giant crater in Cornwall. The Eden Project is more than a theme park, as it presents visitors with an opportunity to explore the plant kingdom, and to examine our dependence on it. The park also hosts concerts during the summer, with top international acts regularly featuring on the bill.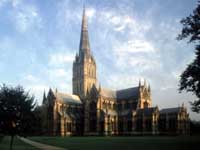 Salisbury Cathedral
The city of Salisbury is dominated by the spire of its famous cathedral, the tallest in England at 404 feet (123m). Started in 1220, the cathedral was completed in 1258, and the Spire added a few years later. Built to reflect the glory of God in stone and glass, this majestic and awe-inspiring church has been a setting for many great occasions in its 775-year history. The grounds of the cathedral contain many notable houses, which are open to the public. Mompesson House is a perfectly-preserved 18th century home, and Malmesbury House was once the sanctuary of King Charles II, fleeing the Battle of Worcester in the 17th century.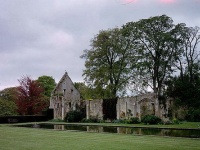 Sudeley Castle
Set against the beautiful backdrop of the Cotswold Hills, Sudeley Castle is steeped in history. With royal connections spanning a thousand years, it has played an important role in the turbulent and changing times of England's past. The Castle was once home to Queen Katherine Parr (1512-48) following her marriage to Sir Thomas Seymour, and has also housed Lady Jane Grey. Henry VIII, Anne Boleyn and Queen Elizabeth I all visited Sudeley Castle in its heyday. King Charles I stayed here, and his nephew Prince Rupert established his headquarters at the Castle during the Civil War. Following its destruction by Cromwell's troops, Sudeley lay neglected and derelict for 200 years; however, its romantic situation and ruins attracted many visitors, including King George III. In 1837 Sudeley was bought by John and William Dent, successful businessmen from Worcestershire, who began an ambitious restoration programme. The castle is still home to these men's descendents. Within the Castle's apartments are a range of historic possessions dating from the Civil War and an important art collection, including paintings by Van Dyck, Rubens, Turner, Reynolds, Claude and Jan Steen. The romantic 14-acre grounds are worth a visit from March to September, and are the setting for outdoor Shakespeare performances, concerts, and other events in summer.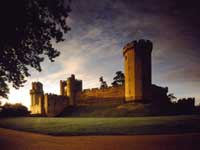 Warwick Castle
Warwick Castle's origins date back to before 1066, and although not used as a Royal residence, but rather as the seat of the Earls of Warwick, its history is tied inextricably to the throne through the influence held by the castle's Lords. Today, the castle is owned by the Tussaud's Group, which has refurbished most of the original grounds, and which has begun to use the Castle as the setting for an annual wax pageant featuring historical figures. A new addition to the Castle's programme of events and activities is the ghoulish Warwick Dungeon, which features a thrilling 'Witches of Warwick' exhibition that is guaranteed to delight young and old visitors alike. Note that children under the age of 10 might find the Castle Dungeon experience a little scary, so please exercise good judgement.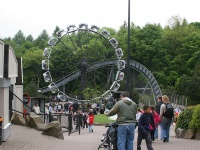 Alton Towers
Alton Towers is the UK's premier theme park aimed at the thrill-seeking and young-at-heart, and can be a welcome excursion for those who have overdosed on the culture and tranquillity of the Cotswolds. Rides with names such as Nemesis, The Blade, Submission and Ripsaw are definitely not for the faint-hearted, but the park does cater for the whole family with an adventure land and farmyard for younger visitors, as well as a hugely popular Charlie and the Chocolate Factory ride. For those exhausted by the day's antics, Alton Towers operates its own Hotel, and there are plenty of spots to grab a bite to eat.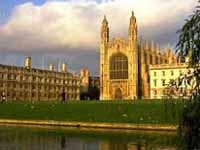 University of Cambridge
The University of Cambridge is one of the oldest in the world and is made up of 31 colleges, each an independent institution with its own property and income. The oldest college, Peterhouse, was founded in 1281 by the Bishops of Ely. Both Charles Darwin and John Milton were students at Christ's College, founded by the mother of Henry VII in 1505. The largest and perhaps most famous college is Trinity College, which was founded by Henry VIII. The college's masterpiece is Christopher Wren's magnificent library, where the likes of Sir Isaac Newton, Lord Byron, Tennyson and William Thackeray studied. There are also many museums around the University, but most visitors come here to walk around the wonderful buildings, take in the history and admire the wonderful architecture.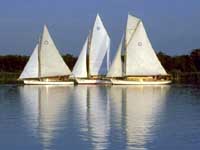 Norfolk Broads
Much of the area east of Norwich is criss-crossed with a series of navigable inland waterways, known as the Norfolk Broads. The area has become a popular holiday retreat for visitors hiring houseboats and cruisers to tour these waterways, which wind through quaint towns and offer fantastic fishing for keen anglers. There are many companies willing to rent boats to holidaymakers - check the official Norfolk Broads website for more information.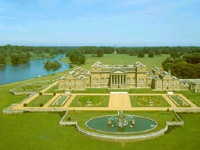 Holkham Hall
Holkham Hall is home to the Earl and Countess of Leicester, with the property being in the Coke family's possession since 1609. The formidable 18th-century Palladian Hall is the centre of a 25,000-acre estate on the north coast of Norfolk. Within the house are some magnificent state rooms, including the vast Marble Hall, which features a magnificent art collection (including paintings by Rubens and van Dyke). Visitors can also view the old kitchens that catered for the family and their enormous entourage. Within the old stables is the Bygones Museum, which displays fascinating exhibits from times gone by, including a history of farming. The Park surrounding the hall is popular with locals and tourists alike, as is Holkham Beach, which attracts sunbathers and swimmers on warm days.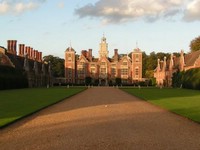 Blickling Hall
Blickling Hall is a splendid early 17th century house owned by the National Trust. It is one of England's great Jacobean houses and is built in red brick with a gabled façade and elegant corner turrets. Its long gallery has an outstanding plaster ceiling and houses a superb library containing 12,000 books, and throughout the house are a fine collection of family portraits, including works by Gainsborough and Reynolds, as well as textiles and elegant furniture. The ghosts of Anne Boleyn and Sir John Fastolfe (the inspiration for Shakespeare's Falstaff) are said to haunt the house and grounds. The breathtaking garden offers variety and colour throughout the seasons, with spring bulbs, magnolias, particularly dramatic displays of azaleas and rhododendrons, plus herbaceous borders and stunning autumn tints - a very pleasant place to spend an afternoon. There are miles of attractive lakeside and parkland walks, and interesting features such as the sunken garden, a dry moat, a temple and an orangery.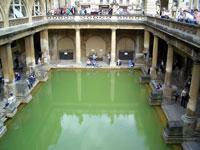 Roman Baths
The Romans were the first to capitalise on the only natural hot springs in Britain, but it is believed that they were a local attraction long before the building of Rome. These ancient baths were once considered the finest in the Roman Empire, but in the middle ages fell into disrepair. It was not until a visit by the ailing Prince George in 1702 that the baths once again became a popular healing destination. Over the course of the city of Bath's redevelopment in the late 18th century, the Roman ruins were rediscovered and restored. Today, visitors can see the seven ancient baths and view the Georgian splendour of the Pump House, where the musty mineral waters can be sampled by the strong of stomach. The magnificent centrepiece is the Great Bath. Lined with lead and filled with hot spa water, it once stood in an enormous barrel-vaulted hall that rose to a height of 131ft (40m). For many Roman visitors, this may have been the largest building they had ever entered in their life.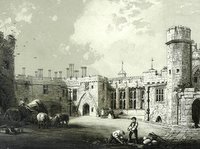 Berkeley Castle
Berkeley (pronounced 'barkly') is a perfectly preserved 840-year-old castle with a keep, dungeon and splendid staterooms with original tapestries, furniture and silver. It was most famously the scene of King Edward II's gruesome murder in 1327. It is believed that Edward was deposed by his French consort, Queen Isabella, and her paramour, the Earl of Mortimer. The castle also played an important role in the English Civil War (1642-1649). The oldest part of the castle was built in 1153 by Roger De Berkeley, a Norman knight, and has remained in the family ever since. The surrounding meadows, now the setting for pleasant Elizabethan-style gardens, were once flooded to make a formidable moat.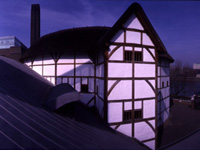 Stratford-Upon-Avon
The quaint and picturesque country town of Stratford-Upon-Avon (which, as its name suggests, rests on the banks of the River Avon) is the historic birthplace of William Shakespeare. Visitors can explore Shakespeare's birthplace, Mary Arden's House (where his mother lived before marrying his father), his wife Anne Hathaway's cottage, as well as the school Shakespeare attended. Stratford-Upon-Avon is within easy access of the Cotswolds, set in the beautiful, rural Warwickshire countryside. A vintage train service, the 'Shakespeare Express', offers a fun way to access Stratford-Upon-Avon from Birmingham or Henley.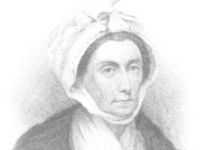 Building of Bath Museum
The fascinating story of Georgian Bath is wonderfully presented by the Building of Bath Museum. The Museum is the natural place to start any sightseeing expedition of Bath. It is housed in the Gothic-styled Countess of Huntingdon's Methodist Chapel, which was built in 1765 and renovated in 1984 by the Bath Preservation Trust. Inside, visitors are treated to a unique exhibition, which describes how Bath developed from a small provincial spa to the most fashionable resort in Georgian England. Using models, maps, paintings, reconstructions, live crafting demonstrations and hands-on exhibits, including a touch-screen computer, a visit to the museum is an informative and entertaining experience. Budget about two hours to take it all in.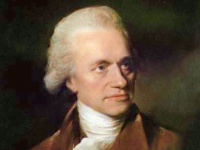 Herschel Museum of Astronomy
Distinguished astronomer William Herschel used a telescope he built himself to discover the planet Uranus in 1781, thus securing his place in history as one of the greatest astronomers of all time. His observations, and the telescopes that he built, doubled the known size of the solar system in his time. The telescope through which Uranus was first spied was built in the delightful Georgian townhouse that today houses the Herschel Museum of Astronomy. Visitors to the museum can view Herschel's workshop, as well as the original kitchen and the music room in the house where William lived with his sister, Caroline, at the end of the 18th century.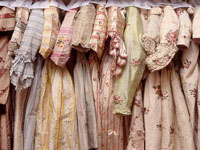 Fashion Museum
Bath's comprehensive Fashion Museum brings alive the story of fashion over the last 400 years, from the late-16th century to the present day. The huge collection is fetchingly displayed on hundreds of dummies, providing a chronological journey through changing styles over the centuries. Visitors can listen to an audio tour or take part in a conducted guided tour of fashion through the ages. A highly popular attraction that will appeal to visitors of all ages and from all walks of life, you should budget about two hours to do the Museum justice.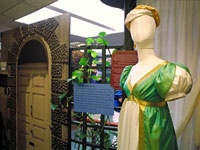 Jane Austen Centre
Bath's best-known resident, Elizabethan novelist Jane Austen, is celebrated in this permanent exhibition which showcases her life and work. Bath was her home between 1801 and 1806, and her love and knowledge of the city is reflected in her novels Northanger Abbey and Persuasion, which are set in Georgian Bath. The Jane Austen Centre also runs an annual and extremely popular Jane Austen Festival, which holds the Guinness World Record for the largest gathering of people dressed in Regency costumes.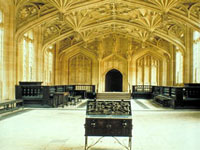 Bodleian Library
Chief among Oxford's many academic and architectural attractions is the unique Bodleian library, which is spread throughout several buildings across the city. The central core of this collection of buildings is set in Radcliffe Square, and includes the historic Duke Humfrey's Library, dating from the 15th century, and the gothic Divinity School with its magnificent vaulted ceiling, which is open to the public. Only members can use the reading rooms of this library, which contains a copy of every book printed in Britain since 1610, and no books are ever loaned out. Guided tours are available to view the main buildings.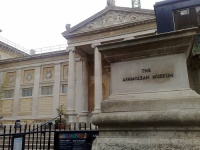 Ashmolean Museum
The Ashmolean Museum houses a fascinating and extensive collection of art and archaeology covering four thousand years of history, ranging from the ancient civilisations of Egypt, Greece and Rome to the 20th century. Exhibitions include sculpture, ceramics, musical instruments and paintings. It is the United Kingdom's oldest museum, founded in 1683. Please note that the Ashmolean is currently undergoing renovations, and so some exhibition pieces have been removed from the museum to ensure their protection.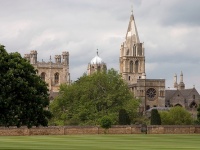 Christchurch Picture Gallery
Christchurch, one of Oxford's most renowned university colleges, possesses an important collection of about 300 paintings and 2,000 drawings, mainly by the Italian masters. Works by Leonardo, Michelangelo, Raphael and Rubens are to be seen here, along with examples from Van Dyck, Frans Hals and Hugo van der Goes. The entire collection cannot be displayed at one time because of space constraints, but the exhibition changes every few months. There are also displays of 18th-century glass and Russian icons. Budget at least an hour to soak up the lovely sights.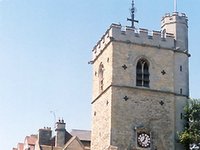 Carfax Tower
The photo opportunity afforded from the top makes it completely worth climbing the 99 stairs of the Carfax Tower in the centre of Oxford's shopping district. The tower-top is the best place from which to view the 'dreaming spires' of this architecturally beautiful city. The tower is the only remnant of the 14th-century St Martin's Church, demolished in 1896 to improve the traffic flow at the junction of Cornmarket and Queen Streets. On the first floor a display depicts the history of the church, while information boards in the tower-top identify the landmarks and spires in the panoramic view. On the eastern side of the tower is a clock with two figures (known as the 'Quarter Boys') that strike the quarter hours.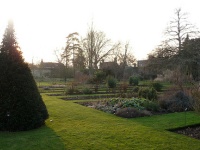 Oxford Botanic Gardens
The oldest botanical garden in the country, Oxford's enormous collection of more than 7,000 species of plants has been growing for four centuries. It was founded as a 'physic garden' by the Earl of Danby in 1621, but today the Oxford Botanic Garden's biodiversity is renowned for being even greater than that of a tropical rainforest. One does not, however, have to be a horticulturalist to enjoy the beautifully planted walled garden, exotic greenhouses, herbaceous borders, and rock and water gardens that make up this botanic feast - the plants are wonderfully arranged, and provide a memorable and calming aesthetic experience. An ideal site for a picnic, take the whole family along with an unforgettable day spent in immaculate natural surrounds.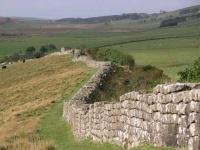 Hadrian's Wall
In order to separate the Roman Empire in Britain from the 'Barbarians,' in the year 122 Emperor Hadrian ordered the building of an impressive wall. Taking approximately six years to complete, the wall stretches for roughly 80 miles (120km) from South Shields to Ravenglass, passing through present-day Newcastle. Dotted along it are several forts, temples, turrets and milecastles, and visitors can explore these fascinating 2,000-year-old remains, as well as the surrounding countryside. Hadrian's Wall was declared a UNESCO World Heritage Site in 1987, and continues to delight and amaze historically-minded visitors to the north of England.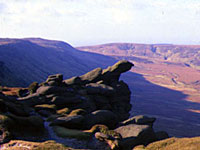 Peak District
The Peak District was England's first national park. This beautiful region sits in the central and northern parts of England, largely within the picturesque county of Derbyshire. Diverse landscapes, abundant wildlife and a rich historic heritage combine with busy market towns and thriving cities such as Sheffield and Manchester. With over 22 million visitors annually, the Peak District is a major UK tourist destination, and the Peak District National Park is the second-most visited park in the world. The District is generally divided into three main areas, each with its own distinctive topography. White Peak in the south is characterised by its limestone landscapes with a blend of flat plateaus and gentle valleys, while the South West Peak is a mix of hay meadows and moorland. The most sparsely populated area is Dark Peak in the north, where dramatic gritstone plateaus, craggy edges and ridges contrast with deep valleys. The whole region is rife with quaint towns, majestic historic homes, old mills and museums, as well as plenty to please the outdoor enthusiast, including top-class rock climbing, caving and fly fishing. Visitors can enjoy an authentic Bakewell pudding in the eponymous village, take a leisurely hot air balloon ride for a bird's eye view, mountain bike in the Hope Valley near Charleston, or travel back in time in an impressive country manor. It is not hard to see why the Peak District is so immensely popular, and it is well worth spending some time exploring its many treasures. An excellent choice for visitors who plan to rent their own car while on holiday in the UK.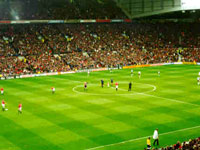 Old Trafford
Nicknamed the 'Theatre of Dreams', Old Trafford has since 1878 been home to Manchester United, England's premier football club. More than 200,000 visitors come each year to marvel at the home of the likes of Ryan Giggs and Wayne Rooney, and to share in some of the famous 'Man U magic'. Guided tours of the stadium run every 10 minutes, and the award-winning on-site museum is chock-full of fascinating trivia, memorabilia and interactive exhibits, guaranteed to delight fans and perhaps even win over a few new ones. The Red Café, in the North Stand of the stadium, is open daily and serves up delicious food for those needing replenishment, while the Megastore in the East Stand sells every conceivable type of Manchester United-related merchandise, from replica kits to posters and keychains.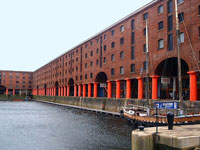 Tate Liverpool
The Tate Liverpool is home to the biggest collection of modern art in the UK outside of London, and a browse through its galleries is always an afternoon well spent. Situated in Liverpool's historic Albert Dock in a converted warehouse, the gallery has an impressive collection of 20th and 21st century works of modern art, selected from the Tate Collection, and which are exhibited through regularly-changing, themed displays. There are also several temporary exhibitions of contemporary art and the gallery hosts various events and educational programmes throughout the year. Some of the artists on display include JMW Turner, Kenneth Noland, Henri Matisse, Paul Gauguin and Antony Gormley. Budget at least a few hours' worth of browsing to do the collection justice.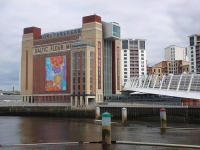 BALTIC Centre for Contemporary Art
The BALTIC Centre for Contemporary Arts is a unique and fascinating collection of ever-changing exhibits, set in an old flourmill on the south bank of the River Tyne. The biggest gallery of its kind, the Centre allows visitors to explore the innovative and unusual world of top contemporary artists, both local and international. The BALTIC Centre also plays host to various performances, activities and talks, and visitors have the opportunity to interact with the current artist-in-residence. Some of the Centre's past, present and future exhibitors include Sam Taylor-Wood, Wang Du, Susan Hiller and Keith Haring.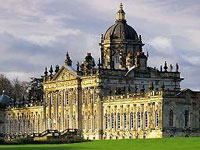 Castle Howard
Award-winning Castle Howard is one of York's most striking attractions. Home to the Howard family for over 300 years, the Castle took 100 years to build, outliving several architects, craftsmen and three earls, before eventually becoming the setting for the popular TV series, Brideshead Revisited. The spectacular estate comprises acres of farmland and exquisite gardens, while the interior is a treasure trove of paintings, furniture, sculptures and more. Visitors can enjoy a self-guided tour, but historical costumed guides are available to answer questions and share information about the history of the house, the Howard family and the collections. Regular guided tours are also available, and the Castle frequently plays host to a range of exhibitions, lectures, events and dinners. The Castle also has a gift shop, cafés and a plant centre.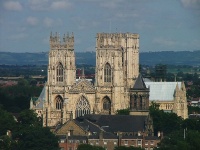 York Minster
For over a thousand years, York Minster has been the principal place of worship in York and its surrounding areas. The largest Gothic cathedral in Europe, this impressive building is open to the public and visitors can enjoy the peace and beauty of the interior of the church and its many stained glass windows, including the well-known Rose Window. Visitors are also able to marvel at the fascinating ancient remains held beneath the church, in the Undercroft, and to enjoy the spectacular views from the top of its 275-step tower. Audio tours are available and York Minster also has its own gift shop, as well as a restaurant and café.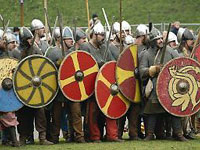 Jorvik Viking Centre
Set on a 'Viking Dig' archaeological site, the Jorvik Viking Centre is a fascinating exploration of the Viking presence in York over 1,000 years ago. Between 1976 and 1981, the York Archaeological Trust excavated thousands of Viking-era objects, including wooden houses, alleyways and fence lines, all part of the ancient centre of Viking power in England, Jorvik. Shortly after, the centre opened its doors and swiftly became a popular tourist attraction in the city. With over 800 items on display, this 'living history site' presents informative exhibits, reconstructions of the excavated Viking village (including authentic smells and sounds!) and costumed 'Viking' guides, offering visitors the chance to experience what life was like in 975 AD. A highly popular event is the annual Jorvik Viking Festival in February, where Vikings roam the streets of York once more. Enjoy weaponry displays, hands-on activities (including shield-building and excavating), re-enactments of Viking boat burials, guided walks, an evening of ancient tales and songs, and much more.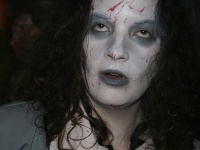 York Dungeons
Not for the faint-hearted, the York Dungeons present a fascinating journey back in time, and visitors are guaranteed a ghoulish, grisly experience that will be hard to forget. With attractions that run the gamut from the plague-riddled streets of 14th century York, to the Labyrinth of the Lost and its ghostly Lost Roman Legion, to adventures with the legendary highwayman Dick Turpin, to the Pit of Despair, Witch Trials, and a recreated Viking attack, visitors should brace themselves for a hair-raising tour of the more macabre aspects of York's history. Be tried and convicted in a Judgement of Sinners trial, witness hangings, and marvel at the life-like waxworks on display. The tour is not recommended for those with a nervous disposition or a weak stomach, and children must be accompanied by an adult.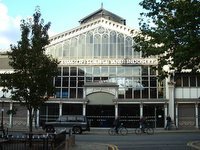 Museum of Science and Industry
It may not seem like everybody's cup of tea, but the Manchester Museum of Science and Industry is a truly fascinating and varied collection of exhibits, displays and more, that will appeal to visitors of all ages. Fifteen different galleries crammed full of interesting items are housed in the key historic site of one of the world's oldest railway stations, Liverpool Road Station. Some of the permanent exhibits include Underground Manchester, where visitors can meander through a reconstructed Victorian Sewer system (complete with authentic sounds and smells); the Revolution Manchester interactive technology gallery; the captivating Collections Centre with anything from antique microscopes to Star Trek memorabilia; a 4D cinema; and the Air and Space Hall. The Special Exhibitions gallery plays host to several touring exhibitions annually. The Museum also houses a shop, café and restaurant, as well as several picnic areas. A highly recommended outing for the entire family, budget at least half a day to take in all the sights at the Manchester Museum of Science and Industry (better known as MOSI).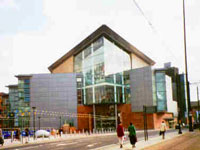 Bridgewater Hall
Situated on an arm of the Bridgewater Canal, the world-class £42-million concert venue Bridgewater Hall holds over 250 performances a year and is home to one of Britain's longest-running orchestras, the Hallé Orchestra. This architecturally striking building can house just under 2,500 audience members and the main auditorium is centred around a remarkable 5,500-pipe organ. The Hall plays host not only to classical music, but has also seen a range of popular music artists such as the legendary James Brown, indie artist Badly Drawn Boy and guitarist John Williams. Bridgewater Hall is also home to the award-winning Charles Hallé restaurant, as well as the Stalls Café Bar.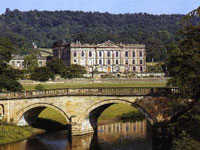 Chatsworth House
Home to the Duke and Duchess of Devonshire, Chatsworth House is one of Europe's greatest private houses. It is set on the River Derwent in the Peak District National Park. The estate comprises the 16th-century house, a 1,000-acre park, a farmyard, miles of free walking trails and spectacular gardens. Dubbed the 'Palace of the Peak', the house contains a treasure trove of antiques and impressive art works, some dating back 4,000 years. Thirty of the magnificently preserved rooms are open to the public. Wardens are on hand to provide information and answer questions, while an audio guide is also available. The manicured gardens boast a yew maze, sculptures and several impressive fountains including the Cascade, a 24-step waterfall that drops 600ft (183m) down the hill towards the house. There is a well-stocked farm shop selling locally produced and home-grown items, as well as the Farmyard Children's Shop, the Carriage House Shop, Orangery Shop and Garden Shop. There are several restaurant options to choose from, and picnicking in the grounds is encouraged. Chatsworth House has appeared in the recent film adaptation of Jane Austen's Pride and Prejudice, and the house plays host to several exciting events throughout the year. It is well worth allocating several hours to explore this fine historic estate and its gardens, while those on a tighter budget can enjoy the dramatic surrounds of the park for free.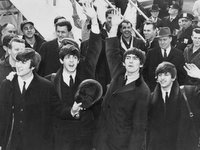 Beatles Story Experience
For Beatles fans, The Beatles Story Experience is an absolute must. Set in the trendy and historic Albert Dock building, The Beatles Story allows visitors to trace the development of the Fab Four, from their early days playing in Hamburg to the mass hysteria of Beatlemania, the eventual break-up of the band and their ensuing solo careers. Eighteen different features, as well as the Living History audio tour with the voices of Sir Paul McCartney, Beatles producer Sir George Martin and band manager Brian Epstein, continue to delight fans and win over new ones. See George Harrison's first guitar, view the world through a collection of John Lennon's signature round lens glasses, explore the Yellow Submarine and enjoy a recreation of the stage at the Cavern Club on Mathew Street, where The Beatles played over 290 times. As well as the Beatle Story Experience, Liverpool also boasts several other Beatles-related tours and sights that are well worth exploring, including a Magical Mystery Bus Tour of famous Beatles sights such as Penny Lane and Strawberry Fields, Paul McCartney's former home at 20 Forthlin Road, the famous Cavern Club and the Mathew Street Gallery that houses the art work of John Lennon.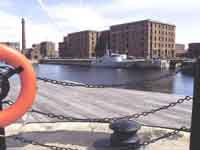 Merseyside Maritime Museum
The fascinating Merseyside Maritime Museum traces the history and development of the city of Liverpool as a major port. The Museum houses a range of collections, from an exhibition on the tragic and brutal transatlantic slave trade (in which Liverpool played a major role), to artworks reflecting Liverpool's maritime past, artefacts from the Titanic and the Lusitania, maritime archives and more. Visitors also gain access to the quaysides opposite the museum, and to two historic vessels. A worthwhile sight, budget about two hours to experience it properly.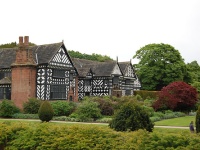 Speke Hall
On the edge of an industrial estate and just minutes away from the Liverpool Airport, the half-timbered black and white Speke Hall is a piece of history tucked in amongst modern-day Liverpool. Once on the brink of ruin, this purportedly haunted 450-year-old Tudor house is now a popular Liverpool attraction, and is also the departure point for tours to the neighbouring former home of Sir Paul McCartney. Speke Hall boasts beautifully restored rooms, lovely gardens, and spectacular views of the Mersey basin and the North Wales Hills across the high bank of The Bund. Speke Hall is also a popular venue for events such as weddings and it plays host to various concerts, particularly over the summer. Guided tours by costumed guides are available, and tours of the roof space are also available on selected days. The Home Farm is about five minutes from the house and has a visitor's centre, a shop and a good restaurant.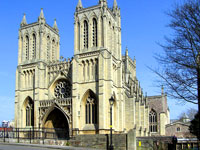 Bristol Cathedral
In roughly 1140, the Abbey of St Augustine was founded by Robert Fitzhardinge. Over the years, the Abbey was altered, eventually becoming the model of the 'Hall Church' style in England. When the Abbey was finally dissolved in 1539, the nave was demolished and rebuilt, and became what is now the landmark Bristol Cathedral. The original Abbey Gatehouse and the Chapter House (which dates back to 1165) remain, and visitors can enjoy the beauty and peace of this ancient holy site and its surrounds. The Cathedral also hosts free music recitals at certain times of year. Public guided tours of the Cathedral are available most Saturdays, from 11.30am.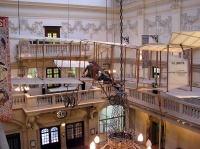 Bristol City Museum and Art Gallery
The Bristol City Museum and Art Gallery is an impressive collection of exhibits, objects and artwork, housed in a beautiful Edwardian Baroque building. As well as the permanent exhibits of regional, national and international artefacts, the museum hosts a range of temporary exhibitions and has a variety of different periods of artworks on display in its galleries. From natural history to the World Wildlife Gallery, decorative arts collections and archaeological displays, the Bristol City Museum and Gallery has something for everyone. The museum and gallery also plays host to various special events, workshops and children's activities throughout the year. Budget at least two or three hours to take it all in.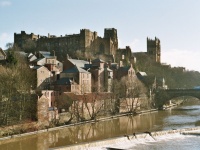 Durham Cathedral
Celebrated, together with Durham Castle, as one of Britain's first UNESCO World Heritage Sites, Durham Cathedral is one of the finest examples of Norman architecture in England. An icon of northeast England, the Cathedral was voted as the nation's best-loved building in a nationwide BBC poll held in 2001. Renowned for its immense architecture, ancient history and deep religious roots, the Cathedral is a must-see attraction for any visitor to Durham. Guided tours are conducted daily, and offer an informative and enriching way of visiting the magnificent structure.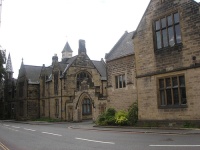 Durham Heritage Centre
Durham's colourful local history museum is housed in a medieval church, offering some interactive fun and interesting exhibits that detail the story of Durham, from ancient times to the present day. Exhibits include fascinating items like the 'Death Chair', used to carry sick boys from Durham School to the infirmary in days of yore, and a chilling recreation of a cell from the notorious Northgate Gaol. The Heritage Centre also has a brass-rubbing centre and offers an audio-visual show of the history of the town. A highly recommended attraction, budget at least two hours to take it all in.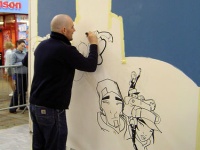 Fowlers Yard Creative Workspaces
A row of stables along the River Wear close to the historic heart of Durham has been converted into a set of creative workspaces, where local artists can be seen at work. Visitors can watch crafts like woodcarving, glasswork, painting and textile arts in progress. Fowler's Yard is run by the Durham Dramatic Society and is an exciting initiative, bringing international attention to Durham's hard-at-work local artists. There is also a coffee shop, where tourists can relax and soak up the wonderful atmosphere of the area.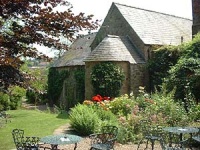 Crook Hall
Durham's beautiful, Grade 1-listed medieval manor house Crook Hall, dating from around the 13th century, is a short distance from the town centre and one of its most popular attractions. The house and magnificent gardens are open to the public, and cream teas are served in a pretty courtyard in summer, or in front of a roaring log fire in winter. Most visitors are intrigued by the 17th-century Jacobean room in the house, allegedly haunted by the ghost of the 'White Lady', a niece of a former resident of the house.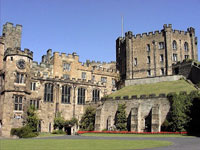 Durham Castle
Few buildings in the world can claim to have been in constant use for more than 900 years, but the UNESCO World Heritage Site of Durham Castle is one of them. It was originally built in the 11th century (opposite Durham Cathedral), to protect the Bishop from 'barbaric' northern tribes in the wake of the Norman Conquest of 1066. Over the centuries the core of the ancient castle remained intact, but there have been numerous renovations and extensions. The castle's aspect today is imposing. The Great Hall is one of the largest in Britain, created by Bishop Antony Bek in the 14th century. Since 1840, when the Bishop moved elsewhere, it has housed a college of Durham University. Visitors are welcome on guided tours, lasting about 45 minutes.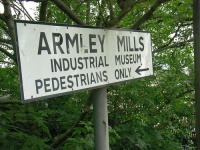 Armley Mills Industrial Museum
The Armley Mills Industrial Museum was a working cloth mill until 1969, when the City Council turned it into an award-winning industrial museum. Exhibits trace the history of textiles, clothing and locomotive manufacture in Yorkshire. Particularly interesting is a section devoted to the 1920s silent movie projectors, operating water wheels and the huge spinning mules that were in use in the 18th and 19th centuries.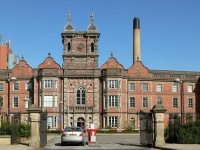 Thackray Museum
There is surely no more interesting day out in Leeds than a visit to the Thackray Museum, which tells the story of medical advances through the ages. A recreated Victorian street, complete with sights, sounds and smells, highlights the lives, ailments and treatment of a bygone era in vivid clarity, and visitors can also step inside the human body in an interactive gallery. The museum was the vision of Paul Thackray, a former director of a medical supplies company, and since its opening in 1997 has become one of Britain's best museums.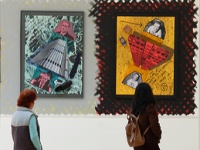 Leeds Art Gallery
In the heart of the city, the Leeds Art Gallery offers a feast for art lovers, its collections covering everything from traditional prints, watercolours, paintings and sculpture to weird and wonderful contemporary works. The gallery is renowned for having the best collection of British art outside of London. Adjoining the Gallery is the Henry Moore Institute, with its acclaimed sculpture study centre, and a full programme of sculpture exhibitions that run all year round.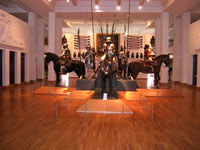 Royal Armouries Museum
This fun, lively museum contains six themed galleries (covering War, Tournaments, Self-Defence, Hunting, Oriental weaponry and the new and attractive Hall of Steel), and is filled with interactive displays, dramatic interpretations, action scenarios and some really exciting exhibits. This is more a cross between a theme park and a museum, bringing history alive in many unique ways, from watching gun-makers ply their craft to demonstrations of English traditions like falconry and horsemanship.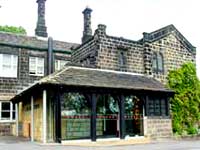 Abbey House Museum
The entertaining Abbey House Museum is contained in the gatehouse of the picturesque, ruined Kirkstall Abbey (dating from 1152). Abbey House allows visitors to walk around the streets of 1880s Leeds, while the upstairs section features galleries detailing the history of Kirkstall Abbey and the social history of the area.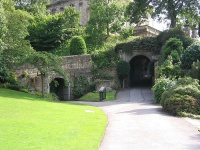 Ducal Mansion (Nottingham Castle)
Towering over the city centre of Nottingham is a magnificent 17th-century mansion, built on a sandstone outcrop on the site of the original medieval castle erected by William the Conqueror in 1067. The castle building now houses the city's finest art collection, and a small museum charting the history of the Sherwood Foresters Regiment. The art galleries include interactive displays and the artworks are presented in a vibrant, interesting way. The well-kept grounds of the castle are used for a full calendar of events, from historic pageants to an outdoor theatre season. There is also a medieval-style children's playground and picnic area.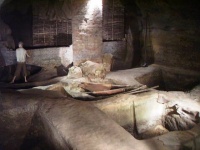 City of Caves
A system of man-made caves carved into the sandstone beneath the city of Nottingham has been developed into a modern, award-winning attraction known as The City of Caves. Anglo-Saxons orginally inhabited the caves, whose lifestyle is depicted in dramatic presentations for visitors who come to explore Nottingham's 'underworld'. Over the centuries, the Caves have been put to various uses by the locals, and were saved by protestors when developers planned to build a modern shopping centre over the top of them. Now guided tours take visitors through the caves and through the ages, from the mystical 'Enchanted Well', through a working medieval tannery, to the Victorian slum of Drury Hill and a World War II bomb shelter. Please note that The City of Caves is not wheelchair accessible.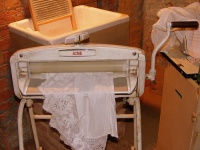 Brewhouse Yard Museum
The Brewhouse Yard Museum, housed in five 17th-century cottages in central Nottingham, presents the social history of the city over the past 300 years. Visitors can experience life in a reconstructed Victorian home, various shop settings, and browse through a row of 1920s enterprises like an ironmonger, a doctor's surgery and a cobbler. The museum is continually changing its displays, telling the history of the area through sights, sounds and interactive displays.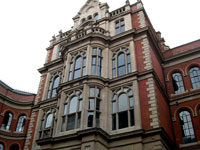 Lace Market Centre
Nottingham's Lace Market Centre is situated in the heart of a protected heritage area of the city, which has undergone exciting regeneration in recent years. The old Victorian warehouses in the area have been turned into stylish residential units, trendy bars or restaurants. Once a thriving local industry, lace was manufactured on a large scale in Nottingham after the invention of the framework machine in 1589. At the Lace Market Centre, visitors can find out all about lace-making and its impact on society, through a series of exhibitions, demonstrations and audio-visual presentations. There is also a lace shop and popular coffee bar at the centre.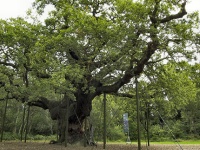 Sherwood Forest
Accessed by the A614 highway, Sherwood Forest makes a great getaway close to Nottingham city. Rather reduced from the green splendour it evinced in the days of Robin Hood, Sherwood Forest is nevertheless as ecologically important and interesting as it is historically. Around 500,000 visitors a year come to enjoy Sherwood Forest Country Park, wandering the family nature trails, and admiring the huge ancient oaks and teeming insect and bird life. A big attraction is the mighty Major Oak, still flourishing in the forest after 800 years. Sherwood Forest is also the site of the popular Robin Hood Festival, held annually in summer.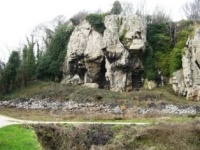 Cresswell Crags
A short distance from the M1 motorway near Nottingham is an ancient limestone gorge, honeycombed with caves, where archaeologists have found traces of Ice Age inhabitants who lived here up to 50,000 years ago. The Cresswell Crags are a rare site, featuring Britain's only known Ice Age-era rock art. At the east end of the gorge visitors can find out its archaeological significance at a museum and education centre, equipped with several high-tech interpretive exhibitions. The area itself can also be explored, rewarding visitors with its sweeping views and interesting rock formations; while actual tours of the caves are run on weekends and during school holidays only.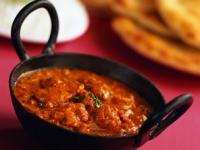 Balti Triangle
Any visit to Birmingham is not complete without visiting the city's 'curry capital' and sampling its unique Balti fare. Originating from the large Kashmiri population, the Balti dish was officially discovered in 1976. The word balti means 'bucket', and refers to the round-bottomed pan, similar to a wok, in which the dish is served. A mouth-watering stir-fried curry with an amalgamation of spices, fresh herbs and tantalising masalas, newcomers should forget their knives and forks and mop up the sauce with a wad of aromatic naan bread. Located in the Sparkbrook area, ten minutes from the city centre, the Balti Triangle boasts over 50 restaurants dedicated to Eastern cuisine and a smattering of shops, ranging from Asian clothes and fashion to exotic foods and Bollywood merchandise.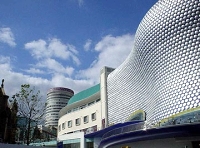 Selfridges Store
A Birmingham landmark, the Selfridges store at the Bull Ring Market boasts a stylish design, proving that contemporary architecture can thrive outside trendy London. Designed by Future Systems' architects, the knobbly silver façade was inspired by Paco Rabanne's chain mail dresses. Constructed with concrete, which was then painted a glowing blue and adorned with 16,000 polished aluminum disks to create a mottled outer 'skin', the contemporary construction cost just over one million US dollars to build. Transforming Birmingham's urban fabric, the store draws thousands of visitors each week to witness its bizarre design and browse the designer goodies inside.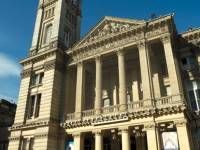 Birmingham Museum and Art Gallery
Boasting the largest collection of Pre-Raphaelite paintings and drawings in the world, the breathtaking works of luminaries such as Dante Gabriel Rossetti and Edward Burne Jones can be found at the Birmingham Museum and Art Gallery. The spectacular Waterhall Gallery of Modern Art is littered with impressionist masterpieces and is not to be missed on any trip to Birmingham; while the same can be said of the Greek, Roman and Ancient Near East Gallery, which never ceases to please. With fine art from the 14th century onwards and an impressive collection of archaeological finds documenting 400,000 years of history, culturally-minded visitors will be suitably satisfied. The Edwardian Tea Room provides a cosy space to discuss what you saw and serves warm beverages, light snacks and scrumptious cakes.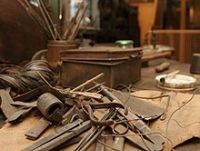 Museum of the Jewellery Quarter
Take a journey back in time at the Museum of the Jewellery Quarter. Housed in an original jewellery-making factory dating from the early 1900s, the enchanting family-run firm of Smith and Pepper provides a window into the ancient crafts and skills that made Birmingham the centre of the British jewellery industry. The factory is presented exactly as it was left when abandoned in 1981 (after 80 years of jewellery-making), even down to the coffee cups that workers neglected to take with them. The museum also uses state of the art technology to present the history of jewellery-making in the Midlands to newcomers. Over 100 jewellery shops line the streets of the Jewellery Quarter, and are a popular attraction for bargain-hunters and shoppers looking for a special purchase. Awarded Best Small Visitor Attraction in the Enjoy England Awards 2010, the Museum of the Jewellery Quarter provides an interesting and compelling day out for visitors to Birmingham.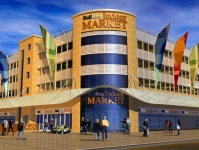 Bull Ring Markets
Acknowledged as England's 'Best Outdoor Market' in 2008 by the National Association of British Market Authorities, the Bull Ring Open Market is renowned for its extensive range of fabrics and fresh produce. The market took the illustrious prize on account of its promotion of healthy eating policies and ongoing support of low-income families. Each year more than six million people visit the Bull Ring Markets. The Indoor Market, housing 140 unique stalls, is best known for its fresh fish section. For a good dose of bric-a-brac, meander through the smorgasbord of antiques, vintage clothing and cheap trinkets at the Rag Market, which is a shining example of London's charming market culture.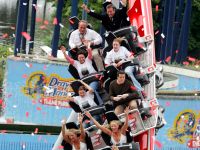 Drayton Manor Theme Park
A short drive from Birmingham's city centre, the Drayton Manor Theme Park offers an exhilarating alternative to shopping and sightseeing. Loaded with more than 50 rides offering high-octane thrills, the English media has lauded the park as having 'Britain's scariest rides'. Visitors can drop 177 feet (54m) from the world's first stand-up tower, take a watery plunge in a rescue boat down a slippery 180º platform, fly around one of the parks two swirling rollercoasters, or tackle the rapids with friends at Splash Canyon. Family fun at Drayton Manor Theme Park has not been short-circuited either, as a wide variety of child-friendly rides are provided. The brand-new Thomas Land area (based on Thomas the Tank Engine) is already proving wildly popular amongst younger visitors.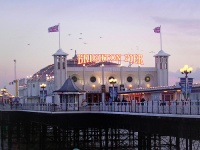 Brighton Palace Pier
As you step foot onto Brighton's Palace Pier, you are overwhelmed by the sound of repetitive arcade music and the inviting scent of popcorn or fried fish. A row of stalls selling fast-food, toys and souvenirs leads visitors towards the arcade, which is filled with an assortment of gaming machines and a couple more eateries. This opens out onto the funfair section at the end of the pier, where a number of rides - including a Ghost Train, Dodge 'Em Cars and a lovely Carousel - attract quite a crowd. A great place for both kids and the young-at-heart to spend the day.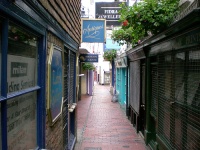 Brighton Lanes
The historic Brighton Lanes host a variety of quaint and quirky shops, with everything from antiques and jewellery to fortune-telling on offer. Wander lazily through the winding streets and relax at one of the numerous cafés while enjoying a cappuccino and a live jazz performance. By night, this quarter takes on a more ghoulish character, with the famous Ghost Walk being offered for the brave...with drinks at the haunted pub for survivors!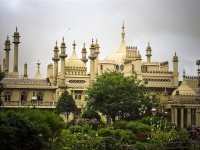 Royal Pavilion
The interior of the Royal Pavilion is extraordinary in its combination of exotic Asian and 'oh-so-British!' design. Classic furnishings belonging to Queen Elizabeth II stand beside fierce gilded dragons and imitation bamboo staircases, while the Music Room and the Great Kitchen are also truly impressive sights. The gardens are reminiscent of revolutionary 1730s landscaping, with curving paths between natural groups of trees and beautiful views afforded at every turn.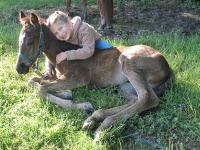 Deen City Farm
The pick of a number of city farms that offer the perfect day out for children in London, Deen City Farm gives kids the opportunity to learn about nature in a safe and fun environment. Deen City Farm offers pony rides, scavenger hunts and supervised water-fights for kids to enjoy, as well as a café and farm shop for parents.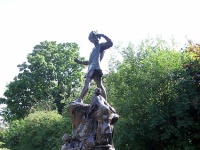 London Parks and Gardens
London has a number of beautiful parks and gardens where children can play outdoors while their parents relax. A picnic lunch and a blanket can make this a very enjoyable day out. Richmond, St James' and Green Park are home to lots of squirrels, and kids may even spot a deer or two. Crystal Palace Park's huge dinosaur sculptures never fail to impress, and the Peter Pan statue at Kensington Gardens is another firm favourite.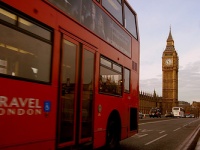 London Bus Tour
Children can be taken to view all the major sightseeing attractions in London on a big, red, double-decker bus. Depending on the route selected, kids can marvel at such impressive structures as Big Ben, the London Eye, Westminster Abbey and the Tower of London, to mention just a few! Some operators even offer special kids' commentary and play packages. So sit back, relax and enjoy the ride...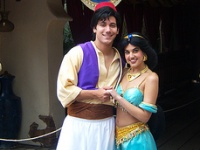 West End Shows
There are always plenty of child-friendly musicals and shows playing on London's West End, perfect for family holidaymakers looking to soak up some of the great atmosphere of London's Theatre District. Some West End favourites include The Lion King, The Wizard of Oz and Shrek: the Musical, best enjoyed with tons of ice-cream, fizzy drinks and popcorn!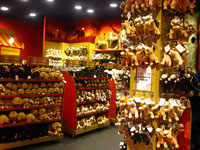 Hamleys
Children will love visiting this world-renowned toy store, located in the heart of London on famous, bustling Regent Street. Hamleys is one of the world's largest toy stores, with six floors of magical, cutting-edge toys and games. The store draws over 5 million visitors each year and is worth a look even if you're just browsing. The Lego collection at Hamleys (located in the basement area) must be seen to be believed.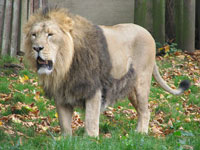 London Zoo
Boasting a plethora of exciting, cute and fuzzy animals from over 750 species, the London Zoo is a must for all children and animal lovers. Kids will love the Animal Adventure area, where they can climb, touch, tunnel and splash their way through the zoo discovering animals along the way. Other great habitat areas at London Zoo include Gorilla Kingdom, Penguin Beach, Britain's only (man-made) rainforest area, and a komodo dragon enclosure. The recipient of a Gold Award from the Visit London tourism initiative, the London Zoo is a fail-safe choice for a day of family fun and excitement. Be sure to check the website before you go, as the Zoo regularly plays host to a variety of interesting exhibitions, festivals and events.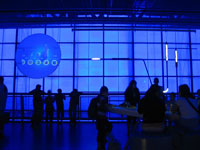 London Science Museum
Perfect for inquisitive children, the Science Museum will captivate, educate and thrill kids of all ages. Featuring dozens of state-of-the-art exhibits, the Science Museum also features a 3D IMAX Theatre. The Museum's rotating exhibitions are relevant and intriguing, such as a behind-the-scenes look at the technology that made possible the great Chilean mine rescue of October 2010. Other popular attractions include a Hidden Heroes exhibit, showcasing everyday technological items that are often taken for granted; and a Futurecade area, where kids can play simulation games that speculate about future scientific advancements and how they might affect life on earth as we know it.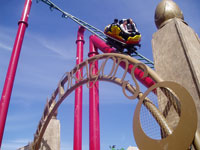 Chessington World of Adventures
Located in southwest London, Chessington World of Adventures is a theme park and zoo catering to children of all ages. Featuring rides, roller coasters and two water slides, this theme park is best visited during the summer months. The zoo, however, is open all year round. A new 'African Adventure' themed area is already proving wildly popular amongst kids, who'll be able to observe magnificent creatures such as lions, zebras and oryxes, as well as enjoy some traditional African mask displays and listen to some African drumming performances.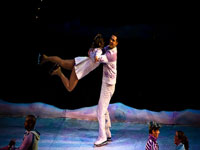 Alexandra Palace Ice Rink
Kids love nothing more than a bit of ice-skating, and the Alexandra Palace Ice Rink is just the place to do that while on holiday in London. Children will love the rink here and great tutelage, in the form of public skating sessions, figure-skating classes and ice hockey training, is also available.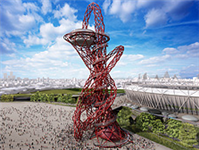 Olympic Park
London's Olympic Park - costing in the region of £3 billion, and built on previously contaminated industrial land in east London's district of Stratford - is a wonderful example of what can be achieved through urban regeneration, and will prove a fitting host to the 2012 London Olympic Games. Comprised of nine venues, including the 80,000-seater Olympic Stadium and the Aquatics Centre, Olympic Park will see most of the sporting action at the Summer Olympic Games in 2012. Olympic Park has clearly been developed in a 'green', sustainable fashion, as a long-term addition to the city, and one that will provide a lasting legacy of London's hosting of the 2012 Olympic Games. Olympic Park features several exciting public art installations and recreational areas, including the 115m (377 foot) ArcelorMittal Orbit observation tower, Britain's largest piece of public art; the Greenway Markers, towers erected at the entrance of Olympic Park which pick up on the theme of 'reclamation' by incorporating manhole covers in their design; and the Wild Flower Meadows, a series of flowerbeds planted in the footprints of the industrial buildings that used to be in the area, and which now flank public walking and cycling routes. Olympic Park promises not only to be a wonderful host venue for a hugely successful Summer Olympic Games, but also an enduring addition to London's already-full selection of fantastic tourist attractions.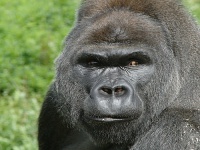 Bristol Zoo and Garden
Situated 14 miles (23km) from central Bath, children will love spending a fun-filled day at the Bristol Zoo and Garden, where over 450 species of animals can be found. Most of the exhibits are undercover, making this the perfect destination for family outings come rain or shine. Featuring themed habitat areas, kids will be amazed by Gorilla Island and the Seal and Penguin Coast, where an underwater viewing area makes things a little more exciting. There is also Monkey World, a reptile house, aquariums, exotic birds and an adventure course (ZooRopia) for children of any age to let of some excess energy. The zoo also features a café, gift shop and picnic areas. There is so much to see at Bristol Zoo that a full day's visit is strongly recommended. Parents of children with special needs will be delighted to know that Bristol Zoo prides itself on its accessibility, with all areas navigable by wheelchair.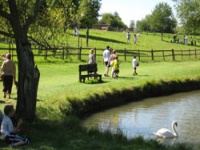 Avon Valley Adventure and Wildlife Park
Located in the beautiful Avon Valley, just 4.5 miles (7km) from central Bath, Avon Valley Adventure and Wildlife Park is the perfect day out for families with children. Children can let loose in the adventure playground, which features a junior assault course, a riverside trail, farm animals like Shetland ponies, llamas and wallabies, a boating pond and even a miniature railway. Younger kids will love the indoor play area where they can enjoy enormous slides and ball pits. Families should pack a picnic to savour on the riverbanks, while the children enjoy the wide open space and exciting activities.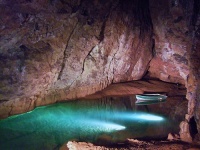 Wookey Hole Caves
A popular tourist attraction in the village of Wookey Hole in Somerset, just 20 miles (32km) from Bath, Wookey Hole Caves is an intermingling of pagan and Christian legends where a river flows out of the underworld. Children who visit the caves will be utterly thrilled by the mysteries of man and how early cavemen, who inhabited these eerie caves, lived. Many legends exist about a witch who inhabited the caves during the dark ages, and whose frozen image can still be seen in the cavern known as the Witches Kitchen, but this is not where to adventure ends. When your tour of the caves is done, kids can enjoy over 20 life-size dinosaurs in the Prehistoric Valley, relax with fairies, dragons and elves in the Fairy Garden, or visit the Monster Mill where a mirror maze, a spectacular lightshow, a cave museum and an old-fashioned penny arcade will provide plenty of fun. Wookey Hole is a great excursion for the whole family.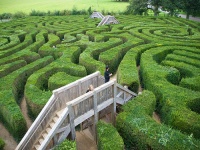 Longleat
Longleat is a bit of a strange tourist destination, catering simultaneously to two very different markets. On one hand, it is regarded as the best example of high Elizabethan architecture in Britain, and one of the most beautiful stately homes that are open to public tours. The magnificence of the house itself is matched by the splendour of its surroundings, a spectacular mix of landscaped parkland, lakes and formal gardens. In 1949, Longleat became the first grand home in England to open its doors to the public, and a few years later opened the first safari park outside of Africa. Visitors can drive through eight enclosures, where a wide range of animals can be seen, including elephant, rhino, giraffe, monkeys, lions and tigers. In recent years, however, Longleat has also become one of the UK's most popular family tourist attractions, offering a wealth of child-friendly sights and amenities. Try not to lose your kids in the world's longest maze, made up of more than 16,000 English Yews! Alternatively, take the little ones for a ride on the miniature railway or to meet some of the friendly animals at Animal Adventure, before letting them run amok in the Adventure Castle. A great option for a fun, excitement-filled day out for the entire family to enjoy.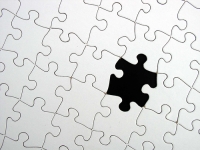 The Puzzling Place
The Puzzling Place offers a range of interactive optical illusion exhibits, artwork and sculptures to fascinate and intrigue visitors. From large wooden puzzles and tricky brain-teasers, to balls rolling uphill, or seeing people shrink and grow inexplicably, there's no end to the wonderment of this fun space, and there is no wonder why it's such a popular attraction for children in the Lake District area. A highly recommended day out for the entire family.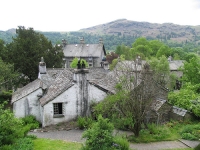 Dove Cottage and the William Wordsworth Museum
Legendary English poet William Wordsworth lived in Dove Cottage from 1799 to 1813, after which time he moved down the road to the more upmarket Rydal Mount and Gardens. The Dove Cottage residence was the site of his most creative phase and is home to the Wordsworth Museum, exhibiting many artefacts that inspired the writer. The Wordsworth Museum has been described as giving 'the most attention to the fusion of English literature and English art' of any similar establishment in Britain, and is well worth a look. Wordsworth's final abode at Rydal Mount was a stately Victorian house with beautiful views across the valley. This house is also open to the public, and offers visitors lovely walks around the gardens and delicious scones in the tearoom.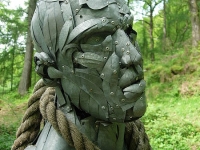 Grizedale Forest
There are some wonderful things to see and do in Grizedale Forest, located in the Lake District near the village of Hawkshead. Visitors can go hiking or ride mountain bikes along the beautiful sculpture trail, or else peruse the galleries of the Brewery Arts Centre. Grizedale Forest also has an on-site café, bike shop and gift shop for visitors to enjoy. Don't forget to pack your camera, as the area is almost unbelievably picturesque.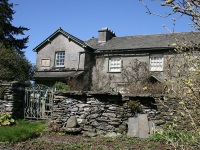 Hill Top
Hill Top is a working farm formerly owned by Beatrix Potter, the famous author of children's books such as The Tale of Peter Rabbit and The Story of Miss Moppet. The cottage, along with Miss Potter's original furnishings and artworks, has been well preserved, and the quaint garden is still kept as she had made it, with a random selection of flowers, herbs, fruit and vegetables. The 2006 film Miss Potter is a wonderful introduction to the life and work of the author, and features stunning scenes of Hill Top and the surrounding countryside.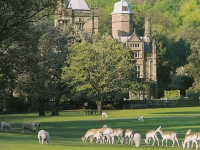 Holker Estate
Holker Estate, the home of Lord and Lady Cavendish, is a wonderful attraction for visitors to the Lake District. The stately Holker Hall and its gardens are open to the public, and there is a fantastic restaurant and gift shop on the premises. The estate also hosts the Cartmel Racecourse, a favourite amongst horse racing enthusiasts. An estate of rare class and elegance, Holker has recently been featured on the popular TV series Masterchef UK.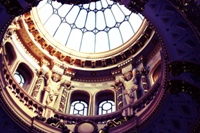 The Fitzwilliam Museum
The Fitzwilliam Museum in Cambridge has been described as 'one of the greatest art collections in the UK', and was named 'best small museum in Europe' by the Director of the National Gallery of Art in Washington, DC. Setting aside a few hours to explore the museum should be first on everyone's list of things to do in Cambridge. The Fitzwilliam Museum houses an extensive art collection from a number of countries across Europe and the Near East. Visitors can marvel at the inspiring sculptures, drawings, prints, armour, pottery, paintings and antiquities on display, which date from the 14th century to the present day.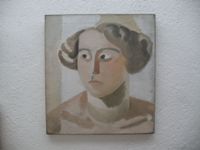 Kettle's Yard
Kettle's Yard is an art lover's dream. Originally the private home of Jim Ede (former curator of the Tate), Kettle's Yard houses the impressive art collection that Ede donated to the University of Cambridge in 1966. The gallery's permanent collection is mainly 20th and 21st century artists, including Henry Moore and Joan Miro. The informal art gallery space is a popular attraction in Cambridge for tourists and locals alike. Budget at least a couple of hours to do the collection justice.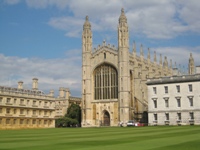 King's College Chapel
Perhaps the most popular attraction in the town of Cambridge is the university itself. Steeped in tradition, Cambridge University is the second-oldest university in England, losing out only to Oxford University. The university's colleges are the main attraction on this beautiful campus. Viewing the colleges gives visitors the opportunity to stroll through Britain's architectural history. Peterhouse is the oldest college, founded in 1284; while Homerton College was approved in 2010, making it the newest addition to the Cambridge family. King's College and the Gothic-style King's College Chapel are not to be missed on this prestigious campus. The intricate chapel was built over a period of nearly a hundred years (1446 to 1531) and is home to the famous Chapel Choir, made up of many of the college's students as well as younger choristers from King's College School.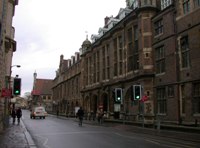 The Sedgwick Museum of Earth Sciences
A popular Cambridge attraction for visitors wishing to learn more about the geology of the area surrounding Cambridge is the University's Sedgwick Museum of Earth Sciences. The museum was opened in 1904 and houses an extensive collection of fossils, minerals and crystals. Visitors can view the fossil collection of Dr John Woodward, a well-known 17th and 18th century British geologist, as well as rocks collected by Charles Darwin and other interesting artefacts that chart more than 550 million years of the planet's history.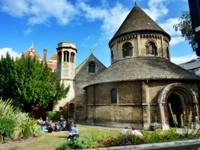 Church of the Holy Sepulchre (Round Church)
Visitors to Cambridge would be unwise to skip this important attraction. The Church of the Holy Sepulchre in Cambridge is one of four round medieval churches in western Europe, and dates back to the year 1130 AD. Most churches in Europe are designed in a cruciform (cross-like) shape; round churches such as this are thought to be influenced by the shape of the original Church of the Holy Sepulchre in Jerusalem. Cambridge's Round Church doesn't have an active congregation, but it is open to visitors and contains a library and an exhibition about the influence of Christianity on England. Visitors to the church can also admire the Gothic tower, which was added in the 15th century, or attend one of the regular concerts, lectures, recitals or plays hosted in the church.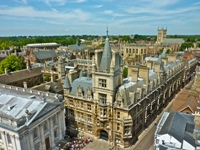 Church of St Mary the Great
The Great St Mary's Church, as it is locally known, is central to Cambridge and its university life. It is the official university church, and according to university rules, all Cambridge undergraduates must live within a 3-mile (5km) radius of the church, while university officers are required to live within 20 miles (32km). St Mary's was completed in 1205, before being destroyed by fire and rebuilt again in 1290. Cambridge University sermons are conducted here, and day visitors are invited to climb the tower and appreciate the lovely views it affords of the town's historic market square.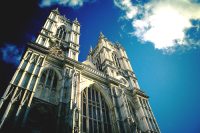 Westminster Abbey
This church in the heart of the city is one of London's top tourist attractions, a UNESCO World Heritage Site, and rivals Notre Dame for the accolade of most famous church in the world. Westminster Abbey draws millions of tourists each year, in addition to the locals who worship there every week. The abbey is the site of royal coronations and weddings (including Prince William's wedding to Kate Middleton in April 2011). Visitors can marvel at the Gothic architecture, enormous stained-glass windows and paintings that go back 1,000 years, and guided tours are available in several languages. A fantastic sight, Westminster Abbey is a must for visitors looking to experience the heart and soul of England's rich cultural history.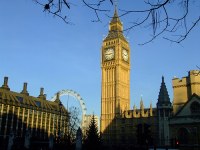 Big Ben and the Houses of Parliament
Originally built for Edward the Confessor more than 1,000 years ago, the Houses of Parliament, or Palace of Westminster, remained the principal residence of Britain's monarchs for the next 400 years. Thereafter, it became the administrative centre of the country. In 1834 the Great Fire burnt everything except Westminster Hall, and the present Gothic building was completed in the 1840s. It is perhaps most famous for the clock tower, commonly called Big Ben. Located at the north end of the Palace of Westminster in London, the gigantic clocktower known as 'Big Ben' has many distinctions: it is the largest four-faced clock, and third-largest freestanding clock in the world. Built in 1859, each minute hand is 14 feet (4.3m) long, and the largest bell inside weighs more than 13 tons. Although Parliament is closed to visitors during session, it is still a popular attraction for tourists because of its picturesque exterior. While Big Ben itself is not open to overseas visitors, UK residents may arrange tours with a local Member of Parliament. Be warned, though, inside the clocktower there are 334 stairs and no lift!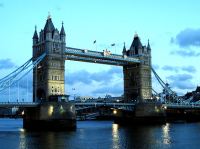 Tower Bridge
The twin spires of the iconic drawbridge known as Tower Bridge stand 213 feet (65m) above the Thames River, and form one of the most popular tourist attractions in London. Often mistakenly referred to as London Bridge (which is a bit further upstream), Tower Bridge functions as both a roadway and a major tourist sight, and provides a magnificent view of downtown London from its upper walkway. Inside is the Tower Bridge Exhibition, which showcases the Victorian engine that powers the drawbridge, as well as a series of informative displays detailing the history of Tower Bridge, which stretches back to 1886.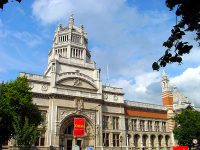 Victoria and Albert Museum
Originally known as the Museum of Manufacture, the Victoria and Albert Museum (or V&A Museum, as it is popularly known) in London is a veritable treasure-trove of artefacts from cultures around the world. Devoted to art and design, it houses more than 27,000 works, including paintings, photographs, sculptures, textiles, furniture, metalwork, ceramics and fashion going back 3,000 years. The V&A Museum also hosts regular family activities and workshops, and has an on-site sculptured garden. A must-see tourist attraction in London, the Victoria and Albert Museum is a wonderful place to spend an afternoon, poring over fascinating items and learning more about the world's cultural bounty.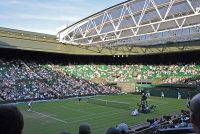 Wimbledon Lawn Tennis Museum
In June and July, the All England Lawn Tennis and Croquet Club is filled to capacity, with thousands of tennis fans eager to see the greatest players in the world at the Wimbledon Championships. The rest of the year, the venue houses the Wimbledon Lawn Tennis Museum, the largest tennis museum in the world. It houses exhibits and memorabilia going back to the Victorian era, and visitors can take guided tours of the grounds in eight different languages. Parts of the tour are even conducted by John McEnroe's Ghost, an audio-visual projection that appears in the very changing room that he once used! There is a cafe on site, and a gift shop selling official Wimbledon merchandise.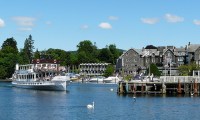 Windermere
One of the prettiest lakes in Cumbria, Windermere has gathered around it a number of bustling communities offering a lot of fun things to see and do, and has become a very popular tourist destination in the Lake District. The pretty towns that surround the lake offer a number of good restaurants, cafes, shops and pubs. The town of Windermere, which includes the merged Bowness-on-Windermere, has a steamboat museum that operates cruises on the lake; while Ambleside is home to Stock Ghyll Force, a spectacular 70 foot (21m) waterfall, and a local history repository at the Armitt Library and Museum. At the southern end of the lake is Lakeside Pier, which is home to the Aquarium of the Lakes.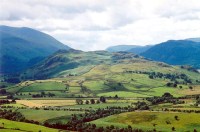 Keswick
The tourist hub of the northern Lake District in England, Keswick is a popular destination for walks and hikes. Nearby is the Castlerigg Stone Circle, a sacred Neolithic site, and Skiddaw and Catbells are popular hills (or fells) for walking. Keswick has several unique museums: a Victorian museum features the famous Musical Stones of Skiddaw, the Keswick Museum and Art Gallery displays local works, Cars of the Stars immortalises cars from film and television, and the Cumberland Pencil Museum chronicles over 350 years of pencil-making. Keswick was, historically, a market town, and there is still a bustling market each Saturday around the Market Square at Moot Hall. The town hosts a number of events in the summer, including a beer festival, film festival and jazz festival. Another popular attraction in Keswick is the Theatre by the Lake, which stages performances all year round.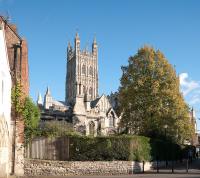 Gloucester
Gloucester is known primarily as a ceremonial city, and as one of the larger towns in the Cotswalds region. It is home to several popular attractions, including Gloucester Cathedral, whose richly-decorated halls contributed to Hogwarts in the Harry Potter films; Prinknash Abbey, with its monastery, Roman mosaic, and birdpark; the 18-century Docks, home to museums, shops, restaurants and pubs; and the City Museum and Art Gallery, which houses many artefacts relating to Gloucester's Roman heritage. Just outside the city of Gloucester is the picture-perfect Gloucestershire village of Painswick, and any number of beautiful walks and hikes in the surrounding countryside.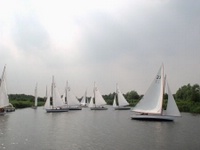 Norwich
The city of Norwich, the capital of East Anglia, grew to prominence as the primary market town for the fertile surrounding region. The famous Norwich Cathedral is one of the prettiest in England and, along with the ancient Norwich Castle, dominates the city below. Once a royal palace, Norwich Castle is now the centrepiece of a museum housing one of England's finest regional collections of natural history, art and archaeology. Another great attraction in Norwich is Eaton Park, the largest of the city's historic parks. The vast areas of open parklands, shady avenues of trees and beautiful gardens make this an appealing destination for a relaxing picnic or a leisurely walk. Park facilities include tennis courts, cricket grounds, a cycle track and a skateboard park, as well as a putt-putt course, a children's play area and a miniature railway. There is also a café at the park for refreshments. On the coast, 20 miles (32km) east of Norwich, visitors can discover Great Yarmouth Pleasure Beach, which occupies a nine-acre seafront site and encompasses over 70 rides and attractions.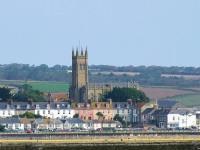 Penzance
Penzance is home to much more than Gilbert and Sullivan's famous pirates, though it has a long association with the arts and continues to be a centre for art and music in Cornwall. Originally a market and fishing town, Penzance has a bustling harbour area with a Victorian promenade that features an art deco open-air swimming pool. Although many of the historic buildings in Penzance have been pulled down, there are still worthwhile sights like the Egyptian House, St Mary's Church, and the Union Hotel. Morrab Gardens are a pleasant setting to spend an afternoon in good weather.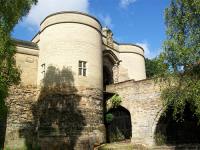 Nottingham Castle and Castle Rock
While the title of 'castle' may be hyperbolic, the stately 17th-century ducal mansion known as Nottingham Castle is home to a fascinating museum and art gallery, and its location on the promontory of Castle Rock commands a grand view of the city of Nottingham beneath. The grounds are pleasant to stroll through, and in them you'll find the famous statue of Robin Hood himself. Nottingham Castle also hosts a number of events, including the Nottingham Beer Festival and the Robin Hood Pageant.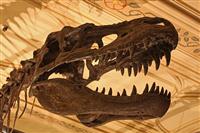 Natural History Museum
The Natural History Museum is one of England's very best tourist attractions. Located on Exhibition Road in South Kensington, the Natural History Museum truly will appeal to everyone, from excitable kids to discerning adults. Housed in a gorgeous Romanesque building, the Natural History Museum has often been described as a 'cathedral of nature', boasting fascinating collections magnificently displayed beneath vaulted ceilings. As soon as you step foot inside the Museum, you are greeted by its most famous attraction - the cast of a giant diplodocus looming over you. The Natural History Museum has one of the world's greatest collection of prehistoric fossils and remains, and is home to a series of animatronic dinosaurs that will spellbind the young ones. The Museum is divided into four 'zones' for ease of navigation. The Blue Zone deals mainly with animals, and (along with the dinosaurs) is famous for its life-size model of a blue whale that hangs from the ceiling and its sabre-tooth tiger skeleton. The Green Zone presents exhibitions that focus on plants, insects and ecology, including a termite mound and a cross-section of the world's largest tree, the California redwood. The Red Zone takes a look at the earth's subterranean processes: visitors can try out the earthquake simulator, be moved by the Pompeii exhibition, and ogle at an enormous collection of gemstones, minerals and rocks. Finally, the Orange Zone - built in 2008 to commemorate the 150th anniversary of Darwin's Origin of the Species - is primarily a research centre, but also features several cutting-edge exhibitions that will thrill visitors, including the Attenborough Studio, where audio-visual shows are staged. A sure-fire winner of a tourist attraction, the Natural History Museum should feature on any holidaymaker's list of things to do in London. Budget at least three or four hours to do the Museum's collection justice.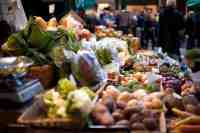 Borough Market
The Borough Market, located on Southwark Street at the southern end of London Bridge, is one of the United Kingdom's premier food markets, and a simply wonderful place to ramble around and find some delicious treats to fuel the day's sightseeing. What distinguishes the Borough Market is its community-centred atmosphere, with most of the stallholders either being producers themselves, or possessing intimate knowledge of the goods they are selling. Visitors are encouraged to chat to the stallholders about their produce, and to find out more about the fresh fruit and vegetables, cheeses, jams, meats and artisanal breads and pastries that are so lovingly and elegantly displayed. Perfectly situated at the southern end of London Bridge, the Borough Market makes a great pit-stop on any walking tour of south-central London's tourist attractions. The Borough Market is also a great place to shop for special souvenirs for loved ones back home.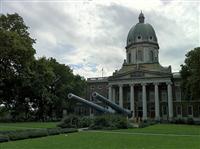 Imperial War Museum
An absolute must for history buffs, London's Imperial War Museum endeavours to give visitors an understanding of modern warfare, and an appreciation of its effects on both individuals and societies at large. The Imperial War Museum is, in fact, a 'family' of five museums, three of which are located in London. The flagship museum is found in Lambeth Road in south London, and features a unique collection of art, films, photographs, sound recordings, writings and objects that preserve the reactions and memories of Britons who have lived through wartime conditions. The Churchill War Rooms, located in King Charles Street, form another fascinating branch of the Imperial War Museum. These bunkers housed the British heads of state during the Blitz, and today offer visitors a truly incredible trip back in time, where they can navigate the underground mazes and view charts and maps that haven't been touched since 1945. The last of the Imperial War Museum branches in London is the HMS Belfast, a warship that is moored in the Thames. An intriguing sight that has been closed for some years, but which will re-open in time for the 2012 London Olympic Games, tours of the HMS Belfast take in the gun turrets, the messdecks and the clamorous bowels of the ship, and provide an exciting and educational experience that will be appreciated by visitors of all ages. A highly recommended sight, all three London branches of the Imperial War Museum can be visited in a day.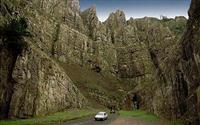 Cheddar Gorge
Attracting about 500,000 visitors a year, southwest England's spectacular Cheddar Gorge makes a wonderful daytrip destination, guaranteed to delight lovers of the great outdoors. The limestone gorge, located at the southern end of the Mendip Hills near the village of Cheddar in Somerset, has been named Britain's 'second-greatest natural wonder' (after the Dan yr Ogof caves in Wales), and plays host to a variety of attractions and activities. For the cost of admission, visitors gain access to the exciting Cliff-Top Gorge Walk; the spellbinding Gough's Cave, full of stalagtites and stalagmites; and the Museum of Prehistory, where the oldest skeleton in Britain - the 'Cheddar Man', who is believed to be about 9,000 years old - can be viewed. There's also a thrilling Crystal Quest feature, which is sure to delight the young ones, consisting of a cave filled with models of mythical and magical beings. A highly recommended tourist attraction, Cheddar Gorge makes a wonderful day excursion for visitors to southwest England.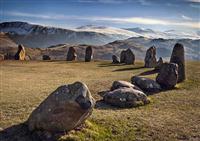 Castlerigg Stone Circle
One of Britain's most popular and most mysterious attractions, Castlerigg Stone Circle is a must-see sight for visitors to the Lake District. The Neolithic structure, which is comprised of 38 free-standing stones, some of which reach as high as 10 feet (3m), continues to intrigue eminent archaeologists and casual visitors alike - and its original purpose is still not exactly known. Demonstrating a remarkable geometric and astronomical precision (parts of the circle align perfectly with the sun, moon and stars), it is thought that the 5,000-year-old circle once filled a very important ceremonial or religious function. However, part of what makes Castlerigg such a wonderful sight for modern-day visitors to Cumbria, is its breathtakingly beautiful natural setting. Located on a slight plateau, the views afforded from the Castlerigg site are simply phenomenal: 360-degree panoramas of the surrounding fells, and excellent vistas of Cumbria's highest peaks, such as Helvellyn, Skiddaw, Grasmoor and Blencathra. Castlerigg has been called 'the most visually-impressive prehistoric monument in Britain' by archaeologist John Waterhouse, and those who make the short trip from Keswick to view the site certainly will not be disappointed.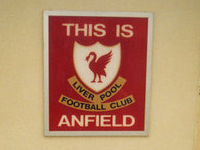 Anfield
Although Liverpool Football Club has been in a bit of a decline since their incredible feats in the 1970s and 80s, when inspired by greats such as Kenny Dalglish and Ian Rush they became England's most successful football team, their supporters remain some of the most passionate and loyal in the game. Their home ground, Anfield, is regularly referred to as a 'cathedral of football', and it is hard not to be stirred by the proud and historic stadium. Visitors to Liverpool, once they've had their fill of Beatles-related sights, would be sorely remiss to skip a trip to Anfield, where hourly stadium tours are run on the hour every day of the week. Visitors can touch the famous 'This is Anfield' sign, view the famous terrace known as the Kop, hear recordings of the crowd singing the club's anthem 'You'll Never Walk Alone', and explore the fascinating Liverpool Museum, where photos and memorabilia give a sense of the club's enormously successful history. Be sure to book ahead, and note that tours are not run on days when a home fixture is taking place.
Airports
Birmingham International Airport
Website: www.bhx.com
Location: The airport is situated eight miles (12km) south east of Birmingham.
Contacts: Tel: (0)8707 335 511.
Time Zone: GMT (GMT +1 between the last Sunday in March and the Saturday before the last Sunday in October).
Departure tax: None.
Transfer between terminals: The two terminals are within easy walking distance of each other.
Facilities: There are banks, bureaux de change, shops, restaurants, business lounges, baby changing facilities and a tourist information desk in the terminal. Disabled facilities are good; those with special needs should contact their airline in advance.
Parking: The airport's 'drop and go' area is adjacent to the departures terminal and costs £1 per ten minutes. Garages 1, 2 and 3 are best for short- and medium-stay parking. They are located beside the terminal building and charges are £3.50 per hour or £20 per day. The long-stay parking garages are located next to the second roundabout along Airport Way, a ten-minute walk from the terminal. There are regular shuttle-buses between the long stay parking lots and the terminal. Long-stay parking is free for the first 15 minutes, £3.50 per hour, and then £21 for the first 48 hours.
Transfer to the city: Taxis are available from outside passenger terminals and cost around £18 to the city. Buses to the city centre and surrounds can be caught opposite Terminal 2 at the Bus and Coach Terminus. Bus 900 travels to the city centre from stand K. Trains run from Birmingham International to Birmingham New Street Station and vice versa during the day but are less frequent in the evenings and on weekends.
Car rental: Car rental companies include Avis, Budget, Europcar, Hertz and National. All car hire booking desks are located in the Millennium Link Building, a short walk from both Terminals 1 and 2 the International Terminal.
Bristol International Airport
Website: www.bristolairport.com
Location: The airport is situated seven miles (11km) south west of Bristol.
Contacts: Tel: +44 (0)871 334 4444.
Time Zone: GMT (GMT +1 between the last Sunday in March and the Saturday before the last Sunday in October).
Departure tax: None.
Facilities: Facilities at Bristol Airport include a bureau de change, ATM, bars, restaurants, shops, executive lounge and tourist information desk. Disabled facilities are good; those with special needs are advised to contact their airline in advance.
Parking: There is short- and long-term car parking available. Spaces can be pre-booked via the airport website.
Transfer to the city: Bristol International Flyer buses operate between 2.30am and 11.45pm and travel regularly to Bristol city centre and the Bristol Temple Meads railway station, taking 30 minutes and costing around £5. Taxis are available outside the terminal.
Car rental: Car hire companies include Avis, Europcar, Hertz and National.
Leeds Bradford International Airport
Website: www.lbia.co.uk
Location: The airport is situated nine miles (14km) northwest of Leeds.
Contacts: Tel: +44 (0)113 250 9696.
Time Zone: GMT (GMT +1 between the last Sunday in March and the Saturday before the last Sunday in October).
Departure tax: None.
Facilities: Facilities at the airport include banks, ATMs, bureau de change and a tourist information and hotel reservations desk. There are also shops, bars, restaurants and a children's play area. The Executive Lounge on the first floor of the Departure Lounge offers a full bar service, complimentary newspapers, fax machine and telephone. Entry to the lounge is through membership of the Yorkshire Executive Lounge or a once off entry fee of £14. Disabled facilities are good; those with special needs should contact their airline in advance.
Parking: There is short and long-term car parking available. Parking can be booked in advance on the airport website. There is a courtesy bus service between the long stay car park and the terminal building from 5:30am and 10pm, 7 days a week. Passengers should allow extra time to park and get to the terminal. Short-term parking at Leeds Bradford is charged at £2 for the first half hour, £5 for an hour, £7.50 for two hours, £10 for three hours, £18 for six hours and £24 per day, and is located directly in front of the terminal building. Long-term rates are £35 for two days.
Transfer to the city: The MetroConnect bus services run every 30 minutes from the airport to Leeds and Bradford City Centre Bus and Rail Stations, calling at all metro stops along the way. Trains are available to and from Leeds City Rail Station, from where connections can be made to all parts of the UK. Taxis are also available.
Car rental: Avis, Europcar and Hertz are represented in International Arrivals.
Liverpool John Lennon Airport
Website: www.liverpoolairport.com
Location: The airport is situated seven miles (11km) southeast of Liverpool.
Contacts: Tel: +44 (0)870 129 8484.
Time Zone: GMT (GMT +1 between the last Sunday in March and the Saturday before the last Sunday in October).
Departure tax: None.
Facilities: There are shops, bars and restaurants at the airport. Other facilities include bureaux de change, children's play areas, WiFi and Internet kiosks, business facilities (including fax and internet) and tourist information. Disabled facilities are good; those with special needs should contact their airline in advance.
Parking: Short-term parking at Liverpool John Lennon Airport is charged at £5 for the first hour, £7 for two hours, £13 for four hours, £25 for 12 hours and £30 per day. Long-term parking starts at £30 per day, and charges £45 for two days, £55 for three days, and £5 per day thereafter.
Transfer to the city: Airlink buses operate to the city centre and to local rail and bus stations for further travel. Tickets are £2 and buses leave from the front of the Airport Terminal Building. Liverpool South Parkway is the nearest rail station to the Airport serving the local/regional rail network. Liverpool Lime Street services local, regional and mainland services. Both have bus links with the Airport. Taxis are also available.
Car rental: Car rental companies include National, Europcar, Hertz, Avis and Enterprise.
London City Airport
Website: www.londoncityairport.com
Location: The airport is situated at the Royal Docks, 10 miles (16km) from the West End.
Contacts: Tel: +44 (0)20 7646 0088.
Time Zone: GMT (GMT +1 from last Sunday in March to Saturday before last Sunday in October).
Departure tax: None.
Facilities: There are shops, bars and a restaurant at City Airport, other facilities include left luggage, a mother and baby room, tourist information and business facilities including Internet and fax. There are also ATMs, a bureau de change and Internet facilities. The disabled facilities are good; those with special needs should ideally inform their airline in advance.
Parking: Parking at London City Airport is located within easy walking distance of the terminal. Short-term parking starts at £4.20 for the first half hour, £8.40 for up to an hour, £12.60 for two hours, £18.90 for four hours, £29.20 for up to 12 hours and £45 per day. The Main Stay car park starts at £14.70 for up to four hours, £25.20 for up to 12 hours, and £40 per day. Credit card facilities are available.
Transfer to the city: Docklands Light Railway (DLR) departs from London City Airport every 8-15 minutes to Canning Town, Woolwich Arsenal and Bank. There are regular Transport for London buses from the airport to stations throughout London. Nearby National Rail stations are reached via the Jubilee line from Canning Town (a seven-minute DLR journey). Licensed taxis (black cabs) are available outside the terminal building, a taxi to the centre of London will take only 20 to 30 minutes and cost roughly £20. Car rental desks are situated on the ground floor. There are also chauffeur services available from Quay Cars.
Car rental: Car rental desks are situated on the ground floor, rental companies include Avis, Europcar and Hertz.
London Gatwick Airport
Website: www.gatwickairport.com
Location: The airport is situated 28 miles (45km) south of London.
Contacts: Tel: +44 (0)870 000 2468.
Time Zone: GMT (GMT +1 from last Sunday in March to Saturday before last Sunday in October).
Departure tax: None.
Transfer between terminals: The two terminals are linked by the Inter Terminal Transit train that leaves every three minutes.
Facilities: Both terminals have shops, restaurants, bars, left luggage, bureaux de change, ATMs, an Internet café, baby changing rooms and children's play areas. In the South Terminal there is a post office, a medical centre offering vaccinations, and the BAA Conference and Business Centre, which provides meeting rooms, videoconferencing, fax, photocopy, Internet access and secretarial services. Disabled facilities at the airport are good; those who require special assistance should contact their airline in advance.
Parking: Short-term parking at London Gatwick starts at £1 for 15 minutes, £2.50 for 30 minutes, £5.20 for an hour, and £11.30 for three hours up to a daily limit of £30. Long-term parking, slightly farther from the terminal buildings, is charged at £11.50 per day and is served by a free shuttle.
Transfer to the city: The easiest and quickest way into London from Gatwick is on the Gatwick Express train, which takes 30 minutes to the central Victoria railway station and costs £15. Local buses call at both terminals and run between Gatwick and key destinations including Crawley, Horley, Redhill and Horsham. Taxis are also available from the airport into town, while coaches take passengers to destinations including Heathrow, central London, Bristol and Brighton (ticket desks are in the North and South Terminals). Car rental companies operate from both terminals.
Car rental: Car rental companies such as Avis, Budget, Europcar and Hertz operate from both terminals.
London Heathrow Airport
Website: www.heathrowairport.com
Location: The airport is situated 15 miles (24km) west of London.
Contacts: Tel: +44 (0)8700 000 123.
Time Zone: GMT (GMT +1 from last Sunday in March to Saturday before last Sunday in October).
Departure tax: None.
Transfer between terminals: Terminals 1 and 3 are within walking distance of each other, with an average walking time of 11 minutes from one end to the other. Terminals 4 and 5 are connected via the free Heathrow Express train. Allow around 15 minutes for the journey time between terminals. Alternatively, Terminal 4 can be reached via the 555 bus, leaving every 19 minutes, while Terminal 5 is serviced by the 441 and 724 buses, which take 10 and 20 minutes respectively. Terminal 5 is also connected by the N9 night bus between 23:55pm and 4:55am. Terminal 2 is closed for renovations, scheduled to reopen in 2014.
Facilities: There are numerous shops, bars and restaurants, ATMs and currency exchange facilities in all terminals. Each terminal also has a left luggage facility and postal services. A pharmacy is available in Terminal 1, and a spa offering massages and other treatments is located in Terminal 5B. There are VIP Lounges is Terminals 1-4, with online booking available at the airport's website. Disabled facilities are good; those requiring special needs are advised to contact their airline in advance. There are multi-faith prayer rooms in each terminal, and St George's Chapel is located between Terminals 1 and 3 near the central bus station. There are shower facilities located past security in Terminal 4.
Parking: Short-term parking is available adjacent to the airport. A free shuttle service links the terminals and the long-term and business car parks. Parking can be booked on 0870 850 2825 or via the airport website. Valet parking is also available at all four terminals. Motorbikes can park free of charge at designated areas at each terminal.
Transfer to the city: The quickest way into London is on the Heathrow Express train, which leaves every 15 minutes for Paddington station and takes 15 minutes with one-way tickets starting at £16.50 if purchased online, £18 at the station, and £23 if purchased onboard. Paddington has good connections to the other London railway stations and all parts of London via the London Underground (the tube). The National Express coach service takes passengers to central London and other towns and cities throughout the UK. Heathrow is on the Piccadilly underground line, which takes passengers into central London in around 50 minutes and costs £4. The N9 night bus departs to central London every 30 minutes from the central bus station. Taxis are available outside each terminal, and mini-cabs can offer more competitive prices than the black cabs but must be booked in advance - call +44 (0)208 574 0868. Car rental companies operate from all terminals.
Car rental: Car rental companies operating from all terminals include Avis, Budget, Europcar, Hertz, National and Sixt.
London Luton Airport
Website: www.london-luton.com
Location: The airport is situated 32 miles (52km) northwest of London.
Contacts: Tel: +44 (0)1582 405 100.
Time Zone: GMT (GMT +1 from last Sunday in March to Saturday before last Sunday in October).
Departure tax: None.
Facilities: Facilities at the airport include shops, bars, restaurants, bureaux de change, ATMs, a children's play area and baby changing rooms. Facilities for the disabled are good; those with special needs are advised to contact their airline or travel agent in advance.
Parking: There is short-term parking, and 'executive' parking next to the terminal. Long-term (valet) parking operates near the terminal - your car will be taken away to another compound while you are away. Passengers who book in advance via the airport website get discounted parking rates.
Transfer to the city: Trains leave regularly to Kings Cross, Farringdon, City Thameslink, Blackfriars and London Bridge stations. Train journeys to central London take 20-25 minutes with providers such as East Midlands Trains and First Capital Connect. Tickets can be bought from the Onward Travel centre at the airport or online. Luton Airport Parkway Train Station is connected to the terminal by a free shuttle bus service. Easybus, Green Line and National Express buses run daily between the airport and central London. Taxis operate from outside the airport terminal 24-hours a day and car rental is also available.
Car rental: Car rental companies include Avis, Hertz, Europcar and National Alamo.
London Stansted Airport
Website: www.stanstedairport.com
Location: The airport is situated 34 miles (55km) northeast of London.
Contacts: Tel: +44 (0)844 335 1803.
Time Zone: GMT (GMT +1 from last Sunday in March to Saturday before last Sunday in October).
Facilities: There are a number of popular restaurants, shops and bars in the terminal, both before and after security. Other facilities include ATMs, a bureau de change and Internet cafe. There are VIP lounges for international travellers at gates 16 and 49, which can be booked via the airport's website. There are also shower facilities at both arrivals and departures, with towels and access available for a small fee at the airport information desk. There is a multi-faith chapel near Check-in Zone J, accessible after security. Disabled facilities are good; those with special needs should contact their airline or travel agent in advance. Stansted is a smoke-free airport, and there are no smoking facilities past security.
Parking: The short-term parking is located next to the terminal building. Long-term parking is further away and is linked to the airport by a free shuttle bus; passengers should allow an extra 30 minutes to access the terminal from the car parks. The airport also offers valet parking. Travellers who pre-book on the Stansted Airport website receive discounted car parking.
Transfer to the city: The Stansted Express rail service operates between London's Liverpool Street station and the airport, taking approximately 45 minutes. There are also bus and coach services to Victoria Coach Station, Heathrow and Gatwick airports, among other London and national destinations. The bus and coach station is opposite the main terminal entrance. Coach tickets are available from the ticket desk in arrivals and at the station; a ticket to Victoria costs £10.50. Taxis are available outside the terminal building and car rental is also available.
Car rental: Car rental companies available at the airport include Avis, Budget, Europcar, Alamo, National, Enterprise and Hertz.
Manchester International Airport
Website: www.manchesterairport.co.uk
Location: The airport is situated 10 miles (17km) southwest of Manchester city centre.
Contacts: Tel: +44 (0)161 489 8000.
Time Zone: GMT (GMT +1 from last Sunday in March to Saturday before last Sunday in October).
Departure tax: None.
Transfer between terminals: The Skylink system links Terminals 1, 2 and 3.
Facilities: There are restaurants, shops and bars in all three terminals. Other facilities include ATMs, bureaux de change, hairdresser and left luggage. Disabled facilities are good; those with special needs should inform their airline or travel agent in advance.
Parking: Short-term parking at Manchester International Airport is charged at £2.20 for the for the first 30 minutes, £4 for an hour, £8 for two hours, £12 for four hours and so on up to £27 per day. Long-term parking is charged at £27 for the first day, £40 for two days, and £10 per day thereafter. It is a good idea to book parking in advance via the website in the peak summer season, as the car park can be full.
Transfer to the city: There are regular trains between the airport and Manchester Piccadilly railway station, which has connections to destinations throughout the UK. Buses service Manchester city centre as well as other local towns and cities. National Express operates coach services to cities all over the UK. All buses, coaches and trains leave from The Station, the airport's new transport interchange that is connected to all terminals by a covered walkway. Taxis are available outside all terminals.
Car rental: Car rental companies include Avis, Budget, Europcar, Hertz, National and Sixt.
Newcastle International Airport
Website: www.newcastleairport.com
Location: The airport is situated six miles (10km) from Newcastle city centre.
Contacts: Tel: +44 (0)871 882 1121.
Time Zone: GMT (GMT +1 from last Sunday in March to Saturday before last Sunday in October).
Departure tax: None.
Facilities: Newcastle Airport has shops, bars and restaurants, other facilities include a bank, bureaux de change, ATMs, left luggage, baby care rooms, and a children's play area. There is a business facility in the main terminal equipped with fax, photocopier and Internet access. Disabled facilities are good; those with special needs are advised to inform their airline or travel agent in advance.
Parking: Express parking at Newcastle International Airport costs £3 for 20 minutes and £6 per hour, while the short-stay lot is £2.50 for 30 minutes and £4.60 per hour (£17.50 per day). Long-term parking is services by a free shuttle to the terminals. Bookings can be made on the airport website.
Transfer to the city: The Metro (underground train) system connects the airport to Newcastle Central station, and other parts of the city, leaving every few minutes. Buses leave regularly for the Eldon Square Bus Concourse in the city centre between 8am and 11pm. Taxis are available outside the terminal.
Car rental: Car hire companies represented at the airport include Avis, Europcar, Hertz and National.
Nottingham East Midlands Airport
Website: www.eastmidlandsairport.com
Location: The airport is situated 11 miles (18km) from Derby. It is in easy reach of Nottingham, Leicester and Derby by road and public transport.
Contacts: Tel: +44 (0)871 919 9000.
Time Zone: GMT (GMT +1 from last Sunday in March to Saturday before last Sunday in October).
Departure tax: None.
Facilities: The airport has a Travelex outlet for foreign exchange and a range of shops, including newsagent, chemist, souvenir shop and duty free outlets. There are several restaurants and fast-food eateries in the terminal building. There are public telephones, Internet kiosks and Wi-Fi hotspots available. The airport also has an executive lounge.
Parking: Short-term parking at Nottingham East Midlands Airport is £2 for half an hour, £3 for an hour, and £6.20 for two hours. Long-term parking is £25 for up to two days and £6.80 per day thereafter. Shuttle buses operate between the car parks and the terminal.
Transfer to the city: Visitors heading for Nottingham can use the direct Nottingham Skylink bus service, which runs half-hourly around the clock between the airport and Nottingham Railway Station. Taxis are freely available, the fare to Nottingham being £26. Journey time to central Nottingham is about half an hour.
Car rental: Car hire desks in the arrivals hall are available for Enterprise, Europcar, National and Hertz car rental.
Norwich International Airport
Website: www.norwichairport.co.uk
Location: The airport is situated 3.2 miles (5.2km) north of the city of Norwich
Contacts: Tel: +44 (0)844 748 0112.
Time Zone: GMT (GMT +1 between the last Sunday in March and the last Sunday in October).
Departure tax: An airport tax of GBP 10 is levied per adult.
Facilities: There is a cafés and restaurant/bar at the airport, as well as an Eclipse Duty Free outlet and a Skylines store. There is wireless internet access throughout the airport, and Internet desks in the departure lounge. There are also foreign exchange facilities and an executive lounge at the airport.
Parking: Short-term parking is free for 10 minutes, and then costs £1 for 30 minutes and £3 for each subsequent hour up to £20 per day. Long-term parking is £25 for one day, £28 for two days, £30 for three days, and £5 per additional day.
Transfer to the city: National Express East Anglia run rail services to Norwich city from London, and the Norwich rail station is located in the city centre. First Eastern Counties Buses offer a service on bus 27 to the airport from the city centre on Sundays and public holidays. The bus goes to Hellesdon during the week, which is within walking distance of the airport. There are also taxi and car rental services available.
Car rental: Car rental companies operating at the airport include Avis, Hertz and Europcar.
Blackpool International Airport
Website: www.blackpoolinternational.com
Location: The airport is located 3 miles (5km) south-east of Blackpool city centre.
Contacts: Tel: +44 (0)125 334 3434 or 0844 482 7171.
Time Zone: GMT (GMT +1 between the last Sunday in March and the last Sunday in October).
Departure tax: None
Facilities: Duty-free shopping, as well as food and beverage outlets, are available at the airport. There is also a Bureau de Change located opposite the check-in counter.
Parking: Departing passengers are entitled to 15 days free parking at the airport and the first 15 minutes are also free for any pick-up and drop-off parking, after which rates are charged on a time scale.
Transfer to the city: There are various transport options to and from the airport. Car rental companies operate from the airport and there are buses and trams available at the airport entrance. Taxis are available from outside the terminal building and the Squires Gate Railway Station is a five-minute walk from the airport.
Car rental: Car rental companies serving the airport include Hertz, Europcar and Avis.
Southampton International Airport
Website: www.southamptonairport.com
Location: The airport is located in Hampshire, a few miles outside of Southampton,
Contacts: +44 (0)23 8062 0021
Time Zone: GMT (GMT +1 from last Sunday in March to Saturday before last Sunday in October).
Facilities: Airport facilities include a duty-free shop, currency exchange, internet cafes, and several restaurants both before and after security.
Parking: Short-term parking is available at rates of £2.70 for 30 minutes, £3.80 for 1 hour, £6.40 for 2 hours and £23.70 for 24 hours, but the first ten minutes are free. Long-term parking costs £10.50 per day, but the minimum stay is three days.
Transfer to the city: The airport is connected to Southampton Central and other parts of England via several train services, including South West Trains and CrossCountry. The journey to Southampton Central takes approximately 8 minutes, while London is 67 minutes away. There are also buses to downtown Southampton, with the U1C running every 15-20 minutes; the journey takes roughly 35-40 minutes.
Car rental: The Car Rental Reception Centre is located near the short-term car park, opposite the terminal building. Car rental companies include Hertz, Avis, Europcar, National, Alamo, and Enterprise.