Overview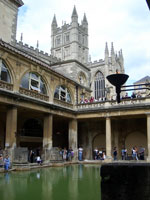 The Romans established the City of Bath in the year 43 AD and this city, awash with fabulous architecture, history and culture, has been welcoming visitors ever since. Many of Bath's great buildings date back from its renaissance in the 18th century when it again became a fashionable spa town and played host to royalty and the cream of aristocracy, who famously visited the city to 'take the waters'. Today visitors can walk around the old Roman Baths, enjoy the splendour of Bath Abbey or simply take in the breathtaking Georgian architecture of this beautiful city, which somehow managed to escape the ravages of industry and the Luftwaffe.
Jane Austen lived and based several of her books in Bath, and on Gay Street, near her home, visitors can find the Jane Austen Centre, which displays her life and times. For an authentic feel of life gone by, period decorations and furniture have been reinstated in No1 Royal Crescent, so that the house appears as it did in its days as a fine 18th-century townhouse.
Bath is home to much older attractions than its Elizabethan charms, featuring the famous ancient Roman baths, situated over natural hot springs. Bath was a prosperous tourist destination as early as its Roman occupation, when the baths were built, and continued its reputation as a therapeutic health resort through the medieval period.
Though architecturally Bath is something of a period piece, it is also a very modern city. Its restaurants and pavement cafés are packed full of local businessmen and artisans, and its cinemas, pubs, and nightclubs keep its residents entertained each evening. Bath's answer to Camden Market is Walcot Street, where a bohemian street market takes places each weekend; and its parks and gardens are popular places to relax and enjoy pleasant weather.
The International Music Festival marks the beginning of summer and adds to Bath's lively, festive atmosphere, and its Theatre Royal is one of the country's leading provincial theatres, attracting big names and pre-West End show runs.
GettingAround
The compact city of Bath can easily be explored on foot or by bicycle. Different walking tours, including a ghost walk, are offered, and some are free. But the best way for visitors to see the city and its sights is on one of numerous bus tours, many of which are open-top and offer a hop-on, hop-off service with tickets valid for 24 hours. The city's bus network is also good and connects the city centre and its outskirts. A park-and-ride service is available. Taxis are unnecessary in the city centre as walking is often much faster, but they are easy to find at the railway station. There are also several car hire agencies.
Events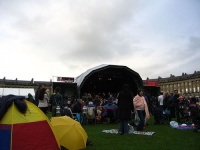 Bath International Music Festival
Showcasing a range of exciting performances, with everything from orchestra and ballet to jazz acts and other more popular genres, the Bath International Music Festival is one of the main highlights on Britain's summer events calendar, and one that has gained a truly international reputation. The programme takes place mainly in city venues and also includes free-to-the-public outdoor events.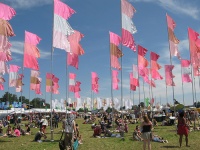 WOMAD Festival
The 'World of Music and Dance' (WOMAD) Festival first began in 1982, and brings together artists from all over the globe. It also hosts participatory workshops, special events for children and educational programmes. Since the first WOMAD festival was held in 1982, more than 160 festivals have been held in 27 countries, bringing a worldwide audience of over one million people across the globe together in celebration of the art forms of music and dance.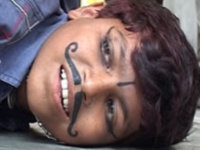 Bath Film Festival
The Bath Film Festival runs for about ten days during the month of November, and showcases over 40 new films, with the added feature that the audience can ask the film-makers questions after the screening. The films are screened over eight days at a variety of venues around Bath, including the Little Cinema, Rondo Theatre, Chapel Arts Centre and Komedia.
Attractions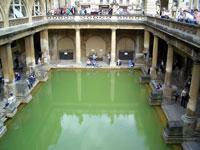 Roman Baths
The Romans were the first to capitalise on the only natural hot springs in Britain, but it is believed that they were a local attraction long before the building of Rome. These ancient baths were once considered the finest in the Roman Empire, but in the middle ages fell into disrepair. It was not until a visit by the ailing Prince George in 1702 that the baths once again became a popular healing destination. Over the course of the city of Bath's redevelopment in the late 18th century, the Roman ruins were rediscovered and restored. Today, visitors can see the seven ancient baths and view the Georgian splendour of the Pump House, where the musty mineral waters can be sampled by the strong of stomach. The magnificent centrepiece is the Great Bath. Lined with lead and filled with hot spa water, it once stood in an enormous barrel-vaulted hall that rose to a height of 131ft (40m). For many Roman visitors, this may have been the largest building they had ever entered in their life.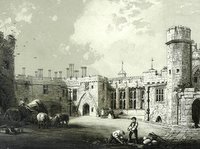 Berkeley Castle
Berkeley (pronounced 'barkly') is a perfectly preserved 840-year-old castle with a keep, dungeon and splendid staterooms with original tapestries, furniture and silver. It was most famously the scene of King Edward II's gruesome murder in 1327. It is believed that Edward was deposed by his French consort, Queen Isabella, and her paramour, the Earl of Mortimer. The castle also played an important role in the English Civil War (1642-1649). The oldest part of the castle was built in 1153 by Roger De Berkeley, a Norman knight, and has remained in the family ever since. The surrounding meadows, now the setting for pleasant Elizabethan-style gardens, were once flooded to make a formidable moat.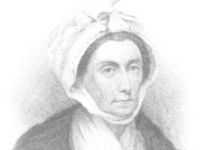 Building of Bath Museum
The fascinating story of Georgian Bath is wonderfully presented by the Building of Bath Museum. The Museum is the natural place to start any sightseeing expedition of Bath. It is housed in the Gothic-styled Countess of Huntingdon's Methodist Chapel, which was built in 1765 and renovated in 1984 by the Bath Preservation Trust. Inside, visitors are treated to a unique exhibition, which describes how Bath developed from a small provincial spa to the most fashionable resort in Georgian England. Using models, maps, paintings, reconstructions, live crafting demonstrations and hands-on exhibits, including a touch-screen computer, a visit to the museum is an informative and entertaining experience. Budget about two hours to take it all in.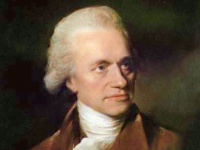 Herschel Museum of Astronomy
Distinguished astronomer William Herschel used a telescope he built himself to discover the planet Uranus in 1781, thus securing his place in history as one of the greatest astronomers of all time. His observations, and the telescopes that he built, doubled the known size of the solar system in his time. The telescope through which Uranus was first spied was built in the delightful Georgian townhouse that today houses the Herschel Museum of Astronomy. Visitors to the museum can view Herschel's workshop, as well as the original kitchen and the music room in the house where William lived with his sister, Caroline, at the end of the 18th century.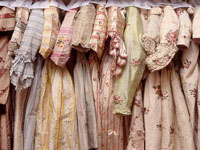 Fashion Museum
Bath's comprehensive Fashion Museum brings alive the story of fashion over the last 400 years, from the late-16th century to the present day. The huge collection is fetchingly displayed on hundreds of dummies, providing a chronological journey through changing styles over the centuries. Visitors can listen to an audio tour or take part in a conducted guided tour of fashion through the ages. A highly popular attraction that will appeal to visitors of all ages and from all walks of life, you should budget about two hours to do the Museum justice.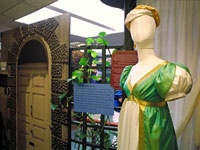 Jane Austen Centre
Bath's best-known resident, Elizabethan novelist Jane Austen, is celebrated in this permanent exhibition which showcases her life and work. Bath was her home between 1801 and 1806, and her love and knowledge of the city is reflected in her novels Northanger Abbey and Persuasion, which are set in Georgian Bath. The Jane Austen Centre also runs an annual and extremely popular Jane Austen Festival, which holds the Guinness World Record for the largest gathering of people dressed in Regency costumes.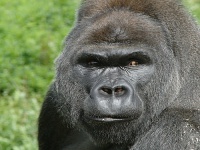 Bristol Zoo and Garden
Situated 14 miles (23km) from central Bath, children will love spending a fun-filled day at the Bristol Zoo and Garden, where over 450 species of animals can be found. Most of the exhibits are undercover, making this the perfect destination for family outings come rain or shine. Featuring themed habitat areas, kids will be amazed by Gorilla Island and the Seal and Penguin Coast, where an underwater viewing area makes things a little more exciting. There is also Monkey World, a reptile house, aquariums, exotic birds and an adventure course (ZooRopia) for children of any age to let of some excess energy. The zoo also features a café, gift shop and picnic areas. There is so much to see at Bristol Zoo that a full day's visit is strongly recommended. Parents of children with special needs will be delighted to know that Bristol Zoo prides itself on its accessibility, with all areas navigable by wheelchair.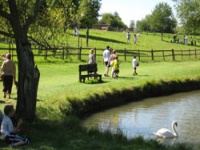 Avon Valley Adventure and Wildlife Park
Located in the beautiful Avon Valley, just 4.5 miles (7km) from central Bath, Avon Valley Adventure and Wildlife Park is the perfect day out for families with children. Children can let loose in the adventure playground, which features a junior assault course, a riverside trail, farm animals like Shetland ponies, llamas and wallabies, a boating pond and even a miniature railway. Younger kids will love the indoor play area where they can enjoy enormous slides and ball pits. Families should pack a picnic to savour on the riverbanks, while the children enjoy the wide open space and exciting activities.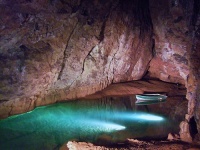 Wookey Hole Caves
A popular tourist attraction in the village of Wookey Hole in Somerset, just 20 miles (32km) from Bath, Wookey Hole Caves is an intermingling of pagan and Christian legends where a river flows out of the underworld. Children who visit the caves will be utterly thrilled by the mysteries of man and how early cavemen, who inhabited these eerie caves, lived. Many legends exist about a witch who inhabited the caves during the dark ages, and whose frozen image can still be seen in the cavern known as the Witches Kitchen, but this is not where to adventure ends. When your tour of the caves is done, kids can enjoy over 20 life-size dinosaurs in the Prehistoric Valley, relax with fairies, dragons and elves in the Fairy Garden, or visit the Monster Mill where a mirror maze, a spectacular lightshow, a cave museum and an old-fashioned penny arcade will provide plenty of fun. Wookey Hole is a great excursion for the whole family.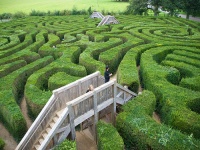 Longleat
Longleat is a bit of a strange tourist destination, catering simultaneously to two very different markets. On one hand, it is regarded as the best example of high Elizabethan architecture in Britain, and one of the most beautiful stately homes that are open to public tours. The magnificence of the house itself is matched by the splendour of its surroundings, a spectacular mix of landscaped parkland, lakes and formal gardens. In 1949, Longleat became the first grand home in England to open its doors to the public, and a few years later opened the first safari park outside of Africa. Visitors can drive through eight enclosures, where a wide range of animals can be seen, including elephant, rhino, giraffe, monkeys, lions and tigers. In recent years, however, Longleat has also become one of the UK's most popular family tourist attractions, offering a wealth of child-friendly sights and amenities. Try not to lose your kids in the world's longest maze, made up of more than 16,000 English Yews! Alternatively, take the little ones for a ride on the miniature railway or to meet some of the friendly animals at Animal Adventure, before letting them run amok in the Adventure Castle. A great option for a fun, excitement-filled day out for the entire family to enjoy.
Dining
The Hole in the Wall Restaurant
Cuisine style: International
The Hole in the Wall restaurant in Bath has an elegant dining room that still retains a cosy and inviting atmosphere, complete with a roaring fire on cold nights. With an a la carte restaurant that changes seasonally, diners can enjoy dishes such as double-baked wild mushroom soufflé with fresh rocket served with parmigiano reggiano; confit leg of duck with spiced plums and home-smoked mashed potatoes and green apple and vanilla bavarois with apple crisps and star anise syrup. Decadence! Open daily for lunch and dinner. Bookings recommended.
Address: 16 George Street
The Moon and Sixpence
Cuisine style: International
With the option of enjoying drinks in the bar, dining al fresco in the outside patio area, or staying cosy in the warm and tasteful inside dining room, guests at the Moon and Sixpence will enjoy feasting on delicious continental cuisine. Try the grilled goat's cheese with red apple, cranberry and walnut salad; or the decadent pan-friend fillet of salmon served with creamed leaks, prawns, bacon and sauté new potatoes; and wash it all down with a carefully selected bottle of wine from their extensive wine list boasting a variety of wines from around the world. Open daily for lunch and dinner. Reservations recommended.
Address: 27 Milsom Place
The Crown
Cuisine style: Gastropubs
This traditional country pub has been revamped and is now a cosy and affordable eatery, popular with locals and travellers alike. Serving a selection of favourites like ciabatta sandwiches and the quintessentially English mixed Ploughman's platter in the bar area, diners looking for something more substantial can enjoy dishes like fresh steamed Cornish mussels with cider, stilton and parsley or classic fish and chips with salad leaves and tartar sauce. Open daily for lunch and dinner.
Address: Tolldown, Dyrham
Aqua Restaurant and Bar
Cuisine style: Italian
Set in a former church house, the Aqua Restaurant and Bar specialises in new Italian cuisine and wines where guests can choose between dining in a theatrical main dining room, gallery or alfresco courtyard, while other more intimate dining areas are available on request. Try the Cocktail di gamberi with Tiger prawns and crab, tomato, cucumber and grilled artichokes, topped with basil and lemon mayonnaise or the smoked haddock risotto with white wine and clams. Of course classic desserts like Tiramisu and pannacotta adorn the sweets menu, the white chocolate, pistachio and nougat iced parfait comes highly recommended. Open daily for lunch and dinner and closed 3pm-6pm on weekdays. Bookings essential.
Address: 88 Walcot Street
The Northey
Cuisine style: Gastropubs
This old Box station hotel set amongst beautiful gardens has been transformed into one of Bath's most popular places to eat, drink and unwind in tasteful and modern décor. The bar has its own menu while the main restaurant serves dishes such as grilled Mackerel fillet with black pudding and potato hash, curly kale and a red wine poached egg and country favourites like the hearty homemade cottage pie. Open Monday to Saturday from 8am, Sundays from 12pm.
Address: Bath Road, Box
Lime Lounge
Cuisine style: British
It's hard to miss the bright green trim on this popular Bath restaurant, located between the Royal Crescent and The Circus. The Lime Lounge has a split personality, acting as a casual bistro by day and a chic restaurant and lounge by night. The food is unmistakably British, ranging from 'posh' fish and chips to roasted quail, with a selection of home-made desserts to finish. The Lime Lounge is open Monday to Saturday from 8am and Sunday from 10am.
Address: 11 Margarets Buildings, off Brock Street
Airports