Overview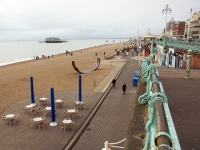 The city of Brighton and Hove is one of England's most exciting seaside destinations. Renowned for its cosmopolitan characters, diverse (and sometimes dizzying) entertainment venues and unsurpassed nightlife, local and international tourists flock to this city at every chance they get, be it for a long weekend or a summer vacation, and Brighton remains one of the most popular day trip destinations from London for foreign visitors. Brighton and Hove's modern atmosphere is strongly contrasted by some of its older Regency and Victorian architecture. The charming village lanes are home to numerous cafés, antique shops and jewellery stores, while not far away, the Palace Pier stretches out over the lapping waves of the sea, the lights and music from its funfair and amusement arcades luring vast, raucous crowds. During the summer, the pebbled Brighton Beach (surprisingly comfortable!) and its waterfront bars and clubs become a vibrant 'anything goes' zone, with locals and vacationers alike throwing all caution to the wind and revelling in the laid-back, summery atmosphere.
GettingAround
Brighton and Hove has excellent rail connections from all over the country; taking the train there from London Waterloo takes about an hour. There is an excellent network of frequent bus services for getting around the city, and taxis are also available 24 hours a day. Cycle lanes throughout Brighton and Hove make cycling a quick and safe travel option. The Brighton and Shoreham airports make the city easily accessible.
Events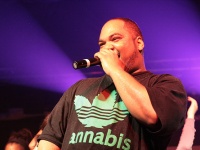 Brighton Festival
Since 1966, this entertaining arts festival has featured talented local and international contributors to the world of graphic art, theatre, music, dance and literature. The Artists Open House allows visitors into artists' homes to view and purchase their work, while live performances and other exhibitions take place throughout the city during the month of May.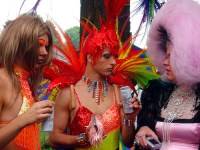 Pride Summer Festival Week
This summer festival features an exciting array of events throughout the city. The Carnival Parade starts at Madeira Drive, next to Brighton Pier, with spectators following the parade through town towards Preston Park. Once in the park, visitors can enjoy a variety of music tents, cabaret, food stalls and bars.
Attractions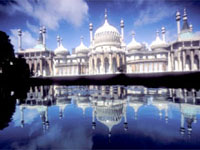 Brighton
Brighton is unquestionably England's most spectacular seaside resort town. Made popular in the 18th century, when the Prince Regent (later King George IV) chose it as the site for his holiday palace (the bizarre and fantastic onion-shaped Brighton Pavilion), it is still famous for its frivolous entertainment venues and enviable nightlife. An eclectic combination of Regency and Victorian architecture gives Brighton a unique air, with winding village lanes crammed with antique and jewellery shops, and its flamboyant East Pier stretching out over the sea sparkling with thousands of lights from its funfair and amusement arcades.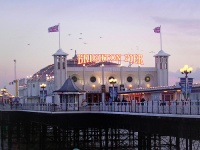 Brighton Palace Pier
As you step foot onto Brighton's Palace Pier, you are overwhelmed by the sound of repetitive arcade music and the inviting scent of popcorn or fried fish. A row of stalls selling fast-food, toys and souvenirs leads visitors towards the arcade, which is filled with an assortment of gaming machines and a couple more eateries. This opens out onto the funfair section at the end of the pier, where a number of rides - including a Ghost Train, Dodge 'Em Cars and a lovely Carousel - attract quite a crowd. A great place for both kids and the young-at-heart to spend the day.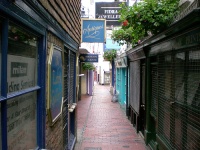 Brighton Lanes
The historic Brighton Lanes host a variety of quaint and quirky shops, with everything from antiques and jewellery to fortune-telling on offer. Wander lazily through the winding streets and relax at one of the numerous cafés while enjoying a cappuccino and a live jazz performance. By night, this quarter takes on a more ghoulish character, with the famous Ghost Walk being offered for the brave...with drinks at the haunted pub for survivors!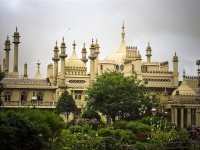 Royal Pavilion
The interior of the Royal Pavilion is extraordinary in its combination of exotic Asian and 'oh-so-British!' design. Classic furnishings belonging to Queen Elizabeth II stand beside fierce gilded dragons and imitation bamboo staircases, while the Music Room and the Great Kitchen are also truly impressive sights. The gardens are reminiscent of revolutionary 1730s landscaping, with curving paths between natural groups of trees and beautiful views afforded at every turn.
Dining
Bill's Produce Store
Cuisine style: Café
This fantastic store and café specialises in fresh produce, flowers, hampers and British café fare. With an 'anything goes' menu, favourites include simple breakfasts such as boiled eggs and soldiers (strips of toast for dunking in the egg), and local classics like fish finger sandwiches or crumpets with blackberry butter. Open all day Monday to Saturday 8am-9pm, and 9am-10pm on Sundays.
Address: The Depot, 100 North Road, Brighton
Chilli Pickle
Cuisine style: Indian
The Chilli Pickle bistro offers authentic Indian cuisine to patrons in a neat, modern dining room with accents of yellow, red and pale blue in its décor. The menu includes their award winning Oxtail Madras with spiced beef, cumin pilau and spring onion riata. The beef dumplings with fresh tomato and chilli pickle are also great. Closed on Tuesday, and on Sunday evenings. Reservations recommended.
Address: 17 Jubilee Square, Brighton
Sanctuary Cafe
Cuisine style: Vegetarian
The underground, face-brick interior of the Sanctuary Café belies its light and healthy cuisine and outlook. The menu offers a selection of organic, locally sourced cuisine that is both wholesome and delicious! Favourites include the American-style pancake breakfast with maple syrup or berries and yoghurt, and the tofu and nut burger with a signature Sanctuary salsa. Open daily for lunch and dinner, reservations recommended.
Address: 51-55 Brunswick Street East, Hove
Mock Turtle
Cuisine style: Café
The Mock Turtle Tearoom is a cosy café decorated in 1940s memorabilia, vintage china tea sets and cloth covered tables. It specialising in homemade cakes and snacks, and the warm scones come heaped with fresh cream. Open all day, Tuesday through Sunday; reservations not necessary.
Address: 4 Pool Valley, Brighton
Mascara
Cuisine style: African
This delightful North African restaurant has a warm, vibrant atmosphere enhanced by its Moroccan décor and performances by a traditional belly dancer on weekends. The menu features North African specialities such as mechoui (lamb with cumin and ras el hanout), and the duck with orange preserve, apricot and poppy seeds is delicious! Open for dinner every night, reservations are essential. Lunches available by reservation only.
Address: 101 Western Road, Brighton
Airports