Overview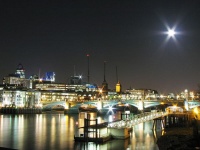 Whether you arrive in London via the underground or inside one of the city's ubiquitous black taxicabs, you will immediately be greeted by a deep sense of history and met with the unique vibrancy of this incredible destination.
In its dark and troubled past, the city of London has survived Roman occupancy, sackings from the Celts, Romans, Vikings and Saxons, a Norman invasion, two great fires, the bubonic plague, Nazi bombings, the Spice Girls and Damien Hirst.
But the London of today promises something for everyone. The London Eye lifts visitors high above the river into vistas that stretch tight across the fading skies. Further down on the South Bank, the Tate Modern contains one of the world's most incredible collections of Modern Art, while the city's 30,000 stores and boutiques will exhaust even the most avid shopper, and its 6,000 restaurants are only too eager to demonstrate why Britons revere their chefs as celebrities.
For those interested in exploring the country's heritage, the Tower of London is an excellent starting-point. First constructed in the 11th century, the Tower has been rebuilt several times as later monarchs have left their mark. Still one of London's biggest attractions, and a great celebration of pomp that is free to all visitors, is the Changing of the Guard at Buckingham Palace, which happens daily.
As the great dome of St Paul's reflects the colours of the setting sun, London comes alive with an unrivalled nightlife. For those up for something more thrilling than dinner and the theatre, London has a vast number of bars and nightclubs catering to all tastes.
As London gears up to play host to the 2012 Summer Olympic Games, there is simply no better time to visit England's capital city. Cheap flights to London are available on a huge variety of airlines - book now, and get the ball rolling on the holiday of a lifetime.
GettingAround
London's legendary Tube network remains the quickest and easiest way to get around the city, though it is best avoided during rush hour. The famous red buses are a more pleasant, if slower, way to get around. One-, three-, and seven-day Travelcards are good options for tourists; they can be used on buses and the underground and can be bought at any newsagent. Oyster cards, a reusable, discounted, pay-as-you-go option, are now available to overseas visitors, but they must be purchased beforehand online or from overseas travel agents. The ubiquitous black cabs are excellent or you can use private hire minicabs which must be ordered in advance. Illegal minicabs tout for business around London's theatres and nightspots; they are often the only option late at night but should not be taken by single women or those who don't know the way home. London's main attractions are fairly close to one another; many are situated along the River Thames, and if the weather is nice, walking or taking a riverboat are good options. Driving is not a good option in central London, as parking is difficult to find and very expensive, and those who park illegally are faced with steep fines at best. A 'congestion charge' is also payable by those driving into central London from Monday to Friday between 7am and 6.30pm. However, driving is the only option for those wanting to explore the countryside. Car rental companies require the driver to be over 25, have a full driving license, and hold a credit card. For more information, visit www.tfl.gov.uk
Events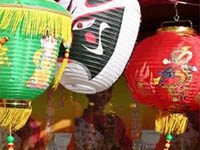 Chinese New Year
The Chinese New Year is celebrated every year in London's Chinatown, which is located in Soho. As the Chinese calendar is based on lunar and solar movements, this festival takes place on a different date every year. The festival consists of numerous parades, which often snake their way through to Covent Garden. The celebrations give rise to a variety of food stalls in the area, serving Chinese cuisine, and visitors and tourists are always welcome to watch and participate. English is still the second language for many Chinese in London, so visitors should remember to wish them a happy New Year in their own language. In Cantonese it is Gueng Huei Fa Zuai,pronounced 'gwung-hway-fa-tzoo-eye'; and in Mandarin, it is Gong Xi Fa Cai, pronounced 'gong-she-fatsai'.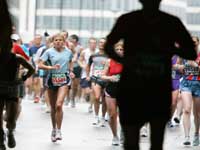 London Marathon
The Flora London Marathon is a 26.2 mile (42km) race from Greenwich Park to the Mall, via Cutty Sark, Canary Wharf, the Tower of London, Buckingham Palace and Big Ben. Around 30,000 professional and amateur runners compete every year, many dressed in fancy dress to raise money for charity. The route is lined with spectators and has a very festive atmosphere.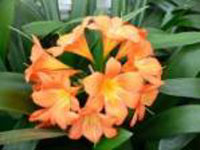 Chelsea Flower Show
The Chelsea Flower Show is an annual event organised by the Royal Horticultural Society and since its inception in 1913, has been recognised as the foremost show of its kind in the world. An immensely popular event, the show draws crowds of thousands every year with its colourful and beautifully sculptured displays. Experts from the Royal Horticultural Society are on hand, ready to impart gardening advice to the show's many visitors. Tickets can be bought via the website and visitors are advised to book early to avoid disappointment.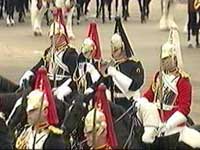 Trooping the Colour (Queen's Birthday Parade)
The ceremony of the Trooping the Colour (or Queen's Birthday Parade) takes place each year on Horse Guards Parade on the Queen's birthday and dates back to the time of Charles II in the 17th century. Although the Queen was actually born on 21 April, her official birthday is celebrated in the summer, when the weather is better. The parade begins with one of the Foot Guard regiments of the Household Division escorting their regimental colour, before giving the Queen a salute in front of Buckingham Palace, and is followed by a march of the Massed Bands before the Queen is escorted back home by the Household Cavalry Mounted Regiment on their magnificent black chargers.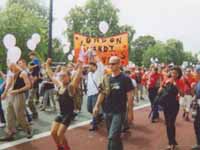 WorldPride 2012
The London Gay & Lesbian Pride Festivals have been incorporated - in honour of the 2012 Olympic Games - into the 2012 WorldPride Festival, which promises to be the biggest festival of its kind ever staged. For the Pride Parade, London's gay and lesbian community takes to the streets with a morning celebration of costumes, floats and music. The Mardi Gras Festival is then usually held in the afternoon in one of London's bigger public venues with dance tents, stalls, a funfair, bars and many other attractions.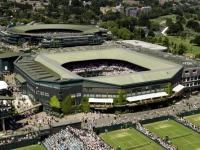 Wimbledon Tennis Championships
The Wimbledon Championships are the highlight of the year's tennis calendar, bringing together the world's leading tennis professionals in a battle for glory. The first championship event at Wimbledon dates back to 1877, but the first Ladies' Singles championship was only introduced in 1884. Since then the tradition of strawberries and cream on centre court has been enjoyed by thousands of fans from around the world. The Wimbledon Championships are the most famous of the four tournaments known as the 'Grand Slam'.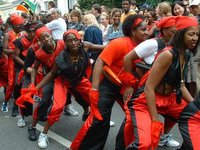 Notting Hill Carnival
The first Notting Hill Carnival took place in 1964 when London's Caribbean community introduced the carnival to ease racial tensions. Since then it has become a popular and colourful annual event celebrated by more than two million Londoners of all backgrounds. It is the world's second largest street party after the Rio Carnival held in Brazil. The carnival consists of costume parades, a steel band, jazz and reggae performances, and countless street vendors selling exotic Caribbean food. For more information, contact London Notting Hill Carnival Ltd on 08700 59 1111 (weekdays 9am to 6pm).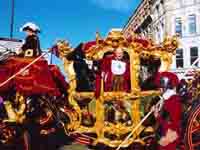 Lord Mayor's Show
The Lord Mayor's Show is an annual event held in the City of London when the Mayor makes his way from Mansion House to the Royal Courts of Justice to swear allegiance to the crown. The procession has been marked by each Lord Mayor since 1215, including Dick Whittington (famous for having a cat). Since then the journey has grown into a rich pageant, ending with a magnificent fireworks display over the Thames.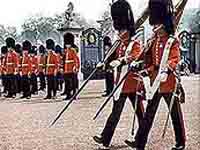 Changing of the Guard
This is one of the oldest and most familiar of all royal ceremonies. Every other day, a throng of tourists gather outside Buckingham Palace to watch the exchange of duty between the Old Guard and the New Guard. The Foot Guards wear their traditional uniforms, complete with bearskins, but carry modern weapons as their role is practical as well as ceremonial. The handover is accompanied by a band from one of the five Foot Guard regiments who play anything from traditional military marches to pop tunes. Guard Mounting also takes place daily at the same time at Windsor Castle and the Tower of London. The Changing of the Queen's Life Guards involves the handover of duty between the two mounted regiments, the Blues and Royals, and the Life Guards. When the Queen is in residence (most weekdays), it is more flamboyant as the Captain of the Guard and trumpeter lead the procession.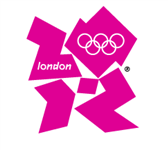 London 2012 Olympic Games
The London 2012 Olympic Games promise to be the sporting event of the decade, with millions of visitors descending on one of the world's greatest cities to watch the world's finest athletes strut their stuff. The Summer Olympic Games are always a universally popular and impressively large-scale event, involving sportsmen and women from 205 nations, competing in over 300 events. London's brand-new Olympic Park will play host to most of the events, but several iconic British locations - including Hyde Park, Wembley Stadium, Wimbledon and the Millenium Stadium in Cardiff - will also be used. There are many sub-plots to intrigue casual sports fans at the London 2012 Olympic Games: can American swimmer Michael Phelps capture three more medals to become the most decorated Olympian of all time? Will Jamaican sprinter Usain Bolt be able to better his own 100m and 200m world records? Receiving the distinction of being the first city to host the modern Olympic Games three times, London is certainly ready and prepared to welcome visitors to the world's premier celebration of sport and unity.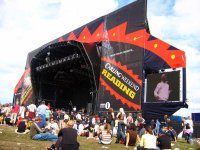 Carling Weekend Reading
One of the English summer's great festivals of music boasts many of the biggest names in Pop/Rock/Indie/Folk and Comedy. The Carling-sponsored event is increasing in popularity each year and tens of thousands make their way to the fields to enjoy the finest in popular and world music. The festival normally falls on the bank holiday weekend in August. Over the same weekend, a sibling festival is held in Leeds.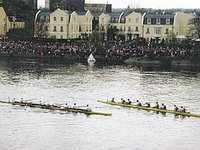 Oxford and Cambridge Boat Race
An annual tradition since 1829, the rowing race between two of Britain's oldest university sides creates a festival atmosphere along the banks of the Thames between Putney and Mortlake. Thousands of people gather at various vantage points along the riverbank, many of them conveniently close to pubs, to watch the famous four-and-a-quarter mile race that marks the beginning of the English social season.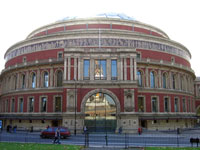 BBC Proms
The Proms claims to be the 'greatest classical musical festival in the world', and every summer it presents a wide range of music, from symphony orchestras to operas and contemporary music. Performances take place in one of the capital's most majestic venues, the Royal Albert Hall, and visitors to London during the summer months would be foolish to miss it. Soloists and ensembles from among the greatest in the world are on show during the Proms, and visitors are sure to find the experience enriching.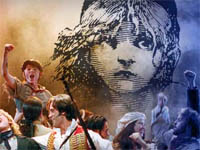 West End Shows
Famed for its musicals, the West End in the centre of London boasts some of the best theatre in the world, from musicals to comedy and drama. There are ongoing shows that have been running for years, such as Phantom of the Opera, Les Misérables, Lion Kingand Blood Brothers, and new shows are added to the lineup regularly.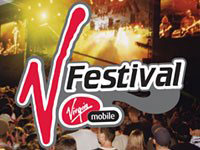 V Festival Chelmsford
Richard Branson's contribution to Britain's busy summer music festival schedule offers many of the biggest live acts from around the world. The festival is noted for its professionalism and low queuing times, ensuring its sold-out status every year. Like the Carling festivals, this one has a sibling festival too (with acts playing on alternate days), held in Weston Park, Staffordshire.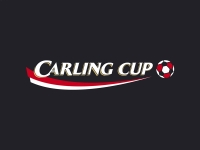 Carling Cup Final
The Carling Cup is gaining a larger following each year, and although not as prestigious as many of the other major European football festivals, it nonetheless showcases some of the best in British football talent.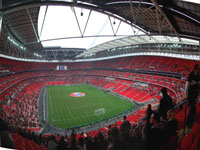 FA Cup Final
The cherished FA Cup is football's oldest tournament and has a special place in the hearts of fans around the world. What separates this tournament from many of the others is that it champions the underdog, as lower division teams have a chance to play the Premier League teams, and often heroes are created before the tournament has run its course.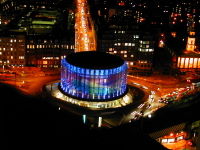 Times BFI London Film Festival
Film-fever spreads all across London for two weeks during The Times- and British Film Institute-sponsored London Film Festival. It is the most important film festival in the UK and features premieres, short films, experimental pieces, world cinema jewels and a healthy programme of classics.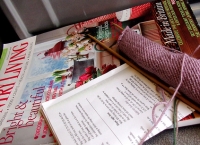 Country Living Magazine Christmas Fair
Showcasing the finest selection of Christmas gifts, fabulously-festive home decorations and a delicious range of food and drink from luxury Christmas puddings to Cornish Cheese and fine wines, the Country Living Magazine Christmas Fair is the ultimate Christmas bazaar. Thousands of visitors are expected to attend the annual fair, where a multitude of products will be on offer at over 400 exhibitor stands. From local and national crafts, bespoke fashion and jewellery to handmade products including rocking chairs, kitchenware, tree swings and soaps, there are gift ideas to suit all the family. All the ingredients and the trimmings needed for a simply scrumptious Christmas dinner, can also be found.
Attractions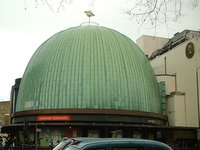 Madame Tussauds
Madame Tussauds is the most famous wax museum gallery in the world, with more than 400 life-sized models of stars, famous politicians, royals, comic book characters and sportsmen, as well as exhibits presenting the most infamous criminals the world has known. Inside the Museum, the 'Spirit of London' ride will take you through the city's history, introducing you to those figures that have shaped the London of today, while the 'A-list Party' section will introduce you to the Museum's collection of celebrities, and the 'Scream' exhibition will terrify and delight visitors in equal measure. A must-see tourist sight in London, visitors are advised to book their tickets online in advance, as the queues for tickets outside Madame Tussauds can be very long.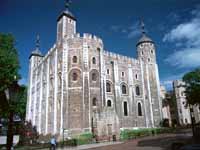 Tower of London
The Tower of London is perhaps as famous for its traditions as its imposing structure, located on the Thames River. It is guarded by a special band of Yeoman Warders, known as Beefeaters, and dotted with several large, black birds - the ravens. Legend has it that if the ravens ever leave the Tower, a great tragedy will befall England, and to this day the birds are protected by royal decree. The Tower's history dates back to the 11th century, and each new monarch has played a role in its growth and development. It also houses Britain's famous crown jewels, a spectacular display of some of the world's finest gems and workmanship. The Tower is next to Tower Bridge, another famous London landmark.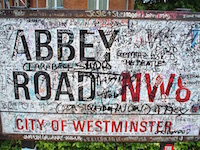 Abbey Road Studios
The Beatles' 1969 album Abbey Roadwas recorded at this unassuming studio in St John's Wood, London. While many other famous bands, including Pink Floyd, the Red Hot Chili Peppers, U2, Kate Bush, Radiohead, Oasis and Sting, all recorded tracks there, it is Beatles fans who make the pilgrimage to take their pictures walking across the famous zebra crossing on Abbey Road. The studio building is a Grade II listed building, and is not open to the public.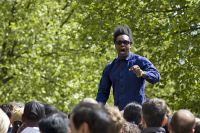 Speaker's Corner at Hyde Park
Located right in the middle of London, Hyde Park is a huge patch of green and blue tranquillity in the midst of the bustling city. Covering 350 acres, it features restaurants, fountains, monuments and flower gardens, and offers a range of activities including ice skating, swimming, boating, tennis, cycling and horse riding. There are also playgrounds for children and spaces for team sports. One of Hyde Park's most famous attractions is Speaker's Corner, when people of all opinions come to share them freely. While Speaker's Corner attracts its fair share of crackpots, there are usually lively debates, and famous personalities like Karl Marx, Vladimir Lenin and George Orwell were participants in their day.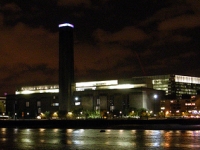 Tate Modern
Housed in the former Bankside Power Station, which has been transformed by Swiss Architects Herzog & de Meuron into a spectacular new modern building, the Tate Modern is Britain's greatest museum of of modern art. It showcases an exhaustive collection, featuring works from 1900 to the present day, including works by Dalí, Picasso, Matisse, Rothko and Warhol, as well as temporary exhibitions by contemporary artists. There is also an exceptional roof café, which affords spectacular views over London, and an impressive gift shop. A must-see attraction for visitors to London, you will be sorely remiss to pass up a visit to the Tate Modern.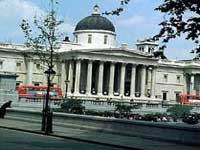 National Gallery
The National Gallery has an imposing and regal façade stretching across the northern side of Trafalgar Square, and houses over 2,300 paintings from every major European school of painting from the 13th to the 19th centuries. It was opened in 1938 at its present location, which was chosen for its situation between London's wealthier West End and poorer East End, as a 'gallery for all'. These days, admission to the National Gallery is still free, and its cultural programme has swelled to include weekly classical music concerts, an on-site cinema, and a variety of excellent themed gallery tours. There are also restaurants and coffee bars to choose from in the National Gallery, in case you need to refuel while perusing the magnificent art on display.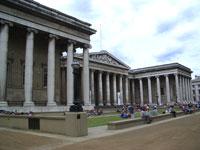 British Museum
The British Museum is widely regarded as the world's greatest museum of human history and culture. Containing more than 13 million articles from all corners of the globe, the British Museum boasts an overwhelming collection of fascinating artefacts. Most prized amongst its collection are its famous antiquities, which include the Parthenon Frieze (or Elgin Marbles), the Rosetta Stone and the Roman Portland Vase, which dates from the 1st century AD. In the year 2000, the Great Court was reopened with an incredible glass roof covering two acres, and stairwells leading down to the Reading Room, which has been completely restored. Visitors to London should not miss out on the British Museum, which is one of the world's great cultural troves. Budget at least half a day to get a sense of the wealth of history housed within the Museum.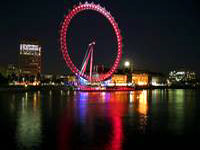 London Eye
At 443ft (135m) tall, and weighing more than 250 double-decker buses, the London Eye is a truly spectacular feature of London's skyline. Offering incredible views of most of London's major attractions, and an opportunity to put the city's geography into perspective, it is a must-see attraction for first-time visitors to England's capital city. Originally desgined by architects David Marks and Julia Barfield as an entry for a Millennium Landmark competition, the project took six years and the expertise of hundreds of people from five European countries to turn it into a reality. Often featured in big-budget movies, and regularly touted as one of the best things to see and experience in London, make sure you include a ride on the London Eye in your UK holiday itinerary. Wheelchair-bound visitors will be delighted to know that both the London Eye and all its on-site facilities are fully accessible.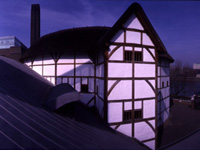 Shakespeare's Globe Theatre
Situated on the bank of the Thames, just 656ft (200m) from the site of Shakespeare's original Globe Theatre, this fantastic recreation will transport visitors back to the time of the very first productions of Hamlet, Romeo and Julietand Twelfth Night. The reconstruction took a total of 10 years to complete at a cost of over £40 million, and now houses a professional theatre company responsible for regular productions of the Bard's famous plays. Adjacent to the theatre is the Globe Exhibition, presenting graphic information about the reconstruction of the theatre, and bringing to the fore the life and works of Shakespeare with interactive displays and live demonstrations. Visits to the exhibition include a tour of the theatre.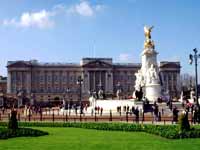 Buckingham Palace and the Queen's Gallery
No visit to London would be complete without experiencing the pomp and ceremony of the Changing of the Guard at Buckingham Palace, but now visitors can actually get a peek inside during the annual summer opening of the State Rooms, and see some of the Queen's private art collection at the newly-opened Queen's Gallery. Originally the town house of the Dukes of Buckingham, Buckingham Palace has served as the official London home of Britain's monarchs since 1837. Look to see whether the Royal Standard (not the Union Flag) is flying, which indicates that the Queen is in residence.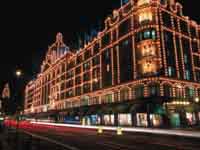 Harrods
Harrods, which proprietor Mohamed Al Fayed calls his 'Palace in Knightsbridge', promises one of the most extravagant and luxurious shopping experiences in the world. With 22 restaurants, and a wide range of departments and services across its seven floors, it is easy to see why this is the shopping choice of London's social elite. With its prominent position on Brompton Road, Harrods is hard to miss - especially at night, when the entire façade is illuminated by a grand total of 11,500 light bulbs. The UK's biggest store by a long, long way, Harrods certainly makes good on its motto Omnia Omnibus Ubique- All Things for All People, Everywhere.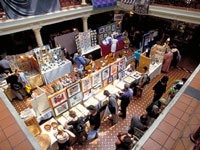 Camden Market
Camden Market is one of the most exciting shopping experiences London has to offer. Even if you're just browsing, Camden Market is still definitely worth a visit for its huge variety of food, antiques, bric-a-brac and clothing stalls, bars, nightspots and crowds of people ranging from the beautiful to the bizarre. Although the punk scene in London has gone underground, it still seems to flourish here, and you're sure to bump into some interesting characters. Just be sure to ask permission before photographing anyone. Boat rides are also available on the canal which passes through Camden Lock - a fun way to spend some time between browsing the stalls.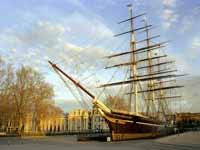 Greenwich
Greenwich is the home of the Greenwich (or Prime) Meridian, which splits the globe into East and West, and is responsible for setting the world clock on zero degrees longitude. Apart from this curious distinction (which has earned Greenwich UNESCO World Heritage Site status), Greenwich has a host of other attractions, including the Greenwich Market with its variety of arts, crafts, food and bric-a-brac, Sir Christopher Wren's Royal Observatory, and the National Maritime Museum. Greenwich Park is beautifully landscaped and is an ideal location for a picnic lunch. The famous tea-clipper, the Cutty Sark, was damaged by a fire in May 2007 and has been closed to the public since then; however, extensive restoration of the beautiful 19th-century ship has been undertaken, and it should be open again to visitors from June 2012.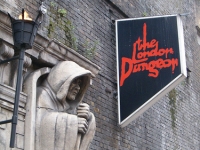 London Dungeons
Take a trip through London's dark and gruesome history, meet Jack the Ripper and see what became of his victims, or see the chaos and destruction caused by the great fire of London. The London Dungeon brings history's most notorious killers and evildoers back to life in an experience definitely not for the faint-hearted. Beware: some of the exhibitions have a nasty way of coming alive and jumping out at the unsuspecting visitor!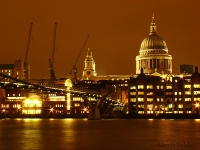 St Paul's Cathedral
The great dome of St Paul's Cathedral has been a distinctive landmark on the London skyline for centuries. Built in 1673 by Sir Christopher Wren, after the previous St Paul's was burnt to the ground during the Great Fire of London, it is the greatest of several cathedrals dedicated to St Paul that have occupied the site for more than 1,400 years. The crypt at St Paul's is one of the largest in Europe, and it houses more than 200 tombs, including those of Admiral Nelson, the Duke of Wellington and Wren himself. The Cathedral has hosted many significant ceremonies in London's history, including the funeral of Sir Winston Churchill and the marriage of Prince Charles and Lady Diana.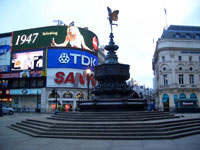 Piccadilly Circus
One of London's best known, but most overrated sights, Piccadilly Circus is at the junction of Piccadilly, Regent Street and Shaftesbury Avenue, and is surrounded by neon advertising and fast-food restaurants. However with its highly accessible tube station, Piccadilly Circus is a good starting point for shopping in the West End, being near to Jermyn Street, Saville Row and Bond Street. London's Theatreland is centred on Shaftsbury Avenue, and Soho and China Town are also within easy walking distance.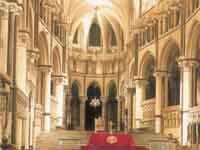 Canterbury
The historical cathedral city of Canterbury, with its narrow streets and walkways, is best explored on foot. It is the home of Christianity in England, and has been the ultimate destination for pilgrimages in England for centuries, as described in Chaucer's Canterbury Tales. The famous Canterbury Cathedral is one of the most impressive and evocative in England. It was here of course that Thomas à Becket was martyred in 1170. Visitors can explore the ruins of the original abbey of St Augustine, who brought Christianity to England more than 1,400 years ago, or visit the Canterbury Tales Pageant and meet some of Chaucer's famous characters. For an insight into the cities of medieval England climb the original West Gate Tower, which is still intact, and provides breathtaking views across the city.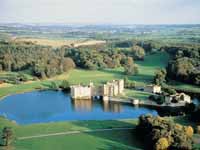 Leeds Castle
Set above a lake in a picturesque valley near the town of Maidstone in Kent, with imposing battlements and a 500-hectare Tudor garden, Leeds Castle proudly describes itself as 'the loveliest castle in the world'. Once a residence of British Queens and a playground for King Henry VIII, it has been open to the public for 25 years, revealing the majesty of a bygone age. With so much to explore, Leeds Castle requires a full day for visitors to tour the castle, get lost in the garden maze, and dine in one of the excellent restaurants or quaint tea rooms. A highly recommended day-trip for visitors to the UK.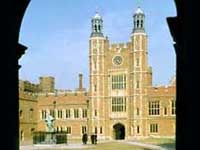 Windsor
The charming town of Windsor sits on the River Thames, 20 miles (32km) west of London, and is dominated by the magnificent Windsor Castle, the world's largest and oldest occupied castle. The castle was built by William the Conqueror almost a thousand years ago, and has been lived in by English monarchs ever since. Although Buckingham Palace is the Queen's best-known residence, Windsor is her favourite, and is where the Royal Family spend their weekends. Highlights in the castle include the wonderful State Apartments and the Waterloo Chamber, built to commemorate the British victory over Napoleon at Waterloo. St George's Chapel is one of the finest examples of Perpendicular Gothic architecture in the world, and contains the tombs of numerous English sovereigns including King Henry VIII, Jane Seymour, Charles I and King George V. Many of the Castle's rooms contain priceless works of art, including pieces by Rubens, Holbein, Van Dyke, Rembrandt and Lawrence, as well as fine tapestries and porcelain, sculpture and armour. The 500-acre (200-hectare) Home Park sits at the back of the castle and includes the site of Frogmore, where Queen Victoria and Prince Albert were laid to rest. Beyond is the vast expanse of Windsor Great Park, a popular place for walkers. Over the river from Windsor is Eton College, the world-famous school founded by Henry VI in 1440.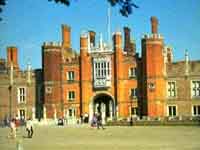 Hampton Court Palace
Situated on the banks of the River Thames, 14 miles (23km) southwest of London, Hampton Court is perhaps the most spectacular royal palace in England, and makes a wonderful day-trip destination from the capital. The palace was built by Cardinal Wolsey in the early 1500s, but later it became King Henry VIII's principal residence and remained the centre of royal and political life in England until 1737. Visitors can see King Henry VIII's Great Hall; King William III's State Apartments, designed by Wren and completed in 1700; and the unmissable Tudor Kitchens, which remain largely unchanged since the 16th century and were no doubt once used to cater for raucous banquets. There is also a fun and exciting 'Ghost Family Trail' tour through the palace that will delight younger visitors. However, Hampton Court is still probably most famous for its grounds and their outstanding hedge maze - called 'the most famous Maze in the history of the world, and immeasurably the one most visited' by Ernest Law - which has entertained children since it was planted in 1705.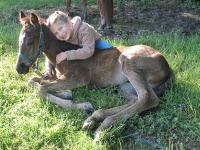 Deen City Farm
The pick of a number of city farms that offer the perfect day out for children in London, Deen City Farm gives kids the opportunity to learn about nature in a safe and fun environment. Deen City Farm offers pony rides, scavenger hunts and supervised water-fights for kids to enjoy, as well as a café and farm shop for parents.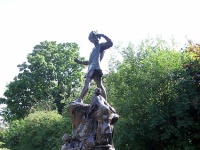 London Parks and Gardens
London has a number of beautiful parks and gardens where children can play outdoors while their parents relax. A picnic lunch and a blanket can make this a very enjoyable day out. Richmond, St James' and Green Park are home to lots of squirrels, and kids may even spot a deer or two. Crystal Palace Park's huge dinosaur sculptures never fail to impress, and the Peter Pan statue at Kensington Gardens is another firm favourite.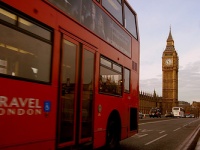 London Bus Tour
Children can be taken to view all the major sightseeing attractions in London on a big, red, double-decker bus. Depending on the route selected, kids can marvel at such impressive structures as Big Ben, the London Eye, Westminster Abbey and the Tower of London, to mention just a few! Some operators even offer special kids' commentary and play packages. So sit back, relax and enjoy the ride...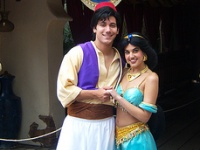 West End Kids' Shows
There are always plenty of child-friendly musicals and shows playing on London's West End, perfect for family holidaymakers looking to soak up some of the great atmosphere of London's Theatre District. Some West End favourites include The Lion King, The Wizard of Ozand Shrek: the Musical, best enjoyed with tons of ice-cream, fizzy drinks and popcorn!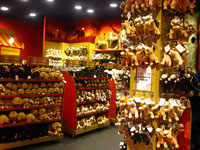 Hamleys
Children will love visiting this world-renowned toy store, located in the heart of London on famous, bustling Regent Street. Hamleys is one of the world's largest toy stores, with six floors of magical, cutting-edge toys and games. The store draws over 5 million visitors each year and is worth a look even if you're just browsing. The Lego collection at Hamleys (located in the basement area) must be seen to be believed.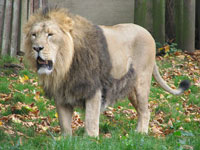 London Zoo
Boasting a plethora of exciting, cute and fuzzy animals from over 750 species, the London Zoo is a must for all children and animal lovers. Kids will love the Animal Adventure area, where they can climb, touch, tunnel and splash their way through the zoo discovering animals along the way. Other great habitat areas at London Zoo include Gorilla Kingdom, Penguin Beach, Britain's only (man-made) rainforest area, and a komodo dragon enclosure. The recipient of a Gold Award from the Visit London tourism initiative, the London Zoo is a fail-safe choice for a day of family fun and excitement. Be sure to check the website before you go, as the Zoo regularly plays host to a variety of interesting exhibitions, festivals and events.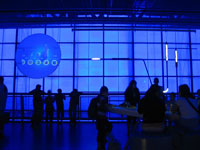 London Science Museum
Perfect for inquisitive children, the Science Museum will captivate, educate and thrill kids of all ages. Featuring dozens of state-of-the-art exhibits, the Science Museum also features a 3D IMAX Theatre. The Museum's rotating exhibitions are relevant and intriguing, such as a behind-the-scenes look at the technology that made possible the great Chilean mine rescue of October 2010. Other popular attractions include a Hidden Heroes exhibit, showcasing everyday technological items that are often taken for granted; and a Futurecade area, where kids can play simulation games that speculate about future scientific advancements and how they might affect life on earth as we know it.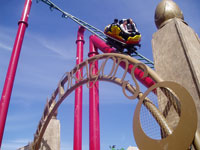 Chessington World of Adventures
Located in southwest London, Chessington World of Adventures is a theme park and zoo catering to children of all ages. Featuring rides, roller coasters and two water slides, this theme park is best visited during the summer months. The zoo, however, is open all year round. A new 'African Adventure' themed area is already proving wildly popular amongst kids, who'll be able to observe magnificent creatures such as lions, zebras and oryxes, as well as enjoy some traditional African mask displays and listen to some African drumming performances.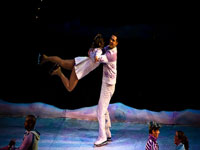 Alexandra Palace Ice Rink
Kids love nothing more than a bit of ice-skating, and the Alexandra Palace Ice Rink is just the place to do that while on holiday in London. Children will love the rink here and great tutelage, in the form of public skating sessions, figure-skating classes and ice hockey training, is also available.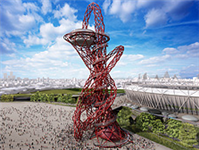 Olympic Park
London's Olympic Park - costing in the region of £3 billion, and built on previously contaminated industrial land in east London's district of Stratford - is a wonderful example of what can be achieved through urban regeneration, and will prove a fitting host to the 2012 London Olympic Games. Comprised of nine venues, including the 80,000-seater Olympic Stadium and the Aquatics Centre, Olympic Park will see most of the sporting action at the Summer Olympic Games in 2012. Olympic Park has clearly been developed in a 'green', sustainable fashion, as a long-term addition to the city, and one that will provide a lasting legacy of London's hosting of the 2012 Olympic Games. Olympic Park features several exciting public art installations and recreational areas, including the 115m (377 foot) ArcelorMittal Orbit observation tower, Britain's largest piece of public art; the Greenway Markers, towers erected at the entrance of Olympic Park which pick up on the theme of 'reclamation' by incorporating manhole covers in their design; and the Wild Flower Meadows, a series of flowerbeds planted in the footprints of the industrial buildings that used to be in the area, and which now flank public walking and cycling routes. Olympic Park promises not only to be a wonderful host venue for a hugely successful Summer Olympic Games, but also an enduring addition to London's already-full selection of fantastic tourist attractions.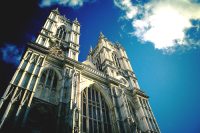 Westminster Abbey
This church in the heart of the city is one of London's top tourist attractions, a UNESCO World Heritage Site, and rivals Notre Dame for the accolade of most famous church in the world. Westminster Abbey draws millions of tourists each year, in addition to the locals who worship there every week. The abbey is the site of royal coronations and weddings (including Prince William's wedding to Kate Middleton in April 2011). Visitors can marvel at the Gothic architecture, enormous stained-glass windows and paintings that go back 1,000 years, and guided tours are available in several languages. A fantastic sight, Westminster Abbey is a must for visitors looking to experience the heart and soul of England's rich cultural history.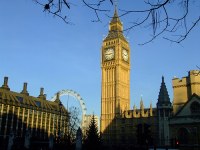 Big Ben and the Houses of Parliament
Originally built for Edward the Confessor more than 1,000 years ago, the Houses of Parliament, or Palace of Westminster, remained the principal residence of Britain's monarchs for the next 400 years. Thereafter, it became the administrative centre of the country. In 1834 the Great Fire burnt everything except Westminster Hall, and the present Gothic building was completed in the 1840s. It is perhaps most famous for the clock tower, commonly called Big Ben. Located at the north end of the Palace of Westminster in London, the gigantic clocktower known as 'Big Ben' has many distinctions: it is the largest four-faced clock, and third-largest freestanding clock in the world. Built in 1859, each minute hand is 14 feet (4.3m) long, and the largest bell inside weighs more than 13 tons. Although Parliament is closed to visitors during session, it is still a popular attraction for tourists because of its picturesque exterior. While Big Ben itself is not open to overseas visitors, UK residents may arrange tours with a local Member of Parliament. Be warned, though, inside the clocktower there are 334 stairs and no lift!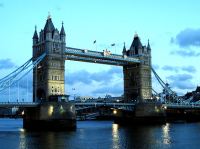 Tower Bridge
The twin spires of the iconic drawbridge known as Tower Bridge stand 213 feet (65m) above the Thames River, and form one of the most popular tourist attractions in London. Often mistakenly referred to as London Bridge (which is a bit further upstream), Tower Bridge functions as both a roadway and a major tourist sight, and provides a magnificent view of downtown London from its upper walkway. Inside is the Tower Bridge Exhibition, which showcases the Victorian engine that powers the drawbridge, as well as a series of informative displays detailing the history of Tower Bridge, which stretches back to 1886.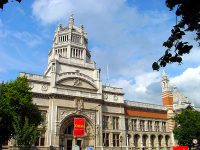 Victoria and Albert Museum
Originally known as the Museum of Manufacture, the Victoria and Albert Museum (or V&A Museum, as it is popularly known) in London is a veritable treasure-trove of artefacts from cultures around the world. Devoted to art and design, it houses more than 27,000 works, including paintings, photographs, sculptures, textiles, furniture, metalwork, ceramics and fashion going back 3,000 years. The V&A Museum also hosts regular family activities and workshops, and has an on-site sculptured garden. A must-see tourist attraction in London, the Victoria and Albert Museum is a wonderful place to spend an afternoon, poring over fascinating items and learning more about the world's cultural bounty.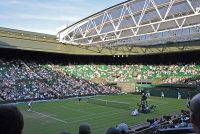 Wimbledon Lawn Tennis Museum
In June and July, the All England Lawn Tennis and Croquet Club is filled to capacity, with thousands of tennis fans eager to see the greatest players in the world at the Wimbledon Championships. The rest of the year, the venue houses the Wimbledon Lawn Tennis Museum, the largest tennis museum in the world. It houses exhibits and memorabilia going back to the Victorian era, and visitors can take guided tours of the grounds in eight different languages. Parts of the tour are even conducted by John McEnroe's Ghost, an audio-visual projection that appears in the very changing room that he once used! There is a cafe on site, and a gift shop selling official Wimbledon merchandise.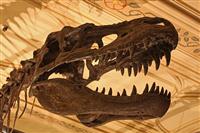 Natural History Museum
The Natural History Museum is one of England's very best tourist attractions. Located on Exhibition Road in South Kensington, the Natural History Museum truly will appeal to everyone, from excitable kids to discerning adults. Housed in a gorgeous Romanesque building, the Natural History Museum has often been described as a 'cathedral of nature', boasting fascinating collections magnificently displayed beneath vaulted ceilings. As soon as you step foot inside the Museum, you are greeted by its most famous attraction - the cast of a giant diplodocus looming over you. The Natural History Museum has one of the world's greatest collection of prehistoric fossils and remains, and is home to a series of animatronic dinosaurs that will spellbind the young ones. The Museum is divided into four 'zones' for ease of navigation. The Blue Zone deals mainly with animals, and (along with the dinosaurs) is famous for its life-size model of a blue whale that hangs from the ceiling and its sabre-tooth tiger skeleton. The Green Zone presents exhibitions that focus on plants, insects and ecology, including a termite mound and a cross-section of the world's largest tree, the California redwood. The Red Zone takes a look at the earth's subterranean processes: visitors can try out the earthquake simulator, be moved by the Pompeii exhibition, and ogle at an enormous collection of gemstones, minerals and rocks. Finally, the Orange Zone - built in 2008 to commemorate the 150th anniversary of Darwin's Origin of the Species - is primarily a research centre, but also features several cutting-edge exhibitions that will thrill visitors, including the Attenborough Studio, where audio-visual shows are staged. A sure-fire winner of a tourist attraction, the Natural History Museum should feature on any holidaymaker's list of things to do in London. Budget at least three or four hours to do the Museum's collection justice.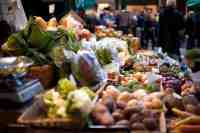 Borough Market
The Borough Market, located on Southwark Street at the southern end of London Bridge, is one of the United Kingdom's premier food markets, and a simply wonderful place to ramble around and find some delicious treats to fuel the day's sightseeing. What distinguishes the Borough Market is its community-centred atmosphere, with most of the stallholders either being producers themselves, or possessing intimate knowledge of the goods they are selling. Visitors are encouraged to chat to the stallholders about their produce, and to find out more about the fresh fruit and vegetables, cheeses, jams, meats and artisanal breads and pastries that are so lovingly and elegantly displayed. Perfectly situated at the southern end of London Bridge, the Borough Market makes a great pit-stop on any walking tour of south-central London's tourist attractions. The Borough Market is also a great place to shop for special souvenirs for loved ones back home.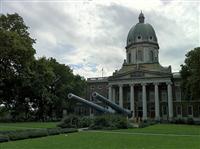 Imperial War Museum
An absolute must for history buffs, London's Imperial War Museum endeavours to give visitors an understanding of modern warfare, and an appreciation of its effects on both individuals and societies at large. The Imperial War Museum is, in fact, a 'family' of five museums, three of which are located in London. The flagship museum is found in Lambeth Road in south London, and features a unique collection of art, films, photographs, sound recordings, writings and objects that preserve the reactions and memories of Britons who have lived through wartime conditions. The Churchill War Rooms, located in King Charles Street, form another fascinating branch of the Imperial War Museum. These bunkers housed the British heads of state during the Blitz, and today offer visitors a truly incredible trip back in time, where they can navigate the underground mazes and view charts and maps that haven't been touched since 1945. The last of the Imperial War Museum branches in London is the HMS Belfast, a warship that is moored in the Thames. An intriguing sight that has been closed for some years, but which will re-open in time for the 2012 London Olympic Games, tours of the HMS Belfast take in the gun turrets, the messdecks and the clamorous bowels of the ship, and provide an exciting and educational experience that will be appreciated by visitors of all ages. A highly recommended sight, all three London branches of the Imperial War Museum can be visited in a day.
Dining
Avenue
Cuisine style: Modern Eclectic
The Avenue Restaurant and Bar is a favourite with the inhabitants of St James, and produces good modern British and Mediterranean food. This minimalist restaurant is good value and always packed, despite a sometimes patchy service. The best tables are towards the back, on the mezzanine level. Set menus are usually excellent, and competitively priced. For starters try the crayfish salad, and for mains the roast Atlantic halibut (flounder) and the White Park sirloin come highly recommended. Quality wines are available by the glass. Open daily for lunch and dinner.
Address: 7-9 St James's Street
Star of India
Cuisine style: Indian
When in London, visitors should experience the English national dish - Chicken Tikka Masala - and there is no better place to go than the Star of India, in the heart of South Kensington. Situated on the first floor of a Georgian house, this small restaurant has a pseudo-classical interior and continues to be popular with locals, despite the price. For years the Star of India has been at the forefront of modern Indian cuisine and it continues to impress with innovative and interesting menus, and specialities such as Sunehri Khaste (stuffed coriander pancakes) and Malai Adraki Champen (lamb cutlets marinated in cream cheese, black pepper and ginger).
Address: 154 Old Brompton Road (South Kensington)
1 Lombard Street
Cuisine style: French
Situated in the domed interior of an old banking hall, opposite the Bank of England, 1 Lombard Street has become a city institution. The brasserie is always bustling with investment bankers and offers a full á la carte menu for both lunch and dinner, featuring seasonal specialities and an extensive wine list. The Michelin-starred restaurant, situated behind the brasserie, is a better bet for discreet conversation and for enthusiasts of haute cuisine. Menu favourites include roast monkfish, Angus beef tournedos and the praliné 'Lombardo' with chocolate, whisky and coffee. The formal dining environment provides a tranquil setting for appreciating Herbert Berger's sophisticated cuisine. Open weekdays only for breakfast, lunch and dinner and the dress is smart casual. They run a tapas menu from 5pm at the bar.
Address: 1 Lombard Street (Bank)
Montpeliano
Cuisine style: Italian
On a quiet side street just off Knightsbridge and a minutes walk from Harrods, Montpeliano is a wonderfully old-fashioned Italian restaurant, where the food is authentic and the service excellent. The owner is always available, the staff are friendly and welcoming, and the atmosphere has a feel of casual elegance. On warm evenings it is possible to dine 'el fresco' on the outside patio. The grilled chicken diavola(devil's style/butterflied) and the fillet stroganoff are delicious!
Address: 13 Montpelier Street (Knightsbridge)
The Abingdon
Cuisine style: Gastropubs
The bar at this small but atmospheric pub is always buzzing with locals, while the restaurant often draws visitors from further afield. Set on a side street a few blocks from High Street Kensington the eating area is awkwardly narrow but makes a good spot for a private and romantic evening á deux, or with a small group of friends. The crumbed camembert comes with a chicory, red wine and vanilla reduction, and is beautifully followed by the organic salmon with Jerusalem artichokes. Open daily for lunch and dinner.
Address: 54 Abingdon Road (Kensington)
Restaurant Gordon Ramsay
Cuisine style: French
One of London's finest eateries, Restaurant Gordon Ramsay opened in 1998 as the chef's first independently owned venture. Today it has three Michelin stars - an honour held by only one other British restaurant. With 14 tables seating 44 guests, this exclusive venue has become a must for connoisseurs of fine contemporary cuisine from around the world. Feast on butter poached Scottish lobster tail, roasted Barbary duck and Gianduja chocolate soufflé. Open for lunch and dinner Monday to Friday, book well in advance.
Address: 68 Royal Hospital Road (Chelsea)
Fire and Stone
Cuisine style: Pizzeria
A cosy atmosphere with contemporary trimmings and the smell of fresh oven-baked pizza in the air, the trendy Fire and Stone pizza joint in Covent Garden is ideal for a family outing, a casual meal with friends or a romantic dinner. Boasting the largest wood-fired oven in the northern hemisphere, this franchise pizzeria produces a large variety of pizzas, themed on the different flavours of the continents and made with only the freshest ingredients. Compliment your meal with some of their quality red wines, or try an exotic smoothie. Open daily for lunch and dinner.
Address: 31/32 Maiden Lane, Covent Garden
Carnaby Restaurant
Cuisine style: British
Carnaby Restaurant is a decadently decorated establishment ideal for a light snack, afternoon tea or a full bodied evening meal. This restaurant's fine food is served by friendly and attentive staff, so sit back and enjoy the view of attractive Carnaby Street through the tall glass windows, the plush red furnishings and the 'olde worlde' atmosphere. There are a variety of sophisticated meals on the menu, including salmon steak with crab and potato salad, and a sticky toffee pudding with crème fraîche. Open for lunch and supper, Monday to Saturday.
Address: Courthouse Hotel, 19-21 Great Marlborough Street
54 Farringdon
Cuisine style: Oriental
A stylish but understated restaurant, serving modern European and Malaysian cuisine, 54 is the ideal place for a romantic evening or dinner with a group of friends. Serving only free range, organic and local produce, 54 tries to ensure that their cuisine is environmentally responsible and retains the utmost flavour. Try the squid with black pepper and roast garlic for starters, nicely complimented by a prawn and coconut curry main course. Open for lunch and dinner Monday to Friday and dinner on Saturday.
Address: 54 Farringdon Road
Zaika
Cuisine style: Indian
A highly creative contemporary Indian restaurant, Zaika offers sensational Indian cuisine in a cool and vibrant setting. Situated in trendy Kensington, Zaika has won Best Indian Restaurant in the London Restaurant Awards and holds three AA rosettes. Try the tasting menu to get a fuller understanding of the extensive Indian flavours. The Indian home-smoked salmon and Masala duck breast are also favourites. With great service, plush interiors and excellent cuisine, Zaika is a fail-proof night out. Open for lunch from Tuesday to Sunday, and every evening for dinner.
Address: 1 Kensington High Street, Kensington
Blue Elephant
Cuisine style: Thai
A full throttle Thai experience, eating at the Blue Elephant is a must. Greeted with welcoming smiles at the door, guests will love the Thai décor, lush indoor garden of tropical plants and the flowing carp pond. The Blue Bar's counter was carved out of a single piece of teak and layered with 50,000 sheets of goldleaf, adding to the restaurant's exotic and luxurious feel. The starter menu offers familiar fare such as satay sticks, dumplings and spring rolls, with the main menu displaying a broad range of dishes, from herb-marinated sea bass grilled inside a bamboo wrap to Massaman, a typical Thai dish of braised lamb in a medium spicy sauce. Open daily for lunch and dinner.
Address: The Boulevard, Imperial Wharf, Townmead Road
The Gun
Cuisine style: Modern British
The Gun is a lovely, British-styled restaurant that is gaining plenty of popularity for its up-market take on classic dishes. Open for lunch and dinner (reservations essential), be sure to try the Herdwick mutton with pearl barley stew or the grilled fillet of royal bream, served with squid and parsley risotto.
Address: 27 Coldharbour Road, London
Stef's
Cuisine style: Italian
Stef's describes itself as "your local Italian restaurant in London", and its laid-back, family-run atmosphere is a real winner for those looking for unpretentious and high-quality Italian food in England's capital. Choose from pizza, pasta or a range of 'Chef's specialities'. Booking recommended.
Address: 3 Berners Street, London
Tsunami
Cuisine style: Japanese
Located in Soho, one of London's trendiest areas, Tsunami is a modern Japanese restaurant that oozes class and sophistication. Boasting a peaceful, tranquil ambience and a varied menu, Tsunami is the perfect bet for a classy lunch-date, or for a romantic meal before taking in a show on the West End.
Address: 93 Charlotte Street, London
Airports
London City Airport
Website: www.londoncityairport.com
Location: The airport is situated at the Royal Docks, 10 miles (16km) from the West End.
Contacts: Tel: +44 (0)20 7646 0088.
Time Zone: GMT (GMT +1 from last Sunday in March to Saturday before last Sunday in October).
Departure tax: None.
Facilities: There are shops, bars and a restaurant at City Airport, other facilities include left luggage, a mother and baby room, tourist information and business facilities including Internet and fax. There are also ATMs, a bureau de change and Internet facilities. The disabled facilities are good; those with special needs should ideally inform their airline in advance.
Parking: Parking at London City Airport is located within easy walking distance of the terminal. Short-term parking starts at £4.20 for the first half hour, £8.40 for up to an hour, £12.60 for two hours, £18.90 for four hours, £29.20 for up to 12 hours and £45 per day. The Main Stay car park starts at £14.70 for up to four hours, £25.20 for up to 12 hours, and £40 per day. Credit card facilities are available.
Transfer to the city: Docklands Light Railway (DLR) departs from London City Airport every 8-15 minutes to Canning Town, Woolwich Arsenal and Bank. There are regular Transport for London buses from the airport to stations throughout London. Nearby National Rail stations are reached via the Jubilee line from Canning Town (a seven-minute DLR journey). Licensed taxis (black cabs) are available outside the terminal building, a taxi to the centre of London will take only 20 to 30 minutes and cost roughly £20. Car rental desks are situated on the ground floor. There are also chauffeur services available from Quay Cars.
Car rental: Car rental desks are situated on the ground floor, rental companies include Avis, Europcar and Hertz.
London Gatwick Airport
Website: www.gatwickairport.com
Location: The airport is situated 28 miles (45km) south of London.
Contacts: Tel: +44 (0)870 000 2468.
Time Zone: GMT (GMT +1 from last Sunday in March to Saturday before last Sunday in October).
Departure tax: None.
Transfer between terminals: The two terminals are linked by the Inter Terminal Transit train that leaves every three minutes.
Facilities: Both terminals have shops, restaurants, bars, left luggage, bureaux de change, ATMs, an Internet café, baby changing rooms and children's play areas. In the South Terminal there is a post office, a medical centre offering vaccinations, and the BAA Conference and Business Centre, which provides meeting rooms, videoconferencing, fax, photocopy, Internet access and secretarial services. Disabled facilities at the airport are good; those who require special assistance should contact their airline in advance.
Parking: Short-term parking at London Gatwick starts at £1 for 15 minutes, £2.50 for 30 minutes, £5.20 for an hour, and £11.30 for three hours up to a daily limit of £30. Long-term parking, slightly farther from the terminal buildings, is charged at £11.50 per day and is served by a free shuttle.
Transfer to the city: The easiest and quickest way into London from Gatwick is on the Gatwick Expresstrain, which takes 30 minutes to the central Victoria railway station and costs £15. Local buses call at both terminals and run between Gatwick and key destinations including Crawley, Horley, Redhill and Horsham. Taxis are also available from the airport into town, while coaches take passengers to destinations including Heathrow, central London, Bristol and Brighton (ticket desks are in the North and South Terminals). Car rental companies operate from both terminals.
Car rental: Car rental companies such as Avis, Budget, Europcar and Hertz operate from both terminals.
London Heathrow Airport
Website: www.heathrowairport.com
Location: The airport is situated 15 miles (24km) west of London.
Contacts: Tel: +44 (0)8700 000 123.
Time Zone: GMT (GMT +1 from last Sunday in March to Saturday before last Sunday in October).
Departure tax: None.
Transfer between terminals: Terminals 1 and 3 are within walking distance of each other, with an average walking time of 11 minutes from one end to the other. Terminals 4 and 5 are connected via the free Heathrow Express train. Allow around 15 minutes for the journey time between terminals. Alternatively, Terminal 4 can be reached via the 555 bus, leaving every 19 minutes, while Terminal 5 is serviced by the 441 and 724 buses, which take 10 and 20 minutes respectively. Terminal 5 is also connected by the N9 night bus between 23:55pm and 4:55am. Terminal 2 is closed for renovations, scheduled to reopen in 2014.
Facilities: There are numerous shops, bars and restaurants, ATMs and currency exchange facilities in all terminals. Each terminal also has a left luggage facility and postal services. A pharmacy is available in Terminal 1, and a spa offering massages and other treatments is located in Terminal 5B. There are VIP Lounges is Terminals 1-4, with online booking available at the airport's website. Disabled facilities are good; those requiring special needs are advised to contact their airline in advance. There are multi-faith prayer rooms in each terminal, and St George's Chapel is located between Terminals 1 and 3 near the central bus station. There are shower facilities located past security in Terminal 4.
Parking: Short-term parking is available adjacent to the airport. A free shuttle service links the terminals and the long-term and business car parks. Parking can be booked on 0870 850 2825 or via the airport website. Valet parking is also available at all four terminals. Motorbikes can park free of charge at designated areas at each terminal.
Transfer to the city: The quickest way into London is on the Heathrow Expresstrain, which leaves every 15 minutes for Paddington station and takes 15 minutes with one-way tickets starting at £16.50 if purchased online, £18 at the station, and £23 if purchased onboard. Paddington has good connections to the other London railway stations and all parts of London via the London Underground(the tube). The National Expresscoach service takes passengers to central London and other towns and cities throughout the UK. Heathrow is on the Piccadilly underground line, which takes passengers into central London in around 50 minutes and costs £4. The N9 night bus departs to central London every 30 minutes from the central bus station. Taxis are available outside each terminal, and mini-cabs can offer more competitive prices than the black cabs but must be booked in advance - call +44 (0)208 574 0868. Car rental companies operate from all terminals.
Car rental: Car rental companies operating from all terminals include Avis, Budget, Europcar, Hertz, National and Sixt.
London Luton Airport
Website: www.london-luton.com
Location: The airport is situated 32 miles (52km) northwest of London.
Contacts: Tel: +44 (0)1582 405 100.
Time Zone: GMT (GMT +1 from last Sunday in March to Saturday before last Sunday in October).
Departure tax: None.
Facilities: Facilities at the airport include shops, bars, restaurants, bureaux de change, ATMs, a children's play area and baby changing rooms. Facilities for the disabled are good; those with special needs are advised to contact their airline or travel agent in advance.
Parking: There is short-term parking, and 'executive' parking next to the terminal. Long-term (valet) parking operates near the terminal - your car will be taken away to another compound while you are away. Passengers who book in advance via the airport website get discounted parking rates.
Transfer to the city: Trains leave regularly to Kings Cross, Farringdon, City Thameslink, Blackfriars and London Bridge stations. Train journeys to central London take 20-25 minutes with providers such as East Midlands Trains and First Capital Connect. Tickets can be bought from the Onward Travel centre at the airport or online. Luton Airport Parkway Train Station is connected to the terminal by a free shuttle bus service. Easybus, Green Line and National Express buses run daily between the airport and central London. Taxis operate from outside the airport terminal 24-hours a day and car rental is also available.
Car rental: Car rental companies include Avis, Hertz, Europcar and National Alamo.
London Stansted Airport
Website: www.stanstedairport.com
Location: The airport is situated 34 miles (55km) northeast of London.
Contacts: Tel: +44 (0)844 335 1803.
Time Zone: GMT (GMT +1 from last Sunday in March to Saturday before last Sunday in October).
Facilities: There are a number of popular restaurants, shops and bars in the terminal, both before and after security. Other facilities include ATMs, a bureau de change and Internet cafe. There are VIP lounges for international travellers at gates 16 and 49, which can be booked via the airport's website. There are also shower facilities at both arrivals and departures, with towels and access available for a small fee at the airport information desk. There is a multi-faith chapel near Check-in Zone J, accessible after security. Disabled facilities are good; those with special needs should contact their airline or travel agent in advance. Stansted is a smoke-free airport, and there are no smoking facilities past security.
Parking: The short-term parking is located next to the terminal building. Long-term parking is further away and is linked to the airport by a free shuttle bus; passengers should allow an extra 30 minutes to access the terminal from the car parks. The airport also offers valet parking. Travellers who pre-book on the Stansted Airport website receive discounted car parking.
Transfer to the city: The Stansted Expressrail service operates between London's Liverpool Street station and the airport, taking approximately 45 minutes. There are also bus and coach services to Victoria Coach Station, Heathrow and Gatwick airports, among other London and national destinations. The bus and coach station is opposite the main terminal entrance. Coach tickets are available from the ticket desk in arrivals and at the station; a ticket to Victoria costs £10.50. Taxis are available outside the terminal building and car rental is also available.
Car rental: Car rental companies available at the airport include Avis, Budget, Europcar, Alamo, National, Enterprise and Hertz.
Southampton International Airport
Website: www.southamptonairport.com
Location: The airport is located in Hampshire, a few miles outside of Southampton,
Contacts: +44 (0)23 8062 0021
Time Zone: GMT (GMT +1 from last Sunday in March to Saturday before last Sunday in October).
Facilities: Airport facilities include a duty-free shop, currency exchange, internet cafes, and several restaurants both before and after security.
Parking: Short-term parking is available at rates of £2.70 for 30 minutes, £3.80 for 1 hour, £6.40 for 2 hours and £23.70 for 24 hours, but the first ten minutes are free. Long-term parking costs £10.50 per day, but the minimum stay is three days.
Transfer to the city: The airport is connected to Southampton Central and other parts of England via several train services, including South West Trainsand CrossCountry. The journey to Southampton Central takes approximately 8 minutes, while London is 67 minutes away. There are also buses to downtown Southampton, with the U1C running every 15-20 minutes; the journey takes roughly 35-40 minutes.
Car rental: The Car Rental Reception Centre is located near the short-term car park, opposite the terminal building. Car rental companies include Hertz, Avis, Europcar, National, Alamo, and Enterprise.