Overview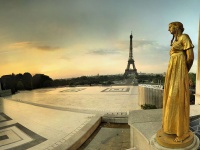 Wherever you choose to begin or end a sojourn in Europe's largest country, and however long you spend exploring, you'll simply be scratching the surface of this vast and varied land. France's geography stretches from rugged coastline to seemingly infinite beaches, from bustling cities to quaint countryside villages and from a sun-drenched isle to luxury mountain ski resorts.
A civilisation dating back to 50,000 BC and a history spanning Roman and Frankish invasion, wars of power and religion, a wealthy and powerful monarchy ultimately crushed by revolution, the rise of Napoleon and a new battle between monarchy and republic, and two world wars, has left the country brimming with a rich heritage. Cave paintings, castles, cathedrals and battle scars are scattered across the land, yet much of the French countryside remains untouched, and traditional rural life still flourishes.
This is the country that inspired Monet's reinvention of colour, Toulouse Lautrec's portrayal of the dark underbelly of Paris society, and the haunting harmonies of Debussy. It has tantalised our taste buds with foie gras and frogs' legs, and captured the imagination of the world's jet-set with the resorts of St Tropez and Port Grimaud. Millions discover its wonders each year with a holiday in France, and rediscover the meaning of joie de vivre.
Basics
Time
Local time is GMT +1 (GMT +2 between last Sunday in March and last Sunday in October).
Electricity
Electrical current is 220 volts, 50Hz. European two-pin plugs are standard.
Language
French is the official language.
Health
No particular vaccinations or medications are required for travel to France. The prevalence of certain tick-borne infections, like lyme disease, tularemia, tick-borne encephalitis, and rickettsial diseases, mean that travellers should take precautions against ticks if they are travelling in rural or forested areas in warm weather. Rabies also occurs occasionally and those who will be spending time with wild animals or at any risk of animal bites should consider a rabies vaccination. In February 2006, France confirmed its first cases of bird flu; all affected birds have been culled and precautionary measures taken. The risk is low for travellers, but close contact with domestic, wild and caged birds should be avoided, and all poultry and egg dishes well cooked. French hospitals and health facilities are first class. British citizens, and visitors from other EU countries, are entitled to heavily discounted medical treatment and medicines on presentation of a European Health Insurance Card (EHIC). Otherwise doctors and hospitals often expect immediate cash payment for health services. Medical insurance is advised. Pharmacies will provide some first aid, but charge for it.
Tipping
Most restaurants and hotels automatically add a 15 percent service charge so a tip is not necessary, although another two to three percent is customary if the service has been good. If service is not included then 15 percent is customary. Taxi drivers expect 10 to 15 percent of the fare, and hairdressers 10 percent. Hotel staff generally receive €1.50 a day and tips of €1 are given to washroom and cloakroom attendants and museum tour guides. Tour bus drivers and guides are also tipped.
Safety
Following the London and Madrid bombings, security has been heightened in France, particularly in the transport sector. Unattended luggage left in public places will be removed or destroyed by security staff. While generally safe, visitors to France are advised to take precautions against petty theft and to ensure their personal safety. Thieves and pickpockets operate on the metro and around airports. Theft from cars is prevalent, particularly in the south, around Marseilles, and in Corsica. A Corsican nationalist group FLNC have been responsible for a series of bomb attacks on public buildings and holiday homes in Corsica and visitors should take care, particularly in Ajaccio the capital, and other town centres. Several recent cases of burglary have been reported while visitors were asleep in their caravans or motorhomes and motorists are asked to avoid parking in isolated or darkened areas of camping sites or parking lots. Tourists are advised to conceal bags and purses even when driving, and to never leave valuables unattended in the car. Bag snatching is also common, particularly on public transport and in shopping centres, and visitors should also be vigilant of luggage while loading bags into and out of hire cars at airports.
Customs
French culture is of paramount importance to the French and in an increasingly Americanised world they feel duty-bound to protect it. It is appreciated if visitors can speak a few words of French; they do not respond well to being shouted at in English. While the food is second to none, foreigners may find the service in many restaurants sloppy; waiters can appear rude (particularly in Paris) and take their time. This is just the way they are. Traditional games such as pétanque(similar to lawn bowling but played on gravel) are popular in village squares, but the national sports are soccer, rugby and cycling. Smoking in public places is not allowed and will incur heavy fines.
Business
Business etiquette is important in France. A smart, fashionable, sense of dress is common as the nation prides itself on haut couture. Punctuality is not always observed though and the 'fashionably late' tactic may be applied. A handshake is the common form of greeting for men and women upon first introductions. Titles are important and the person is to be referred to as 'monsieur' (Mr.), 'madame' (Mrs.), or 'mademoiselle' (Ms.). Meetings usually occur over lunches, and the French are known to enjoy food. Business hours are generally 9am to 6pm Monday to Friday.
Communications
The international access code for France is +33. The outgoing code depends on what network is used to dial out on (e.g. 00 for France Telecom), which is followed by the relevant country code (e.g. 0044 for the United Kingdom). Other codes are used if using different networks. The area code for Paris is (0)1. Most public telephones accept phone cards, which are available in newsagents. Most hotels add a surcharge to calls, which can be very expensive; the cheapest way to call abroad is often with a phone card from a public telephone or at a post office. The local mobile phone operators use GSM networks and have roaming agreements with most international mobile phone companies. Internet cafes are available in towns throughout France.
Duty Free
Travellers from non-EU countries over 17 years entering France can bring in the following items duty-free: 200 cigarettes, or 100 cigarillos, or 50 cigars, or 250g tobacco; 1 litre of spirits with alcohol content 22% and over, or 2 litres of dessert wine or sparkling wine not exceeding 22% alcohol volume, and 2 litres of table wine; 50g perfume or 250ml eau de toilette and other goods to the value of EUR175 per adult or EUR90 for children under 15 years.
Currency
The Euro (EUR) is the official currency in France. Currency can be exchanged at banks, bureaux de change and some large hotels, though you will get a better exchange rate at the ATMs. Major credit cards are widely accepted, as are travellers cheques, particularly in major tourist destinations. Foreign currency is not accepted.

| | | | | | | | |
| --- | --- | --- | --- | --- | --- | --- | --- |
| EUR 1 = | US$ 1.27 | £ 0.83 | C$ 1.29 | A$ 1.23 | R 10.70 | EUR 1.00 | NZ$ 1.60 |
Note: These currency exchange rates are not updated daily and should be used as a guideline only.
Health
Health Overview
No particular vaccinations or medications are required for travel to France. The prevalence of certain tick-borne infections, like lyme disease, tularemia, tick-borne encephalitis, and rickettsial diseases, mean that travellers should take precautions against ticks if they are travelling in rural or forested areas in warm weather. Rabies also occurs occasionally and those who will be spending time with wild animals or at any risk of animal bites should consider a rabies vaccination. In February 2006, France confirmed its first cases of bird flu; all affected birds have been culled and precautionary measures taken. The risk is low for travellers, but close contact with domestic, wild and caged birds should be avoided, and all poultry and egg dishes well cooked. French hospitals and health facilities are first class. British citizens, and visitors from other EU countries, are entitled to heavily discounted medical treatment and medicines on presentation of a European Health Insurance Card (EHIC). Otherwise doctors and hospitals often expect immediate cash payment for health services. Medical insurance is advised. Pharmacies will provide some first aid, but charge for it.
Visa
Americans
UK nationals
Canadians
Australians
South Africans
Irish nationals
New Zealanders
Passport/Visa Note
The borderless region known as the Schengen Area includes the following countries: Austria, Belgium, Czech Republic, Denmark, Estonia, Finland, France, Germany, Greece, Hungary, Iceland, Italy, Latvia, Lithuania, Luxembourg, Malta, The Netherlands, Norway, Poland, Portugal, Slovakia, Slovenia, Spain, Sweden and Switzerland. All these countries issue a standard Schengen visa that has a multiple entry option, and which allows the holder to travel freely within the borders of all the aforementioned countries. Additionally, travellers must hold sufficient funds to cover their stay in France, and proof of repatriation (a return or onward ticket, and the necessary travel documentation for their next destination). Note that Schengen visas, if required, are also valid for French Guiana, French West Indies and Reunion, provided that the Schengen visa is endorsed "Also valid for French territories being in observation of the respective French territories". We recommend that passports always be valid for six months after intended period of travel.
Note: Passport and visa requirements are liable to change at short notice. Travellers are advised to check their entry requirements with their embassy or consulate.
Contacts
France Tourism
Maison de la France (Tourist Information Agency), Paris: +33 (0)1 4296 7000 or www.franceguide.com
Foreign Embassies in France








France Embassies








Regions and Cities
Nice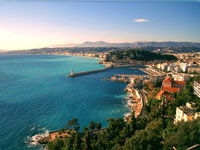 With an international airport and the fast train from Paris, Nice is the first experience of the renowned Côte d'Azur for many tourists. The city was established by the Greeks and named for Nike, goddess of victory, but the Romans started the tourism industry here when they popularised their mineral baths on Cimiez. British and Russian aristocrats favoured Nice in the 19th century, but today it is more of a commercial centre and is not as fashionable as its smaller neighbouring resorts, such as Cannes or St Tropez. Nice still has excellent connections, but these are in the mode of transport options rather than the pedigree of its visitors.
In spite of modernization, the city retains its medieval heritage in the atmospheric Vieille Ville (old town), with its closely packed red-tiled roofs and narrow winding streets packed with shops, bars and fabulous restaurants. Next door, the famous Cours Saleya flower and food market has scores of stands, from large, professionally displayed wares to folding tables set up by family farmers with their produce directly from the farm.
Separating the Cours Saleya from the sea is a strip of low buildings. Once the repository for the fishermen's catch, they have given way largely to popular seafood restaurants, while the other side of the Cours Saleya is lined by terrace cafés in lovely old buildings.
Nice's shingle beaches occasionally disappoint visitors anticipating a classic, white sand beach holiday, but this does not mean the beaches stay empty; during summer the bright blue sea, sunshine and beautiful surroundings draw thousands of holidaymakers to this French Riviera city. The Promenade des Anglais lines the shingle beaches for about five miles (8 km) and has been a favourite for leisurely strolls since Victorian times.
Paris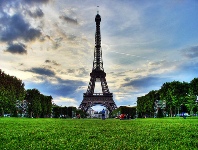 It is impossible not to fall in love with Paris. The city's people are stylish and flirtatious, its architecture seductive, its restaurants and nightlife devoted to the pursuit of pleasure and its streets are scattered with dreams.
There is no 'best time' to visit Paris; in every season the city is always alive. Summer days are spent lazing on the banks of the Seine, sipping coffee at a sidewalk caf�, or idling in one of the city's many gardens or forests. On autumn afternoons the brisk walk from the Eiffel Tower through the Parc du Champ de Mars and up to the glittering Champs Elys�es is accompanied with a carpet of leaves crunching underfoot. Winter nights induce a warm glow ice-skating in the outdoor rink at the Hotel de Ville. And in spring the passions of performers fill the air outside the Pompidou Centre and the nose is tickled with the subtle scents of flowering gardens.
There is an otherworldliness to this city, where beauty and elegance are favoured over purpose and practicality. Centuries of urban development have the appearance of having being mastered by a single hand with a strong sense of balance, contrast and aesthetics. The views from the Eiffel Tower or Sacr� Coeur reveal hundreds of iconic attractions for the snapshot visitor, but the best way to see this city is by tucking your map back in your pocket and allowing yourself to get lost on its streets and avenues, discovering the city for yourself.
However long you spend in Paris, on departure you will know you are sure to return.
Normandy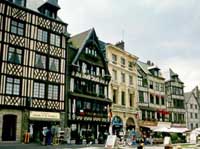 Normandy, in northwest France, has a proud and independent history and was one of the major powers of medieval Europe. Colonized by the Vikings from the 9th century, it was home to William the Conqueror, who famously defeated King Harold at the Battle of Hastings, and in 1066 established the great Norman aristocratic line that remains prominent in England today. This historic event is commemorated in the region's most popular attraction, the marvellous Bayeux Tapestry. It was here, too, in Rouen, that valiant Joan of Arc was burned at the stake; and at the chic seaside resort of Deauville that Coco Chanel started a fashion renaissance by opening her first boutique. The province is, however, probably best known for the Normandy landings of 1944 when Britain and America began their liberation of France and Europe from Hitler's Germany.
Today Normandy is overwhelmingly agricultural and is appreciated by the gastronomically fastidious French for its excellent produce, particularly dairy and seafood. The region is also known, not for its wine, but for its ciders and apple brandy. Fighting in WWII destroyed many of the great medieval towns, but a few treasures still remain and make a trip to Normandy worthwhile, including the Abbey of Bec, Chateau d'Etelan, and the magnificent Mont Saint-Michel Abbey.
Basque Country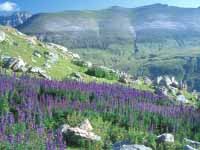 France's three Basque provinces are in the southwest corner of the country, near the Spanish border, and are steeped in folklore and ancient customs. Unlike their Spanish counterparts, the French Basque people do not harbour radical separatist views, but they do cling to their identity, unique languages and traditional way of life, which offers an interesting diversion for tourists who visit the area. Men can still be seen in the traditional costume of a beret and cummerbund, towns and villages all have concrete courts for the playing of the national ball-game, pelota,and bull fighting is a popular spectator sport.
Most visitors head for the Atlantic coast to the popular resort towns of Biarritz and St-Jean-de-Luz, or to explore the Basque capital, Bayonne. Hikers and nature lovers are drawn to the grand Pyrenees mountains to fish for fat trout, wander the trails, dunk in warm mineral pools, marvel at the glaciers, or climb challenging peaks. Another great attraction in the Bigorre region, close to Basque country, is the Roman Catholic shrine at Lourdes, where the Virgin Mary is said to have appeared to a peasant girl in the mid-19th century. Millions of believers have since made a pilgrimage to the Lourdes grotto in the hope of miracle cures for ailments and afflictions.
Bordeaux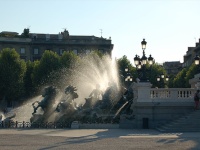 Bordeaux is situated on the Garonne River, 20 miles (32km) inland from the Atlantic Ocean, and is France's fifth largest city with a population of nearly 700,000. In days of yore it started out as a Roman trading post, and passed into the hands of the English who owned it for some 300 years, imparting a British influence on the French flair of the city and surrounds. Many of the grand chateaux in and around the city are still in English hands and are open to tourists.
Most travellers who visit Bordeaux are here for one thing: wine. Wine connoisseurs looking to take home some of their favourite wines will do best to buy directly from the wine farms, but shops such as La Vinothèque on cours du XXX Juillet, or L'Intendant and Badie on allées de Tourny are also good bets.
There are other things to see and do in Bordeaux besides tasting and buying wine, however. The city centre has undergone a remarkable upgrade in recent years, restoring many of its centuries-old buildings. Don't miss the view from Les Quais, including the beautiful Aquitaine Bridge; the historical monuments and lively student bars of La Victoire; and the lush and peaceful Botanic Gardens. Bordeaux also has several interesting museums, including the Museum of Contemporary Art, and the Musee D'Aquitaine, which exhibits Gallo-Roman statues and relics dating back 25,000 years.
Brittany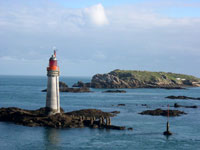 Much of Brittany's history dates back to its Celtic roots. The landscape is littered with ancient and mysterious standing stones and the local language (sadly in danger of dying out) is based on Celtic, more closely resembling Welsh than French. The Celts came from Britain around the 6th century with the culture, traditions and folklore that still reign supreme in the region today, particularly in the rather arid interior, lending Brittany a touch of mystery and enchantment. There are a number of festivals in the various small towns, celebrating everything from military victories to religious icons to the 'idiot of the forest'.
The Bretons maintained an independent state until the 16th century in this northwest corner of France, which also helped to ensure the survival of their unique heritage and traditions. Brittany protrudes into the Atlantic with a beautiful, irregular coastline featuring inlets, cliffs, offshore islands and stretches of white, sandy beach. It is the coastline that has made Brittany the most popular summer holiday destination in France, next to the Côte d'Azur, for both French and foreign visitors. The coast is liberally sprinkled with resorts and campsites, and always full during the summer season.
Champagne Country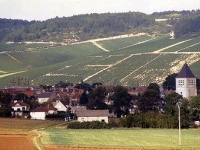 Legend has it that the Champagne region of France should be forever indebted to Dom Pérignon, the blind Benedictine monk who in the 17th century accidentally discovered how to create bubbly, or sparkling wine, in the cellar of an abbey at Hautviliers. Ever since then champagne has been synonymous with celebration and opulence, with corks popping at great occasions all over the world. It is believed that during the Renaissance the only thing Henry VIII of England and François I of France could agree on was a penchant for champagne, and it is recorded that Napoleon, a friend of Jean-Rémy Moët, took a case or two with him to every battle, except Waterloo.
Visitors on the trail to discover the delights and origins of the world's most celebrated sparkling wines should head for Epernay in the centre of the Champagne region, where it is possible to visit vineyards and cellars (known as maisons)of the top producers, including the famous Moet et Chandon caves.
Champagne and the Ardennes have been the scene of many conflicts over the centuries, most recently during both 20th century World Wars in which many towns and villages were destroyed. Still worth visiting, though, are the cities of Amiens, Reims and Laon, which retain their magnificent medieval cathedrals, the lovely town of Troyes, and the historic village of Jouarre with a beautiful Benedictine abbey. This region of France also sports numerous war memorials and soldiers' cemeteries, which are places of pilgrimage for many foreign visitors whose forefathers died fighting here.
Corsica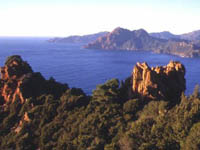 The island of Corsica is France's 'little bit of Italy'; it is close to the neighbouring country and has long been influenced by the language, architecture and cuisine of the Italian mainland. The local language, for example, is Tuscan-inspired. Corsica has been under French rule for only 200 years after being sold by Genoa to Paris in 1768. Before that happened, this island that rises majestically out of the Mediterranean, belonged by turns to the Greeks, Romans, Vandals, Byzantines, Moors and Lombards, with each conquering nation adding their influence to the Corsican melting pot. Corsicans today tolerate French rule unwillingly, but radicals are tempered by the realisation that the island economy is heavily subsidised and islanders enjoy generous tax concessions.
Today the invaders of this island, which gave birth to Napoleon and Columbus, are thousands of holidaymakers, who flock particularly to the east coast, with its long sandy beaches and pretty fishing villages, for activities like scuba diving, sailing, kite-surfing and hiking. The west coast has awe-inspiring scenery with cliffs and rocky inlets, while the mountainous interior remains largely wild, in between cultivated groves of olives, pine plantations and cork forests.
Corsicans maintain their independent ways, and you'll find a strange mixture of French and Italian culture that is both and yet neither. In Corsica you'll find local beers and soft drinks not found anywhere else, and unique cuisine including locally-produced chestnuts, olive oil, pastries, and boar meat.
Cote d Azur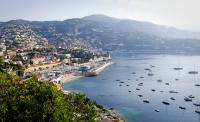 The French Riviera is renowned the world over for its glamorous nightlife, glorious beaches and gigantic gin-palaces; the chic resorts of Cannes and St Tropez have long attracted Europe's most affluent, from Russian Tsars to the Hollywood stars. Along with neighbouring Monaco, the Côte d'Azur retains its reputation as the playground of the rich and remains one of the most desirable Mediterranean destinations.
The beauty of the hills and the lively towns has inspired several great artists and the area has wonderful museums displaying their works. The quaint Provence hill villages abutting the coast, that once attracted Picasso and Matisse, now draw French and international tourists by the planeload.
The centre of the Riviera is the pleasant city of Nice; like all the resort towns that run into each other along this over-developed coastal strip it is packed with holidaymakers jamming its restaurants, bars and beaches during July and August. Visitors are drawn just as much by the wish to see and be seen in this desirable location as by the sultry sunshine, bright blue sea and luxurious facilities. However, there are a few villages and sights tucked away in less fashionable areas of the Côte d'Azur that are worth visiting for those looking for a quiet and authentic holiday.
Dordogne and Lot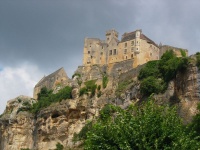 The Dordogne, and the neighbouring Lot Valley, is one of the most beautiful regions in France; a magnetic holiday destination for food lovers and nature enthusiasts. The area has remained fairly untouched by 20th century development and tourism and the rural way of life continues very much as it has for centuries. Local farmers seem happy to live a fairly subsistence lifestyle, and village markets continue to flourish here long after they have disappeared from the high streets of other European countries. This is due, no doubt, to the local taste for fresh ingredients and their disregard for what are seen as draconian EU health and safety laws.
Dordogne is home to over 1,500 castles and 150 prehistoric sites, and thus has a huge draw for history enthusiasts. There is a popular museum of medieval warfare at the Chateau de Castelnaud in Castelnaud-La Chapelle, and the stone villages of Rocamadour, Domme and La Roque Gageac give one the feeling of having stepped into a time machine.
Although medieval villages and towns such as Conques, Cahors and Montauban are starting to be discovered by tourists looking for a more authentic France, they have managed to retain their old-world charm. Visitors don't come here for a busy nightlife, or indeed for the weather (which can be wet even in summer), but are drawn to the stunning countryside, pâté, truffles, succulent Limousin veal and fine wine.
French Alps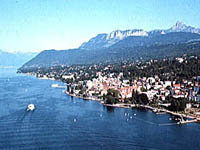 The deep valleys and soaring snow-covered peaks of the Alps border France, Switzerland and Italy in dramatic splendour, delighting walkers and climbers in summer and offering a challenge to skiers and snowboarders in the winter months.
Downhill skiing was established here towards the end of the 19th century by the English, since when an increasing number of French and international skiers (and more recently snowboarders) have been attracted to the first-rate resorts. French resorts may not be as picturesque as those in Switzerland and Austria but they are some of the most extensive and best; by European standards they are high, mostly between 6,562 and 9,843 feet (2,000m and 3,000m), and have reliable snow. The ski season runs from late November to April and is busiest during the Christmas and Easter holidays.
Climbers and hikers head for the Alps between July and September when the weather is more predictable and the snow above 6,562 feet (2,000m) has melted. There are a number of national parks with round-the-park trails requiring one or two weeks walking, there are also longer trans-alpine routes, which should only be attempted by experienced walkers. Local tourist offices supply detailed maps of their area. The towns of Grenoble, Annecy and Chambéry are good bases for hiking. Climbers tend to head to the Chamonix-Mont Blanc area.
Loire Valley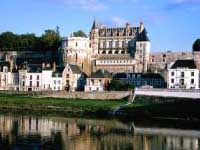 Renowned for its fine wine, sumptuous châteaux and Renaissance intrigue, the valley of the Loire is rich in both history and architecture. Like the River Loire, this vast region runs through the heart of French life. Its sophisticated cities, luxuriant landscapes and magnificent food and wine add up to a bourgeois paradise.
Historic towns and magnificent chateaux line the valley, including the striking Chateau d'Usse, which inspired the Sleeping Beauty fairytale as well as the Disneyland castle. Loire Valley was for a long period, until Henri IV moved his court to Paris, the home of Royalty and the intellectual capital of France. The towns of Tours and Angers, both on the river, act as good bases from which to explore the area and its many delights. Although there are train and bus services to most towns they are limiting for tourists and it is best to hire your own transport to fully explore the region. Consider renting a bike; this is wonderful and easy cycling country.
Although the Loire Valley can get rain in any season the most popular time to visit is summer; however, if you want to avoid the crowds it is best not to visit in August as this is the month when the French have their national holiday and things can get a bit busy. Spring is a nice time to visit the Loire Valley because of all the beautiful gardens in the region.
Provence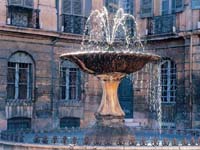 No other region of France stirs the imagination and stimulates the senses as strongly as Provence. The soft light and its vivid landscape of pastel colours have inspired writers and artists from F. Scott Fitzgerald and Edith Wharton to Van Gogh and Picasso.
The fragrant countryside, redolent with wild herbs, is scattered with historic fortified medieval towns such as Avignon and Aix-en-Provence and the ancient Roman towns like Orange and Arles with their intriguing monuments, arches and coliseums.
Provençal cooking is known worldwide for its contributions to French cuisine, including Seafood Bouillabaisse, Ratatouille, and Daube Provençale Stew. Its wines have a poorer reputation, but have improved considerably in recent years and Provençal rosé is becoming increasingly popular as a Provence souvenir.
On the coast is the great port of Marseille, a melting pot of cultures pleasurably in contrast to the traditional social landscape of most French provincial towns. Low-cost airlines and a fast TGV train from Paris have made Provence increasingly accessible and this, combined with glorious weather, puts it high on any list of the world's most desirable destinations.
Marseille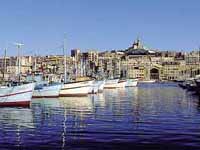 Marseille is France's second largest and most ancient city. It was founded by the Greeks in 600 BC and was later conquered by the Romans after becoming a thriving port and centre for trade. Today it is littered with ancient sites and artefacts; mostly Roman additions to the original Greek settlement.
Other than its colourful old harbour, the city does not have much appeal in the way of architecture. It is characterised by acres of slumlands and has a reputation for having a very active underground criminal element. Marseille is, however, very down to earth and lacks the pretension of most other French cities, with plenty of attractions and pedestrianised squares to explore. The city is also divided into arrondissements in the style of Paris, which makes it relatively easy to get around on the metro.
The Old Port area is filled with restaurants, bars, hotels, office blocks and a daily fish market at the Belgian Quay, giving it a lively and sophisticated air. There are also a number of decent museums, galleries, theatres and shops dotted about the city that are worth visiting. Marseille is also famed for its Opéra: an Art Deco opera house, situated in the heart of the city, still hosts performances even though it was all but destroyed by fire in 1920. La Plaine is a trendy area filled with cafes, bookstores and fountains, with a bustling market on Thursdays and Saturdays, while Noailles' bazaar is a multi-ethnic area filled with Indo-Chinese and Arabic shops.
The outgoing, friendly inhabitants of Marseille are a cosmopolitan bunch, with diverse backgrounds including a number of Italian, Spanish, and North African communities. There is far less of the style and image consciousness evident in the rest of the Cote d'Azur, creating a more North African flavour and a vibrant atmosphere. Marseilles also acts as a good base for exploring the nearby natural beauty of the calanques (or Mediterranean fjords) and some excellent beaches.
Marseille comes alive for three weeks each summer, positively buzzing with arts and culture in the Marseille Festival which celebrates dance, theatre, music, cinema, art, literature, and the multicultural face of Marseille itself.
Lyon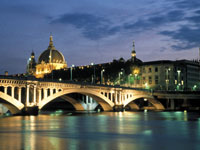 Lyon is a city synonymous with the silk industry, the French Resistance and a reputation as the 'gastronomic capital of the world', and is located between the Rhone and the Saône rivers in the southwest of France. Lyon is home to some of the finest restaurants and chefs in the country and forms the second largest metropolitan area in France, after Paris.
Besides the many restaurants, bistros and cafés that entice people to this endearing city, Lyon boasts three large city parks, some 30 museums and countless monuments symbolising Lyon's development through the ages. It is home to the world famous Lyon Opera House, whose orchestra's reputation has travelled far beyond French borders.
UNESCO lists Lyon as a World Heritage site due to its rich and diverse 2,000 year history, evident in the awe-inspiring Romanesque architecture and medieval buildings in Old Lyon, including the Primatiale St-Jean cathedral, and the 16th century Hôtel du Chamarier.
To the west, Fourviere Hill offers panoramic views of the city, and its own attractions include the Ancient Theatre of Fourvière, and the Musée de la Civilisation Gallo-Romaine.
By day Lyon can be viewed by boat on a trip down its rivers, and at night dinner cruises add an element of fantasy to the city. Lyon is a city rich in food, history and culture, making it a hidden treasure in the French landscape; it certainly lives up to its Roman name, Lugdunum, meaning 'the hill of light'.
Lille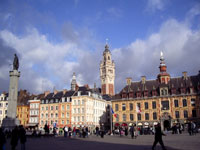 Is it French or is it Flemish? It is hard for the visitor to decide when visiting Lille, which has been officially part of France for 350 years but still at its core retains the ambience of the medieval wool towns of Flanders. The historic core of Vieux Lille is filled with grand architecture and cobble-stoned streets and squares, with a 'Grand Place' reminiscent of both Brussels and Amsterdam.
This confusion of cultures does not detract from this bright and beautiful city, set in the north of France, which was capital of Flanders during the Middle Ages. With the advent of the Eurostar fast train service from London, Lille, a major stop on the route to Paris, has been revived as a weekend break destination, and has plenty to offer longer-term tourists who arrive at its international airport as well.
Vigorous shopping takes place along its commercial thoroughfares, and some attractive sights beckon visitors, like the neo-Gothic Notre Damme de la Treille Cathedral, and the Hospice Comtesse, a former hospital housing a museum of Flemish art, furniture and ceramics. Old Lille is pleasant to stroll through, with its cobbled streets and mixture of shops, restaurants and cathedrals.
Those whose taste runs to art will also find a feast here, with Monet and Renoir being permanent tenants at the Musée des Beaux-Arts, and works by Picasso, Braques and Derains along with more modernist marvels are on display at the Musée d'Art Moderne in the suburb of Villeneuve d'Ascq just outside the city.
Many visitors, though, are here for the beer. The best Belgian beers are on tap and served up in most of the popular bars, to wash down the delicious local cuisine, which focuses on seafood and rich sauces. If your main aim is to eat, drink and make merry in a historic environment, Lille is the place to be.
The best thing about Lille is that its local populace is not only welcoming, but adept at enjoying life, as can be witnessed by visiting any of the many bars and bistros (known as estaminets) in this fun city, which belies its reputation as the grim northerly cousin of pretty Paris.
Toulouse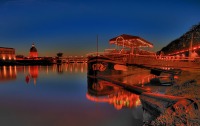 Formerly the capital city of Languedoc, Toulouse has a history going back to the year 100 as a Roman colony. Its position halfway between the Atlantic Ocean and the Mediterranean Sea has placed in at the centre of many wars and conflicts since that time. Its eyes are firmly on the future however, as Toulouse is now an epicentre of the European aerospace industry and home to one of the largest universities in France.
Toulouse is known as The Pink City due to its pseudo-Roman face brick buildings, which also contribute to its reputation as one of the most beautiful cities in France. It has many historic bridges, hotels, cathedrals and museums that are worth exploring in the downtown area, which is easily traversed on foot. The grand facades are interspersed with restaurants, cafes, shops and pubs that give the city a pleasant, bustling atmosphere, and a number of parks and green spaces to maintain tranquillity.
Its location near the centre of France makes Toulouse an ideal stop on any tour of the country; it is only an hour or two away from the vineyards of Bordeaux, the medieval city of Carcassonne, and even Donostia-San Sebastian in Spain. It is a popular stop on driving tours of the country, and a visit to Toulouse is a wonderful part of any holiday in France.
Alsace Lorraine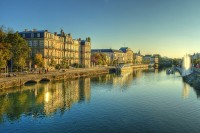 Alsace-Lorraine is a small area between Germany and France that has a history of being passed back and forth between the two countries for more than a thousand years. Because of this, Alsace-Lorraine is possibly the least French part of France, with a strongly German heritage, especially in the Alsace region. The two regions, in the northeast corner of France, share borders not just with France and Germany, but Belgium and Luxembourg as well, making the area a true melting pot of European culture.
Pretty towns and villages in Alsace produce distinctive white wines often overlooked by the hordes of tourists in Bordeaux and Champagne country, and the Alsatian Vineyard Route is a great way to sample the region's great wines along with delicious Alsatian cuisine. Cities like Strasbourg and Colmar provide a bit of urban contrast, but preserve the character of the region with UNESCO-listed town centres containing many beautiful historic buildings and lively arts and culture communities.
Lorraine has a more pronounced German influence, but the inhabitants are still proudly French. Its main cities are Nancy, a lively city with a large student population; and Metz, with a strong military history and beautiful city centre.
Because of its geographic location, a holiday in Alsace-Lorraine gives visitors a chance to glimpse the unique culture and history of the region, but also makes a perfect base for a multi-country holiday with easy access to the Rhine Valley and both the French and Swiss Alps, and major cities like Berne, Basel, Frankfurt and Geneva.
Avignon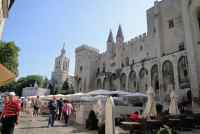 Situated on the River Rhone, the historic holiday destination of Avignon is famed for being the Vatican of the 14th century; six successive Popes resided here from 1309, making it one of Europe's largest and most important cities of the time. The papacy retreated back to Rome in 1378, but this was just the beginning of a battle between the Italian capital and Avignon for control of the Church's riches and power. Altogether Avignon was the seat for nine Popes, until the last, Pope Benedict XIII, fled into self-exile in 1409. Without the Pope, the city went into a decline that has been exacerbated ever since by floods, fire, the plague and the Le Mistral, the harsh wind that whistles down the Rhone valley in winter. Avignon supposedly was named by the Celts who gave the area the name 'Avenio' or 'the town of violent winds'.
Despite all this, Avignon has one of the best-preserved centres in France, a strong holiday attraction. Piercing the skyline are the beautiful spires of the Palais des Papes, and along the cobbled streets are countless richly decorated buildings, ancient churches and spectacular monuments and museums. Imposing medieval walls, built in 1403 by Pope Benedict, enclose the old town. The yearly Avignon Festival draws performers and art enthusiasts from all over France every July. Despite the huge influx of tourists, which double the town's population of 100,000, this is a wonderful festival and a must-see for anyone on holiday in the Avignon area.