Overview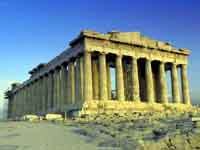 The Olympic Games were spawned in ancient Greece, along with democracy and the fundamentals of philosophy, science and mathematics. The Greek civilisation is renowned for contributing many of the cultural building blocks that western civilisation is founded on.
Modern Greece is better known as a great holiday destination, rather than a centre of learning and culture. Today the country attracts visitors by the thousands by offering simple pleasures: delicious food and wine at reasonable prices, beautiful beaches and sunshine, quaint villages, a seemingly endless lacework of coastline, and little islands full of scenic surprises.
The country exudes traditional charm, particularly on its ever-popular islands, which cling to their traditional architecture and way of life despite being often over-run with tourists. Black-clad women still deliver vegetables to island tavernas on panniered donkeys, while bronzed, weatherbeaten fishermen sit in the sun, drink thick coffee, and play dominoes or backgammon. The tourist infrastructure has intruded in many respects, but the timeless aspect of whitewashed buildings clustered on hillsides around narrow pebbled alleys has been retained. The myriad islands in the Aegean Sea are easily accessible from Piraeus, the historic harbour of Greece's mainland capital, Athens, by ferry or hydrofoil, offering a unique chance for 'island-hopping'. Many of the larger islands also have airports with connections to Athens or seasonally with major European cities.
On the mainland, the city of Athens in the south is sprawling, overcrowded and polluted but nevertheless enthrals visitors, while Thessaloniki in the north is vibrant and modern with a Byzantine flavour. Athens is dominated by its major landmark, the Parthenon; the remains of other wonders of the ancient Greek classical world are to be found mainly on the Peloponnese Peninsula, south of Corinth, the gateway to a veritable treasure trove of history.
Greece and Greeks welcome with open arms the thousands of visitors that flock to admire their national assets every year - no one leaves without having been warmed, both by the sun and the hospitality.
Basics
Electricity
Electrical current is 220 volts, 50Hz. A variety of plugs are in use including the European-style two-pin and the round three-pin.
Language
Greek is the national language, but English is widely spoken.
Health
There are no specific health risks in Greece, but visitors who plan to walk through forested areas are advised to consider vaccination against tick-borne encephalitis. Travellers to Central Macedonia in the summer months should bring mosquito repellent to prevent exposure to West Nile Virus, as there was an outbreak in August of 2010. Medical facilities in Greece vary; those in major cities are excellent but many of the islands are some distance from a decent hospital. Food and water are safe, but those visiting for short periods should consider sticking to bottled water. UK nationals are entitled to a refund on emergency hospital treatment under a reciprocal agreement between the UK and Greece, and a European Health Insurance Card (EHIC) should be taken on holiday for this purpose. Despite this, all visitors are advised to take out medical insurance. Yellow fever vaccination certificates are required for those arriving from infected areas.
Tipping
A service charge is often included in the bill at restaurants in Greece, it is best to see if this is the case when tipping. If not, leave between 10 to 15%. For drinks at cafes, round the bill up to the nearest euro. Taxis expect change as do cloak room attendants and porters.
Safety
There is a safety risk of indiscriminate terrorist attacks and visitors are urged to be vigilant in public places, including tourist sites. Recent strikes have inconvenienced travellers without turning violent, however tourists are advised to stay away from political gatherings. Greece is otherwise considered a safe destination, but the height of the tourist season does usually see an increase in petty theft cases, particularly in crowded areas. Visitors are advised not to carry valuables on them. Violent crime is infrequent, but there have been incidents on some Greek islands and lone visitors are advised not to accept lifts from strangers.
Customs
Indecent behaviour is not tolerated and the police will not hesitate to arrest or fine offenders. Some form of official identification should be carried at all times.
Business
Business in Greece is conducted in a similar fashion to Italy or Spain rather than their northern European counterparts. A formal dress style is adhered to; dark, conservative suits for men and women are best. Punctuality is not often practiced in Greece and often hosts arrive late to meetings. A firm handshake with eye contact is the norm for greeting men and women for the first time. Business cards should be printed in both Greek and English, although there is no ritual surrounding the exchange. Greeks like to get to know their business colleagues before conducting any serious business so don't expect to close a deal at the first meeting. Greek culture adheres to a hierarchical structure and respect should be shown accordingly. The giving of gifts is common in social circumstances though not necessarily in business. Business hours are generally 8.30am to 1pm and 3pm to 6pm Monday to Friday.
Communications
The international access code for Greece is +30. The outgoing code is 00 followed by the relevant country code (e.g. 0044 for the United Kingdom). The city code for Athens is 210. There are often surcharges on calls made from hotels and it is generally cheaper to use OTE (Hellenic Telecommunications Organisation) offices for local and international calls. Calls can also be made from public card phone booths and cards can be bought from kiosks or OTE offices. The local mobile phone operators use GSM networks and have roaming agreements with most international operators. Coverage is exceptional. Internet cafes are available in the main towns and resorts and are cheaper than accessing the Internet from hotels.
Duty Free
Travellers from non-EU countries do not pay duty when entering Greece for 200 cigarettes, or 100 cigarillos, or 50 cigars, or 250g tobacco; 1 litre of spirits with alcohol volume over 22%, or 2 litres of dessert wine not exceeding 22% alcohol volume and sparkling wine, and 2 litres of table wine; 50g perfume or 250ml eau de toilette; and other goods for non-commercial value to the value of EUR175 for adults and EUR90 for children under 15 years.
Currency
The Euro (EUR) is the official currency, divided into 100 cents. Banks and bureaux de change are widely available and travellers cheques and major credit cards are widely accepted. ATMs are widespread and are generally the cheapest and most convenient method of obtaining euros.

| | | | | | | | |
| --- | --- | --- | --- | --- | --- | --- | --- |
| EUR 1 = | US$ 1.27 | £ 0.83 | C$ 1.29 | A$ 1.23 | R 10.70 | EUR 1.00 | NZ$ 1.60 |
Note: These currency exchange rates are not updated daily and should be used as a guideline only.
Health
Health Overview
There are no specific health risks in Greece, but visitors who plan to walk through forested areas are advised to consider vaccination against tick-borne encephalitis. Travellers to Central Macedonia in the summer months should bring mosquito repellent to prevent exposure to West Nile Virus, as there was an outbreak in August of 2010. Medical facilities in Greece vary; those in major cities are excellent but many of the islands are some distance from a decent hospital. Food and water are safe, but those visiting for short periods should consider sticking to bottled water. UK nationals are entitled to a refund on emergency hospital treatment under a reciprocal agreement between the UK and Greece, and a European Health Insurance Card (EHIC) should be taken on holiday for this purpose. Despite this, all visitors are advised to take out medical insurance. Yellow fever vaccination certificates are required for those arriving from infected areas.
Visa
Americans
UK nationals
Canadians
Australians
South Africans
Irish nationals
New Zealanders
Passport/Visa Note
The borderless region known as the Schengen Area includes the following countries: Austria, Belgium, Czech Republic, Denmark, Estonia, Finland, France, Germany, Greece, Hungary, Iceland, Italy, Latvia, Lithuania, Luxembourg, Malta, The Netherlands, Norway, Poland, Portugal, Slovakia, Slovenia, Spain, Sweden and Switzerland. All these countries issue a standard Schengen visa that has a multiple entry option, and which allows the holder to travel freely within the borders of all the aforementioned countries. Non-EEA travellers to Greece must hold visible means of financial support to cover their stay in the country - entry may be refused if proof of sufficient funds (at least EUR 50/day) cannot be shown. It is also recommended that non-EEA members hold return/onward tickets, and the necessary travel documentation for their next destination. Passengers not holding onward tickets may be asked for proof of sufficient funds for their return/onward journey. Visitors requiring a visa are also required to have medical insurance, covering them for their full period of stay in Greece. Note that the admission of visa-free nationals into Greece is considered upon their arrival in the country; and that visitors wishing to extend their stay in the country, must register at the Aliens Police Department or at the Security Police Department BEFORE (i) the expiry date of their visa, or (ii) the end of the period of visa-free stay. NOTE: It is highly recommended that your passport has at least six months validity remaining after your intended date of departure from your travel destination. Immigration officials often apply different rules to those stated by travel agents and official sources.
Note: Passport and visa requirements are liable to change at short notice. Travellers are advised to check their entry requirements with their embassy or consulate.
Contacts
Greece Tourism
Greek National Tourism Organisation, Athens: +30 210 870 7000 or www.gnto.gr
Foreign Embassies in Greece








Greece Embassies








Regions and Cities
Athens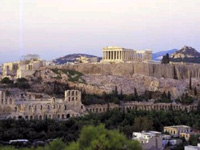 Athens exudes a unique charm, its lively character winning over tens of thousands of visitors every year. Street markets, vine-covered tavernas, souvenir stalls and ancient monuments are dotted among high-rise buildings in this capital city, which one out of four Greeks call home. For tourists the greatest advantage is that most attractions are accessible on foot in the central area around the landmark Acropolis.
Athens was named after Athena, the Greek goddess of wisdom, who according to mythology won the city as prize after a duel against Poseidon. The city can chart its history back thousands of years and is regarded as the cradle of western civilisation; the place where democracy was invented and philosophy, art and architecture were refined. After a classical golden age when it was home to Socrates, Plato and Aristotle, the city declined in the Middle Ages, dwindling to nothing but a town with a few thousand residents gathered in the colourful area that is now known as the Plaka, until its rebirth as capital of an independent Greece in 1834.
Nowadays the city is busy and bustling. While the pollution, frantic gridlock and dingy buildings is of great contrast to the open beauty of Greece's coast and islands, Athens is truly the heartbeat of the country, and ancient wonders like the Acropolis, the Parthenon, and the Temples of Zeus and Hephaesus ensure that Athens will always have its attractions.
Peloponnese Peninsula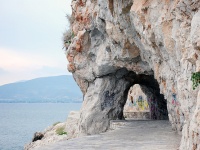 The southern part of mainland Greece, known as Morea, consists of the large Peloponnese Peninsula, now divided from the mainland by the Corinth Canal. The Poloponnese was the ancient stomping grounds of mythological heroes such as Hercules, Sisyphus, Callisto, Electra and Perseus. Nowadays, the peninsula plays host to virtually every tourist that comes to Greece, because most of the country's important and imposing ancient sites are found on its landmass, dominated by two mountain ranges, the Taygetos and Parnon. The Olympic torch is ritually lit at Olympia by a high priestess, just as it was in ancient times, and carried across the continents of the world to the host country to mark the start of the Games.
Besides the ancient ruins at towns like Sparta, Monemvassia, Corinth, Mycenae, and Epidaurus, the fertile coastal strip of the Peloponnese also serves as Greece's market garden and centre for wine production. Many tourists enter Greece by sea from Italy and other Mediterranean ports through the Peloponnese port of Patras, the third largest town in Greece.
The peninsula is a playground too, for the Greeks themselves. Summer sees thousands of Athenians heading south at weekends to enjoy the many seaside resorts and beaches of the Peninsula.
Thessaloniki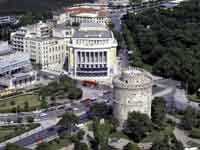 Greece's second largest city was the realm of Alexander the Great and named after his sister, Thessaloniki, when it was founded in 316 BC. The capital of Macedonia in the north, it sits in a bowl framed by low hills, facing a bay on the Gulf Thermaikos. Despite being one of the oldest cities in Europe, today Thessaloniki is lively and modern, and with its with wide avenues, parks and squares, is thought to be much more attractive than Athens.
The main squares are Platia Elefterias and Platia Aristotelous, both on the waterfront and alive with cafes and restaurants, children playing or people just strolling. Thessaloniki, having been under Ottoman rule for long periods in its history, has been left a legacy of numerous Byzantine churches, and museums housing Byzantine art and artefacts. The city also has a heritage of early Christian communities, particularly the renowned monasteries of nearby Mount Athos; and a rich Jewish tradition, evident in the synagogues and Jewish Museum.
In 1917, most of the city was destroyed in a massive fire, and rebuilt later. This is not a high-rise city, though, because the area is prone to earthquakes and regulations have been imposed preventing the building of skyscrapers. This means that residents and visitors alike can enjoy the seaside situation of Thessaloniki, with views aplenty from the city streets.
There is much to see and do in Thessaloniki besides the ruins, including visits to the Turkish Baths, central market, and cafes and restaurants of Aristotelous Square. Thessaloniki also has a vibrant nightlife, with a number of lively bars and clubs.
Corfu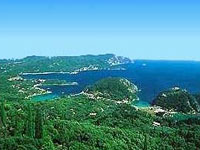 The island of Corfu, best known of the seven Ionian islands that lie off the north-west coast of Greece, differs markedly from the other popular Greek islands because not only is it green and lush, but also very developed with tourist resorts and hotels. Summer time is hectic on Corfu, with charter flights arriving daily from European cities, ferries disgorging travellers from Italy, and cruise ships docking.
There is plenty to draw visitors to this magical island, also known as Kerkyra. Modern Corfu Town is upbeat and cosmopolitan, offering an exciting conglomeration of Greek, Italian, French and British influences. The old town was laid out by the Venetians in the 14th century and features narrow alleys lined with multi-storied pastel-coloured buildings with red tiled roofs, creating a scene reminiscent of Italy. The hub of activity in the town centre is the Liston, an arcaded row of cafes and restaurants, copied from the Rue de Rivoli in Paris.
Those wishing to escape from the melee in the town can head for the interior to enjoy some spectacular scenery and greenery. Corfu has, for instance, 43 different kinds of orchids growing wild in the countryside, and there are countless olive groves. Finally there are, of course, the beautiful beaches washed by the sparkling Ionian Sea, and it is still possible to search out a secluded cove or two even in the busy season when the over-developed resorts on the east coast are awash with package tourists.
Crete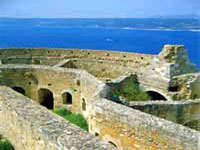 The island of Crete is equipped with more tourist facilities than any other Greek island, which is fair enough because it is the largest. The reason why thousands of foreigners visit Crete each year, however, is not so much for the traditional Greek island experience, as for investigating the remains of the archaic Minoan culture that flourished here thousands of years before Christ. Some parts of the island have been overpowered by tourist resorts and massive hotels, but fortunately Crete does still allow for exploring endless beaches, numerous villages, remote mountains and some natural curiosities like caves and gorges for those who take pains to avoid the 'madding crowds'.
The famed Minoan archaeological sites, particularly the palace of Knossos and Phaistos, are vast and can take a great deal of time and effort to fully explore and appreciate. There are numerous other sites of interest as well, and not all related to the Minoan era. Crete has experienced thousands of years of habitation and has a complicated and diverse heritage, including years of Roman, Venetian and Turkish rule, that have all left their mark.
As one experienced traveller reportedly said: 'there is lots to see on Crete, and a lot not to see.' The best of Crete for those who do not want an in-and-out package style visit can be found on the east and west tips of the island, areas that have retained most of the island's traditions and natural beauty, as opposed to the northern coast that has been harshly overdeveloped. Gateway to the island is the large, modern city of Heraklion, which is anything but an island idyll, but a vital commercial centre.
Santorini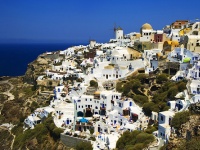 Not only is Santorini one of the most beautiful islands in the world, it is also geologically and archaeologically one of the most dramatic. The island, which is also called Thira, is shaped like an enormous pair of jaws encircling a lake filled with pure blue water. This is the core of an ancient volcano, which according to legend destroyed the lost continent of Atlantis when it blew its top about 3,600 years ago, burying the ancient city of Akrotiri (now being excavated) under tons of ash and sending out tidal waves that inundated other landmasses.
The island's two towns, Fira and Ia, are perched on the cliff tops of the highest part of the island. Ferries arrive and depart in the harbour below, and visitors walk or ride donkeys up the steep winding path to the towns. The towns are equipped with hotels, good restaurants, bars and plenty of nightlife to keep tourists happy while they relax between visiting the archaeological remains of ancient Thera, dating back to the 9th century BC, on the east side of the island. Other attractions include the excavations at Akrotiri, an archaeological museum and an 18th-century monastery. Santorini has two swimming beaches, Perissa and Kamari, both characterised by their volcanic black sand.
Rhodes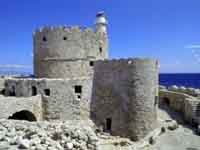 In the days of old, knights found the island of Rhodes, close to the Turkish shore at the merging of the Mediterranean and Aegean seas, and set it up as a fortress to protect the Christian west from the invasion of the 'heathens' from the east. Today the island, the main one of the 12 making up the Dodecanese group, is still subject to invasion, but now the intruders are tourists, who come to revel in what is reputedly the sunniest Greek island, and to have fun in the medieval city the knights left behind.
The town of Rhodes, on the northern point of the island, has preserved its picturesque walled old city as a playground for visitors. In ancient times the harbour here was guarded by the legendary Colossus of Rhodes, one of the Seven Wonders of the World, but now some statues of deer have taken its place. Nevertheless the old part of the city has plenty of wonders still to offer and the modern part of the town is just as vibrant.
The rest of the relatively large island offers miles of beaches, interesting archaeological sites and natural beauty spots. The best beaches are on the east coast, between Faliraki and Lindos. Lindos is renowned as a particularly picturesque town that has been designated a protected historic settlement.
Mykonos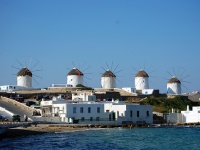 This upmarket Greek island is a sophisticated, fashionable favourite destination particularly for the gay traveller, and probably because of its popularity it has become reputedly the most expensive of all the islands. Its designer shops, colourful tavernas and throbbing dance clubs are doing a roaring trade, but despite the trendy crowds and a couple of well-attended nudist beaches, the island retains its traditional flavour while its trademark five thatched windmills turn slowly on the hill. Tourists to Mykonos who would like to do some serious sightseeing can visit the archaeological museum on the island, which displays some finds from the necropolis on nearby Rhenia. It is also possible to take a trip across to the uninhabited island of Delos (just six nautical miles away), which is an important World Heritage archaeological site, having been the religious and political centre of the Aegean in ancient times. Explore the temples and the Avenue of the Lions, and see some stunning archaic sculptures in the museum.
Kos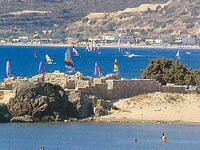 This island of the Dodecanese group has been taken over almost completely by tourism, catering especially for family holidays. Aside from the drawcard of beautiful beaches, Kos has an abundance of interesting ruins to explore, and is easily reached from Rhodes or Bodrum (Turkey) by ferry. Kos was prominent in antiquity because of its healing temple of Asclepius, founded after the death of the famed physician Hippocrates, who allegedly taught students on the island.
Kos also features the remains of temples for other healing deities, including Isis and Sarapis, and appears to have historically been an island healing retreat. The island boasts a tree that is reputedly the oldest in Europe and Hippocrates is said to have held lecture sessions in its shade. It also has several archaeological remains of Persian, Turkish, Roman and Byzantine conquerors that all added their bit during a long history. Kos has busy bars and an entertaining nightlife, and there are some pleasant towns and beaches outside the capital, but those looking for empty beaches should head for quieter islands.
Skiathos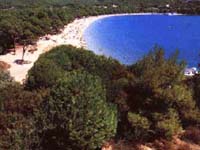 The island is only four miles (6km) wide and seven miles (11km) long, but with its own airport and more than 60 fine beaches, Skiathos is the most popular of the Sporades Island group and each year attracts thousands of tourists to its busy coastline.
Away from the resort areas along the south and east coast it is relatively undeveloped with shady woods, olive and walnut groves and quiet beaches that can only be accessed by boat. The seafront in Skiathos Town is lined with local tavernas, cafés and some excellent seafood restaurants that look over the lively marina. From here boat trips leave to take tourists around the island to swim in the sparkling blue-green waters and see the sights, which include a ruined Venetian fortress dating from 1207, and the deserted 14th-century town of Kastro.
The most famous beach on the island, and perhaps Greece, is Koukounaries, a one-mile (2km) long strip of fine golden sand and crystal clear water set in front of a thick pine forest. It attracts many visitors especially during July and August and offers all sorts of water sports facilities.
Thassos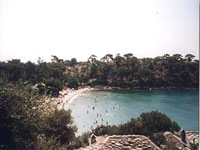 The package tour companies have only recently started to invade Greece's most northerly island, the emerald Macedonian isle of Thassos, close to the mainland port of Kavala in the Aegean Sea. Those seeking a true Greek Island getaway can still find some traditional tavernas, interesting archaeological sites, picturesque villages and beautiful sandy beaches washed by crystal clear water. The locals are fast learning to cash in on the tourist trade, however, and resort hotels are springing up as ferries disgorge the crowds during the height of the summer season.
Historically Thassos is one of the richest of the Greek islands. It was inhabited as far back as 2,000 BC, home to the Thracians up until the Phoenicians, drawn by the wonderful climate, rich pine woods and white marble, colonised it in 1,500 BC. The Greeks arrived about 700 years later, staging a peaceful takeover, and the Romans followed. All left their legacy in the form of archaeological sites, which today provide plenty of interesting excursions for visitors.
The capital and main port is the city of Limenas, which is not particularly inviting, but has a pretty old harbour sporting colourful fishing boats and traditional tavernas. Within easy reach of Limenas are the lovely little villages of Panagia and Potamia, overlooking the sandy Golden Beach and the long, inviting crescent of Skala Potamias. A little further away is the quieter village of Kinira with its pebbled beach, and the pinewood-ringed Paradise Beach, frequented by nudists. On the south coast, at Aliki, lies a peninsula forming two magnificent bays, also site of ancient marble quarries.
The most popular tourist resorts hug the south-western coast, near the town of Limenaria, but further along the west coast are a series of quaint fishing villages, interspersed with lovely beaches and coves. Inland, old mountain settlements charm with narrow cobbled streets and cafes on the village square. Those tired of the more well-worn Greek destinations will find Thassos refreshing.
Zakynthos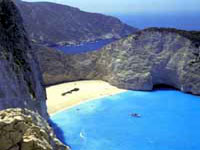 The Ionian island of Zakynthos (also called Zante) has been colourfully billed as 'the green island of poetry, song and love', mainly because it was the home of Dionysios Solomos, who wrote the Greek national anthem, 'The Hymn to Liberty'. Arriving in Zakynthos by ferry is certainly a poetic experience: the picturesque town curves around a bay dominated by a Venetian Fortress and the St Dennis Cathedral. Zakynthos town is reminiscent of Venice with its historic St Mark's Square and Solomos Square, lined by reconstructed neoclassical buildings. The Solomos Mausoleum is a museum dedicated to the island's aristocracy of bygone days, while the Byzantine Museum sports splendid icons and frescoes salvaged from the island's beautiful medieval churches, destroyed in the massive earthquake of 1953.
The main attraction for visitors, however, is the triangular shaped island's 57 miles (92km) of coastline, particularly on the eastern and southern flanks, which are blessed with beautiful bays. Favourites are the white sandy beaches of Lagana and Geraka, also renowned for being the nesting grounds of the Caretta-Caretta sea turtles. Inland, the mountain villages lure holidaymakers away from the beach to sample some local hospitality and good food and wine, and to explore monasteries tucked away among the greenery. Tourism has become the main income earner for this popular resort island, but the rapid development of infrastructure in recent years has not depleted its traditional charm - Zakynthos remains pleasantly poetic.
Samos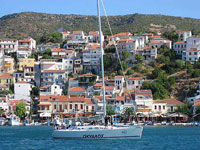 The easternmost island of the Aegean, Samos, was one of the first Greek islands to take advantage of the package tour boom that began in earnest in the 1980s. Today it has become 184 square miles (477 sq km) of holiday resort, its beaches dotted with sunbeds and encircled by hotel rooms, and its waterfronts lined with tavernas, bars and cafes. Tourism may be on the increase, but that does not mean that this lovely island has lost its traditional charm, its laidback feel, or its scenic beauty. The very fact that it remains such a popular destination testifies to the fact that it has a great deal to offer the holidaymakers who come to enjoy themselves each year, many returning again and again.
In ancient times when the great mathematician Pythagoras was born here in the 6th century BC, Samos flourished, as evidenced by the now few remains of its magnificent architecture, which included a temple and marble paved road lined with 2,000 statues (now largely covered by the airport runway). The course of its more modern history has seen the island in a tug of war between Greece and Turkey, but since 1913 Samos has been indisputably Greek.
Samos town curls around a semi-circular bay with its pretty pastel-coloured buildings rising in tiers up a green hillside from its busy, and somewhat tacky touristy waterfront. Numerous other coastal towns and villages encircle the island, all offering holiday accommodation. Inland there are some delightful mountain villages with picturesque alleyways and friendly locals, which, out of season anyway, still maintain the illusion of being unspoilt by mass tourism.
Samos has always been known as being blessed with natural beauty, and this has not changed. The dramatic, indented coastline is dotted with sand and shingle coves, while inland the slopes of the mountains and hills are covered in vines and verdant forest.
All in all, for a classic Aegean summer holiday with hot weather, lively tavernas, sights to see, shops to browse and a selection of good beaches, Samos comes up trumps.
Cephalonia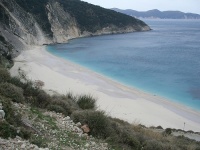 Kefalonia (also spelt Cephalonia), named after a Greek hero from around the 5th century BC, lies in the centre of the Ionian Sea, 53 nautical miles from Patras. This is one of the most enchanting of the Greek islands, which accounts for its having become one of the most sought after by holidaymakers. Hundreds of visitors descend on the island year round, avid for the quiet, windless beaches, many at the base of steep cliffs that plunge into the sea, or to explore the verdant mountainsides clad in shadowy forests.
Kefalonia has an excellent tourist infrastructure, is connected to Athens by air (the airport is situated just south of the ancient capital of Argostoli) and to Patras and surrounding islands by ferry. In addition to some spectacular golden beaches, Kefalonia boasts numerous historic and natural attractions. Best known of these are the caves at Melissani where a subterranean lake reflects a kaleidoscope of gorgeous colours; the enormous caverns of Dragostoli; and the 'swallow holes' where visitors marvel at the phenomenon of seawater literally disappearing through the rock.
The beautiful city of Argostoli, the island's capital since ancient times, was largely destroyed by an earthquake in 1953, but among the remains are the fascinating archaeological and folk art museums. The island's main town, Lixouri, is peaceful and picturesque, situated close to the south coast where the best beaches are to be found. Visitors to Kefalonia are never at a loss for an entertaining way to spend their time. There are quaint villages, traditional fishing harbours, Roman ruins, architecturally marvellous churches and castles and magnificent views to discover.
Skopelos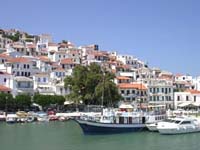 Skopelos is situated just east of Skiathos and is the largest island of the Sporades group, at 12 miles (19km) long and six miles (10km) across. The fertile island is dominated by lush hills, thick pine forests and olive groves, which in many places descend down to the shoreline and make Skopelos an excellent island for exploring on foot. Skopelos Town is a collection of charming, whitewashed houses that cling to a steep hill behind the harbour, crowned by an old fort. The town is home to more than 100 of the island's 380 churches.
There are many beaches to choose from on Skopelos; most can be reached by public bus, but some only by boat. Skopelos is quieter and less well known than its neighbour Skiathos, offering a more laid-back, relaxing, and romantic atmosphere, which is ideal for those looking to get away from it all.
Lesvos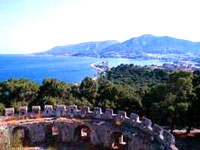 Lesvos (alternatively spelt Lesbos), the third largest of the Greek islands, is a little different from the rest, being largely self-sufficient thanks to its commerce in olive-growing and fishing. Despite being a popular summer holiday destination it remains unspoilt and natural, untainted by most tourist trappings, and its size precludes it from becoming overcrowded or claustrophobic like some of the other Greek resort islands.
Situated in the Aegean, Lesvos is very close to the Turkish coast and well connected by air and sea to Athens and Thessalonika, as well as some of the other Ionian Islands like Rhodes and Kos.
The delightful island is encircled with quaint fishing villages and pale gold sandy beaches, while inland the fertile soil is rich with olive groves, the uplands covered in pine and holme oak. Two gulfs, which penetrate deep into the interior of the island, provide for an interesting, sheltered coastline.
The main town on the island is Mitilini, a city of 30,000 inhabitants clustered around its well-preserved Byzantine castle. The favourite spots for holidaymakers, however, are the northern village of Molivos; the south coast town of Plomari (where it is reputed the finest ouzo in the world is still made); and Sigri, at the western tip, near the world's largest petrified forest.
Apart from beautiful, secluded beaches and superb opportunities for walking and bird-watching, Lesvos has relics of a long and proud history to explore. The island has been inhabited since the Bronze Age, and rose to glory particularly around the 6th century BC when it was rivalled only by Athens as a great centre of civilisation, home to the legendary poets Sappho and Alcaeus.
Lesvos is known as the birthplace of the ancient poet Sappho, and in recent years tourism has increased for lesbian and all-female tour groups who come to pay homage. Lesvos is known as a lesbian-friendly island, and resorts like Skala Eressos are focused on women-only holidays.
Today it is easy for visitors to wax poetical when enjoying the serenity of this beautiful lush island with its balmy Mediterranean climate.
Patmos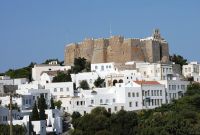 The small island Patmos is off the beaten path for most people on holiday in Greece. Its location in the north of the Dodecanese Archipelago is out of the way for most tourists, who miss out on the island's peaceful and almost ethereal atmosphere, and lovely landscapes.
Most of Greece is filled with shrines and temples to various Greek gods and goddesses like Poseidon and Athena, but Patmos' religious affiliations are more exclusively Christian. The island is home to around 300 churches scattered in villages and on hillsides, and Greek Orthodox icons gaze at you from nearly every wall (also making the most popular Patmos souvenirs).
Patmos' devout aura is partly due to its biggest attraction, the Cave of the Apocalypse, which is where the Apostle John is said to have written the Book of Revelations. The apostle was exiled on Patmos for several years, and supposedly founded the monastery there that bears his name: The Monastery of St John.
The main towns on Patmos are Skala and Hora. Both are charming villages with rows of whitewashed houses and 17th to 18th-century mansions. Visitors should be respectful of the traditions and beliefs of the local population, and dress modestly (women are required to wear long skirts and cover their shoulders, while men must wear long pants). Patmos lacks any sort of nightlife or rowdy attractions, but offers tourists in Greece a glimpse at a simpler way of life that many miss.
Saronic Gulf Islands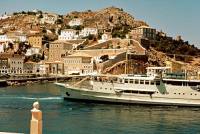 Located a stone's throw away from Athens and the Peloponnese Peninsula, the Saronic Gulf Islands are wildly popular as weekend holiday destinations for Greeks. Crowded to the point of madness in the peak July and August season, the islands of the Saronic Gulf are also gaining popularity with American and British tourists looking for a quick island getaway while on holiday in the Greek mainland.
The most popular islands in the Saronic Gulf are Aegina, Poros, Hydra and Spetses, although lesser-known islands like Agistri, Salamis, Patroklou, Vleves and Dokos have their own charms.
Day cruises from Athens' port of Piraeus shuttle tourists back and forth with daily service to many ports, making getting to the Saronic Gulf Islands incredibly easy. Package tours stop at as many as three islands per day, however these can be rushed and leave visitors unsatisfied with only a cursory glance at the diverse towns and landscapes in the islands.