Overview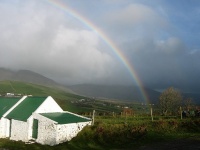 The lure of Ireland lies in its landscapes and its people, and it is through involvement with both that visitors get to experience the soul of this ancient land of saints and scholars.
Ireland's hills are a walker's paradise, not only because of the extensive network of trails, but because by being on foot one gets to appreciate the lakes and rivers, the coastal views and ever-changing sky-scapes that are so much part of the Irish landscape. Watersports such as angling, sailing and surfing are popular too, and many visitors come for the golf, but the real passion of the Irish is horses - there is a potential Derby winner in every valley and a packed betting shop in every high street.
The Irish weather is not the most predictable in the world, but then much of the beauty of the Irish landscape is due to its climate and there has to be a price tag on being nicknamed the 'Emerald Isle'. Poor weather has had positive influences on the Irish way of life. Music and song plays an integral part in daily life and visitors are able to experience this in the many pubs so characteristic of the social landscape of Ireland.
Over the years, Ireland has survived invasions, famine and civil war, but has recently come into its own, benefiting from peace in the North, support from the EU and a new vitality which has caused the country to be dubbed the 'Celtic Tiger'. There has never been a better time to visit.
Basics
Time
GMT (GMT +1 between the last Sunday in March and the Saturday before the last Sunday in October).
Electricity
Electrical current is 230 volts, 50Hz. UK-style three-pin and round three-pin plugs are in use.
Language
English, Irish (Gaelic) is spoken in some Western areas.
Health
There are no special health requirements for visitors to Ireland. Health insurance is advisable unless from the UK or other EU countries, most of which have reciprocal agreements with Ireland. A European Health Insurance Card (EHIC) should be obtained before departing for travel to Ireland. Medical facilities are good, and payment for treatment is usually required in cash.
Tipping
A 10% tip will be welcomed in restaurants and cafes, but tipping is not usual in bars and pubs. Tipping is not common for other services.
Safety
Most visitors to Ireland enjoy a fairly high level of personal safety. However, travellers should take sensible precautions against petty theft. Terrorism is no more a threat than in other Western countries.
Customs
Smoking in pubs, cafes and restaurants is illegal. Visitors should refrain from forcing discussions of political and religious differences, and show respect if the topics are brought up.
Business
The Irish are very sociable and although the usual elements of business etiquette apply (punctuality, formal wear, a courteous manner), expect good conversation and a rather relaxed air. Handshakes are customary on introduction, and take the lead from the host with regards to using first names or surnames. Business hours are usually from 9am to 5.30pm Monday to Friday, with a lunch break from 1pm to 2pm.
Communications
The international access code for Ireland is +353 (do not dial the first zero of the area code). The outgoing code is 00, or 048 for Northern Ireland, followed by the relevant country code (e.g. 0044 for the United Kingdom). City/area codes are in use, e.g. 1 for Dublin. The local mobile phone operators use GSM networks and have roaming agreements with most international operators. Internet cafes are available in the main tourist areas.
Duty Free
Travellers over 17 years arriving from non-EU countries do not have to pay duty on 200 cigarettes, 100 cigarillos, 50 cigars, 250g tobacco or a proportional mix of these; 1 litre spirits with more than 22% alcohol volume, or 2 litres dessert wine with a maximum 22% alcohol content, or a proportional mix of these products, and 2 litres table wine; perfume up to 50g or 250ml eau de toilette; and other goods for personal consumption to the value of EUR175 per adult or EUR90 for children under 15 years. Prohibited items include meat or dairy products or raw vegetables.
Currency
The unit of currency is the Euro (EUR). Currency can be exchanged at banks and bureaux de change and ATMs are widely available. Credit and debit cards, as well as travellers cheques, are widely accepted.

| | | | | | | | |
| --- | --- | --- | --- | --- | --- | --- | --- |
| EUR 1 = | US$ 1.27 | £ 0.83 | C$ 1.29 | A$ 1.23 | R 10.70 | EUR 1.00 | NZ$ 1.60 |
Note: These currency exchange rates are not updated daily and should be used as a guideline only.
Health
Health Overview
There are no special health requirements for visitors to Ireland. Health insurance is advisable unless from the UK or other EU countries, most of which have reciprocal agreements with Ireland. A European Health Insurance Card (EHIC) should be obtained before departing for travel to Ireland. Medical facilities are good, and payment for treatment is usually required in cash.
Visa
Americans
UK nationals
Canadians
Australians
South Africans
Irish nationals
New Zealanders
Passport/Visa Note
All foreign passengers to Ireland must be able to show proof of sufficient funds to cover their stay in the county. Additionally, passengers should hold return/onward tickets, and the necessary travel documentation for their next destination, as immigration officers might demand that they demonstrate proof of their intention to leave Ireland. If the traveller's passport bears a British inadmissable stamp, unless the immigration officer is convinced that they will NOT travel on to the United Kingdom, entry may be refused to Ireland. Note that all visitors need to contact the Garda National Immigration Bureau (GNIB), if their stay in Ireland exceeds their visa-free period, or their stay is longer than the period for which their visa is valid. NOTE: It is highly recommended that your passport has at least six months validity remaining after your intended date of departure from your travel destination. Immigration officials often apply different rules to those stated by travel agents and official sources.
Note: Passport and visa requirements are liable to change at short notice. Travellers are advised to check their entry requirements with their embassy or consulate.
Contacts
Ireland Tourism
Irish Tourist Office, Dublin: +353 (0)1 605 7732 or www.ireland.travel.ie
Foreign Embassies in Ireland








Ireland Embassies








Regions and Cities
Dublin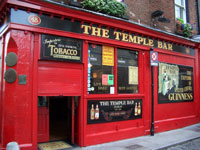 Cosmopolitan, colourful and over a thousand years old, Dublin presents a fine starting point for visitors to Ireland. This capital city is split in two by the River Liffey, which gives form to the city and has no less than nine bridges spanning it. Easily explored on foot, central Dublin presents a wealth of historic landmarks, from ancient cathedrals to gracious Georgian buildings that pay testimony to days gone by. There are several attractions on both sides of the Liffey, ranging from gaols and castles to the birthplaces of famous poets and writers and guided literary trails.
Not far from the city in County Wicklow are the Wicklow Mountains, where hills and glens, forests and waterfalls attract weekend walkers and nature-lovers. Dublin Bay, which lies between the mouth of the River Liffey and the Dalkey headland, is the site of several small coastal towns and the ferry port of Dun Laoghaire. County Kildare is a region of rich farmland and fine reputation for the breeding of thoroughbred horses, while the similar counties of Louth and Meath have evidence of early civilisations and a wealth of castles and monasteries.
Cork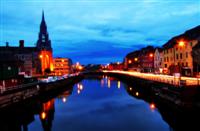 Situated on an estuary that opens onto the Atlantic Ocean, the Republic of Ireland's second largest city has been likened to Dublin without the traffic: it is crammed with cosy pubs and cultural attractions.
There is a great rivalry between Cork and Dublin, and the majority of Cork's residents see themselves as distinctly different from the rest of Ireland. Cork is vibrant and cheerful, with music, theatre and film all playing a major role in city life, while world-renowned annual festivals add to the lively atmosphere, making it the European Capital of Culture 2005. Cork is also the gastronomic capital of Ireland, with the widest variety of top class restaurants in the country, while nearby Kinsale, also known for its host of award-winning pubs and restaurants, hosts the annual Gourmet Festival.
Located in the southwest, County Cork is the largest county, noted for its maritime identity and impressive coastal scenery as well as being the site of Ireland's most famous attraction, the Blarney Stone. The city is a major seaport and is built around the waterways of the River Lee, connected by numerous bridges; Cork harbour is one of the largest natural harbours in the world. Sights include the 19th century Cork City Jail, the protestant Finbarr's Cathedral, and the Cork Museum, which is largely given over to the nationalist struggle in which Cork played an important role. Popular day trips from Cork include Kinsale and the beautiful coastal scenery of County Kerry, including the Dingle Peninsula.
Galway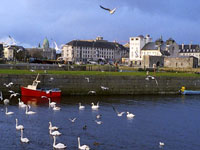 Capital of the west, Galway is one of the fastest growing cities in Europe, which began as a small fishing village on the River Corrib.
With its narrow streets full of vibrant pubs and old stone shop fronts, Galway is an exceptionally enjoyable, free-spirited place to spend a few days, especially if they coincide with one of the cultural festivals held during various months of the year. Galway is a very arts-oriented city, and there are many event and festivals, including the February Jazz Festival, the Easter Festival of Literature and the July Arts Festival, when the streets are alive with music and dancing and the town feasts on Guinness and oysters.
The town centre has many attractions, including the bustling Spanish Parade, Eyre Square and the nearby medieval quarter as well as the infamous Lynch's Castle. There are many picturesque churches and buildings, particularly along St Patrick's Street, a pedestrianised thoroughfare also known for its shopping.
Galway's famous bay is also a popular destination for boats with its sailing races. Situated on the periphery of the Gaeltacht (Irish-speaking area), Galway is an important tourist centre and makes a good base from which to explore the magnificent scenery of surrounding areas like the beautiful Connemara and Aran Islands. To the East lies picturesque, rolling farmland.
Killarney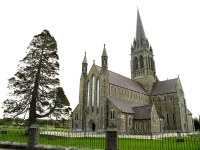 Sitting on the edge of the spectacular scenery of Killarney National Park, Killarney is one of the most popular tourist destinations in Ireland, despite its small size. A gateway to southwestern Ireland and a great place to discover the countryside, located on the popular Ring of Kerry route, which meanders through the Iveragh Peninsula. Killarney is also a popular base to explore the scenic Dingle Peninsula, Skellig Michael Island, and Innisfallen Island.
Killarney itself has many attractions as well, including Ross Castle and Muckross House. St Mary's Cathedral is a beautiful example of Gothic architecture. It also has a small but vibrant nightlife, which buzzes seven nights a week. No visit to Killarney is complete without a ride in a jaunting car, a horse-drawn cart that operates as both taxi and tour guide.
Killarney is home to the International Rally of the Lakes, an event which draws thousands of spectators every May and sees the already lively town party even harder.
Limerick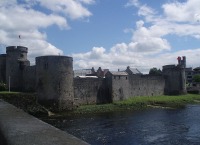 One of the larger cities in Ireland, Limerick has a picturesque location on the River Shannon, roughly halfway between Cork and Galway. A lovely blend of ancient tradition and modern vibrancy, Limerick is still an underrated travel destination often overlooked by the millions of tourists who spend their Ireland holidays in well-known destinations like Dublin and Killarney.
Originally conquered by the Vikings in the 10th century, Limerick was established as an early base for the Christian church and several structures, including St Mary's Cathedral and the Trinitarian Abbey in the Medieval Heritage Precinct, date back as far as the 12th century. King John's Castle and Cathedral are also popular sights, as well as the Treaty Stone on Thomond Bridge, commemorating a peace agreement between William of Orange and the Jacobites in 1691.
Limerick endured much economic hardship in the 20th century, and though gleaming buildings are added to the skyline every few years, the city has difficulty removing itself from the images of crime and poverty associated with the best-selling novel Angela's Ashesby Frank McCourt. Even today, the crime rate in Limerick is higher than most other Irish cities.
Even through this hardships, Limerick is a lively city with a serious love of both sport and the arts. Visitors to the city can catch a Munster Rugby match at Thomond Park, and then food and drink at any of dozens of restaurants, bars and pubs around the city. On weekends, the Milk Market and Potato Market offer the chance to buy just about anything from books and antiques to local arts and crafts and fresh food.
In contrast with the gritty image of Limerick City, the surrounding Limerick County is a rolling landscape of pretty farmland with the winding River Shannon curling around picture-postcard villages like Adare and the seaside resort of Kilkee.