Overview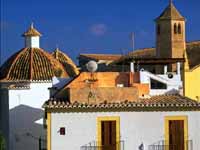 Budget airlines and affordable fares have turned Spain into a beach resort haven for northern Europeans wishing to escape their own (sometimes) damp and dreary climates. With sun-bleached beaches and a favourable rate of exchange for most travellers, it's easy to see why Spain is such a popular choice for an unforgettable beach holiday in Europe. An incredible 53 million people visit Spain each year (the second most in Europe after France), and the country has earned its formidable reputation as a tourist haven.
Some may feel that the Canary and Balearic Islands have been overrun by tourists, and this is true to some extent - Tenerife, Lanzarote and Mallorca have become synonymous with cheap package holidays and warm beer, and Ibiza's reputation has, for some, been tarnished by the revellers frequenting its famous dance clubs and beach parties. However even in these crowded resort areas you will find many magical, unspoilt corners awaiting discovery.
Spain is comprised of numerous autonomous regions, offering great variation within one country. The hundreds of miles of Mediterranean coastline provide ample opportunity to get off the beaten track, and the country's vibrant cities and colourful festivals will amaze and delight even the most seasoned traveller. There is the Spain of Gaudi, Dali, and Picasso, of Goya and Velazquez - proudly displayed in Madrid's museums and galleries.
Spain's Pamplona is a unique experience of thundering streets that vibrate to the rhythm of man and beast during the annual running of the bulls, and while the whole country celebrates each February with the Carnaval, no place does it better than Sitges. Barcelona is Spain's showcase of the unique architectural style of Gaudi's bizarre organic turrets and balconies. For a more provincial experience, the Valencian town of Buñol goes wild every year with the La Tomatina festival, a time when the region's surplus tomatoes - following the annual harvest - are dumped on the streets and pelted about in a friendly riot.
Spain is also a country rich in heritage and the historic cities of Toledo, Salamanca, Seville and Granada promise a wealth of early Christian and Moorish buildings and monuments, as well as the remains of some incredible medieval sites. Spain has six cities that have been declared UNESCO World Heritage sites, more than any other country in the world.
Basics
Electricity
Electrical current is 220 or 225 volts, 50Hz. European-style two-pin plugs are standard.
Language
Spanish is the official language, but English is widely understood in areas frequented by tourists. Catalan, Galician and Basque are spoken in the relevant areas.
Health
There are no health risks associated with travel to Spain, and no vaccination certificates are required for entry. Bird flu was detected in Spain in 2006, and although there is little risk to travellers, close contact with live birds should be avoided and all poultry products well cooked as a precaution (no human deaths or infections have been reported). Spain has a reciprocal health agreement with most EU countries, including the UK, providing emergency health care on the same terms as Spanish nationals. EU travellers should take a European Health Insurance Card (EHIC). Note that the scheme gives no entitlement to medical repatriation costs, nor does it cover ongoing illnesses of a non-urgent nature, so comprehensive travel insurance is advised.
Tipping
Hotel and restaurant bills usually include service charges, but additional tips are welcomed for services rendered. In established restaurants tips of about 10% are expected. In Mallorca value-added-tax is usually included in restaurant bills, designated 'I.V.A', and may be mistaken for a service charge. Drivers of metered taxis expect small tips and it is customary to tip usually 5-10% for most services, including guides.
Safety
Generally safety is not too much of a problem for tourists in Spain. However, ETA has been responsible for numerous bomb explosions across Spain, and is blamed for the deaths of over 800 people in its fight for independence. There is a potential risk of international terrorism, as in other countries, although the risk to tourists is considered to be low. Most visits to Spain are trouble-free, except for street crime, which is common in the big cities; travellers are advised to take precautions to avoid theft of passports, credit cards, travel documents and money. Be wary of strangers offering or asking for help of any kind, as it is often a distraction for accomplices. There are also scams involving letters for outstanding traffic fines or Spanish lottery winnings.
Customs
Smoking in public places is banned and stiff fines will be imposed for smoking in areas such as enclosed public spaces, areas where food is prepared and sold, public transport, designated areas of bars and restaurants, and any places that cater for children. Drinking alcohol in the streets of Madrid, and in the Canary and Balearic Islands is illegal.
Business
The business culture in Spain is slowly shifting, but for now it is entrenched in tradition and it can take some time to gain a foothold in the Spanish working world. Hierarchy is central to Spain's business world and managers tend to make decisions without considering input from their colleagues. It is important never to undermine authority. A strong emphasis is placed on social status, character attributes and personal pride. Business success is often hinged upon being well-dressed, honourable and dignified while also exhibiting great social and entertainment skills.Business meetings are generally conducted face-to-face and can go on for long periods, as Spaniards prefer long deliberations in order to avoid uncertainty in business dealings. Business meetings in Spain tend to tread a fine line being both personal and formal. Conducting business in Spain can entail a lot of navigation through a lot of red tape and bureaucracy. Spanish is the language of business, but some of the larger multinationals conduct meetings in both English and Spanish. Business hours are often quite varied, but generally open by 9am and close in the mid-evening with a two-hour lunch break during the early afternoon. Business attire is quite conservative with dark or linen suits, which shirts and silk ties for men. Women should wear modest dresses or tailored suits. Brand names or labels attract affirmation from colleagues and associates. After the conclusion of successful negotiations, gifts are appropriate. Gifts should be of high quality and when receiving a gift, open it in front of the giver. Business cards are important and should be bilingual. Meetings are best scheduled for mid-morning. In business meetings always establish a formal, yet personable, environment before beginning business. Meetings often occur over lunches and dinners and may be characterised by several speakers. A hierarchy is generally observed with respect.
Communications
The international access code for Spain is +34. The outgoing code is 00 followed by the relevant country code (e.g. 0044 for the United Kingdom). City/area codes are in use, e.g. (0)93 for Barcelona and (0)91 for Madrid. Pay phones are either blue or green and accept either coins or phone cards, which are sold at post offices, tobacco shops and newsagents. Mobile phone operators provide thorough GSM 900/1800 coverage throughout the country and the Balearic and Canary Islands. Email and Internet access is available at Internet cafes in most towns and resorts.
Duty Free
If tax was included in the purchase price, travellers form EU countries are allowed the following items duty free: EUR300 (by land) or EUR430 (by air) gifts/souvenirs, 3200 cigarettes, 400 cigarillos, 200 cigars or 3kg smoking tobacco, 110 litres beer, 90 litres wine or 10 litres spirits, 60ml perfume. Travellers from non-EU countries may have 200 cigarettes, 100 cigarillos, 50 cigars or 250g smoking tobacco, 1 litre spirits or 2 litres wine, 60ml perfume and EUR200 worth of gifts/souvenirs.
Currency
Spain's official currency is the Euro (EUR). One Euro is divided into 100 cents. Money can be exchanged at bureaux de change and major hotels, but banks give the best rates. All major credit cards and travellers cheques are widely accepted at most hotels, restaurants, and shops. ATMs are widespread and are generally the cheapest and most convenient method of obtaining money.

| | | | | | | | |
| --- | --- | --- | --- | --- | --- | --- | --- |
| EUR 1 = | US$ 1.27 | £ 0.83 | C$ 1.29 | A$ 1.23 | R 10.70 | EUR 1.00 | NZ$ 1.60 |
Note: These currency exchange rates are not updated daily and should be used as a guideline only.
Health
Health Overview
There are no health risks associated with travel to Spain, and no vaccination certificates are required for entry. Bird flu was detected in Spain in 2006, and although there is little risk to travellers, close contact with live birds should be avoided and all poultry products well cooked as a precaution (no human deaths or infections have been reported). Spain has a reciprocal health agreement with most EU countries, including the UK, providing emergency health care on the same terms as Spanish nationals. EU travellers should take a European Health Insurance Card (EHIC). Note that the scheme gives no entitlement to medical repatriation costs, nor does it cover ongoing illnesses of a non-urgent nature, so comprehensive travel insurance is advised.
Visa
Americans
UK nationals
Canadians
Australians
South Africans
Irish nationals
New Zealanders
Passport/Visa Note
The borderless region known as the Schengen area includes the following countries: Austria, Belgium, Czech Republic, Denmark, Estonia, Finland, France, Germany, Greece, Hungary, Iceland, Italy, Latvia, Lithuania, Luxembourg, Malta, The Netherlands, Norway, Poland, Portugal, Slovakia, Slovenia, Spain and Sweden. All these countries issue a standard Schengen visa that has a multiple entry option that allows the holder to travel freely within the borders of all. Non-EU nationals must hold a return or onward ticket, all necessary documents for onward travel and sufficient funds. It is highly recommended that passports have at least six months validity remaining after your intended date of departure from your travel destination. Immigration officials often apply different rules to those stated by travel agents and official sources.
Note: Passport and visa requirements are liable to change at short notice. Travellers are advised to check their entry requirements with their embassy or consulate.
Contacts
Spain Tourism
Spanish Tourist Office, Madrid: +34 91 366 5477 or www.spain.info
Foreign Embassies in Spain








Spain Embassies








Regions and Cities
Madrid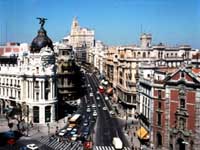 Madrid may be lacking in architectural beauty compared with other major Spanish cities, but it makes up for this with its boundless energy, blue skies, art, culture and some of the most exhilarating and exhausting nightlife in Europe. The city is compact and easy to navigate on foot - most of the sights of interest are found in the downtown area between the Royal Palace and Parque del Retiro.
The capital of Spain since 1562, Madrid sits in the geographic centre of the Iberian Peninsula and has long been an important stop on any art tour through Europe. The famous Museo del Prado on the city's 'Museum Mile' houses important works by Spanish and European masters from the Renaissance onwards, while the Museo Thyssen-Bornemiza houses one of the most extensive private collections in the world. The Museo Nacional Centro de Arte Reina Sofia is devoted to 20th century Spanish art, with works by Miro, Dali and Picasso.
Visitors wishing to take a break from all that art may want to see the Plaza de Toros, Spain's largest bullring, where regular bullfights are still held. Sports fanatics who like something a little less bloodthirsty can watch Real Madrid, or Atletico Madrid, two of Spain's most famous football teams kick off.
The city sits atop a plateau and is the highest capital in Europe, making its climate somewhat extreme with steaming hot summers and bitterly cold winters. Spring is the best time to visit and explore the squares and alleyways in the heart of this crowded city.
Barcelona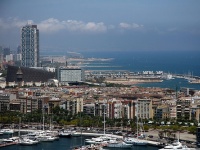 The enchanting city of Barcelona is a visual delight, and has an atmosphere that combines elegance and sophistication with provincial charm. In exploring its streets you'll discover medieval romance in its Gothic quarter and the awe-inspiring delights of the fantastic and sometimes outrageous Art Nouveau architecture of Gaudi and his contemporaries.
The funicular up to Tibidabo, or the cable car up Montjuic, both offer breathtaking views over this city. Its skyline is perhaps most famous for Antoni Gaudi's masterwork, the still incomplete church of the Sagrada Familia, as well as the city's huge Gothic cathedral. The artistic legacy of Barcelona is one of the city's most appealing offerings, with museums containing extensive collections of the works of Miro and Picasso.
Barcelona is also a shopping mecca, with the city's flair for style reflected in its numerous boutiques and markets, open late into the afternoons. As the sun sets, and the city's many bars and restaurants open, the night truly comes alive. Dinner is served at any time between nine o'clock and midnight, and the festivities around the bars and nightclubs carry on well into the early hours of the morning.
Barcelona is the commercial centre of the popular holiday region known as the Costa Brava, the northernmost Mediterranean seafront in Spain, as well as the Costa Dorada to the south. The coast is dotted with popular resort towns, many retaining their age-old charm, which can be easily reached from the city.
Costa Blanca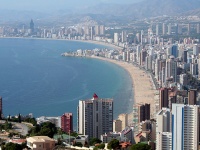 Lying on the eastern coast of Spain, the Costa Blanca draws millions of tourists each year to its turquoise waters and miles of white sandy beaches. Alicante is the capital and major city on this stretch of coast, but it is Benidorm that attracts the most visitors, and this is the place to go for those looking for a lively and entertaining holiday with hundreds of bars and all-night clubs catering mainly for British tourists. However there is more to the Costa Blanca than crowded beach resorts - within the mountainous interior are a series of fascinating medieval towns and fortified villages which have been largely unaffected by modern development.
Seville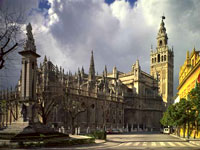 Spain's great southern city of Seville has a romantic past and a rich Moorish heritage. The city is the regional capital of Andalucia, which contains the densely populated beach resorts of the Costa del Sol along its southern reaches, and the mountain villages of the Sierra Nevada range further inland, about 25 miles (40km) from the coast.
Seville has an impressive collection of historical sights, including its Cathedral, which is the largest Gothic building in the world. Having been occupied by the Moors for 500 years, the city also has a legacy left by the Arab kings in the form of the Alcazar, a palace-fortress that is regarded as one of the finest existing examples of Moorish architecture.
It is the perfect setting for high culture and romantic operas like Carmen, Don Juan and Figaro, while the poet Byron however rated Seville for its women and oranges. Modern visitors might add flamenco, tapas and bull fighting to the list. The soul of the city is best epitomised during its two passion-filled grand festivals, the Semana Santa, held the week before Easter, and the Feria de Abril, held two weeks after Easter Sunday.
The area around Seville itself does not provide much in the way of tourist attractions, except for the rural villages of the Sierra Morena to the north, which offer some perfect walking trails between the modest mountain peaks, particularly in spring when the area is carpeted with wild flowers.
Costa del Sol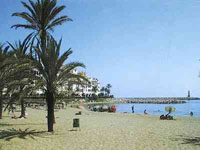 The densely populated coast of Andalusia, stretching from Almeria to Tarifa, is Europe's all-year-round favoured holiday destination and is commonly known as the Costa del Sol. It consists of a string of fine sandy beaches, where the average water temperature is 64ºF (18ºC), and picturesque towns that have abundant tourist amenities, resorts and high-rise hotels. Attractions include zoos, bullfights, water parks, casinos and amusement parks, like the renowned Parque de Attractions Tivoli. The most popular resort town on the Costa del Sol is Torremolinos, which retains some elements of traditional Spain, although most main streets are now pedestrian thoroughfares filled with souvenir shops and ice-cream parlours.
Bilbao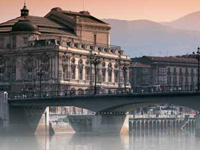 The industrial port-city of Bilbao is the political capital of the nationalistic Basque people, who inhabit Spain's three northern provinces (an area known collectively as Euskadi). The city is not beautiful - the buildings are soot-stained and the Nervion River running through it is one of Spain's most polluted waterways - but Bilbao does have some surprises to offer visitors, and there are plenty of attractions in the surrounding countryside and around the coast on the Bay of Biscay, which can be easily reached on excursions by rail or road.
The main attraction in the city is the controversial Guggenheim Museum, relatively new on the scene, having been opened in 1997. The city fathers regard this avant-garde building as the beginning of Bilbao' revitalisation, which has also recently acquired a new metro system and airport terminal. Bilbao has some good beaches and a few scenic spots - a favoured picnic site is on Monte Archanda, north of the old town, accessible by funicular. Of the beaches Getxo is the favourite, particularly with surfers, and features a 100-year-old suspension bridge and some lively bars and nightclubs.
Mallorca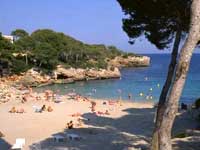 The island of Mallorca (Majorca) off the east coast of Spain is the largest in the Balearic Island group, which collectively form one of the most popular holiday destinations in the Mediterranean (if not the world).
Mallorca took off as a tourist mecca in the 1960s, when a development boom spawned the building of hundreds of high-rise hotels, apartment blocks and shopping centres which now line most of the island's coast. The capital, Palma, however still retains some of its historical flavour sporting grand mansions and a magnificent Gothic cathedral in its bustling centre. The northwest coast, too, still offers some secluded coves below the peaks of the Serra de Tramuntana mountain range, and several quaint old towns and villages.
If you visit Mallorca for the sun and fun, it is worth taking a break from the beach resorts and heading off for a tour of the island by car, or even bicycle, to discover the romantic fishing villages, historic monasteries, monuments, museums and spectacular landscapes tucked away from the madding crowds. The interior is largely the preserve of a thriving agricultural community, dotted with windmills, olive and almond trees.
Ibiza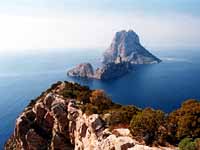 Ibiza is the third largest of the Balearic Islands, covering just 225 square miles (585 square km), but in recent times it has become the best known of the archipelago and a hugely popular destination for young revellers, middle-class European package tourists and gay travellers, whose collective character imbue the island with a chic and trendy atmosphere that is well expressed by its famously frenetic nightlife.
Ibiza has plenty to offer besides night clubs - its jagged coastline contains dozens of dreamy white sandy beaches, hidden coves and bays, villages of white-washed houses tumbling down cliff sides, and a green, hilly interior landscape decorated with fig and olive trees. The island's main town is the port of Ciudad de Ibiza - known as Eivissa to the locals and Ibiza Town to the Brits. Located in the south, it is the centre of the island's nightclub scene and has a lively marina and quaint old quarter with some great restaurants. It lies close to the beautiful beaches of Figueretes, Es Cavallet and Ses Salines.
San Antonio is the main resort town of the island and is blighted with high-rise hotels and apartment blocks though it is making efforts to clean up its tarnished image. The main attractions for many British holidaymakers are the two clubs of Es Paradisand Edenbut there are also some beautiful coves nearby with glorious beaches. It's best to get there early to reserve a spot. Just three miles (5km) offshore is the 'satellite' island of Formentera, a little haven reached by ferry, with less crowded stretches even in the height of the sweltering summer season.
Minorca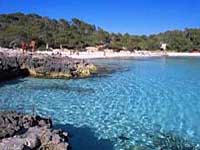 Despite its popularity as a holiday mecca, the Balearic Island of Minorca remains one of the loveliest, most unspoilt islands in the Mediterranean. The local population support the control of resort development and the woodlands and fields of its hilly rural interior remain largely untouched. This is the result of a thriving local industry that is less dependent on tourism for its survival than the other islands are.
Minorca is only nine miles (15km) wide and about 32 miles (52km) long, and boasts stretches of varied beaches, from silver-sanded gently curving bays to rocky inlets. Aside from beaches and resorts the island also has plenty of interest for history buffs and culture vultures, with several attractions to experience, including a world famous pipe organ and several mysterious prehistoric archaeological sites related to the second millennium BC Talayot culture.
The more recent history of the island is a saga of British, French and Spanish attempts at control and colonisation, each of which have left their influence on the local culture and architecture.
Lanzarote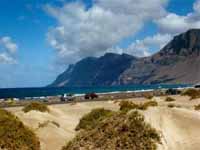 The most northeasterly of the Canary Islands, Lanzarote has embraced the tourism boom with a more laid-back feel than its popular sister islands of Tenerife and Gran Canaria. Nature is still a big attraction on this small volcanic island, which measures only 38 miles (60km) long and 13 miles (21km) at its widest point. Camels are often used to transport goods (and sometimes tourists) in this desert-like climate, across the dry volcanic ash that covers most of the landscape. UNESCO declared the whole island a Biosphere Reserve in 1993, and visitors exploring the dozens of enchanting spots on the island will soon see why.
Lanzarote's capital, Arrecife, is a small town on the eastern coast, its harbour packed with fishing boats. Although the town itself has little to offer in the way of sights or nightlife, it does have a magnificent, clean beach, El Reducto, which has been granted blue flag status by the European Union. A promenade runs along the beach front around the San Gines lagoon with its fine golden sand and placid waters.
Tenerife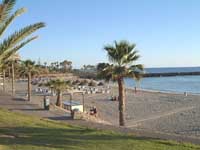 If there is any spot on the globe that enjoys a perfect climate, Tenerife in the Canary Islands is it. There is markedly little variation in the average temperatures between summer and winter, which hover between 59ºF and 75ºF (15-24ºC), and there is only very occasional rain. Throw this in to a mix of verdant forests in the northern part of the island as well as mountains, deserts, volcanoes, exotic plant and animal life, and spectacular beaches (with black volcanic sand) - and you have a true holiday paradise.
Tenerife offers the unique experience of swimming and sunbathing on a beautiful beach while just a few miles away snow sparkles on the crest of Mount Teide. The island's central mountain stands at 12,200 feet (3,719m), the highest in Spain, and a cable-car ride to the summit offers unrivalled views of the lunar-like landscape of the volcanic slopes.
The island's capital, Santa Cruz de Tenerife, is an upbeat town geared for tourism. Its port, where once the first shots of the Spanish Civil War were fired, is today a morass of ferries, jetfoils and freighters.
Gran Canaria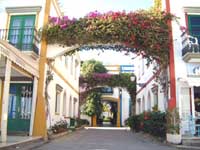 The third largest but most developed of the seven islands in the Spanish-administered Canary archipelago, Gran Canaria has been billed as a 'miniature continent' because of the variety of climates and landscapes that it offers, from the big city bustle of the capital, Las Palmas, to the serenity of its lush woodlands.
The Canaries lie in the Atlantic Ocean, about 125 miles (200km) from the African coast and almost 800 miles (1,250km) from the closest European port of Cadiz. Gran Canaria is almost circular, with a diameter of about 32 miles (50km), and is characterised by deep ravines that radiate out from the centre down to the coast. The north of the island is humid, boasting green valleys and volcanic craters, while the south is arid and desert-like, with vast stretches of beach.
The capital, Las Palmas, lies on the northeast tip of the island, between two long beaches, Las Caletas and Alcaravaneras. The interior of Gran Canaria has steep highlands dotted with small villages, sporting white houses with red roofs, banana plantations and orchards bursting with tropical fruits. Tourists generally favour the southern coastline, flocking to the well-known beaches of Playa del Inglés or Maspalomas, where the sea washes soft sands and empty dunes stretch for miles.
Costa Dorada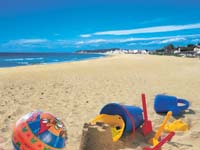 The hue of the fine sand on the wide, wonderful beaches of Spain's Costa Dorada (Golden Coast) has given this popular holiday region its name. The 20 or so towns and villages along this 120-mile (200km) stretch of Mediterranean coastline, south of Barcelona, have become built up with hundreds of hotels, camp sites and apartment blocks, catering mainly for family vacationers. Entertainment consists largely of enjoying the shallow, transparent, gentle sea, ideal for the 'bucket and spade' brigade, and the large, thrilling theme and waterparks at the local resorts.
Visitors who enjoy soaking up some local culture and history find the Costa Dorada has plenty to show, particularly the main regional city of Tarragona, which was an important army base in Roman times and today boasts historical ruins and a variety of museums. Excursions inland, among vineyards, olive groves and almond plantations, take in the quaint medieval city of Montblanc with its fine Gothic church, and at Poblet there are some interesting ruins of former monasteries dating back to the 12th century. Adding to the area's natural and historic attractions is its sunny, temperate climate.
Fuerteventura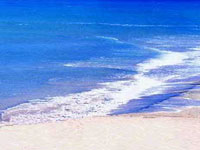 Only 60 miles (100km) separates the island of Fuerteventura, second largest in the Canary archipelago, from the continent of Africa, and this sunny island shares the same latitude (and therefore similar weather conditions) with the renowned holiday destinations of Florida and Mexico. Unlike those bustling resort-ridden vacation stations, though, Fuerteventura is relatively undiscovered, its more than 150 idyllic sandy beaches only sparsely populated and many seldom visited at all.
The island has an arid volcanic landscape, and apart from the beaches, not much to recommend it in the way of tourist amenities or attractions. This has kept the mega resorts and mass summer package-holiday trade at bay, but it does have a fair share of day-trippers from the resorts of Lanzarote and Gran Canaria who come seeking a respite from the crowds. The island's two main resort towns are Corralejo and Caleta del Fuste. Fuerteventura is easily accessible from the other islands in the archipelago by ferry or air. The airport is situated close to the island's capital of Puerto del Rosario.
Costa Almeria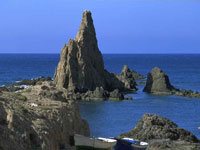 The Spanish province of Almeria boasts about 200 miles (322km) of varied, scenic coastline that attracts package tourists to its developed resorts near the main towns, but also offers idyllic spots for nature-lovers to explore its many unspoilt fishing villages, long sandy beaches and small intimate coves popular with nudists.
Sunny and mild, Almeria lies southeast of the Iberian Peninsula on the Mediterranean Sea, still bearing the archaeological evidence of the many ancient cultures, from the Tartessos and Phoenicians to the Romans and Visigoths, who were drawn here by the natural beauty and useful maritime geographic location. The region retains an African flavour, imbibed from that continent which is a short distance away across the Mediterranean.
Inland, Almeria is rather barren and arid, and boasts Europe's only desert region around the village of Tabernas, which has been used as the location for several western movies. In the east, the lunar-landscaped Cabo de Gata-Nijar nature reserve with its rugged coastline attracts hikers, birders and scuba divers. Despite the dry, inhospitable landscape Almeria has developed a thriving agricultural industry and plastic-covered tunnel farms packed with lush fresh produce and flowers are to be seen in abundance.
Most visitors flock to the holiday resorts to the east and west of the lively capital city of Almeria, which boasts picturesque squares, some worthy sights to see, cafes, a ferry port and marina. Lovely beaches, marinas, hotels and sport centres provide plenty to keep holidaymakers happy in the resort towns of Mojacar to the east, and Aguadulce, Roquetas de Mar and Almerimar to the west of the city.
Costa Brava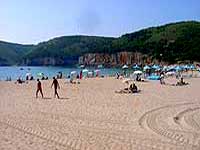 The ruggedly beautiful Costa Brava holiday coast stretches for 100 miles (160km) along the shores of Catalonia in Spain's north-eastern corner, from Port Bou on the Franco-Spanish border to Tossa del Mar, just north of Barcelona. The coast is filled with high-rise resort developments and modern marinas catering to package tourists, but retains enough green hillsides and lonely, wild cliffs, coves and caves to belie its reputation as one of Europe's busiest holiday destinations.
Holidaymakers revel in the hidden delights of the craggy coastline, many venturing out in boats to discover deserted coves scented with pine and citrus trees, fragrant herbs and bright flowers. International resorts and marinas lie in close proximity to relatively unspoilt fishing villages and towns bearing evidence of the area's rich history with ancient castles and fortifications. Offshore divers revel in the abundance of wrecks to explore in the crystalline waters, while seemingly endless sunshine pours down on stretches of sandy or shingle beach.
The untouched natural areas and fishing industry have also resulted in making a holiday here a gastronomic treat. Seafood reigns supreme, from sardines to delicious lobster, but specialities also include local wild game, like boar, duck and rabbit, which can all be washed down with a variety of wines produced from the vineyards that clothe the hillsides.
Costa de la Luz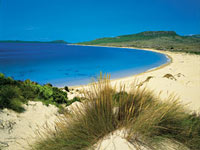 Stretching along the Atlantic Ocean in the western part of Andalusia, the Costa de la Luz (Coast of Light) offers a relatively unspoilt holiday destination. With fine golden beaches, rolling dunes, stretches of cliffs and coves and pine-covered hills, it is somewhat surprising that there is not the same level of development as in other parts of the Spanish coast. This could be due to the fact that about 30 percent of the area is protected by nature reserves. Temperatures are milder, and the Atlantic is not as tropical as the Mediterranean side, but the area still boasts 3,000 hours of sunshine a year and is highly popular with nature enthusiasts, windsurfers, beach lovers and kite boarders.
The Costa de la Luz is divided into two sections; the Huelva province runs from the Portuguese border to the Guadalquivir River and the Donaña National Park, while the Cadiz province runs from the Guadalquivir to the popular town of Tarifa on the edge of the Costa del Sol. There are interesting towns full of real Spanish flavour to explore, attractive flora and fauna to enjoy, and a number of low-key resorts offering a range of activities for those tired of crowded package tour destinations.
Valencia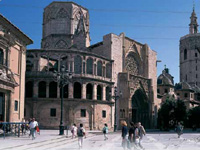 Valencia was founded by the ancient Romans in 137 BC and has been pillaged, burned and besieged numerous times by various conquerors over the centuries since, but vivacious Valencia has nevertheless sailed into the second millennium as Europe's quintessential sophisticated modern holiday city, a favoured location for the America's Cup yacht race. Situated on the Mediterranean coast about four hours south of Barcelona, Valencia is spread out around its busy port and backed by hills which give way to the plains of Aragon.
Valencia oozes traditional character, particularly in its old town (El Carmen), and has retained its cultural heritage not only in the form of medieval architecture but also in its quirky, exuberant festivals (like the Battle of the Flowers, the fireworks of Fallas and even one dedicated to tomato-hurling). The Valencians even have their own language. Amidst the old, however, Valencia has very much that is new, including its major attraction, the ultra-modern City of Arts and Sciences, which draws around four million appreciative visitors each year.
Outdoors, it is hard to beat the golden beaches which fan out from the port along the coast, and the sprawling city offers plenty of green parks for strolling, cycling or simply lolling on a bench to get your breath back after indulging in the vibrancy of the city. Football is also a local passion, and fans should not miss the atmosphere at one of the carnival-like Valencia FC home matches.
When night falls, dine on paella, which originated here, and then hit the town, because Valencia is renowned for its lively collection of bars and clubs. It may sound clichéd, but Valencia does indeed fit the bill as a holiday city that 'has it all'.
Santiago de Compostela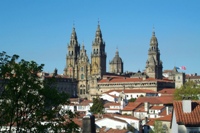 The small town of Santiago de Compostela is a big destination for the hundreds of thousands of pilgrims that trek there every year along The Way of St James. Santiago de Compostela is located in the northwestern corner of Spain in the autonomous community of Galicia and is a designated UNESCO World Heritage Site. While it represents the culmination of many a spiritual journey, the town has a lot more to offer than just an end point for pilgrims. The spectacular and awe-inspiring Roman Catholic cathedral, and burial place of St James, in the centre of town is a showstopper.
Other sights of interest throughout the small Galician town include the Cathedral Museum, Pilgrimage Museum, Museum of Galician People, Galician Centre of Contemporary Art, the Praza do Obradoiro, the Rajoy Palace and Praza de Quintana (Quintana Square).
The Cathedral's history is particularly interesting, having passed from Christian to Moorish and back to Christian occupation between 1060 and 1211; however the grave of St James, beneath the Cathedral, remained untouched throughout this period. The Cathedral Museum provides visitors with interesting stories about the Cathedral and cloisters, and the Pilgrimage Museum provides a fascinating account of the history of the Way of St James as well as maps of the various routes available.
The Museum of Galician People is situated just beyond the city's walls and displays a selection of traditional crafts and folklore items. Visitors to the Galician Centre of Contemporary Art will be impressed with the selection of pieces by Galician artists and a selection of temporary or travelling exhibitions. Praza de Obradoiro and Quintana Square (Praza de Quintana) are located beside the Cathedral, it offers numerous photo opportunities and makes up one corner of the Old Quarter. The Rajoy Palace is a neo-classical four-storey building located on Praza de Obradoiro, the ground floor consists of elegant arched walkways while the upper floors are used as the parliament buildings for the Galician Regional Government.
Santiago de Compostela is a city that needs to be walked and the easiest way to get around Santiago de Compostela is on foot. As thousands of pilgrims make their way to the central cathedral, thousands more walk through the city getting to know its streets and quaint alleyways lined with family owned and run shops, boutiques and delicatessens. Some of the best areas to walk, people watch and shop in Santiago de Compostela are Zona Vella (the Old District) for exquisite ceramic souvenirs, Zona Nova (the New District), for clothes and other brand name items, and Area Central in Fontinas for more fashion shops and grocery stores. The city has a cheap and efficient bus service and taxis are also available, but they are expensive and not really necessary.
Eating out in Santiago de Compostela is a gastronomic dream. Galician food is very different from the usual paellas and pasta dishes that you find throughout the rest of Spain. Most Galician delicacies and favourites are influenced by the region's long coastline. Galician restaurants serve a lot of fish, shellfish and crustaceans, with vegetables on the side. The regional dish of Galicia is a dish called pulpo- cooked octopus served on a bed of boiled potatoes with a drizzle of olive oil and a dash of Spanish paprika. Galicia also has a fair amount of well-known wines, but visitors to Santiago de Compostela will find that some of the best wines in the region are made and bottled individually by farmers and small holders. Orujo de Galicia is a fiery spirit mixed with cherries, sherry and sugar and then set on fire and downed by revellers and unwitting tourists. Visitors to Santiago de Compostela will find plenty of restaurants and tapas bars in the Old Quarter.
Santiago de Compostela is for visitors to Spain who want to experience something different. It may not be off the beaten track; in fact it is the culmination of thousands of well-trodden paths, yet the town has retained an aura of spirituality and mystique that can only enrich a Spanish tourist experience.