Overview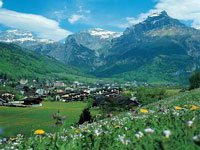 With snow-capped Alps, forested hills, fairytale castles, Renaissance cathedrals, shimmering lakes, stylish spas and luxury ski resorts, it's easy to see why Switzerland has been one of the world's top tourist destinations for the past two centuries.
It is the country that fashioned tourism, so it's no surprise that Switzerland caters to visitors all year round. In spring and summer it offers lakeside chalets, mountain trails and spa resorts. In the sunny southern region of Ticino, near the Italian border, visitors will find palm-fringed Riviera-style resorts offering a variety of water sports. Those keen on hiking and mountaineering will find over 31,000 miles (50,000km) of mountain and forest trails throughout the country.
In November the country's ski resorts begin opening, and visitors pour in throughout the Christmas season and the crowds do not abate until the snow begins to melt with the onset of spring. With the highest pistes in Europe, Switzerland's ski runs offer reliable snow and breathtaking views. Most resorts also have plenty to do for those not so keen on skiing, making Switzerland the perfect destination for a winter fantasy of log fires, fondues and glistening snow.
Switzerland's cities are pristine and beautifully laid out with famous Swiss precision. Zurich is widely regarded as the intellectual and artistic centre of the country, sporting incredible architecture and more than a thousand fountains, with many museums and galleries to boot. Geneva is the principal city for the international community, and is home to hundreds of world organisations. Its setting on the shores of Lake Geneva gives it a romantic atmosphere, and the city has an exciting, if rather expensive, nightlife.
Basics
Electricity
Electrical current in Switzerland is 220 volts AC, 50Hz. Plugs are of the linear, rounded three-pin type, but rounded two-pin plugs will fit the outlet.
Language
The three official languages are Swiss German, French and Italian. A few people speak Romansch, but this is confined to the southeastern corner of the country. Most people know at least three languages, including English.
Health
Swiss medical facilities and health care are among the best in the world, but very expensive and health insurance is recommended. Immunisation certificates are only required if the traveller has been in an infected area within two weeks prior to arrival in the country. There is a reciprocal health agreement with the UK and most EU countries, whose citizens are entitled to free or low-cost emergency medical treatment on presentation of a European Health Insurance Card (EHIC). Medical insurance is advised for other nationalities. Outbreaks of the deadly strain of bird flu were confirmed in 2006, but no new cases or human infections have been reported. The risk to travellers from bird flu is very low, but close contact with live birds should be avoided, and all poultry and egg dishes well cooked as a precaution.
Tipping
A 15% service charge is normally included in all hotel, taxi, bar and restaurant bills in Switzerland, and further tipping is not necessary, but small change left over is appreciated.
Safety
Switzerland has a low crime rate compared to other European countries and is generally a safe country to travel in, however there has been a recent increase in petty theft and visitors should be alert to pickpockets and thieves, particularly in the city centres and on public transport. Be aware of robberies on overnight trains.
Customs
Privacy and discretion are highly valued in Swiss culture, and strangers generally do not speak to each other. The Swiss are naturally reserved and conservative, and prefer structured rules to govern their daily lives. Littering is a serious social crime in Switzerland, and you should also make an effort to throw your recyclables in the proper receptacle. French and German-speaking Switzerland have different customs in some areas. When being introduced to someone, German-speaking Swiss will shake hands, while French-speaking locals may kiss on the cheek three times (generally left, right, left). While many Swiss speak English, it is considered polite to inquire before attempting conversation.
Business
Swiss business culture is based predominantly on merit. The Swiss are masters of building well-oiled machines. The business world reflects this and operates in a similar fashion. Efficiency and organisation are prioritised. A formal, no-nonsense approach is central to business culture in Switzerland. There is little room for humour or lack of preparation in negotiations and business meetings. While the Swiss are slightly less pedantic than their German or French counterparts, great value is attached to appearance and punctuality. Dress codes for business people in Switzerland are quite formal and conservative, particularly in the banking sector where dark suits are the norm. Sports jackets and a collared shirt and tie will suffice for businessmen while businesswomen in Switzerland should adopt corporate wear - either trousers or suit skirts are appropriate. Business and pleasure are entirely separate in the Swiss work environment. In keeping work and personal compartmentalised, Swiss businesspeople even shy away from calling their colleague's by first names, which reinforces formality and boundaries between work and play. When invited to a Swiss business associate's home, a small gift such as flowers or a box of chocolates is appropriate. In Swiss business culture those in senior positions garner a great deal of respect, but decision-making processes are often quite democratic. Switzerland is home to over 1000 multinationals and has become something of a melting pot of business customs, regional influences and etiquette. English is the corporate language in Switzerland particularly for multinationals. However, regional languages, such as French, German and Italian, are sometimes preferred in their respective areas. wiss-German business meetings are rarely over food and are often as brief as possible with little small talk. But the Swiss-French and Swiss-Italians often meet over lunches and talk is not restricted only to business. Handshakes are common for addressing both men and women. Business hours are from 8am to 5pm on weekdays with a lunch break from 12pm to 2pm.
Communications
The international country dialling code for Switzerland is +41. The outgoing code is 00, followed by the relevant country code (e.g. 0044 for the United Kingdom). City/area codes are in use e.g. (0)22 for Geneva. Mobile phone GSM 1800 and 900 networks operate throughout the country. Internet cafes are available in the main towns and resorts; some public phone booths also have Internet and email access.
Duty Free
Travellers to Switzerland over 17 years do not have to pay duty on the following items: 200 cigarettes or 50 cigars or 250g tobacco; 2 litres alcohol up to 15% and 1 litre alcohol over 15%. The maximum allowance of wine is 20 litres, but duty will be payable on this quantity. A reasonable amount of personal effects and gifts (including perfume) to the value of Sfr200 for residents of Switzerland and Sfr100 for other travellers. Restricted items include meat and meat products from selected countries. Prohibited items are absinth and anaesthetics.
Currency
The official currency is the Swiss franc (CHF) divided into 100 rappen (German) or centimes (French). Although not part of the EU many prices are nonetheless indicated in Euros and some merchants may accept Euros. Visa, MasterCard and American Express are widely accepted and ATMs are widespread; many are equipped with the Cirrus or Maestro system. Banks offer the best exchange rates for travellers cheques and foreign currency, but it is also possible to exchange money at major hotels, main train stations and airports. Banks are open Monday to Friday.

| | | | | | | | |
| --- | --- | --- | --- | --- | --- | --- | --- |
| CHF 1 = | US$ 1.05 | £ 0.68 | C$ 1.07 | A$ 1.02 | R 8.86 | EUR 0.83 | NZ$ 1.32 |
Note: These currency exchange rates are not updated daily and should be used as a guideline only.
Health
Health Overview
Swiss medical facilities and health care are among the best in the world, but very expensive and health insurance is recommended. Immunisation certificates are only required if the traveller has been in an infected area within two weeks prior to arrival in the country. There is a reciprocal health agreement with the UK and most EU countries, whose citizens are entitled to free or low-cost emergency medical treatment on presentation of a European Health Insurance Card (EHIC). Medical insurance is advised for other nationalities. Outbreaks of the deadly strain of bird flu were confirmed in 2006, but no new cases or human infections have been reported. The risk to travellers from bird flu is very low, but close contact with live birds should be avoided, and all poultry and egg dishes well cooked as a precaution.
Visa
Americans
UK nationals
Canadians
Australians
South Africans
Irish nationals
New Zealanders
Passport/Visa Note
Travellers must have all documents necessary for their next destination and passports must be valid at least three months beyond period of stay if a visa is required. The borderless region known as the Schengen area includes the following countries: Austria, Belgium, Czech Republic, Denmark, Estonia, Finland, France, Germany, Greece, Hungary, Iceland, Italy, Latvia, Lithuania, Luxembourg, Malta, The Netherlands, Norway, Poland, Portugal, Slovakia, Slovenia, Spain, Sweden, and as of December 2008, Switzerland. All these countries issue a standard Schengen visa that has a multiple entry option that allows the holder to travel freely within the borders of all. It is highly recommended that passports have at least six months validity remaining after your intended date of departure from your travel destination. Immigration officials often apply different rules to those stated by travel agents and official sources.
Note: Passport and visa requirements are liable to change at short notice. Travellers are advised to check their entry requirements with their embassy or consulate.
Contacts
Switzerland Tourism
Swiss Tourist Office, Zurich: +41 (0)1 288 1111 or www.myswitzerland.com
Foreign Embassies in Switzerland








Switzerland Embassies








Regions and Cities
Zurich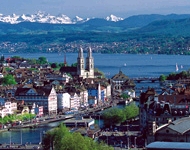 While browsing in the elegant boutiques along Zurich's Bahnhofstrasse, one of the most beautiful shopping areas in Europe, you'll notice that the streets may not be paved with gold, but you can be certain that a couple of metres below, unimaginable treasures are lying in underground vaults.
Zurich is the world's banking capital, but as well as being a city of fat cats parading in pin-stripes, glued to their mobile phones and swinging patent leather briefcases, you'll also discover that this is the city that gave birth to the avant-garde Dadaist movement, and where James Joyce wrote Ulysses. The city's Museum of Fine Arts houses one of Europe's most extensive collections, from 15th century religious iconography to the modern art works of Dali, Arp, Hockney, Cezanne, Monet, Gaugin, Munch and Picasso.
Visitors can spend days exploring Zurich's cobbled streets, wandering through its museums, exploring its flea markets or walking away with free gifts from its chocolate factories. The quays, with their promenades, are made for walking, especially along the shores of the lake. Zurich also boasts an active café culture that's ideal for people-watching, and a lively, multi-ethnic population to rival any other major European city. The exacting order of the Swiss, with their passion for neatness and precision, may create an impression of rather a prim and staid society, but visitors will discover quite the opposite when exploring Zurich's nightlife. With more bars, clubs and restaurants than you can shake a stick at, as well as a calendar packed full of street parades and festivals, a holiday in Zurich can exhaust even the most energetic party animal.
Geneva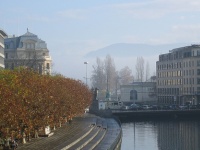 With a pleasant setting, green parks, colourful gardens and lakeside promenades, Geneva is considered one of the healthiest places to live in the world. The city sits astride the River Rhône, where it streams into Lake Geneva, and is set against a dramatic backdrop of mountains. At the lake's south shore the Jet d'Eau shoots water 460ft (140m) into the sky from the end of a pier - the city's landmark attraction and Europe's most powerful fountain.
Undoubtedly Switzerland's most cosmopolitan city, Geneva's reputation for religious and political tolerance dates back more than five hundred years. In the 16th century the city spawned the religious teachings of John Calvin, and Geneva was where Lenin spent his 'years of recreation'. Little of their Puritanism is left today - stately homes line the banks of the lake, overlooking an armada of luxury yachts. Jewels and designer labels spill out of exclusive boutiques and into chauffer-driven limousines that glide down palatial avenues.
As well as a host of museums and fine galleries, Geneva has a lively cultural calendar. Most notable is the celebration of l'Escalade in December, which involves costumed and torch-lit processions through the town, and the consumption of sickly amounts of chocolate and marzipan.
Geneva is a gateway to Switzerland's luxury ski resorts, an important banking centre and home to thousands of international delegates and diplomats. Among the many international organisations based in the city are the United Nations and the International Red Cross.
Swiss Alps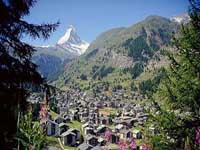 The Alps contain some of Switzerland's most dramatic landscapes, in a country already well endowed with spectacular scenery and fabulous alpine vistas. Situated at the heart of the Alps, Switzerland shares the mountain range with France, Italy and Austria, and provides winter and summer time enjoyment for skiers, snowboarders, walkers and climbers.
Switzerland has the distinction of being home to the first ever ski resort, and since then, over 200 first-class resorts have attracted thousands of Swiss and international downhill and cross-country skiers and snowboarders. The tradition of skiing goes back two centuries. Today, with more than 1,700 mountain railways and ski lifts, renowned ski schools and instructors, the best ski equipment in the world, and outstanding slopes and facilities catering for all levels of ability, it fully deserves its moniker of 'Europe's winter playground'.
The ideal resort for beginners or families is Grindelwald in the Jungfrau region, while intermediates and snowboarders head for the twin resorts of Davos and Klosters, with miles of excellent ski terrain and acclaimed to be one of the top snowboarding destinations worldwide. Expert skiers can enjoy the challenge of 7,200 ft (2,700m) vertical drops on the Klein Matterhorn at Zermatt, and the ski valley of Verbier is ideal for shoulder-season skiing as its location provides early snow that lingers late into the spring. The stylish resort of St Moritz offers the most energetic and varied nightlife of all the Swiss resorts. The ideal ski season runs from January to late March, but is most crowded during the Christmas holidays and the month of February.
Climbers and walkers head to the Alps between June and September, when the weather is warmer and more settled. There are more than 40,390 miles (65,000km) of well-marked and maintained hiking trails as well as longer treks across the country that will reveal miles and miles of unspoiled beauty. Grindelwald has long been the capital of summer hiking in the Bernese Alps, and more recently added a network of groomed trails for winter hikers. Climbers have long been lured by the challenges of the Matterhorn and there are some memorable hikes up to the cliffs below the summit. The Swiss Alpine Club (SAC) is the best source of information on mountaineering.
The most accessible and visited alpine area is the magnificent Bernese Oberland region in the centre of the country, with its classic Swiss scenery of picturesque peaks, quaint wooden chalets and charming mountain villages, green pastures, lakes and the tinkle of cow bells. This is a fabulous area for walking and provides exceptional winter sports.
Bernese Oberland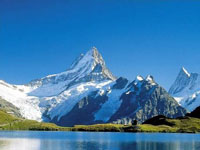 The magnificent Bernese Oberland region, recognised for the impressive triple-peaks of Eiger, Mönch and Jungfrau (the Ogre, Monk and Maiden), is a major tourist area with resorts boasting world-class winter and summer activities. It also features one of the most popular tourist excursions in Switzerland, the breathtaking cog railway to the Jungfrau Plateau. From here, the highest station in the world, staggering views and ice caverns within the glacier can be enjoyed.
Bernese Oberland is the most magnificent of the Alpine regions, a concentration of the very best of Swiss scenery, with towering snow-capped mountains, glaciers, pristine lakes and waterfalls, meadows of edelweiss, pastures echoing with the tinkle of cowbells, and typical wooden chalets with geranium-filled window boxes.
The gateway to the Bernese Oberland is the popular resort of Interlaken, which is also the main transport hub of the region. An extensive network of roads, mountain railways, funiculars, cable cars and hiking trails link it to the other popular resorts in the area, including the scenic ski village of Wengen, and Grindelwald, the most established skiing and hiking centre in the region. The Oberland's most glamorous resort and the place for glittering socialites to be seen is the chic town of Gstaad, popular more for its high society than for its skiing.
Although intensely popular during the skiing and hiking seasons, the region is well equipped with a wide range of outdoor activities, from the slopes to scenic lake cruises, and accommodation ranging from fancy hotels to rustic lodges caters for all visitors. The transport network is efficient and extensive, integrating easy travel with many panoramic views of the stunning scenery that makes the Bernese Oberland such a celebrated sightseeing area. Travellers can take advantage of the Bernese Oberland Pass, which provides unlimited transport by by bus, boat, gondola, funicular and mountain train for a period of 7 to 15 days.
Luzern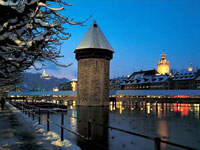 Being one of the first European cities to capitalise on tourism does not mean that picturesque Luzern (or Lucerne), located in the heart of Switzerland, has become a crowded Disneyland spectacle of everything archetypically Swiss. It is indeed the embodiment of everything that is cute, scenic and stylish about Switzerland, but in a very charming way.
Set on the northwestern end of Lake Luzern and surrounded by mountain views, Luzern is split by the River Reuss. On either side of the river lie atmospheric medieval squares, cobbled alleys, quaint frescoed houses, churches and public buildings. Surprisingly, the historic setting attracts many young people, who ensure that its nightlife is lively and varied. Just outside the city limits, the attractions of every Swiss picture postcard beckon, from Alpine villages to meadows where lazy cows toll their bells against the backdrop of snow-covered mountains.
There is plenty to enjoy in this tourist city, from taking a pedalo(pedal boat) out on the lake, to posing for photographs on the famous wooden Chapel Bridge, exploring museums and admiring the sad Lion Monument carved into a natural rock wall.
While the Swiss may have a reputation for being sedate, Luzern disproves this point with its major annual event, the Luzern Fasnacht, a crazy carnival which erupts for a week leading up to Shrove Tuesday. Revellers in fancy dress and teams of samba bands fill the streets day and night in this week-long extravagant party which is not for the faint-hearted.
No one contemplating a Grand Tour of Europe dare admit they missed out on the traditional tourist spectacle of Luzern, which even enchanted Queen Victoria when she visited, allegedly under an assumed name, and to see whether this sublime city lived up to its great expectations.