Overview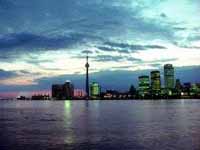 The most heavily populated city in Canada, Toronto is a vibrant and cosmopolitan city; the country's financial, commercial and cultural centre with a rich multi-cultural heritage of more than 80 ethnic groups, speaking more than 100 languages. It has a lively stock exchange, soaring futuristic architecture, museums, art galleries, performing arts companies, fine restaurants, large shopping complexes, a waterfront and hundreds of parks.
The city is situated on the north shore of Lake Ontario, and sports distinctive neighbourhoods as well as the longest street in the world, Yonge Street, as its main north-south artery. Toronto's main landmark is the CN Tower, which is the world's tallest free-standing structure with glass-fronted elevators that rise 1,815ft (553m) to indoor and outdoor observation decks. The city also boasts the 'Skydome', which is a multi-purpose entertainment complex with a retractable roof, billed as the world's greatest entertainment centre.
In the 17th century Toronto was a small French colony; then came the American Revolution which encouraged scores of British loyalist families to flee north. Many settled beside the lake establishing a town known as York, which slowly grew in importance as an administrative and manufacturing centre. In 1834 the name was changed to Toronto, an Indian word meaning 'meeting place'. The new name proved worthy when about a century later the city's English character began to be buried beneath the conglomeration of cultures brought in by a massive tide of immigrants from all corners of the world. Old English pubs and Victorian and Edwardian architecture survive among the skyscrapers, but Toronto is today a lively and cosmopolitan city and Canada's commercial capital.
It does get pretty cold over the winter months of November to March so if you are averse to chilly weather plan your visit over the mid-year period. Toronto just might be the destination that has it all - reason enough to visit and enjoy what has been described as Canada's 'world within a city.'
GettingAround
Public transport in Toronto is fast, safe and reliable consisting of an integrated system of subways, buses and streetcars that reach every part of the city, as well as a light rapid transit (LRT) line extending to the Harbourfront. The subway is easy to use, with only two major lines, and the buses and streetcar stations are next to every major stop, taking over where the subway leaves off. Fares are standard and a single fare will take you anywhere on a single trip; tokens can be used to avoid the hassle of having to pay with exact change. To freely change from one form of transport to another, get a transfer slip when and where paying for the fare. The subway operates from 6am to 1.30am, the buses and streetcars from about 5am to 12.30am (both start at 9am on Sundays), and the Blue Night Network services main street routes after 1.30am. The Request Stop Program allows women travelling alone late at night to get off the bus anywhere in between stops. Taxis are always available and ferries travel to the Toronto Islands. Driving a hire car is not recommended due to traffic congestion and expensive parking.
Events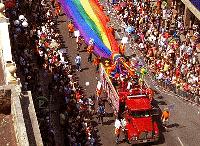 Toronto Pride
Toronto Pride is the third largest gay and lesbian celebration in the world, attracting hundreds of thousands of visitors in the last week of June to participate in hundreds of events. The Pride week has a different theme each year which sets the tone for the hundreds of activities and events on the programme, culminating in the massive pride parade with its floats and performers, and the 'Dyke March'. The main event of the week is 'Unity', a non-stop all-night dance party featuring spectacular stage shows, billed as one of the best parties in the northern hemisphere.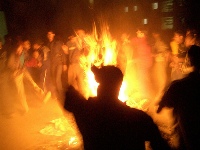 Canada Dry Festival of Fire
Easily the most spectacular event during the summer in Toronto is the annual fireworks extravaganza that lights up the sky over the city's waterfront, watched by an estimated two million people. The show is set to music and the fireworks are set off from barges in Lake Ontario. For more information phone (416) 314 9900.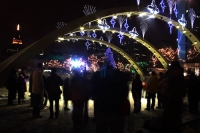 Cavalcade of Lights
Toronto's festive season officially kicks off at the end of November each year with the brilliant illumination of Nathan Phillips Square with more than 100,000 lights, spectacular fireworks and a massive Christmas tree, heralding a month of merry-making and fun events in the city centre. Events include 'Designs in Ice' exhibition, outdoor concerts, street theatre and skating parties. For more information contact Toronto Special Events on (416) 395 0490 or email spevmktg@toronto.ca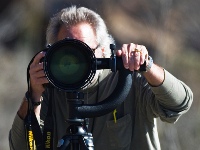 Contact
Taking photography far beyond the realms of the snapshot, Contact is the most important annual photographic event in the Americas, attracting hundreds of thousands of visitors and exhibitors, highlighting the enduring significance of photography in modern life. About 140 different exhibitions make up Contact, sited in various locations throughout the city.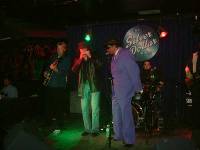 Toronto Jazz Festival
No self-respecting Canadian city can be without its annual jazz festival, and Toronto offers one of the best in north America. Each year the festival attracts about 2,000 international and local musicians, along with thousands of fans and jazz fundis.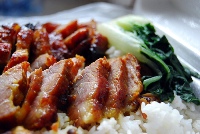 Toronto Taste
Toronto Taste is a celebration of savoury cuisine, fine wines and stunning waterfront scenery. The annual fundraising event brings together 70 top chefs and 30 of Ontario's premium vintners and beverage companies to provide an evening of gourmet food and drink. Toronto Taste is the single largest fundraising event supporting Second Harvest, a registered charity collecting perishable food that would otherwise go to waste and redistributes it to community organizations that feed hungry people in Toronto.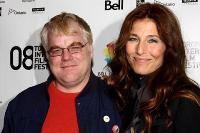 Toronto International Film Festival
Toronto's famous film festival is the largest film festival open to the general public. Unlike Sundance and Cannes which see a number of independent features and world cinema, the Toronto International Film Festival has the glamour of Hollywood coated all over it, and is considered by many filmmakers and studio bosses to be a successful launching platform to begin the crazy award season that eventually climaxes with the Academy Awards in March.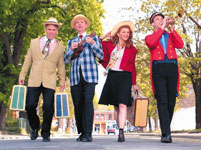 Toronto Fringe Theatre Festival
Over 47,000 people were drawn to the 2006 festival and the Toronto's Fringe Festival continues to be one of North America's leading theatre experiences. Throughout the city thousands of artists perform a variety of comedy, cabaret, music, poetry, drama and the classics to their adoring crowds.
Attractions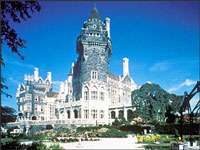 Casa Loma
Canada's own castle, Casa Loma, is today owned by the City of Toronto and draws plenty of interest standing in medieval splendour on its hilltop site. The castle was formerly the home of Canadian financier, Sir Henry Pellatt, who engaged the noted architect E J Lennox to help him realise a life-long dream of building a castle. Construction started in 1911 and it took 300 men nearly three years to complete the impressive Casa Loma. Inside visitors can see the magnificent decorated suites, secret passages, and 800ft (244m) long tunnel, while outside it is possible to stroll through the beautiful five-acre estate gardens. Self-guided audio tours are available and the castle is open every day.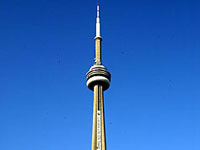 CN Tower
Standing 1,815ft (553m) high, Toronoto's landmark CN Tower is the world's tallest building, a celebrated icon, an important telecommunications hub and the centre of tourism in Toronto. About two million people visit the tower each year to take in the panoramic view and enjoy all its attractions. The tower was built in 1976 by the company Canadian National, who undertook the project simply to prove the strength of Canadian industry and solve the city's communication problems. Since then tourist attractions and facilities have been added, and the revitalised tower opened to the public in 1998, proving a hit with locals and visitors alike. The tower has four look out levels. At the first at 1,122ft (342m) is an outdoor observation deck with a spectacular glass floor; somewhat higher at the next level is an indoor observation deck and the Horizon's café, offering light meals high in the sky; at the 1,150ft (351m) level is a revolving restaurant, which rotates once every 72 minutes, allowing a stunning view of the city below while dining on the award-winning fare; finally comes the top level, at a dizzying 1,465ft (447m), known as the Sky Pod. At the top of the CN Tower visitors stand on the world's highest public observation deck. The tower is situated in the heart of Toronto's entertainment district, on the north shore of Lake Ontario.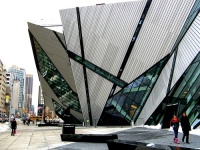 Royal Ontario Museum
The pride of this large and varied museum is the golden mosaic ceiling inside the main entrance to the building in Queen's Park, Toronto. The ceiling is adorned with patterns and symbols representing cultures from around the world throughout the ages, and is made from cut squares of imported Venetian glass. The museum consists of three buildings housing 200,000 square feet (18,581 sq m) of galleries and exhibitions. The more than 40 galleries showcase art, archaeology and science exhibits. Among the most popular are dinosaurs, galleries of Chinese Art, a bat cave, a gem and gold room, exhibits about Ancient Egypt and Nubia, and the Samuel European Galleries.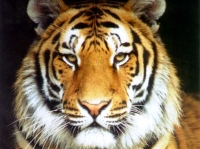 Toronto Zoo
The Toronto Zoo covers 710 acres (287 hectares) and is divided into 'zoogeographic' regions. It features four major tropical indoor pavilions and several smaller indoor viewing areas, plus numerous outdoor exhibits with more than six miles (ten km) of walking trails. The zoo houses more than 5,000 animals representing more than 450 species; it draws more than 1,2 million visitors each year. It is located north of Highway 401 and is easily accessible by public transport.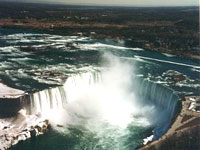 Niagara Falls
Straddling the Canadian-United States border and sited between the province of Ontario and the US state of New York, the awesome Niagara Falls attracts about 12 million tourists a year. It makes a spectacular day's outing from Toronto. The Niagara River has been flowing for about 12,000 years but the eroded escarpment over which the falls flow today is much older, having been formed during the ice age. The river plunges over a cliff of dolostone and shale to make it the second largest waterfall on earth, after the Victoria Falls in southern Africa. Apart from appreciating the mighty torrent of the falls itself, perhaps from a spray-filled boat tour, there is plenty more to see and do on the Niagara peninsula, including indulging in some wine-tasting at one of the local wineries; visiting the exotic butterfly conservatory, marvelling at the floral clock in the Niagara Parks Greenhouse; visiting the Ripley's Believe it or Not Museum, or playing a round of golf on one of the 34 courses that dot the peninsula.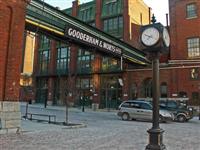 Distillery Historic District
The brick-paved streets of the pedestrianised village have been designated a National Heritage Site, containing the finest collection of Victorian era industrial architecture in North America. The historic Distillery District, spread across 13 acres (5 hectares) in downtown Toronto, is a development dedicated entirely to arts, culture and entertainment with its plethora of art galleries, restaurants, bars and live music venues. Founded in 1832, the Gooderham and Worts Distillery became the largest distillery in the British Empire until it ceased operations in 1990 after 153 years of production, and was opened in 2003 as the pedestrian-only village it is today. It is also a popular film location and its numerous festivals and special events attract thousands of people every month.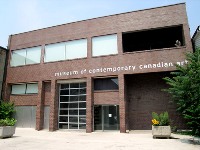 Museum of Contemporary Canadian Art
Formerly the Art Gallery of North York, the Museum of Contemporary Canadian Art opened its doors in 1999 keen to display modern Canadian art that addresses current Canadian narratives. Situated in trendy downtown Toronto, Mocca boasts a collection of 400 artworks by 140 different Canadian artists, despite its small size. With most works created since 1985, Mocca offers great insight into contemporary Canadian society. A country once renowned for its loose immigration laws, Canada is home to a mix of cultures, which makes for a stimulating art world. Look out for group exhibitions with international artists and the annual Mocca Award in Contemporary Art.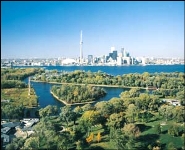 Toronto Islands
A chain of small Lake Ontario islands just offshore from the city, the Toronto Islands were created from a series of continually moving sandbars connected to the mainland by a frail peninsula, which finally disintegrated after a major storm in 1858. Only a short ferry ride from the mainland, the Toronto Islands provide a peaceful green refuge from the hubbub of the city and afford attractive panoramic views of downtown Toronto. Hire a bike or relax on the beach, take the kids for a day at Centreville Amusement Park or have a languid picnic in one of the many designated leafy areas.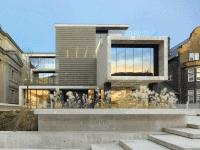 Gardiner Museum of Ceramics
Housed in an attractive building across from the Royal Ontario Museum, the Gardiner Museum of Ceramics is one of the city's finest examples of modernist architecture. Giving visitors a glimpse into a universal art form that has spanned centuries, the Gardiner Museum exhibits over 3,000 historical and contemporary ceramic pieces. With earthenware of all different shapes and sizes from the ancient Americas, China, Japan, the Italian Renaissance and more, a tour through the museum will shape visitors' understanding of the development of the ceramic process. On Friday evenings visitors can try their hand at sculpting and wheel throwing in the open clay studio or attend free films and seminars.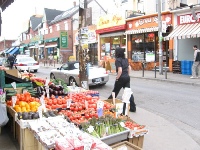 Kensington Market
A National Historic Site, Kensington Market embodies Toronto's multicultural society. Founded in the early twentieth century by eastern European Jewish immigrants and Italians, the area was renowned for its open-air market, evocative of those found in Europe. Home to immigrants from the Caribbean, China, East Africa and Vietnam War veterans, Kensington Market is an infusion of world cultures, all of whom have left an imprint in the music, shops and restaurants of the area. A hybrid of cheap eclectic clothing retailers, fresh produce stores, cheese merchants, fishmongers, cafés and general bric-a-brac stores, the Kensington Market area offers a rambunctious downtown atmosphere. The most prominent streets are Augusta Avenue and Kensington Avenue.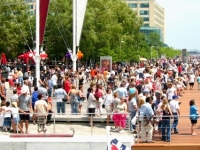 Harbourfront Centre
With an idyllic setting right beside the lake, the Harbourfront Centre is the spiritual heart of the city where locals gather on weekends for some gallery hopping, shopping, biking and concerts. Used as an industrial docklands for decades the abandoned warehouses and disintegrating factories have been transformed into a treasured recreational and cultural public space. Stroll along the waterside promenade, indulge in theatrical performances and browse craft boutiques or head to Queen's Quay Centre for some superb shopping. Year round events at this urban playground include film, dance, theatre, music, children's events and marine events.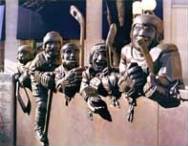 Hockey Hall of Fame
Any avid hockey fan must make a turn at Toronto's Hockey Hall of Fame, an ode to hockey's greatest players and most prized teams. A shrine to Canada's national sport, visitors can learn about the history of the game through memorabilia from every era, hockey artefacts from around the world, interactive exhibits and images of great moments in hockey history. Marvel at Terry Sawchuck's goalie gear, Newsy Lalonde's skates and the stick used by Max Bentley. The Stanley Cup never fails to delight visitors and most fun is had trying a hand at shooting or goalkeeping in the interactive displays. You won't be disappointed.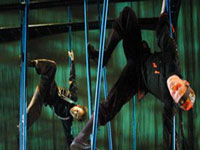 Lorraine Kimsa Theatre for Young People
The largest theatre for young audiences in Canada, the Lorraine Kimsa Theatre for Young People is also a drama school, creating theatre for the youth, by the youth. The productions put on here aim to have a lasting emotional and educational impact on the youth of today. Children will love watching performances here.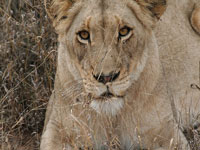 African Lion Safari
Children of all ages will love the African Lion Safari where they can take a drive through the game reserve, cruise on the 'African Queen' boat, watch bird and animal performances, experience an 'elephant round up', pet some baby goats, or even enjoy the Misumu Bay Wet Play area.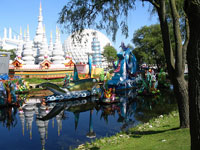 Ontario Place
A fantastic day out for the kids and the family, Ontario Place offers hours of action packed entertainment and some exhilarating rides that kids of all ages will enjoy. Attractions at Ontario Place include the 0 Generation Station, the Atom Blaster, First Flight, Free Fall and Super Slide, to name a few.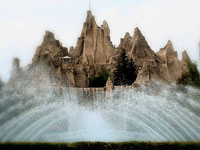 Paramount Canada's Wonderland
Boasting over 200 attractions and more than 65 exhilarating rides, Splash Works and a huge variety of roller coasters, Paramount Canada's Wonderland is Canada's favourite theme park. Kids will enjoy the fastest and biggest roller coaster, the Behemoth as well as carousels, train rides and Canada's only flying roller coaster, the Time Warp. This park is a must for a great day out with the family.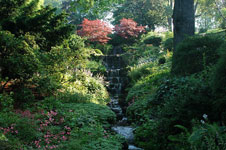 High Park
High Park is Toronto's largest park and features sporting, cultural and educational facilities, gardens, playgrounds and a zoo. A great place for a stroll or a family picnic, High Park also features two children's playground, a communal swimming pool which is manned by lifeguards, and plenty of open space to tire the little ones out.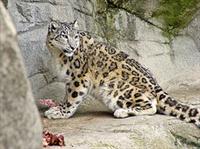 Jungle Cat World Wildlife Park
Just 45 minutes east of Toronto on Highway 115, Jungle Cat World Wildlife Park is one of Ontario's most popular tourist attractions. The Park is home to a diverse collection of mammals, such as wolves, skunks, lemurs and chimpanzees - though it is the collection of big cats that truly makes Jungle Cat World Wildlife Park special. When it opened in 1983, the purpose of the Park was primarily recreational; however, in latter days, Jungle Cat World has taken on a more pronounced environmental education role. Housing rare and endangered cats - such as snow leopards and Siberian tigers - the park runs a variety of fun, kid-friendly programs, designed to further the ends of wildlife conservancy, by educating visitors about the dire need to protect the lives and habitats of the magnificent animals on display. Be sure not to miss the Park's Feeding Tour, which occurs at 1.30pm daily.
Dining
Bellini's Ristorante
Cuisine style: Italian
With dark wood, white linen tablecloths and soft ambient lighting, Bellini's Restorante serves delicious hearty Italian fare and is popular with locals and celebrities. Try the carpaccio of beef tenderloin with arugula salad, shaved Parmesan cheese and white truffle oil, or the delicate Truffle risotto with Arborio rice, woodland mushrooms, Fontina fondue and white truffle oil. Open daily for dinner. Open for lunch for tables of 25 or more. Reservations recommended.
Address: 101 Yorkville Ave
Bistro 990
Cuisine style: French
Known as a Hollywood celebrity hot spot, diners can rub elbows with the stars while delighting in French country favourites such as traditional chicken liver pâté, half roast chicken with garlic mashed potatoes or Steak Frites in a shallot or Roquefort sauce. There are excellent value fixed-price menus available and an outstanding wine list. Reservations required. Closed Sunday. No lunch Saturday.
Address: 990 Bay Street (Downtown)
Lai Wah Heen
Cuisine style: Chinese
The huge menu features the finest traditional and modern Cantonese dishes within the sophisticated setting of the Metropolitan Hotel. The menu offers a large variety of shark's fin and abalone dishes, as well as some of the best dim sum in the city, and delicious meat and noodle dishes. Service is attentive and food elegantly served. Daily lunch and dinner.
Address: Metropolitan Hotel, 108 Chestnut Street (Downtown)
Senses
Cuisine style: Modern Eclectic
Senses is a combination of bakery, gourmet food retail outlet and fine dining restaurant that makes dining here an experience for the senses. The upstairs restaurant is delicately stylish and tastefully furnished with luxurious seating, excellent service and superb cuisine. The displays of smoked salmon and caviar in the emporium below prepare the taste buds for starters such as the goat's cheese empanada, or main dishes like the leek cannelloni stuffed with ground lamb, spinach and feta. Dinner Wednesday to Sunday; bar and bistro open daily.
Address: 318 Wellington Street West
North 44
Cuisine style: Modern Eclectic
Named after Toronto's latitude, North 44 has been one of the city's most genteel eating places for many years and is an experience in pampering. The artistic interior bathes diners in a warm glow, the food is superb and the service flawless. The seasonal menu is influenced by Mediterranean, American and Asian flavours and might include pepper and sesame crusted tuna, lamb shank or stuffed quail, as well as a few exciting pastas and pizzas. Desserts such as the lemon meringue mille-feuille are the best in town. Reservations essential. Closed Sunday. Dinner only.
Address: 2537 Yonge Street (Uptown)
Vanipha Lanna
Cuisine style: Oriental
Vanipha Lanna is different from other Thai eateries in that it specialises in Lao-Thai cuisine from Thailand's northwestern Lanna region, and the flavours are permeated by the strong and spicy influences of Lao cooking. This colourful, vibrant restaurant attracts the crowds again and again with specialities like the grilled chicken and garlic in a lime-chilli sauce or the bamboo steamer of chicken and seafood dumplings. Reservations recommended. Closed Sunday.
Address: 471 Eglington Avenue West (Uptown)
Truffles
Cuisine style: French
Truffles continues to earn international acclaim and top awards on the culinary and service front, and dining here is a luxurious treat for gastronomes seeking indulgence. The soaring ceilings and well-spaced tables create an ambience of sophisticated lightness, and the quintessence of modern French cuisine is brought to the table with a light and fresh, aromatic style of cooking. Truffles' signature dish is the spaghettini with a light truffle sauce. Reservations required. Closed Sunday. Dinner only.
Address: Four Seasons Hotel, 21 Avenue Road, Yorkville (Downtown)
The Boiler House
Cuisine style: International
Situated in a lofty industrial space in the trendy Distillery District, The Boiler House restaurant is renowned for being one of the best live jazz and blues venues in Toronto. Indulge in a fine evening meal from Thursday through to Saturday complimented with toe tapping beats. Soak up the chic urban atmosphere, with 22 foot wine racks, intimate private rooms and hand crafted heavy timber tables. Serving up contemporary Canadian cuisine in a warm, chic environment, the Boiler House restaurant is a good bet for a satisfying Toronto evening out.
Address: 55 Mill Street
360 Revolving Restaurant
Cuisine style: International
Located in the world's tallest free-standing structure, the restaurant at the top of the CN Tower has floor-to ceiling windows and revolves slowly so that every part of this breath-taking view can be fully appreciated while dining in style. The food is not as high-flying as the location, but the experience is certainly a memorable one. The highlight of the dessert list is the chocolate version of the CN Tower. Reservations essential. No winter lunches.
Address: CN Tower, 301 Front Street West (Downtown)
Bangkok Garden
Cuisine style: Thai
Established 25 years ago, the Bangkok Garden was one of the first Thai restaurants in Toronto with essential ingredients being delivered fresh from Bangkok to ensure authenticity. The lemon seafood soup is a great starter while the red beef curry, toasted cashew chicken, and Three Pagodas curry are all delicious. Open Monday to Friday for lunch and dinner. Saturdays dinner only, closed Sundays.
Address: 18 Elm Street, Toronto
Canoe
Cuisine style: International
This trendy eatery is a must for anyone looking to impress, whether it be a business dinner or a romantic evening out. The minimalist décor, imaginative and inventive menu, and flawless execution will leave diners coming back for more. Flagship dishes include the seared Bluefin Tuna with broccoli hash, kumquat caramel and dandelion as well as the bacon wrapped Monkfish with smoked ham hock, white cabbage and porcini. Open for lunch and dinner from Monday to Friday. Open Saturday and Sunday for private events.
Address: 54th Floor, Toronto Dominion Bank Tower, 66 Wellington St.
Airports
Toronto Lester B. Pearson International Airport
Website: www.gtaa.com
Location: The airport is located 16 miles (27km) northwest of downtown Toronto.
Contacts: Tel: +1 (416) 247 7678 (Terminals 1 and 2), and +1 (416) 776 5100 (Terminal 3).
Time Zone: GMT -5 (GMT -4 from the second Sunday in March to the first Sunday in November).
Departure tax: None.
Transfer between terminals: A 24-hour courtesy shuttle bus links the three terminals. The Airport LINK train system also operates a 24-hour free service between Terminals 1 and 3, as well as to the Reduced Rate Parking Lot.
Facilities: All three terminals are well supplied with facilities, including bureaux de change and ATMs, Internet access, shops and duty-free outlets, hotel reservation services, bars and restaurants, and children's play areas. Wireless Internet access is available in Terminal 1.
Parking: Parking at Toronto B. Pearson International Airport ranges from C$3 for 20 minutes or C$90 per day in the Express Car Park to C$15 per day or C$70 per week in the Value Park Lot. The Daily Park Lot costs C$28 per day and is within walking distance of Terminals 1 and 3.
Transfer to the city: The LINK Train offers free transportation between terminals 1 and 3, the Sheraton Gateway Hotel and Viscount Station. Several companies, including Coach Canada and Greyhound Canada, provide bus and shuttle transit services to and from the airport into Toronto and surrounding areas. There are information desks in terminals 3 and 1. The airport is also easily accessible on various public transportation routes with providers such as Toronto Transit Commission (TTC) and GO Transit. The 24-hour Airport Express bus picks up passengers from the Arrivals level of all terminals and services the downtown bus terminal and major downtown hotels. There are also car rentals, taxis and limousines available to and from the airport.
Car rental: Car rental is available on Level 1 of the parking areas adjacent to each terminal. Rental companies include Avis, Budget, Dollar, Thrifty, Hertz, National and Alamo. Other off-airport car rental companies are also available and pre-arranged courtesy shuttles will take customers to their offices outside the airport.