Overview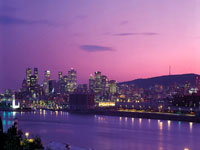 The world's largest inland port, Montreal was founded as a missionary village in 1642, a century after Jacques Cartier discovered the area. The French stayed in control of the growing settlement until 1760 when the British stepped in, sparking a now centuries-old French resentment of the British interference. Despite some undeniable English architectural and cultural influences, Montreal is today one of the world's largest French-speaking cities, set on an overwhelmingly English-speaking continent, and a metropolis of international repute, framed between Mont Royal and the St Lawrence River.
The city is in the south of Canada's Quebec province, only 37 miles (60km) from the United States border, and is an important hub of North American trade. It is a spacious, beautiful city characterised by a series of underground shopping and recreation complexes, linked by walkways and the metro. This subterranean city contains more than 18.5 miles (30km) of office and apartment complexes, major stores, hotels, restaurants, metro stations, parking garages, movie theatres, concert halls and more, all snugly accessible during the snowy winters.
Its population is a multicultural mix, which has fostered a vibrant cultural life, cemented by its French and British roots. There are several theatres offering year-round theatre, ballet and music performances, and a number of art galleries and museums. Like most Canadian cities, Montreal has interspersed urban development with green areas. In this case pride is taken by the spacious Parc du Mont-Royal, designed by Frederic Olmsted, the American landscape artist who also designed Central Park in New York. The city also has 30 museums and numerous other attractions of interest to visitors all year round.
GettingAround
Montreal's sensible layout combined with an extensive and super-efficient public transport system (Metro, bus and commuter rail services) make getting around the city easy. In fair weather hundreds of kilometres of bike paths that span the island offer a healthier, pleasant option. Public transport is run by the Montreal Transport Society, or STM. The pristine metro has dozens of stations along four different lines with numerous stops in the subterranean mall. The metro stops are all integrated with a comprehensive network of city bus routes. The metro and buses run between 5.30am and 1am, with a limited night bus service filling in. The inner city services in turn connect to a commuter rail network that serves the suburbs. Fares are standard on both the bus and metro and transfers are free; a discounted tourist pass is available for bus and metro. Metered taxis can be hailed in the streets downtown or ordered by telephone. There are numerous car rental firms in the city, but roads are often heavily congested and traffic jams are common.
Events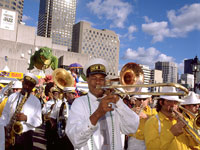 International Jazz Festival
Montreal's annual jazz festival is one of the best in the world, just celebrating its 25th anniversary. Superstars of jazz, like Oscar Peterson, feature on the programme, which offers more than 400 concerts over about 10 days each summer.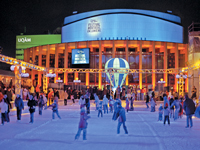 Montreal High Lights Festival
Montreal's lively 11-day mid-winter festival is designed to bring some light and warmth into local lives. It is billed as 'three festivals in one', having a gastronomic, musical and artistic component. There are more than 100 concerts scheduled, more than 200 culinary and wine events, and various shows and exhibitions, many of them free of charge.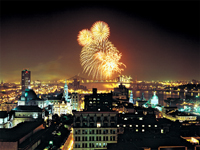 Pyromusical Competition
Montreal's annual international fireworks competition is the largest event of its kind in the world, and spectacular to behold. Each year about eight teams from various countries compete for putting on the most impressive pyromusical display for a minimum of 30 minutes. This extremely popular event is allegedly watched by nearly two and a half million people who have a good view from various spots in the Montreal city limits.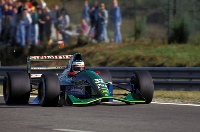 Canadian F1 Grand Prix
For more than a quarter of a century the world's top motor racing drivers have been meeting at the demanding Gilles-Villeneuve Circuit to battle out an important race in the Formula One World Championship. This year's race will be as exciting as ever.
Attractions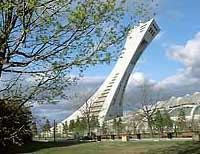 Olympic Park
Montreal's futuristic Olympic Park was built for the 1976 Summer Olympic Games and still serves as a showpiece today. Designed by French architect, Roger Tallibert, it is impressive in both size and shape, able to hold up to 80,000 spectators who now gather here for concerts and baseball games. The landmark tower on the main stadium, standing at 575 feet (175m), is the world's tallest inclined tower. Visitors can enjoy a spectacular view of Montreal and its surroundings from the observation floors, accessible by a funicular-type elevator. Pop over to view the wonderful Botanical Gardens opposite the park, which are the second largest in the world.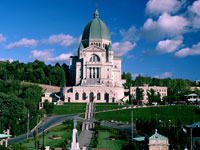 St Joseph's Oratory
St Joseph's Oratory is a landmark in Montreal, its imposing dome on the northwest flank of Mont Royal visible for miles. This Oratory is a famous pilgrimage site, despite only being completed in 1967, attracting over two million visitors and pilgrims each year. It was founded by Brother Andre, a beloved monk who was known as the miracle-worker of Mount Royal because of his healing abilities. Work began on the basilica after his death in 1937. Its dome is the second largest in the world, being 318 feet (97m) high; it is second only to St Peter's in Rome. The Oratory's carillon is made up of 56 bells that were originally cast for the Eiffel Tower in Paris; the Oratory acquired them in 1956. Visitors can climb the 283 steps from street level to the basilica's portico for beautiful vistas over the city.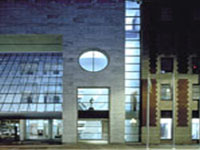 Montreal Museum of Fine Arts
During the past 140 years the Montreal Museum of Fine Arts has assembled one of North America's finest encyclopaedic collections, totalling more than 30,000 objects. The collections include Canadian art, contemporary art, Inuit and Amerindian Art, European Masters, prints and drawings and decorative arts. The museum also regularly features special exhibitions and activity programmes for adults, students and children.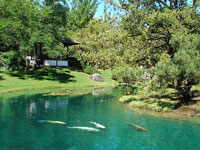 Montreal Botanical Garden
In close proximity to the Olympic Park, the Montreal Botanical Garden is one of the largest of its kind, home to over 22,000 plant species and roughly 30 exquisitely mapped out gardens, making it well worth a visit any time of year. Begun in 1931 in the midst of a financial crisis in the city, the Garden provided work for thousands of unemployed Montrealers and has since developed into a popular tourist attraction, with its astounding array of plants and trees. An array of interesting sights and sounds await the visitor, including the Tree House (highlighting the important role of trees in our lives), a First Nations Garden (illustrating the interaction of Inuit and Amerindians with nature), a Chinese Garden, the Quebec Butterfly House, a Medicinal Plant Garden, Planetarium and so much more.
Dining
Le Club Chasse et Peche
Cuisine style: French
One of the most highly rated restaurants in Montreal and a multi-award winner with the local press. Known as CCP, this eatery has reinvented Surf 'n Turf with mouth-watering Kobe beef and lobster tail. The décor enhances the dining experience with low ceilings fostering an intimate atmosphere while the chic décor further suggests that this is a truly special dining experience. The restaurant is open for lunch Monday to Friday from 11:30 to 2:30pm, and for dinner Tuesday to Saturday from 6 to 10:30pm.
Address: 423 St-Claude
La Chronique
Cuisine style: French
For a taste of Montreal's rural surrounds visit this highly regarded eatery that exclusively uses fresh local ingredients in its modern French cuisine with interesting Mediterranean and Southwestern touches. The décor is centered on dark wood and red hues framed with black and white photographs, and the wine list, exceeding 250 titles, can be ordered by the glass or bottle.
Address: 99 Laurier West
Reservoir
Cuisine style: International
Although a micro-brewery Reservoir is developing a name as the best value restaurant in the city, combing perfectly fresh ingredients with inventive recipes from the fertile imagination of Chef Samuel Pinard. The brunch has been described by one critic as (single for quotes) 'the most interesting (and for my money, the best) brunch experiences in town'. The evenings are naturally a bit lively - this is a microbrewery after all - but this is no way detracts from the dining experience.
Address: 9 Duluth E.
L'Express
Cuisine style: French
It would be remiss to list Montreal eateries without mentioning the one best known in cinema and literature: L'Express, Montreal's beloved brasserie. The eatery has handwritten menus in the style of Parisian sidewalk cafes with similar décor and serving staff attitude. The noise reaches epic proportions when the premises is full but the food, decent prices and all-you-can-eat pickles and baguettes makes this an essential experience for visitors to Montreal. Open weekdays 8am-2am; Saturdays 10am-2am; and Sundays 10am-1am.
Address: 3927 Rue St. Denis
Jun I
Cuisine style: Japanese
Montreal does not have a great reputation for sushi, a sore point for maki-addicted and sashimi-fixated locals. Thank goodness then for Jun I, which flies the flag high for high-quality authentic Japanese sushi. Chef Junichi Ikematsu has developed an interesting menu based on fresh local fish, exotic rolls and flawless nigiri, all complemented by a fine range of sake.
Address: 156 Laurier W.
Airports
Montreal-Pierre Elliott Trudeau International Airport
Website: www.admtl.com
Location: The airport is located 15 miles (24km) west of Montréal.
Contacts: Tel: +1 (514) 394 7377.
Time Zone: GMT -5 (GMT -4 from the second Sunday in March to the first Sunday in November).
Departure tax: None.
Facilities: The Departures level offers ATMs and bureaux de change as well as duty-free and other shops. A variety of restaurants, bars and cafes, and shops are available on both levels and wireless Internet access is available from anywhere in the terminal. Business facilities are available in the VIP lounge. Disabled travellers are well catered for; passengers with special needs should contact their airline in advance.
Parking: Express Parc (for pick-ups and drop-offs) is charged at CA$4 for the first 20 minutes and CA$40 per day; short-term parking is available in Proxiparc and Hotel Park, charging CA$6 for half an hour and CA$19/CA$23 per day respectively. Long-term parking is cheapest in Econoparc at CA$14 per day and CA$75 per week, and the lot is connected to the terminal by a free shuttle service. Valet parking is also available; the reception area is next to the terminal.
Transfer to the city: There is an airport shuttle bus service into the centre of Montreal and to the major downtown hotels. The shuttle bus also transfers passengers between Montréal-Mirabel and Montréal-Trudeau airports, taking about 45 minutes. Taxis are also readily available.
Car rental: Alamo, Avis, Budget, Hertz, National and Thrifty are represented on site.