Overview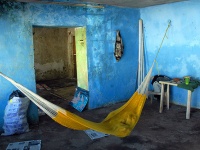 A sprawling country in Central America, Mexico is one of the largest nations in the world. Bordering the Pacific Ocean, the Caribbean Sea and the Gulf of Mexico, it is no wonder that people from all over the globe are drawn to explore its bright coastlines year after year. But Mexico is much more than its beautiful beaches and coastal resorts and inland Mexico has much beauty and culture to offer visitors who are willing to explore. Discover ancient Mayan and Aztec ruins, visit small villages where time seems to stand still and experience the hustle and bustle of busy cities on your exciting Mexico holidays.
Many Mexico tours offer all-inclusive packages to one of the country's prime beach areas. Among the most popular are the Riviera Maya and Cabo San Lucas, two distinct holiday destinations located on different sides of the country but each beautiful in its own right. If an all-inclusive holiday isn't your preference, don't worry, with the help of a Mexico travel guide and a quick review of some basic Spanish you will be ready to get off the beaten path and discover where the locals go.
Before searching for flights to Mexico, it is important to decide what part of the country you want to explore. The capital of Mexico is the vast Mexico City, an inland city located about four hours from the sea. But don't let its distance discourage you, because the city itself is a wonderful destination. Founded by the Aztecs in the 1300s and later conquered by the Spanish, the capital is a fascinating historical metropolis that today offers visitors their choice of wonderful museums, theatres, galleries, cafes, markets and restaurants.
Cancun is a popular option and makes a good starting point for exploring the lovely Riviera Maya. In this breathtaking part of the country visitors will be impressed to find some of the most incredible ruins in North America; among them Tulum, Coba and Chichen Itza. Cancun is also close to islands such as Isla de Mujeres and Cozumel, both renowned for snorkelling and diving.
Other notable cities in Mexico include traditional Guadalajara, colonial Oaxaca and cultural Mérida. Apart from the ancient ruins you can find in Mexico, visitors will also enjoy the many water-based activities offered on its many coasts, as well as its incredibly diverse and delicious local cuisine, which varies by region but is always fresh and full of flavour.
Basics
Electricity
130 volts, 60Hz. Two-pin flat blade attachment plugs are standard.
Language
Spanish is the official language in Mexico. Some English is spoken in tourist regions.
Health
Those entering Mexico from an infected area require a yellow fever certificate. There are no vaccination requirements for visitors to Mexico, however visitors should take medical advice if travelling outside the major tourist areas. A malaria risk exists in some rural areas, but not on the Pacific and Gulf coasts, and dengue fever is on the increase. Sensible precautions regarding food and water should be followed and visitors are advised to be cautious of street food and stick to bottled water. Medical facilities are basic, so medical insurance is recommended.
Tipping
Tipping is customary in Mexico by almost all services as employees are not paid sufficient hourly wages and rely on tips. Waiters and bar staff should be tipped 10 to 15% if a service charge hasn't already been added to the bill. The American custom of tipping 15 to 20% is practiced at international resorts, including those in Los Cabos.
Safety
There is a risk of indiscriminate terrorist attacks in public places. Crime is high in Mexico, especially in Mexico City, where robberies and muggings are prevalent. Travellers should avoid displays of wealth and be particularly vigilant on public transport, at stations and tourist sites. Only use authorised taxi services, from the taxi rank. All bus travel should be in daylight hours and if possible it is advisable to travel first class. Women travelling on their own should be alert, especially in tourist areas, as a number of serious sexual assaults have occurred in Cancun recently. Visitors drawing money from cash machines or exchanging money at bureaux de change should do so in daylight hours and be especially vigilant on leaving. There have been reports of tourists being approached by 'questionnaire agents', who use visitors' personal details to mislead relatives about their well-being, so be cautious. Visitors are advised to be wary of people presenting themselves as police officers attempting to fine or arrest them for no apparent reason, leading to theft or assault; if in doubt ask for identification, and, if possible make a note of the officer's name, badge number and patrol number. The practice is most common in Cancun where increasing numbers of motorists in rental cars have been stopped and threatened with imprisonment if an immediate fine is not paid. Recent reports of the drug cartel wars in Mexico may seem alarming to tourists travelling to Mexico, however most of this violence is concentrated along the border between Mexico and the United States. The violence is generally between drug cartels and law enforcement agents and tourists are generally unaffected provided they keep to tourist zones and do not travel to the affected areas. Hurricanes may affect the coastal areas between June and November.
Customs
Mexicans are not impatient and do not appreciate this emotion in others, so travellers should behave accordingly and expect opening hours and public transport times to be flexible and laid back. Mexicans are friendly and hospitable people and courteous behaviour and polite speech in return, is greatly appreciated. Travellers should also note that it is common for Mexicans to communicate closer than one arm's length from each other and that it is not an attempt to be forward.
Business
Professionals looking to do business in Mexico will find that the North American country is a friendly, hospital place in which to further their careers. The defining characteristic of business culture in Mexico, is that successful, productive business relationships are invariably built on personal trust and familiarity between individuals. In Mexico, business is always ideally conducted face-to-face, and amongst people who know and trust each other. Although many Mexican businessmen speak perfect English, Spanish is the official language of business in Mexico - and learning a few choice words and phrases will go a long way toward ingratiating yourself with your new associates. Although management structures in Mexico remain hierarchical (and at worst, they can even be a little paternalistic), business etiquette in Mexico is marked by a combination of formality and real warmth, friendliness, and openness between individuals. Use titles ('Señhor' and 'Señhora') until strictly instructed not to do so, but do not shrink away from engaging in personal discussions with your colleagues. Remember, in Mexico, your qualifications, expertise and work experience - as important as they are - will not serve you as well as your ability to develop personal relationships with your associates. Business meetings must be scheduled in advance, and then confirmed a few days before they are due to take place. Meetings often begin with some small-talk - this is to encourage people to get to know each other - and will proceed at the pace determined by the important role-players present. Even though executive company decisions are always made by the person in the highest authority, junior employees are encouraged to share their opinions during meetings, and to engage in debate. Bear in mind that, in Mexico, it is very rare to hear the word 'No' being used in a direct or confrontational way - bald refusals are seen as rude. The dress code for the Mexican business world is smart and formal, with an emphasis on style. Men wear ties and dark colours, and accessories, and the basic assumption is you'll endeavour to look as good as you possibly can! Women also dress smart and stylishly (business suits are widely worn) - and will often go to work in high heels and make-up. Business hours in Mexico are generally from 9am to 6pm, Monday to Friday (with a 2 or 3 hour siesta in the early afternoon).
Communications
The international access code for Mexico is +52. The outgoing code is 00 followed by the relevant country code (e.g. 001 for North America). City/area codes are in use, e.g. (0)55 for Mexico City, (0)744 for Acapulco and (0)998 for Cancun. Some US long-distance phone companies have access numbers which can be dialled in order to use your phone card - calls are usually cheaper than direct-dialled calls from a hotel room. If calling internationally from a phone booth only use the official TelMex phone booths, as all others charge very high fees. GSM 1900 mobile networks cover most of the country. Internet access is widely available in most of the country, especially in tourist-orientated areas.
Duty Free
Travellers to Mexico over 18 years do not have to pay duty on 400 cigarettes or 50 cigars or 250g pipe tobacco; 3 litres wine or other alcoholic beverages; perfume, eau-de-cologne or lotions for personal use; a video camera and two standard cameras. Non-residents are allowed to bring in 12 rolls of film or video cassettes, and goods to the value of US$300 without incurring duty fees. Prohibited goods include fresh food products and the import of canned food. The export of archaeological artefacts is strictly forbidden.
Currency
Mexican currency is the New Peso (MXN) divided into 100 centavos. Credit cards are widely accepted, particularly Visa, MasterCard and American Express. Travellers cheques are generally accepted, but cannot be cashed on Sundays. ATMs are available in most cities and towns and are the most convenient way to get money, but for safety reasons they should only be used during business hours. Although most businesses will accept foreign currency it is best to use pesos. Foreign currency can be exchanged at one of many casas de cambio (exchange houses), which have longer hours and offer a quicker service than the banks.

| | | | | | | | |
| --- | --- | --- | --- | --- | --- | --- | --- |
| MXN 1 = | US$ 0.07 | £ 0.05 | C$ 0.08 | A$ 0.07 | R 0.62 | EUR 0.06 | NZ$ 0.09 |
Note: These currency exchange rates are not updated daily and should be used as a guideline only.
Health
Health Overview
Those entering Mexico from an infected area require a yellow fever certificate. There are no vaccination requirements for visitors to Mexico, however visitors should take medical advice if travelling outside the major tourist areas. A malaria risk exists in some rural areas, but not on the Pacific and Gulf coasts, and dengue fever is on the increase. Sensible precautions regarding food and water should be followed and visitors are advised to be cautious of street food and stick to bottled water. Medical facilities are basic, so medical insurance is recommended.
Visa
Americans
US citizens must have a passport that is valid upon their arrival in Mexico. A visa is not required, for stays of up to 180 days.
UK nationals
British citizens must have a passport that is valid upon their arrival in Mexico. A visa is not required, for holders of British passports endorsed British Citizen, British National (Overseas) or British Subject, nor for for holders of a valid visa for the USA, for stays of up to 180 days.
Canadians
Canadian citizens must have a passport that is valid upon their arrival in Mexico. A visa is not required, for stays of up to 180 days.
Australians
Australian citizens must have a passport that is valid upon their arrival in Mexico. A visa is not required, for stays of up to 180 days. Note that visa exemptions apply to holders of an APEC Business Travel Card, provided that the card is valid for travel to Mexico (i.e. endorsed with "MEX" on its reverse side).
South Africans
South African citizens must have a passport that is valid upon their arrival in Mexico. A visa is required. Note that visa exemptions, for stays of up to 180 days, apply to holders of a valid visa for the USA.
Irish nationals
Irish citizens must have a passport that is valid upon their arrival in Mexico. A visa is not required, for stays of up to 180 days.
New Zealanders
New Zealand citizens must have a passport that is valid upon their arrival in Mexico. A visa is not required, for stays of up to 180 days. Note that visa exemptions apply to holders of an APEC Business Travel Card, provided that the card is valid for travel to Mexico (i.e. endorsed with "MEX" on its reverse side).
Passport/Visa Note
All foreign passengers to Mexico must hold a tourist card (FMT form), which is issued free of charge, and obtainable from airlines, Mexican Consulates, Mexican international airports, and border crossing points. As part of the Western Hemisphere Travel Initiative (WHTI), all travellers transiting through the United States are required to present a passport, or other valid travel document, to enter or re-enter the United States. Foreign passengers to Mexico should ensure that their passports and other travel documents are in good condition - even slightly torn passports will not be accepted. NOTE: It is highly recommended that your passport has at least six months validity remaining after your intended date of departure from your travel destination. Immigration officials often apply different rules to those stated by travel agents and official sources.
Note: Passport and visa requirements are liable to change at short notice. Travellers are advised to check their entry requirements with their embassy or consulate.
Contacts
Mexico Tourism
Mexican Tourist Office, Acapulco: 00 800 1111 2266 or www.visitmexico.com
Foreign Embassies in Mexico
United States Embassy, Mexico City: +52 55 5080 2000, extension 0.
British Embassy, Mexico City: +52 55 1670 3200.
Canadian Embassy, Mexico City: +52 55 5724 7900.
Australian Embassy, Mexico City: +52 55 1101 2200.
South African Embassy, Mexico City: +52 55 1100 4970.
Irish Embassy, Mexico City: +52 55 5283 9460.
New Zealand Embassy, Mexico City: +52 55 5283 9460.

Mexico Embassies
Mexican Embassy, Washington DC, United States: +1 202 728 1600.
Mexican Embassy, London, United Kingdom: +44 (0)20 7499 8586.
Mexican Embassy, Ottawa, Canada: +1 613 233 8988.
Mexican Embassy, Canberra, Australia: +61 (0)2 6273 3963.
Mexican Embassy, Pretoria, South Africa: +27 (0)12 460 1004.
Mexican Embassy, Dublin, Ireland: +353 (0)1 667 3105.
Mexican Embassy, Wellington, New Zealand: +64 (0)4 472 0555.

Regions and Cities
Baja California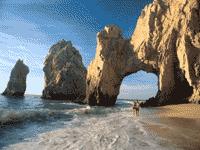 Baja California is a long finger peninsula running parallel to the west coast of the Mexican mainland, separated by the Gulf of California or Sea of Cortez. It is divided into two states, Baja California Norte in the north and the southern region of Baja California Sur, and extends from Tijuana on the American border down to Cabo San Lucas at the peninsula's tip.
Baja is one of the least humid places on earth with an intensely dry climate. It is a diverse geographical area providing remarkable contrasts. This is a wildly beautiful place of unusual scenery and dramatic colour changes, of exquisitely azure bays and miles of fine white beaches, rocky cliffs and deserts, giving way to dry mountainous slopes covered in a stunning display of cactus plants. The interior is harsh and undeveloped, while the coast is dotted with attractive resorts and modern towns. The protected gulf is home to more endemic species than anywhere else in the world; the warm waters are rich in marine life, and the protected waters on the Pacific coast are an important breeding ground for whales. Most resort tour operators arrange whale-watching trips from January to March.
A journey down the trans-peninsula highway conveys many surprises, from the bulging and frenetic activity of the modern city of Tijuana, with its tacky souvenir shops and thriving gambling scene, to the oasis town of San Ignacio, a beautiful respite from the hot Vizcaíno Desert on its fringes, with some extraordinary cave paintings nearby. From the peaceful laid-back village of Mulegé to the tranquil port of La Paz, with a colonial centre and spectacular sunsets, and the charming traditional Mexican town of Todos Santos in the south, there are a great variety of places to explore and enjoy. The Baja Peninsula also boasts the best seafood and wine in Mexico.
Mexico City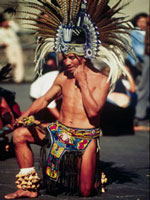 Sprawling across a valley encircled by ice-capped volcanoes and mountains, atop an ancient Aztec civilisation, Mexico City is North America's highest city, and one of the worlds most densely populated. With a long and fascinating history that runs from ancient native civilisations through to the invasion of the Conquistadors and subsequent colonial rule, Mexico City has a vast number of fascinating sights and attractions.
In the city centre, constructed out of the stones of the ancient palaces and temples, is the vast open space of the Zocalo - Mexico's city square - said to be the second largest in the world after Moscow's Red Square. At La Merced you'll discover the city's largest and most vibrant market, with a vast array of bizarre and exciting stalls, while the huge expanse of the Bosque de Chapultepec park houses the National Museum of Anthropology, with a fascinating collection of pre-Hispanic artefacts. At Teotihuac visitors will discover one of the most impressive and mysterious archaeological sites in Mexico, constructed by an ancient, and long forgotten culture.
The sprawling capital is a place to both love and hate, with everything you'd anticipate in a large city. It has world-class museums and galleries, a remarkable architectural legacy and elegant buildings, palaces and cathedrals, green open spaces and colonial suburbs, historical ruins, attractive squares, modern skyscrapers and great economic, cultural and political importance. It also has poverty, overcrowding and slums, incredible pollution, traffic congestion, crime, unemployment, and a constant cacophony of people and noise. It is exhilarating, frenetic and fascinating, an unabated reserve of vibrancy and life.
Despite its problems and somewhat bewildering energy Mexico City is a magnet for Mexicans and tourists alike: a modern, cosmopolitan and ever growing city that is attractive in so many ways. Despite its renown for the appalling, throat-rasping levels of pollution, Mexico City's skies often remain remarkably clear, and it does make for incredible sunsets.
Yucatan Peninsula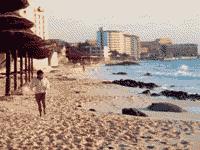 The Yucatan Peninsula is quite different from the rest of Mexico. A distinct change in the landscape, people and architecture as one crosses into the remoteness of the Mayan realm, is easily noticeable. The atmosphere is more relaxed and tranquil and the legacy of an ancient people is evident in the scattering of ruins within the encroaching jungle. It is an area famed for its white sand beaches, magnificent off-shore coral reefs and diving opportunities on the Caribbean coast, as well as for the region's splendid ruins: the extraordinary Mayan temples and ceremonial centres of an ancient kingdom.
The peninsula is an area of great diversity, from tropical jungle and rainforest, flat and hot countryside dotted with Mayan villages, a superb coastline with popular resorts and islands, numerous archaeological sites, and colonial towns. Once distant and inaccessible, tourism has made determined advances especially around the major places of interest, to the Mayan sites of Chichen Itza and Uxmal, and along the most visited stretch of the coast incorporating the 'party resort' of Cancun and the islands of Cozumel and Isla Mujeres. These resorts and islands have become highly sought-after package tour destinations with renowned vacation facilities.
The traditions, religious beliefs and ancient customs of today's Mayan culture are a natural part of the Yucatan's character, but large-scale tourism development has shifted many of the Mayan people to unwanted areas where they live in small settlements, scratching out an existence from their crops, and relying on the brazen publicity of the tourist brochures to endear them and their handicrafts to the tourist trade.
Pacific Coast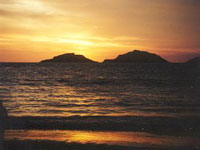 The Pacific coast contains some of Mexico's principle beach resorts as well as other lesser-known, beautiful spots and small coastal villages, backed by sweeping jungles that reach down to the clear blue waters of the Pacific. Known as the Mexican Riviera, the central coast has international beach resorts like Acapulco and Puerto Vallarta, excellent seafood and a large selection of adventure tourism attractions and activities, and is one of the leading resort destinations in the country. Miles of palm trees, golden beaches and picturesque bays, excellent surf, active nightlife, elegant dining and luxury accommodation are the main focus of this part of Mexico. From Mazatlán in the north, the 'Pearl of the Pacific', to the exhilarating action of the famous La Quebrada divers of Acapulco, bird watching near the small fishing village of San Blas and the jade green waters of Puerto Escondido, the Pacific coastal region holds something for everyone, whether looking for action or relaxation.
San Cristóbal de las Casas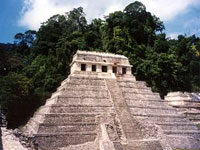 The colonial village of San Cristóbal de las Casas is the jewel in the centre of the cool Chiapas highlands, nestled in a valley and surrounded by forests and hills. It is at the centre of many traditional Mayan villages, and it is the indigenous soul of the town, coexisting harmoniously with its colonial charm, that makes it such an enchanting place to visit.
The town was originally designed as a Spanish stronghold against the surrounding indigenous communities. It is a town of cobbled lanes and long rambling streets that undulate with the hilly terrain, squat whitewashed houses with red tiled roofs, flower-filled patios, wrought iron balconies, shady plazas, ornate facades and lavish churches. The main plaza was the Spanish centre of town and today it is the best place to sit and watch the town life happen. The cathedral dominates the northern side and its steps are always busy with playful ragged children, arriving and departing worshippers, resting passers by and vendors. North of the plaza the daily market is a fascinating bustle of indigenous life, a trading space for local produce and household goods.
The streets and plazas are filled with the vibrancy of people from the surrounding villages who give the town its character and dominate its trade. The region is known for its colourful handicrafts, traditional markets, fascinating local fiestas, legends and mystical ceremonies that are influenced by the Mayan ancient traditions and way of life. Each barrio or neighbourhood of the city has a distinctive identity, rooted in the old custom of trade, with candle making, carpentry or blacksmith shops the predominant feature in each.
San Cristóbal is an invigorating, yet peaceful town, a good base to enjoy the graceful colonial atmosphere and to explore the highland region and the outlying Indian villages. The grand Mayan site at Palenque can be visited from here, as well as Agua Azul, a dazzling series of waterfalls and turquoise pools that are one of Mexico's natural wonders.
The Copper Canyon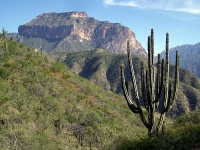 The north west of Mexico is the country's 'wild west', where it is possible to undertake one of the most remarkable train trips in the world, the Chihuahua al Pacífico (Chihuahua to the Pacific) railway, also known as the Copper Canyon railway, and one of the country's most remarkable tourist excursions. The canyon is in fact a maze of gorges that combine to form six massive interconnected canyons, covering an area four times larger and almost two times deeper than the Grand Canyon in North America. The name, Copper Canyon, incorporates all the canyons and gorges and refers to the colour of the lichen that clings to the canyon walls.
Acclaimed as an engineering marvel, the railroad travels from the Pacific coastal town of Los Mochis, climbing to 8,000 feet (2,400m) over the Sierra Madre mountain range, before dropping down to the city of Chihuahua 393 miles (655km) away. Along the way it passes through 86 tunnels, crosses 39 bridges, and performs an unbelievable 360 degree loop, winding through some of the country's most magnificent scenery, between towering canyon walls and hugging the cliff face with intermittent views of the river far below.
The region is not only scenically splendid, but is rich in indigenous culture. The canyon cliffs are the home to thousands of Tarahumara Indians, a semi-nomadic population of primitive cave dwellers who eke out an existence from farming, cattle ranching and by selling their handicrafts. In stark contrast are the Mennonite settlements centred around Cuauhetmoc, where the people of this religious sect, of German descent, sell their farm products such as cheese and sausages, but otherwise keep themselves completely separate from those around them. They are distinctive with their old-fashioned style of dress, own language and rigid community ways.
The train makes several stops along the way, brief opportunities to admire the view and buy food or crafts from the Tarahumara Indians. Several little towns or mountain villages are of interest, and many break the journey at Creel, a frontier-spirited mining town complete with horsemen in cowboy hats and tight jeans, and a good base to further explore the surrounds.
San Miguel de Allende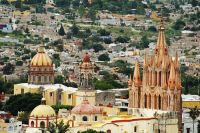 The small town of San Miguel de Allende is a postcard-perfect colonial town filled with 17th and 18th-century Baroque buildings. Declared a UNESCO World Heritage Site in 2008, the town has retained its historical charm with restrictions on construction and development. The city centre remains much as it was 250 years ago, and the narrow cobbled lanes are framed by yellow, orange and ochre buildings twined with bougainvillea vines.
The city has a number of beautiful buildings, including the pink Gothic parish church, La Parroquia (one of the most photographed churches in Mexico); the Centro Cultural Ignacio Ramiez with its magnificent courtyard; the Casa del Mayorazgo de la Canal, which houses the historical artwork collections of the Banamex Cultural Center; and the richly-decorated Oratorio de San Felipe Neri Church.
A centre of Bohemian creativity in the 20th century, San Miguel de Allende is very popular with foreign expats and tourists in Mexico, having been noted as a desirable retirement destination for Americans. The city blends the relaxed atmosphere of a small town with the cosmopolitan nature of a much larger city. Houses are intermixed with shops and businesses, and there are a wide variety of restaurants, art galleries, and more than 80 bars and cantinas.
San Miguel de Allende has a lively arts community, with productions hosted regularly at the Angela Peralta Theater and the Otra Cara de Mexico; the town also has its own bullring. Tourists will also enjoy wandering the outdoor markets selling local handicrafts and souvenirs; the best are the Zacateros Market and the Mercado de Artesanias.
The overall attitude of San Miguel de Allende is a festive one, and the citizens will take any excuse to hold a festival or celebration. The largest celebrates the town's patron saint, the Archangel Michael. Popularly known as the Fiestas de San Miguel de Allende, the week-long celebration includes parties, sporting events, cultural celebrations and dance performances.
Oaxaca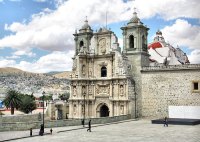 Oaxaca (pronounced wah-HA-kah) is a city developed over a period of three centuries of colonisation. This influence is visible in the stunning architecture of the buildings, a solid style adapted from European methods to stand up to occasional earthquakes. The buildings are distinctively green, made of a particular stone mined in local quarries, and give Oaxaca its nickname, The Green Antequera.
In 1987, Oaxaca was declared a UNESCO World Heritage Site in recognition of its treasure of historic buildings and monuments; however the city also offers a number of museums in town worth visiting, including those dedicated to local history, art ranging from ancient to contemporary times, railroads, stamps, and prominent citizens like former President of Mexico Benito Juárez. Oaxaca is also near the archaeological site of Monte Albán, site of one of the earliest cities of Mesoamerica dating back to 500 BC.
Oaxaca is known as the culinary capital of Mexico, and its gastronomic traditions go back to the Mayan civilisation. Street food is excellent, and often better than what is available in the more cosmopolitan fine dining establishments. Local specialties include spicy mole sauces, chapulines (fried grasshoppers with chile), and tlayudes (corn tortillas piled with meat and vegetable fillings); however, the real specialty of Oaxaca is chocolate.
The heart of chocolate production in Mexico, some say Oaxaca was where the treat was invented centuries ago by the ancient Mesoamericans. Visitors are spoiled for choice with restaurants, cafes and factories all offering mouth-watering options, but the town's specialty is its hot cocoa, which most locals start every day with. Visitors also have the opportunity to take a chocolate-making class and learn to make their own treats through traditional methods.
Oaxaca is also known for is its festivals, including the large Day of the Dead celebration each October, which lasts for three days. One of the most unique celebrations however is the Night of the Radishes, held just before Christmas each year and featuring the distinctive red and white root carved into nativity scenes and other artistic creations.
Deep in the south of Mexico, Oaxaca is in one of the country's poorest areas and tourism development is not as sophisticated as that of the more popular destinations, however a holiday in Oaxaca allows visitors to experience a more authentic side of Mexico most tourists miss out on.
Guadalajara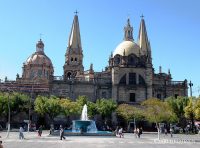 Guadalajara is considered one of the most stereotypically 'Mexican' cities in the country. The birthplace of mariachi music, tequila, and charros (Mexican cowboys), Guadalajara is the second-largest city in Mexico and a major cultural centre.
The historic centre of Guadalajara has a plethora of stunning cathedrals and other buildings, including must-sees like the Guadalajara Cathedral, the Palacio de Gobierno, and the Templo Expiatorio. A number of parks and monuments also contribute to make Guadalajara a very attractive city.
It is also a very busy city; there's always something to see and do in Guadalajara, whether it's football games at the Estadio Omnilife, bullfights at the Plaza de Toros, free concerts by roving mariachi musicians at the Plaza de los Mariachis, or simply browsing the hundreds of stalls at the multi-level Mercado Libertad. A dozen outdoor markets provide ample shopping opportunities for handcrafted items made by the local Huichol Indians, and tired sightseers can rest their feet while they sample local delicacies at any of Guadalajara's excellent restaurants. Zapopan is the centre of the nightlife in Guadalajara, with many bars and clubs serving the local Los Altos tequila.
The region around Guadalajara offers a number of excursions as well, ranging from rowdy (Tequila Express Tours), to educational (pre-hispanic pyramids at Guachimontones), to relaxing (picturesque towns around Lake Chapala).
Tijuana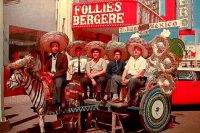 For rowdy college students looking for a quick and cheap trip south of the border, Tijuana is the ultimate Mexican holiday destination. Located just across the border from San Diego in northwest Mexico, Tijuana's seedy reputation as a city of cheap shopping and cheaper drinks has led to a flood of tourists coming from California on day or weekend trips by car or by foot.
For bargain-hunters from the north, Tijuana is a paradise of stalls selling brightly-coloured clothing and woven blankets, guitars, silver jewellery and bobble-headed Chihuahuas. A number of duty-free shopping malls make convenient place to pick up alcohol and tobacco products, as well as medication, for a fraction of the price available in the US. The main shopping street is Revolution Boulevard, where pushy touts try to persuade passersby into their stalls.
Scattered between the shops are a number of restaurants serving all manner of Mexican food ranging from street churros and fish tacos to the famous Tijuana Special, a classic Tex-Mex dish consisting of enchiladas, rice and refried beans. Tourists should take care to only drink bottled water however.
Revolution Boulevard is also the centre of the notorious Tijuana nightlife, with plenty of seedy bars offering increasingly cheaper drinks pushed by touts of their own. The red light district of Zona Norte, and particularly La Coahuila, offers little beyond lap dances and the chance to be robbed, and is best avoided.
Tijuana has some traditional attractions as well, including bullfighting and Jai Alai (a Spanish ball court game), but this is not the classic Mexico that stories are made of.
Behind the neon glare of the tourist trade, the drugs and violence that seem to be the lot of a border town are prevalent in Tijuana; the city has become more dangerous in recent years, particularly with the drug wars along the American-Mexican border. The town does try to shift the focus away from the drug wars, however tourists are urged to avoid travel to Tijuana until the drug violence has died down. It does however make a good starting point for exploring the Baja California peninsula and the beaches and resorts to the south.
Cancun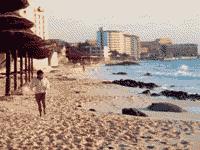 Cancun is the ultimate holiday resort in Mexico. One of the most popular holiday destinations in North America, the sprawling complex of hotels and resort complexes is overflowing with American tourists from the December holidays to Spring Break in April.
There are two sides to Cancun: one is the hotel zone, comprised entirely of all-inclusive resorts and hotels and populated just as exclusively with tourists. The other is downtown Cancun, which is a Mexican city with a number of restaurants, nightclubs, shopping malls and markets to visit.
Cancun has a reputation as a party hotspot along the lines of Las Vegas or Ibiza, and tourists in Cancun are usually looking for a holiday filled with beaches and bars rather than historical monuments or cultural attractions.
Cancun's beaches certainly don't disappoint, with sparkling white sand and clear blue waters offering the perfect setting for watersports like sailing, surfing, and paragliding. Nearby islands like Isla Mujeres and Cozumel offer quiet waters well-suited to scuba diving and snorkelling. Kids will enjoy the chance to swim with dolphins at the giant aquarium in the Xel-Ha eco theme park.
However, travellers hoping to explore Mexico's history will be able to do so at Mayan archaeological sites not far from Cancun, including the ruins at Tulum, the pyramids at Uxmal, and the famous temple of Chichen Itza.
The rampant drug war currently happening in Mexico has not left Cancun untouched, and there have been several incidents there in the last year. However, Cancun is still considered a safe destination, and city officials are working hard to maintain the safety of all tourists in Cancun.