Overview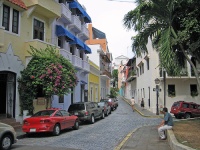 The capital city of Puerto Rico, San Juan is one of the busiest ports in the Caribbean and a third of all Puerto Ricans live here. Nearly every visitor to the island arrives at San Juan, many on cruise liners. The port is the largest home-based cruise port in the world, hosting 28 vessels and with more being added to the list each year.
San Juan is divided into three distinct districts: Old San Juan, the historic walled city; the beach and resort area; and the outlying suburbs. Tourists are concerned mainly with Old San Juan, the site of most restaurants, shops, entertainment venues and the beaches. The old city is linked to the new by the largely residential Puerta de Tierra area, and a series of modern highways leading to the Condado beach front, which is reminiscent of Florida's Miami Beach with its high-rise hotels and apartment blocks.
It is not only tourism that keeps the financial mills grinding in San Juan. The city is an important centre for petroleum and sugar refining, brewing and distilling, and the manufacturing of cement, pharmaceuticals, metal products and tobacco products. In the midst of all the hustle and bustle there are numerous attractions in San Juan to amuse, entertain and interest the many tourists, and the city is a perfect base for exploring the rest of what this small Caribbean island has to offer.
GettingAround
San Juan's old, cobble-stoned downtown area can be explored on foot (take comfortable walking shoes). To go further afield visitors can flag down one of the plentiful taxis or minibus taxis ( publicos). There is a rather irregular bus service covering metropolitan San Juan. International car rental agencies are well represented, and home country driving licences are valid.
Events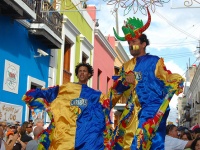 San Sebastian Street Festival
The street festival is a carnival of colour featuring live music, food stalls, fairground rides and processions of flamboyant Puerto Rican culturama. A well-attended and immensely popular tourist activity in Puerto Rico for winter sun vacationers, the San Sebastian Street Festival comes highly recommended.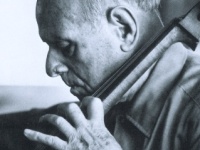 Casals Festival
The Casals Festival celebrates classical music each year at the Centro de Bellas Artes Luis A Ferré in San Juan. This festival was established in 1956 by the famous Spanish cellist Pablo Casals. Features of the event include pieces by renown international performers such as the New York Philharmonic and Boston Baroque, as well as local favourites Orquesta Sinfónica de Puerto Rico.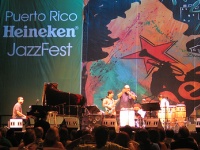 Heineken Jazzfest
The Heineken Jazzfest is an annual Latin jazz festival held at the Tito Puente Amphitheater in San Juan. The island's rich musical culture is celebrated here through salsa and merengue, with past performances by Ahmad Jamal, the Pat Metheny Trio and the Dave Valentin Quintet.
Attractions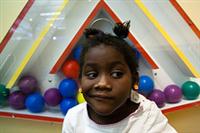 Museo del Niño (Children's Museum)
San Juan's Museo del Nino (Children's Museum) is housed in a gorgeous 300-year-old building directly across from the city's cathedral. Started at the turn of the 21st century by a group of sociologists and student volunteers, the Children's Museum provides a hands-on learning environment for kids that features a lot of interaction, if not a great amount of high-tech gadgetry and visual stimulation. The exhibitions at San Juan's Children's Museum are educative rather than all-out fun, teaching young ones about the benefits of brushing their teeth, recycling, and caring properly for their pets. In fact, the great attraction of the museum is not its range of exhibition material, but the energy and dedication of those who work there. The museum's staff - largely comprised of student volunteers - will usually play with visiting children either one-on-one or in small groups, providing a much-needed way to burn off some pent-up energy.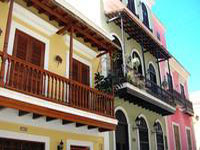 Old San Juan
This area, encompassing about seven blocks, dates back about 500 years to the Spanish occupation when it served as a military stronghold that even withstood Sir Francis Drake's armies. The original cobbles on the streets are blue-tinged, and were originally used as ballast on Spanish ships. The ancient stones set off the more than 400 restored 16th- and 17th-century Spanish colonial buildings that fill Old San Juan and draw thousands of tourists to walk the narrow, steep streets every day. The old town is enclosed in amazingly thick, high walls and features numerous attractive plazas bearing sculptures and memorials.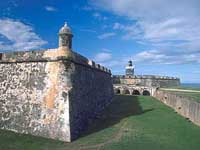 Fort San Felipe del Morro
The mighty six-level fortress of San Felipe del Morro, built in 1540, towers 140 feet (43m) above the sea on San Juan Bay, its 18-foot thick (5m) walls having proved a worthy defence against invasion. The largest fortification in the Caribbean, it is a maze of tunnels, dungeons, barracks, lookouts and ramps, offering spectacular views from atop its ramparts. Also in Norzagaray Street, Old San Juan, is El Morro's partner in defending the city, Castillo San Cristobal, built in the 17th century to a confusing and intricate modular design.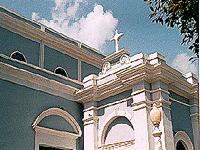 La Fortaleza
The Fortaleza was built in 1540 as a fortress to guard the entrance to the San Juan harbour, but later became the official Governor's residence. During succeeding centuries the original structure has been remodelled and expanded, with a neoclassical façade being added in 1846 to leave the building with its palatial aspect. The current governor of Puerto Rico is in residence - the 170th Governor to live in the Fortaleza.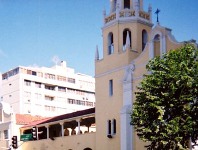 Saint John the Baptist Cathedral
San Juan's Cathedral was originally built in 1521 by Puerto Rico's first Spanish bishop as a thatched wooden church, but was destroyed in a hurricane in 1526. The current medieval structure, built from stone brought in from inland quarries by horses, dates from 1540, although extensive renovations and reconstructions were carried out in 1917. The cathedral features Doric columns and elliptical vaults, and contains the marble tomb of the island's first governor.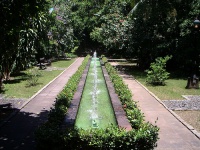 La Casa Blanca
The family of Puerto Rico's first governor, Ponce de Leon, built the historic homestead of Casa Blanca in 1523 and then went on to inhabit it for 250 years. It was subsequently taken over by the Spanish and then the United States military. Today, the mansion house contains two museums. A small section is dedicated to artefacts associated with the Taino Indians, while the rest of the house depicts the life of those who lived there through the 16th, 17th and 18th centuries.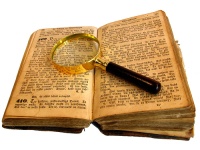 Casa del Libro
The 18th-century mansion known as Casa del Libro houses a vast collection of rare sketches, illustrations, ancient manuscripts and books, some dating from before the 16th century. The museum's most prized possessions are two royal mandates signed by Ferdinand and Isabella of Spain in 1493 regarding the provisioning of Christopher Columbus's fleet for his second voyage to the New World. This was the voyage during which Puerto Rico was discovered.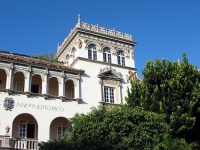 University of Puerto Rico Campus
The University of Puerto Rico campus in the Rio Piedras offers several attractions for visitors and non-students. The Museum of History, Anthropology and Art contains archaeological and historical exhibits and holds monthly art exhibitions, and the Art Museum Dr. Pío López Martínez de Cayey has a large collection of Puerto Rican silkscreen posters. The Botanical Gardens in the grounds of the University are a living laboratory, displaying the native flora of Puerto Rico, and containing more than 200 species of tropical and sub-tropical plants as well many sculptures from artists such as Leopoldo Maler, Carlos Guzman and Rolando López Dirube.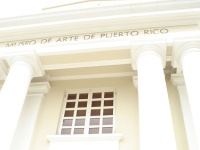 Museo de Arte
Puerto Rico's showcase art gallery opened just a few years ago at a cost of millions of dollars. The gallery is housed in a former city hospital in Santurce and offers a permanent and visiting exhibition. The aim is to highlight the island's heritage through the work of local artists, such as Francisco Oller, who studied in France with Cézanne, and Jose Campeche, a late-18th century Classical painter. The museum has been described as a 'living textbook of Puerto Rico', providing on overview of centuries of the island's history through the medium of art.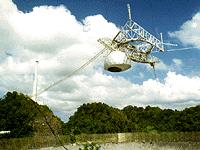 Arecibo Ionospheric Observatory
America's ears and eyes are focused on the stars from the island of Puerto Rico. In the northwest mountains of the island, about 90 minutes drive west of San Juan, among the Karst Country hills, is one of the most important astronomical research facilities on earth, the Arecibo Ionospheric Observatory. Its massive dish is larger in area than a dozen football fields and is sited in a sinkhole, aimed at the heavens and tuned to detect the slightest sounds emitted from the farthest stars. This is the home base for NASA's 'SETI' (Search for Extra-Terrestrial Intelligence) project, and as such holds great fascination for visitors. A Visitors Centre is equipped with interactive exhibits to demonstrate how the huge structure works. Visitors can hike to the viewing platform to view the vast tiled dish.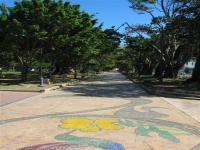 Luis Muñoz Rivera Park
Named in honour of Puerto Rican statesman Luis Muñoz Rivera, and featuring plenty of wide open space, picnic areas, walkways and even a small children's playground, the Luis Muñoz Rivera Park is the perfect place to take the kids for a day of fun in the sun, especially those who have been cooped up on board a cruise ship. Pack a picnic or simply enjoy the fresh air and scenery along the tree-lined paths, decorated artistically with mosaics.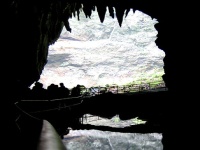 Camuy River Cave Park
Children will feel like they are in an Indiana Jones movie when they visit the magnificent Parque de las Cavernas del Río Camuy(Camuy River Cave Park), a large network of natural limestone caves and waterways which can be explored by trolley. The caverns and underground tunnels were created over a million years ago by the tropical Río Camuy(Camuy River), which is the third longest underground river in the world and is home to a unique species of fish that is totally blind. Only three crater-like sink holes and two caves are open to the public, which are reached by a guided trolley that descends into a sinkhole lined with dense tropical vegetation. Kids will love the spacious grounds of the park, which include a cafeteria, picnic area, gift shop, walking trails, exhibition hall, and theatre. One of the country's most talked-about tourist attractions, the Camuy River Cave Park is an excellent addition to any Puerto Rico holiday itinerary.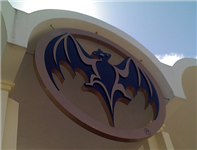 Casa Bacardi Visitor Centre
Undoubtedly one of the top tourist attractions in Puerto Rico, a trip to the Casa Bacardi Visitor Centre is a must for travellers to San Juan. Following their exile from Cuba in the 1950s, the Bacardi family moved to Puerto Rico and set up a small rum distillery on the outskirts of San Juan. Today, that small distillery has grown into the largest in the world - producing a jaw-dropping 100,000 gallons of rum per day, and 21 million cases per year. Tours of the Casa Bacardi Visitor Centre last about an hour, as visitors are shown around a variety of exhibits (including vintage rum stills) and informed about the history of Bacardi rum (including a short movie). The tour culminates in a visit to an on-site, classically-styled bar, where a bartender will show you the 'proper' methods of preparing Cuba libres and mojitos. The best part? All visitors receive two complimentary drink tickets, which they can cash in on ice-cold Bacardi-based drinks. There is also a gift shop located on the premises, a perfect place to pick up some rum or Bacardi apparel for friends back home.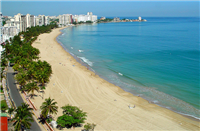 Isla Verde
Isla Verde ('Green Island') is San Juan's hippest area, and home to many of its best beach resorts and upmarket hotels. The area's name is inspired by the colour of the water in its bay: a rich, green-turquoise shade that will prove irresistible to swimmers and divers. While the beautiful crescent-shaped beach - with its soft sand and tall palm trees - is a tourist attraction in its own right, most visitors to Puerto Rico will seek out Isla Verde for its excellent beach resorts, plush hotels, international dining options, world-class spa treatment facilities and vibrant nightlife. Isla Verde is home to two of the island's best casino hotels and a wide range of raucous night clubs and bars, where live local music is often staged. A natural base for well-heeled travellers to San Juan, Isla Verde makes for a luxurious home away from home during your holiday in Puerto Rico. A fantastic winter sun vacation destination, Isla Verde sees most of its tourist activity between December and January, when days are warm and sunny and there is no threat of hurricanes or storms.
Dining
Blu Guayaba
Cuisine style: Local
Blu Guayaba is well-known in San Juan for its accessible Caribbean cuisine, including many seafood option and meat as well as vegetarian. It's not as cheap as some other restaurants in the area, but has good service and food, as well as live music some nights.
Address: 6475 Isla Verde Avenue
Aguaviva
Cuisine style: Seafood
Aguaviva's cool, turquoise décor is very laid-back, in stark contrast to its chaotic atmosphere. The stained-glass aquaviva(jellyfish) replicas are intriguing, best contemplated over oysters and a stiff drink from the bar. An open kitchen serves delectable cuisine including a marlin and garlic ceviche(appetiser), and a seafood tower made up of fried oysters, coco-flavoured shrimp and fried octopus. The grilled mahi-mahi with smoky shrimp, salsa and yucca is also fantastic, as is the paella with seafood and pork sausage. Reservations required.
Address: 364 Calle Fortaleza
Augusto's Cuisine
Cuisine style: French
This elegant and glamorous restaurant flaunts its European flair in a portentous grey and green dining room within the Hotel Excelsior, Miramar. Fresh ingredients are used to create indulgent offerings such as creamy corn and oyster soup, an exquisite lobster risotto or medallions of veal with foie gras and Madeira sauce. The wine list is also outstanding.
Address: 801 Ponce de León Ave
Dragonfly
Cuisine style: International
Dragonfly's décor is reminiscent of an old San Francisco bordello with beaded curtains, fringed lamps and gilded mirrors. Their trademark drink is the 'Dragon Punch', often accompanied by live Latin jazz performances. The plantain chips, chicharrónes(pork rinds) and spicy crab cakes are easily followed by delicious red snapper or grouper, while the pumpkin and bean selection is quite formidable. For those with bigger appetites, the barbecued lamb shank is a must! Reservations required.
Address: 364 Calle Fortaleza
Parrot Club
Cuisine style: Caribbean
The Parrot Club is found in a stately 1902 building and occasionally hosts local dignitaries in its ambient dining hall. The courtyard tables are accompanied by live music among potted ferns, orchids and palms. This bistro and bar blends Puerto Rican cuisine with Spanish, African and Taíno flavours. Halibut, salmon and mahi-mahi form part of the ceviche(appetiser) menu and the criolla-style flank steak is superb for a main course, as is the tuna with rum and orange-essence sauce. A favoured drink is their trademark 'Parrot Passion'. Closed for two weeks in September.
Address: 363 Calle Fortaleza
Airports
Luis Munoz Marin International Airport
Website: www.san-juan-airport.com
Location: The airport is situated nine miles (14km) east of San Juan.
Contacts: Tel: +1 787 791 1010.
Time Zone: GMT -4.
Departure tax: None.
Facilities: Facilities at the airport include a bank, a post office, restaurants, bars, shops (including duty-free), as well as first aid and medical facilities. Disabled facilities are good; those with special needs should contact their airline in advance.
Transfer to the city: Taxis are available. The AMA bus service and the airport shuttle connect the city and airport; journey time is between 30 and 45 minutes.
Car rental: Car rental agencies Avis, Budget, Charlie, Dollar, Hertz, National and Thrifty are represented at the airport.