Overview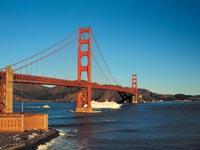 The legend of California, the embroidered image portrayed by Hollywood's worldwide film and television industry, really does exist. Days are warm and sunny, the mansions of Beverley Hills are the height of luxury, beautifully-sculpted bodies roller-blade along the beachfront boardwalks, blonde-haired surfers compete for waves and the allure of Hollywood's fame and fortune is as strong as ever.
Everyone either adores or despises the Golden State, the 'spoilt kid' of the USA, who brushes off the barbs of envious resentment with indifference, confident in the knowledge that California offers one of the most varied and exciting places to live in America. The world-renowned cities of the West Coast are strung along miles of magnificent coastline with cliffs, soaring redwood forests and beaches. The high snow-capped Sierra Nevada Mountain Range and the magnificent glacier-carved valley of Yosemite National Park contrast with the shimmering heat of spectacular desert landscapes and the neat rows of leafy vineyards in the Napa Valley, one of the world's best-known wine growing regions.
The Golden Gate Bridge, steep roller-coaster hills and the formidable island of Alcatraz are instantly recognisable images of San Francisco, while the welcoming beach lifestyle and family-fun attractions make San Diego a popular vacation destination. Undoubtedly the city with the most razzle-dazzle is Los Angeles, a high-energy conglomeration of wealthy neighbourhoods, beaches and excessive standards of living. It lives up to its reputation as 'the entertainment capital of the world' presenting the attractions of Hollywood, Universal Studios and Disneyland, as well as first-class shopping, fine restaurants and a lively nightlife.
As the most populous state in the USA, California is blighted by pollution, congested freeways, crime and overcrowded attractions, but it remains a leader in social tolerance, as well as being a forerunner in the film, entertainment and music industry. The state also lives with the constant threat of earthquakes, being cut through by the San Andreas Fault. Despite the ever-present fear that 'the big one' will strike, California remains one of the most popular states in which to live, work and play.
Attractions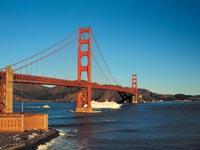 Golden Gate Bridge
The rust-coloured towers, graceful suspension and supportive cables of the Golden Gate Bridge make this famous symbol of San Francisco the most photographed bridge in the world, and visible from almost any high point in the city, although it is often shrouded in rolling fog. Spanning the two-mile (3km) mouth of the bay, it was the longest suspension bridge in the world at the time of its completion in 1937 and was built to withstand winds of more than 100 mph (161km per hour). During high winds it can sway up to 27 feet (8m) in each direction. One of the great engineering accomplishments of the 20th century, the bridge claims to have used enough wire in its construction to stretch around the earth several times. Walking across the bridge, under the towers that loom 65 storeys above the water, is one of the best ways to experience the immensity of the structure and affords beautiful views of the San Francisco skyline, the bay and its islands. Golden Gate Bridge has a grisly side, however, as it is also a favourite with the suicidal and the sidewalks are dotted with crisis-counselling phones as a sobering reminder.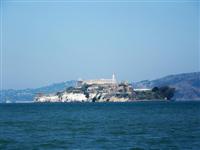 Alcatraz
Out in the middle of San Francisco Bay, Alcatraz Island, or 'The Rock', is one of Golden Gate National Recreation Area's most popular destinations. The notorious escape-proof island with its dreaded maximum-security prison once held the likes of Al 'Scarface' Capone, George 'Machine Gun' Kelly and the 'Birdman of Alcatraz', Robert Stroud. With sheer cliffs surrounded by the icy waters of San Francisco Bay, known for its treacherous tides and currents, it was regarded as the perfect place to detain the country's most-wanted and dangerous criminals who were isolated in dark solitary confinement cells. Visitors can explore the prison as well as learn about its history: from its discovery as a pelican nesting ground, its location as a military outpost, and the years between 1933 and 1963 as an off-limit federal penitentiary. It was also inhabited by Native Americans before being declared a Recreational Area and protected bird sanctuary. Thousands of tourists flock here each year and take the excellent self-guided audio tours that contain commentary from former guards and prisoners about life on the island and the notorious escape attempts. There is also a slide show and a tour of the island's ecology and bird life led by a park ranger. The view from the island looking across to San Francisco is fantastic as well.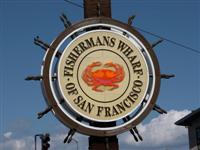 Fisherman's Wharf
Some people love the bustle of Fisherman's Wharf, while others make a conscious effort to steer well clear of it. But for better or worse it is massively popular, attracting more visitors than any other city sight, with Pier 39 the commercial tourist epicentre. The Wharf was once a fishing port with dozens of boats anchored here. Pier 45 is still used by fishermen in the early morning hours, and fish and seafood can be bought from the Fish Alley Market. There are shops galore, fast food stands and overpriced bay-view restaurants as well as bars, markets, street performers, and an endless variety of activities for the whole family. It is also the gateway for several top attractions: trips to Alcatraz and other bay cruises leave from here; numerous museums include the Historic Ships Pier; and the USS Pampanito submarine that can be boarded from Pier 45. The entertaining colony of sea lions that reside on the floating docks at Pier 39 are one of the best attractions on the quay. The quirky Musée Mécanique is located nearby Pier 45, and houses the world's largest collection of vintage coin-operated mechanical wonders.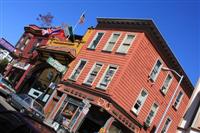 North Beach
Between Russian and Telegraph Hills, North Beach is San Francisco's 'Little Italy', that has long been the central hub for anyone with alternative inclinations. During the 1950s the pleasure-seeking, non-conformist lifestyle of the Beat Generation and their rebellious literature contributed to the neighbourhood's unconventional character and tourists poured into the district for 'Beatnik Tours'. Two of the Beat-era landmarks are the Vesuvio bar, and the first paperback bookstore in the US and hangout of Beat-era writers, the City Lights Bookstore. The steep stairways on Telegraph Hill lead to one of the city's most distinctive landmarks, Coit Tower, a monument to the volunteer fire fighters of the city providing superb 360-degree views of the city and San Francisco Bay. Inside the round, stone-tower murals of the Great Depression depict different aspects of life in California during the 1930s. The 'Crookedest Street in the World' winds down the steep eastern side of Russian Hill, the angle so steep that Lombard Street has to zigzag down with eight sharp turns to make any descent possible. The affluent residents inside their mansions with well-tended flowerbeds that flank the street bemoan the frequent traffic jams as thousands of visitors queue at the top and wait their turn to drive slowly down the tight curves, gathering at the bottom for photographic opportunities.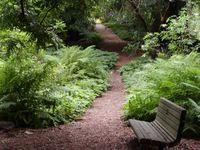 Golden Gate Park
Of the many open green spaces in San Francisco, Golden Gate Park is the biggest and the loveliest stretching from The Haight to the Pacific Ocean, featuring gardens, lakes, numerous sporting facilities, and museums. On Sundays the main drive is closed to traffic and becomes the playground for joggers, cyclists, roller-bladers and strollers. The California Academy of Sciences includes the Natural History Museum, aquarium and planetarium. The serenity of the Japanese Tea Garden with its bridges, bonsai and fortune cookies is a favourite with tour groups. Opportunities for games and activities abound, with lawn bowling, disc golf, soccer, football, baseball and tennis all catered for. Although filled with people, the park never seems crowded and there is always a secluded space somewhere on the lawns or in the gardens. For a lively atmosphere, the Beach Brewery and Restaurant is a popular restaurant in Golden Gate Park. Golden Gate Park is even said to be haunted by its own resident spirit, the Stow Lake Ghost!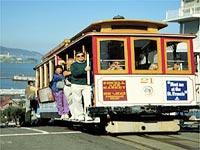 Cable Cars
One of San Francisco's most endearing attractions is its network of 130-year-old cable cars, the only mobile National Historic Landmark in the country, and the world's only surviving system of cable cars. Many cities adopted the system, but all have since been replaced by more practical means of transport. The perpetuation of these clanking museum pieces was due to determination by the city's residents and today they remain at the heart of the city's character. It is an experience to ride up and down the steep gradients of the hills, hanging on while the brass bell clangs, the conductor jingles his coins and the familiar clanking of the cables pulls the car at a constant 9.5 miles (15km) per hour. Many people have difficulty believing that these six-tonne cars can work without engines and the San Francisco Cable Car Museum affords visitors a closer look at the cable-winding machinery, and the 'home base' where cars are reeled in and out on 11 miles (17km) of steel cable. The museum also houses some interesting sights, including the first cable car (1873) and scale models of different types of cable cars that were once in use in the city. The idea of the cable car system was conceived by engineer Andrew Hallidie. After watching the uphill struggle of laden horse-drawn carts, he was determined to find a kinder and more efficient means of transportation, which he produced four years later.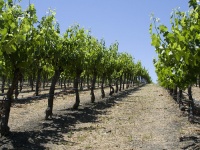 Wine Country
The Napa and Sonoma Valleys are at the heart of the Californian wine country, producing wines that are praised by connoisseurs worldwide, from a perfect climate of sunny days and cool nights. The area is a forerunner in the latest grape-growing techniques and wine making, and many individual growers, instead of selling their grapes to the larger wineries, are producing their own excellent boutique wines. The Napa Valley is the more commercial of the two, with more wineries, spas and tourist traffic, and a better selection of restaurants and hotels. The valley also caters for classic wine country activities such as hot air ballooning or biking through the vineyards; the world-renowned wineries also offer informative tours, which provide the ultimate wine-country experience. Sonoma Valley is less pretentious and more beautiful in a rustic way, with smaller family-run cellars and fewer visitors. Although the Napa Valley is the USA's best-known wine region, Sonoma boasts more awards than their snobbish neighbour, producing intensely complex reds. The Napa Valley is a relatively compact region with more than 200 wineries offering tours and tasting. Most of the large wineries with their orderly rows of vineyards are situated along the main thoroughfare that stretches from San Francisco Bay to Calistoga in the north. But there is more to the valley than wine tasting. The small resort town of Calistoga is famous for its mineral springs and mud baths, as well as the Old Faithful Geyser that shoots boiling water and steam 60 feet (18m) into the air every 40 minutes. Nearby is a Petrified Forest with redwoods, seashells and marine life that were turned to stone after volcanic ash from the eruption of Mount St Helena covered the area.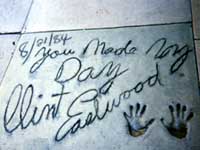 Hollywood
Los Angeles is the film and entertainment capital of the world and the name 'Hollywood' is the embodiment of glamour, success and money; the place where films are made, television shows are recorded and stars take up residence. The famous Hollywood sign on the hills above the city has become the enduring symbol of the movie industry and of Los Angeles itself - the 50-foot-high (15m) white letters can be seen from miles away. The historic heart of the movie industry is centred on Hollywood Boulevard where millions of visitors flock to see landmark attractions and museums. The impressive Mann's (Grauman's) Chinese Theatre is famous for its courtyard where over 200 stars like Elizabeth Taylor, Paul Newman, Clint Eastwood and Frank Sinatra have set their signatures and imprints of their hands or feet in cement. For many years the theatre has been the spot for movie premieres and is modelled on a Chinese temple with columns, dragons and an ornate interior. Passing in front of the theatre is the mile-long Walk of Fame, the world-famous sidewalk embedded with the names of legendary television, film, radio, theatre and recording greats engraved within pink granite stars. More than 2,500 celebrities are honoured here, including Elvis Presley, Charlie Chapman, Marilyn Monroe and Michael Jackson. The cylindrical Capitol Records Tower is one of the most recognisable buildings in the city and is supposed to resemble a 12-storey stack of records with a needle on top that blinks out 'h-o-l-l-y-w-o-o-d' in Morse code. Other attractions include the Kodak Theatre (designed to host the Academy Awards) and the Hollywood Guinness World Records Museum, as well as the Hollywood Wax Museum and the Ripley's 'Believe It or Not!' Museum.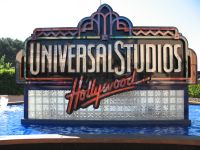 Universal Studios Hollywood
One of the most popular attractions in Los Angeles is Universal Studios Hollywood, reputedly the world's biggest film studio and theme park. The main attraction is the Studio Tour, a narrated tram ride that traverses the huge complex, passing stars' dressing rooms and famous back-lot sets, including an Old West town, the town square in 'Back to the Future' films, as well as Jurassic Park III and 'Curse of the Mummy's Tomb' sets. Along the way visitors will experience several realistic staged-disasters such as an earthquake, an avalanche, an attack by 'Jaws' and a meeting with an enormous version of 'King Kong'. Besides the tours there is a theme park that provides a thrilling introduction to the principles of special effects with several attractions and movie-related rides. The popular 'Back to the Future' ride is a simulated jerky flight in a time machine with exceptional special effects and is one of the park's best rides. The 'Jurassic Park' ride is a tour through a jungle full of frightening dinosaurs ending with an 84-foot (26m) near-vertical drop into water. Other attractions include the spectacular 'Waterworld' live action stunt performance, a realistic warehouse fire in 'Backdraft', a 'Terminator 2' 3-D show, and animal tricks on 'Animal Planet Live!' Universal CityWalk is a separate venue with shops, restaurants, cinemas and nightclubs.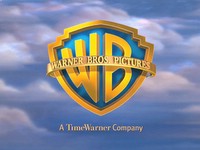 Warner Bros Studios
The tour at Warner Bros offers a comprehensive behind-the-scenes look at an authentic working studio and provides more of a technical slant than the Universal Studios tour, focussing on the authentic filmmaking procedure. The informative two-hour tour takes visitors to view the sets, prop construction, wardrobe and sound department, as well as visiting active film and television sets where it is sometimes possible to watch actors in the midst of filming. There is also an introductory film and museum depicting the studio's film history.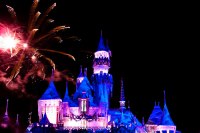 Disneyland Resort
Claiming to be 'The Happiest Place on Earth', Disneyland is an integral part of an American childhood and was the world's first mega theme park designed for the family by Walt Disney in 1955. It is one of America's most famous attractions and despite competition from other similar parks in Florida, Paris and Tokyo, nothing can compare to the original. It is an enchanted kingdom of fantasy and imagination filled with magical entertainment and attractions. The park is divided into eight 'lands' and each one features different rides, dining experiences and entertainment as well as daily live-action shows and parades. Adventureland, Fantasyland, Critter Country, Frontierland, Mickey's Toontown, Tomorrowland, New Orleans Square and Main Street USA offer such attractions as a boat trip through the underground caverns of Pirates of the Caribbean, an experience of the Wild West on the Thunder Mountain Railroad, a visit to Sleeping Beauty's Castle and flying with Dumbo the elephant, a giddy journey with Indiana Jones, a spooky tour of the Haunted Mansion, or the experience of a pitch-black rollercoaster ride inside Space Mountain, and a wet ride on Splash Mountain. There is also a shopping, dining and entertainment district called Downtown Disney. The latest appendage to Disneyland is the adjacent California Adventure, a separate park minus the cartoon characters that offers further rides and rollercoasters, but an additional ticket is required. (A new Cars-themed attraction is currently under construction at California Adventure.) The parks are busiest during summer from mid-June to mid-September and during school holidays and there are usually long queues at the popular rides. The new Fastpass system allows visitors to reserve a place in line at the park's busiest attractions. No day at Disneyland is complete without watching the nightly fireworks show with an appearance by Tinkerbell.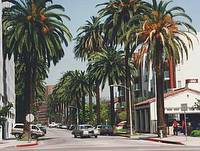 West LA
West LA is famous for its trend-setting style; the place where the 'stars' live, shop and go out on the town. The area includes some of the most prestigious neighbourhoods in Los Angeles, particularly Beverly Hills and Bel Air. Home of the rich and famous, and one of the world's most expensive residential areas, Beverly Hills flaunts its wealth with luxurious manors, tree-lined streets, grand estates and security gates concealing landscaped grounds that are home to the likes of Jack Nicholson and Harrison Ford. Scheduled tours are available or Star Home Maps can be picked up at any street corner vendor for the latest on who lives where. The neighbourhood is also home to the famous shopping district centred on Rodeo Drive with expensive shops oozing designer labels such as Gucci, Armani and Vuitton. West Hollywood, between Beverly Hills and Hollywood, is the centre of LA's gay community and boasts the area's best restaurants, trendiest shops, eccentric boutiques and modern galleries along Melrose Avenue and Santa Monica Boulevard. Sunset Strip, a section of Sunset Boulevard, is famed for its nightlife with rock clubs, bars and posh hotels attracting a huge variety of characters, and many places have a history of big names. In the 1930s Errol Flynn and Rita Hayworth went dancing at nightclubs like Trocadero, by the 1970s it had become the focus of rock and roll with stage performances by the Doors and Elton John at Whisky-a-Go-Go club. The actor River Phoenix died of drug-related problems at the Viper Room, and Thunder Roadhouse was where Mickey Rourke bought his Harley-Davidson.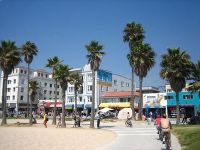 Beach Communities
The miles of sandy beaches along the Pacific Ocean are a celebration of the Californian lifestyle with distinct neighbourhoods and oceanfront walks linking the communities. Malibu is popular with the privacy seeking rich and famous and their mansions line strips of privately owned shoreline; the wide sandy beaches, rocky outcrops and green open-spaces make Malibu the most scenic neighbourhood in LA. It presents the classic Californian beach babe image immortalised by The Beach Boys and Baywatch. LA's premiere beach community, Santa Monica, is known for its alternative beachfront atmosphere, as well as its famous hideaway Hollywood residents. The palm-lined cliffs, once the location of the homes of Clark Gable, Joan Crawford and Greta Garbo, are today home to celebrities like Meryl Streep, Rod Stewart and Michelle Pfeiffer. The neighbourhood's famous landmark is the Santa Monica Pier, boasting old-world carnival attractions, including a wooden 1920s carousel with painted horses, and plenty of seafood restaurants. Third Street Promenade is a lively pedestrian mall bustling with buskers, street vendors, evangelists and original shops, and is the heart of Santa Monica's cafes, restaurants and bars. Venice is best known for its Ocean Front Walk that is a non-stop parade of jugglers, artists, vendors, musicians and joggers. Venice Beach provides a classic Los Angeles lifestyle experience where beautiful sun-bronzed bodies on bicycles and rollerblades cruise along the walkway to Muscle Beach, where the outdoor weightlifting gym gleams with the sweat of muscle-bound hunks flexing their pecs for the onlookers. The area is full of laid back cafes and restaurants, health food shops, bike and blade rentals, and second hand record stores. After dark however the area becomes the haunt of street gangs and drug dealers; and visitors are advised to exercise caution in the area.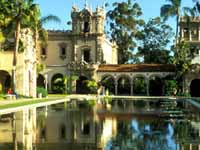 Balboa Park
Balboa Park contains one of the biggest groups of museums in the USA, many of them housed in magnificent Spanish-Mexican buildings, in addition to more than 85 Performing Arts and International Culture Organisations including theatres like the internationally acclaimed Old Globe Theatre, and several art galleries. The park also houses the world-renowned San Diego Zoo with more than 800 species in spacious re-created natural habitats. The oldest and most famous of the 14 museums in Balboa Park is the Reuben H Fleet Science Centre with a big screen Omnimax Theatre and virtual reality simulator that transports visitors to outer space. Other museums cover a wide range of interests, including cars and motorbikes, anthropology, various forms of art, and natural history. The Spanish Village Art Centre provides a traditional ancient village setting for viewing sculpture, painting, glassblowing and pottery performed by crafts people in classic tiled-roofed studios. The park has numerous features and facilities including golf courses, hiking and cycling trails, promenades, extensive landscaped gardens and horticultural treasures, a Japanese Friendship Garden, fountains and restaurants, a pavilion for Sunday afternoon concerts and the world's largest outdoor organ. Visitors can purchase a day pass that includes entrance to five museums for $35, or a seven-day all-inclusive pass for $77 (adults) and $42 (children).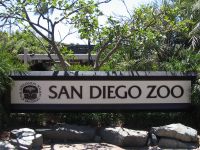 San Diego Zoo and Safari Park
The San Diego Zoo is one of the city's biggest attractions and has a worldwide reputation for its enlightened management program, worldwide conservation efforts, natural animal environments and most notably its success in breeding endangered species in captivity for reintegration into their natural habitats (together with the Wild Animal Park north of the city). It is the only zoo to have successfully bred Chinese giant pandas in captivity. The zoo houses more than 4,000 mammals, birds and reptiles. Many rare and endangered animals roam simulated natural habitats, while tourists follow walkways and bridges, passing waterfalls, tropical forests, sandy plateaus, arctic tundra, and bird aviaries. The 100-acre (40-hectare) park can be explored on foot, on narrated open-air trams, hop-on-and-off buses, or above the ground on the aerial Skyfari tram or hot air balloon. One of the highlights is the Tiger River Asian rainforest with animal enclosures situated along misty trails enhanced by waterfalls and exotic plants. It features tigers, pythons, tapirs and crocodiles. Other highlights include the Gorilla Tropics, Sun Bear Forest, polar bears in a simulated freezer, and the Ituri Forest Exhibit that features African buffaloes, monkeys and hippos. There is also a Children's Zoo where small animals such as rabbits, goats and sheep can be petted, and the nursery where the latest arrivals are looked after. An outdoor amphitheatre has daily sea lion and other animal shows. Next to the zoo is the San Diego Safari Park, where visitors can see animals like giraffe, rhino, cheetah, elephant, tiger and gorilla in open-air habitats. Tours are available by tram, bus, Segway and even zipline.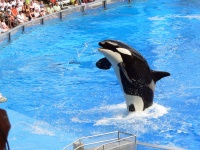 SeaWorld
On the shores of Mission Bay is one of San Diego's best-known attractions whose mascot, the resident killer whale Shamu, has for many years become synonymous with the city. SeaWorld is a leader in marine conservation and plays an important role in rescuing and rehabilitating animals found beached along the West Coast. It is also one of the world's largest marine entertainment parks and is a source of education as well as family recreation. The park is best known for its work with killer whales (orcas) and dolphins, and the Dolphin Interaction Program provides the experience of feeding, stroking and wading with bottlenose dolphins (requiring advance booking and an additional fee). SeaWorld's favourite attractions are its arena shows that run throughout the day, highlighting the behaviours and talents of trained marine mammals such as sea lions, walruses, otters, dolphins and killer whales. Most of the exhibits are walk-through marine environments like the Penguin Encounter that passes through a glass-enclosed Antarctica with remarkable emperor penguins sliding over glaciers into the icy water. The walk-through glass tube that passes through the Shark House affords frightening face-to-face encounters. Adventure rides include the Shipwreck Rapids ride with its turbulent rivers and underground canyons, the exhilarating Journey to Atlantis and the virtual-reality trip to the world of beluga whales, polar bears and walruses of the Wild Arctic. During summer peak hours the shows and more popular exhibits can be very crowded with long queues.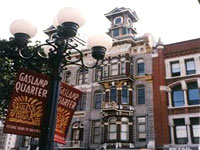 Downtown San Diego
The active downtown area of San Diego is compact and easy to walk around. It encompasses the business district, the historic Gaslamp Quarter, the post-modern Horton Plaza pastel-coloured shopping mall, and the waterfront Embarcadero with boardwalk shops, museums and restaurants. The Gaslamp Quarter was the first commercial district in San Diego and is now a trendy 16-block area of historic buildings and old-fashioned wrought-iron street lamps, antique stores, shopping centres, art galleries, chic coffee houses, restaurants and jazz bars. The Horton Grand is a reconstruction of a 19th-century hotel with Victorian décor and costumes, well worth a peek. San Diego is one of California's most important centres for the performing and visual arts, and its artistic and musical heritage is celebrated annually with the opening of artists' studios and galleries to the public, as well as its numerous Blues and Jazz festivals. Summer evenings are the liveliest time to visit, when people flock to the outdoor tables, bars and clubs and wander the streets. However visits after dark should be confined to the populated, well-lit areas.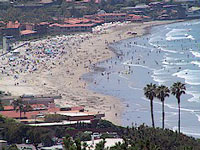 San Diego Beaches
Epitomising Southern California lifestyle, the beaches and seaside suburbs are the heart and soul of the city, with bikini-clad bodies, sun-tanned surfers, and a plethora of little shops, coffee houses, cafes, and restaurants. The 70 miles (113km) of sandy coastline attracts swimmers, sunbathers, surfers, volleyball players and snorkellers. A boardwalk that runs from Mission Beach to Pacific Beach is extremely popular for rollerblading, jogging and cycling. Mission Bay is a playground for waterskiing, sailing and windsurfing, and the surrounding beaches of Mission Beach, Ocean Beach and Pacific Beach are known for their wide stretches of sand as well as for the vibrant nightlife and dining. The northern part of Ocean Beach is known as 'Dog Beach', one of only two beaches in San Diego that allow dogs. Mission Beach is the most popular with plenty of action, particularly along the Ocean Front Walk that resembles the boardwalk parade of Los Angeles' Venice Beach. To the north, the pretentious seaside suburb of La Jolla is known for its high-priced real estate, expensive shops and excellent restaurants, as well as its beautiful coastline with lovely coves, cliffs, gorgeous beaches and superb surfing. La Jolla Cove has clear waters and the offshore San Diego-La Jolla Underwater Park affords brilliant snorkelling and diving, with giant kelp forests and a deep canyon.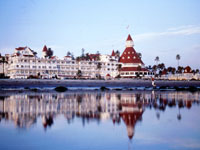 Coronado Island
The isthmus of Coronado contains an upmarket resort community with several beaches, including the award-winning Silver Strand State Beach, hotels, outdoor dining, boutiques and the Museum of History and Art dedicated to the history of Coronado. A naval station occupies the western end of the island. The island is of little interest except for the historic Hotel del Coronado around which the community grew. 'The Del' is a much-loved San Diego institution, and a National Historic Landmark dating back to 1888. Its distinctive Victorian turrets, conical towers, balconies and curious architecture have served as a filming location for many years, and a stage for political meetings and social happenings. Its glamorous old-world ambience with polished oak pillars and arched ceilings has hosted guests like Marilyn Monroe, Frank Sinatra and a number of presidents. Guided tours are available, or visitors can choose to dine and dance here, stay as a guest or simply wander through the grounds and look at its historic photo gallery. Visible across the bay is Point Loma where a statue of Juan Rodriguez Cabrillo commemorates the landing of the first European in 1542.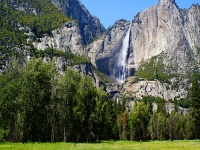 Yosemite National Park
One of the country's premier national parks, Yosemite receives millions of visitors each year with more than four million people visiting the Yosemite Valley alone. It is home to the biggest piece of exposed granite in the world, some of the highest waterfalls, and giant redwoods that are among the tallest and oldest trees on earth. The Yosemite Valley was formed by glacial action that carved away the softer rock creating the almost-vertical 3,000ft (914m) granite cliffs that line the seven-mile (11km) long valley floor. The towering cliffs are streaked with waterfalls and the valley floor is covered in meadows, rivers and forests that are the habitat of black bears, deer and coyotes. It is one of the world's most dramatic geological sights with granite monoliths like the 3,600ft (1,097m) piece known as El Capitan, and the sheerest cliff in North America, the Half Dome. Climbers on the granite faces are almost invisible to the naked eye and at night pinpricks of light halfway up indicate where they have tied themselves in for the night, ready for the next day's climbing. The most spectacular views of the valley are from Glacier Point, the top of a sheer cliff perched high above the valley, with magnificent vistas of Half Dome and the mountains of the High Sierra in the distance. There are numerous trails in the valley and many lead to several of the incredible waterfalls that are at their most dramatic after the spring snowmelt, including the 2,425ft (739m) Yosemite Falls and the Vernal Falls that drenches hikers in rainbow-coloured spray. A loop trail takes walkers to the hundreds of towering redwoods in Mariposa Grove, one over 2,700 years old. Although the park is big enough to absorb the crowds, 95 percent of the tourist activity is concentrated within the valley, and outdoor enthusiasts need only walk a little further along the trails to find all the solitude and wilderness they desire. Above the valley are the large open fields of Tuolumne Meadows that offer fantastic scenery, uncrowded camping and a haven for hikers with hundreds of miles of trails. Yosemite Village is the largest developed region in the Yosemite Valley and holds the main visitor's centre, restaurants and shops as well as nearby hotel accommodation.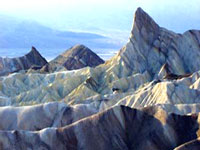 Death Valley National Park
The name itself suggests images of all that is harsh, inhospitable and hellish, and it is not by chance that many of the park's features have names like Coffin Peak, the Funeral Mountains, Dante's View, the Devil's Golf Course and Furnace Creek. These are the topographical features of a waterless desert landscape that is as hot as Hades. Average summer temperatures are 112°F (44°C); eggs can be fried on the baking ground and the second hottest temperature in the world was recorded here at 134°F (57°C) - in the shade. Yet despite this hostile wilderness, it is a heavily visited tourist destination with spectacular desert scenery, interesting desert wildlife, remarkable geological formations and sites of historical interest. There are miles of rippled sand dunes, the sheer black walls with ancient petroglyphs of Marble Canyon and incredible views from Zabriskie Point and Dante's View. Amazing kaleidoscopes can be found at Artist's Palette where the intensely coloured hillside has been eroded into a tableau of red, gold, black and green, and the mineral-rich waters of the saline Badwater Lake that evaporate into sharp crystal formations. At the Devil's Golf Course, the saltpan on the valley floor is littered with lumps of crystallised salt. In the centre the pan drops to almost 300ft (91m) below sea level, the lowest point in the western hemisphere. Hoards of people wait to tour the Spanish-Moorish luxury of Scotty's Castle, a bizarre mansion with indoor waterfalls and a remote-controlled piano player that was built by 'Death Valley Scotty' in the 1920's for Albert Johnson, a Chicago insurance tycoon. Although winter is the peak season, many tourists are beginning to tour Death Valley from the comfort of air-conditioned cars, visiting sites at sunrise or sunset, booking into comfortable hotel accommodation and cooling off in the pool at Stovepipe Wells Village.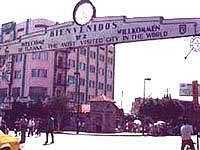 Tijuana, Mexico
A typical border town, Tijuana is not suited to everyone's taste, with plenty of noise and frenetic activity. Its location on the American/Mexican border and proximity to San Diego ensures a steady stream of curious day-trippers and souvenir hunters from up north, as well as students in search of cheap alcohol and a lower drinking age. Tijuana's notorious 'sin city' image of prostitution and sex shows has now taken a back seat; the sleazy element, the drugs and violence that seems to be the lot of a border town, is still there, but the focus has shifted in an effort to clean the town up a bit, and it has become something of a shopper's delight along with the intense nightlife and non-stop entertainment. This is the place to shop, drink and dance the night away; there are souvenir stalls, numerous duty-free shopping malls and markets selling goods from all over Mexico, and countless bars, restaurants and dance clubs. Tijuana has some traditional attractions as well, including bullfighting and Jai Alai (a Spanish ball court game), but this is not the classic Mexico that stories are made of. Just across the Mexican border, 30 minutes from downtown San Diego, Tijuana is unlike other Mexican cities, but is a worthwhile experience that provides a fascinating contrast between Mexico and the USA. While there is concern about the ongoing drug violence in Mexico, most visits to Tijuana are trouble-free and there have been no reports of tourists attacked in the city.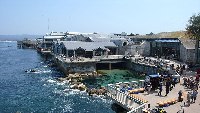 Monterey
One of the most beautiful cities on the central California coast, Monterey was originally the state capital of California and has a rich Hispanic heritage. Set on a stunning coastline of sandy beaches and rocky cliffs, Monterey is a relaxing place to enjoy outdoor activities like golf, bicycling, surfing, kayaking and hiking. Monterey was the setting for some of John Steinbeck's most famous novels, and visitors can explore literary neighbourhoods like Cannery Row and Fisherman's Wharf, which have many good art galleries and excellent restaurants serving freshly-caught local seafood. The Path of History winds around Old Monterey (known as Monterey State Historic Park), and guided tours are available. There are several interesting museums in Monterey, including the Maritime Museum of History, Presidio of Monterey Museum, Old Whaling Station and Pacific House Museum. The Monterey Bay Aquarium is a great place to see local wildlife, including the abundant sea otter population. Children will also love the playgrounds and paddle boats at Dennis the Menace Park, and the interactive exhibits at the Monterey County Youth Museum. The surrounding region offers many additional attractions and excursions from Monterey. The famous 17-Mile Drive has breathtaking coastal views through Pacific Grove and Pebble Beach, while the wineries of Carmel Valley offer wine tastings and tours. Point Lobos State Reserve and the State Parks comprising Big Sur make for an amazing afternoon drive and hiking session, and the pretty village of Carmel-by-the-Sea has idyllic beaches.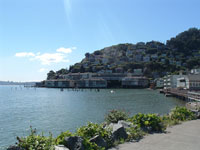 Sausalito
Located at the north end of the Golden Gate Bridge, Sausalito is a half hour ferry ride from Fisherman's Wharf. The panoramic view of San Francisco Bay is spectacular, and Sausalito's sunny, inviting outdoor cafés and small shops overlooking the city are simply charming. One of the chief attractions in Sausolito is the docks where wealthy San Francisco residents dock their yachts. Tourists can hire bikes from Pier 39, Fisherman's Wharf and bicycle to Sausalito across the Golden Gate Bridge, have lunch and return on the ferry.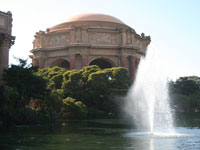 Exploratorium
Located inside the Palace of Fine Arts, the Exploratorium is known as the museum of science, art and human perception, and is a leader in the movement to promote museums as educational centres. Named San Francisco's best museum, the Exploratorium is a fun, quirky museum of science, art, and human perception that features some 650 'please touch' exhibits. Many of its exhibits are created by visual and performing artists as well as scientists and educators. Exhibits such as the off-site Wave Organ, a unique sonic exhibit which is located on a nearby piece of land jutting out in the San Francisco Bay, can be found nowhere else in the world. It is one of San Francisco's most popular museums, drawing over 500,000 people each year and its three-dimensional pitch-black Tactile Dome inspire many visitors to approach challenges in a very different way.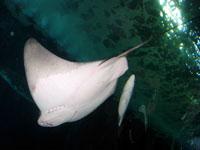 Aquarium of the Bay
The Aquarium of the Bay features 300 feet (91m) of crystal clear acrylic tunnels through which over 20,000 aquatic animals can be viewed. The aquarium offers visitors the opportunity to come face-to-face with the Bay's largest predator, the seven-gill shark, as well as touch leopard sharks, skates, rays, and sea stars. The Aquarium hosts nearly 600,00 visitors every year and provides free classes and tours to more than 13,000 Bay Area school children annually, making it a wonderful San Francisco attraction for families.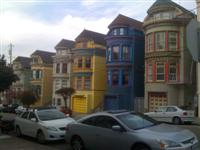 Alamo Square
Anyone who has ever seen an episode of the 90s sitcom 'Full House' will know what Alamo Square looks like. It is a residential neighbourhood and park in San Francisco, frequented by tourists, neighbours and dog-owners. The park features a playground as well as a tennis court. A row of Victorian houses overlooks the park, known as the 'painted ladies' and this view is often shown in the foreground of panoramic pictures of the city. On a clear day, the Transamerica Pyramid building and the tops of the Golden Gate Bridge and Bay Bridge can be seen from the park's centre. Alamo Square is a great place to get out of the car and have a picnic after a bit of sightseeing in San Francisco.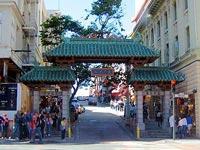 Chinatown
A dragon-draped archway at the intersection of Bush and Grant streets marks the entrance to Chinatown in San Francisco, the oldest Chinatown in the United States and the largest Chinatown outside of Asia. Chinatown draws more tourists than the Golden Gate Bridge with its streets teeming with fish and vegetable stalls, herbal shops, temples, and eateries. There are some fantastic Chinese and dim sum restaurants such as Lichee Garden, Hunan Home's, and R&G; while the shopping is nearly unlimited as lucky cats wave from every doorway. Museums include the Chinese Historical Society of America and Chinese Culture Center, making Chinatown an absolute must-see.
Lombard Street
Known as the 'Crookedest Street in the world', Lombard Street features eight sharp hairpin turns. The road was designed in 1922 in order to reduce the 72 degree slope of the hill and make it more usable for cars as well as pedestrians. The speed limit is a mere 5mph (8 km/h) on the crooked section, which is about a quarter of a mile (400m) long. The crooked section of the street is reserved for one-way traffic travelling downhill and is paved with red bricks. Tourists are known to literally queue to drive down this famous road, making it a definite must-see when visiting San Francisco.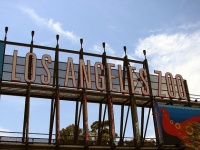 Los Angeles Zoo
Located within the Griffith Park area, the Los Angeles Zoo is a large facility boasting 1,100 animals from around the world. The Zoo is currently adding naturalistic habitats for the animals, making the facility more attractive to both visitors and occupants. It is also a botanical garden, holding 800 plant species. Apart from the myriad natural life to be seen, there are animal shows, workshops and a petting zoo in store for visitors.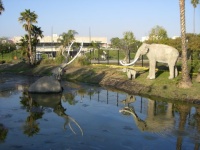 La Brea Tar Pits
One of the world's most significant fossil sites, the tar pits in central Los Angeles have revealed fossils of plant and animal life preserved in the pits for ten of thousands of years. The fossils themselves are on display in the Page Museum on the site, while replicas of some of the animals, mammoths and sabre-toothed cats found have been creatively re-placed in and around the pits.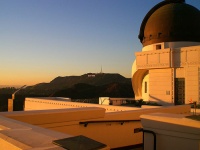 Griffith Park and Observatory
The Griffith Park extends for 4,210 acres (17 km²) of well-kept public grounds and is often referred to as the 'Central Park' of Los Angeles. Rent a bicycle, take a hike or have a picnic under the iconic Hollywood sign. Within the park is the Griffith observatory, which apart from being a familiar filming location, is filled with attractions of its own and a significant site for the study of astronomy. The park has a gift shops and the 'Cafe at the End of the Universe'.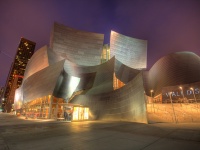 Walt Disney Concert Hall
It's worth heading into downtown Los Angeles to see this strange Frank Gehry-designed concert hall. The silver-plated building can be described as art deco meets surrealism, and while it derives mixed admiration from visitors, its uniqueness is never argued. A walking tour with an explanation for the intricate design is on offer free of charge to anyone curious to know how the hall came about. There is also a restaurant in the building - in one of those nooks and/or crannies.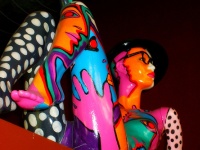 Magicopolis
Fantasy and illusion come alive for kids at Magicopolis, where magic, music and special effects inspire awe and wonder. The shows at Magicopolis run between 90 minutes and two hours and feature comedy, magic, music, illusions, special effects and audience participation. Magic trick kits can be purchased for children to take home, and there are treats and refreshments available from the theatre's café.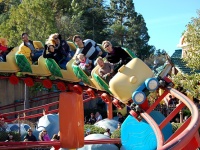 Castle Park
A great attraction for kids in Los Angeles, Castle Park has a number of enticing entertainment options to offer adventure-seeking children. The arcade boasts hundreds of games including Ghost Blasters, Time Crisis 3 and Dance Dance Revolution, with fun prizes to be won and a snack bar. The park's roller-coasters, antique train tours and mini-golf are also great fun for kids. There are souvenir shops and family restaurants, as well as a weekly magic show.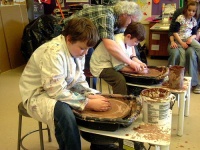 Peach Tree Pottery
For kids who really want to get their hands dirty, Peach Tree Pottery offers children's pottery lessons in a friendly, relaxed environment. Aside from learning to use a potter's wheel, children will also be shown how to make pinch pots, coil pots and tile trivets - a world of ceramic fun!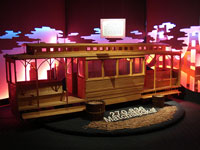 Ripley's Believe it or Not! Museum
Visitors at the Ripley's Believe It Or Not Museum can be mystified and thrilled at the rare, the bizarre and the totally unexplained in the many interactive and state-of-the-art exhibitions throughout the museum. Exhibits range from a vertigo-inducing spinning tunnel to shrunken heads from central Africa. Children will be gob-smacked and this is a must for families travelling with kids in San Francisco.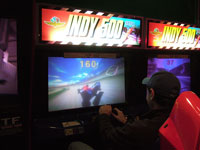 Santa Cruz Beach Boardwalk
Voted the world's best seaside amusement park, Santa Cruz Beach Boardwalk offers fun for ages with its collection of carnival rides, classic arcade games, and active pursuits like mini golf, bowling and laser tag. Founded in 1907, Beach Boardwalk is also California's oldest amusement park.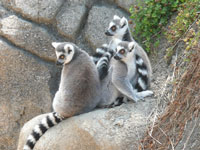 Oakland Zoo
Boasting a menagerie of over 300 wonderful animals, the Oakland Zoo is a must for animal lovers and children. Highlights include a children's park, picnic area, wildlife theatre, carousel and a miniature railway. The children's zoo allows kids the opportunity to get close to the animals and even pet them. There's also a small rides area, and a cafe and souvenir shop.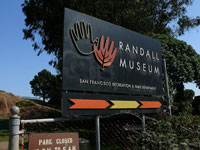 Randall Museum
The Randall Museum, also known as the Science and Nature Museum, provides plenty of enjoyable and exciting learning opportunities and experiences for children of all ages. The museum also features animals, such as birds, mice and snakes and children can even get to handle these animals as part of the educational experience. Workshops and programs are also available to children and adults.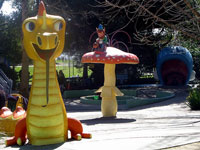 Children's Fairyland
This ten-acre entertainment park on the shores of Lake Merritt features carousel rides, puppet shows and displays of other fairy-tale characters from well-loved stories like Johnny Appleseed, Peter Rabbit and Alice in Wonderland. The park features a puppet theatre, rides, cafe and gift shop. Children of all ages will love a trip to Children's Fairyland where they can let their imaginations run wild.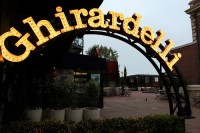 Ghirardelli Square
Just as you'll find gold at the end of the rainbow, there is surely chocolate at the end of the cable car line in San Francisco. Ghirardelli Square, located on Fisherman's Wharf, is occupied by shops, restaurants, art galleries, and of course the famous Ghirardelli Chocolate Company. While the factory itself is no longer located there, the square is listed in the national register of historic places, and there is a free guided history tour every Tuesday and Wednesday morning at 9:30am.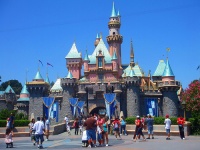 Anaheim
Located approximately 25 miles (40km) southeast of Los Angeles and founded in 1857 by grape farmers and wine makers, Anaheim (meaning 'home by the Santa Anna River' in German) is known as the home of California's Disneyland. This Orange Country town farms walnuts, lemons, and of course oranges and offers visitors a range of fun and exciting activities to enjoy. Take the kids to Disneyland to enjoy a magical world of fun and rides with all their favourite Disney characters; enjoy a day of fun and thrill rides at America's first theme Park, Knott's Berry Farm; enjoy the Middle Ages at Medieval Times; take a tour of Universal Studios Hollywood; explore the fascinating marine life at the Aquarium of the Pacific; soak up the sun on Laguna or Newport Beach, or enjoy a day of shopping, dining and exploring the Shops at Anaheim GardenWalk. Another fun day out is catching an Anaheim Angels baseball game at Angels Stadium.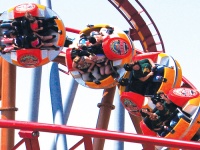 Knott's Berry Farm
When Walter Knott began selling berries, berry plants and pies from a roadside stand beside State Route 39 in the 1920s he could never have known what his stand would eventually become. As the highway developed over time, so did his stand, becoming a roadside eatery with entertainment and eventually turning into America's first theme park, Knott's Berry Farm. The park features a multitude of fun for visitors of all ages and boasts nine world-class roller coasters, a plethora of thrill rides, family rides, children's rides, water rides, a Ghost Town, Fiesta Village (portraying Spanish California), Indian Trails, Wild Water Wilderness and the Sky Cabin Tower where fabulous views can be enjoyed by those brave enough to climb to the top. Each October the park transforms into a spooky Halloween-themed 'haunted theme park' called Knott's Scary Farm!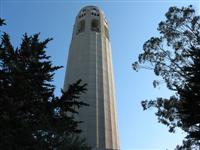 Coit Tower
This 210 foot tall (64m) tower in North Beach is the best vantage point in the city, and a great way for new arrivals to get their bearings. The art deco tower is the centrepiece of Pioneer Park, and was a bequest of Lillie Hitchcock Coit with the intention of adding beauty to the city she has always loved. Visitors should come early as the 360 degree views and wonderful photo opportunities make this a must-visit site for visitors and it gets crowded during peak times. The hill is accessed via Lombard Street, itself a very popular attraction.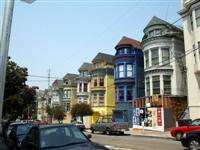 Haight Ashbury
Legend has it that the 1960s hippy movement and resulting American counter-culture kicked off in the Haight Ashbury area. That was more than 50 years ago, but the bohemian atmosphere of this area prevails, with plenty of shops selling vintage clothing, hemp based accessories, vinyl records and tie-dye shirts, alongside imaginative boutique shops. There are lots of bars and live music venues, particularly along famous Fillmore Street, and charming boutique hotels. The area is famous also for its 'painted lady' Victorian houses. The Haight, as it's commonly known, borders Golden Gate Park so is a natural base to explore this natural treasure.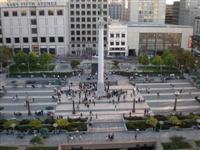 Union Square
This central plaza is the modern face of San Francisco, surrounded by Macy's, Saks, Bloomingdale's, and the Levis flagship store, plus iconic hotels and quaint historical buildings. Along the west side, up the steep incline of Powell street, the famous cable cars run down to Fisherman's Wharf, while on the other side, Grant avenue leads directly into the heart of Chinatown. The Square is a natural meeting place and a popular departure point for walking and bus tours. You can also find the discount ticket booth here, and enjoy the café pavilion with outdoor seating. Note the gorgeous statue of Victory atop the central plinth. Each holiday season a giant Christmas tree is erected in Union Square, giving the area a festive atmosphere.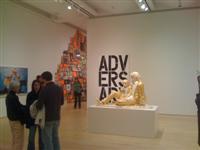 San Francisco MOMA
The San Francisco Museum of Modern Art (SFMOMA) is one of the country's premier modern art centres, featuring important works of Diego Rivera, Picasso, Jackson Pollock, Clyfford Still, Henry Matisse, Paul Klee, Jeff Koons and iconic photography from Ansel Adams. With the recent donation of the 1,100-piece Fisher Collection, SFMOMA now ranks alongside the Museum of Modern Art in New York and the Tate Modern in London as essential pilgrimage sites for lovers of 20th century art. The museum café and art shop are destinations in their own right, while the SFMOMA's iconic building, constructed in 1995, is a work of art in itself. Grab a free audio tour headset on the way in - the excellent commentary will greatly enhance your appreciation of the works.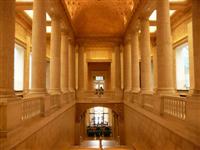 Asian Art Museum of San Francisco
San Francisco has close ties with Asia, a legacy reflected in its sizeable Chinese and Japanese communities. The Asian Art Museum collection was funded and developed to honour this heritage. Housed in the magnificent former San Francisco city library building, this is the largest museum in the western world dedicated to Asian art, with over 17,000 Asian art treasures drawn from 6,000 years of history. The museum is well known for its exceptional special exhibitions, with visiting collections representing art from all over Asia.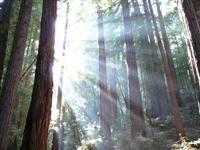 Muir Woods
The closest remaining stand of Redwoods to San Francisco, Muir Woods National Monument is a great half-day excursion from the city to pay homage to these soaring giants of the forest. It's incredible to think that each tree grew from a seed no larger than that of a tomato's. Redwoods can grow to over 380 feet (115m), although Muir Woods' tallest tree is 258 feet (79m). The park itself is a haven for wildlife and there are numerous longer hikes departing from the shorter ring path that most visitors amble around.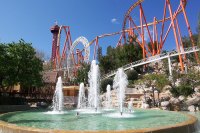 Six Flags Magic Mountain
Even among the stiff competition among Southern California theme parks, Six Flags Magic Mountain has a solid reputation for the biggest, baddest rides in the area. This world-class theme park was recently named Roller Coaster Capital of the World with 18 coasters, including Superman, the Green Lantern, Batman, The Riddler's Revenge, and the Road Runner Express. The park offers many other rides for all ages, and kids will love meeting their favourite Looney Tunes characters and Justice League superheroes at the family shows. Magic Mountain is dotted with restaurants, snack stands, souvenir shops and other stores, and the park will even hold your parcels at the exit while you enjoy yourself. Attached to the park is Hurricane Harbor, a water park with more than a dozen rides ranging from the thrilling Black Snake Summit waterslides to the family-friendly Castaway Cove play area.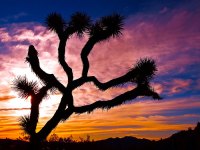 Joshua Tree National Park
Located in south-eastern California, Joshua Tree National Park is instantly recognisable for its vast desert expanses, spectacular sunsets, and peculiar Dr Seuss-like trees. The vistas are at times like something from another planet, and visitors can spot bighorn sheep, coyotes, bobcats, rattlesnake and a variety of birds in the brush. Barker Dam, near Hidden Valley, is a great place to spot wildlife. Joshua Tree encompasses parts of both the Colorado and Mojave Deserts, and has nine designated campgrounds. There are good hiking trails and nature walks, and visitors can also view the park by horseback and 4x4.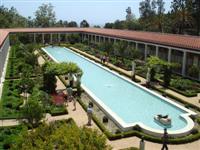 Getty Villa
Originally completed in 1974, and rebuilt in 1997, the Getty Villa is a faithful replica of a Roman villa that was buried by the eruption of Mount Vesuvius in A.D. 79. Perched on a hill overlooking the Pacific Ocean, the Villa was built to house the expanding art collection of oil tycoon J Paul Getty, and now has one of the world's finest displays of ancient Greek and Roman artefacts, comprising over 44,000 pieces. The best known item is Victorious Youth, one of the only surviving life-size Greek bronzes in existence. The Getty Villa also has over 20,000 books in its library, and collections of jewellery and coins. The free guided tours of both the exhibits and the gardens are highly recommended.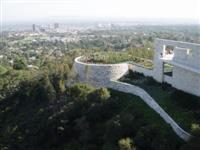 Getty Center
It is said that the Getty Center in Brentwood, Los Angeles is less a museum with artworks inside, than an artwork with a museum inside. Certainly the building, designed by Richard Meier and costing $1.2 billion to build in 1997, is celebrated for its architecture and gardens, while the wonderful views over LA are breathtaking. With over 1.3 million visitors, the Getty Center is one of the most visited museums in the USA, and it is well worth allocating a day to explore. It houses a premier collection of pre-20th century European paintings and artworks, and a leading archive of photography from the 19th and 20th centuries. The most famous work on display is undoubtedly Irisesby Vincent van Gogh, although there are hundreds of other notable works, including Paul Gauguin's Arii Matamoe.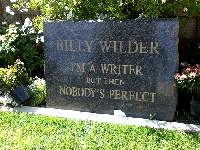 Celebrity Gravesites
Hollywood's celebrities are a major tourist attraction in Los Angeles long after they're dead. Several cemeteries in LA are known for their famous residents, and visitors flock to pay homage to their idols at their final resting places. One of the most famous cemeteries in Los Angeles is Westwood Village Memorial Park, home to the graves of Marilyn Monroe, Truman Capote, Billy Wilder, Natalie Wood and Walter Matthau. Forest Lawn Glendale houses the graves of Walt Disney, Nat 'King' Cole, and Humphrey Bogart. Clark Gable and Carole Lombard are here as well in the Great Mausoleum, but it isn't open to the public. Forest Lawn Hollywood Hills has the graves of Lucille Ball, Liberace, Bette Davis and Buster Keaton; while Holy Cross Cemetery in Culver City is home to celebrities like Bing Crosby, Bela Lugosi, John Candy, Rita Hayworth and Ray Bolger. Hillside Memorial Park in Baldwin Hills is the final resting place for Al Jolson, Jack Benny, and Michael Landon. The most famous celebrity cemetery however, is Hollywood Forever, located on Santa Monica Boulevard in a scenic location under the HOLLYWOOD sign. Celebrity gravesites in Hollywood Forever include Rudolph Valentino, Cecil B DeMille, Mel Blanc, and Douglas Fairbanks Jr. Tourists looking for celebrity graves should always be respectful of other cemetery visitors who may be grieving. To find out where a specific celebrity is buried, visit www.findagrave.com.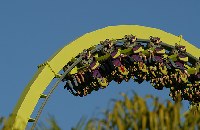 Six Flags Discovery Kingdom
Located in Vallejo, Six Flags Discovery Kingdom is an animal theme park that offers wildlife experiences with a range of creatures. Visitors can feed dolphins, sea lions, seals or giraffes, or watch trained dolphins and elephants perform in shows. The park's animals include tigers, killer whales, camels, alligators, otters, flamingos, penguins, snapping turtles, sharks and more. Six Flags Discovery Kingdom also has dozens of rides ranging from the thrilling Medusa rollercoaster to the kid-friendly Seaport Carousel. Kids will enjoy meeting their favourite Looney Toons characters like Bugs Bunny and Daffy Duck, while thrill-seeking teenagers will enjoy the more intense rides.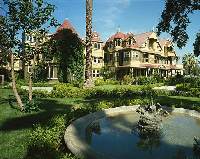 Winchester Mystery House
One of the most bizarre attractions in northern California, the Winchester Mystery House was the residence of Sarah Winchester, widow of the inventor of the famous rifle. The house was continuously under construction for nearly 40 years, and it is popularly believed to be haunted by the spirits of people killed by Winchester rifles, who drove her to keep adding and remodeling the mansion. Whether or not it is haunted, the house is a strange and rambling collection of roughly 160 rooms, including 40 bedrooms, two ballrooms, 47 fireplaces and several secret passageways. Seemingly innocent doors and stairways lead nowhere, and there are superstitious touches including a preoccupation with the number 13, and recurring spiderweb motifs. Tours of the Winchester Mystery House take roughly 2.5 hours and are offered daily. Special flashlight tours are offered every Halloween and on Friday the 13th. Children are not allowed on 'Behind the Scenes' and Grand Tours for safety reasons.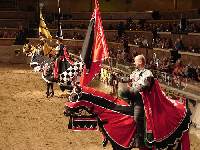 Medieval Times
A wildly popular family attraction in Los Angeles, Medieval Times is a dinner attraction that combines food and entertainment. Guests are treated to a four-course 11th-century feast while being entertained by six knights competing in the joust and other contests. The castle features a tower, courtyard, gift shop, torture museum, indoor stable, and a club with two bars and deejays.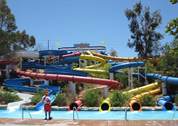 KnottâEUR™s Soak City USA
A great way to beat the heat in San Diego, Knott's Soak City USA is a 32-acre water park located in Chula Vista, just outside San Diego. Water slides and other fun water attractions include the Balboa Bay wave pool, high-speed La Jolla Falls water slide, Sunset River, and the Tykes Trough kiddie slides. There are half a dozen fast-food stands throughout the park, and Eric's Beach Club Bar is open to adults over 21.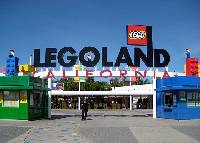 LEGOLAND California
LEGOLAND California is among the most popular attractions for families in San Diego. The first Legoland built outside of Europe, the park is divided into nine sections: The Beginning, Dino Island, Duplo, Village Green, Fun Town, Castle Hill, Miniland USA, Pirate Shores, Imagination Zone, and Land of Adventure; and also features a water park and aquarium. Rides and attractions cater for all ages, and there are shops and restaurants located around the park. LEGOLAND California even has its own iPhone and Android apps to assist visitors in planning their visit.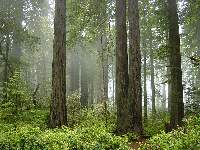 Redwood National and State Park
Redwood National and State Park is home to the world-famous redwood trees that tower up to 379 feet (115m) in the air. Home to 45 percent of the remaining old-growth redwood forests in the world, the park is the best place to see the magnificent trees. Aside from the redwoods, the park has nearly 40 miles (64km) of wild coastline, as well as prairies and oak woodlands. The park has over 200 miles (322km) of hiking trails, and offers outdoor activities like horseback riding, kayaking, camping, mountain biking and bird watching.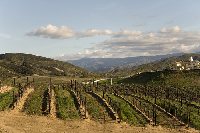 San Diego Wine Country
While not as well-known as Napa Valley or Santa Barbara, the wineries in San Diego and neighbouring Riverside are growing in popularity as the produce excellent wines. A few of the most popular wineries to visit include Orfila Vineyards, Bernardo Winery, The Blue Door Winery, and Fallbrook Winery. While many of the most popular wineries are in Escondido, but there are other areas around San Diego worth visiting. The suburb of Temecula is home to more than 30 wineries that offer tastings and tours, and Valle de Guadalupe, just across the border in Mexico, also has a number of good vineyards within 90 minutes of San Diego that are worth exploring.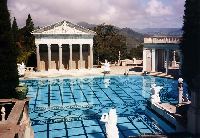 Hearst Castle
One of the most opulent mansions in the US, Hearst Castle was the residence of newspaper tycoon William Randolph Hearst. Built between 1919 and 1947, the residence was originally envisioned as a modest bungalow, but ballooned to a massive Spanish Revival castle. Located near San Luis Obispo, Hearst Castle is a popular tourist attraction along the Pacific Coast Highway in California. The magnificent residence has 165 rooms, including 56 bedrooms, 61 bathrooms, and 19 sitting rooms, all richly decorated with ceilings Byzantine tapestries, Spanish and Italian art, fireplaces from Gothic castles and Egyptian statues. Other amenities at Hearst Castle include indoor and outdoor swimming pools, tennis courts, a movie theatre, airfield, and even a private zoo (zebras and a few other exotic animals still roam the grounds). The Neptune Pool especially is a highlight of the estate, offering panoramic vistas of the surrounding mountains and Pacific Ocean. The grounds, spreading across 250,000 acres (1,012 sq km), are bursting with colour as manicured gardens bloom with tulips, bougainvillea, lilies, gladiolus and agapanthus. Tours of Hearst Castle include a film of the estate's construction, and visitors can choose between several tours, including the Grand Rooms Museum, Upstairs Suites Museum, Cottages and Kitchen, and Evening Museum Tour. Advance bookings are recommended, and can be made up to eight weeks ahead of time.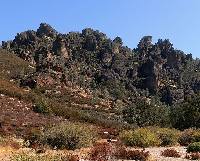 Pinnacles National Monument
The stunning landscape of Pinnacles National Monument offers visitors the opportunity to enjoy outdoor activities like camping, hiking, rock climbing, and birdwatching. The park gets its name from the eroded leftovers of half of an extinct volcano, which form the distinctive spires and crags. Talus caves like the Balconies and Bear Gulch Caves are popular attractions, and can be explored with flashlights. The park's location just off the US 101 highway makes it a convenient stop on any California road trip, offering a few hours' active entertainment for families on holiday.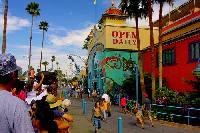 Santa Cruz
A small city at the north end of Monterey Bay, Santa Cruz is a fun weekend getaway with a bohemian atmosphere. Popular tourist attractions like the picturesque Beach Amusement Park and Boardwalk are great for families, and the beaches are some of the best along the California coast. One of the most famous attractions in Santa Cruz is the Mystery Spot, a kind of tilt-induced visual illusion known as a gravity hill. The effect is that the laws of physics and gravity seem to be turned on their heads, causing misperceptions of height and orientation.
Airports
Los Angeles International Airport
Website: www.lawa.org
Location: The airport is situated 15 miles (24km) southwest of Los Angeles.
Contacts: Tel: +1 310 646 5252.
Time Zone: GMT -6 (GMT -5 from the second Sunday in March to the first Sunday in November).
Departure tax: There is a passenger facility charge of $4.50.
Transfer between terminals: A free shuttle bus takes passengers between the International and seven other terminals.
Facilities: Passenger services at the airport include ATMs and currency exchange, a business centre, baggage storage, shops, restaurants and bars. Internet kiosks are located throughout the airport as well as wireless Internet and the Travel Right Cafe in Terminal 4 has laptop connections. Cell phones can be rented in Arrivals. Facilities for the disabled are excellent.
Parking: There are eight central car parks offering long and short-term parking that are connected to the terminals by the LAX shuttle bus. There is also a Cell Phone Waiting Lot. Parking is charged at $3 for the first hour and $2 per half hour thereafter up to $30 per day. The Economy Lot is $4 for the first hour and $4 per half hour after that up to $12 per day.
Transfer to the city: A free shuttle bus service runs to the Metro Rail Green Line Aviation Station from the lower level of each terminal. Another shuttle connects to the Bus Center, from where city buses serve the Los Angeles area. Prime Time Shuttle and Super Shuttle are both shared-ride van services; reservations are recommended. Some hotels also offer transport. There are taxis available outside the lower level of the airport and it costs about US$30 to the city centre, about 15miles (24km) away. Car rental is available and there is a free shuttle pick-up to reach the rental car sites.
Car rental: Car rental companies include Advantage, Alamo, Avis, Budget, Hertz and Thrifty. Vehicle rental sites are located off the airport property, therefore many of these rental car companies provide phone links inside or near the baggage claim areas on the Lower/Arrival Level of the terminals; travellers can request a free shuttle pick-up to reach the rental car sites.
San Francisco International Airport
Website: www.flysfo.com
Location: The airport is situated 14 miles (23km) south of San Francisco.
Contacts: Tel: +1 800 435 9736.
Time Zone: GMT –8 (GMT –7 from the second Sunday in March to the first Sunday in November).
Transfer between terminals: AirTrain light rail service operates on two lines. The Red Line connects all terminals, garages and the BART Station; and the Blue Line, which also connects to the Rental Car Centre. AirTrain does not provide service to SFO's Long Term Parking Lot.
Facilities: There are banks, bureaux de change and ATMs available. Facilities for the disabled are very good. Other facilities include baggage storage, medical clinic, bars and restaurants, duty-free, shops, childcare and baby changing facilities, post office, wireless Internet, tourist information and hotel reservations. There is also a museum, library, art gallery and an aviation history museum within the terminal.
Parking: Rates for short-term parking start at $2 per 20 minutes and increase to $33 per 24 hours. Other daily rates available range from $20 per day in the international parking area or $15 per day in the long-term lot.
Transfer to the city: The Bay Area Rapid Transit (BART) Rapid Rail service connects the airport to the city centre, and provides a connection to the Caltrain commuter rail service at Milbrae Station, from where trains leave regularly to San Francisco downtown, costing about $2 and to San Jose. SamTrans Service, bus 292, leaves every 30 minutes for the city centre and suburbs costing US$1.75. There are also shared vans, which provide a door-to-door service and are cheaper than taxis. Reservations are sometimes needed for service after 11pm. Taxis cost about US$35 for an hour's ride to the city centre, very dependant on traffic. Airport employs are available at the taxi pick up area, outside all terminals, to help passengers.
Car rental: The AirTrain links the terminals to the rental car centre. Car rental companies include Alamo, Avis, Budget, National, Thrifty and Hertz.
San Diego Lindbergh Field Airport
Website: www.san.org
Location: The airport is situated two miles (3km) northwest of San Diego.
Contacts: Tel: +1 619 400 2404.
Time Zone: GMT -6 (GMT -5 from the second Sunday in March to the first Sunday in November).
Departure tax: None.
Transfer between terminals: A free Inter-Airport Red Bus operates between the three terminals.
Facilities: Lifts, bathrooms and telephones cater for the disabled. Currency exchange and ATMs are available. Other facilities include bars and restaurants, postal services, shops, several airport club rooms, tourist information and hotel reservations.
Parking: Parking rates range from $2 per half hour to daily rates of $11 to $26, depending upon which parking option you choose.
Transfer to the city: A train service connects to the city centre as well as other parts of San Diego and neighbouring cities. (Tel: 800.262.7837). Flyer Service No. 992 leaves every 10 minutes for the city centre between 5:00 a.m. and 12:50 a.m. and costs about $2.50. Public buses connect to downtown as well as commuter trains and depart every ten minutes. A host of shuttle companies are available to share rides into downtown and are available from arrivals. Taxis take about 10 minutes to downtown San Diego and cost around $10 (Tel: 619-234-6161). Shared shuttle vans offer door-to-door services and are a cheaper alternative to taxis.
Car rental: Car rental companies include Advantage, Alamo, Avis, Budget, Enterprise and Hertz.
Bob Hope Airport
Website: www.burbankairport.com
Location: The airport is situated three miles (5km) from Burbank and 12 miles (20km) north of Los Angeles.
Contacts: Tel: +1 818 840 8840.
Time Zone: GMT –8 (GMT –7 from the second Sunday in March to the first Sunday in November).
Departure tax: None.
Facilities: Facilities include a bank, ATMs, restaurants, wireless Internet access, shops and an information desk in Terminal A.
Parking: There are several parking options available at the airport. The parking structures are well-marked and easy to locate. Short-term parking is $3 for 30 minutes, $5 for an hour, and $13 for two hours. Long-term parking in economy lots A, B and C is $3 for one hour and $5 for two hours; with a daily maximum of $10.
Transfer to the city: The Metrolink and Amtrak train station is linked to the main terminal by a free shuttle service, but is only a short walk away, and serves downtown Los Angeles as well as other destinations. The airport is also on the MTA and Burbank Bus routes, which go to Burbank as well as downtown Los Angeles and Hollywood. Taxis are available in front of the airport and car hire counters are located in Terminal B. The LA city centre is about 12 miles (20km) from the airport.
Car rental: Car hire counters are available in Terminal B and include Alamo, Avis, Hertz and National.
Oakland International Airport
Website: www.oaklandairport.com
Location: The airport is situated 12 miles (19km) from Oakland.
Contacts: Tel: +1 510 563 3300.
Time Zone: GMT –8 (GMT –7 from the second Sunday in March to the first Sunday in November).
Facilities: ATMs, restaurants and bars are available in both terminals. Duty-free shopping, a business centre and left luggage services can be found in Terminal 1. Passengers with disabilities are well catered for, but those requiring wheelchairs should contact their airline in advance.
Parking: There are four parking options at Oakland International - the Premier, Hourly, Daily and Economy lots. The Premier lots, for VIPs, are closest to the terminal and cost $3 for every half hour for the first five hours, and $36 for 5-24 hours. The Hourly lot is the next closest car park and is probably best for short-term or overnight parking. It costs $2 per half hour (up to 5 hours), or $32 for 5-24 hours. The Daily and Economy lots are furthest from the terminal, but offer the cheapest parking at $2 per half hour with a daily maximum of $22 and $16 respectively.
Transfer to the city: The BART subway network links the airport to Oakland and San Francisco from the Coliseum/Oakland International Airport Station. The AirBART shuttle links the station to the airport every 10 minutes. AC Transit bus line 50 connects the airport with BART, line N connects to downtown Oakland and downtown San Francisco as well as to east Oakland, and bus line 58 connects to the Amtrak railway station at Jack London Square. From Jack London Square it is possible to link to the Alameda/Oakland ferry, which provides services to San Francisco's ferry terminal and Pier 39.
Car rental: The Rental Car Center is open 24 hours and has all rental companies in one location, including Avis, Budget, Hertz and National. A Rental Car Shuttle bus ferries passengers between the terminals and Rental Car Centre every 10 minutes.
Mineta San Jose International Airport
Website: www.sjc.org
Location: The airport is located two miles (3km) north of central San Jos�.
Contacts: Tel: +1 (408) 392 3600.
Time Zone: GMT �8 (GMT �7 from the second Sunday in March to the first Sunday in November).
Departure tax: None.
Transfer between terminals: A free shuttle connects the three terminals, running roughly every five minutes.
Facilities: Facilities at the airport include several restaurants and cafés, WiFi Internet access, a gift shop, ATMs, bureaux de change, a shoeshine stand, fax and telephone facilities. Facilities for the disabled are good.
Parking: Short-term parking at San José International Airport starts at $2 per half hour and goes up to $30 per day. Economy parking is $22 per day, and Economy Lot 1 has a daily rate of $15.
Transfer to the city: The Valley Transportation Authority (VTA) operates a special Airport Flyer service that links the airport to the Metro Light Rail Station and the Santa Clara Caltrain Station. The Amtrak is three miles (5km) away from the airport, but there is no direct shuttle or bus service to and from the airport. Other transport options include a reliable and efficient bus service, or taxis. There are several taxi operators available at the airport at all terminals, which can cost anywhere from $20 to downtown San Jose or $90 to downtown San Francisco. There are also limousines available, and several hotels offer door-to-door shuttles for their guests.
Car rental: Car rental companies can be found at the Rental Car Centre, which is serviced by a shuttle bus that stops outside terminals. Companies represented at the airport include Alamo, Thrifty, Avis, National and Enterprise, among others.
Sacramento International Airport
Website: www.sacairports.org/int
Location: Sacramento International Airport is located 10 miles (16 km) northwest of Sacramento
Contacts: Tel: (916) 929 5411 Email: air-market@saccounty.net
Time Zone: GMT-8 (GMT-7 from the second Sunday in March to the first Sunday in November)
Departure tax: None
Facilities: Facilities include restaurants, bars, shops and free wi-fi access in all public places. Disabled facilities are also available. Travellers requiring assistance should contact their airline prior to departure.
Parking: Hourly parking in the multi-level car park costs just $2 with a daily maximum of $29. The open lot near Terminal B is $27 per day. The economy lot has a daily rate of $9.
Transfer to the city: Taxis can be located outside the baggage claim area at Terminal A and across from the airport hotel at Terminal B. Supershuttle.com is the official provider of on-call van and sedan service at the airport, while Suttlefare.com also provides a service here. Yolobus offers daily public bus service to the airport and connection to Regional Transit (Tel: (530) 666 2877 for schedules) while Limos.com provides limousine service to the airport.
Car rental: Car rental agencies include: Alamo, National, Avis, Budget, Enterprise, Dollar and Hertz.
Ontario International Airport
Website: www.flyontario.com
Location: The airport is 2.3 miles (3.7km) from downtown Ontario in California.
Contacts: Tel: +1 (909) 937 2700.
Time Zone: GMT - 8
Departure tax: None.
Transfer between terminals: The terminals are all located adjacent to each other. A free shuttle runs between the terminals at regular intervals of around 5 to 20 minutes depending upon time of day.
Facilities: ATMs, baggage cart rental, payphones, pet relief areas, pay-as-you-go wi-fi, retail outlets and restaurants are all available at Ontario Airport.
Parking: Short-term parking is best at Daily Lots 2 and 4, which are close to the terminals. Rates start at $3 for the first hour and $2 per hour thereafter up to a daily rate of $18. Long-term parking is available in Lot 5 and costs $9 per day. It is connected to the terminal via a free shuttle service.
Transfer to the city: The best way to get into town from Ontario Airport is to take Omnitrans bus No. 61. It runs at 15-minute intervals and costs just $1.50.
Car rental: A free shuttle transports passengers to the Consolidated Rental Car Facility (ConRAC) from which most major rental companies, including Alamo, Avis, Budget, Enterprise, Thrifty, Dollar, Hertz and Advantage, operate.
Palm Springs International Airport
Website: www.palmspringsairport.com
Location: The airport is two miles (3km) from downtown Palm Springs.
Contacts: Tel: +1 (760) 318 3800.
Time Zone: GMT - 8 (GMT - 7 from March to November)
Departure tax: None.
Facilities: Palm Springs International Airport passenger facilities include a range of restaurants such as Starbucks, La Brea Bakery, and 12th Fairway Bar and Grill; as well as a selection of shopping options, Skycap services, public telephones, a travel agent, USO Service Club, kid's play area and wi-fi accessibility.
Parking: Parking rates at Palm Springs International Airport start at $1 per 20 minutes and go up to $12 per day in the short-term lots. Long-term parking also costs $1 per 20 minutes, but the daily rate is just $8. Cell phone waiting lots are also available.
Transfer to the city: A shuttle bus transports passengers between the airport and the Amtrak station in town. The Morongo Basin Transit Authority (MBTA) provides a bus service to Palm Springs. Bus 12 runs during the week and bus 15 runs on Saturdays and Sundays. Tickets start at just $5, but on weekends all tickets are $10 more than the weekday prices. Buses run from 7.50am until 4.50pm from Monday to Friday, 11.45am to 6pm on Saturdays, and there is only one bus on a Sunday at 5.45pm. Another option is the Coachella Valley SunBus, which costs $1 and operates between 5.15am and 10.40pm during the week. SunBus routes include Bus No's. 14, 24 and 31.
Car rental: Car rental companies offering services at the airport include Alamo, Avis, Budget, Dollar, Enterprise, Go Rentals, Hertz, National and Thrifty. Rental desks are in the baggage claims area.
John Wayne Orange County Airport
Website: www.ocair.com
Location: The airport is located in Orange County.
Parking: Parking at John Wayne Airport is accessible from 4:30am to midnight. Fees start at $2 per hour and range from $14-20 per day.