Overview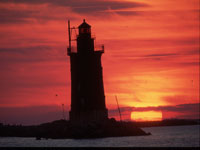 Delaware is the second smallest state in the country, but its narrow borders hold significant diversity. During the American Civil War, the citizens of Delaware were split in their loyalties, and even today, the state seems to have two distinct identities, one taking its cue from the industrious North, the other following the relaxed pace of the South.
In northern Delaware, the rolling, wooded hills of the Brandywine Valley provide a captivating backdrop to the state's colonial history, refined elegance and industrial prominence. It was here that the du Pont family built its empire, harnessing the river for gunpowder mills in 1802. But the du Pont legacy includes a commitment to the community as well. It lives on today in the mansions, gardens, museums, libraries and parks established by the family over the years and now open for visitors to enjoy. Wilmington is Delaware's largest city, which grew along with the du Ponts' fortunes. It and nearby upmarket towns like Hockessin and Greenville offer the smart shops and boutiques, trendy nightspots, historic pubs and excellent restaurants-Mediterranean cuisine is a specialty, due to the city's large Italian community-visitors would expect from bigger cities on the northern East Coast. Most residents of Wilmington and its surrounding areas identify with their northern neighbours. It is not unusual to hear them describe themselves as living not in Delaware but 'just south of Philadelphia'.
Central and southern Delaware have a decidedly different flavour. Small towns are surrounded by farmland. Charming bed and breakfasts take the place of grand hotels. In Dover, the quiet state capital, visitors might see Amish buggies travelling alongside regular traffic. A strong connection with the environment is apparent, as outdoorsmen revel in waterfowl hunting and fishermen take advantage of the many inlets and tidal marshes that crisscross the region. The sandy beaches along the Atlantic Ocean are popular destinations and cater to all tastes, from sleepy Bethany Beach with its large family homes to livelier Rehoboth with its boardwalk and outlet shopping malls-even more enticing, as Delaware is sales-tax free.
Attractions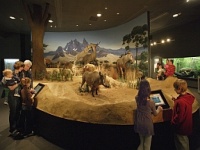 Delaware Museum of Natural History
Featuring some fantastic exhibits, the Delaware Museum of Natural History is a great attraction for visitors of all ages and persuasions. The dinosaur gallery is a favourite with most visitors, where skeletons of Tuojiangosaurusand Yangchuanosaurustower over awe-inspired visitors. View the Elephant Bird egg in the Hall of Birds, walk through the seven continents' range of mammals in the Hall of Mammals, take a stroll though the beautiful Butterfly Garden or ponder your very existence in the Charles Darwin and Evolution exhibit. In addition to the permanent exhibits, there are constantly changing special exhibits on display.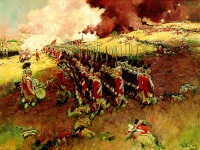 Delaware Art Museum
Holding a collection of more than 12,000 works, the Delaware Art Museum was founded in 1912 by the Wilmington Society of Fine Arts in honour of the artist Howard Pyle, whose painting 'Battle of Bunker Hill' was in the museum's possession until it went missing and was presumed stolen in 2001. The museum is perhaps best known for its extensive collection of British Pre-Raphaelite art, works by Wilmington-native Howard Pyle and fellow American illustrators, while urban landscapes by John Sloan can also be viewed here. Public and group tours are available.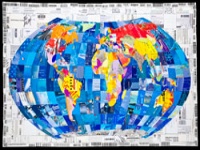 Delaware Center for the Contemporary Arts
The state's only contemporary art museum, the Delaware Center for the Contemporary Arts features displays of local and regional artists in its seven galleries. It also features 26 artists' studios, a gift shop, high-tech auditorium, and a classroom and is best known for its challenging and intriguing exhibitions.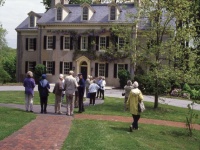 Hagley Museum and Library
The Hagley Museum and Library collects, preserves and interprets the history of American enterprise and is a non-profit educational institution. With a range of exhibitions, some changing on an annual basis, there is so much to learn at the Hagley Museum. Visitors can experience nineteenth-century living on Workers' Hill, visit the Powder Yard, where massive stone mills, storehouses, and a waterwheel echo the times when water was the source of energy, and tour the Eleutherian Mills, a mansion that has been home to five generations of the famous du Pont family and features breathtaking views over the Brandywine Valley.
Airports
Philadelphia International Airport
Website: www.phl.org
Location: Philadelphia is the closest major airport, located about 25 minutes from Wilmington.
Contacts: Tel: +1 215 937 6937.
Time Zone: GMT -5 (GMT -4 from March to November).
Departure tax: None.
Transfer between terminals: Travelators are available to help passengers move between terminals.
Facilities: Facilities at the airport include restaurants, bars, shops, massage service, 15 ATMs, postal service, wireless Internet and shoe shine service.
Parking: Garage parking is available with access to Terminals A through F. Short-term parking offers access to these terminals as well as baggage claim. The long-term economy lot is located past Terminal F. Shuttle service is provided back to the terminals 24 hours a day.
Transfer to the city: The Delaware Express offers a shuttle service from the airport to various locations in Delaware. The SEPTA rail service from Terminals A-East, B, C, D and E connects to Delaware and also connects to Philadelphia's 30th Street Amtrak station; Amtrak services Delaware. Taxis are available from Zone 5 on the Commercial Transportation Roadway.
Car rental: Alamo, Avis, Budget, Dollar, Enterprise, Hertz and National are represented at the airport. Information phones are available at all baggage claim areas for each of the car rental agencies.