Overview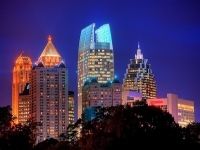 Back in 1837 Atlanta was little more than a hamlet existing to serve as a railway terminus; then came the Civil War that saw the town burned to the ground. Undaunted, 135 years later Atlanta bustles with more than three million people, and has been chosen by numerous leading international companies as the home of their corporate or regional headquarters. The lively, thriving city styles itself as the capital of the 'New South', and its dramatic skyline is littered with gleaming skyscrapers.
Atlanta attracts visitors both for holidays and business, with its plethora of entertainment, shopping and cultural attractions as well as innumerable top class convention and accommodation venues. The downtown Peachtree Centre pedestrianised precinct covers 14 blocks of retail space, including three massive hotels, dozens of restaurants and imposing office towers. There are also plenty of museums, galleries and centres for performing arts, as well as the world's largest aquarium.
Atlanta has not lost its pioneering southern spirit or charm despite its modern guise, and the city's symbol of the phoenix serves as enduring reminder of its troubled past and bright future. The energy that was embodied in its famous sons, Martin Luther King, Jr and Ted Turner (founder of CNN) still crackles in the air and the genteel olde-world atmosphere still lingers in the residential neighbourhoods. Above all, Atlanta radiates a warm welcome in the true tradition of Southern hospitality.
GettingAround
Atlanta's trains and buses reach most parts of the city, but they are not always the most convenient way to get around, and services are limited outside of the immediate city limits. The MARTA (Metropolitan Atlanta Rapid Transit Authority) network is inexpensive, safe and well-integrated, but travel can be slow. A one-way MARTA pass, good for travel anywhere on the system, costs $1.75. There are weekly, weekend and visitor's passes available for various rates that are even more economical. Atlanta is a car-dominated city, so there is plenty of parking, especially at tourist sights, but traffic on the freeways and in the city centre can be very busy, particularly during rush hours. During conventions and big sporting and entertainment events, it is easier to use public transport to get around. 'The Buc' is operated by BATMA; it is a free shuttle service connecting the two MARTA rail stations with many hotels, shopping areas and businesses in the city. Car rental agencies require an International Driving Permit only if the visitor's national license is not in English, and most prefer drivers to be over 25 years of age. Taxis are available, but it is easier to order one by phone than to find one on the street; they can also be found in taxi stands around the city. Visitors should be cautious of unlicensed taxis, and women travelling alone at night should order taxis by phone.
Events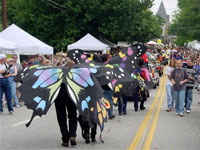 Inman Park Spring Festival
Spring is certainly sprung with great gusto in historic Inman Park each year. The neighbourhood, located just to the east of downtown Atlanta, was one of America's first garden suburbs and is listed on the National Register of Historic Places. Every year the locals enthusiastically put on a festival during the last weekend in April, delighting spectators with a colourful parade of floats, marching bands, entertainers and all manner of quirky participants. The festival also includes a huge street market and the 'Tour of Homes', when locals open up their homes ranging from Victorian bungalows to modern lofts, to the public. There is also live entertainment in many guises, from ballet to rock, and a host of activities like pony rides and rock climbing. The festival hotline is (770) 242 4895.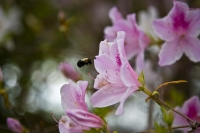 Southeastern Flower Show
The south is renowned for its gardens, and the Southeastern Flower Show has become a five day floral extravaganza, eagerly awaited by gardeners, both professional and amateur. The show provides many activities and experiences, from talks by experts to acres of magnificent landscaped gardens, unique plant exhibits and a bookstore and flower shop.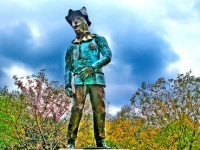 October Scarecrow Festival
The October Scarecrow Festival, held annually at the Atlanta Botanical Gardens, hosts a series of events and activities for families. See over 50 weird, wonderful and sometimes scary scarecrows created by the locals. The special events held every weekend in October include games, storytelling and scarecrow crafts. The festival culminates in a children's costume party, with lots of Halloween treats and entertainment.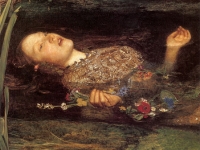 Georgia Shakespeare Festival
Each year the Georgia Shakespeare Festival hosts a five-month season of William Shakespeare's plays, as well as a few works by other playwrights, at the Conant Performing Arts Center on the campus of Oglethorpe University. The festival starts with a week of free performances in Piedmont Park. This event is a must for fans of 'the Bard' and families alike.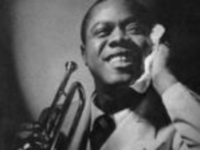 Atlanta Jazz Festival
The annual Atlanta Jazz Festival is a 31-day series of events featuring internationally celebrated jazz artists, which has included the likes of Miles Davis, Nina Simone, Hugh Masekela and Dr John. It claims to be the nation's largest free jazz festival, with jazz playing throughout the city at restaurants, clubs, museums, parks, churches and department stores, with a special focus on the three-day festival of performances in Woodruff Park at the end of the month over the Memorial Day weekend.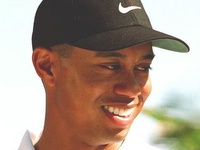 The US Masters
The US Masters Tournament (referred to simply as The Masters) is one of golf's four major championships. Unlike the other three 'majors,' the Open, The US Open and the PGA Championship, this tournament is held at the same venue each year, the Augusta National Golf Club. The Masters was begun in 1934 by Bobby Jones and Clifford Roberts, two amateur golfers who wanted to provide a service to the sport by creating the Augusta National Invitation Tournament. It was only in 1939 that the tournament became referred to as The Masters Tournament. Augusta National Golf Cub is equidistant from Atlanta and Savannah.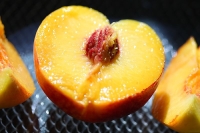 Peach Drop
Peach Drop, first held in 1989, takes place on New Year's Eve at Underground Atlanta. This is an all-day event with a variety of live entertainment, food stalls and activities to occupy the whole family, imaginatively culminating in a splendid fireworks display and the fantastic 58-second descent of a giant peach.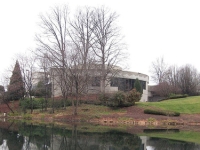 The Animation Show
The creator of Beavis and Butt Head, Mike Judge, and Academy Award-nominated animator, Don Hertzfedt, present the Animation Show. Each year they tour America, generally stopping in Atlanta in February, showing a selection of the best short films from all around the world, bringing the delight of animation to the theatre loving public. This is a great event for young families and animation buffs.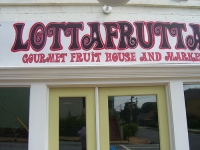 Sweet Auburn Springfest
Each year in May, the multicultural Sweet Auburn Springfest celebrates the food, film, art and music of the world. This all-inclusive family festival attracts close to half a million people annually. There are several themed stages, including the Just For Women Stage, Stage of Inspiration and the International Youth Stage, providing many different types of entertainment.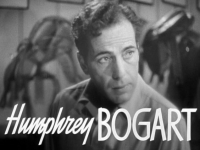 Screen on the Green
Screen on the Green, a free event that shows classic Hollywood films, is hosted in Centennial Olympic Park every Thursday evening in June. Visitors are welcome to bring picnic baskets and low-backed chairs, and food and drinks are available on-site. Unfortunately no grills, umbrellas or pets are permitted. Enjoy the movie!
Attractions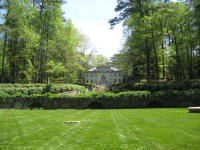 Atlanta History Center
Set in nine hectares (23 acres) of beautiful gardens, the Atlanta History Center is the ideal place to soak up the rich history of the state. The main attractions are two historic homes, open to the public offering informative guided tours. The Tullie Smith House originally stood outside the city limits but has been relocated to the History Center, along with its outbuildings. The house was built in the 1840s and survived the near-total destruction of Atlanta in 1864 when General William Sherman burned almost every business and more than two thirds of the city's homes during his infamous 'March to the Sea'. It was once the home of yeoman farmer Robert Smith and his family, who owned 11 slaves and farmed on about 324 hectares (800 acres). The farmhouse is typical of most in Georgia at the time, despite popular belief that not all Georgians owned large plantations and mansions. The Swan House, built in 1928, is a grand Italianate mansion that is an Atlanta landmark, once the home of Edward and Emily Inman, heirs to a cotton brokerage fortune. The History Center also features several other historic buildings and exhibitions.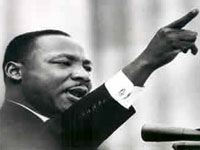 Martin Luther King Jr National Historic Site
In January 1929 a baby boy was born in an upstairs bedroom of a house in Atlanta. Today the Victorian house is the centre of a protected site dedicated to the memory of that baby, Martin Luther King, who grew up to become America's Nobel prize-winning Civil Rights leader. A half-mile stretch of Auburn Avenue, including King's birth home, the Ebenezer Baptist Church where he preached, and the memorial tomb at the King Center where he is buried, has been designated a historic site, drawing hundreds of visitors every day. The exhibits contained within provide insight into the life and times of this much-revered man.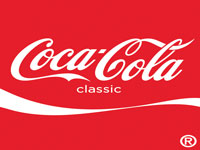 World Of Coca-Cola
In 1886 Jacob's Pharmacy, a small drugstore in Atlanta, began selling a new headache and hangover tonic called 'Coca-Cola'. In 1891, entrepreneur Asa Candler paid $2,300 to acquire the rights of what is now the world's most valuable brand. The following year he founded the Coca-Cola Company. The new, environmentally-friendly construction houses more than just a museum dedicated to Coca-Cola; it is an entire soft-drink experience. Thousands of Coke objects, trivia and memorabilia are contained among the interactive exhibits in this building, backed up by commercials, radio jingles, a 4-D theatre, tasting and a Pop Culture Gallery.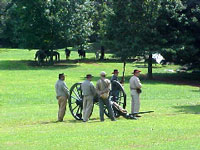 Kennesaw Mountain Battlefield
In 1864 Kennesaw Mountain was the scene of a bloody Civil War battle when General Sherman led his Union forces against the entrenched Confederate forces at the site, resulting in the death of more than 67,000 soldiers. The park consists of several thousand acres of protected land, covered with more than 17 miles (27km) of interpretive walking trails. The trails encompass historic earthworks and cannon placements, and notable markers and memorials have been provided to commemorate the event. A small museum at the site displays Civil War artefacts, and a visitor's centre provides information about the battle on the site. This popular park is visited by more than a million people each year, many of whom come to picnic and enjoy the views afforded across Atlanta.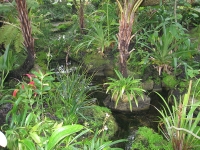 Atlanta Botanical Garden
A highlight of the Atlanta Botanical Garden is the Fuqua Conservatory, a giant greenhouse enclosing different climate-controlled eco-systems that was financed by an Atlanta businessman in memory of his wife. A walk through the conservatory takes visitors from a desert into a steamy tropical jungle. Outdoors the gardens are criss-crossed with dedicated nature walks, bypassing many quiet spots designed for peaceful contemplation, as well as tasteful garden sculptures.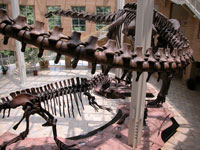 Fernbank Museum of Natural History
As one of the South's pre-eminent museums, Fernbank Museum of Natural History is a gateway for discovery and exploration, unfolding the story of the earth's history, the physical universe, the environment and human culture through exhibitions, programs and films in the IMAX Theatre. Opened in 1992, Fernbank is accredited by the American Association of Museums and is 'Atlanta's Home to Dinosaurs,' a reputation highlighted by Giants of the Mesozoic, a distinctive permanent exhibition which features the world's largest dinosaurs.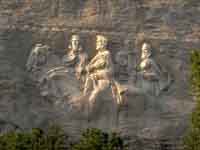 Stone Mountain Park
Stone Mountain is situated about 20 minutes from Atlanta and features numerous man-made and natural attractions. Most awesome of these is the huge relief carving of the three Southern heroes of the Civil War, which has been etched into the mountainside. The images of Confederate President Jefferson Davis, and Generals Robert E. Lee and Thomas J. 'Stonewall' Jackson cover an area larger than a football field and are part of the largest relief sculpture in the world. Three sculptors worked in succession on the carving, beginning with Gutzon Borglum in 1915. He later became famed for his carvings at Mount Rushmore. Subsequently two other artists pursued the work that was completed finally in 1972. Visitors can either walk up the mountain or take the Skylift to the top from where the views of Atlanta and the Appalachian Mountains are incredible. Stone Mountain also features a restored Antebellum Plantation featuring a colonial mansion, slave cabins, coach houses and barns. The park also contains several lakes and hiking trails, a wildlife reserve and petting zoo.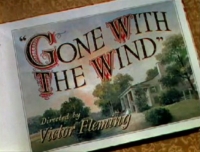 Jonesboro
About 15 miles (24km) south of Atlanta in Clayton County is the town of Jonesboro, a not-to-be-missed destination for movie fans and those hankering for a taste of the real 'Deep South'. Jonesboro was the setting for Margaret Mitchell's acclaimed novel, and later film, Gone with the Windand devotees come to see the local historic plantation houses and learn about the real people whose lives inspired the fictional characters of the novel. In Main Street, the Road to Tara Museum is housed in the Jonesboro Depot Welcome Centre, containing original props, costume reproductions, doll collections and an extensive photo gallery associated with the making of the movie, Gone with the Wind. The Welcome Depot is also the departure point for daily tours, starting at 1pm (except on Sundays), that take in the local scenes where the film was shot and offer a behind-the-scenes glimpse into the true life stories on which the book was based. In Carriage Drive, a beautiful Greek Revival plantation home dating from 1839 is open to the public along with its authentic outbuildings.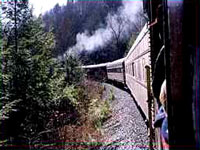 Georgia Mountains
Northern Georgia is hilly and mountainous, dotted with numerous small towns, fascinating historic sites, national parks and forests. Most of the towns and attractions are within an hour's drive of Atlanta. Among the highlights of an exploration of this region are the New Echota State Historic Site (the last capital of the Cherokee nation); Chickamauga at Fort Oglethorpe, which is the oldest and largest Civil War military park; Jasper, where the marble quarries produced the marble used in the Capitol in Washington, DC; the Blue Ridge Scenic Railway, at the end of the Appalachian Highway; and the spectacular Tallulah Gorge near the town of Clayton. The northwestern Georgia region is a paradise for nature lovers, offering hundreds of wooded hiking trails, sparkling trout streams, scenic lakes and camp sites.
Turner Field
Originally built for the 1996 Olympic Games in Atlanta, Turner Field was converted after the event to serve as the home of major league baseball team the Atlanta Braves. Affectionately known as 'The Ted', the attractive open-air stadium is a great place to spend a hot summer night in Atlanta, the stadium is also home to the Ivan Allen Jr. Braves Museum and Hall of Fame, with exhibits on famous Braves players like Greg Maddux, Bobby Cox, and Hank Aaron, as well as Braves owner (and stadium namesake) Ted Turner.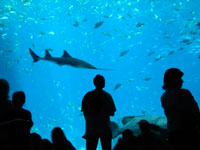 Georgia Aquarium
The impressive Georgia Aquarium is the largest of its kind and boasts over 100,000 animals from 500 species. A range of different environments play host to fascinating animals from around the world, from belugas and African black-footed penguins, to sea lions and sea otters, stingrays, sharks and a riot of colourful fish. The Aquarium also has a 4-D theatre that features an animated 3-D film, interactive seats and live actors; a café and the Ocean Ballroom for special events.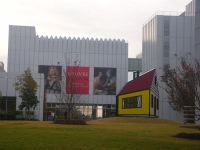 High Museum of Art
Atlantas's High Museum of Art is home to 11,000 pieces in its permanent collection and includes 19th and 20th century American and decorative art, important and visiting European collections, as well as contemporary art and photography, and African folk art.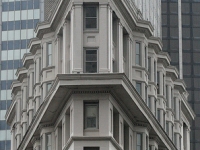 The Flatiron Building
Located in downtown Atlanta, and home to the law firm in the Matlock TV series, the Flatiron Building is officially known as the English-American Building. It was completed in 1897, five years before New York's Flatiron Building, and shares the same unique and prominent flatiron shape. Designed by Bradford Gilbert, the building has 11 storeys and is the city's second and oldest standing skyscraper, listed in the National Register of Historic Places. While the building is occupied by tenants ranging from architectural firms to law offices, its exterior is an impressive site.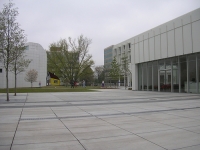 The Woodruff Arts Center
The Woodruff Arts Center, originally known as the Memorial Arts Center, opened in 1968 and is one of the largest arts centres in the United States. The Woodruff uniquely combines four visual and performing arts divisions on one campus and is home to the Alliance Theatre, the Atlanta Symphony Orchestra, the High Museum of Art, Young Audiences and the 14th Street Playhouse.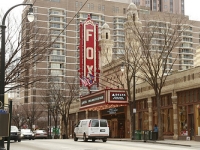 The Fox Theatre
Atlanta's Fox Theatre, which is often promoted as the Fabulous Fox, is one of the magnificent movie palaces built in the United States during the 1920s. The theatre's unique beginnings and Moorish design set it apart from other theatres of that period. Today it hosts an array of artistic and cultural events, including a summer film series, the Atlanta Ballet and performances by national touring companies of Broadway shows.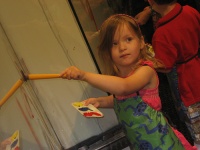 Imagine It! Children's Museum of Atlanta
The Imagine It! Children's Museum of Atlanta is one of the most fascinating places parents on holiday in the city can take their younger kids for a day of exploring, learning and discovering. With exciting galleries such as the Curious George Gallery or exploring trees, children also get the opportunity to paint the walls, crawl through a playground or even don a raincoat and play in a forest stream.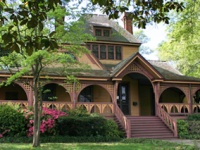 Wren's Nest
Home of the author Joel Chandler Harris, who wrote of the sly fictional characters Br'er Rabbit and Br'er Fox, Wren's Nest has been open to the public since 1913 after Harris's widow sold it to the Uncle Remus Memorial Association. A great place to visit for any child who knows the Uncle Remus tales, there is even storytelling on Saturday afternoons.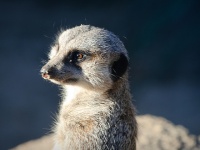 Zoo Atlanta
Zoo Atlanta features around 1,000 animals representing 250 species from around the world and sees over 1 million tourists every year. Children will absolutely love discovering all the animals and even some slightly more exotic ones such as the giant pandas, the 24 western lowland gorillas, Sumatran tigers and Sumatran orangutans. For smaller children there is a petting zoo which allows kids to interact with goats, pigs and sheep.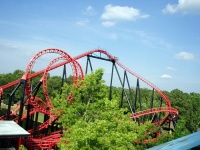 Six Flags Over Georgia
A great day out for kids of all ages, Six Flags Over Georgia is a fantastic amusement park filled with rides and thrills for just about every child to enjoy. Try the Acrophobia, the Superman, the Batman or the Goliath for the really adventurous, while younger tots will enjoy the Thomas the Tank Engine ride, Up UP and Away and the River Carousel.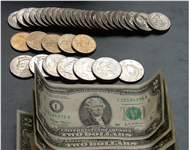 Monetary Museum at the Federal Reserve Bank
Although it doesn't sound like much of a tourist drawcard, visitors to the Federal Reserve Bank are unanimous in their enthusiasm about the fascinating Monetary Museum found there. Whether part of a guided group tour (recommended for scholarly types), or just perusing the exhibitions on one's own, a visit to the Federal Reserve Bank is bound to instil in visitors a renewed appreciation for the rich history that informs present-day money use in America. Tour highlights include an extensive 'History of Money' exhibition, displaying antiquated currency from all over the world; interactive, multimedia displays that teach you how to spot counterfeit money; the opportunity to lift a $450,000 gold bar; and a free bag of shredded money to take home as a souvenir. Visitors are guaranteed to leave the tour with a better understanding of the role that money plays in their everyday lives.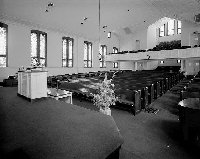 Ebenezer Baptist Church
Though small, Ebenezer Baptist Church has played a large role in America's history. Founded in 1886, the church functioned as the epicentre of the Civil Rights Movement in the 1960s. Martin Luther King Jr acted as co-pastor from 1960 to 1968, and worked toward equal rights for African-Americans during this time. The church has a new premises across the street, but visitors can still tour the old sanctuary where King preached.
Dining
Haven
Cuisine style: American
In an ambience thick and tightly packed room the trendiest diners in Atlanta share American cuisine with local Georgian ingredients. An open kitchen adds to the lively setting which bills itself rather perfectly as an 'upscale urban eatery' although a local neighbourhood feel also persists. Reservations should be made for daily lunch and dinner.
Address: 1441 Dresden Drive, Suite 100
Ann's Snack Bar
Cuisine style: American
Burger aficionados will literally have their hands full on Ann's famous Ghetto Burger, a monstrous pile of ingredients consistently chosen as the best burger in all of America. Ann herself still churns out delicious fast food treats to locals and the lucky few out-of-towners who catch wind of her fryer. Its all made to go as the small establishment can't fit more than a few patrons at a time. Monday through Saturday 11am to 9pm.
Address: 1615 Memorial Dr
Mary Mac's
Cuisine style: American
It is a classic not to be missed institution of southern dining and a litany of celebrity patrons and their pictures on the wall would attest to it. Hearty southern meals like fried chicken and barbecue are big pieces of evidence that cooking doesn't need to be fancy to be downright delicious. Open seven days a week 11am to 9pm.
Address: 224 Ponce de Leon Ave
Bone's
Cuisine style: American
Bone's is Atlanta's most famous steakhouse; a key lunch venue for important people, from presidents to businessmen and celebrities, with a masculine, club setting. Bone's serves the best prime-aged Iowa beef, prepared exactly as ordered. The lamb chops are another delicious option, as is the Maine lobster. Decadent desserts include Mountain-high Pie (layers of chocolate chip, rum raisin and vanilla ice cream). The wine gallery has hundreds of excellent wines, specialising in French and Californian bottles. Lighter entrees are on the menu for lunch and Bone's is open daily for lunch (except Saturday) and dinner.
Address: 3130 Piedmont Road
Sotto Sotto
Cuisine style: Italian
At Sotto Sotto('hush hush' in Italian), the noise is incredible; this is the place of the moment and an energetic crowd all seem happy to shout at one another over their seafood risotto. The wood-roasted fish is Sotto Sotto's specialty, and the rich chocolate soup, with dark Belgian chocolate, hazelnut whipped cream and sugar croutons is delectable. The bartender makes an excellent martini and the all-Italian wine list is extensive. Sotto Sotto is open all week from 5.30pm till late.
Address: 313 North Highland Ave
Murphy's
Cuisine style: American
Murphy's was a wine-and-cheese shop and evolved into a restaurant and bakery with a cozy atmosphere; one of the most popular venues in Atlanta for brunch. The bakery/wine shop has display cases overflowing with pastries, crusty fresh-baked breads and luscious desserts. For dinner, Murphy's offers a variety of entrees, including sautéed rainbow trout with sweet-potato hash; there's also a good selection of pastas, salads, waffles and pancakes. Murphy's is open all week till late.
Address: 997 Virginia Ave
The Dining Room
Cuisine style: French
From service to cuisine, it doesn't get much better than the Dining Room; they exceed all expectations with the French, Spanish and North African influences evident in their menu. A perfect cheese service is available, as well as a splendid variety of desserts and luxurious chocolate treats; among the specialties is a Cuban chocolate tart. Jackets are required for men and the Dining Room is open all but Sunday evenings.
Address: 3434 Peachtree Road
Nava
Cuisine style: Local
Nava's earth-toned interior is gorgeous and home to truly inventive Southwestern cuisine. Enchiladas and tostadas are stuffed with such delicacies as rock shrimp and jalapeño honey mustard, or mussels dry-roasted in a hot iron skillet and served in spicy chipotle broth. For dessert, try the roasted-banana enchilada, with warm caramel sauce. Enjoy Nava's extensive wine list and a large selection of tequilas, beers and margaritas; the prickly-pear margarita is a must. Nava is open all week but only in the evenings on Saturday and Sunday.
Address: 3060 Peachtree Road
Veni Vidi Vici
Cuisine style: Italian
This elegant theatre-district restaurant has an intimate atmosphere and a bustling exhibition kitchen. Specialties include piatti piccoli(small plates) such as skewers of shrimp or prosciutto and pear, traditionally served with cocktails and fresh handmade pastas. The house specialty is linguine with Little Neck clams in a white or spicy red sauce. The carefully selected wine list is almost entirely Italian. Veni Vidi Vici is open daily till late.
Address: 41 14th Street
Floataway Café
Cuisine style: French
Hidden on a secluded industrial street, in a renovated warehouse, the Floataway Café opened in 1998. The menu changes daily, with fresh and local organic produce and unusual ingredients being the order of the day. Enjoy succulent wood-grilled or roasted meats and seafood or homemade pastas; grilled steak with pommes frites and red-wine shallot butter is a house speciality. The wine list is quite international and complements the food beautifully. Floataway Café is open Tuesday to Saturday, from 6pm to 10pm.
Address: Suite 15, 1123 Zonolite Road
Airports
Hartsfield-Jackson Atlanta International Airport
Website: www.atlanta-airport.com
Location: The airport is situated 10 miles (16km) south of downtown Atlanta.
Contacts: Tel: +1 404 209 1910 or 530 7300.
Time Zone: GMT -5 (GMT -4 from March to November).
Departure tax: None.
Transfer between terminals: The two terminals and six concourses are connected by a one-mile (1.6km) underground mall. Travellers can choose to walk, step onto a moving sidewalk or board the innovative transit system.
Facilities: Hartsfield Atlanta is the world's busiest airport and has just about every facility you could hope for. With more than 200 concessions for services, food, beverages, and retail shopping, there are restaurants, bars and cafes to suit most tastes, and enough shops to keep even the most avid shopaholics busy. Bureaux de change and ATMs are situated throughout the airport. There are business traveller services in the Atrium and in most of the six concourses with telephone, fax and Internet access, meeting rooms and cell phone hire. Other facilities include an interfaith chapel, smoking lounges, a post office and concierge services. Disabled facilities are excellent; those with special needs should contact their airline or travel agent in advance.
Parking: Parking is charged at $3 per hour for all lots, however daily rates range from $16 to $36 depending on their distance from the terminal. The hourly parking lots located in front of each terminal, are the most convenient parking for picking up or dropping off. There are also daily lots adjacent to the airport's main terminal and economy lots nearby. The Park & Ride lots are the cheapest option and are connected by regular shuttle buses.
Transfer to the city: The airport is serviced quickly and conveniently by the trains and buses of the local Metropolitan Atlanta Rapid Transit Authority (MARTA). Single tickets to downtown Atlanta cost $1.75 and the journey takes around 20 minutes. Other options like taxis, shuttles and limousines are all available at the Ground Transportation Center, located near the baggage claim area of the arrival's lobby. CityHoppa runs shuttle vans and private cars to from the airport to Atlanta city centre.
Car rental: Car rental companies represented at the airport include Avis, Budget, Dollar, Enterprise, Hertz, National and Thrifty.