Overview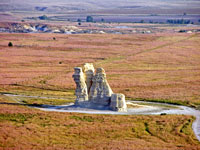 Kansas occupies a prominent place in American history, though its status in pop culture is somewhat less distinguished. The state was a violent battleground between pro- and anti-slavery settlers during the 1850s, a period dubbed 'Bleeding Kansas'. It played a pivotal role in America's westward expansion, its string of frontier forts supporting the clashes of the Indian Wars of the 1860s. But as every American school kid knows, Kansas is most famous for the landmark ruling of Brown v. Board of Education of Topeka, which ended segregation in public schools. Visitors can learn more about Kansas' history at the state's many historic sites, many of which have been designated national historic landmarks.
Kansas has its colourful past as well, peopled by cowboys, gunfighters and lawmen. It is home to Dodge City, the once-infamous 'Wickedest City of the West', which has been the setting of countless movies and television shows, including Gunsmoke. Even today, Kansas has a reputation for quirkiness. Among worldlier travellers, it has often been the butt of jokes-a place whose miles of seemingly flat, empty terrain are punctuated by sites like the world's largest ball of twine or stirred out of sleepiness by a tornado à la Wizard of Oz. While Kansas may not be the ideal holiday spot for some, it does have a lot to offer, and not only to history buffs.
Kansas' network of state parks and wildlife refuges comprises rolling hills and prairies, sand dunes, wildflowers, rivers and lakes, offering hunters, hikers, boaters, horseback riders and fishermen a wealth of options. Kansas isn't all rolling prairies though, and it has several major cities, all located in the eastern half of the state. It is largest city is Wichita, which has a population of over 350,000 and enough museums, shops, restaurants and attractions to entertain them all. Topeka, though smaller, is the capital of Kansas and home to the Kansas State Historical Society Museum. The true largest city in Kansas is the buzzing Kansas City, though the state can claim only the less than half of it west of the Mississippi River.
The town of Lawrence, home to the University of Kansas, is a perfect example of why not to take stereotypes as truth, as former senator Bob Dole is an alumnus, yet the city was the last home of William S. Burroughs. The fun town seems to have found a balance between traditional American values (including top-notch basketball) and the funky world of collegiate creativity.
Perhaps after sampling the delights of the cities, tourists in Kansas might feel jazzed enough to check out that giant ball of twine in Cawker City or watch Kansas toss the world's largest spinach salad in Lenexa.
Attractions
Airports
Wichita Mid-Continent Airport
Website: www.flywichita.org
Location: The airport is located four miles (8km) southwest of Wichita.
Contacts: Tel: +1 316 946 4790.
Time Zone: GMT -6 (GMT -5 from March to November).
Departure tax: None.
Facilities: Facilities at the airport include restaurants, shops, an ATM, a games room, business centre, conference room, massage chairs and a shoe-shine service.
Parking: Short-term, long-term and shuttle parking options are available. The first 30 minutes of parking in the short-term lot are free. Payment in the shuttle lot can only be made with a credit card.
Transfer to the city: Taxi stands and van shuttle services are located directly across the street from the main terminal. The Westside Connector provides bus service into Wichita. Free phone service is provided next to baggage claim in the car rental area to call taxi, shuttle and off-site car rental companies.
Car rental: Car rental information is located next to baggage claim. Services are offered by Alamo, Avis, Budget, Dollar, Enterprise, Hertz, National and Thrifty.