Overview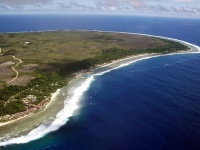 Nauru is an unremarkable 16 square mile (21km) Micronesian island, just south of the equator, with a remarkable recent past. Until recently, phosphate mines gave the islanders one of the highest per capita incomes in the world. When the mines were exhausted the island was strip-mined for trace amounts to provide some export revenue. Left with an environmentally ravaged land and little source of income the nation was awarded recompense from Australia.
Nauru then became a shelter for money laundering before international pressure closed this door as well. The latest scheme to generate sustainable income for the island has seen Nauru become an Australian detention centre. Illegal Asian emigrants are kept on the island as an international legal grey area as Nauru received aid from Australia for the service.
For tourists interested in old mines, money laundering, or detention facilities flights arrive twice a week from Australia. Like many of the Micronesian islands Nauru has picturesque palm lined beaches. Deep sea fishing, bird watching and diving are also possible for tourists.
For others, the island's little novelties might be reason to visit. Nauru is the smallest independent republic and is the least populous of United Nation members. Its people are also among the world's most obese. Unless on specific agendas, most tourists wouldn't find Nauru particularly worth visiting.
Basics
Customs
Nauruan social values are largely family-based, with respect and deference being shown to elders. Social mores are also bolstered by a strong Christian ethos, and visitors should not be surprised to hear prayers at most public gatherings. Nauru's social etiquette has been increasingly influenced by that of Australia, and so western tourists to the island nation should find most of the basic forms of social interaction quite familiar.
Duty Free
Travellers to Nauru age 16 and older may import up to 200 cigarettes and 500g tobacco. Those 21 and older may import two litres of liquor. Firearms, explosives, drugs, weapons and pornographic materials are prohibited.
Currency
Note: These currency exchange rates are not updated daily and should be used as a guideline only.
Health
Health Overview

Visa
Americans
UK nationals
Canadians
Australians
South Africans
Irish nationals
New Zealanders
Passport/Visa Note
All foreign passengers to Nauru must hold (i) confirmed return/onward tickets, (ii) the necessary travel documentation for their next destination, (iii) proof of sufficient funds to cover their expenses while in the country, and (iv) proof of confirmed accommodation in Nauru. Note that a yellow fever vaccination certificate is required (even for transit passengers), if arriving in Nauru within six days of leaving or transiting through an infected area. NOTE: It is highly recommended that your passport has at least six months validity remaining after your intended date of departure from your travel destination. Immigration officials often apply different rules to those stated by travel agents and official sources.
Note: Passport and visa requirements are liable to change at short notice. Travellers are advised to check their entry requirements with their embassy or consulate.
Contacts
Nauru Tourism

Foreign Embassies in Nauru








Nauru Embassies








Regions and Cities