Overview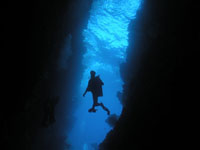 Blessed with sun-soaked, coconut palm-fringed beaches and crystalline waters, the remote and unspoiled archipelago of nearly a thousand islands and atolls of the Solomon Islands is becoming an increasingly popular eco-tourism destination, offering world-class snorkelling, scuba diving, fishing and surfing. Much of the country's economy is still based on subsistence fishing, and although the Solomon Islands deserves to be a world beater of a tourist destination, an unfortunate lack of infrastructure and amenities has kept the growth of the country's tourism sector in check. This is great news for those seeking a beach holiday in a tropical paradise, but who don't want to go anywhere where the effects of mass tourism are already widespread. Visitors of this ilk should act fast, however, as the island has recently been used as the location for the hit American TV show Survivor: All Stars 2, a bit of publicity that is sure to bring thousands of eager visitors to the unspoilt archipelago.
Sprinkled across the South Pacific, these Melanesian islands have seen a lot of history. It is believed that Papuan-speaking settlers arrived around 30,000 BC, while the first European to discover these gems was Álvaro de Mendaña de Neira, a Spanish navigator who set out from Peru in 1893. During WWII the Solomon Islands saw some fierce battles between the Japanese and the Allied forces, including the Battle of Guadalcanal, and the shipwreck graveyards beneath the turquoise waters bear testament to this.
Explore some of the world's most diverse aquamarine life, while landlubbers can marvel at the islands' unique animals and plants, majestic volcanoes and the world's rarest orchid. History buffs will love the WWII historical sites such as Iron Bottom Sound, where the remnants of sunken vessels lie in their watery graves. Popular islands and groups within the archipelago include Guadalcanal, Santa Cruz, and Choiseul. The capital city of Honiara on Guadalcanal has a number of interesting historical sites and a bustling Central Market for souvenir shopping, along with several restaurants and nightclubs.
Basics
Customs
Local traditions in the Solomon Islands are relaxed but traditional. While informal dress (including shorts) is acceptable, you should avoid wearing beachwear off the beach. Always show respect for older people, especially in rural areas. Girls are not to show friendliness to strangers of the opposite sex when accompanied by their relatives. If invited into a local's home, the guest will be expected to eat first.
Duty Free
Travellers to the Solomon Islands age 18 and older may import the following goods duty-free: 200 cigarettes/250g cigars or tobacco, two litres liquor, other goods valued to SBD400. Offensive weapons, pictures and literature is prohibited, and Firearms and ammunition require a police permit obtained prior to arrival.
Currency
Note: These currency exchange rates are not updated daily and should be used as a guideline only.
Health
Health Overview

Visa
Americans
UK nationals
Canadians
Australians
South Africans
Irish nationals
New Zealanders
Passport/Visa Note
Visitors are required to hold return or onward tickets, proof of sufficient funds. It is highly recommended that passports have at least six months validity remaining after your intended date of departure from your travel destination. Immigration officials often apply different rules to those stated by travel agents and official sources.
Note: Passport and visa requirements are liable to change at short notice. Travellers are advised to check their entry requirements with their embassy or consulate.
Contacts
Solomon Islands Tourism

Foreign Embassies in Solomon Islands








Solomon Islands Embassies








Regions and Cities
Guadalcanal Island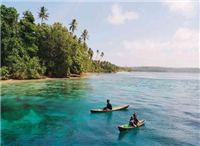 The largest of the Solomon Islands, and the site of the capital city Honiara, Guadalcanal is sure to be the first port of call for foreign visitors to the pristine archipelago. First 'discovered' by European navigators in 1568, the island enjoyed a relatively quiet and peaceful history until World War II, when fierce fighting between Allied and Japanese troops broke out. Since then, despite suffering severe tsunami damage in 2007, life on Guadalcanal has returned to its relaxed and peaceful pace, as the vast majority of its 90,000-strong population continue to make ends meet through subsistence fishing and farming practices.
Guadalcanal Island is either home to, or provides easy access to, most of the Solomon Island's best tourist attractions. The moving US and Japanese Peace Memorials are worth visiting, especially for those interested in historical sights; while several old battlefields - Red Beach, Alligator Creek and Bloody Ridge - can also be visited, for a sobering reminder of the devastation that was brought to the island during World War II.
It is also possible to make a few exciting excursions from Guadalcanal. The best of these are to the Tenaru Falls, a lovely waterfall complex that is reached after a long walk through dense tropical forest; Skull Island, where mounds of human skulls - the relics of head-hunting raids - are proudly displayed; and Kwaio Island, where sensitive visitors will be allowed to observe a community that has rejected modern life, choosing instead to live by the traditions of their ancestors.
Jewellery made from sea-shells is a popular Solomon Islands souvenir, and tourists can either visit the folk-art enclave of Betikama to watch this jewellery being produced, or else simply visit the Honiara Central Market to pick some up. The Central Market is the best place to shop in the Solomon Islands, largely consisting of stalls selling fresh fruit and vegetables and an incredible selection of fish and seafood.
Of course, however, the Solomon Island's greatest tourist attraction remains the diving and snorkelling opportunities available to visitors. The area off the coast of Honiara is known as Iron Bottom Sound, and tourists will have the unique chance to dive amongst sunken transport ships, submarines and even fighter-planes. For those seeking a luxurious getaway, the nearby beach resort of Uepi Island is the archipelago's most lavish, and provides drop-off diving sites that rival the very best in the world.
There is a lot to see and do on Guadalcanal Island, and tourists looking for that rarest of holiday experiences - an off-the-beaten-track tropical island getaway - should seriously consider making a trip to the Solomon Islands.