Overview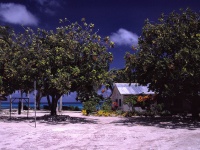 Halfway between Hawaii and Australia the remote Polynesian island nation Tuvalu keeps its beauty mostly to itself. Large beautiful lagoons and coral reefs form most of the nine islands. While the land remains above water, tourists can enjoy pristine palm lined coastlines in non-commercialised areas.
A lack of tourism industry means visitors are usually left to their own devices for beach side and water activities. Travellers should bring their own boogie board and flippers to explore the many beaches and lagoons. The capitol Funafuti offers simple accommodation in six small hotels which sometimes host feasts and dances. Tourists may also be interested in Tuvalu's production of collectible stamps. Unfortunately tourism is growing at about the pace of the coral and neither is enough to keep the island afloat.
While rising sea levels threaten a number of low lying countries, Tuvalu's three islands and six atolls will be the first to take the plunge. The country's leaders are trying to find high and dry quarters for Tuvalu's 12,000 people in New Zealand and Australia. Each year only 75 people are allowed to emigrate to New Zealand although many more would like to leave.
The nation has no fresh water, no natural resources and terrible soil for agriculture that is being further degraded by salt water seeping through porous coral ground. A little windfall recently befell the island by the good fortune of their internet suffix ".tv" which is sold to television company websites. Yet despite the nation's woes a hardy few tourists that make the voyage find a pleasant hospitable country with a unique atoll geography.
Tuvalu's atolls were formed when coral rings grew around sinking volcanic islands (yes, sinking is a recurrent theme in Tuvalu). The coral continues to grow upward while the central islands eventually disappeared leaving lagoons in their stead. The nine islands are spread over 420 miles (676km) of ocean but together comprise only 10 square miles (26 km) to explore.
Funafuti is connected to Fiji through bi-weekly flights although the remoteness of the islands make it a pricey journey. Increased tourism may throw the remote island a thin lifeline but its future is anything but smooth sailing.
Basics
Customs
Social interactions in Tuvalu are friendly and informal. Respect for elders is important. The population of Tuvalu is predominantly Congregationalist, and conservative Christian values are practised.
Duty Free
Visitors to Tuvalu can freely import 200 cigarettes or 225g of tobacco or cigars; 1 litre of wine or spirits; and 1 bottle of perfume. Although free of duty the following must be declared on entry: any binoculars, still cameras, rolls of unexposed film, portable radios, portable tape recorders, portable type writer and a reasonable quantity of sports equipment.
Currency
Note: These currency exchange rates are not updated daily and should be used as a guideline only.
Health
Health Overview

Visa
Americans
UK nationals
Canadians
Australians
South Africans
Irish nationals
New Zealanders
Passport/Visa Note
It is highly recommended that passports have at least six months validity remaining after your intended date of departure from your travel destination. Immigration officials often apply different rules to those stated by travel agents and official sources.
Note: Passport and visa requirements are liable to change at short notice. Travellers are advised to check their entry requirements with their embassy or consulate.
Contacts
Tuvalu Tourism

Foreign Embassies in Tuvalu








Tuvalu Embassies








Regions and Cities