Overview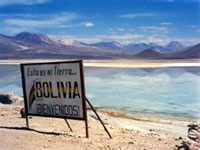 Bolivia is known as the 'Tibet of the Americas', the highest and most remote of the countries in South America. It is a landlocked region with two Andean mountain ranges binding the Altiplano, or High Plain, between them. This plain has an altitude ranging from 9,000 to 13,000 feet (3,000 to 4,000m), and is where the majority of the population lives.
The history of the region dates back to the pre-Columbian times, from the ancient Aymará civilisation in 1500 BC who lived on Lake Titicaca, to the Tiahuanaco and the Inca Empire of the Altiplano, until the conquest of the Spanish in 1538. Traces of these civilisations are evident in the architecture of the colonial cities, displayed in informative museums that can be visited at the sites of ancient ruins.
Bolivia is one of South America's most intriguing countries, as the nation with the most concentrated indigenous population on the continent, the majority of whom still maintain their traditional culture and beliefs. This living historical culture is one of the reasons that Bolivia is such an exciting and increasingly-popular tourist destination. The landscape is imbued with traditional houses and age-old methods of agriculture, and visitors will find remarkable traditions kept alive in the ancient techniques of weaving, handcraft and food production. The sounds of this cultural legacy echo in the haunting melodies of the panpipes from the high Altiplano or in the lively tunes emanating from the warmer lowlands.
The dramatic geography affords many adventure opportunities: explorers can track wildlife in the Amazonian basin, drive across the surreal landscape of the Salar de Uyuni, take a boat trip on the world's highest navigable lake, Titicaca, scramble through muddy shafts in the silver mines of Potosi, or hike in the magnificent Andes mountains. There is enough diversity to meet many tastes.
A holiday in Bolivia is a juxtaposition of extraordinary altitudes and spectacular landscapes, fascinating remains of ancient civilisations, a rich indigenous culture and vast colonial treasures.
Basics
Time
GMT -4.
Electricity
220 volts, 50Hz. US flat two-pin plugs and one with round grounding pin are used.
Language
Spanish is the official language, but only 60 to 70% of the people actually speak it, and then often only as a second language. The other main languages are Quechua and Aymar.
Health
Altitude sickness is the most common complaint in Bolivia with much of the country lying above 10,000ft (3,050m). This is particularly relevant to diabetics, those with heart complaints or chest problems, who should seek advice before travelling to Bolivia. Take Acetazolamide (Diamox) or drink coca tea to alleviate symptoms. A yellow fever vaccination is strongly advised, as outbreaks do occur, particularly after flooding, and it is a requirement for those entering from infected areas. Malaria is prevalent in some parts of the country, and dengue fever is on the increase. Sanitation and hygiene are poor in some areas so be wary of what is eaten; avoid under-cooked meat and unpeeled fruit and vegetables, and only drink bottled water. Medical insurance is strongly recommended.
Tipping
A service charge is normally added to restaurant and hotel bills but it is customary to add a 5 to 10% tip. Hotel porters also expect a small tip. Taxi drivers are not usually tipped unless they are hired for a full day, in which case 10% is acceptable.
Safety
Street protests and strikes often affect La Paz, Cochabamba and Santa Cruz as well as the regions of the Central Highlands (Altiplano) and the Yungus. Main tourist centres may be affected and visitors should keep up to date with current conditions. Strikes also often disrupt transport to and from the international airport in La Paz and to the regions. Travellers should avoid demonstrations and not attempt to pass through or go around roadblocks, and monitor the local media. Due to operational difficulties being experienced by national airline LAB, air travel in Bolivia can be disrupted and flights have been cancelled. Although Bolivia is generally a safe country, visitors should still be vigilant at all times. Pick-pocketing on buses or in crowded areas is common and baggage theft occurs at stations. Many thieves work in teams to distract their victims. Female tourists should avoid taking jungle and pampas tours on their own and always avoid unlicensed guides. Express kidnappings are also on the increase and travellers should be vigilant at all times. Penalties for drug possession are extremely severe and visitors should be vigilant with luggage and any belongings. Criminals posing as police officers and taxi drivers are targeting foreign tourists; there have been increasing incidents of robberies of this nature and visitors are warned to be cautious at all times. Violent attacks have occurred recently in Copacabana, especially targeting those travelling overland between Peru and Bolivia. Months of heavy rainfall are usually responsible for flooding and mudslides throughout the country, which can severely affect transport; the rainy season is usually from November to March.
Customs
In conversation rural Bolivians should be referred to as campesinos (subsistence farmers) rather than Indians. 'Machismo' is very much alive and husband and wife roles within the family are very traditional. Homosexuality is frowned upon, particularly in the Altiplano.
Business
Relationship building in Bolivia is important and getting down to business might take some time, so do not rush things. Negotiations are generally quite slow, and face-to-face communication is preferred over phone calls or written communications, therefore be prepared to make many trips before a deal can be made. Punctuality is expected, even if the meeting doesn't start on time, and schedules are often just a guideline and fairly unstructured; deadlines are not important. Business people are expected to wear suits. Meetings begin and end with handshakes, although wait for a woman to extend her hand first. It is important to include a person's professional title in the greeting if applicable, otherwise use Señor (Mr) or Señora (Mrs) with the surname. Business cards should also include any academic qualifications, and should have one side translated into Spanish; most business is conducted in Spanish and materials will need to be translated into Spanish. Women are considered insubordinate in the workplace and visiting businesswomen should ensure to emphasise their qualifications and work experience. Office hours are generally 8.30am to 6.30pm Monday to Friday with a long break over lunch.
Communications
The international access code for Bolivia is +591. The outgoing code depends on what network is used (e.g. 0010 for Entel, or 0013 for Boliviatel), which is followed by the relevant country code (e.g. 001044 for the United Kingdom). The area code for La Paz is 2, but the access code to make a call within the country from another area also depends on what network is used (e.g. (010)2 for Entel, or (013)2 for Boliviatel). Mobile phones operate on a GSM network. Internet cafes are widely available in La Paz and other tourist areas.
Duty Free
Travellers to Bolivia over the age of 18 years can bring the following items into the country without incurring customs duty: 100 cigarettes, 25 cigars and 200 grams of tobacco, 1 bottle of alcoholic beverage and a reasonable amount of perfume for personal use. Technology such as cameras, laptops and cellphones are limited to one per person for personal use. Newly purchased goods to the value of US$1,000 per person are also duty free. Travellers departing from the country should note that it is illegal to leave with the following items without prior written permission from the appropriate local authority: pre-Colombian artefacts, historical paintings, items of Spanish colonial architecture and history and native textiles.
Currency
The official currency is the Boliviano (BOB), which is divided into 100 centavos, and is tied to the US Dollar. Money can be exchanged at exchange bureaux called casio de cambiosin the main centres, at banks and hotels. Banking facilities are good in the main cities and ATMs cater for Visa, Cirrus and MasterCard. Many hotels and other tourist-oriented institutions accept US Dollars. Major credit cards, including MasterCard, Diners, Visa and American Express, are accepted in the bigger hotels, restaurants and shops. Travellers cheques can be exchanged in casio de cambiosin the major cities and are best taken in US Dollars to avoid additional charges.

| | | | | | | | |
| --- | --- | --- | --- | --- | --- | --- | --- |
| BOB 1 = | US$ 0.14 | £ 0.09 | C$ 0.14 | A$ 0.14 | R 1.19 | EUR 0.11 | NZ$ 0.18 |
Note: These currency exchange rates are not updated daily and should be used as a guideline only.
Health
Health Overview
Altitude sickness is the most common complaint in Bolivia with much of the country lying above 10,000ft (3,050m). This is particularly relevant to diabetics, those with heart complaints or chest problems, who should seek advice before travelling to Bolivia. Take Acetazolamide (Diamox) or drink coca tea to alleviate symptoms. A yellow fever vaccination is strongly advised, as outbreaks do occur, particularly after flooding, and it is a requirement for those entering from infected areas. Malaria is prevalent in some parts of the country, and dengue fever is on the increase. Sanitation and hygiene are poor in some areas so be wary of what is eaten; avoid under-cooked meat and unpeeled fruit and vegetables, and only drink bottled water. Medical insurance is strongly recommended.
Visa
Americans
UK nationals
Canadians
Australians
South Africans
Irish nationals
New Zealanders
Passport/Visa Note
All visitors that require a visa must hold a passport valid for at least six months beyond the length of stay; if no visa is required then only a passport valid on entry to Bolivia is necessary. All visitors travelling by air should also have return tickets and all required documents for next destination as well as sufficient funds to see them through their stay. All travellers arriving from yellow fever risk areas must show valid yellow fever vaccination certificates on entry to Bolivia.
Note: Passport and visa requirements are liable to change at short notice. Travellers are advised to check their entry requirements with their embassy or consulate.
Contacts
Bolivia Tourism

Foreign Embassies in Bolivia








Bolivia Embassies








Regions and Cities
La Paz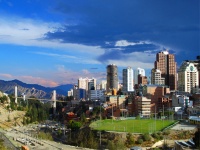 The air is indeed rare in La Paz, the world's highest capital city, at two and a half miles (4km) above sea level, or 11,910ft (3,630m). Living in La Paz is a bit bizarre because it is akin to living in a giant bowl. Around the rim are brick buildings and workshops, the inside slopes are scattered with houses, and across the bottom is the dense city centre. Rising up in the background is the most well known of Bolivia's lofty peaks, Illimani, standing at 21,188ft (6,420m). The most pleasant way to explore the diminutive city centre is on foot; the alternative is to sit on a crowded bus in congested traffic. Expect your sightseeing to leave you breathless. Steep, narrow streets lead into an assortment of little alleyways while well-used staircases wind their way up between crooked houses and colourful hotels.
More than a million people live in La Paz, adding colour, culture and vibrancy to the otherwise dusty barrenness of a high altitude city. The most rewarding (and least exhausting) activity is to people-watch. Andean women dress in brightly coloured, multi-layered skirts and thick knee-length stockings with bowler hats perched jauntily over long, plaited strands of hair. There are also smartly dressed businessmen and scruffy street urchins wrapped in woven blankets, shoe shiners and fruit sellers, trinket vendors and alpaca wool weavers.
The city also has some interesting museums, modern and comfortable hotels and is an excellent place to purchase authentic local souvenirs. Beautiful hand-spun alpaca wool products, paintings, silver handcrafted jewellery, music and musical instruments are just some of the many things on offer.
Potosi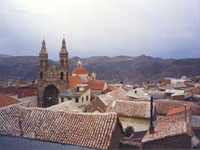 UNESCO declared this a World Heritage Site because of its rich history and Spanish architecture. Potosi is known as the Imperial City and is situated at the foot of Cerro Rico (Rich Mountain) famed for its mineral wealth. The Spanish created one of the most important and populous cities on the continent, after the discovery of the silver-rich mountain in 1545. Situated at an altitude of more than 13,123ft (4,000m), it is also the highest city in the world although not quite the thriving metropolis that it once was, though there is still a Spanish saying: valer un Potosi(to be worth a Potosi), meaning to be worth a fortune.
The architecture is its main attraction with a distinct Spanish influence evident in the houses and beautiful churches. There are an astounding 80 colonial churches in the city filled with art and artefacts from their history, notably the Convent of San Francisco and the Convent of Santa Teresa.
A visit to the city would be amiss without a trip to the mines of Cerro Rico where miners, working in appalling conditions, chip away at the rock walls in the hope of riches to come.
Sucre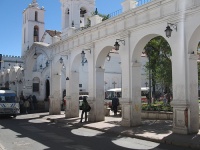 The constitutional capital of Bolivia, Sucre encompasses a UNESCO World Heritage Site in its historic city and is known as the City with Four Names due to a few name changes over its lifespan. Eventually Sucre was named after the man who fought for its independence from the Spanish conquistadores alongside the country's liberator Simón Bolivar in 1825, Mariscal Antonio Jose de Sucre. The picturesque city of Sucre is also known as a university city as it boasts one of the oldest seats of learning in the Americas, San Francisco Xavier University, which was founded in 1625. For the many young people and students who live here, there are great bars, restaurants, museums, shopping and nightlife opportunities to choose from - a positive draw card for tourism in the city. The small city is easy to get around and travellers will enjoy taking in the sites on foot, particularly the unique architecture of the old white colonial buildings with their red-tiled roofs and characteristic balconies which capture the essence of the Spanish-ruled era in Bolivia. Visit the Casa de la Libertad on the main plaza, where the declaration of independence was signed by Simón Bolivar on 6 August 1825, marvel at the Renaissance, Baroque and 'Mestizo Baroque' architecture of La Catedral, or simply stroll around town exploring the nooks and crannies and taking pictures of beautiful buildings.
Lake Titicaca Bolivia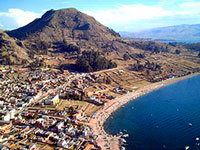 Regarded as the highest navigable lake at 12,580ft (3,825m), Lake Titicaca covers 3,861 square miles (10,000 sq km) and is shared by Bolivia and Peru. It has clear water, numerous islands and most importantly a place in Inca history. The Indian people who live in settlements around the lake hold it, and its two islands, Islas del Sol (Island of the Sun) and Islas de la Luna (Island of the Moon), in high regard for they are the mythical sites of the creation of the Inca people. According to legend, the Sun God sent his son and daughter to earth to improve the way of life of the Andean people, and so they descended onto Islas del Sol and founded the Inca Empire. The main town in the area and base for exploring the islands, is Copacabana. Boats depart everyday to the islands from where there are stunning views across the lake to the snow-capped peaks of the Andean range, higher than 19,685ft (6,000m). The islands themselves are incredibly picturesque and the friendly local people have retained their traditional cultures and way of life. Fishermen sail by on handmade reed boats, llamas and alpacas are herded along the mountain paths to villages scattered on the hillsides. Of interest are a few Inca ruins, among them the Sun Temple and the Chincana complex on Islas del Sol, and Inca stairways. To spend a night on Islas del Sol in one of the pretty guesthouses, experiencing local hospitality, good food and a breathtaking sunset, is one of the highlights Lake Titicaca has to offer.
Santa Cruz de la Sierra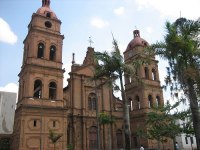 Commonly known as Santa Cruz, the largest city in Bolivia was founded in 1560 by Spanish conquistador Ñuflo de Chávez. In contrast to many cities in Bolivia, Santa Cruz is a mere 1,365 feet (416m) above sea level and enjoys a tropical environment that makes it an ideal break from the often harsh conditions of the Andes. Many travellers visit Santa Cruz only as a transit destination, as flights to Bolivia have an easier time landing there than navigating the mountains around La Paz. Santa Cruz is a fascinating travel destination in its own right, however.
A traditionally wealthy city through railroads and oil refining, downtown Santa Cruz is a pretty area with many shops, restaurants and museums. Strolling through town is a great way to take in the beautiful colonial architecture, evident in the numerous cathedrals; and both locals and tourists take advantage of the idyllic climate to gather in the Plaza 24 de Septiembre to play chess, feed the pigeons, or sip a glass of wine at an outdoor cafe.
The city is known as the fashion capital of Bolivia, and locally-made clothing is a popular Santa Cruz souvenir. Its cosmopolitan ambience extends to art galleries, museums, discos and restaurants, which offer the widest selection in Bolivia.
The convenience and comfort of Santa Cruz makes it an ideal base to explore some of the most popular attractions in Bolivia, including Park Amboro, and the historical Jesuit missions. There are also daily flights to La Paz, or (decidedly less comfortable) buses available.