Overview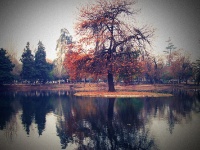 A Chilean legend maintains that after God had created the wonders of the world he had many pieces leftover. He had raging rivers, sprawling glaciers, valleys and soaring mountains, snow-capped volcanoes, sparkling lakes, beautiful forests and deserts, icy fjords and sandy beaches. Rather than let all this beauty go to waste, he put them together in a remote part of the world, and so Chile was born.
A long narrow strip making up the western part of South America's tail, Chile is 2,610 miles (4,200km) in length and at most 115 miles (180km) wide. Travellers are drawn to this country because of its multitude of natural attractions, from the northern deserts to the Lake District, mountains and fjords of Patagonia in the south. Chile is home to some superb National Parks, including the famous and mysterious Easter Island, and numerous activities for outdoor enthusiasts.
Chile's European colonial heritage is evident throughout the country and travellers here are likely to feel more familiar with its culture than those of the neighbouring countries, with their strongly indigenous lifestyles. There are still local traditions persisting in parts of Chile however, and together with the European influence this makes for an interesting juxtaposition, providing a distinctive culture. The people are resilient, cordial and warm, from the fashionable capital city of Santiago to the isolated island of Chiloé, and Chilean hospitality is renowned.
Besides natural beauty and an interesting blend of cultures, Chile offers the visitor excellent wines and seafood, unique handicrafts and shopping, and a variety of characteristic architecture, making it a beautiful and memorable place to visit.
Basics
Time
Mainland is GMT -4 (GMT -3 from October to March). Easter Island is GMT -6 (GMT -5 from October to March).
Electricity
Electrical current is 220 volts, 50Hz. Round two-pin plugs and round three-pin plugs (in-line) are used.
Language
The official language is Spanish.
Health
There are no vaccination requirements for entry to Chile, but a typhoid vaccine is recommended for travellers other than short term travellers who restrict their meals to major restaurants, hotels or cruise ships. Dengue fever is on the increase and visitors should take precautions against mosquito bites. Water is generally safe in the cities, but should be treated in the rural areas; bottled water is widely available for drinking. Santiago is severely polluted and this could cause respiratory problems or eye irritations, particularly from May to August. Travellers visiting the Andes Mountains should be aware of altitude sickness, and ascend slowly to allow the body to adjust. Healthcare in urban areas is adequate, but hospitals and clinics are extremely expensive and usually require payment in cash. Health insurance is strongly recommended.
Tipping
Tips of 10% is expected in restaurants. It is not customary to tip taxi drivers but it is usual to round up the fare if they help with luggage. In general tipping small amounts is customary for all services.
Safety
Chile is a politically stable country with very few threats to the traveller. Incidences of pick-pocketing and mugging are on the increase and travellers should take care of their belongings, especially around tourist areas and bus stations, and avoid walking alone late at night. Tourists should be particularly cautious in the Lake District as theft is on the increase, and muggings are becoming more common in popular walking areas such as Cerro San Cristobal, Cerro Santa Lucia and Cerro Manquehue. There has been an increase in reports regarding people receiving spiked drinks at nightclubs and bars, particularly in Santiago. Avoid any involvement in demonstrations, which take place from time to time. Chile has a landmine problem, mainly restricted to border areas adjacent to Peru and Bolivia in regions I and II, and Argentina in region XII, and also in wilderness areas in those regions. Visitors are advised to stick to marked roads, obey all signs and seek the advise of local authorities if travelling to the border areas of regions I, II or XII. The Chaiten volcano erupted on 2 May 2008 resulting in major ash fall and the evacuation of residents in the areas of Chaiten and Futaleufu. The exclusion zone has been reduced to 15 miles (24km) surrounding the volcano, but it is still active and visitors are warned that a threat still exists.
Customs
Bargaining is not practiced in street markets or stores. It is considered polite for smokers to offer cigarettes to travel companions before lighting up themselves.
Business
Chilean business culture tends to be formal, and this includes dress, which should also be conservative. In business, Chileans should be addressed by their titles and surnames, unless otherwise stated. Businesses are often family-run. Third party introductions are indispensable when arranging a meeting, and developing a personal relationship is key. Chileans stand very close when conversing and it is impolite to pull away. Visitors are also expected to re-confirm appointments before arriving at a meeting. Foreigners should be on time for meetings, but it is not unusual for the host to be 15-30 minutes late. On introduction, a firm handshake and exchange of business cards is usual - cards should be printed in both English and Spanish and care should be taken to pay attention to the card before putting it away carefully. Business hours are generally 9am to 5pm Monday to Friday, with a two-hour siesta over lunch.
Communications
The international access code for Chile is +56. The outgoing code is 00 followed by the relevant country code (e.g. 0044 for the United Kingdom). The area code for Santiago is (0)2. Internet cafes are available in the main towns. A number of telephone companies offer different rates for national and international calls, depending on the time of day. Public phones are widely available and international call centres are available in most shopping malls. Mobile phone companies have roaming agreements with most international cell phone companies; otherwise mobile phones can easily be rented. A GSM 1900 network is in operation. Internet cafes are widespread, particularly in the big cities.
Duty Free
Travellers entering Chile do not need to pay customs duty on 400 cigarettes, 50 cigars (large or small) and 500g tobacco; 2.5 litres of alcohol; and perfume for personal use. Meat products, flowers, fruit and vegetables may only be imported if permission is given by the Department of Agriculture in advance.
Currency
The local currency is the Chilean Peso (CLP), which is divided into 100 centavos. Visa, MasterCard, Diners Club and to a lesser extent, American Express, are accepted in most large shops and hotels. Travellers cheques, particularly in US Dollars, are welcome in major towns, where there are banks and cambiosoffering currency exchange services. ATMs are widely available.

| | | | | | | | |
| --- | --- | --- | --- | --- | --- | --- | --- |
| CLP 1 = | US$ 0.20 | £ 0.13 | C$ 0.20 | A$ 0.19 | R 1.65 | EUR 0.15 | NZ$ 0.25 |
Note: These currency exchange rates are not updated daily and should be used as a guideline only.
Health
Health Overview
There are no vaccination requirements for entry to Chile, but a typhoid vaccine is recommended for travellers other than short term travellers who restrict their meals to major restaurants, hotels or cruise ships. Dengue fever is on the increase and visitors should take precautions against mosquito bites. Water is generally safe in the cities, but should be treated in the rural areas; bottled water is widely available for drinking. Santiago is severely polluted and this could cause respiratory problems or eye irritations, particularly from May to August. Travellers visiting the Andes Mountains should be aware of altitude sickness, and ascend slowly to allow the body to adjust. Healthcare in urban areas is adequate, but hospitals and clinics are extremely expensive and usually require payment in cash. Health insurance is strongly recommended.
Visa
Americans
UK nationals
Canadians
Australians
South Africans
Irish nationals
New Zealanders
Passport/Visa Note
Passengers must hold a Tourist Card (issued free of charge on arrival for 90 days) and sufficient funds to cover intended period of stay. A return or onward ticket is not required if holding a credit card or sufficient funds to purchase a ticket. Passengers with a passport from Australia, Canada, United States or Mexico are required to pay a reciprocity tax on entering Santiago airport before passing through Customs. This tax must be paid in US dollars cash; it is paid once and remains valid until the passport expires (for Canadians and Americans) or for three months (for Mexicans and Australians). We always recommend that passports be valid for six months after intended period of travel.
Note: Passport and visa requirements are liable to change at short notice. Travellers are advised to check their entry requirements with their embassy or consulate.
Contacts
Chile Tourism
Chile National Tourism Board SERNATUR, Santiago: +56 (0)2 696 7141 or www.chile.travel
Foreign Embassies in Chile








Chile Embassies








Regions and Cities
Santiago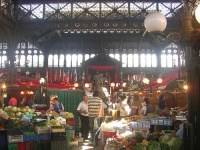 The towering Andes provide an awesome backdrop for the sprawling Chilean metropolis of Santiago. The population of this flat urban stage, that spreads out from a compact city centre, numbers more than five million. Despite this, a small town atmosphere prevails downtown where friends will more than likely meet and greet each other in the overcrowded streets and bustling walkways of the main commercial district.
The city is a curious mix of skyscrapers and 19th-century European architecture, with some Spanish adobe bungalows thrown in for good measure. Threaded through this architectural tapestry are numerous green areas, busy markets, and quaint old squares. Street life is vibrant, and adding to the vibe is the presence of numerous chic sidewalk cafes, outside of which traditionally dressed women hawk their wares hoping to catch the eye of the tourists. There are also some small but impressive museums, several modern hotels, excellent restaurants and some good shopping opportunities in the Ahumada and Huerfanos pedestrian malls.
Santiago exudes an aura of health and wealth in the inner city and fashionable suburbs, despite the shabby shantytowns stretching out from behind the skyscraper facade. The city is also one of the 10 most severely polluted cities in the world, thanks to its position in a bowl of mountains. It is nevertheless an excellent base in which to spend a relaxing few days taking excursions to the wineries, national parks and ski areas, which are all within easy reach of the city.
San Pedro de Atacama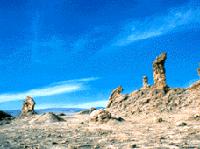 The desert oasis village of San Pedro de Atacama, having been continuously inhabited for 10,000 years, was prized by the Inca and Tihuanaco empires for its mineral wealth and importance as a stopover on the caravan trade routes. It sits at the northern end of the Salar de Atacama, a vast salt lake that is home to a variety of bird life.
Today San Pedro de Atacama is one of the major travel destinations of northern Chile and an attractive, albeit touristy village. A great base from which to explore the astounding natural beauty of the region, the village has few real attractions of its own. There is a small 17th-century church built with local materials and a small well-organised museum with a good gift shop that sells the only truly locally-produced crafts in the town. There are a number of restaurants and bars in town, however local restrictions on liquor sales see the nightlife come to a halt at 11:30pm on weekdays and 2am on weekends.
There is plenty to see and do around San Pedro, however. The town is close to archaeological sites, the bird life of the salt flats and Valle de la Luna, and lies within easy reach of the nearby Lagunas Altiplanicas and the El Tatio Geysers. Outdoor activities like mountain climbing and sandboarding are popular, or for a relaxing time the hot springs of Puritama are not far away.
Lake District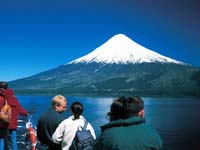 Chile's Lake District, located at the extreme south of the country, is a spectacular region of glacially formed lakes, snow-capped volcanic mountains and forests: one of pristine beauty and picture-perfect scenery. Home to the Mapuche people, the region is also sprinkled with picturesque towns that have a distinctly European elegance. For three centuries the Mapuche defended their land against the Spanish, but shortly after Chilean Independence they relinquished their territory and settlers flocked to the area, attracted by the rich volcanic soil among lush forests and lakes.
Today the area attracts tourists from across the world to marvel at the scenery, climb the volcanoes, hike in the National Parks and fish in the lakes, stopping off at various towns along the way. Temuco is the gateway to the Lake District in the heart of the Mapuche homeland and is still a market town for traditional Mapuche crafts in silver and wood. The pretty lakeside resorts of Pucón and Villarica sit at either end of Lake Villarica, dominated by the smouldering Villarica volcano.
Situated at the meeting of two rivers, Valdivia is an appealing town with its Spanish colonial history and subtle German architecture from the European influx, and lively riverside market. Osorno is another town with a strong German influence, particularly evident in its dairy farming and manufacturing culture. It is also the base for exploring Chile's most popular national park, Parque Nacional Puyehue, which boasts superb volcanic scenery, abundant wildlife, waterfalls and nature trails. The pastoral landscape, German style houses and lakeside hamlets are all attributed to the 19th-century immigrants.
The capital of the Lake District, Puerto Montt, is the embarkation point for stunning cruises to the fjords of the glacial Chilean coastline and is the gateway to the island of Chiloé and Chilean Patagonia. Its architecture is Middle European with unique wooden designs and predominantly high-pitched roofs and ornate balconies. Many of the older, traditional houses can be spotted with their distinct patchwork of weather resistant shingles, made from the Alcerce Tree. Puerto Montt has a marvellous craft market, a good place to buy Chiloén handicrafts, and the outstanding seafood is not to be missed. Well worth a visit, too, is the local cathedral, with its large rosary made from fishnet floats above the confessional.
Each destination in the Lake District offers good accommodation, dining and shopping, and opportunities for both sport and relaxation are limitless. It is an enticing region combining outdoor activity with peaceful sunsets and luxurious comforts.
Chilean Patagonia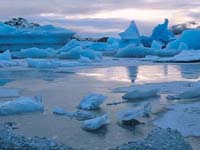 The fjords, glaciers and magnificent scenery of the Patagonian region are what attract visitors to this vast wilderness territory. The north, or Aisén region, can be likened to the Inside Passage of Alaska or New Zealand's Fjordland on South Island with its dramatic ice and waterway scenery. Southern Patagonia or Magallanes, is rugged, mountainous and stormy.
It was nearly 500 years ago that Ferdinand Magellan guided four ships through the treacherous passages that are still today thought of as the End of the World. Today Patagonia is inhabited by nearly 2 million people, but is still almost entirely made up of pristine and untouched nature.
The gravel highway known as the Camino Austral is the access point to one of the world's last great expanses of wilderness that makes up northern Patagonia. It begins at the port of Chaitén and continues to the capital of the region, Coihaique, and both are good bases for trips in the area. The most popular attraction in this region, despite the difficulty and expense of getting here, is the two million-hectare (four million-acre), glacier-filled Parque Nacional Laguna San Rafael, which has some of the world's most spectacular mountain and fjord scenery.
Magallanes features glacially sculpted mountains and harsh landscapes with Torres del Paine National Park the most famous of the southern region's protected areas. Further south is the town of Puerto Natales, terminus of the extraordinary ferry trip through the fjords from Puerto Montt, and exploration base for the region. Beyond the continent lies the harsh and stormy archipelago of Tierra del Fuego, stretching further south, and closer to Antarctica, than any other inhabited place.
Isla Grande de Chiloé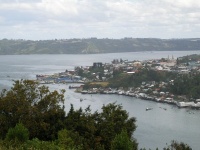 Chiloé is South America's largest island, 112 miles (180km) long and 31 miles (50km) wide. It is a wild and beautiful place but one of Chile's poorest areas with most of the populace scratching a living out of farming or fishing. It has rich folkloric traditions and a wealth of mythology that has contributed to Chilean literature, involving trolls, sea monsters and ghost ships. Another mark of the Chilote culture is the distinctive craftwork that is produced, especially those made from wool.
Featuring a characteristic type of architecture, the forested countryside is scattered with more than 150 wooden churches from two centuries ago, the estuaries are lined with quaint palafitos(stilted houses) and the small towns feature wooden shingled buildings. Most of the Chilotes live within sight of the sea and picturesque scenes of colourful wooden boats are commonly visible through the rain and mist. Seafood is a common part of daily life and the freshest daily catch is always available at local restaurants and markets.
Renowned for its damp weather, Chiloé balances wild natural beauty with the warmth of its people and their culture. As it is still largely an unknown destination, the adventurous traveller can discover an untouched part of Chile that is special in a different way, especially in the main town Castro, or in the wonderful national park on the pacific coast, Parque Nacional Chiloé.
Easter Island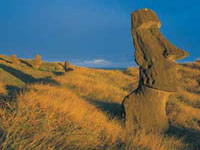 Rapa Nui, or 'Navel of the Earth' as the natives know it, is one of the world's most isolated places, situated 2,361 miles (3,800km) west of mainland Chile, halfway to Tahiti. Easter Island is practically an open-air national park, protecting the archaeological sites and Moai, the giant stone statues that the island is famous for, which are scattered all over the landscape. These figures stand at heights of up to 32 feet (10m) and are at the centre of the island's magnetism.
There is still uncertainty as to the origins of the first people on Easter Island, and the 12 centuries between their arrival in the year 500 and the first European discoverers in 1722 remains one of the world's great mysteries. Included among the archaeological sites on the island is the Rano Raraku volcano where the moai were cut from the volcanic rock. In a bizarre scene, over 600 figures are scattered on the slopes of the volcano, some in the early stages of development and still part of the rocky cliffs and others partly buried or stacked in an irregular line. For years researchers have puzzled over the method of construction and transportation of these megaliths from the quarries inland to their present day coastal positions. It is the mystery of the unknown artisans and the intriguing remainder of their awe-inspiring work that continues to draw researchers and tourists from around the world today.
Aside from the mysterious statues, there are other interesting attractions on Easter Island. Anakena Beach is a sandy white crescent popular for bodysurfing, and scuba diving and snorkeling is possible near the islets of Motu Nui and Motu Iti. There are also some fascinating and extensive cave systems to be explored near Ana Kakenga.
Most of the island's 2,000 inhabitants live in the main town Hanga Roa. It has accommodation, shops, restaurants and transport as well as a museum on the Rapa Nui people and their history.