Italy in high season is the vacation equivalent of tackling a big box home electronics store on Boxing Day. You don't know at the beginning of the day that you'll finish it trampling a horde of strangers in order to get a twelve-pack of tube socks. Nor did you begin your Roman Holiday thinking you'd be pressed against the walls of the Borghese Gallery 
by a mob of ardent art-goers who are hell-bent on beholding a Botticelli. Still, there's a reason high season exists – a vacation under the Italian sun means fields of sunflowers, viewing ancient ruins in toga-wearing weather, and lest we forget gouging oneself on gelato under the guise of a "cultural food experience".
I was lucky enough to return to Italy recently, but as a very different breed of traveller. I have explored the boot-shaped peninsula of my origin on a guided tour, as student with an Italian university, as a backpacker, and a returning family member. But my latest journey was as a cruise passenger. All of Rome was mine – but only for the day. How to enjoy the city at it's most in a limited amount of time and while competing for it's charms with thousands of like-minded jet-setters?
Here are my top picks and tips for Rome, including how to avoid the crowds, cut the lines, and force yourself off the beaten path in the town all roads lead towards:
Ancient Rome: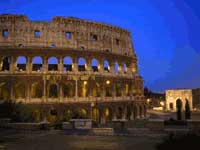 The Venerable Bede said that "So long as the Colosseum stands so shall Rome…" but that does not mean you have to stand in line to get a view. If reenacting Gladiator inside Flavian's Ampatheatre is your goal, bypass the line by heading up to the Forum or the Palentine Hill and buy a one or three day pass and stroll into the arena. Been there and done that? Try the Teatro di Marcello and Circus Maximus! It's just a stroll away, and ALWAYS devoid of pudgy men dressed as gladiators prodding you with plastic swords to take photos with them.
Catholic Rome: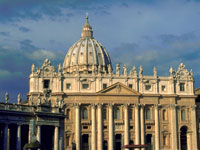 The Vatican is a unique and stunning experience in Rome. One of the founding basilicas it is the spiritual and geographical center of Catholicism. As such, there is no avoiding the crowds here – just be wary of the strict dress-code (no bare shoulders or knees ladies and gents) and be prepared to pass through a metal detector. If you're after a historic experience, check out St Peter Basilica's sibling basilicas built at the same(pre-Baroque reno) in San Giovanni in Laterano, San Paolo, or my personal favorite, Santa Maria Maggiore – who's stunning mosaics date from the 5th century, and boasts the nativity manger as it's resident relic!
Fashionable Rome: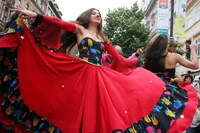 It's one of the biggest mysteries of ancient and allusive Rome is thus: how on earth do the gorgeous female population navigate cobblestone streets in fantastic stilettos. Make your way to Via Condotti for the biggest names in designer fashion. But if couture and crowds aren't on your agenda for the afternoon, I'd recommend taking a stroll down the twisting streets in Trastevere. Just south of the Vatican, this little medieval neighbourhood's narrow streets are filled to the brim with artisans, and unique designs and shopping, quiet piazzas filled with locals.
All in all, the trick to any successful high-season experience, (just as a Boxing Day triumph,) is to come with a plan, and perhaps some sanitary hand-wipes. You know… for all the gelato.
Looking for more information on travelling to Rome? Chantal Gouveia is an Adventure and Cruise Specialist at our Flight Centre Adventure Annex location in Toronto and can be reached online or by calling 1-855-240-4352.