Life is a journey, love is the goal – Osho
As lovers of travel, we swoon over a good journey metaphor. When it relates to love and relationships this time of year, we really feel the ol' heartstrings tugged.
Valentine's Day inspired this step-by step guide to romantic destinations, whatever stage of a relationship you're in. (It also inspired our sweet travel gift card sale.)
Love and travel are indelibly intertwined. Both enrich and improve our lives. They make us want to live in the moment, while thoughtfully planning ahead. Love and travel are about making connections, challenging yourself and expanding your perspectives. They involve adventure, escape, relaxation and exhilaration. Love is like holding a map, filled with possibilities. (It's also like folding a map, filling you with maddening frustration.)
Contrary to our introductory quote, if love isn't the goal but you're still looking to ahem, score, we've covered that, too. Whatever romantic stage you're at, we think you'll fall in love with these destinations, and that won't be the only falling in love you'll do. Check out our seven phases to see where you fit!
Where to travel to Find Love
Cancun, Mexico
Looking to satisfy your lust? Wanderlust, that is. OK and maybe the other kind, too. Set your sights on the sun and fun of Cancun, Mexico. Powdery beaches peppered with nets provide the ideal setting to join a pick-up (no pun intended) game of beach volleyball. The mouth-puckering margaritas at your resort's tequila bar won't hurt meeting people, either. Cancun boasts some of Mexico's biggest, most beautiful and reasonably priced all-inclusive resorts. Ask one of our fun-loving Flight Centre travel agents to help find the best Cancun vacation package for you.
Other picks: New Orleans and Houston
New Orleans, voted the New York Times' number one pick for places to travel in 2018, is a destination for singles, no matter what age you are. This is the only place in the USA where the bartender might be able to infuse voodoo love potion into the classic bourbon cocktails the city's renowned for. Meanwhile, Houston ranks among the best US cities for people under age 35, with 'strength of paycheque' making it an attractive destination for younger people to settle. Howdy, (future) pard'ner!
Where to travel to see if they're "the one"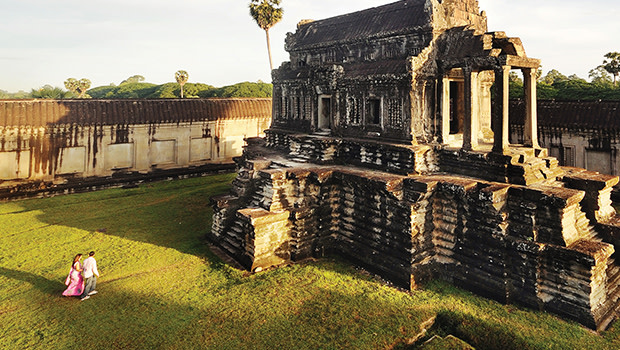 Angkor, Cambodia
Travel is a bit like flirting. You fall for a destination, then teasingly jet off. If you're in the early stages of a relationship and are curious to see if it's destined to go further, consider travelling far as well. As Mark Twain famously wrote in Tom Sawyer Abroad, "I have found out that there ain't no surer way to find out whether you like people or hate them than to travel with them."
Get out of your comfort zone and take a trip to Angkor Wat. There is an indescribable magic and aura of serenity infused in the atmosphere of this incredible World Heritage site. The breathtaking temples of Angkor were built centuries ago; is your love as enduring? Contemplate history, as well as your future together. Traversing Cambodia isn't always easy, making it an opportunity to see if you can work together, or if it's time to bid pho-rwell.
Other picks: New Zealand or Antarctica
Adventure travel allows you to see if someone is willing to go the extra mile—figuratively and literally. New Zealand defines adventure travel, with a host of outdoor pursuits against a backdrop of romantic scenery. We'll arrange a campervan for two, in the breathtaking stillness of the North or South Islands where you may feel like you're the only ones on earth. If you're surprised to see Antarctica here, the authorities at Condé Nast Traveler listed this mysterious continent as a top 2018 destination. A trip to the South Pole is a great way to see if your relationship is about to go south too, or take flight.
Where to go to let your love bloom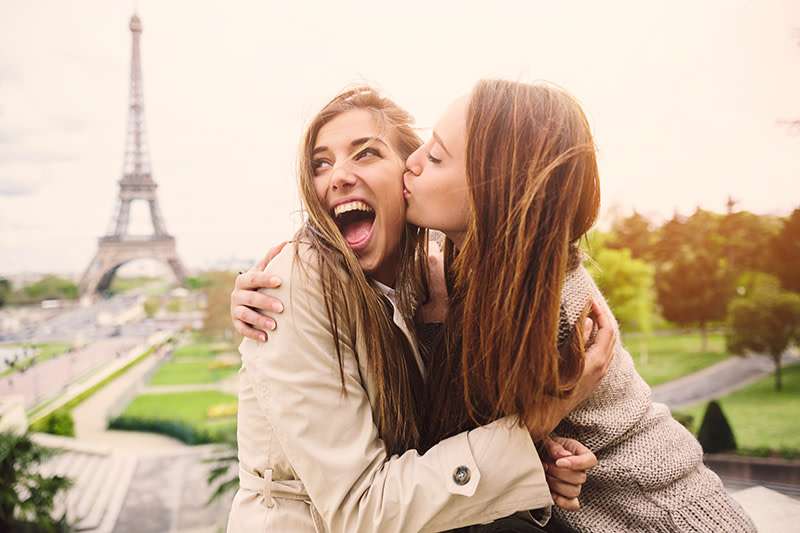 Paris
Even if you're not the most creative when it comes to romance, you can probably take a wild guess that Paris is a sure bet. There's no better place to say, "Eiffel so in love with you" than in the City of Love. We can help with the planning, by arranging everything from airport transfer to hotel, so you can focus on your other half. Pop a bottle of authentic Champagne, or pop the question. The only thing we can't help you with is the engagement ring (but we're always happy to give a second opinion.)
Other pick: The Azores
If you're looking for something more intimate than Paris, consider Portugal's beautiful archipelago of the Azores. It's the closest European destination to Canada, making it that much easier to whisk your love away to uncork romance over a bottle of Portuguese fine wine.
Where to travel to tie the knot
The Caribbean
There are many reasons the Caribbean is a beloved choice for sun-kissed nuptials. White sand beaches sparkling turquoise water and agreeable weather are the obvious ones. The availability and affordability of destination wedding packages to the Caribbean are also key factors, making it easy for friends and family members to travel, too. With the array of stunning islands, each boasting its own flavour, the destination you choose can be as unique as your love for one another.
Where to go for your honeymoon
The Maldives
You want your honeymoon to be romantic, decadent and memorable. What could fit the bill better than an over water bungalow in the Maldives? Speaking of bill, sure a vacation here may come with a heftier price tag, but your priceless love is worth it. Register for our Flight Centre wedding registry so your friends and family can contribute to this once in a lifetime (hopefully!) honeymoon experience.
Other pick: Quebec City
If the exotic locale of the Maldives is too far out of reach, stay close to home with a honeymoon package at Quebec City's Ice Hotel. Arguably the most romantic city in Canada, the Ice Hotel is a magical setting and you and your loved one can cozy up to one another.
Where to travel to rekindle romance
New York City
The kinetic buzz of NYC will add a jolt of exciting energy to your partnership. Whether it's a straight-from-the-movies stroll through iconic Central Park, taking in a play on Broadway, or swilling cocktails in Brooklyn, the city that never sleeps will awaken your love. Like your love, this is destination is for all seasons. Saccharine sentiments aside, it's simply a cool destination with something new to experience no matter how many times you visit.
Other pick: Napa Valley. California's renowned wine land teems with intoxicating beauty. Whether you're an oenophile or not, your glass shall runneth over with romance (or at least, you'll have a great time.)
Where to renew your vows
Las Vegas
If you had to do it all over again, you would. Just this time, you'd omit the baseball team-sized wedding party, cookie-cutter reception hall and lesser-known invitees like you mom's business partner's fiance's dog groomer. This time, it's Vegas, baby! Shrug off convention and hit Sin City. Renew your vows, or make new ones. If you immediately think of an officiating Elvis impersonator in a terrifically tacky roadside chapel, fear not! Swank hotels like The Cosmopolitan or Wynn will arrange intimate vow renewals on their luxe properties, if that's more your style.
Other pick: Glasgow, Scotland
While Vegas is always exciting and can be delightfully kitschy or elegantly decadent, you may prefer something more subdued. Another top contender on the New York Times' top places to visit in 2018, for a place to renew your vows, Glasgow is a city of revitalization. The historic beauty of Glasgow is everywhere, from grand Art Nouveau architecture to the carved vestiges of Viking invasion. The modern facet of Glasgow is booming and blooming, with 250 architectural projects to appear along the River Clyde by 2025.
Are you ready to fall in love with these destinations? Embark on the beginning of love's lasting journey. The starting point is now, and ends in never. If that sounds too much like a soppy Valentine's Day card, may we suggest a travel gift card instead? Don't miss our 7-day sale from February 7 to February 14, where you'll receive up to $50* bonus for future travel.
Let us play matchmaker to you and your perfect destination! Chat to us at 1-855-796-8359, book online or visit us at a store near you. The Love Travels Gift Card Sale is on from February 7 to 14.