The Best Corporate Travel Agency in Canada
We make our team a part of yours.
We are there for you around the clock, around the globe.
We believe options shouldn't be optional.
We love getting you more bang for your buck.
Call now:
1 866 940 0217
Our corporate travel agents value your business relationships
A Flight Centre business travel agent is an expert in the complexities of corporate travel. We know that your business travel is built on personal relationships, and we are passionate about helping you manage them and your company's bottom line, with carefully-executed corporate travel arrangements. Whether you travel a few times a year or you're flying weekly, you can trust your important professional bookings with an experienced Flight Centre corporate travel agent. The expertise of a business travel agency is indispensable for specialized and seamless travel. After all, when flying for business, it's you who is meant to be up in the air–not your travel plans.
---
Small Business Travel tailored to Your Needs
What makes Flight Centre corporate travel a good fit for your company? We are committed to an ongoing conversation with you, building a special rapport between you and your designated business travel agent. We assess your business requirements and goals, to customize your company's travel plans. Whenever last-minute changes arise, we are there at the eleventh hour, working behind the scenes for you, so you can focus on what's important – your business and clients.
We believe only a real person can deliver the attention your business requires.
It's a fact; today's technology improved the travel booking process leaps and bounds. While Flight Centre keeps up with the latest innovations, we are all about the human element. As travel business becomes more entrenched and reliant on technology, a crucial service is missing-- the personalized touch. If something goes wrong, from airplane mechanical issues, to airline strikes to inclement weather when you're away, you will be able to immediately connect with your dedicated corporate travel agent who gets to know you, supports your company and helps grow your business.
Flight Centre Canada is there for you around the clock, around the globe.
From time-zone differences to working overtime, we understand that business travel doesn't stick to business hours. Our approachable, 24/7 service gives you the peace of mind knowing that if anything goes wrong, we are there to make last-minute changes or additions. No matter what hour it is in your place in the world, your corporate travel agent is a phone call away, not an outsourced operation, nor a confusing online booking system. Trust your business travel to one of our hardworking and efficient corporate travel agents.
We have local travel agents with a global reach.
With locations across Canada, we're never too far from where you are. But Flight Centre's global network means we access the best deals on airfare, hotels and car rental backed by one of the world's most reputable and experienced travel companies.
We love getting you more bang for your buck.
Not only do we get travelling near and far, we'll stretch your dollar further, too. Your dedicated business travel professional knows the ins and outs of corporate travel. Call us diligent, or obsessed, but we love to to find little inclusions that will make a big difference to your travel experience, and to your budget. Whether it's a free in-flight meal, lounge access at a discount of stretching your frequent flyer points further, our business travel experts are adept at finding those things you can't necessarily find online, without insider knowledge like Flight Centre's.
Business Travel Made Easy
We offer dedicated business travel agents.
24/7 personalized emergency assistance.
The best available seat on the best plane, every time.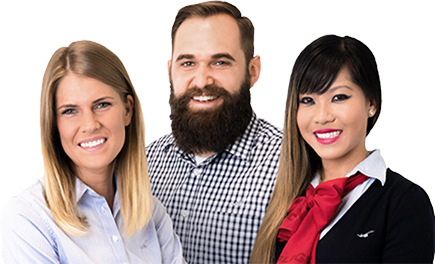 Corporate Travel Management
We are more than just business travel agents, we manage all your professional travel objectives. We create an ongoing relationship with you to ensure efficiency, both in time and cost, for your company.
You're never a stranger, even when your business travel agent is away.
Your individual Flight Centre corporate travel agent works within a small team of four to five consultants, all of whom are versed in your business. If your dedicated specialist is out of the office, another specialist who also knows your business will take over. This means, in emergency travel situations, you'll have a familiar voice at the other end of the phone. You also won't waste time explaining your schedule in the same time it takes us to fix the problem.
We believe options shouldn't be optional.
You're in the captain's seat when it comes to your business travel bookings. As corporate travel managers, we will always present at least three competitive options for flights, hotels and car rental. We think creatively and strategically to uncover options that you may not have thought of, or can't find online, to get you there more quickly, cheaply and comfortably. You don't need a Business Class boarding pass to get exceptional service and added perks.
We'll get back to you right away
You'll be able to access all these benefits, for a competitive service fee applied at the time of booking and on subsequent voluntary changes. We do not ask for a retainer and provide transparent pricing with no hidden fees that you won't need to explain at the next budget meeting. Please contact us for more details.
A simple charge for our service.
You'll be able to access all these benefits, for a competitive service fee applied at the time of booking and on subsequent voluntary changes. Please contact us for more details.