Your
open the world
dream job
opportunities
time to thrive
bright future
rewarding
centre
Come as you are
To open up the world for those who want to see
At Flight Centre Travel Group, our vision is to open the world for those who want to see.
As a global travel retailer, our people come from all different backgrounds, and our connections spread to the far reaches of the globe. Together, we are a family.
We offer genuine opportunities for people to grow and evolve. We embrace new experiences, seize all opportunities, and empower all our people to find their Brightness of Future.
We DREAM BIG through collaboration and innovation and are supported to make incredible ideas a reality.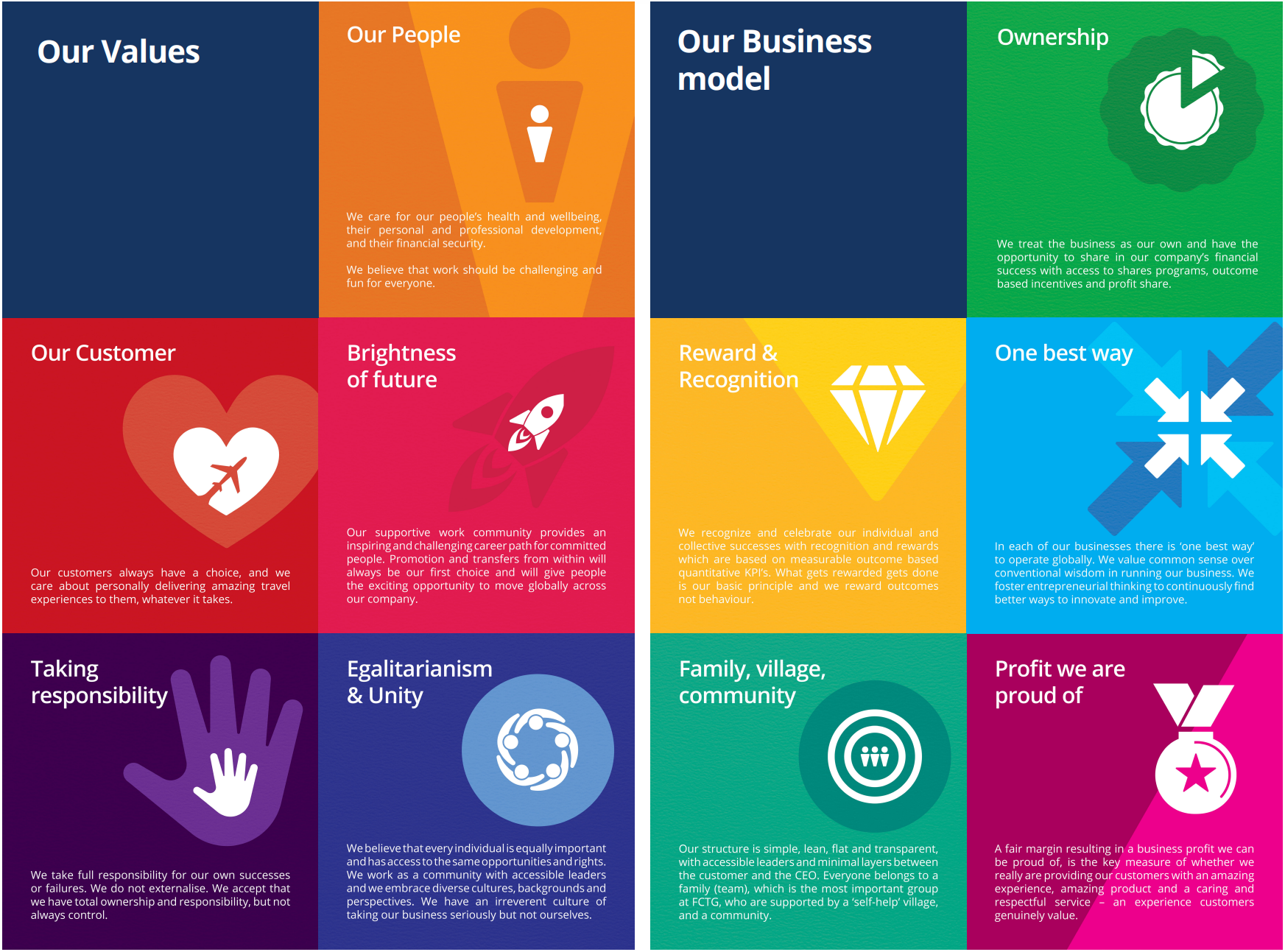 Our Philosophies
Our Philosophies are the ten beliefs that best define who we are and how we operate. They cover the expectations we place on our people, as well as our commitment to your Brightness of Future.
Why FCTG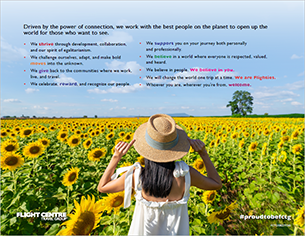 We support our people with opportunities to help you thrive, connect, give, move and get rewarded.

Challenge yourself, actively engage, move your mood
Our Healthwise department is here to help inspire and motivate you and your family to live your happiest, healthiest life. Get involved in our programs, events, challenges, workouts, meditations to help you succeed at whatever your health & wellness goals may be.

Listen, talk, be there, come as you are
We are committed to creating an inclusive and diverse workplace that supports your unique identity to create better, safer experiences for everyone.

Your time, your words, your presence
Whether it's giving through our Workplace Giving program or volunteering your contribution can make an impact to those communities where we live, work and travel.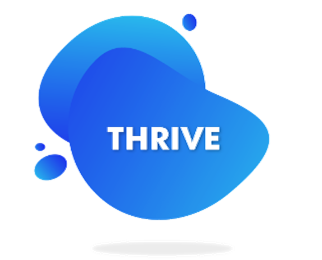 Embrace new experiences, see opportunities, find your BOF
We offer genuine opportunities for you to grow and evolve. We believe in providing you with the tools and development opportunities to flourish, both professionally and personally. All of our people are offered the opportunity to establish a long-term career pathway with access to mentoring and leadership development programs that will help you reach your potential.

Take notice, embrace the benefits, and celebrate
At the heart of everything we do is a desire to have fun. Our culture of Reward and Recognition is embedded in our everyday life. We believe in creating opportunities for our people to celebrate achievements and offer access to tangible benefits and discounts to really reap the rewards of working for a global company.

Stay informed, stay up to date, stay safe
Our company is our people. We care for our colleagues' health and well-being, their personal and professional development, and their financial security.