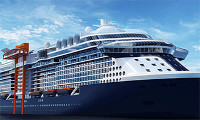 Cruise Fleet:
Celebrity Edge
Solarium

On Celebrity Edge, even our most popular Celebrity spots have undergone a transformation. The adults-only Solarium continues the tradition of a covered pool area where adults can unwind in modern luxury style, but now features a 3D art wall to represent the colors and movement of the ocean. It's the perfect complement to a serene atmosphere where you can restore both your tan and your sanity.
Magic Carpet

Designed to awaken the inner-child in all of us, the Rooftop Garden is full of unexpected pleasures day and night. Drift away to the rhythm of live musical performances coming down to you from treetop sculptures. Get caught up in a friendly game of giant chess. Catch a movie at A Taste of Film for an interactive fusion of food and film. Your imagination is your guide in this fantastic garden escape.
Overview

A ship designed to leave the future behind
Celebrity EdgeSM marks a turning point in our approach to ship design. From the very first sketches to experiencing those designs in a virtual reality setting, every step was done in 3-D. From the incredible new Magic Carpet to the private plunge pools in our new 2-story Edge Villas, we could design the most refined ship at sea. The unique outward facing design breaks from traditional ship design. Aboard, you'll feel more connected with the sea and the places you'll visit in a variety of spaces ranging from our Edge Staterooms with Infinite VerandasSM, to our reimagined, terraced pool deck that offers even greater views of the destinations and shimmer of ocean.
Pool Deck

High-ceilinged cabanas that face out to sea for private retreats. Two-story martini hot tubs. In-pool loungers and a 25-yard lap pool, the largest in our fleet. Oversized art installations and an abstract mirror installation positioned magnificently above the Pool Bar. On Celebrity Edge, the Pool Deck has been reimagined into a stunning asymmetrical space with a distinct resort-style atmosphere.
Onboard Experience

For modern adventurers, travel isn't a spectator sport. It's about being fully immersed in new destinations and cultures without sacrificing comfort and style. Celebrity Cruises knows this. After all, we set the standard for modern luxury travel. And now we've made the destination experience even more immersive, starting right on board.
From its unique outward-facing design to the industry-first Magic Carpet that reaches heights of 13 stories above sea level, Celebrity Edge breaks from traditional ship design. Here, predictability and convention are stripped away, returning luxury sea travel to its very essence: simple, beautiful, imaginative encounters that leave you relaxed, refreshed, and inspired by the world around you.
Eden
Eden, like so many aspects of Celebrity Edge, represents another revolution in modern luxury travel. It's a space where nature is so present, we call it "a room that lives." It's an experience so multi-faceted and innovative, you won't find anything else like it as sea - or anywhere. And no two visits to Eden are ever the same.
Resort Deck
With its stunning, untraditionally asymmetrical main pool area, new Rooftop Garden, multi-level jogging track, and a reimagined Solarium, the Resort Deck is unlike any other outdoor space at sea. Or anywhere else on earth.
Pool Deck
Forget about old-school cruise ships, which typically set up rings of decks chairs to look inward at a swimming pool. On Celebrity Edge, our reinvented outward-facing Pool Deck make sweeping ocean views and landscapes the focal point.
Solarium
One of the most popular spots on every Celebrity ship, the Solarium has been reimagined by celebrated architect Tom Wright, who used the ocean as his inspiration for this adults-only sanctuary.
Magic Carpet
The industry-first Magic Carpet is both the best way to take in spectacular views and the most exciting place to be. By changing function and location, it provides an incredible array of visual perspectives and a distinct experience on every deck it visits.
Rooftop Garden
The Rooftop Garden is like a hidden pocket park in a bustling city neighborhood - that just happens to be miles out at sea. This relaxed yet playful outdoor escape atop the ship helps grown-up vacationers reconnect with their inner child, and offers a place to slow down, daydream, and have some fun.
The Meeting Place
With 1,970-square-feet of flexible space, The Meeting Place is perfect for your next event. Strategically situated to provide stunning ocean views, the venue can be configured for any need - general sessions, conferences, banquets, or cocktail seating. Seating is modern and comfortable, with options for theater-style, classroom, U-shaped, or circular layouts. And, when top of the line AV comes standard, the only thing left to do is close the deal.
The Destination Gateway
A new multi-purpose area that brings our destinations to life, The Destination Gateway is a portal that leads to all things global through onshore exploration and onboard enrichment. When not in use as a luxury embarkation station, the space is transformed into an intimate setting for programming centered on destination immersion, shore excursions, and more.
Edge Launches
The comfortable and welcoming environment of The Destination Gateway leads to our newly reimagined Edge Launches. With bucket seats, air conditioning, large windows for stunning sea-level views, and more space, they are designed to get you to your destination in modern-luxury style every step of the way, right up to your first step ashore.
Ship Facts

Occupancy: 2,908
Tonnage: 129,500
Length: 1,004 feet
Beam: 128 feet
Draught: 27 feet
Cruising Speed: 21.8 knots
Acessibility from Bow to Stern

Board with ease
For those with mobility issues and other disabilities, our attentive crew is always on hand to take the hassle out of getting on and off the ship.
Accessible Staterooms
Our accessible staterooms are designed with wider doors, roll-in showers, grab bars, and other special features for guests with mobility issues and other disabilities.
Autism Friendly Cruising
Celebrity Cruises has achieved Autism Friendly Cruise Line status, having completed Autism Friendly Certification with Autism on the SeasTM
The Fleet of Celebrity Cruises