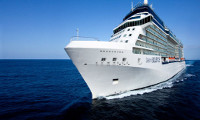 Cruise Fleet:
Celebrity Solstice
Ship Facts

Occupancy: 2850
Tonnage: 122,000
Length: 1041 ft
Beam: 121 ft
Draught: 27 ft
Cruisespeed: 24 kts
Inaugural Date: Nov 23, 2008
Summary

Ranked among Top 20 Large Cruise Ships in the Conde Nast Traveler 2014 Reader's Poll.
Celebrity Solstice is one of our most decorated ships. So it's no wonder that it's full of "firsts." The first Lawn Club at sea. The first Hot Glass Show;. The first cruise line to have five women, known as "the Leading Ladies," redesign its staterooms. Our passion for outstanding cuisine takes the onboard dining experience to a whole new level. But luxurious staterooms and specialty restaurants are only part of this ship's charm. Celebrity Solstice also features Canyon Ranch SpaClub and fitness center. Pamper yourself with spa treatments or push yourself in a workout with one of our expert trainers. If only life on land were as good as life on board this exceptional vessel.
Bars & Lounges

Each of our clubs, bars and lounges is a unique destination unto itself, with menus offering a diverse selection of classics to complement the latest trends. Some also reflect the regions we visit. To keep our menus dynamic and fresh, we work with a variety of sources including Mixologists from the brands we serve and our creative, passionate team of beverage specialists at each bar.
Passport Bar
Relaxing and inviting, its position right off the grand foyer means this may be the first, but not the last, place you stop to sink into a chair and enjoy a cocktail. Enjoy classical music from our string quartet, or kick off your evening with jazz, Big Band, and other popular music.
Martini Bar & Crush
Our talented bartenders put on a high-energy show preparing an intriguing menu of classic and contemporary martinis, served on an ice-topped bar. Enjoy a collection of rare vodkas and a portfolio of fine caviars.
Cellar Masters
Cellar Masters lets you try a bold collection of both familiar and unknown wines from around the world.
Michael's Club
This exclusive 24-hour lounge features a large-screen TV, reading areas stocked with magazines, newspapers, and books, plus a continental breakfast. Complimentary pre-dinner drinks and tapas are served 5:00 PM - 8:00 PM daily, and the dedicated concierge can help arrange your specialty dining, shore excursions, and even handle inquiries about various ports of call.
Cafe al Boacio & Gelateria Experience
Inspired by the ambiance of European cafés, muted sepia tones and pops of citrus yellow bring this space to life. Follow the irresistible aroma of Lavazza espresso, or choose from over a dozen premium hot teas from the innovative Tea Forté. Daily specialties include French pastries, gourmet coffees, and elegant desserts. Café al Bacio also features an authentic Gelateria with artisan flavors and fresh fruit sorbettos—in piccolo or grande, whatever you choose.
World Class Bar
Welcome to our "fine drinking" experience, where the ritual of making cocktails is just as exciting as drinking them. Using the freshest ingredients and the finest spirits, our expert mixologists aim to satisfy the palates of both curious newcomers and connoisseurs alike.
Ensemble Lounge
Ensemble Lounge is the ideal setting for an aperitif en route to an extraordinary dining experience, or a digestif afterward. Live entertainment from world-class musicians and a "dressed for dinner" crowd make this elegant space a fantastic start or end to your evening.
Pool & Mast Bar
Gourmet food poolside. Enjoy delicious eats while you relax in the sun.
Sunset Bar
Watch the world go by with a cocktail in hand.
Quasar
Step back in time for an evening of dancing. Our retro-chic nightclub for the late-night crowd, Quasar features DJs spinning the best of today's dance and club favorites.
Sky Observation Lounge
The perfect daytime spot to gaze over the sea with a cocktail in hand. At night, the space comes alive with live music and dancing. Featuring twelve signature Zodiac cocktails based on your astrological sign, all prepared by flaring mixologists.
Things to Do

Make the most of your vacation time and continue your health, fitness and wellness routine while on board. You're invited to indulge your mind, body and spirit in the state-of-the-art fitness facilities with soaring floor-to-ceiling windows. Experience the profound pleasures of the spectacular spa setting with luxurious services and enlightening presentations designed to restore your serenity and leave you feeling fantastic.
Canyon Ranch SpaClub
Since the first Canyon Ranch wellness resort was created in 1979, the Canyon Ranch experience has been focused on pursuing optimal health, learning how to feel your best every day. Encouraging people to become more active, informed participants in their health care, because wellness is largely based on everyday lifestyle choices about nutrition, stress management, preventative care and staying fit. You can find a place where you can relax, reduce stress and have a great time.
Fitness Center
Bring your workout routine along for your modern luxury cruise. Reflection's fitness facilities feature a jogging track, sport court, and a full suite of state-of-the-art cardio, core, and weight training equipment for every fitness level. Get shipshape and enjoy beautiful ocean panoramas through the fitness center's floor-to-ceiling windows.
Health & Wellness Programs
Make the most of your vacation time and continue your land-based health, fitness and wellness routines. Guests are invited to indulge their mind, body and spirit with state-of-the-art fitness facilities with soaring floor-to-ceiling windows, and a variety of spa amenities and offerings on board.
Restaurants and Cafes

Enjoy an amazing array of flavors and a wide selection of restaurants to suit every mood. Our menus are inspired by, and sourced from, the incredible regions we visit.
Silk Harvest
A subtle taste of Far East delicacies meant to share. The bright neon of bustling Shanghai and Tokyo meets the deep reds and subdued ochres of ancient temples. Silk Harvest offers guests a dining experience inspired by our favorite destinations in Asia, with an emphasis on unparalleled freshness and quality. Our waitstaff, all from Asian countries themselves, will be delighted to walk you through our authentic and expansive menu, and share a piece of home with diners on board.
Tuscan Grille
Rustic elegance with a contemporary, minimalistic edge. Guests dining in Tuscan Grille will enjoy a lively, sophisticated atmosphere, serving iconic Italian dishes with a modern twist.
Sushi On Five
Sushi restaurants. Wildly popular from the day it appeared, Sushi on Five satisfies your craving for locally sourced, authentically prepared sushi and other Japanese specialties from a menu crafted by expert restaurateur and sushi chef, Yoshikazu "Yoshi" Okada. Treat yourself to the complex flavors of a hand-made sushi roll or nigiri featuring tuna albacore, shrimp, eel, and other fresh selections, or savor the simplicity of yellowtail, salmon, and octopus sashimi. Your culinary experience would be incomplete without dessert - be sure to try the caramelized gingerbread with wasabi gelato.
Murano
Classic French dishes - with a contemporary twist - serve as the inspiration for Murano's menu. Enjoy nouveau cuisine with old-world charm, as we prepare some of our signature dishes tableside while you watch.
Main Restaurant
This sophisticated restaurant with a wide range of globally-inspired dishes created by a Michelin-starred chef will provide the fine dining experience you love while you're on vacation. The airy Main Restaurant offers exquisite menu selections, which change nightly to give you a variety of classic and contemporary choices. And the service? Legendary.
Oceanview Cafe
A market-style cafe that features select offerings inspired by the destinations we visit.
AquaSpa Cafe
Celebrity was one of the first cruise lines to offer a spa restaurant. We saw an opportunity to create an extension of our industry's leading spa experience by introducing the AquaSpa Cafe. Renew and Refresh. Fresh, spa-inspired delights to nourish body and mind.
Blu
Clean, crisp flavors and inventive cuisine meet an extensive list of sustainable and biodynamic wines. Personalized service, inviting surroundings, and natural light are all part of the fresh and bold aesthetic of Blu.
Accessibility from Bow to Stern

Board with Ease
For those with mobility issues and other disabilities, our attentive crew is always on hand to take the hassle out of getting on and off the ship.
Accessible Staterooms
Our accessible staterooms are designed with wider doors, roll-in showers, grab bars, and other special features for guests with mobility issues and other disabilities.
Autism Friendly Cruising
Celebrity Cruises has achieved Autism Friendly Cruise Line status, having completed Autism Friendly Certification with Autism on the SeasTM
The Fleet of Celebrity Cruises