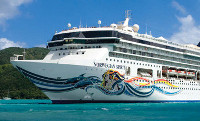 Cruise Fleet:
Norwegian Spirit
Ship Summary

Explore the history of the Mediterranean, feel the balmy breezes of the Bahamas and the Caribbean, or just sit back and relax while you cruise across the Atlantic. Whatever you choose to do, you will be traveling in style on Norwegian Spirit. While onboard make a trip to the Tivoli Pool, soak in one of our four outdoor hot tubs, or take the kids to Buccaneer's Wet and Wild. That's just the beginning - with 14 delicious dining options, 12 bars and lounges, the Maharaja's Casino, and the Roman Spa & Fitness center at your fingertips, you're ready to have a vacation of a lifetime!
Ship Facts

Passenger Capacity: 2,018 (double occupancy)
Gross Register Tonnage: 75,904
Overall Length: 880.2 feet
Max Beam: 126.6 feet
Draft: 26 feet
Engines: Diesel Electric
Cruise Speed: 22.5 knots
Crew:912
Year Built 1998
Refurbished 2017
Bars & Lounges

Atrium Cafe & Bar
Serves frozen coffees, espressos, cappuccinos, teas, pastries and cookies.
Bier Garten
Outdoor bar serving snacks and premium beers.
Champagne Charlie's Champagne Bar
Decorated in a classic art deco motif, you can enjoy a full range of premium champagnes with caviar and foie gras at Champagne Charlie's. All you need now is an excuse to celebrate.
Galaxy of the Stars Observation Lounge
Sit back and take in the beautiful colors of the sea and sky as the sun sinks into the ocean with a full bar as a backdrop. Yummy appetizers change daily.
Henry's Pub
Going down to the pub takes on new meaning at Henry's Pub, a traditional English Pub featuring Dart Boards, large screen TV's, Fish n' Chips and the proper beer on tap.
Maharajah's Casino Bar
This could be your lucky night. Try your hand at one of 158 slot machines. Or play, Blackjack, Roulette, Craps and Let It Ride (TM). Maharajah's Casino includes a full bar.
Maharini's Lounge & Nightclub
Lets go to South Beach and dance the night away at this Indian/Bollywood style lounge and nightclub.
Shanghai Bar
Just your typical sports bar, with an Asian twist. Enjoy a broad selection of premium beers and pub snacks while catching game highlights.
Activities

Basketball Court Shoot hoops or join a pick up game at the net enclosed, outdoor Basketball Court.
Buccaneer's Wet & Wild Kids will love Buccaneer's Wet & Wild pool complete with slides, paddling pool and a hot tub just for kids.
Celebrity Teen Disco Get down and get funky at this disco. It's the hottest spot on the ship for the hip teen crowd complete with video, jukebox, bar fooseball and air hockey.
Conference Area & Meeting Rooms Norwegian Spirit's meeting room area features three individual rooms. The Boardroom, Clipper Room and Schooner Room can be converted into boardrooms, classrooms or theater-style meeting rooms.
Golf Driving Net Fore! Take your clubs out for a drive at one of two Golf Driving Nets onboard, because there's no such thing as a lost ball or a bad drive on Norwegian Spirit.
Grand Centrum It's located in the middle on the ship, where you'll find the Main Reception and the Shore Excursion desk.
Hot Tubs There are four outdoor hot tubs on board Norwegian Spirit near the Tivoli Pool. Plus, plenty of deck space and numerous sun beds and deck chairs to choose from.
Jogging/Walking Track Run circles around the other guests or get your daily walk in before breakfast on the outdoor track.
Maharajah's Casino This could be your lucky night! Try your hand a one of 158 slot machines. Or play, Blackjack, Roulette, Craps and Let It Ride.
Mandara Spa & Salon If being pampered is your idea of a vacation, the Mandara Spa & Salon is for you. This full service beauty salon and spa offers a wide range of spa treatments to rejuvenate you.
Oscar's Hair & Beauty Salon This full service hair and beauty salon offers a full range of services for your hair. Oscar wouldn't have it any other way.
Roman Fitness Center
Work up a sweat on a full range of exercise machines in our gym. The Roman Spa & Fitness Center is open from 6am to 11pm.
Splash Academy Get into the zone of fun because Splash Academy is just for kids! With interactive games, an arts and crafts area and creative theme nights kids can do what they do best - be a kid!
Stardust Theater It's showtime! And we've got a really big show for you at the Stardust. Enjoy Broadway and Vegas-style shows with cocktails before or after dinner in a traditional European opera style auditorium reaching up two decks.
The Card Room Here is one room where playing games is not just encouraged, it's expected. Find another couple and play bridge or test your skill with chess, checkers, Scrabble and more.
The Library You'll find a well-stocked selection of things to read with all the elegant trimmings a good library deserves including a stellar view.
The Lifestyle Room/Internet Cafe Our Internet Cafe offers you the comfort and convenience of staying in touch via the Internet while you are Freestyle Cruising.
The Smoking Room
Step into the world of rolled premium cigars, cognacs and spirits at The Smoking Room. This is one place where it is completely acceptable to light up in public.
The Tivoli Pool
The main pool aboard Norwegian Spirit boasts four hot tubs and numerous deck chairs and sun beds.
The Writing Room
Looking for a quiet place to write postcards and update your journal? The Writing Room is the ideal place to escape for a few quiet moments.
Video Arcade
There's a lot of fun to be had here. Stop by and capture a few aliens, win a car race, play pinball and fly a jet fighter. Anything is possible at the Video Arcade.
Shopping
Jewelry & Duty Free Shops
There's never a jewelry store around when you need one, right? Luckily you're onboard Norwegian Spirit, where you can choose from a fine selection of gems and jewelry designs for that special someone.


Galleria and Photo Gallery
Our collection of beautiful photographic prints is worthy of any wall. Be sure to check them out at the Photo Gallery.
Entertainment

Elements
Come and experience Norwegian Cruise Line's new production show - ELEMENTS! From mesmerizing magic to the visual feast of flying to exciting music and dance, this dazzling show will revel in the four elements of Earth, Air, Water & Fire. This show is an incredible spectacle of wonder, enchantment and sensual delight.
Soul Rockin' Nights
Rock the night away with this high energy party that celebrates the sounds of soul to the raw force of Rock 'n' Roll. Kick up your cowboy boots, then chill out to the sweet sounds of folk and get thrown back with the power rock of the 80's!
World Beat
A musical voyage around the world! Feel the percussive beats of Irish tap dancing, the soulful cadences of New York City street stomps, the haunting drums of Africa, the dramatic Kodo rhythms of Asia & more.
Dining

(Complimentary)
Every cruise fare includes beautifully crafted menus in our two main dining rooms, a help-yourself buffet and a variety of casual cafes, grills and on-the-go choices. From fresh-baked breads, desserts and pastries to our chefs' original dishes made with the freshest ingredients, your dining can be as fine or fun as you want.
Bier Garten
Friends, fun and an international selection of beer. What more could you want? How about amazing views and Bavarian dishes like knackwurst? The Bier Garten has those, too.
Blue Lagoon
In honor of the midnight snack, we bring you Blue Lagoon open round the clock. You'll find comfort-food favorites like potato skins, wings, fish & chips and chicken fingers, available anytime you're hungry for more, 24/7.
Raffles Court
Omelets and pastas made to order, a fantastic salad and dessert bar, carving stations, you never know what you'll find each day, but it's always action packed and satisfying. Little kids even have their own pint-sized buffet and dining area.
Shogun
Enjoy a complimentary Asian Fusion dining venue featuring freshly prepared noodles, delicious wok fried dishes, authentic soups, and more.
The Garden Room
Enjoy five-course dining dishes in a more intimate atmosphere with views of the sea and sky.
Windows Main Dining Room
Welcome to Windows, where you can enjoy delicious three-course feasts in a beautiful room named for its panoramic view.
Specialty Dining
Dining aboard Norwegian is about having choices. Enjoy delicious comfort foods as well as more exotic choices from our many complimentary dining options. Or widen your palette further and choose from our specialty restaurants for a cover charge or a la carte. Whether it's a cheeseburger you have a desire for, or Coq au Vin, your dinner is ready when you are. And if you book a Specialty Dining Package, you can savor an array of our specialty restaurants for one special price.
Atrium Cafe & Bar
Relax in the center of the hustle and bustle of the Atrium. Linger with cocktails or coffee in this grand space that offers three-deck vertical views and a two-story Wii wall.
Cafe 49
Find a delicious cup of coffee, tea, espresso or something with even a little more kick at The Cafe. Nibbles like pastries and cookies are also available along with Internet facilities.
Cagney's Steakhouse
Steak is the standard at our American-style steakhouse. Pull up a seat and take your pick from premium cuts of Angus Beef. Your mouth will water, so sip your favorite cocktail in anticipation. And don't forget to order our made-from-scratch jumbo crab cakes and a side of our famous truffle fries.
La Trattoria
Enjoy the flavors of the Tuscan countryside at tables with room for old friends and new. Dine on classic dishes where you can taste the freshness of every tomato used to make an exquisitely delicious sauce. Try a twist on a classic like shrimp fettuccine, or keep it purist with a osso bucco. Just when you think you're out, they'll pull you back in with a toasty espresso and some macadamia nut ice cream. Delizioso!
Le Bistro French Restaurant
Have it au poivre or just go straight for the bouillabaisse at our signature French restaurant. Elegant interiors and attentive servers make this an intimate dining experience reminiscent of a Parisian cafe. By the end of your meal, you'll might just be proclaiming c'est magnifique!
Sushi
The Shogun Asian Restaurant also has a Sushi and Sashimi Bar where you can enjoy the very best sake and expertly prepared sushi and sashimi as you watch.
Teppanyaki
Flying shrimp. Onion volcanoes. Twirling knives. The sizzles and surprises never cease at our authentic Japanese Hibachi restaurant. Sit around a lively shared table as a skillful chef slices, chops and grills steak, seafood and chicken on a large steel grill right before your eyes. Our chilled, sake-infused Wasabi Cocktail will have you flipping too.
The Fleet of Norwegian Cruise Line