Viking Cruises
An extraordinary, refined experience
Viking presents an exciting opportunity for travellers to see new destinations and experience new cultures. See the wonders of the world as you meander through its waterways and oceans aboard an intimate five-star floating hotel, indulging in fine dining, and relaxing in deluxe accommodations.
Viking River Cruise Deals
Flight Centre and Viking Cruises have partnered to offer you an exclusive deal for one week only. Discounted cruise rates, exclusive onboard credits and more available until May 31, 2018. Book now and save!
Cruise down one of Europe's best-loved rivers visiting turreted fortresses, grand cathedrals and spectacular scenery from Amsterdam and Cologne to Basel on the Rhine Getaway. Tap into your inner van Gogh at an Arles painting class before hunting for truffles and savouring Beaujolais wines on a Lyon & Provence cruise down the Rhône. Or journey down the "Blue Danube" exploring Austria's most revered monastic centres, Budapest's Castle District, medieval towns, grand cities and more!


All advertised prices include taxes & fees. Air only prices are per person for return travel in economy class unless otherwise stated. Package, cruise, tour, rail & hotel prices are per person, based on double occupancy for total length of stay unless otherwise stated. All-inclusive vacations include airfare. pp=per person. Prices are for select departure dates and are accurate and subject to availability at advertising deadline, errors and omissions excepted, and subject to change. Taxes & fees due in destination are additional and include, but not limited to, local car rental charges & taxes, one-way rental drop fees which are to be paid upon arrival, resort fees & charges, tour 'kitty', airline baggage fees and cruise gratuities.
Receive $100* onboard credit exclusive to Flight Centre with Viking River Cruises.
*Conditions apply. Receive $100 shipboard credit with Viking River Cruises exclusive to Flight Centre. Offer is applicable on any new 2018-2020 River or Ocean bookings made between May 24 – June 15, 2018. Offer does not apply to River – China, Vietnam/Cambodia or Egypt. Offer subject to availability and change without notice, capacity controlled and may be withdrawn at any time. Full cancellation penalties will apply. Additional restrictions may apply. Not applicable on bookings made at flightcentre.ca. Please ask your Flight Centre Expert Traveller for more details. Offer applies to new bookings only. Offer expires June 15, 2018.
Save up to $1600* per couple plus receive FREE* air on select sailings with Viking River Cruises.
*Conditions apply. Save up to $1600 per couple plus receive FREE air on select sailings with Viking River Cruises. Offer valid on bookings made from May 9 to June 15, 2018. Additional cruise savings of $1,600 CAD per couple based on Sept 2018 (category E) included in cruise price. Viking all-inclusive air with transfers available. Air does not have to be purchased to get cruise/tour offer. Additional restrictions may apply. Book by June 15, 2018. Pay in full at time of booking. Offer expires June 15, 2018. Air Promo: FREE Economy air based on Jul-Sept 2018 departures of Rhine Getaway (categories E & F). Air seats are limited; airfares are subject to change until full payment of air is received. Air offers valid on all published Canadian gateways. Ask for Offer SLS18. Offer expires June 15, 2018. Not applicable on bookings made at flightcentre.ca. Please ask your Flight Centre Expert Traveller for more details. Offer applies to new bookings only. Offer expires June 15, 2018.
Why Choose Viking Cruises
Viking's intimate small-ship experience will change the way you travel and see the world. Owning and operating the world's largest fleet of river cruise ships—and now three new ocean vessels—has advantages for Viking River Cruise guests. When you cruise with Viking, you'll experience a level of expertise second to none.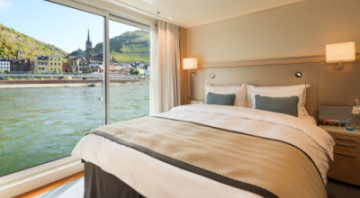 Elegant, comfortable staterooms and suites are your home away from home as you explore the world aboard award-winning Viking River Cruise ships. Engineered by nautical architects and hotel designers, the light-filled airy spaces throughout the vessel, serene Scandinavian design, and state-of-the-art amenities will inspire your journey.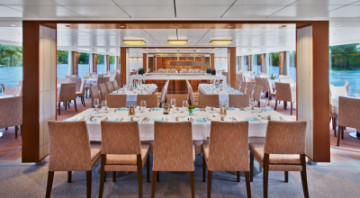 Onboard amenities include a restaurant, bar and lounge, library and expansive sun deck. The ships feature an elegant Scandinavian design and "green" features, such as solar panels, an onboard organic herb garden and energy-efficient hybrid engines for a remarkably smooth ride.
Immerse yourself in the local customs and culture with Viking's destination-focused approach to river and ocean cruising. Viking's optional and included excursions present the perfect opportunity to go beyond the expected and to take a peek behind the scenes with enriching experiences like Local Life, Working World, and Privileged Access.
Viking was recently named the Best River Cruise Line by Condé Nast Traveler in their 2017 Readers' Choice Awards and, for the second year in a row, the #1 Ocean Cruise Line* by Travel + Leisure readers in the World's Best Awards 2017.
Looking for more Viking Cruise options? Speak to one of our knowledgeable Expert Travellers for more information. Call us at 1-855-796-8359, or visit your closest Flight Centre store.