Flight Centre's GroupVantage
Travelling with a group of 10 or more? Don't miss this exclusive, value-added program.
GroupVantage proves there's strength in numbers, offering savings and benefits for you and your travel group. Here's a check list of what you'll receive, followed by details about each item.
Choose from Essential or Preferred Packages and add GroupVantage to your group travel check list!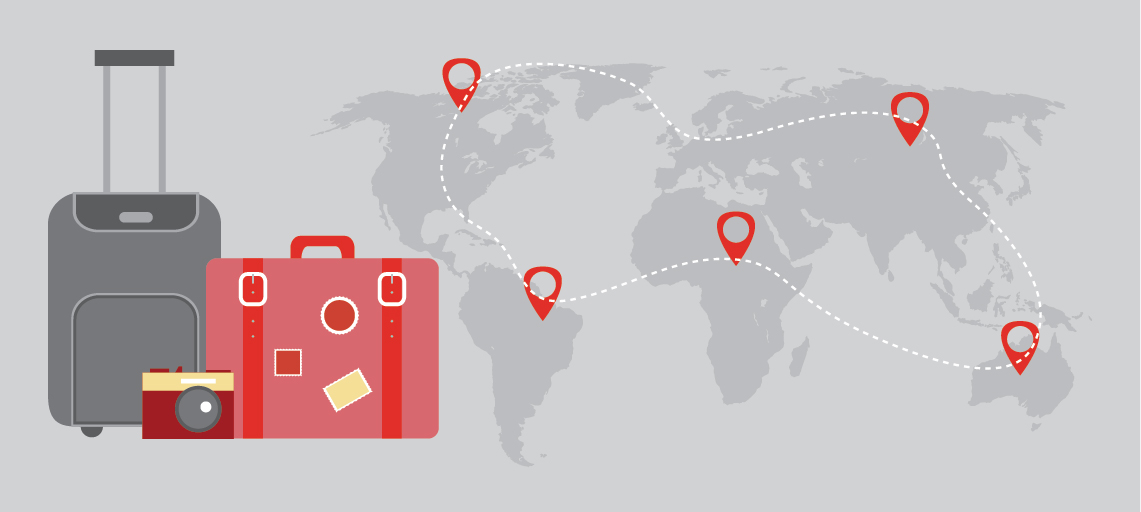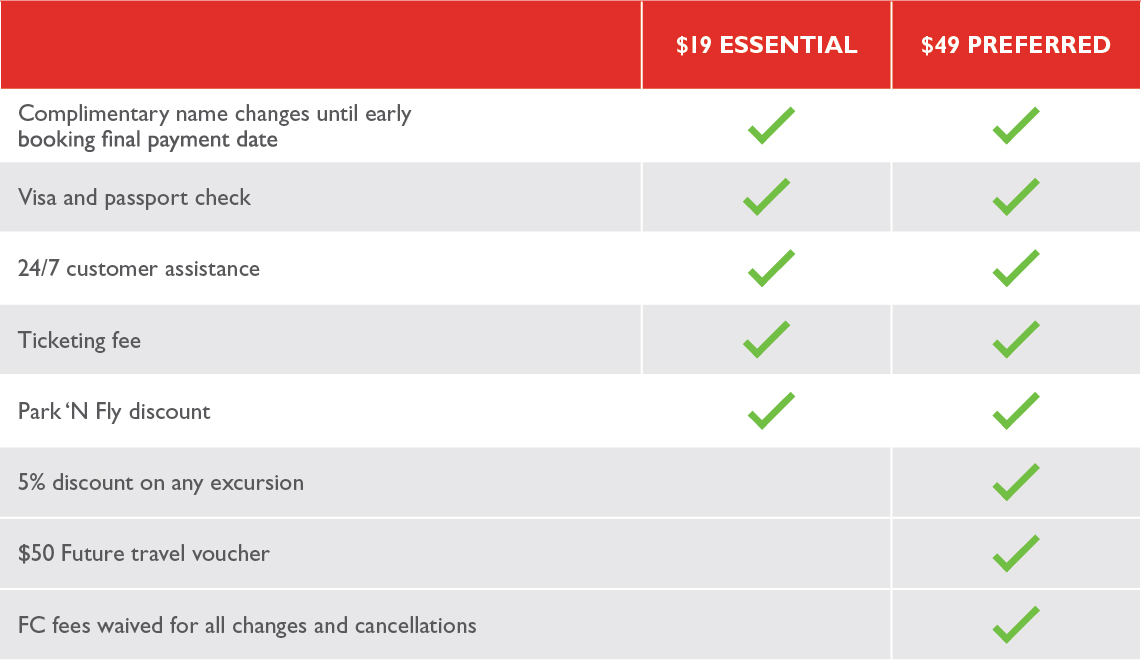 Complimentary Name Changes until early booking final payment

date.
We included this helpful option after our many years of experience booking group travel. In almost every reservation, there is someone who must back out, and another who wishes to join the group instead. This option allows flexibility where there often is none, or without the expensive price tag associated with name changes on a booking.
Visa and Passport Check

*
Travel visas can be complex, and passport rules for many countries can be complicated, too. We'll take care of this for you while taking away confusion with expert advice on what documentation you need.
24/7 Customer Assistance
Even with group travel, when things go wrong, it's easy to feel alone. Our 24/7 team is always available to assist you. Whether it's an airline problem or inclement weather, when plans change, we are only a call away.
Waived Fees
Ticketing fees, as well as change fees, cancellation fees, as well as fees incurred with a change of supplier, are waived under this program.
Park 'N Fly discount
Helpful savings for you, as well as facilitating ease of travel.
5% discount on any excursion
Just our way of reducing your costs, so you can broaden your horizons.
1

0% discount on any private transfer or excursion booked
Putting some extra money back in your pocket when you reserve an excursion on your travels, or book private transportation from airport to hotel.
Future Travel Voucher*

*
When you choose our Preferred package, it pays for itself in future travel credit.
---
*T&Cs: It is your responsibility to have a valid passport, visa and/or other travel documentation. A passport is the only reliable and universally accepted travel and identification document. Using other documentation may result in delays or being denied boarding.
Change of length of stay may result in a change of documentation needed to travel

Any Visa advice provided to you is dependent on the accuracy of the information provided by you. Visa advice is current but can change prior to your intended travel.

Verification of documentation requirements must be done when travel dates nears.

Failure to provide the required documents may result in being denied boarding privileges by the carrier or relevant authorities, without further recourse or the possibility of a refund.

Cruise passengers must present a valid passport, regardless of the entry requirements for their country of embarkation.

To re-enter Canada, you must have valid Canadian passport, you need to show Permanent Resident card or Canadian Visa.

Immigration authorities have the sole discretion to deny entry even when the relevant documentation is provided. A travel

l

er with criminal history may be denied entry.

We recommend that you inquire with the Consular Affairs Bureau for Canadians Abroad or review online the Essential Information for Canadian Travel

l

ers Guide at

voyage.gc.ca

.

For some countries, international health certificates and vaccinations are required.

Some countries require travellers to be issued a special international driver's permit and/or international proof of insurance.

Domestic Flights:

all passengers must be in possession of government-issued photo identification. Children under 16 should carry proof of identity, if no photo ID is available.
**Conditions: The travel voucher is not a credit card. The travel voucher cannot be used to purchase other gift cards or applied to another booking containing another travel voucher. Travel vouchers cannot be resold, transferred for value, or applied to any other account, except to the extent required by law. Travel Voucher will expire 12 months after the date of issue. It is recommended that a travel voucher recipient retains the travel voucher even if there is no balance on the travel voucher for the sole reason that if a refund is processed and owing to the recipient for the cancellation of a travel booking that the refund amount can be facilitated onto the original travel voucher that was used to purchase that same travel booking. It is required that any eligible amount credited to the Recipient is processed towards the travel voucher that was originally used to purchase the travel booking that is being refunded. It is thus recommended that even if the balance is zero on the travel voucher, to retain and not destroy the travel voucher for an additional 6 months beyond the purchased date of the travel services. Travel vouchers with a zero balance for more than one year may be deactivated. The travel voucher can be redeemed by individuals over the age of majority of the province of residence that lawfully enter into and form contracts under applicable law. By using the travel voucher, you represent and warrant to us that you are such an individual. The travel voucher is a prepaid gift card that can be used for travel booking purchases from Flight Centre. The travel voucher may not be refunded or exchanged for cash, cash equivalents (such as money order or cheques), or credit.