Transat Vacation Deals
Transat brings you more value-packed holiday options than any other travel provider. For quality winter and spring sun, Transat packages deliver the perfect family or couples getaway, complete with flights, transfers and a selection of all-inclusive resorts. Ready for a beach break? We've got your ticket! Book online or with our Expert Travellers today.
Transat
Exclusive travel benefits, beautiful beachfront properties, and personalized service, Transat brings them all together with its Luxury & Distinction Collections, Club Class, and Option Plus flight upgrades.
Start your holiday with more comfortable departures with Air Transat. With Club Class and Option Plus, you can skip the long lines at the airport. Board ahead of the crowd with dedicated check-in counters, priority queues and boarding, extra luggage allowance and handling.
Club Class features spacious, reclinable seats, along with a selection of gourmet meals offered by Chef's Menu. Order specially prepared entrees created by renowned chef Daniel Vézina, and enhance your flight with recipes tailor-made for the journey.
Discover a more refined sun holiday with Transat's Luxury Collection. Fully immerse yourself in premium amenities exclusive to the collection's 4-star and up accommodations. From acclaimed all-inclusive resorts to contemporary hotels, each vacation package comes with the added benefits of private roundtrip transfers from the airport to the hotel, concierge or butler service, unlimited gourmet dining options, special access to spa facilities, and many more complimentary perks.
With the Distinction Collection's superior accommodations, you'll find luxury every step of the way on your next trip. Soak up the sun while knocking back welcome cocktails, local refreshments, and your choice of international drinks. Gain exclusive discounts to resort facilities, roundtrip transfers from the airport to the hotel, guaranteed restaurant reservations, and concierge service throughout your stay.
Travel smarter and with style, only with Transat!
Looking for more options? Speak to one of our Expert Travellers today. Call us at 1-855-796-8359, chat us online or visit your local Flight Centre store.
Showing results 1 - 10 of 61
Showing results 11 - 20 of 61
Showing results 21 - 30 of 61
Showing results 31 - 40 of 61
Showing results 41 - 50 of 61
Showing results 51 - 60 of 61
Showing results 61 - 61 of 61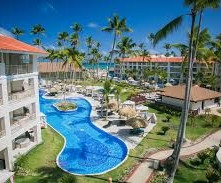 Majestic Mirage Punta Cana Resort
All Inclusive
|
Punta Cana, Dominican Republic
TS 998 Class Y
TS 999 Class Y
Alternate flight options available.
$3,379
per adult
including taxes & fees
*Prices are per person based on double occupancy. Taxes & fees are included in all above prices. All prices displayed on the website are for comparative purposes only and are subject to change without notice. Airlines and Service Providers may change the prices at any time. Your final price will be verified at the final booking screen.
All advertised prices include taxes & fees. Air only prices are per person for return travel in economy class unless otherwise stated. Package, cruise, tour, rail & hotel prices are per person, based on double occupancy for total length of stay unless otherwise stated. All-inclusive vacations include airfare. pp=per person. Prices are for select departure dates and are accurate and subject to availability at advertising deadline, errors and omissions excepted, and subject to change. Taxes & fees due in destination are additional and include, but not limited to, local car rental charges & taxes, one-way rental drop fees which are to be paid upon arrival, resort fees & charges, tour 'kitty', airline baggage fees and cruise gratuities.