Our clever robots are fetching the
latest deals across every airline...
Vacation Packages to Punta Cana from Calgary
Before you thank us for being so generous, we can't take all the credit for our cheap Calgary to Punta Cana vacation packages–it does help that the Dominican Republic is one of the least expensive Caribbean islands. See for yourself, right here.
Our Latest Vacation Deals
---
Cheap Vacations to Punta Cana from Calgary
Showing results 1 - 1 of 1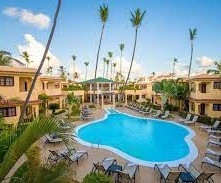 Whala Bavaro
All Inclusive
|
Punta Cana, Dominican Republic
Operated by
Air Canada Vacations
AC 132 Class Y
AC 935 Class Y
Alternate flight options available.
$1,629
per adult
including taxes & fees
*Prices are per person based on double occupancy. Taxes & fees are included in all above prices. All prices displayed on the website are for comparative purposes only and are subject to change without notice. Airlines and Service Providers may change the prices at any time. Your final price will be verified at the final booking screen.