ACCESSIBLE TRAVEL
Accessible Travel Vacations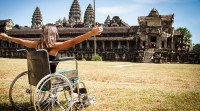 You don't believe physical ability should stop you from travelling, and neither do we.
As an accessible travel agency, Flight Centre's mission is to open up the world to those who want to see. With the best selection of accessible vacations for people with disabilities, deciding where to go will be the only thing getting in your way.

Our accessible travel specialists are with you every step of the way to ensure your vacation is comfortable, safe and most of all, rewarding. Tell us where you'd like to go, and we'll help you get there. We can plan just about anything:
-Wheelchair accessible air travel
-Accessible river cruises
-Accessible hotels and vacation planning
-Accessible group tours
-Accessible ocean cruises
When it comes to accessible travel, the sky's the limit with Flight Centre.
Accessible Travel Group Tours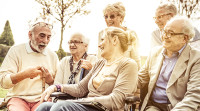 Guided tours are one of the most convenient ways to travel new destinations. Tours are lead by local experts, include activities and excursions, and have a healthy balance of group time and you-time. Many of our clients who require accessible travel planning prefer guided tours for comfort, ease, and an authentic real life experience. Our friendly Flight Centre Accessible Travel Specialists are experts in accessible travel. We'll find the right trip for you with a guided tour company that fits your physical needs and abilities so you can enjoy the next trip of a lifetime.
Accessible Travel Group Cruises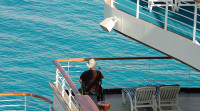 While most cruise ships are ADA-compliant, some ships do it better. Our Flight Centre Accessible Travel Specialists know the ins and outs of accessible cruise ships and are ready to make your dream cruise a reality. Whether you're a first-time cruiser or cruise expert, we'll find the best cruise and cruise line that suits your needs. Ask our Accessible Travel Specialists about ships with the right accessibility standards that will accommodate your needs.
OUR ACCESSIBLE TRAVEL SPECIALISTS
Our Accessible Travel Specialists are passionate individuals who have travelled the world and back. No stranger to barriers, our specialists will help unblock obstacles and create custom accessible holidays for people with all types of mobility issues, including wheelchair and scooter users, cane and walker users, and senior travellers. Whether you're looking to go SCUBA diving, talk the talk and walk the Edge Walk, or just spend a quiet, relaxing time somewhere you've never been before, our travel specialists can help. Ask our Accessible Travel Specialists to help you plan the trip you've always dreamed of.
David Lyons Black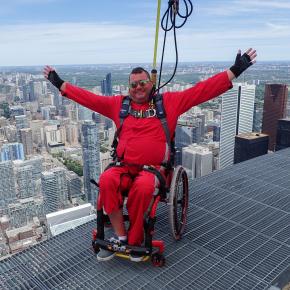 David Lyons-Black is a veteran in the travel industry. He has a flair for connecting people with the right destinations and fulfilling lifelong dreams along the way. He's no stranger to barriers. His clients value his experience and feel confident entrusting him with their travel plans.
In 2006, David was an active traveller, working to build his own travel agency when complications of encephalitis - an acute inflammation of the brain and spine - left him with extreme muscle weakness in his legs. Faced with the new reality of the limitations of life in a wheelchair, David briefly feared his days of flying off to exotic destinations had been permanently grounded.

Shortly after though, overcoming his fears just long enough to visit friends in Chicago, David was back in motion. Since then, he's travelled to over 25 different destinations around the globe, including Australia, Austria, Switzerland, France, Germany, Mexico, Montreal, San Francisco, and many more that he didn't think were possible when he first started using a chair.

Today, as a Flight Centre Independent Agent, David is a self-described "inclusivity advocate." However, instead of just talking about changing the world, David wants to show you how to experience all it has to offer – without barriers. Clients are amazed at the attention to detail David's trip planning includes and often comment feeling reassured by his personal experience with wheelchair accessible vacations and his knowledge of accessibility issues.

David has "the best job on the planet," working from his home in beautiful Vancouver, BC, where he lives with his husband Dale and their magnificent cat, Spencer.
Contact: 604-767-3037 / david.lyons-black@fcitravel.ca
---
Tarita Davenock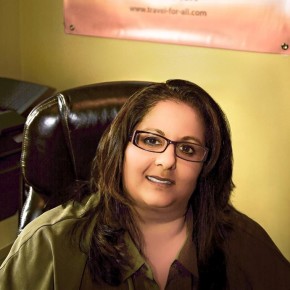 Some of us are lucky enough to fall into careers that we love. Fewer have been purposeful, have seized the brass ring and gotten into those careers through hard work, perseverance and, yes, even a little bit of luck. The path to Tarita's dream career was decided by an entirely different kind of luck. A social worker whose specialty was in helping children and adults with developmental disabilities, she had stability. Her master's degree in English and psychology ensured that the world would be her oyster, and with some time and creative budgeting, she would live her life travelling extensively.

All this stability was shattered when, at the age of 29, Tarita was diagnosed with Multiple Sclerosis. She was struck with the realization that her life would never be the same. Knowing that her best way forward was to take hold of that life and ensure that its direction was one of her own choosing - that MS was not going to control her future - she seized on a passion for travel she had nursed since childhood. Tarita became an entrepreneur in an industry where she has could carve out a significant niche, based on a personal philosophy that travel should be inclusive and not exclusive.

Twenty-two years later, Tarita found her place as an expert in creating dream vacations for those who thought dream vacations were for other people. Her company, Travel For All, a Flight Centre Independent Agency, plans and customizes vacations to global destinations for travellers with various disabilities. She takes great pride in ensuring that, regardless of your level of mobility or ability, you will have the experience of a lifetime.

Tarita is a sought-after speaker, a global expert on accessible tourism, a writer on inclusion for the Huffington Post, and Vice Chair with the Standards Council of Canada. She remains an advocate for inclusion and diversity.
Contact: 250-585-5525 / tarita.davenock@fcitravel.ca
---