Have you ever dreamed of waking up to the sights, sounds and smells of a new country every morning? Our Travel Expert Izabella did, so she decided to give the open seas a try.  She set sail for seven days on the Norwegian Getaway, one of Norwegian Cruise Line's newest ships, waking up to different ports in the Caribbean every day. Here she shares how to cruise like a pro in the Caribbean:
I just returned from a 7-day Western Caribbean cruise on the Norwegian Getaway and the experience lived up to my expectations of fun, delicious food, and variety. I was a little familiar with Norwegian Cruise Line and cruising in general, so I felt fairly prepared for what to expect, but I learned a few more things along the way that would be useful to know for first-time (or even experienced) cruisers:
Download the Norwegian App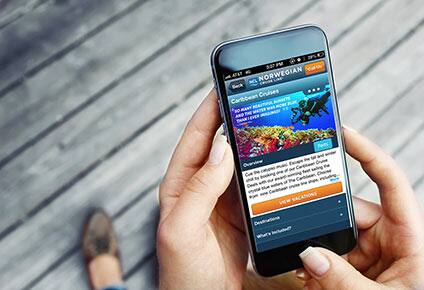 Get it! The app is called Norwegian iConcierge. This app has been a convenient tool and handy time saver. You can book shows, spa services, shore excursions, and specialty restaurants. You can also view your account in real time, review the ports of calls, and see the events taking place throughout the day on the ship. And for an extra fee ($7.95 USD at the time), you have the added option of messaging and calling other guests onboard which is helpful if you are trying to find your friends, or want to organize your plans together.
Enjoy a Beach Day Like a Local
I had plans to experience Georgetown, Grand Cayman and Cozumel's beaches like a local. I wanted to drink cheap beer and eat authentic food. Basically, I didn't want to be at a beach with overpriced food and drinks, expensive chair rentals, spotty Wi-Fi, or an entrance fee.
A good tip is to avoid cab drivers and tour operators that hover close to the cruise port. Specify to your cab driver that you want to be taken to a local beach. On Grand Cayman, I asked to be taken to the public section of Seven Mile Beach which had $1 beers and less crowds. Settle on a price in advance, and go!
Try One (or All) of the Onboard Activities
Norwegian Cruise Line offer a variety of activities catered to all ages, tastes, and personalities. From water slides and rock climbing, to mojito and martini tastings, to trivia and karaoke nights, there was never a shortage of things to do. As someone who is more of an observer than a participant, I managed to join in all of the aforementioned activities and ended up with some of my favourite memories on this trip. Again, all activities are listed on the iConcierge app with times and locations, so make sure to take a peek and join in, especially if it is not something you would normally do. You won't regret it!
Order the Chef's Daily Specials
If you love food, cruising is for you. The Norwegian Getaway did not disappoint with an impressive variety of dining options. The buffet was available all day and offered a wide selection of food. There are also three free dining rooms to choose from that do not require a reservation. These rooms vary in ambiance, but offered the same menu as each other and changed daily. The chef's daily specials were a particular highlight. The Norwegian Getaway also offered a wide range of specialty restaurants from French to Italian to Brazilian. Just be sure to make your reservations early through the iConcierge app!
Make the Most of Your Last Day!
Ship disembarkation is often early in the morning on the last day, around or before 8 a.m. This allows passengers plenty of time to catch their flights. But if you don't plan on spending the last day of your vacation at the airport, plan ahead and book an excursion! If your cruise port is in Miami, take an Everglade tour and explore the region's wildlife and wilderness. Or, do a city tour of Miami, these often include a free transfer to the airport.
As a cruiser, I learned a lot in terms of how to best manage my time in order to maximize on my experience. For my next cruise, I plan on sailing the Fjords with Norwegian Cruise Line. I know I will enjoy all of the comforts of home, be thoroughly entertained, and eat well. I am officially a believer that cruising is for everyone.
For more information on the Norwegian Getaway or cruising the Caribbean with Norwegian Cruise Line, contact a Flight Centre Cruise Expert by connecting with us online, calling 1-866-940-0207 or visiting your closest Flight Centre store. Ready to book? Browse our Cruise Deals online!