Open up the world with
Travel Gift Cards
Flight Centre's Gift Cards make unforgettable trips and cherished memories an easy thing to give. Give loved ones, employees, or contest winners a Flight Centre Gift Card and help them build their travel dreams, whether those dreams include flying across land and sea, staying in hotels around the world, cruising or touring their way through new and exciting destinations, and more!
Learn More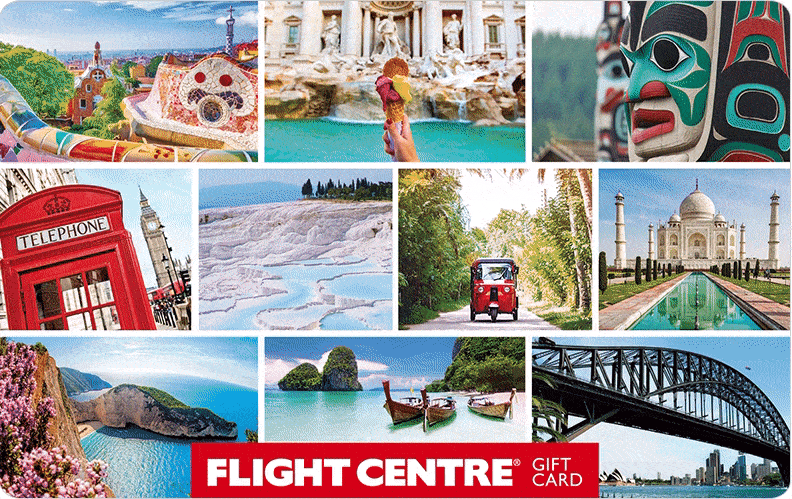 GIVE THE GIFT OF TRAVEL
Think gift cards are lazy and impersonal? Well, when it comes to travel, gift cards are actually the perfect way to go! Booking a trip for someone can be tricky; do you know the exact spelling of their name on their passport? Do you know exactly when they are able to travel? Or exactly where they want to go?
Changing a trip once booked can be costly, and sometimes not even allowed. Open up the world for those who want to see it on their terms. A Flight Centre Gift Card lets them choose where they want to go, when, and with whom.
Holidays, weddings, birthdays and corporate incentives are all great opportunities to give them what they really want.
Get your Flight Centre Gift Card today and give the gift of travel.
Once they have the Gift Card, they can simply book by calling us at
1 877 967 5302.
WHY CUSTOMERS LOVE OUR GIFT CARDS
• Complete flexibility: fly, stay, and travel with your preferred brands
• Easy to buy online or in-store
• Easy to redeem with our Travel Experts
• Limitless travel redemptions: use on flights, hotels, tours, cruises, and more
• Never worry about expiry dates
• Plan trips with complete peace of mind
---
Questions? Visit the Help Centre.
Gift Card Terms & Conditions
For Balance Enquiry / Customer Support call 1-866-485-7014 and for Booking Assistance call 1-877-967-5302
Purchase, use or acceptance of the Gift Card constitutes acceptance of the Terms and Conditions below. Gift Card funds are issued in Canadian dollars and redeemable on all products and services sold by participating Flight Centre stores within Canada. The Gift Card is non-refundable and not redeemable for cash. Where the cost of purchase exceeds the available gift card balance, the gift card holder will be required to make up the difference between the purchase price and gift card balance. The Gift Card is partially redeemable and it is up to the gift card holder to use the full value of the funds. The Gift Card may be used multiple times until the value is depleted, there is no expiry on Gift Card funds. If lost, stolen or used without permission, the Gift Card will not be replenished. Unauthorized use, reproduction or resale of the Gift Card is prohibited. Flight Centre must activate the Gift Card prior to use. Terms and conditions may be changed without notice.