10 Best Riviera Maya Excursions, Tours, and Activities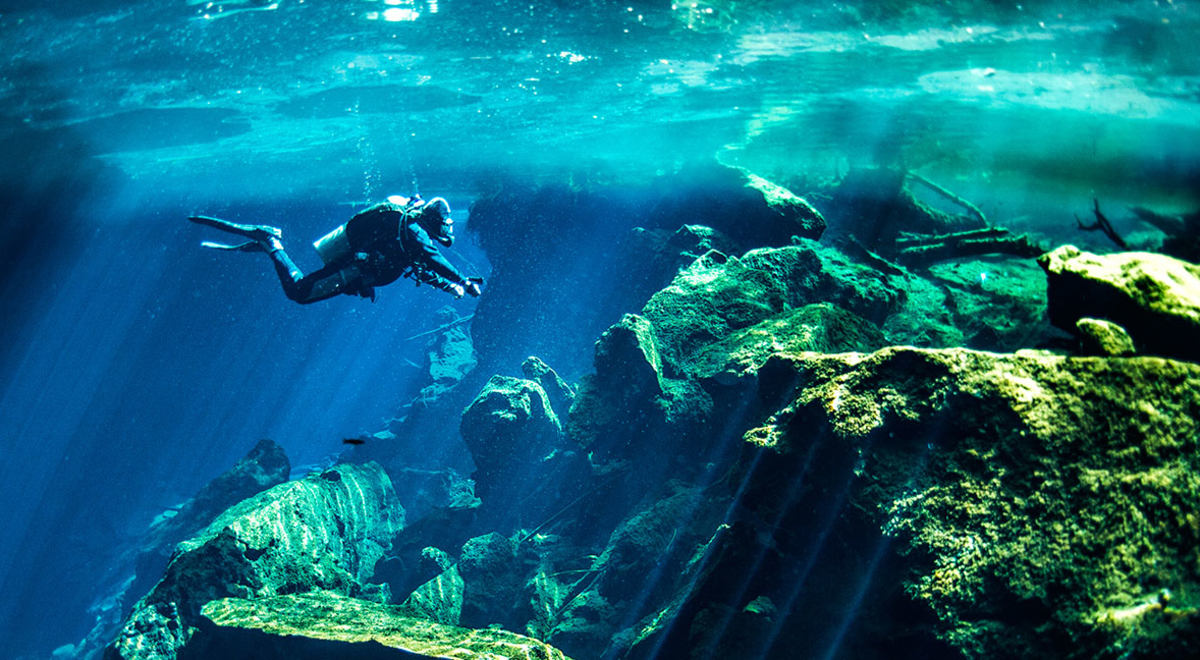 ---
---
Looking out to the horizon from the beaches of Riviera Maya, it's sometimes difficult to tell the sky apart from the ocean. There are few places in the world with coastal views as mesmerizing as this part of the Yucatan Peninsula.
Even fewer where the waters are always calm and clear enough to the see the coral reefs at the bottom year-round. Here, the shores are immaculate and run along the craggy limestone cliffs like unfurled silk.
If you were hoping for spur-of-the-moment excursions between beach towns, seeking to dive into the last unexplored depth of an underground cenote or to rediscover ancient Maya, Riviera Maya is the place to explore the marvels of Mexico's sparkling Caribbean coast.
1. Explore Mayan Ruins
Home to scores of ancient Mayan ruins and UNESCO World Heritage sites, the Riviera Maya is a destination divided among casual explorers and hardcore history buffs. From tourist landmarks like Chichen Itza to the forest-bound ruins of Coba, each site features carefully preserved limestone pyramids and temple grounds.
From climbing the highest pyramid in the region in Coba to watching the serpent-shaped shadow slither down the steps of El Castillo in Chichen Itza, day tours are available to most archaeological sites. Ancient cities like the ones in Tulum and Xel-Ha are in close vicinity to towns, beaches, and ecological parks, perfect for extended day trips. Self-guided tours are also possible to more remote sites like Ek' Balam and Muyil.
2. Dive into a Cenote
The Yucatan Peninsula is peppered with thousands of cenotes. These natural subterranean cave systems are filled with crystal-clear pools, surrounded by stalactite ceilings draped with low-hanging tendrils.
Cenotes come in many types, and each location in the Yucatan is unique. Cenotes by Tulum like the Casa Cenote is above ground and resembles a lake, while Sac Actun and Dos Ojos are both underground cave systems teeming with marine wildlife, perfect for snorkelling and scuba diving. The Gran Cenote is a combination of both, with a series of caves winding through a lush green jungle floor connected by wooden walkways.
Water activities like swimming, snorkelling and scuba diving are allowed at most cenotes. Kayaking and rafting are possible at open-type cenotes.
3. Visit Tulum
Step into the coastal town of Tulum, and you'll immediately recognize its iconic limestone dotted beaches, crystalline waters, and timeless Mayan temples that are ubiquitous on the covers of travel brochures to the Riviera Maya.
As a popular stop for excursions across the coast of Quintana Roo, Tulum is only a stone's throw away from major destinations like Sian Ka'an Biosphere, a handful of cavernous cenotes, and the Coba ruins.
Day trips in Tulum can range from wandering through its ancient walled city, seeing the pyramid El Castillo, or hopping into town to try out local-style ceviche at one of its many renowned oceanside restaurants. Although some might find it hard to step away from the pearl-white sand and turquoise waters of its quiet beaches.
Tulum is also known for its thriving nightlife. From sipping cocktails at an open-air mezcal bar to knocking back a few mojitos at a whimsical watering hole, the town centre is bubbling with a constant flow of the after-hours crowd.
4. Road trip to Valladolid
Take a scenic drive to the historic city of Valladolid from Cancun or Chichen Itza, and see the rich colonial history of the Yucatan embodied in the baroque-style cathedral spires and pastel-colour townhouses.
Rich with history, art, and Spanish colonial architecture, Valladolid is highly walkable and a joy to explore on foot. Spend the day wandering through the cobbled city square and plazas, or visit the city's many public and private museums.
Just outside the city, the X'kekén Cenote is a classic cave-style cenote with jagged and dramatic stalactite walls. It's open to the public for swimming and diving in the shallow depth of its glowing pools.
5. Stay in Playa Del Carmen
From picking out the perfect spot to sunbathe on its pristine beaches to kite-surfing above its translucent waters, Playa Del Carmen has set itself apart as an upscale resort city and a burgeoning cosmopolitan destination in Quintana Roo.  
Relax at one of the city's many luxury spas, or walk down Fifth Avenue and hop from boutique shops to authentic Mexican restaurants. Catch a traditional dance performance by its seaside park, Parque Fundadores, or play a round of golf at the emerald green fairways in Playacar.
Try changing gears, and skip out of town for an adventure at the nearby eco-archaeological parks like Xelha, Xcaret, and Xplor.
6. Eco tours in Xel Ha, Xcaret, Xplor, and Xenses Parks
Take one-part amusement park, two parts of Riviera Maya wilderness, tropical flora, and a dash of ancient Maya, and out comes ecotourism parks like Xcaret, Xel Ha, Xenses, and Xplor.
Combining amusement park fun with outdoor educational adventures, these parks feature a host of action-packed activities from zip-lining in rainforests, rafting across the luminous waters of cenotes to trekking across Mayan ruins.
Live performances at the parks are fantastic spectacles to behold. Watch as Mayan warriors pit against each other in a high-stake ancient ballgame, or witness the ceremonial pole flyers carrying out their daring stunts from a 30-metre height in the air.
Recharge and feel purify by the steams at a Temescal sweat lodge, before heading out again to conquer the great outdoors.
7. See the Sian Ka'an Biosphere
A UNESCO World Heritage site, the Sian Ka'an Biosphere covers more than 5,000 square-kilometres of untouched wilderness and indigenous faunas. With more than 200 conservation projects on this swath of land, Sian Ka'an's biodiverse environment is home to thousands of tropical wildlife species.
Part of the reserve is an unspoiled stretch of coral reef along the Caribbean coast and is open to snorkelers and scuba divers. It's also worth a day's hike to check out the Muyil ruins at the northern edge of the biosphere and the nearby Laguna.
8. Explore Cozumel
A bustling port of call for gleaming cruise liners, Cozumel is a favourite stop for vacationers and those looking for longer excursions in its many natural parks. Apart from the usual resort destination fanfare and beachside activities, Cozumel boasts many untouched natural habitats and thriving eco parks.
From Patas & Alas Butterfly Sanctuary to Faro Celerain Ecological Reserve (Punta Sur Eco Beach Park), the island is home to biodiverse landscapes and endemic species. Opportunities for outdoor adventures can be found along the coast of the island, ranging from the wetlands and mangroves near the lagoons to the north to the stunning El Mirador lookout point overlooking the radiant Caribbean Sea in the south.
9. Day trips to Cancun, Isla Mujeres, and Isla Holbox
Just saying the names Cancun and Isla Mujeres evoke a sense of excitement. Reaching these vibrant vacation hotspots has never been easier while on excursions along the Riviera Mayan coast. Whether you are day-tripping to Cancun's energetic beaches or taking a ferry across for a longer stay at the more idyllic Isla Mujeres, these destinations are attractive detours to add to any excursion in the region.
For extended day trips, add Yum Balam Nature Reserve and Isla Holbox to the itinerary. Just north of Cancun, the Yulum Balam Nature Reserve encompasses a broad swath of protected wetlands, local wildlife, and the world's largest concentration of whale sharks off-shore.
Isla Holbox can be reached by taking a short ferry ride from Yum Balam's port town, Chiquila. Here, steps away from the whimsical street arts of its quiet Bohemian town are unbroken stretches of barefoot beaches brushing against crystal-clear waters.
If you were hoping to slow down and spend the day in a hammock, Isla Holbox is your beachside refuge. There are no resorts here, no blinding lights of nightclubs or the rumblings of city traffic. There is just you, the sun-soaked powdery shoreline, and the vastness of the deep blue sea.
10. Snorkelling in Akumal
Five kilometres of tranquil beaches run along the sleepy shore of Akumal. Against the lulling tides of the Caribbean Sea, skiffs and catamarans parked motionlessly by the shoal, as if glued to the water's glassy surface.
The beach town of Akumal lives up to its Mayan name as the Land of Turtles. Here, sea turtles and marine wildlife thrive in its warm waters and untouched coral reefs. Swimming and snorkelling with sea turtles are popular activities by the shallow bay areas. A little farther out, scuba diving allows a closer view of natural underwater marine life like dolphins, tropical fishes, and sharks.
---