Bangkok: Quick City Guide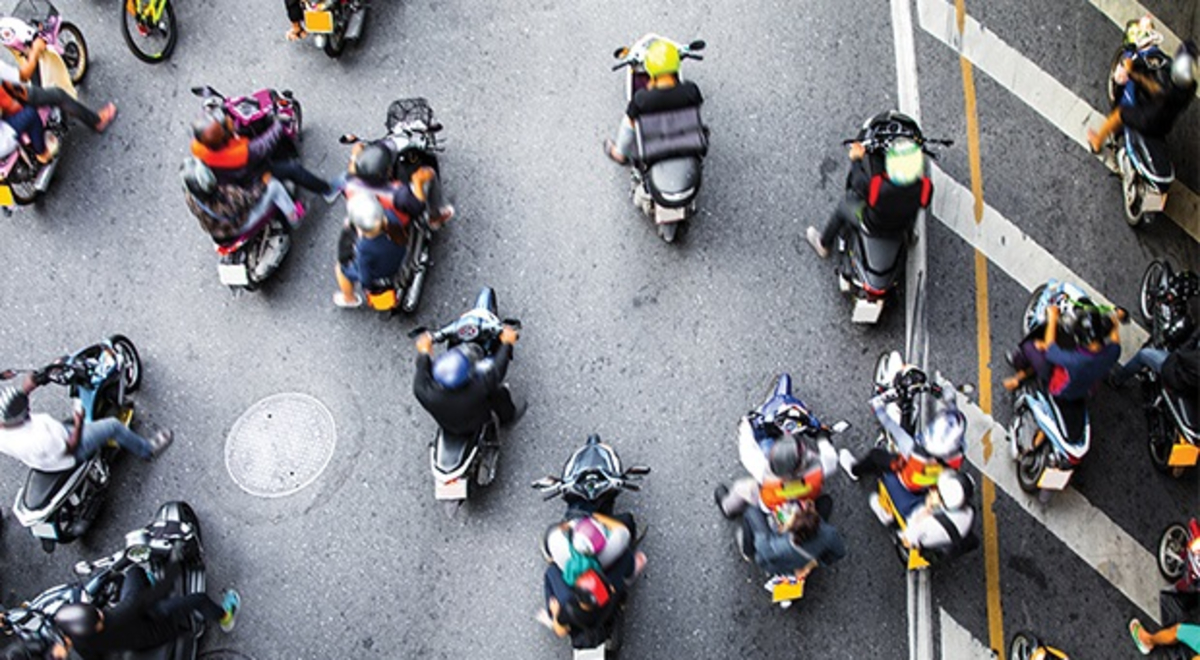 ---
---
Bangkok. You may have been, many moons ago, for just a night or two, probably en route to someplace else. It may have been your first taste of Southeast Asia too, and after you explored further, your short smoggy stay there probably fell by the wayside.
Rarely do travellers consider Thailand's grandiose capital as a destination. It's a hub, a blurry stopover, the last stop to either stock up for Thailand's jungles and beaches or to shop and fill your bags on your way home. To many, Bangkok is many things, but a stand-alone destination, it is not. And sadly, they are wrong.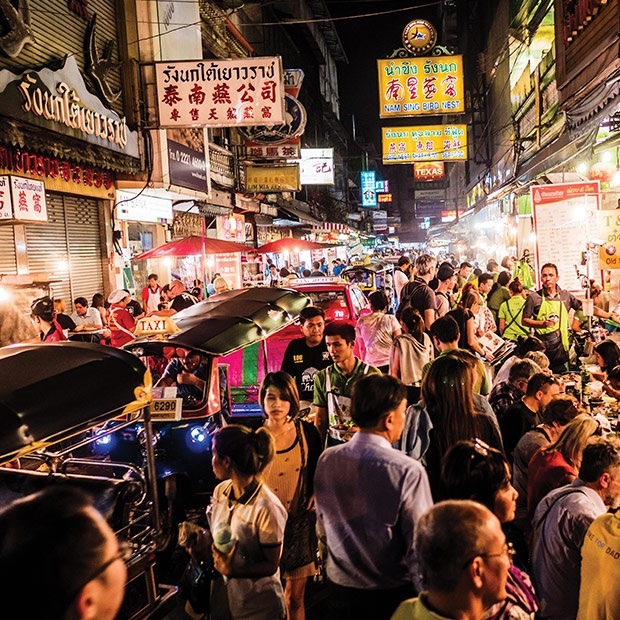 Bangkok is the world's most visited city, ahead of London. It has also been named 'World's Best City' four years in a row by readers of Travel + Leisure magazine. Every year, it has more than 20 million international visitors spending at least a night. Without seeing the numbers, I'd venture a guess that it's probably also the city with the highest number of single-night visits, and that's unfortunate, as there is a lot to see.
My introduction to Southeast Asia, now 20 years ago, was very much as I described above; a short 2-night stay spent touring Bangkok's many ornate temples and combing the stalls on Khao San Road. I knew about the scams and fell for them all. While I found it interesting, enthralling even, time constraints and the distraction of where I'd be heading to next kept me from seeing Bangkok's many different sides.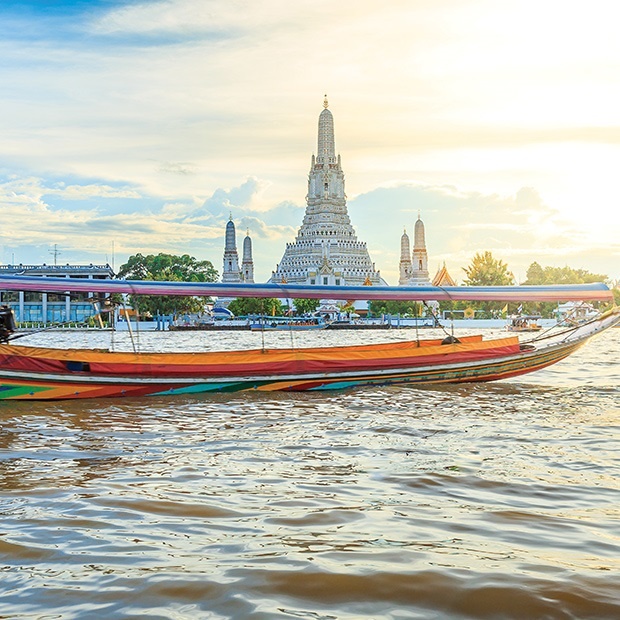 It wasn't until my subsequent visits to Bangkok that I fell in love with it. Now, I love the hustle. Now, I understand the playfulness. Bangkok is a city that grows on you and I've grown to hold it dear.
To me, it's the New York City of Southeast Asia. A city that never sleeps. A city that both fills the heart as much as it can be heartbreaking. And like NYC, Bangkok is a city that everyone should see at least once – for more than just a night or two, ideally.
Where to stay in Bangkok
In Bangkok, like in most cities, it's best to book your room in advance of your arrival. Rack rates (walk-up prices) can be 30%-50% higher. Overall, lodging in Thailand (including Bangkok) presents great value, with rooms in high-end hotels going for the price of a mid-range room elsewhere. If you're looking to indulge, this is the place to do it.
$1.00 Canadian Dollar = 25 Thai Baht (24.68)
After checking-in to your hotel, grab the hotel's business card from the front desk and keep it with you when going out. Unless you speak Thai, taxi drivers may have a hard time understanding where you are wanting to go. The easiest way to get home after a fun night out is to simply flash your card to your driver. Using Uber is another good way of getting around the language barrier, but in Thailand, be prepared to pay your Uber driver with cash. 
Budget
(Rattanakosin/Banglamphu 200-500 Baht p/night)
There probably isn't a city in the world better suited to backpackers than Bangkok is, and Khao San Road is the undisputed mecca. Not only is the famous street stacked with affordable places to stay, it sells anything you may need for your onward travels, hawking everything from clothing and electronics to new luggage.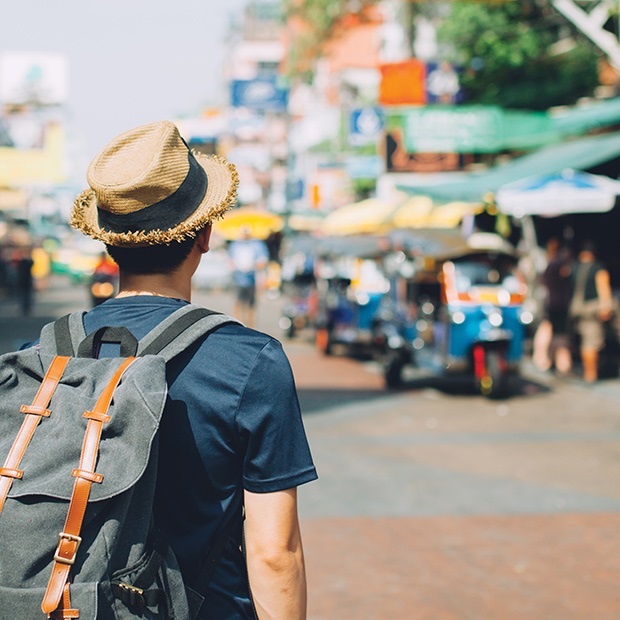 There's also a good slathering of tattoo parlours, souvenir shops, 7-Elevens, and countless places to grab a cheap bite, a cold draft beer or a sloppy Thai Whiskey bucket. Many eateries also double as movie theatres, dropping screens to show the latest bootlegged feature films while you eat.
Accommodations range from basic dorm-style hostels to quaint boutique hotels, including some of the least expensive places to stay in Bangkok. For the most budget-conscious, a shared dorm with a fan (no A/C) is the way to go. I would strongly urge you to scrape together an extra few Baht though, and opt for a private room, ideally with air conditioning. The relatively small price difference is well worth it.
Mid-range
(Siam Square/Silom/Sukhumvit 750-1500 Baht p/night)
A good mid-range hotel can be found all over town, from the Sukhumvit and Banglamphu districts to the Financial District (Silom/Patpong) and Siam Square.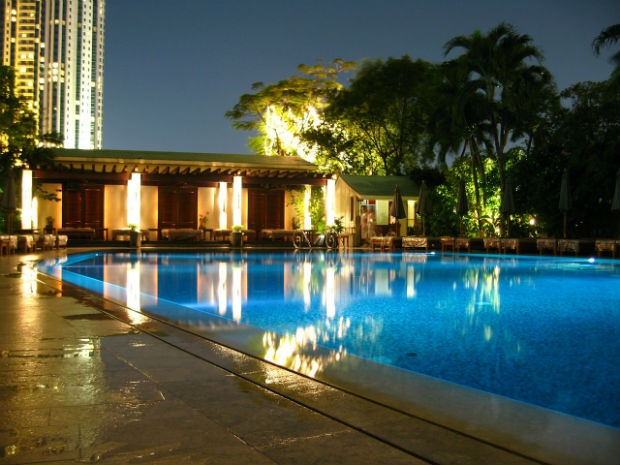 When booking your hotel, take your mobility into account and how you plan to get around town. If you intend to use the water taxis mostly, think Silom, Rattanakosin or Dusit. If you're comfortable with the Skytrain, metro, tuk-tuks and taxis, check hotels in Siam Square. Getting around town, no matter how you do it, is easy and affordable.
A mid-range room can be in a B&B, a small villa in an alley off the main road or in a proper chain hotel, and most will include a pool, perfect after a sweaty day of sightseeing.
High-end
(Sukhumvit/Riverside/Silom/Lumphini/Thonburi 2000 Baht and up p/night)
As already mentioned, Bangkok oozes value, especially when it comes to scoring a luxury room for the price of a standard room elsewhere. Hotels like The Mandarin Oriental and The Peninsula across the river, are both good examples. Although they're not cheap, you'd pay double just about anywhere else.
You'll find a few of the city's higher-end hotels on the banks of the Chao Phraya River. If you're looking to beat the stifling heat and humidity, the riverfront is the place to be. Another part of town to consider is the Silom district, Bangkok's Financial District, which doubles as the naughty Patpong night market after sundown.
If you can swing it, Bangkok is the perfect place to enjoy a little opulence. Fine hotels here blend heritage and charm with cutting edge design and style, and do it well. Getting pampered shouldn't have to break the bank, and in Bangkok, it doesn't.
Things to do in Bangkok
Like all great metropolises, Bangkok's sightseeing can keep you busy for weeks. Its 50 districts can be explored on foot, by bike, tuk-tuk or long-tail boat, the metro or Skytrain.
If taking a taxi, it's better to hail a moving cab rather than approaching a parked one. If the meter isn't turned on when you begin your ride, demand it. If you're keen on a tuk-tuk, hail a moving one and negotiate a fare before beginning your ride.
Walking Tours & Running Groups
Most walking tours will focus on the 'Old City' in the Rattanakosin district. This historic section contains most of the popular wats (Buddhist temples) and is one of the most photogenic parts of town.
Tours usually begin at the sprawling Grand Palace, holding the sacred Wat Phra Kaeo, or Emerald Buddha. When you've seen all the gold you can handle, break for lunch at Tha Chang Market. After some street food, wander over to the National Museum for a crash course on Thai history and culture. If you're up for art and more walking, head over to the National Gallery.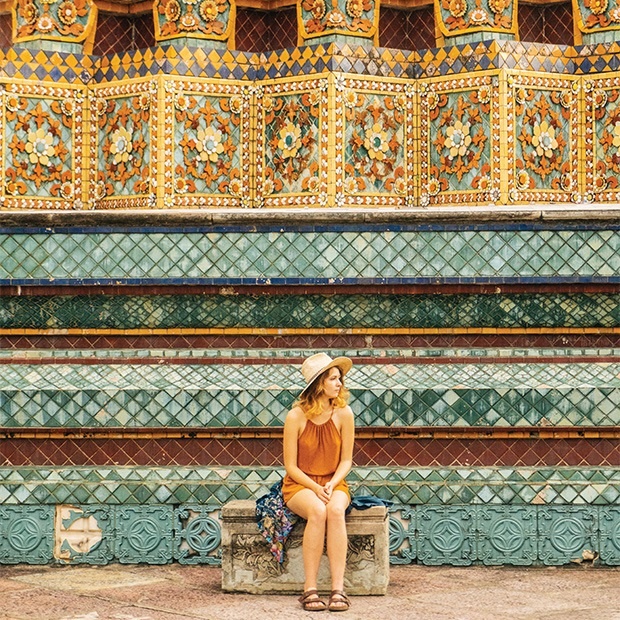 If you like the pace a little quicker, joining a running group (a hash) is a great way to meet and mingle with expats and locals alike. Although not conducive to photography, a running group will take you through interesting parts of the city most don't get to explore, eating and drinking what and where you normally wouldn't.
If you want the pace even faster, bicycle tours are available too!
Shopping Galore
With its countless sidewalk stalls, Bangkok can sometimes feel like one giant market. Whether you're after food or flowers, clothes or accessories, rest assured that there is a market for you to haggle in.
For a good general place to shop, you can't beat Siam Square and its numerous designer boutiques. Sukhumvit is another area to browse, especially Emporium. And if you're looking for a good shopping mall, the MBK Center is your best bet.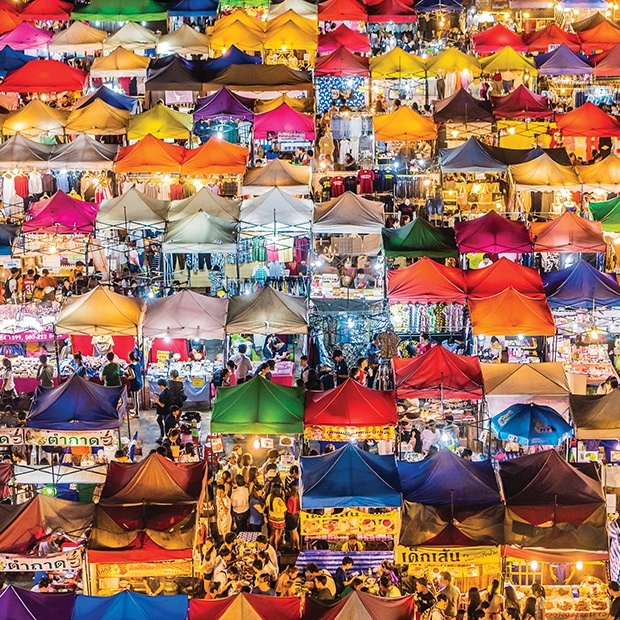 For cheap knock-offs, used books and more, head to the Banglamphu Market near Khao San Road or the infamous night market of Patpong in Silom. If you've got the weekend in Bangkok and are looking for a deal, don't miss the more than 8,000 stalls of the Chatuchak Weekend Market.
As with all markets, the art of haggling is on full display. The first price you are given is more than double the going rate. Cut their price in half and meet somewhere in the middle.
Thai Cooking Schools
One of the things people most associate Thailand with is its incredible cuisine, and rightfully so. In exploring Bangkok, the sudden wafts of ginger, garlic and chilies, sticks of meat charring over an open fire and pots of complex curries can't help but dazzle.
Thailand caught on long ago and opened culinary schools offering cooking courses throughout the country, including in Bangkok. Hit Silom or Khao San Road for a half-day of fun in a Thai kitchen and learn how to make Thailand's tasty signature dishes yourself.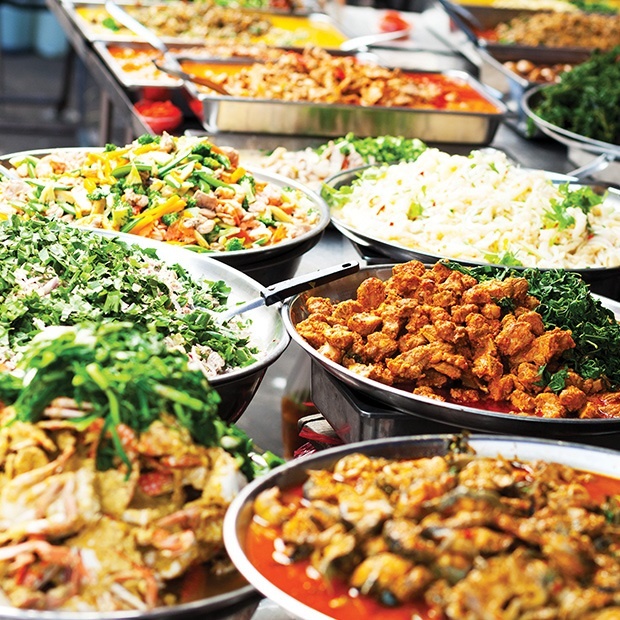 Cooking with Poo is a fun spot. If not for the amazing menus and attentive instructors, then for the 'I cooked with POO and I liked it!' t-shirts available for sale there. Begin your experience at a local market as you source your ingredients, learning about the produce along the way. Then it's into the kitchen for action!
Menus change daily and can include Tom Yum Goong (hot & spicy soup with shrimp), Som Tum (green papaya salad), Gaeng Khiaw Waan (green curry), and a classic Pad Thai, among others.
Ancient Rivers
The Chao Phraya River, the River Kwai, and their canals, have been the lifeblood of Bangkok since it was a small trading town, and remain so to this day.
The Amphawa Floating Market, near Wat Amphawanjetiyaram, is one of Bangkok's most famous and most photographed attractions, and is a must-see for any first-time visitor. The Chao Phraya can also be enjoyed on a touristy dinner cruise. While the views can be breathtaking, the food is generally sup-par.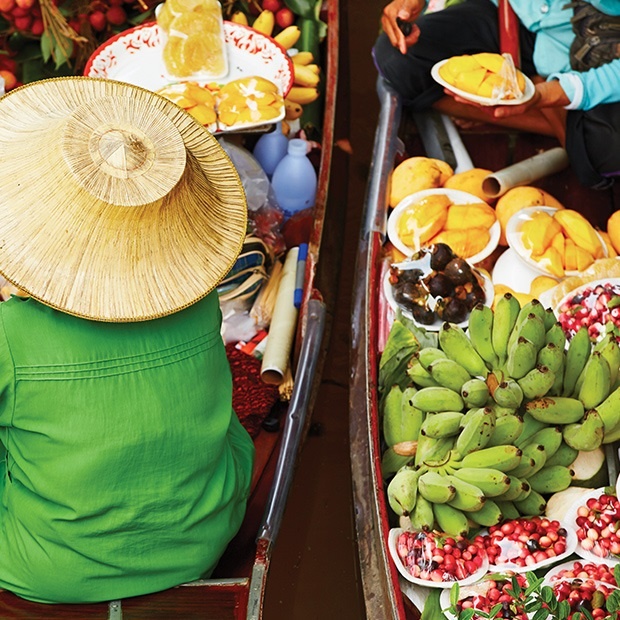 History buffs: if you're in Thailand in November, head out to Kanchanaburi. About 1.5-hours west of Bangkok, this is where you'll find the historic Bridge over River Kwai and the annual River Kwai Bridge Festival, marking the Allied bombing in 1944. Trains are available from Bangkok.
Wats & Temples
As with all religious sites, appropriate attire must be worn to access Thailand's sacred sites, whether they are Buddhist, Hindu, or any other religion. Shoulders should be covered, pants or long skirts instead of shorts, and hats and shoes removed.
If you only have time for a few, visit Wat Phra Kaew, Wat Pho and Wat Arun – all easily accessible from central Bangkok.
The first, Wat Phra Kaew, is located in the Grand Palace and holds Thailand's most sacred image of Buddha, the Emerald Buddha. Your entrance fee (500 Baht) will give you access to two of the many buildings on the Palace grounds, but be prepared for the seemingly never ending parade of tourists.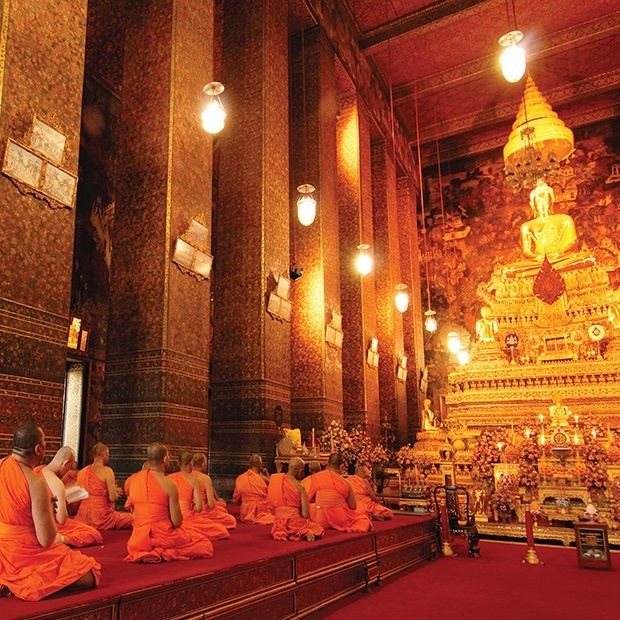 Not far from the Grand Palace is Wat Pho and the world's largest Reclining Buddha. A fee of 100 Baht covers your entrance and a bottle of water. If you're feeling a little battered by all the sightseeing, there is a famous massage school on site.
To get to Wat Arun, one of Thailand's most picturesque Buddhist temples, cross the Chao Phraya river by ferry to Thonburi. On close inspection, you'll notice that it's decorated with colourful broken pieces of Chinese porcelain.
For a completely different feel, visit the ornate Hindu Temple, Sri Maha Mariamman Temple, on a stroll through Little India (Silom).
Muay Thai (Thai Boxing)
Although the art of Muay Thai, or Thai kick-boxing, has been around since the 18th century, it has only gained popularity in the west in the last couple of decades. Today, with the rise of MMA and similar combat sports, it is embraced and practiced by both men and women worldwide.
In Bangkok, you can be both spectator and fighter or just get a great workout in. Muay Thai classes and schools can be found all over Thailand, and Bangkok is no exception. Join for a day, a week, a month or longer. Training at many of the camps is geared towards English-speaking students, and packages including food and lodging can often be arranged.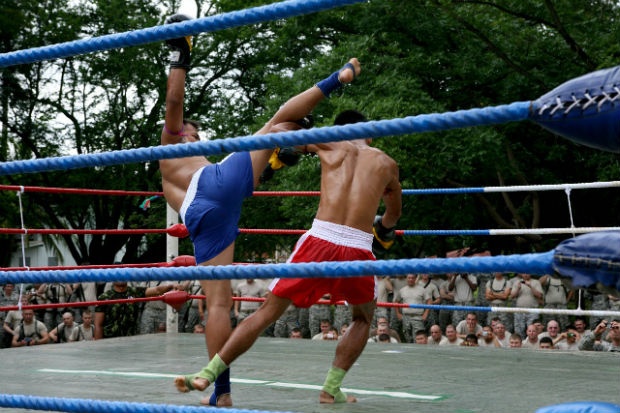 If you'd like to partake, try the Sor Vorapin Gym near Khao San Road. Training beginners to professionals, both men and women, the popular gym also offers homestay packages, focusing on a Thai traditional way of living. A single training session starts at 500 Baht, and a complete 1 month package (including room & board) with twice daily training and best room available can be yours for 36,000 Baht.
If you'd prefer to watch 'The Art of Eight Limbs' instead, hit Rajadamnern Stadium, Bangkok's oldest boxing stadium, featuring matches 4-5 nights per week.

All you need now is a great airfare! Our flights to Bangkok are as value-packed as your stay will be. Book online, by calling, or by visiting your nearest Flight Centre store today.