Best Restaurants in Bali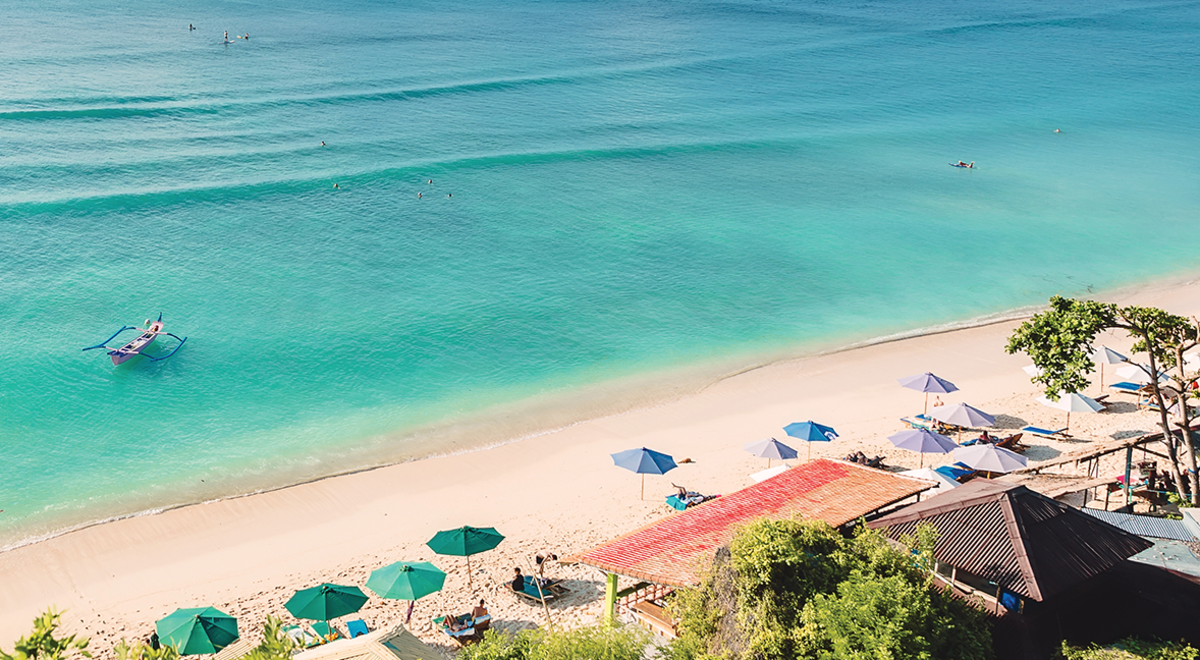 ---
---
Diverse, unique, and unforgettable, Bali's culinary scene matches an island with extraordinary landscapes, rich with both nature and culture. Travel a few miles from Kuta on the southern coast to Ubud's idyllic jungles in the island's centre, and you'll find aggressively modern haute cuisine venues that seek to redefine Indonesia's culinary scene. But while contemporary restaurants dominate the island's cities, traditional eateries have secured their place with faithfully preserved authentic Indonesian recipes.
From high-calibre fine-dining powerhouses to traditional homestyle Balinese cooking, here is our list of the best restaurants in Bali.
Fine-dining
BLANCO par Mandif (Contemporary Indonesian, Vegan options)
Address: Kompleks Museum Blanco, Jl. Raya Tjampuhan, Ubud, Sayan, Gianyar, Kabupaten Gianyar, Bali 80571, Indonesia
The word "degustation" and Indonesian food are two drastically different culinary concepts. But while most associate traditional Indonesian food with large portions and platters, Blanco par Mandif turned away from the stereotype with a reinvention of the classics. Tucked away in Ubud's cultural landmark, Blanco Renaissance Museum,  the once private studio of master painter Antonio Blanco, this restaurant offers delicately plated and progressively modern tasting dishes. Here, renowned chef Mandif Warokkathe innovative recipes come in seven, nine, and over 10-course meals in an exclusive venue surrounded by Blanco's many vibrant masterpieces.
Must try: Degustation menu, cocktails, desserts.
CasCades (European, Indonesian, International, Fusion)
Address: Jln. Lanahan, Br. Nagi, Ubud 80571, Indonesia
With an open-air dining room overlooking the jungles of Pentanu River Valley, a table at CasCades almost always guarantee the best view of Ubud's unspoiled countryside. This Viceroy Bali Hotel's fine-dining restaurant offers a seven-course cotemporary European degustation menu, with dishes made from locally sourced organic produce, fish, and meat ingredients. In one sitting, you can go from caviar topped soft-boiled eggs in potato mousse to Australian Black Angus gold tenderloin sprinkled with rosemary ash, resting on a bed of creamed spinach. Along with its masterful à la carte entrees, the menu also comes with classic Indonesian dishes, including Ikan Panggang, pork Rendang, and Bebek Betutu.
Must try: Degustation menu, cocktails, classic Indonesian entrees, Chef's signature Iberico Pork cooked over Japanese Binchōtan Coal.
Cuca (Contemporary European, Asian, Indonesian, Vegan Options)
Address: Jl. Yoga Perkanthi, Jimbaran, Kuta Sel., Kabupaten Badung, Bali 80364, Indonesia
With a minimalistic dining hall shaded by the lush green canopies of nearby coconut grove, Cuca offers upscale contemporary dining in a laidback setting. Here, you can expect original Latin and Asian fusion amuse-bouche and tapas alongside a whimsical house cocktail.  A quick glance at the menu and you'll find deceptively simple dishes with globally-inspired ingredients. Choose from smoked butterfish served with beetroot yogurt, zucchini pickles, and sprinkles of parsley crumbs to Cuban-style grilled baby corn on the cobs harvested from Bedugul Highlands. If you are feeling adventurous, however, pick the "Chef tasting meal" option, and let the kitchen roll out its most inventive and original dishes, like the slightly out of leftfield spicy pulled beef, served with a soft-boiled egg with runny yolk on golden fried grated potatoes.
Must try: Chef's tasting meal of spicy pulled beef, BBQ octopus, Bali Breakfast (dessert), Moo (cocktail), Sun-gria.
Padi Fine Dining (Seafood, European, Vegetarian-Friendly, Vegan options)
Address: Jalan Suweta, Bentuyung Sakti, Ubud, Kabupaten Gianyar, Bali 80571, Indonesia
For the health conscious vegetarians and pesco-vegetarians, haute cuisine needn't be stripped down to sprigs of lightly-dressed lettuce with a side of cold pea soup. At Padi Fine Dining, located inside Desa Visesa Ubud resort, the organic pesco-vegetarian menu tears away the misconception that vegetarian-style meals are decidedly boring and come in limited options. Within its intimate and modern Balinese villa-inspired dining room, two separate five and nine-course menus are offered: vegetarian and chef's degustation. Both are served with dishes made from homegrown produce, with the degustation menu offering seafood elements like lobster and soft shell crab.
Must try: Degustation menu, house cocktails, Cuvee De Bali "Soufflé" with passion fruit ice cream filling.
Mozaic (French, Indonesian, Contemporary)
Address: Jl. Raya Sanggingan, Kedewatan, Ubud, Kabupaten Gianyar, Bali 80571, Indonesia
With an idyllic Balinese garden and pavilion dining room surrounded by nature, Mozaic pushes the culinary philosophy "Cuisine du Marché" to the forefront, combining locally-sourced, market-fresh ingredients with French cookery.  As the only Indonesian restaurant listed in San Pellegrino Guide's 100 World's Best restaurants, Chef and owner Chris Salans continues to aim high with an ever-changing degustation menu that serves up artfully plated dishes like duck breast and foie gras with Javanese black kluwek nut. Expect a mix of European and Indonesian-inspired dishes within its six and eight-course menu, including gindara fish carpaccio and slow-cooked Iberico Secreto pork with lemon puree, Medjool dates, and fresh curry leaves.
Must try: Romantic gazebo experience for two, Chef's table, 8-course menu.
Locavore (European, Asian, International, Contemporary, Vegan Options)
Address: Jl. Dewisita No.10, Banjar Padang, Tegal, Kabupaten Gianyar, Bali 80571, Indonesia
With a straightforward title and a modest looking dining room, Locavore is haute cuisine without the burden of an expensive appearance. Inside its quietly decorated wood and stone tile dining hall, diners can expect a restaurant with an ingredient-driven menu. Despite its casual atmosphere, Locavore's European-inspired cuisine is wildly-inventive and radically modern. Expect delicately sculpted tasting dishes with head-scratching names like Caffeinated Fish – a coffee cured Hamachi served with ginger gel, kecap crème, labu siam, melon, and Cem-Cem leaves. Other avant-garde offerings include Into the Sawah (paddy field), a heritage galuh rice dish made with snails, garlic, and topped with a single duck egg yolk.
Must try: Seven-course degustation menu, house cocktails.
Mid-range
Mamasan (Pan-Asian, International, Vegetarian-friendly)
Address: Jl. Raya Kerobokan No.135, Kerobokan Kelod, Kuta Utara, Kabupaten Badung, Bali 80361, Indonesia
Made in the image of a 1920s-era lounge in Shanghai, Mamasan's dining room features nostalgic vintage décor with retro leather banquettes, dimly-lit with soft lamplights. In the back of the hall, a mural of a Chinese madam watches over diners, creating the illusion of a gentlemen's club in British colonial China. The menu offers Pan-Asian classic dishes, including Peking duck, Thai curries, and Singaporean-style Chilli Prawns. On the second level, the restaurant offers an exclusive chef's table-style "Tasting Club" where diners can enjoy a more intimate dining experience with house cocktails.
Must try: The Tasting Club, dumplings, curries, Thai, Cambodian, and Vietnamese-style seafood entrees, "Chatuchak" crispy pork ribs.
Lamak Restaurant & Bar (European, Asian, Indonesian, Vegan Options)
Address: Jalan Monkey Forest, Ubud 80571, Indonesia
A mix of old Balinese and modern globally-inspired cuisine, Lamak's menu amplifies its traditional Indonesian-style venue, complete with a garden and thatched roof bar. Sitting at the open-air dining room, you can expect modern spins on classic Indonesian dishes, including steamed chicken with ginger and curry sauce, and western-style dishes like red snapper with risotto. Along with an original cocktail and martini list, Lamak's desserts, such as salted caramel pannacotta and Pandan Crème Brûlée, are tried and true favourites.
Must try: Steamed chicken with ginger and curry sauce, wagyu steak, red snapper with risotto, martinis, caramel pannacotta, Pandan Crème Brûlée.
Mana Uluwatu (Fusion, Cafe, Indonesian, South American, Mexican)
Address: Jl. Pantai Suluban, Uluwatu Surf Villas, Uluwatu 80364, Indonesia
The ultimate restaurant with a view in Bali's Bukit Peninsula, Mana Uluwatu stands high above a jungle-covered cliff on the expansive grounds of Uluwatu Surf Villa. Here, the open-air teak and ironwood pavilion dining room owns a panoramic view of Bali's southern coastline and a bohemian ambience for diners to completely sink into local surf culture. The menu is rich with the offerings of its natural, unspoiled surroundings. From catch of the day seafood platters like Soft shell crab gazpacho, Baja shrimp and seared tuna tacos to farm-fresh roasted chicken with turmeric-dill rice and jackfruit enchiladas, the restaurant is a breath of fresh air from typical all-inclusive resort dining.
Must try: Soft shell crab gazpacho, Baja shrimp and seared tuna tacos, roasted chicken with turmeric-dill rice, jackfruit enchiladas, Mana cocktails.
Quick Bites
Balinese Home Cooking (Traditional Indonesian and Balinese)
Address: Jl.Rsi Markandya II. No:20 Br.Payogan, Kedewatan, Ubud, Kedewatan, Ubud, Bali 80571, Indonesia
This limited seating venue is located in a family-run compound consist of traditional Balinese houses and tropical gardens and offers authentic Balinese homestyle cooking with intimate service. Sitting down at its long tables, you can expect Indonesian staples like the Iga Bakar grilled pork platter, chicken sambal with rice, and Pepes Ikan grilled fish with banana leaf wrappings. The surrounding village is perfect for exploring after your meal.
Must try: Iga Bakar, chicken sambal, Pepes Ikan, sate skewers, coconut pancakes.
Beach Garden – In The Raw Bali (Health Conscious, Vegetarian-Friendly, Vegan Options)
Address: Jl. Pantai Batu Bolong no. 103-107, Canggu 80361, Indonesia
You never have to try hard to eat healthy in Bali, and while the island has no shortage of restaurants offering market-fresh organic dining, Beach Garden takes health consciousness to another level. Set in a modern open-air Balinese pavilion with plush leather sofas, Beach Garden is the place for quick bites or a relaxing meal after a day on Canggu Beach. From multigrain burgers and poke bowls to cold press juices and smoothies, the restaurant offers a wide selection of organic meat, vegetarian, and gluten-free dining options.
Must try: poke bowls, English breakfast, vegetarian pasta, smoothies, cold press juices.
Johnny Tacos (Mexican, Fast food, Pub, Vegan Options)
Address: Jalan Kartika Plaza No.21, Kuta, Badung, Kabupaten Badung, Bali 80361, Indonesia
A no-frills taco bar with food truck-style offerings, Johnny Tacos started as a simple juice bar but quickly evolved into a local favourite in Kuta. Opens until 11:00 p.m. this tiki-style roadside bar has a hard-to-miss reggae surfboard as a store sign and walls made of bamboo shoots. Famous for its selection of authentic Mexican tacos, it's hard to go wrong with its shrimp, chicken, and pork tacos with a side of lime, tortilla chips, and salsa.
Must try: 2 tacos combo with chips and a drink.
Ready to eat across Bali's unforgettable and totally fresh food scene? Contact one of our Expert Travellers today ask about Better Beach Bali. Call 1877-967-5302, live chat, or visit us in-store for more!