Canada's Year In Travel 2022: A Year's Worth Of Travel Trends
We've been crunching our numbers to bring you Canada's Year in Travel 2022. Read on to discover our top travel trends of 2022!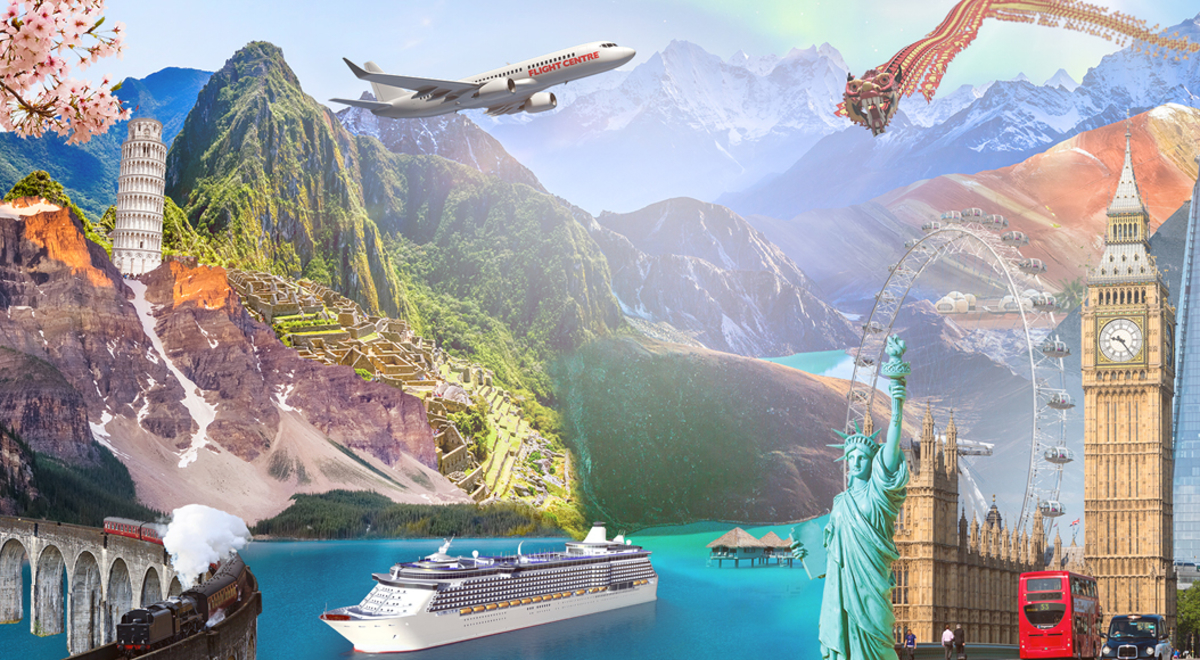 ---
---
We've been crunching our numbers to bring you Canada's Year in Travel 2022. Read on to discover our top travel trends of 2022!
---
It's that time of year. The Christmas trees are up, Michael Bublé has taken over our Spotify playlists, and the end of 2022 is in sight. What better time to look back on the year that was? From the Winter Olympics in Beijing, a new British Monarch and turbulence with the Rogers outage, to the first presentation in 36 years of Team Canada at the FIFA World Cup in Qatar. There's no denying it's been an eventful year.
2022 was also a big year for the travel industry. Borders reopened, restrictions lifted, and Canadian travellers began to venture out into the world again. We vacationed domestically and enjoyed the beauty of our own backyard, reunited with loved ones after too long apart, and booked our first international trips in what felt like forever.
Here at Flight Centre, we've been busy crunching our numbers to bring you an exciting wrap-up of our Canadian customers' Year in Travel 2022. Read on to discover where Canada's favourite international vacation destination was in 2022 (hint, it's somewhere sunny and warm…), how many chose the pointy end of the plane, the most expensive hotel we booked, and how many cups of coffee our Travel Consultants downed while they were busy making your vacation dreams happen.
We get it, your time is precious and you want the summary. Here are our biggest discoveries...
Top Takeaways from 2022
Our oldest traveller in 2022 was 112! And our youngest was under 1!

​​​​​​​

We booked flights for close to 400 babies (obviously their parents/guardians as well)

The most expensive hotel we booked this year was $58,984

81% of travellers were solo or couples

45% of Canadians stayed in 4-star hotels this year

Economy ruled, with 84% of bookings

Overall average trip length was 20 days!

Solo travellers flew boldly to places unknown, booking only 55 days prior to departure and travelling up to 24 days on average

Our top booked international destination was Cancun, Mexico, and domestic was Vancouver, British Columbia

All our top vacation destinations were in southern United States, Mexico, or the Caribbean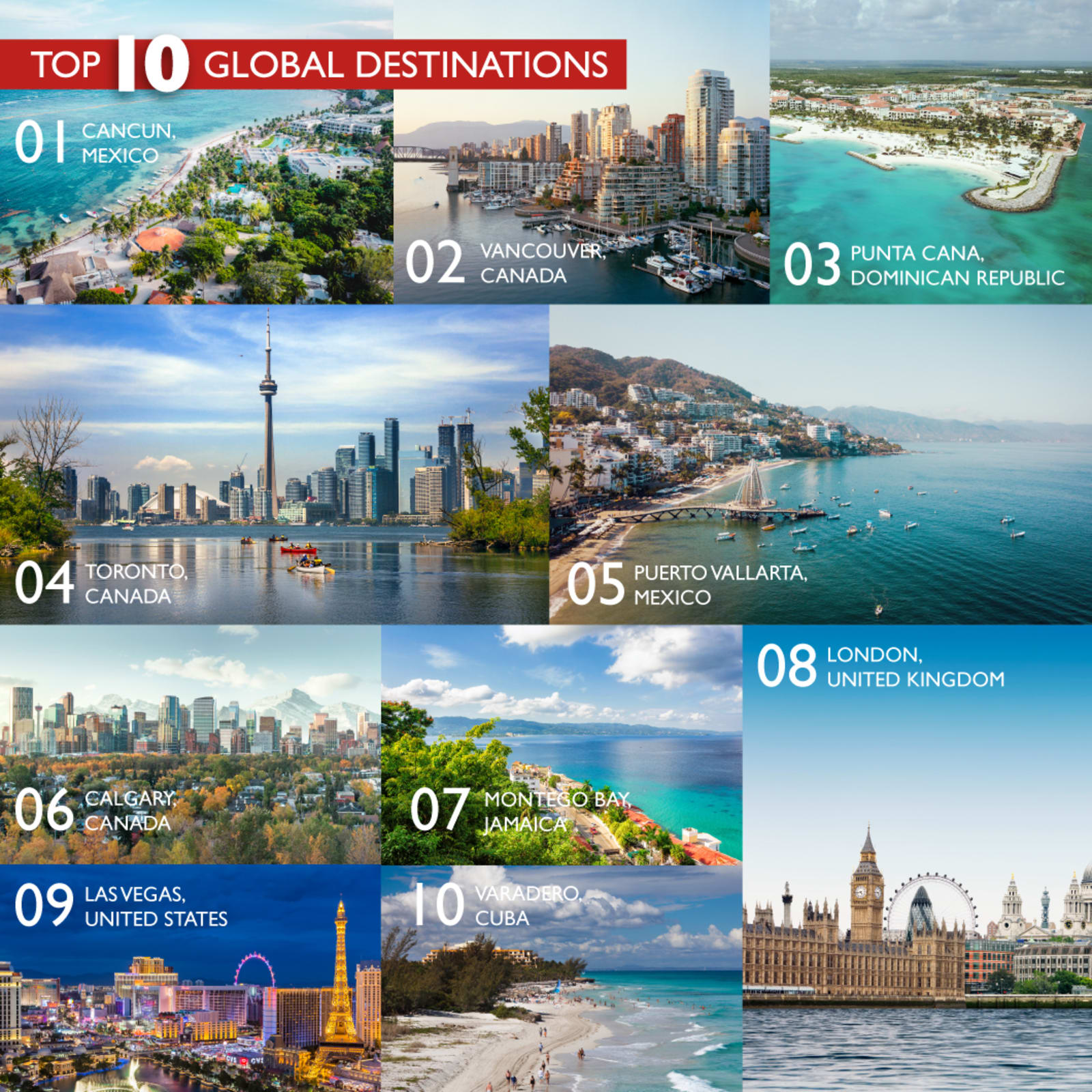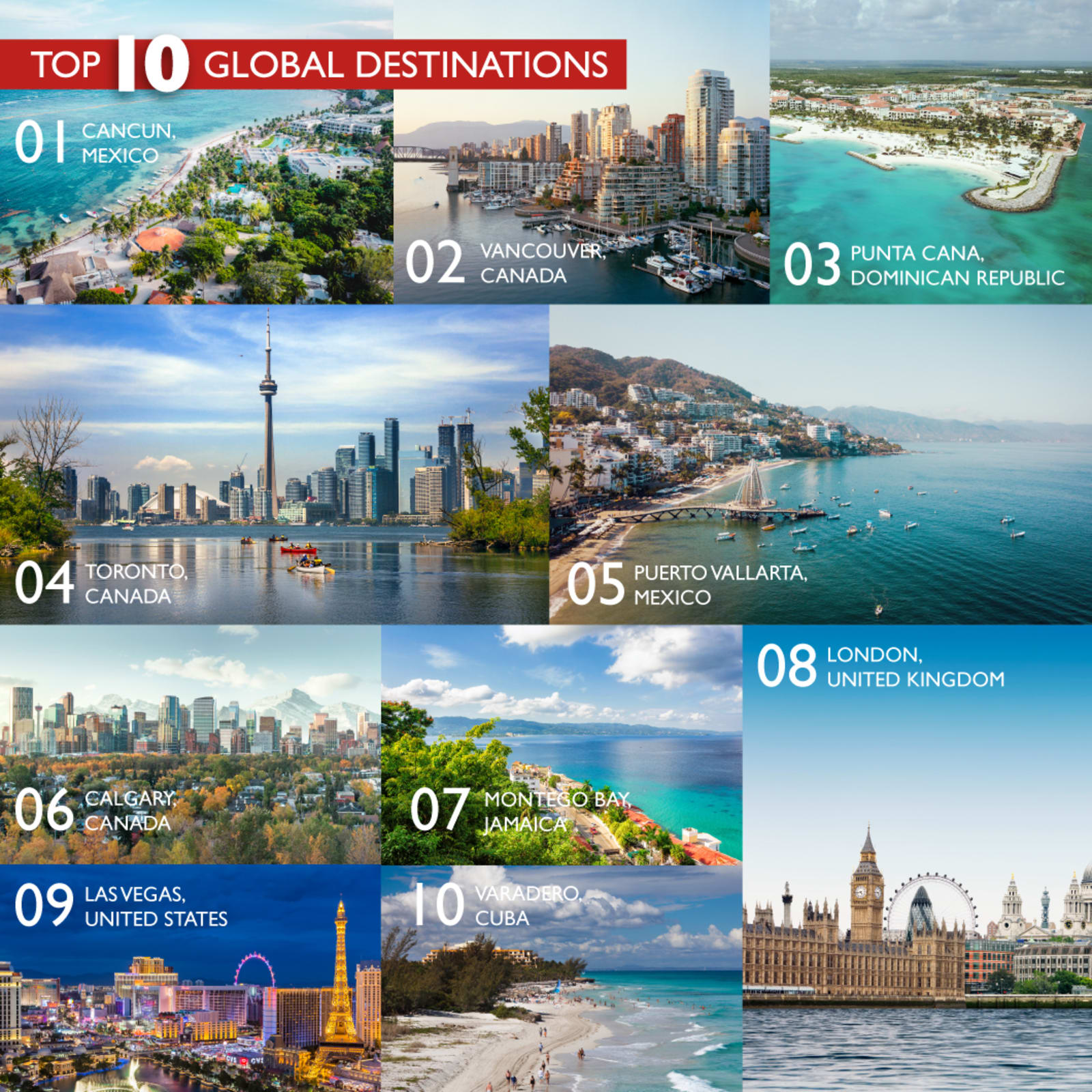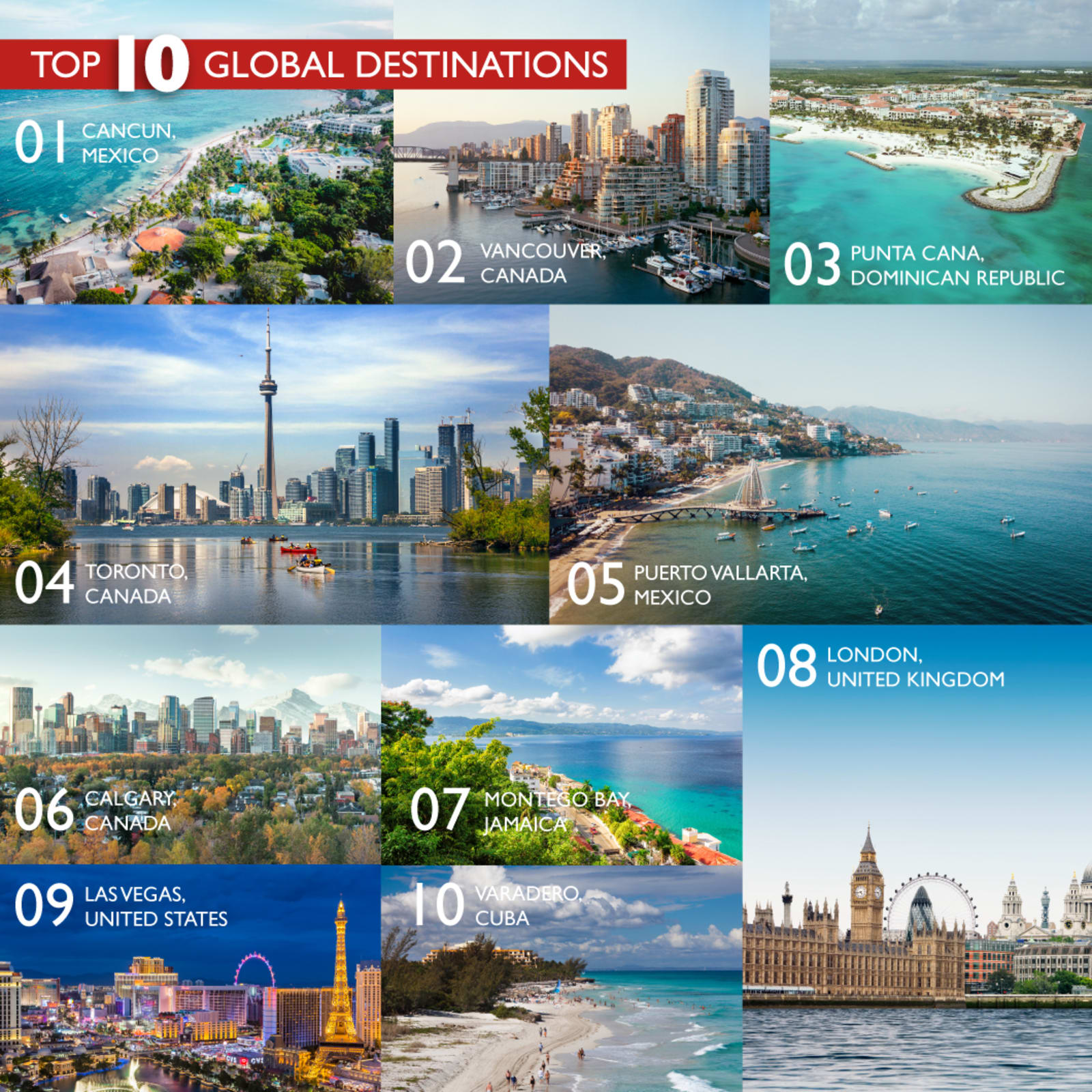 Where We Went: Canada's Favourite Travel Destinations In 2022
Borders were open, and Canadians didn't waste any time booking domestic and international travel. The most popular international destinations were Cancun, Mexico (10.34% of our customers flew there.), followed by Punta Cana, Dominican Republic, Puerto Vallarta, Mexico, and Montego Bay, Jamaica. The pent-up demand to get away for some vitamin sea (!) was strong.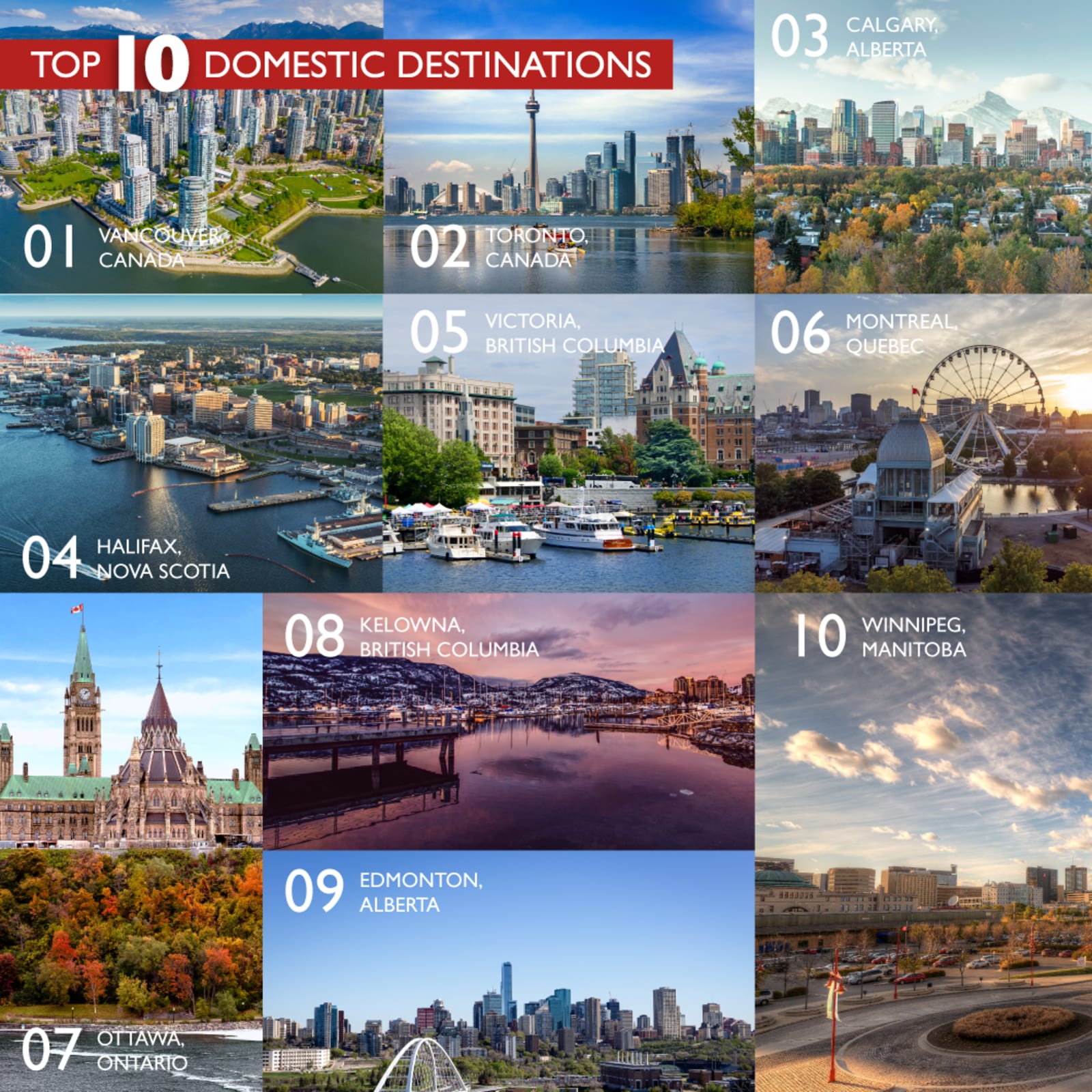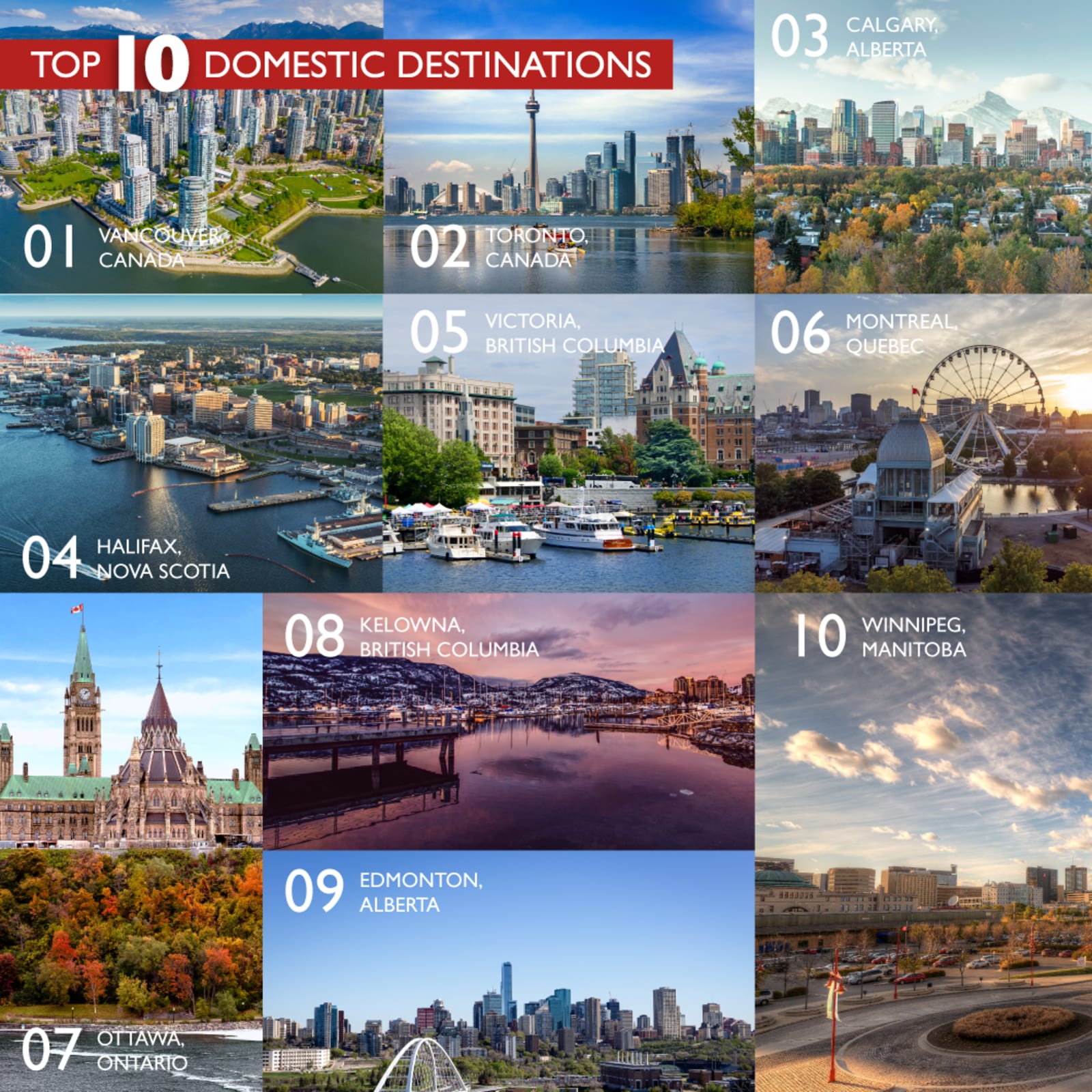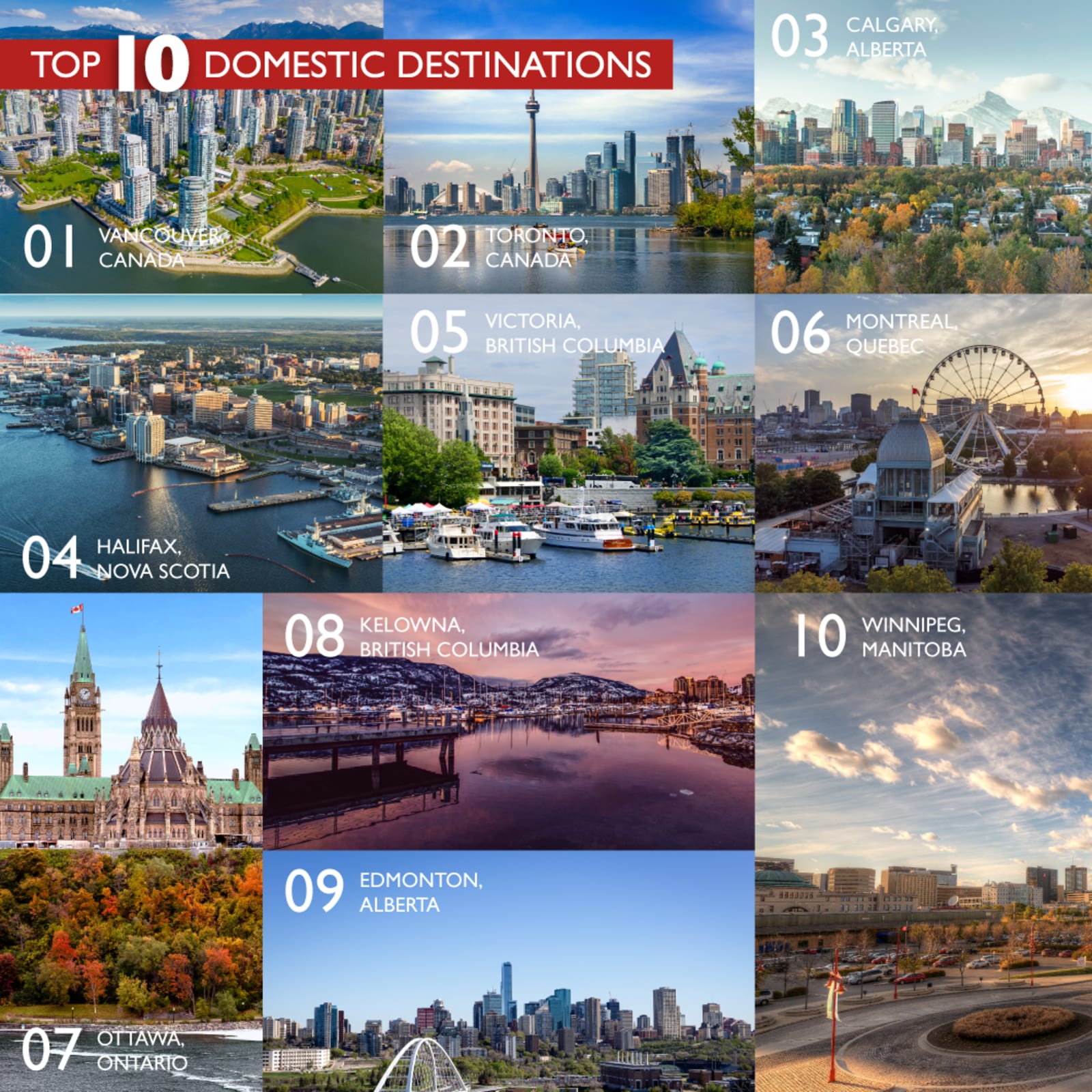 Top 10 Destinations Around Canada in 2022
You already know that Vancouver, Toronto, and Calgary topped the list, so where else did Canadians travel around the country? Coast to coast, it seems.
Based on our flight booking data, Canadians travelled across the provinces, but seven of the top 10 domestic destinations of 2022 were in Alberta, British Columbia, and Ontario. Travellers also ventured to Halifax and Montreal most frequently. After years of postponing trips to visit friends and family, the urge to check out our home and native land was high.
They Spent How Much And Booked How Many?!
The most expensive international hotel booking we made in 2022 cost someone $58,984 and the most expensive domestic hotel booking came in a bit less expensive at $16,890 (perhaps a chateau or chalet with all the bells and whistles?). The most northern destination we booked was Longyearbyen in Svalbard and Jan Mayen, Norway. What does one do in Longyearbyen you may ask? The northernmost town in the world, highlights are the dazzling Northern Lights in winter or the Midnight Sun in summer.



So, Who Exactly Were All These Travellers?
With so many incredible destinations visited by Canadian travellers in 2022, you might be wondering at this point who exactly all these globe-trotters were.
Close to half of our travellers (42.4%) were travellers looking to enjoy a trip with their significant other or a friend. Flying solo came in second, with 39% of travellers visiting friends and family, or perhaps escaping them after borders reopened. Our remaining travellers were made up of family and group bookings, with 8.5% and 10% respectively.
Our oldest traveller was 112 years young, and our youngest infant was under 1. It's unknown if they flew together.
Top 9 Destinations For Travelling Families In 2022
Speaking of travelling babies, let's dive head-long into our family travel trends and look at the top nine destinations chosen as the setting for precious family memory-making in 2022.
Canada is home to three of the top nine vacation spots for families this year – Toronto, Vancouver, and Calgary – coming in the top nine. Given that 2022 saw many families taking their first proper vacations since the COVID-19 pandemic began, it makes sense that many chose to keep within Canada for their vacations this year.
In saying this, some families were itching to dust off the passports – particularly those with family and loved ones abroad, or those itching to get to some hot, sunny locales. Cancun was the first international destination on many Canadian families' minds in 2022, coming in at number one and attracting almost 8% of our family bookings. And while we can't prove that 3.6% of our family travellers went to Disneyland, they did fly with their kids to Los Angeles.
Punta Cana, Dominican Republic, London, England, Manilla, Philippines, and Montego Bay, Jamaica also rounded out the list.
And How Risky Were Canadian Travellers This Year?
Let's face it, travel has been a little more unpredictable than we would have liked over the last few years. Between COVID-19 testing, flight cancellations and misplaced luggage, it's always good to have a plan for if things go amiss. It's also why we'd recommend booking travel with a travel consultant (😉), so that if you do get into a pickle you don't have to try and get yourself out of it!
For most of our travellers, travel insurance was a priority when booking travel this year. Upon weighing up the risks and the costs involved, 100% of those who opted for insurance chose standard coverage for their travels.
Planes, Cruises And Touring: How Canada Travelled in 2022
Buckle up, let's look at how Canada chose to travel this year.



Putting The 'Flight' In Flight Centre
As much as we'd all love to travel exclusively up in First Class, it may comfort you to discover that only 0.7% of our travellers flew First Class in 2022. Approximately 84% of us shuffled down to Economy, crossing our fingers that the person in front of us wouldn't recline their seat all the way down and that the person behind us wouldn't be a chair-kicker. The remaining flight bookings comprised of 4.43% Business Class and 4% Premium Economy.
What about baggage?? Despite our efforts to show you just how easy it is to travel with carry-on only, on average, we added just over one bag per booking.  
We be cruisin'
Cruising came back in a BIG WAY in 2022. Floating on a ship in the middle of the ocean on the way to a tropical destination? Yes please. 
The average age of a cruise traveller this year was 61.7 years old. Most people booked a balcony room with 18.25%, followed by 8.6% in an interior room and 2% booking penthouses or suites.
Top 10 Cruise Destinations
Orlando, Florida

Southampton, United Kingdom

Cape Canaveral, Florida

Long Beach, California

Athens, Greece

Honolulu, Hawaii

Barcelona, Spain

Singapore, Singapore

Amsterdam, Netherlands

Aruba, Aruba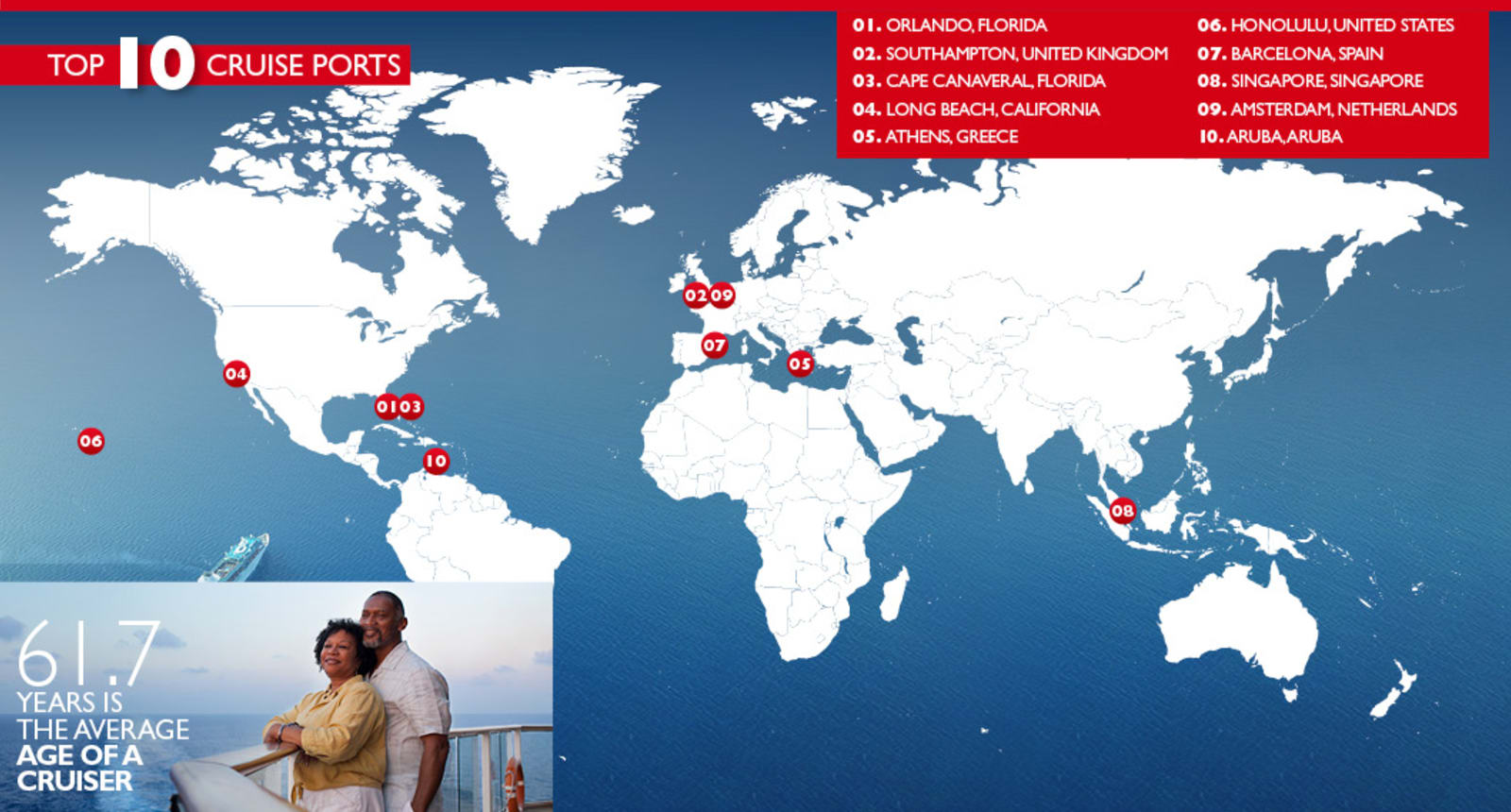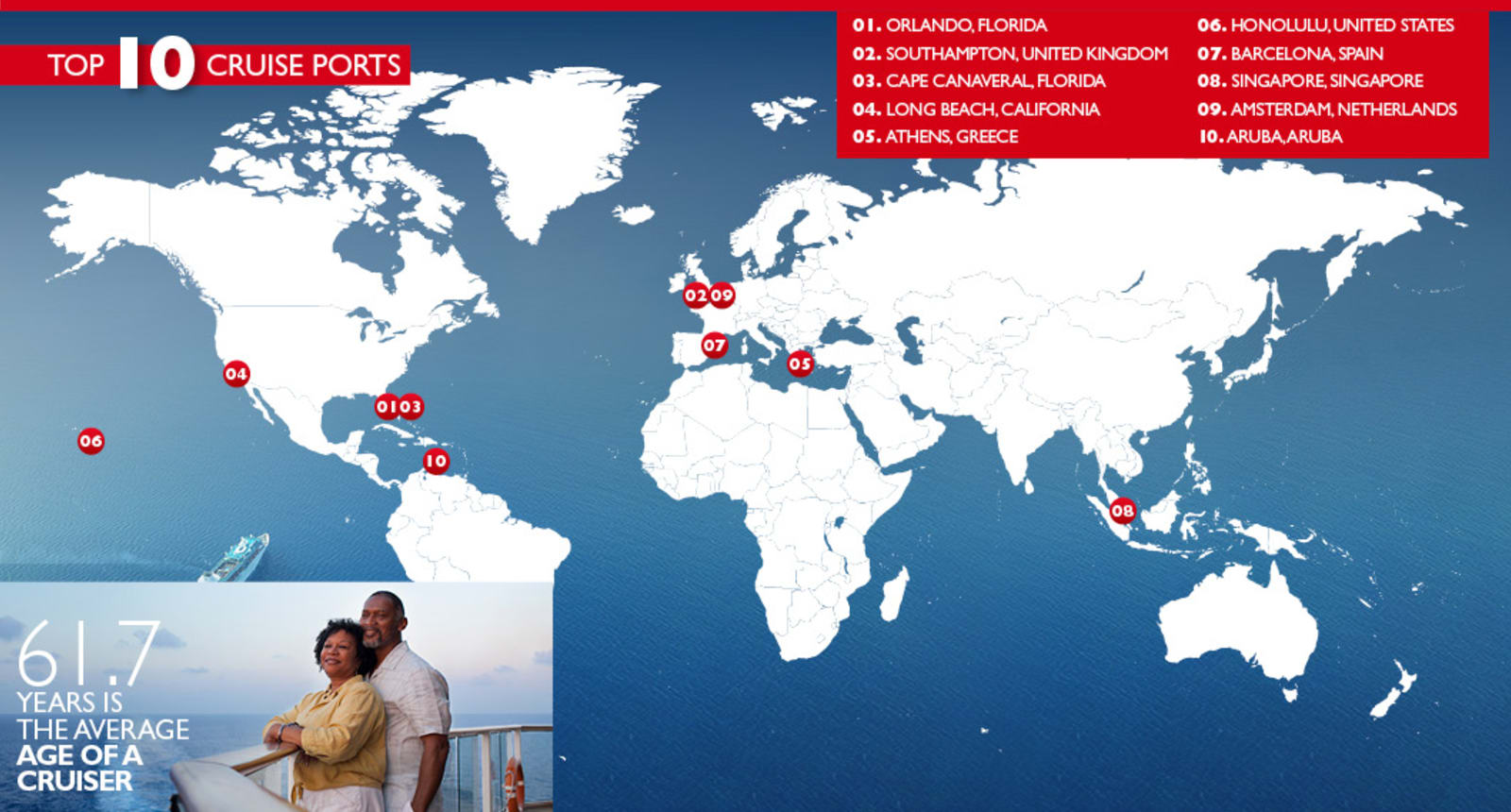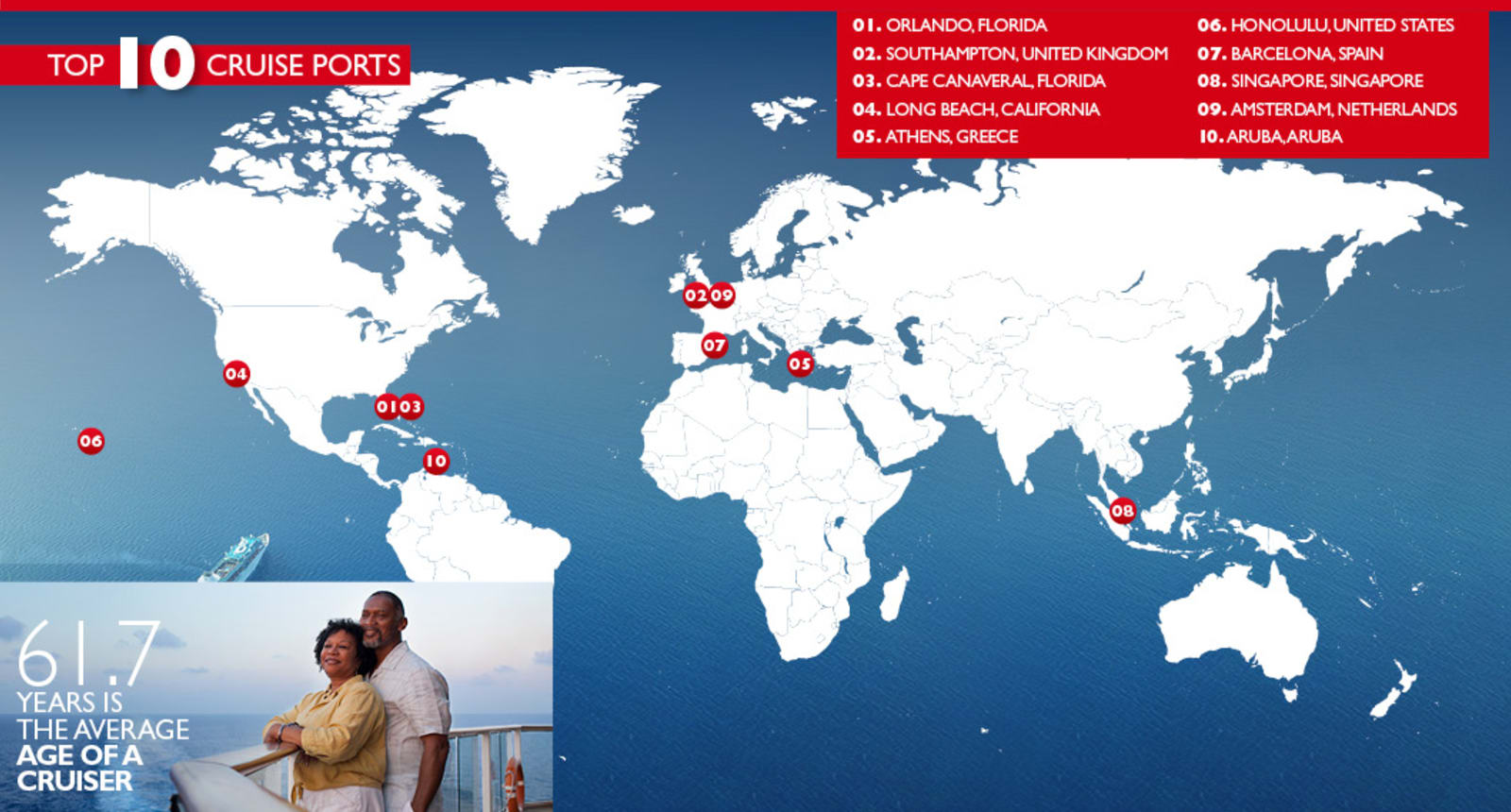 Top 9 Tour Destinations
It probably won't surprise you to discover that Costa Rica topped our list of international destinations for touring in 2022, with 23.08% of travellers choosing to start their tour with rainforests, ziplining, and delicious coffee.
What might surprise you, however, is that Thailand, Morocco, Belize, and Hungary rounded out the top five. From temples to tempting culinary discoveries, we certainly booked some adventurous globetrotters in 2022.
Other notable locations in the top nine include mentions include Madrid in Spain, Munich in Germany, Nairobi in Kenya, and Phnom Penh in Cambodia. Canadian adventure seekers were travelling far and wide for culture and adrenaline!
From Budget To Luxury: Where Canada Stayed In 2022
There are two kinds of travellers in this world. The ones who value 5-star luxury above all else (we all know someone who can't travel without their own pillow!) and the one who barely spends any time in their hotel at all. 
Read on to discover our top hotel trends of 2022.  
Top 10 Hotel Destinations Around The World In 2022
Riviera Maya, Mexico

Cancun, Mexico

Las Vegas, United States

Rome, Italy

Vancouver, British Columbia

Paris, France

Honolulu, United States

London, United Kingdom

Puerto Vallarta, Mexico

Punta Cana, Dominican Republic
The Long And Short Of It...
The average hotel booking duration this year was a very respectable 4.10 days (4.40 days for international bookings and slightly less, 2.34 days, for domestic hotel stays) According to our data, the longest hotel booking made in 2022 was 39 days, from July to August 2022. We'd love to know where this traveller spent a month of their summer.
When looking at our international and domestic bookings combined, almost half of our travellers (45%) booked 4-star stays for their vacations, looking to find a balance of luxury and affordability in their home away from home.
Struggling to decide what the optimal vacation length is? Let's check the data! ln 2022 our travellers booked vacations with an average trip length of 20 days. A three-week vacation certainly sounds like a good idea to us. When looking at our international and domestic booking data combined, travellers typically booked their vacations approximately 76 days before departing.
How Canadians Vacationed Through 2022
We've looked at our flight and hotel bookings, but what about our vacation data. Let's peek at our vacation packages data to find out where Canadians went and what they did there.
Top 10 Vacation Destinations Around The World In 2022
Feeling hot, hot, hot! Our travellers couldn't wait to say hello again, to beach destinations and sunny spots.
Cancun, Mexico

Punta Cana, Dominican Republic

Riviera Maya, Mexico

Varadero, Cuba

Las Vegas, United States

Los Cabos, Mexico

Orlando, United States

Puerto Vallarta, Mexico

Mazatlán, Mexico

Montego Bay, Jamaica
Are you looking to get away from the snow and winter? Check out our Sun Sale to book your next winter warm-up vacation.



So, What Did Canadian Travellers Do While On Vacation In 2022?
People travel for lots of different reasons. Let's break down the data to find out what vacation activities our travellers were excited to book this year.
When travelling internationally, the top three vacation products booked in 2022 fell into the categories of City Sights, Adventure & Action, Food, Wine & Gastronomy and Cruises, Boats & Submarines. We hope all those travellers enjoyed their foodie excursions! Further down the list, Cultural & Historical, Attractions, Multi-Day Tours, Wildlife & Safari, and Theme Park excursions were at the top of our traveller's plans.
Self-Reflection Time: How Flight Centre Changed In 2022
We love a little bit of end-of-year introspection so here are some of Flight Centre Canada's numbers for 2022.
In exciting news, Flight Centre turned 40 years young in 2022! We re-opened one of our stores in 2022 and can't wait to see future re-expansion in 2023. We hired or welcomed back approximately 31 new agents to our Flightie Canada family (want to work with us? Check out our careers page!). Across Canada, our store network covers an area of approximately 3.878 million km², which is equal to almost 2.3 trillion hockey rinks!
Assuming each of our Travel Consultants consumed between one and two cups of coffee per day at work this year (though we can think of a few who drunk more...!) the total number of coffees downed as they made travel dreams come true was approximately 370 cups! That's roughly 88 litres of coffee.
One thing that hasn't changed at Flight Centre in 2022 is the experience of our people, in fact we have over 600 years of experience between us!
All that's left to say is bring on 2023!
Dusting Off The Crystal Ball: Our Predictions For 2023
No one really knows what the future has in store, but this is our best guess at the top destinations of 2023 based on the booking data and travel trends we've seen towards the end of 2022.
Number one: Tokyo, Japan. Just a few short months ago, Japan became one of the last countries in the world to ease their COVID-19 travel restrictions and requirements. With a trip to Japan finally back on the cards, we anticipate this to be a popular choice for international vacations in 2023.
Our inner-Nostradamus is also telling us that Rome, London, and the Greek Islands will be big next year – with 2023 being the first time in a long time where travellers will be able to plan and book a European summer vacation with confidence. And for those not looking to venture across the pond, we think Mexico (as usual) will be an attractive option next year.
To Wrap Up...
And that's Canada's Year in Travel for 2022! We hope you found it interesting, but we also hope it inspires you to travel near and far in 2023.
Methodology
This report is based on the internal booking data we had available to us and covers a time period of 1 December 2021 to 30 November 2022. We're confident in the quality of our data and every effort has been made to ensure and preserve its accuracy.